Kulfi recipe – Learn to make delicious & creamy kesar pista kulfi at home with the help of video & step by step photos. Malai Kulfi is one of the most loved summer dessert from Indian cuisine & is also popular in the neighboring countries. It originated from the Mughals during their reign. Though it is similar to an Ice cream it tastes different and is denser and not light in texture.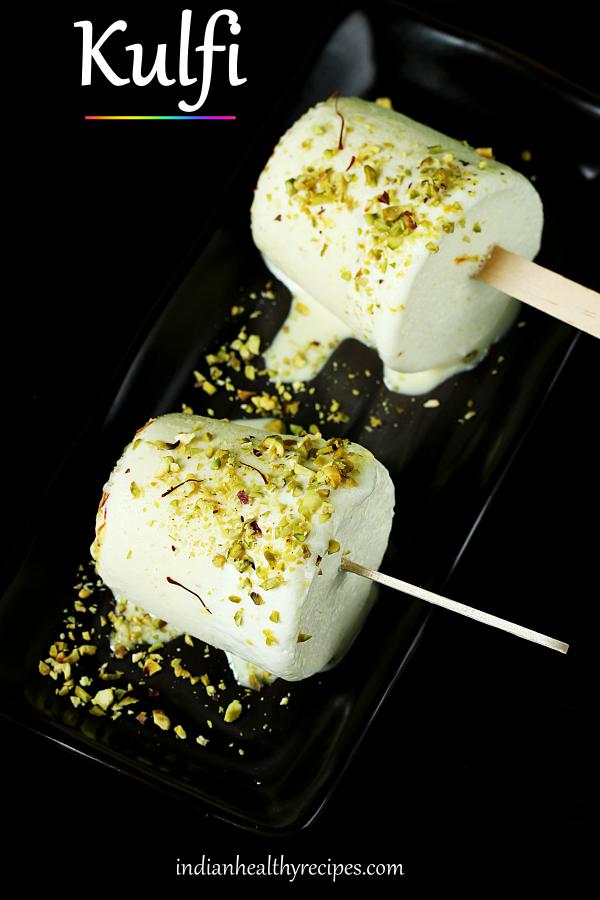 If you are new to Indian foods, then read on to know more on
What is kulfi?
Kulfi is a popular Indian ice cream dessert made with milk, sugar, nuts & cardamoms.
It is made by evaporating milk and then sweetened with sugar. Flavoring ingredients like saffron and cardamom powder are added along with ground or chopped nuts.
The mixture is then poured to moulds and frozen until it is set. Various kinds of moulds are available in the market, you can also use small Popsicle moulds or stainless steel cups like I have used in this post. I have used 120 ml stainless glass / cups to pour the mixture.
Traditional way of making kulfi does take lot of time like Rabri since the milk has to simmer for hours to reduce and thicken.
This kulfi recipe does save a lot of time as it uses fresh cream and corn starch to thicken the mixture quickly. It yields delicious and creamy kulfi icecream without the flavor of starch.
You can use corn starch or arrow root powder in this recipe, both work well. Arrowroot powder is cooling to the body and is good during summers, so I have used arrowroot powder this time.
For more similar recipes, You can check
Mango kulfi
Falooda
Vanilla icecream
Chocolate icecream
Pista Ice cream
Basundi
Kulfi recipe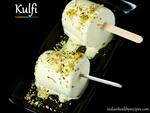 Kulfi recipe
Kesar kulfi is a creamy delicious ice cream dessert that is made from thickened milk, sugar and other flavoring ingredients.
Ingredients (1 cup = 240ml )
Ingredients for kulfi
2

cups

full fat milk

1

cup

milk

(mix with corn starch or arrowroot powder)

2

tsps

corn flour

(or starch or arrowroot powder)

¼

cup

organic sugar

¼

tsp

cardamom powder

or elaichi

1

Pinch

saffron

strands or kesar (optional) (about 10)

10 to 15

pistachios

¼

cup

cream

fresh or mawa or khoya (optional, tastes rich)

4

pistas

for garnish
How to make the recipe
Preparation kulfi
Bring 2 cups milk to a boil in a heavy bottom pot. Allow it to boil further for 10 mins on a medium flame. Keep stirring often to prevent the milk solids getting burnt at the bottom.

Meanwhile add pistachios along with saffron to a blender jar and make a slightly coarse powder. Set this aside.

After 10 minutes of boiling the milk, add sugar and continue to boil for another 10 to 12 mins. Keep stirring often to prevent the milk getting scorched at the bottom.

Add corn flour to 1 cup milk and stir well. Make sure there are no lumps.

Lower the flame completely and pour this to the pot. Keep stirring and boil.

Add the nuts powder and cardamom powder. Mix well and make sure there are no lumps.

Pour cream if using and Cook for 10 minutess more. Keep stirring.

Under ten mins it turns thick. It should be of pouring consistency.

Switch off the stove & Cool this completely. The mixture thickens further upon cooling.
Freezing kulfi
Pour this to kulfi molds, steel cups or Popsicle molds. Cover with a foil and gently insert a ice cream stick.

Freeze overnight. Immerse these in a bowl filled with water for 1 min or rub the moulds in between your palms for 30 seconds.

Gently hold the stick and demould it. Sprinkle chopped pistas and serve kesar pista kulfi immediately.
Video
Video of kulfi recipe
NUTRITION (estimation only)
Calories:
315
kcal
|
Carbohydrates:
31
g
|
Protein:
9
g
|
Fat:
17
g
|
Saturated Fat:
9
g
|
Cholesterol:
51
mg
|
Sodium:
112
mg
|
Potassium:
388
mg
|
Sugar:
29
g
|
Vitamin A:
710
IU
|
Vitamin C:
0.2
mg
|
Calcium:
294
mg
|
Iron:
0.2
mg
If you are a beginner or new to Indian cooking, I highly suggest you to check the supporting step by step photos for best results. Step by step photos with description available below after the recipe card.
Preparation
1. Bring milk to a boil in a heavy bottom pot.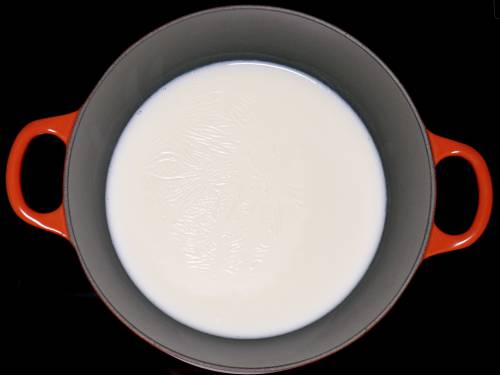 2. Boil for 10 to 11 min on a medium heat , stirring often.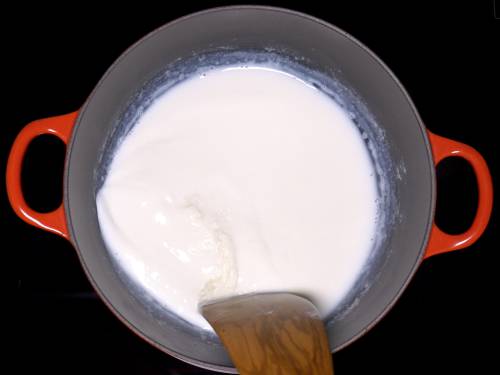 3. Add sugar and mix well to dissolve it.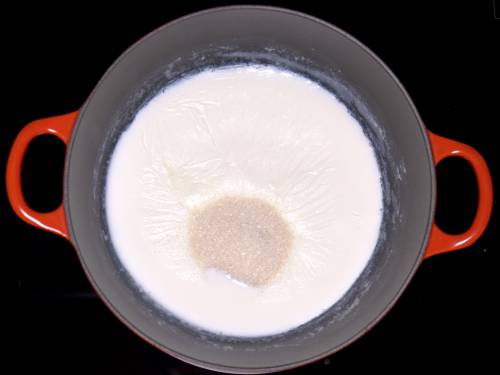 4. Keep stirring and boil for another 10 minutes on a medium heat.
5. Meanwhile add corn flour to one cup milk and dissolve it completely. Make sure there are no lumps.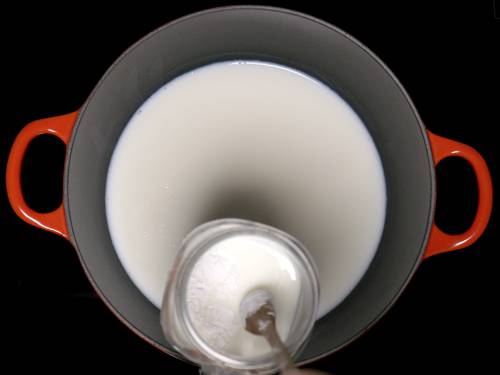 6. Lower the flame and Pour the corn flour mixture.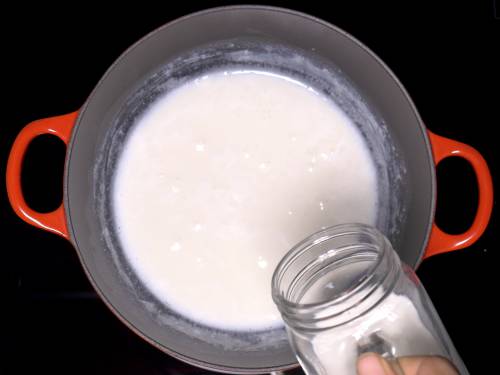 7. Begin to stir it immediately and continue to boil. Keep stirring often to prevent milk at the bottom getting scorched.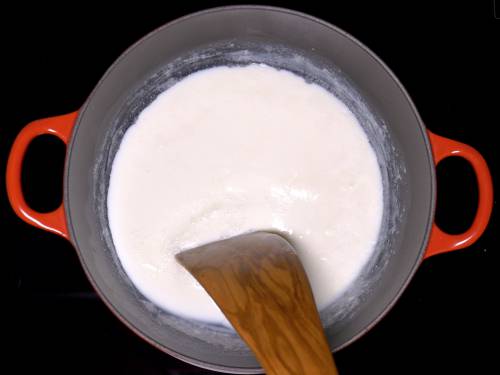 8. Meanwhile add pistas and saffron to a blender jar. Make a coarse powder.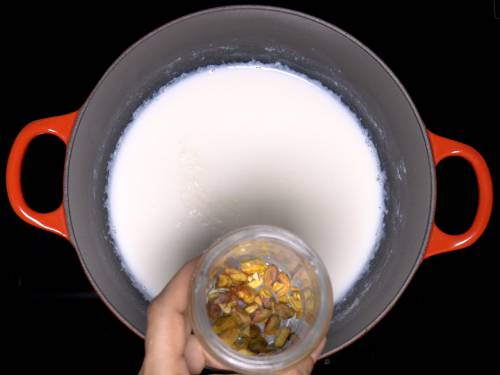 9. Add the kesar pista powder along with cardamom powder.
10. Mix well and make sure there are no lumps.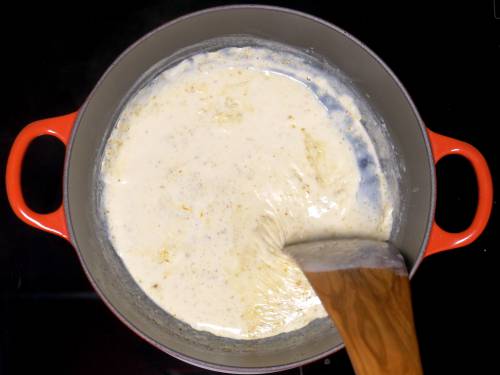 11. Add cream. I used cream just to achieve the thick consistency quickly. You can also skip it and cook for a little longer.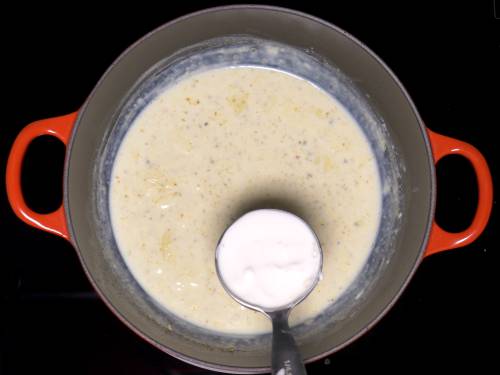 12. Keep stirring and cook the mixture further.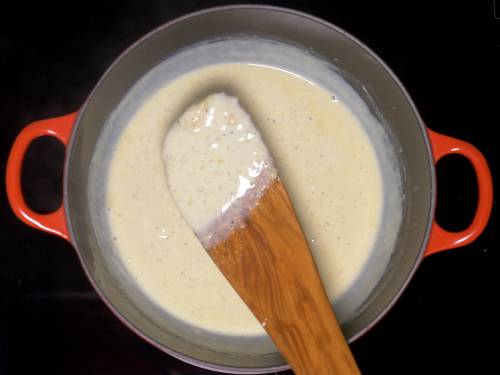 13. Under 10 to 11 mins it reaches a thick consistency. Switch off and cool completely. The mixture thickens further upon cooling. If you under cook the mixture, ice crystals may form, so it has to be cooked until it is thick and of pouring consistency.
How to make malai kulfi
14. Fill the moulds as desired. I do not prefer plastic moulds so I used steel glasses.
15. Cover the moulds with foil and gently insert icecream sticks. Freeze until kulfi is set. It may take anywhere from 5 to 12 hours depending on your fridge.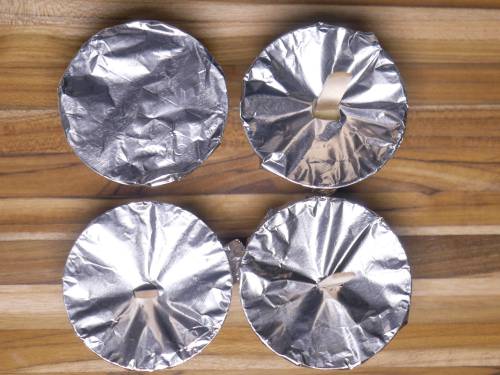 16. Rub the glasses in between your palms and demould the kulfi gently.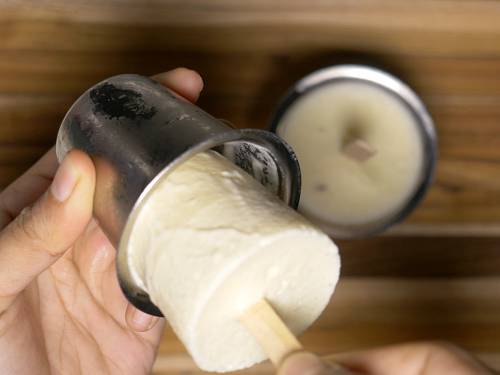 Sprinkle chopped pistachios and serve kulfi immediately.