Chole Recipe (Punjabi Chole Masala)
Chole Recipe – Chickpeas cooked in a delicious, flavorful, tangy & spicy gravy. Punjabi Chole Masala served with Bhatura is a favorite among many Indians and is a very popular meal in Dhabas and North Indian restaurants. The combo of Chole Bhatura & Chole chawal are simply irresistible & delicious. If you love Indian foods, you will return to this vegan and protein packed dish time and again.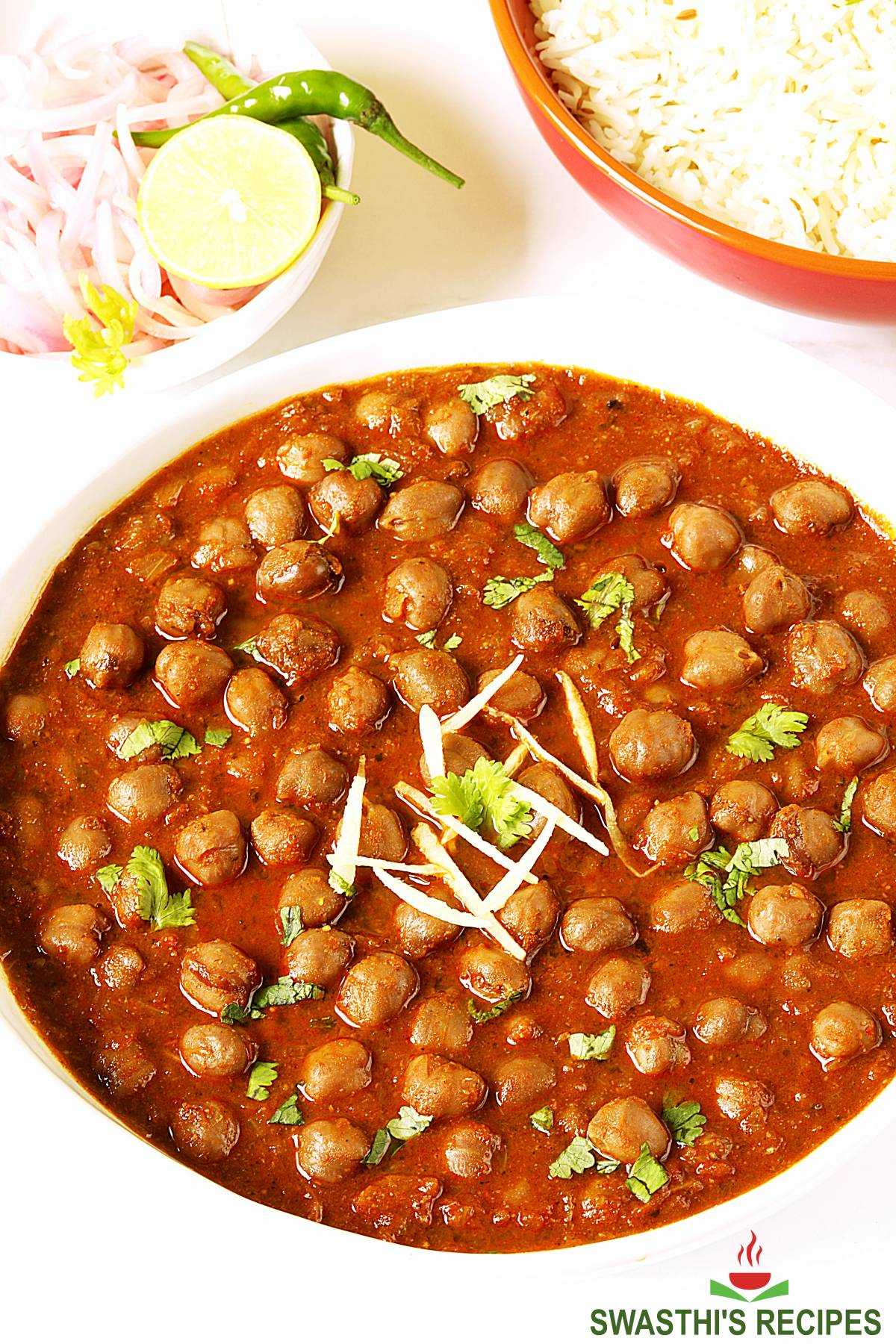 In this post I share how to make the dish on stovetop and instant pot with step-by-step photos and video.
About Chole
Chole Masala is a popular Punjabi dish where chickpeas are simmered in a spicy & tangy gravy. "Chole" is a Punjabi word for "chickpeas" and "masala" is a word for "spices". So this dish is nothing but chickpeas cooked to perfection with various spices, onions, tomatoes and herbs.
Chickpea is a legume that is relished all over India. While the term chole is specifically used to mention the Punjabi dish, Chana masala is a more generic word used to mention any Indian spiced chickpea curry. So chole masala is a Punjabi preparation and chana masala is not necessarily Punjabi and is made in numerous ways across India.
Punjabi Chole is made with a unique spice mix known as Chole Masala, which is the backbone of the dish which you may not find in a regular chana masala.
Ingredients like anardana (pomegranate seeds) and black cardamoms are the key ingredients in a Punjabi chole. Also traditionally the chickpeas are cooked with dried amla which impart the characteristic flavor and color to the chickpeas.
However if you live in a country where amla is not available follow my tips and use tea decoction or tea bag when you cook the chickpeas.
This post will help you make a very flavorful & delicious Punjabi chole masala that you can serve with plain basmati rice, Jeera rice, Bhatura, Poori, Butter naan, phulka or even with plain paratha.
About This Recipe
My recipe to make chole is pretty simple. With minimal effort you will be able to make a pot of good Punjabi chole at home. There is a bit of preparation as it requires soaking and preboiling the chickpeas unless you opt to use the canned ones.
You don't need a lot of ingredients but you will need a good spice powder or whole spices. Here is how to make this
Preparing chole: Firstly chickpeas are rinsed and soaked overnight or at least for 8 hours. Soaking not only helps them cook faster but also reduces the phytic acid & eases the process of digestion thereby reducing bloating and flatulence.
However to skip this soaking process, place 1 cup dried chickpeas in a large bowl. Bring 6 cups of water to a rolling boil and pour over the chickpeas. Cover and rest them for about an hour or until fully softened. Drain the water and rinse them well before use.
Cooking chickpeas: Later the chickpeas are pressure cooked until soft with dried amla or tea bag or tea decoction. They can also be cooked in a pot adding more water as needed. But they do take a long time in the pot.
If using canned chickpeas, these steps are skipped. However canned chickpeas sometimes are not as soft as the soaked and pressure cooked ones. So if they are not soft enough it is good to boil them for a while before adding to the gravy.
Choosing spice powder: A special flavorful spice powder known as chole masala is very essential to make this dish. It infuses exceptionally good flavors. You can either use readymade chole masala from any popular brands or make your own as mentioned in the recipe below.
Make onion tomato masala: Like most other Indian curries, chole is also cooked in onion tomato gravy which forms the base of this dish. So first the onion tomato masala is prepared. Then boiled chickpeas are added to it.
Simmering chole in the prepared spicy onion tomato masala is the important step which makes the dish flavorful and delicious.
Similar recipes
Kadhi Recipe
Rajma recipe
Aloo Gobi
Palak Paneer
How to Make Punjabi Chole (Stepwise photos)
Soak & prepare the chickpeas
1. Rinse 1 cup chickpeas (chole) very well in a pot. Then soak them in ample amount of water overnight or at least for 8 hours.
Optional
To get darker chole, I simmer half tsp tea powder or 1 black tea bag in 3 cups water for a while. Cool and filter the tea decoction to the pot and soak the chole in tea. Soaking for longer helps in better digestion and chole turns out to be soft.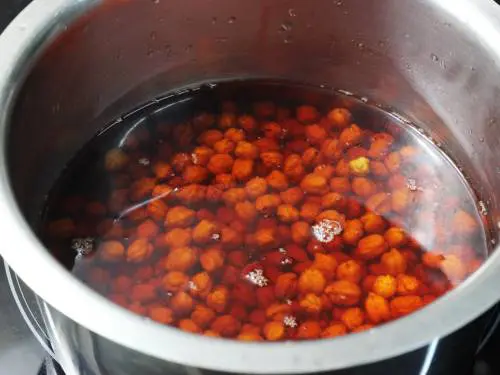 2. After soaking chole will absorb much of this tea and turn darker in color. Discard the tea and give a good rinse with fresh water.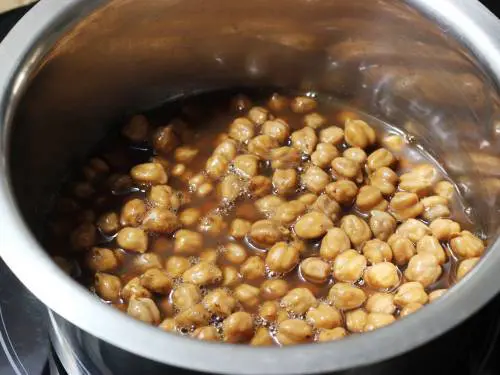 3. Add 1½ cups water. Also add dried amla or one tea bag. As I didn't have tea bag I boiled some tea powder in the 1½ cups water and poured it.
4. This step is optional. Add a generous pinch of soda-bi-carbonate. Using soda helps to cook them soft and they turn mouth melting.
5. Cook the chole till soft but not mushy. On a medium flame, I pressure cook for 5 to 6 whistles (without soda) or for 2 whistles with soda.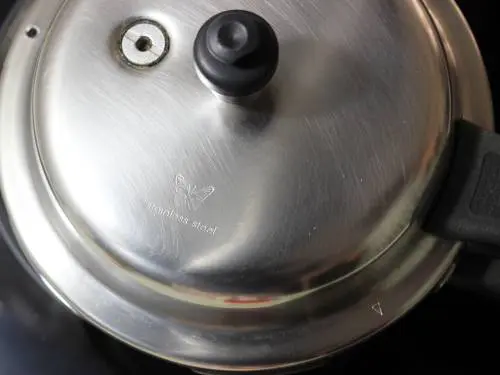 6. Once done, open the pressure cooker and check. The chole must be soft cooked and not remain al dente. If they are al dente or even slightly hard, cook them again for 1 to 2 whistles.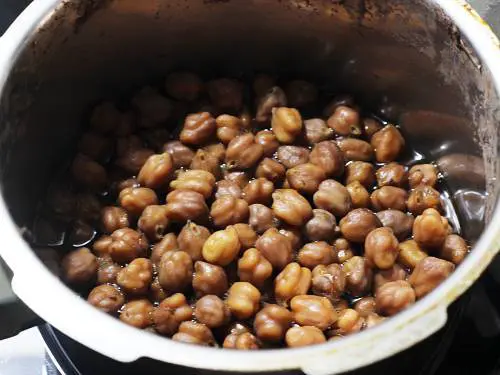 Make Chole Masala (Spice Powder)
7. You can also skip this step and use ready made chole masala. While the chole cooks, on a medium to low flame dry roast
1 bay leaf
2 to 3 red chili
1 tablespoon coriander seeds
4 cloves
1 inch cinnamon
1 small black cardamom
3 green cardamom
8 pepper corn. When they turn aromatic, add 1 teaspoon cumin seeds and 1 teaspoon fennel seeds. Deep roast them until slightly dark in color without burning.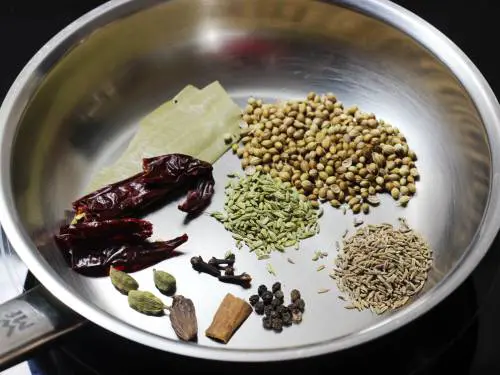 8. Cool them and add them to a blender. Add half teaspoon anardana. Make a fine powder. Set this aside.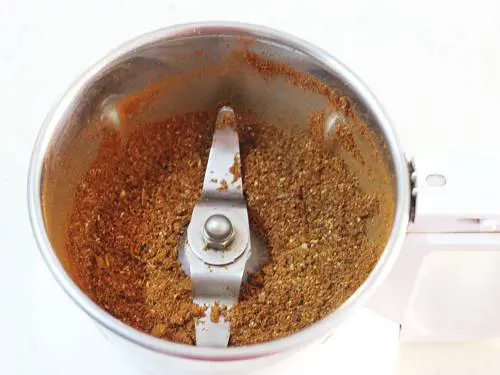 Make Onion Tomato Masala
9. Add 2 tablespoons oil to a hot pan. When the oil turns hot, add
1 inch cinnamon
2 green cardamoms
a small piece of bay leaf
1 to 2 cloves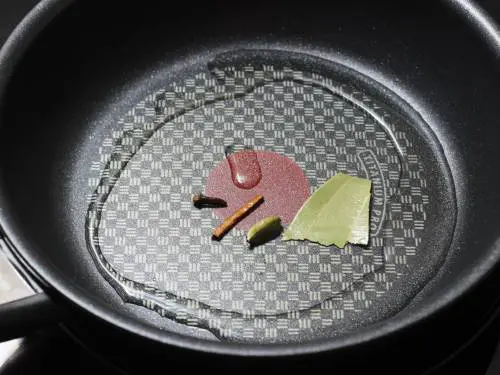 10. Add 1 tablespoon ginger garlic paste. Saute until the raw smell has gone completely.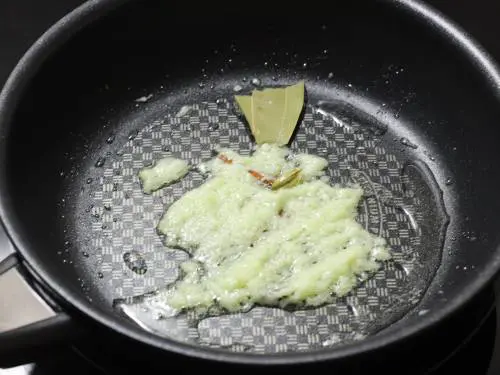 11. Add 1½ cups finely chopped onions & 1 chopped green chili. I prefer to fine process the onions in my processor and use. You can also grate or blanch and puree, then use.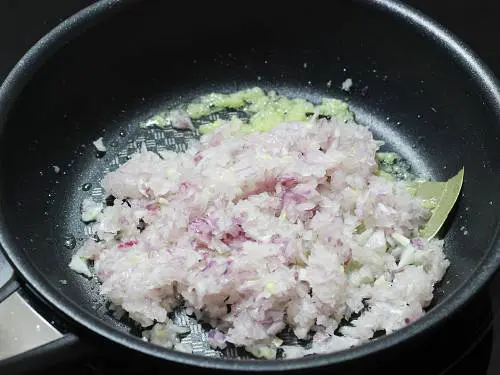 12. Fry until the onions turn light brown and the raw smell has gone completely.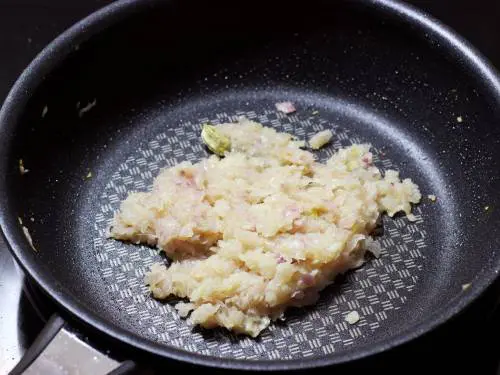 13. Add 1 cup chopped tomatoes, 1/8 teaspoon turmeric and ¾ teaspoon salt. You can also add pureed or grated tomatoes.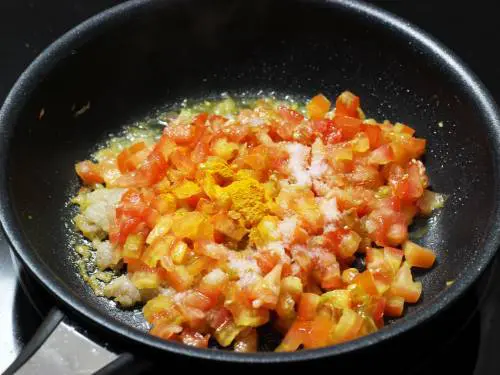 14. Saute the entire mixture until the tomatoes turn fully mushy and the raw smell has gone.
15. Add the masala powder we made earlier for this chole recipe, and then ½ to 1 teaspoon more red chili powder & ¾ teaspoon garam masala. An addition of red chili powder is just to adjust the heat levels and color. so you may skip it as well.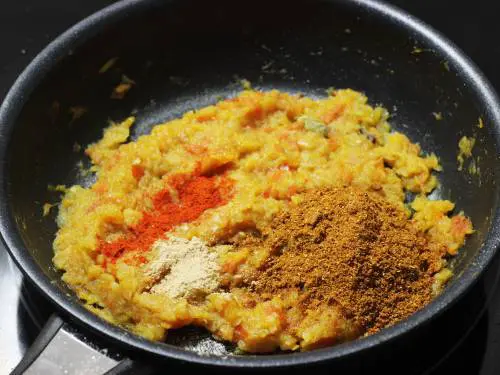 16. Mix everything well and saute for another 3 to 4 minutes. Make sure the raw smell of the onion & tomatoes has gone by now. By then the masala begins to leave the sides of the pan.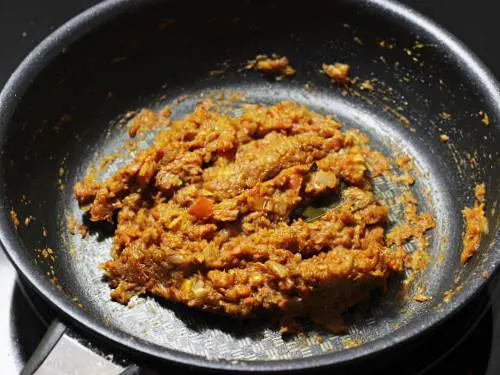 17. Add cooked chickpeas, fresh water as needed. I added 1 cup fresh water plus more. Note that If you have used tea to soak & as well to pressure cook then using the entire tea decoction for the gravy may alter the taste. You can use 2 tbsps of the chole cooked stock if you like the dark color & then use fresh water.
You will need to adjust the quantity of water as desired to make the gravy.
18. Once it comes to a boil, cover and simmer on a low flame for 18 to 20 minutes or until the gravy thickens & reaches a desired consistency. Add 1 teaspoon crushed kasuri methi and amchur powder (optional).
Taste the chole and then add more salt if needed.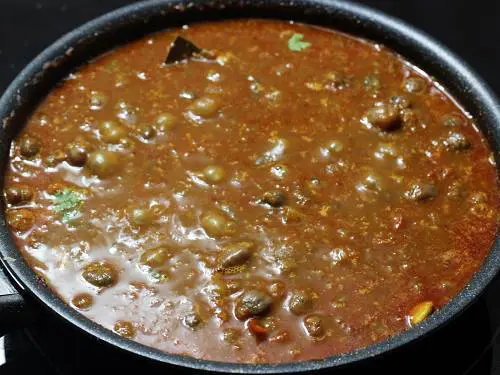 Remove to a serving bowl. Garnish chole with coriander leaves and ginger juliennes. Serve chole bhatura or rice with lemon & sliced onions.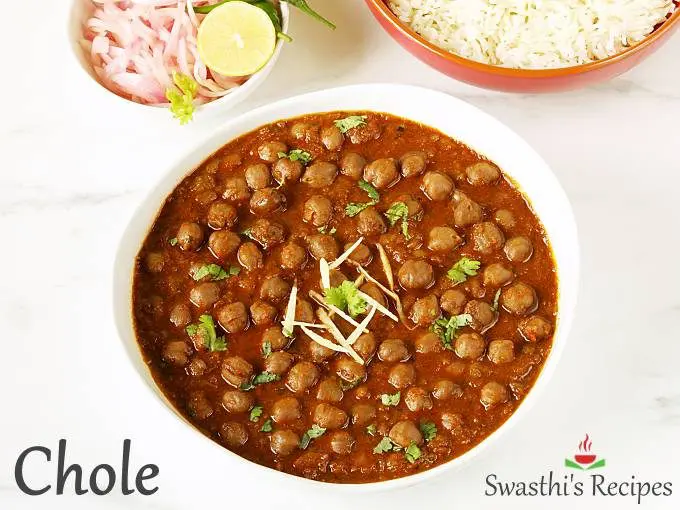 Pro Tips
Amla or tea bags: Punjabi chole recipe makes use of dried amla which gives the dark color to the chickpeas apart from adding a slight sour taste.
Since I am not accessible to dried amla sometimes I make use of tea decoction which works fairly well without altering the taste of the dish.
However feel free to skip if you do not have. I have made this several times without the use of tea as I have young kids at home.
Using tea for dark chole
If you fancy the dark color chole and do not have access to dried amla, then add a tea bag while you boil the chickpeas. You can also make tea decoction with half tsp tea powder and then use that to boil the chole.
While making the decoction do not over boil the tea to the extent it turns bitter. Do not use tea powder that has leaves.
Faqs
What is the difference between chana and chole?
Generally speaking, both the terms Chana and chole mean chickpeas. Chana is a Hindi word and Chole is a Punjabi word & both mean the same. But chana masala is any Indian chickpea curry and chole masala is a dish made in Punjabi style with specific spices.
Can we cook chole without soaking?
Yes if you ever forget to soak your chole, then you can opt to give an instant soak for an hour by pouring hot boiling water over a cup of dried chickpeas placed in a large bowl. Cover and let them soften for an hour.
Can I use canned chickpeas?
Yes you can use about 2 ½ to 3 cups of canned chickpeas. Drain the liquid in the can and use fresh water to simmer in the gravy. Also note that this recipe tastes best when made from scratch by soaking dried chickpeas & then cooking and simmering in the gravy.
Can I use garam masala instead of chole masala?
Yes you can use garam masala. Though the recipe works and tastes good with any regular garam masala, you won't get the flavors of Punjabi chole without a good chole masala. So consider making your own by following my notes in the recipe card.
Instant Pot Chole Recipe
1. Rinse and soak chana for 8 hours and drain the water. Give them a good rinse.
2. Press saute button on your Instant pot. Pour 2 tablespoons oil to the steel insert of your instant pot. Then add 1 bay leaf, 2 cloves, 2 cardamoms and 1 inch piece of cinnamon.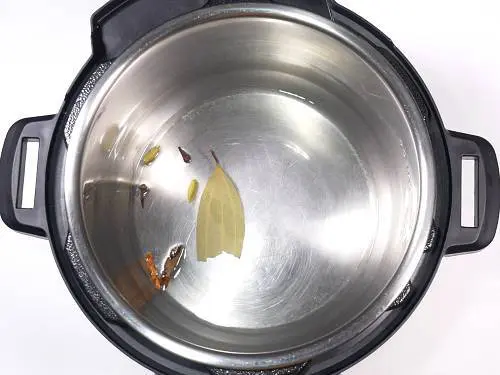 3. As soon as they begin to sizzle add 1 ½ cup fine chopped onions & 1 green chili (optional). Begin to saute them.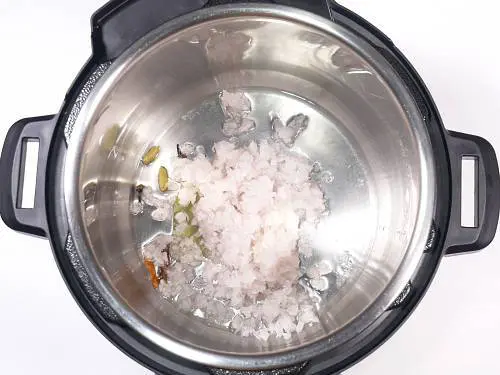 4. Spread them evenly in the oil so they fry faster and uniformly.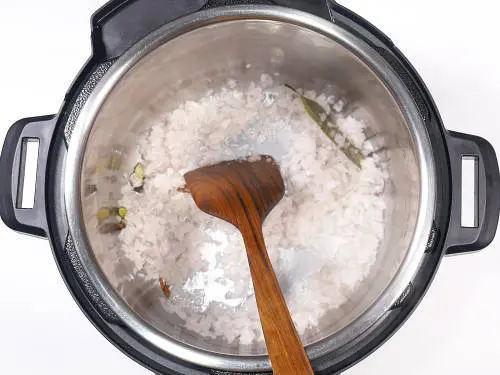 5 Saute until the onions turn golden. If the pot becomes too hot, press cancel sometime in between or switch to saute – less. Then add ¾ to 1 tablespoon ginger garlic (paste or chopped) & saute for 30 to 40 seconds.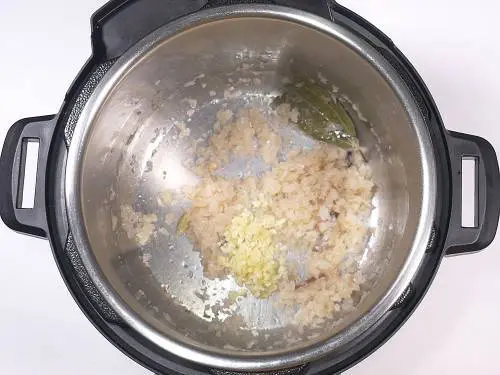 6. Add 1 cup tomatoes (Fine chopped or pureed, 3 No) and ¾ teaspoon salt.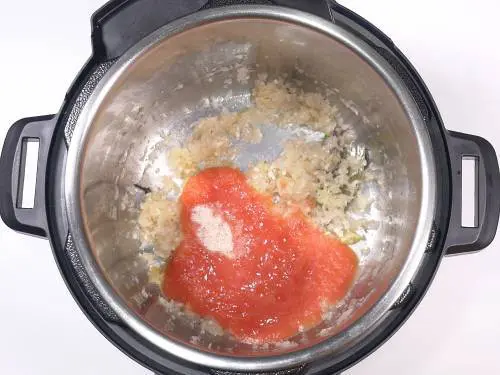 7. Saute until the tomatoes break down and become mushy.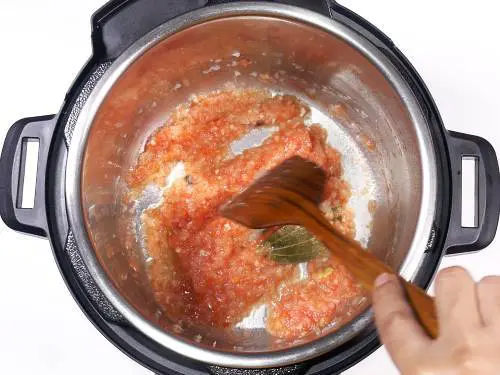 8. Then add all the spice powders – 1 tablespoon chole masala, ¾ teaspoon garam masala, 1 teaspoon coriander powder, ½ to 1 teaspoon red chilli powder &1/8 teaspoon turmeric. If you do not have chole masala, replace it with another ¾ teaspoon garam masala. This is just a substitute but won't give you the same flavors.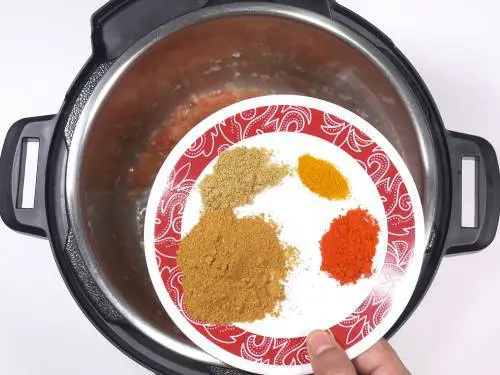 9. Saute for a few minutes until onion tomato masala begins to smell good. This is a very important step so do not skip it.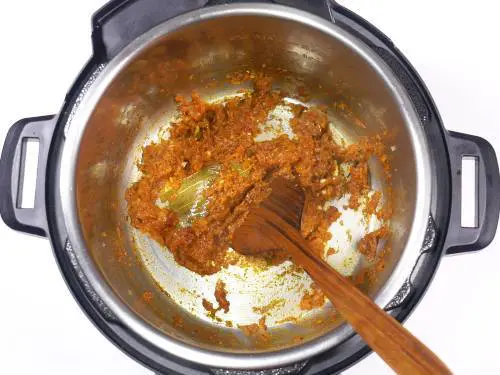 10. Next pour 2 cups water. Deglaze by scrubbing the bottom of the pot with a spatula so any bits of masala stuck there will release. This also avoids burning of any food particles at the bottom.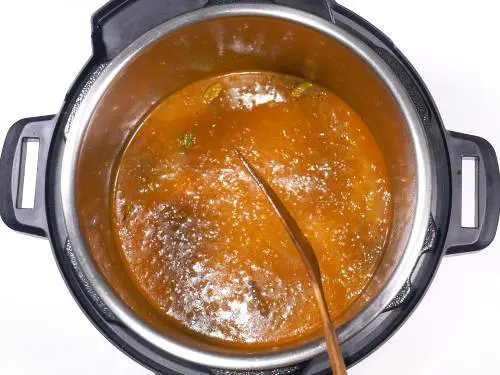 11. Then add chickpeas. Mix well and press cancel. Secure the instant pot with the lid. Position the steam release vent to sealing.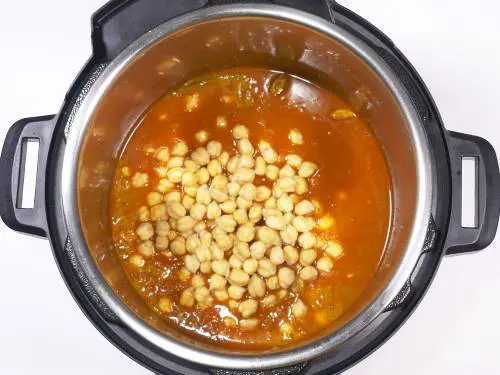 12. Press pressure cook button (high pressure) and set the timer to 35 minutes. If using canned chickpeas set the timer to 10 minutes instead.
The IP beeps when it is done. Wait for the pressure to release naturally for 18 to 20 mins. Then open the lid.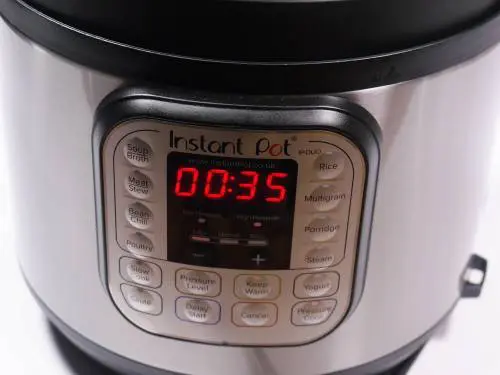 13. Pour 1 tablespoon ghee, ½ inch ginger juliennes and 1 teaspoon kasuri methi. Press the saute button and simmer for 1 to 2 minutes. If you prefer a thicker curry, take 3 to 4 tablespoons chole to another bowl and mash them very well. Transfer this back to the pot and simmer for 3 minutes.
14. Taste test and add salt. Garnish chole with 2 tablespoons fine chopped coriander leaves and serve with bhatura, poori or naan.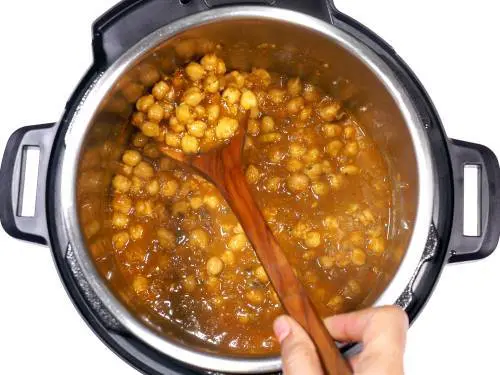 You can check more Instant Pot Recipes here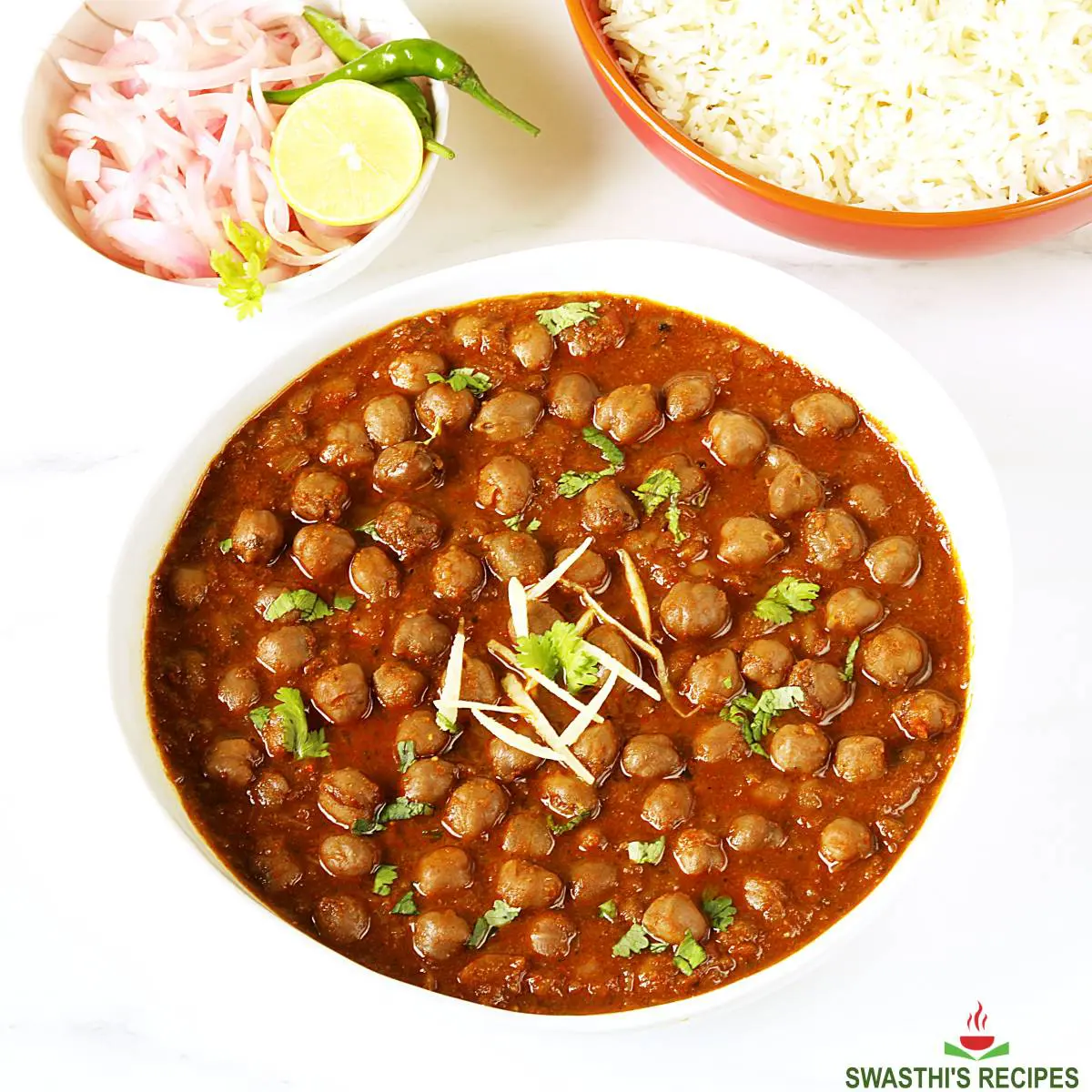 Related Recipes
Recipe Card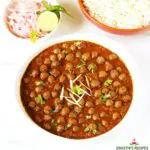 Chole Recipe (Punjabi Chole Masala)
Chole masala is a spicy & flavorful North Indian dish made with chole aka chickpeas, spices and herbs. Serve Punjabi chole with Bhatura, Basmati rice, poori or naan. Instructions for Stovetop and Instant pot included.
Pin Recipe
Print Recipe
For best results follow the step-by-step photos above the recipe card
Ingredients (US cup = 240ml )
To cook chole
1

cup

chickpeas

or chole (uncooked dried)

1

tea bag

(optional) or 2 dried amla pieces or half tsp tea powder
Whole spices (optional)
1

inch

cinnamon

2

cloves

1

small

bay leaf

2

green cardamon
For gravy
2

tablespoons

oil

or as needed

1½

cup

onions

finely chopped or 1¼ cup processed or 1 cup pureed (2 no)

1

green chilli

slit (optional)

¾ to 1

tablespoon

ginger garlic

fine chopped or paste

1

cup

tomatoes

fine chopped or pureed (3 no)

salt

as needed (I used ¾ tsp pink salt)
Spice powders
½ to 1

teaspoon

kashmiri red chili powder

(adjust to taste)

1

tablespoon

chole masala

(refer notes)

¾

teaspoon

garam masala

1

teaspoon

coriander powder

1/8

teaspoon

turmeric

1

teaspoon

kasuri methi

(dried fenugreek leaves) (optional)
To garnish (optional)
1

tbsp

ghee

½

inch

ginger

julienne (for garnishing)

1

green chilli

slit

2

tablespoon

coriander leaves

(fine chopped for garnishing)
Instructions
Preparation (skip this if using canned chickpeas)
Rinse chickpeas in lot of water. Soak them overnight to 8 hours in water.

Next morning, drain the water and rinse them well.

Add to a pressure cooker along with 1½ cup water.

optional – Add a tea bag or dried amla or tea decoction.

Pressure cook until soft for 5 to 6 whistles on a medium heat. Chole must be soft cooked and not al dente.

If the chickpeas are aldente or hard, then pressure cook for 2 more whistles.
How to make Punjabi Chole Masala (stovetop)
Add oil to a hot pan, add cinnamon, clove, cardamom and bay leaf.

When they begin to crackle, add ginger garlic paste and saute until the raw smell goes off.

Add finely chopped onions and green chilli. Saute until the onions lose the raw smell and get golden to light brown.

Next add tomatoes, turmeric & salt. Cook until the mixture turns mushy and soft.

Add chole masala powder, garam masala powder, coriander powder, turmeric & red chili powder .

Stir and fry again for 1 to 2 minutes till the masala flavours come out.

You will also see the oil separating.

Add the pressure cooked chole along with the stock and 1 cup water.

Mix together and add more water as needed to bring it to a consistency.

Cover and simmer on a low flame for about 18 to 20 minutes until the chole absorb the flavors of masala.

When the gravy thickens, add ginger juliennes & kasuri methi if using. Turn off. Keep covered for a while.
Garnish (optional)
Heat ghee in a small tadka pan. Fry ginger and green chilies until fragrant. Pour this over the chole.

Sprinkle coriander leaves. Serve chole with rice, poori or bhatura.
Instant pot chole
Press saute button on the IP and pour oil.

When the Ip displays hot, add the spices. Then the onions and green chili.

Saute the onions until golden to light brown.

Then add in ginger garlic and saute for 30 seconds.

Next add the tomatoes and salt.

Saute well until they break down a bit.

Add garam masala, chole masala, coriander powder, red chilli powder and turmeric.

Saute well until the raw smell of the onion and tomatoes reduces.

Pour 2 cups water and deglaze the pot. Then add soaked chickpeas.

Mix well and secure the IP with the lid.

Position the steam release handle to sealing.

Press cancel. Then press pressure cook (high pressure) and set the timer for 35 mins. If using canned chickpeas, then set the timer to 10 mins.

When the IP is done cooking wait for 18 to 20 mins for the pressure to release naturally.

Then open the lid. Add ghee, ginger julienne and kasuri methi.

Press saute button and cook for a few minutes.

To thicken the curry you can take 3 to 4 tbsps chole to a bowl and mash them well. Add to the curry.

Garnish with coriander leaves.
Notes
If you prefer to use onion puree, boil the cubed onions in hot water for 3 mins until transparent. Cool and make a fine puree.
CHOLE MASALA powder is the key to this recipe. If you do not have it you can also substitute it with 2 tsp garam masala and 2 tsp coriander powder. However the flavor would be different with chole masala powder.
To make chole masala powder you can also make your own by dry roasting the whole spices and then make a fine powder.
1 tbsp coriander seeds
1 tsp fennel seeds or saunf
1 tsp cumin or jeera
1 black cardamom
3 green cardamoms
1 bay leaf
4 cloves
1 inch cinnamon
8 pepper corn
While making the powder add half tsp anardana – dried pomegranate seeds to the blender.
Later at the last step add half tsp amchur – dry mango powder along with kasuri methi to the simmering chole.
Alternative quantities provided in the recipe card are for 1x only, original recipe.
For best results follow my detailed step-by-step photo instructions and tips above the recipe card.
NUTRITION INFO (estimation only)
Nutrition Facts
Chole Recipe (Punjabi Chole Masala)
Amount Per Serving
Calories 229
Calories from Fat 81
% Daily Value*
Fat 9g14%
Sodium 123mg5%
Potassium 597mg17%
Carbohydrates 31g10%
Protein 7g14%
Vitamin A 455IU9%
Vitamin C 55.4mg67%
Calcium 92mg9%
Iron 4mg22%
* Percent Daily Values are based on a 2000 calorie diet.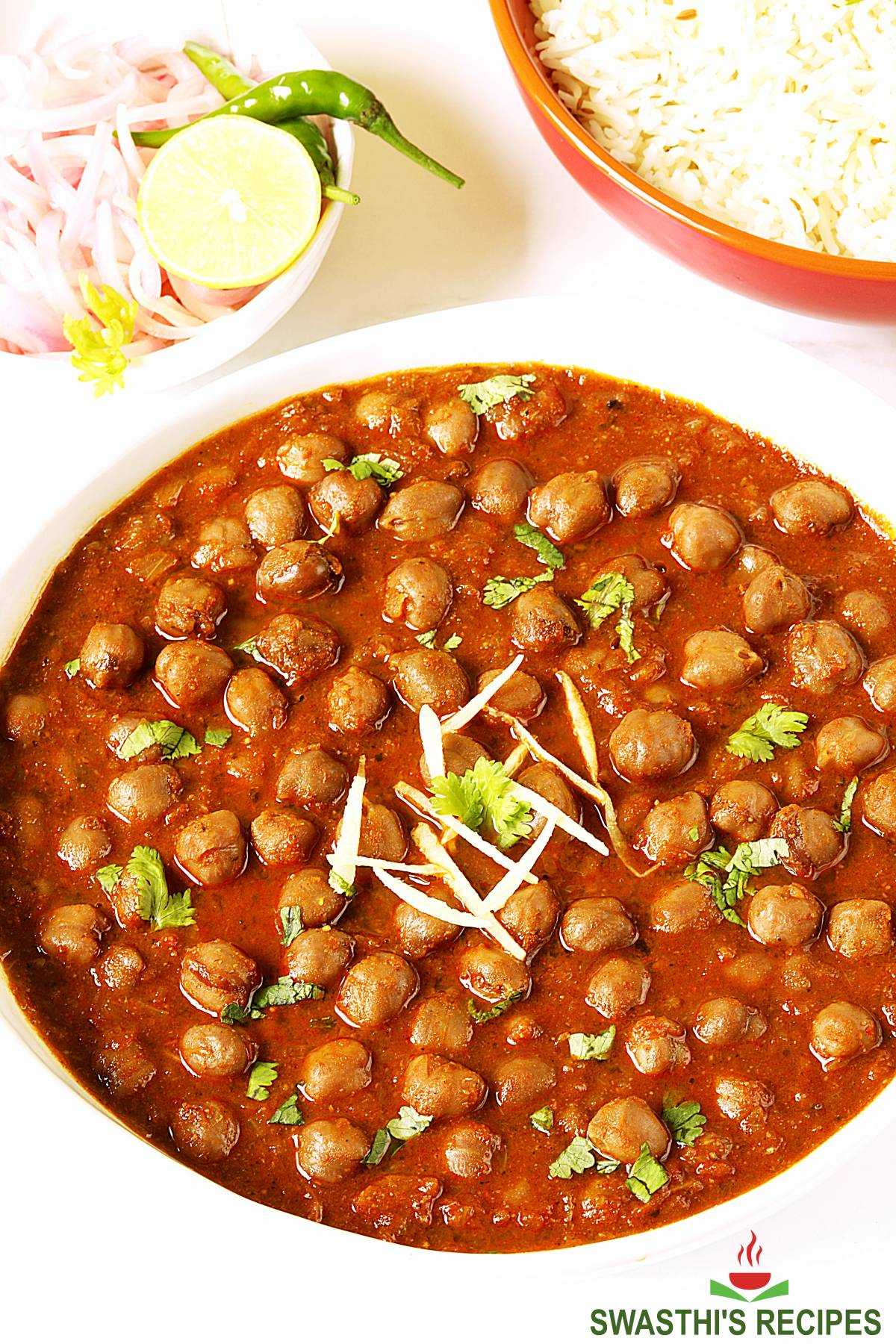 About Swasthi
I'm Swasthi Shreekanth, the recipe developer, food photographer & food writer behind Swasthi's Recipes. My aim is to help you cook great Indian food with my time-tested recipes. After 2 decades of experience in practical Indian cooking I started this blog to help people cook better & more often at home. Whether you are a novice or an experienced cook I am sure Swasthi's Recipes will assist you to enhance your cooking skills.
Follow Swasthi's Recipes