Raita Recipe with 12 delicious, healthy and refreshing variations. Serve raita with biryani, pulao, kebabs or any Indian meal. Looking for a coolant after a flaming spice lunch? Nothing beats the heat from a mouth burning dish, like a raita. Made with curd (Indian yogurt) and a mix-ins of spices, herbs, vegetables and sometimes fruits, this tasty side adds depth to your Kebabs, Biryanis, Pulao, Parathas and any meal.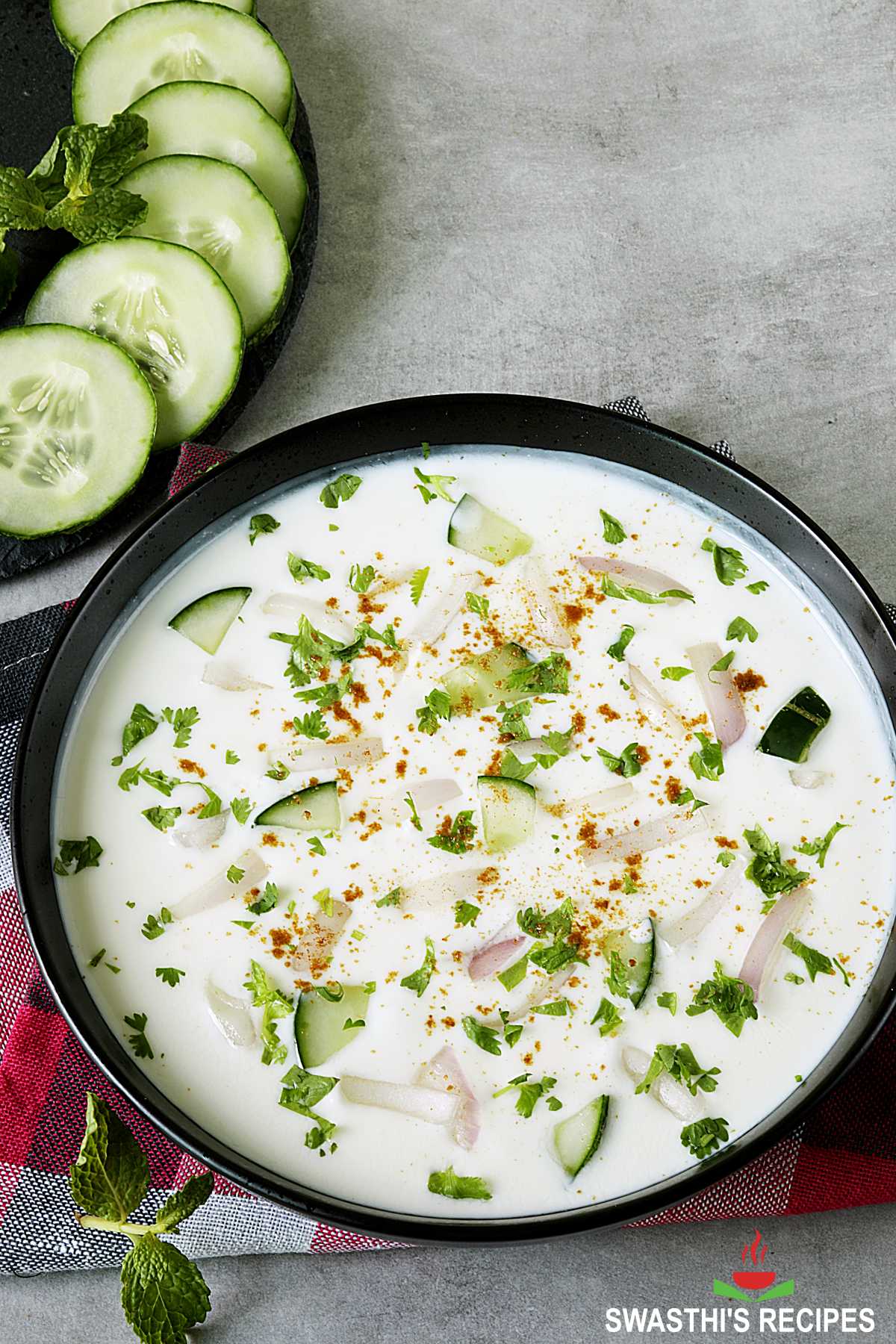 Most Indian home meals will include the quick to whip-up raita. But why stop with Indian dishes! This curd dish makes a good dipping and serving sauce for fried snacks like falafel, burger patties and barbecues.
Let's find out more about the raita.
What is Raita?
Raita is a side dish from Indian Cuisine, made with yogurt, spices, herbs, vegetables and sometimes even with fruits. It is an integral part of Indian meal menus. Call it what you like – raita, pachadi, curd dip, or the Indian cousin of Greek tzatziki, this yogurt condiment is healthy and adaptable.
Summers in India are synonyms with cooling foods from seasonal fruit and ice cream to lassi, chaas, kadhi and raita.
From a no-fuss recipe with onions and seasoning to complex dishes with cooked vegetables and garnishes, this dish comes in varied flavors.
A celebrated hero among summer dishes, this curd-based dish adds balance and flavor to an Indian meal and complete it. You can transform the humble yogurt into a mouthwatering side with a handful of ordinary ingredients.
Raita is quick, easy and nutritious side that goes perfectly with spicy foods and snacks. A raita wouldn't quite be it without a good yogurt which gets a boost of flavors with spices and herbs. If you are new to making perfect Indian yogurt at home, You may check my post on How to make Curd.
A ladle of raita can instantly improve a bland meal and cuts the pungency of a fiery dish. Swap your favorite vegetables and aromatics to create countless new variations which I have shared here, each tastier than the previous.
Health Benefits of Raita
This dip dons many hats at a time. The yogurt in this dish is a known probiotic. It promotes the growth of good bacteria, improves gut health and in turn, helps the digestive process. Not to mention the calcium and nutrient value of the ingredients.
A raita is an enjoyable way to eat some raw veggies. They add extra nourishment in the form of healing herbs and spices.
Spices and herbs in raita
Cumin powder (jeera) and chili powder are two of the commonly used spices in a raita. Cumin works as a cooling agent and digestive aid. It also adds a smoky zest. Some prefer to use chaat masala or coriander powder for fresh flavors.
When it comes to herbs, cilantro is the preferred one. When used, mint adds a zesty and cooling effect. If you can tolerate heat, add some chopped green chili or other spicy peppers.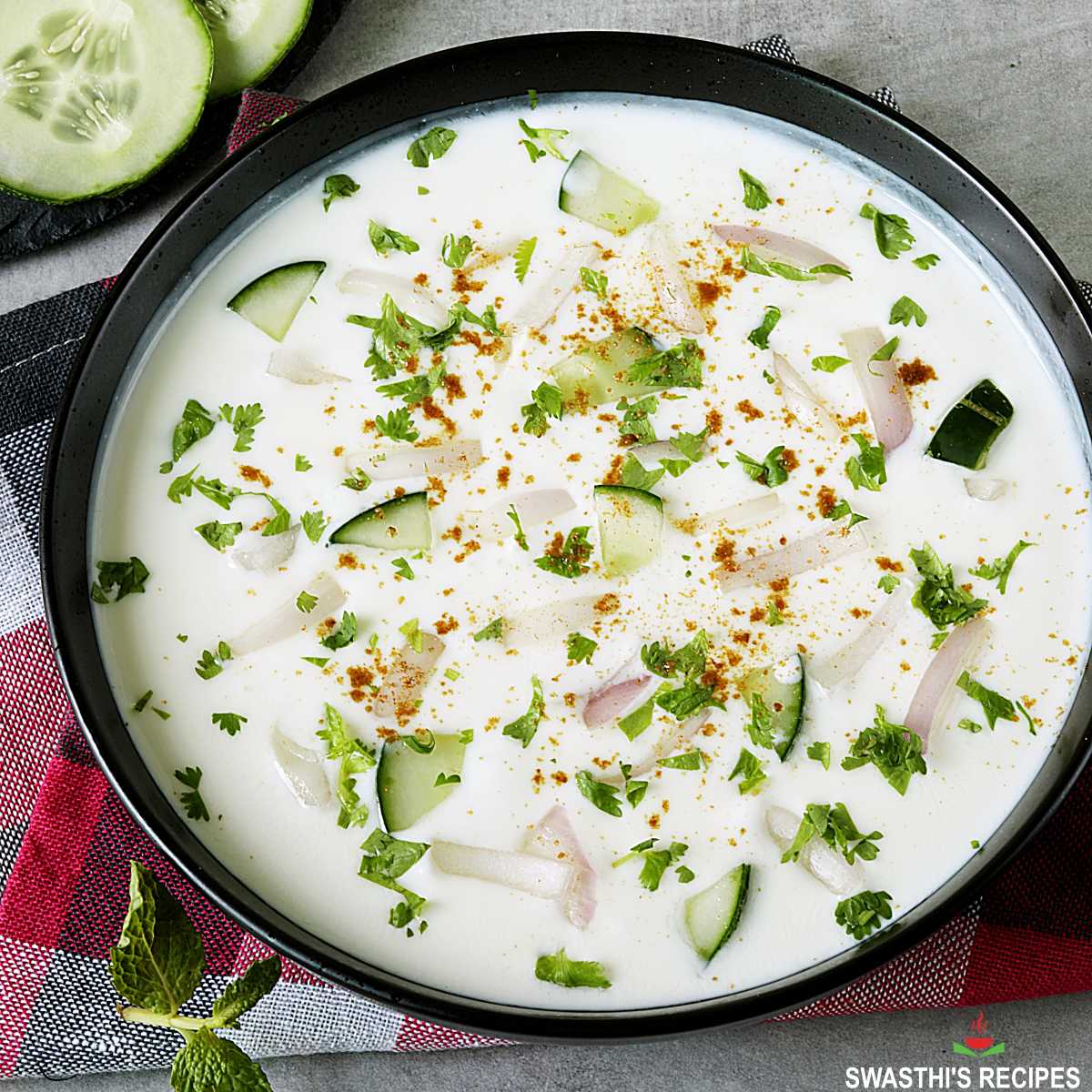 Tips for Making The Perfect Raita
If you think this dish is the domain of someone who can eat or tolerate dairy, you're in for a surprise. They taste just as great when you use plant-based yogurt. You control what goes into it, but here are a couple of ideas to help you make an excellent raita every single time.
Ensure you use fresh ingredients whether it's the curd or veggies and spices.
Use store bought yogurt if you're pressed for time, but raita made with homemade curd is another level of yum.
Avoid sour yogurt as it will ruin the flavor profile, unless you're a big fan of sour foods.
Don't add too much of spices. We want the basic tang of the yogurt to shine through. A little spice goes a long way.
Now that we've covered the basics, let's get to actual raita making.
Related recipes
Chicken biryani
Mutton biryani
Veg biryani
Basic Raita
The simplest of raitas has five specific ingredients. Nothing hard to find, rather items you use every day. Chopped onions transform the humble curd into something delicious. Green chili provides the heat and punch. The extra flavor comes from chopped coriander leaves and mint, not to forget the seasonings.
Want to build up on the side? Add chopped vegetables like carrots, zucchini, cucumber and beetroot. Don't care much about coriander? Add freshly chopped parsley or dill leaves.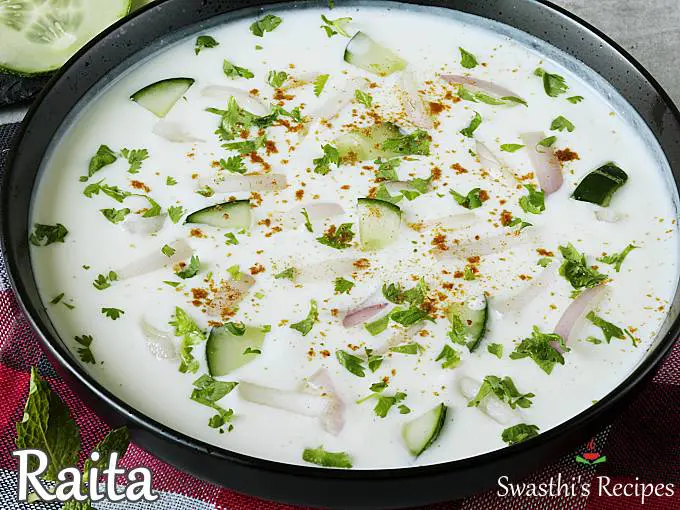 Recipe Card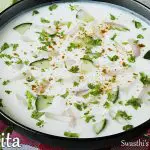 Raita Recipe
Raita is a quick side dish made with curd, veggies, spices & herbs. It is usually eaten as a side with pulao, biryani, kebabs or snacks.
Print Recipe
Pin Recipe
Jump to Comments
For best results follow the step-by-step photos above the recipe card
Ingredients (US cup = 240ml )
1

cup

curd

(fresh plain yogurt, more if required)

1

medium

onion

chopped (2 to 4 tbsps)

½

cup

cucumbers

(peeled & chopped)

¼

teaspoon

salt

(adjust to taste)

1 to 2

green chilies

deseeded & chopped

1 to 2

tablespoons

coriander leaves

(chopped finely cilantro)

½

teaspoon

cumin powder

or roasted jeera (optional)
Instructions
Preparation
Chill the yogurt. Rinse & chop the onions & green chilies. Rinse & peel the cucumbers. If needed deseed them & chop to bite sizes.

Rinse coriander leaves in ample amount of water. Drain completely and chop them fine.

Optional – Roast 1 tsp cumin seeds on a low flame until it smells good. Cool this and crush them to fine powder in a spice jar.
How to make raita
Add curd and salt to a mixing bowl. Whisk them until smooth with a fork or a whisk.

Next add chopped cucumbers, onions, cumin powder, coriander leaves and green chilies.

Stir gently. If required add more yogurt. Taste test and add more salt if required.
Alternative quantities provided in the recipe card are for 1x only, original recipe.
For best results follow my detailed step-by-step photo instructions and tips above the recipe card.
NUTRITION INFO (estimation only)
Nutrition Facts
Raita Recipe
Amount Per Serving
Calories 108
Calories from Fat 36
% Daily Value*
Fat 4g6%
Cholesterol 15mg5%
Sodium 280mg12%
Potassium 315mg9%
Carbohydrates 13g4%
Protein 5g10%
Vitamin A 120IU2%
Vitamin C 8.4mg10%
Calcium 161mg16%
Iron 0.5mg3%
* Percent Daily Values are based on a 2000 calorie diet.
Cucumber Raita
Young cucumbers make a great addition to a raita providing you with the crunch and double the cooling effect. Chopped cucumbers go into a bowl of yogurt seasoned with green chili, black pepper and cumin powder. Mint and coriander leaves enhance the mouthfeel of this dish.
Can't stand the heat from chili and black pepper? Skip these or add mild paprika instead. This goes perfectly with a spicy biryani or curry dish.
Don't have Indian cucumber at hand? Use English or Japanese cucumbers without losing out on the taste.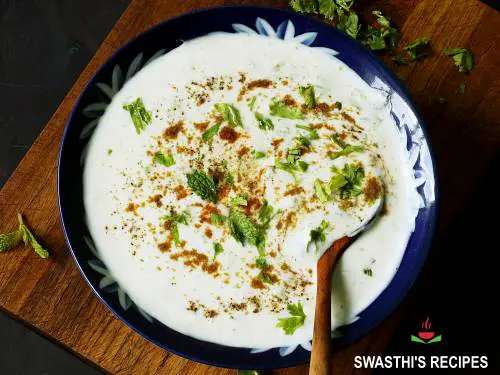 Ingredients
1 cup chopped cucumber
1 cup curd (adjust as needed to get the desired consistency)
Salt as needed
½ to 1 tsp roasted cumin powder
pinch of red chilli powder (optional. for garnish)
few mint leaves or coriander leaves chopped finely(optional)
1 green chili seeded and chopped
Instructions
Whisk the yogurt well with salt and cumin powder.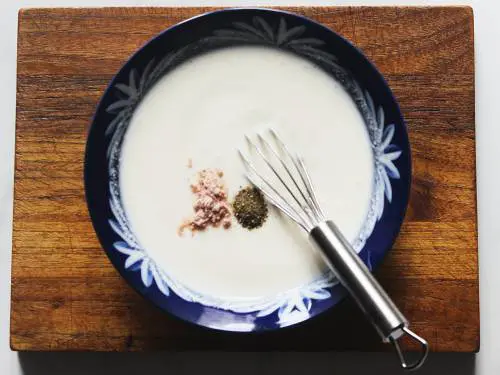 Wash and peel cucumber.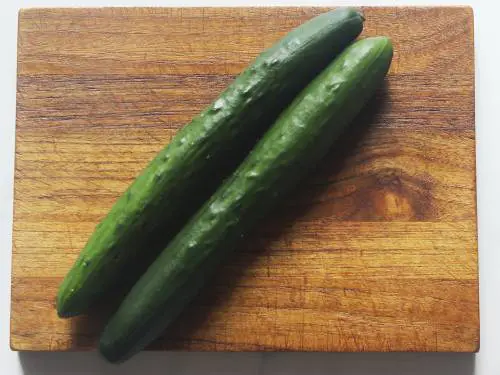 Deseed if required and Chop to small bites.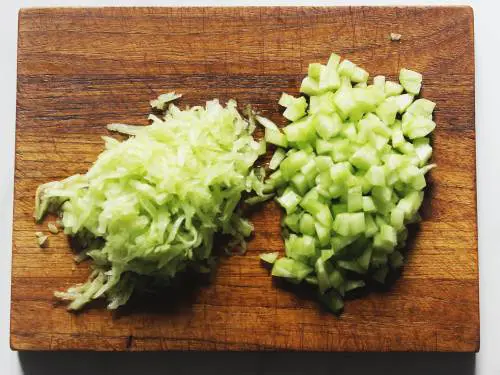 Add them to the bowl along with mint coriander leaves. Mix everything well.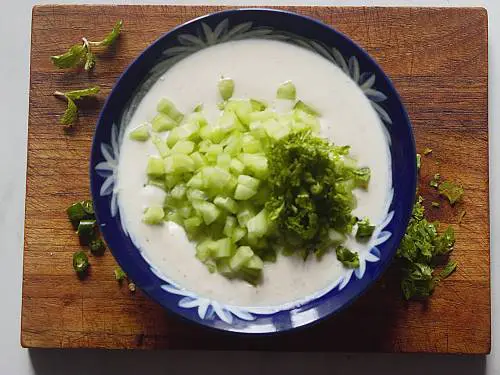 Garnish with cumin powder, coriander leaves, red chilli powder and black pepper if required.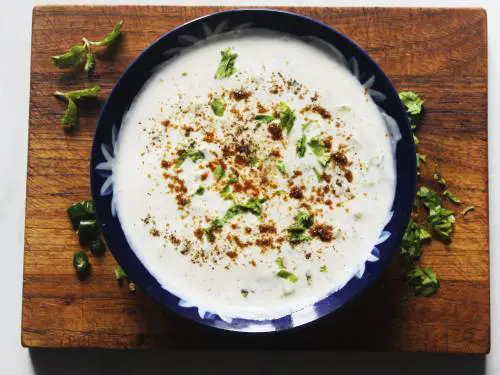 Boondi Raita
A unique and well-loved raita, you'll find this served at most Indian restaurants as part of the thali or full course meal. Boondi is tiny fried balls made with chickpea or besan flour put through a special ladle with round holes.
The crunch of nutty boondi blends with chaat masala and chili powder to create a delectable yogurt condiment.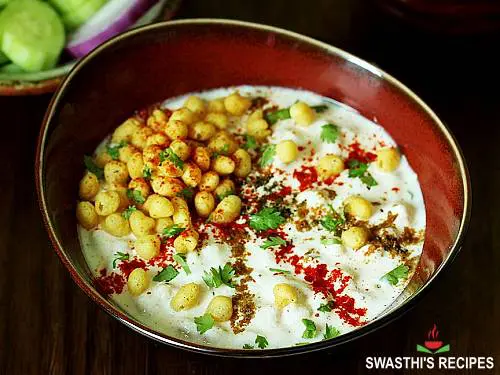 Ingredients
1 ¼ cup fresh curd / yogurt (more if required)
¾ to 1 cup boondi
Salt as needed (boondi is salted so use very little)
¼ to ½ tsp roasted cumin powder (more for garnish)
¼ tsp red chili powder (adjust to taste)
1 tbsp coriander leaves
½ tsp chaat masala (optional, adjust to taste)
How to make boondi raita
Whisk curd with salt & cumin powder. Add coriander leaves & mix. If you want you can also add some red chilli powder to the yogurt.
You can add the tiny fried balls directly into the curd mixture with the rest of the seasoning. But if you want to avoid the greasy flavor in your raita, there is an alternate method, Soak the fried boondi in a bowl of water for 1 to 2 minutes. Squeeze well to remove all the liquid and add to the curd.
Taste test and add more seasoning if required.
Sprinkle some crunchy boondi, chilli powder, ground cumin and coriander leaves for garnish.
North Indian Vegetable Raita
Mixed vegetable raita is made with a mix of vegetables like onions, cucumber, carrots and tomatoes. You will see this most often served in the North Indian restaurants in a Thali or a buffet.
This tastes completely different from other raitas, in a way it has more complex flavors of roasted cumin powder, red chili powder, black salt and chaat masala mixed into the raita.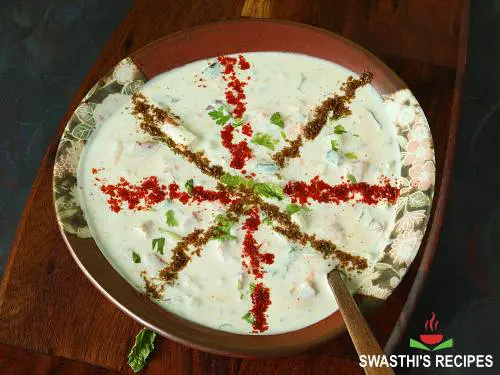 2 to 2 ½ cups yogurt
¼ cup onions
¼ cup deseeded chopped tomatoes
¼ cup carrot
¾ cup cucumber deseeded, peeled and chopped
Handful of coriander leaves chopped finely
green chilies 2 to 3 chopped
salt as needed (preferable black salt for flavor)
1 tsp roasted cumin powder (more for garnish)
¼ tsp red chilli powder (more for garnish if required)
1 tsp chaat masala (more for garnish)
Instructions
Whisk curd well until smooth.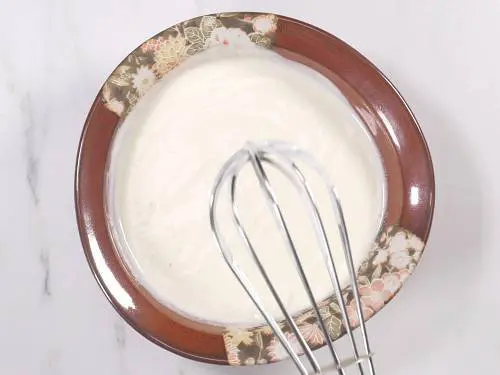 Add vegetables, salt, green chilies and coriander leaves.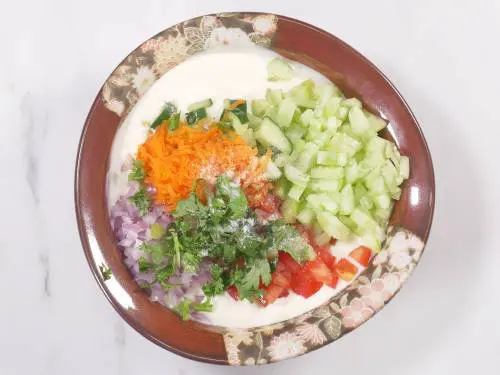 Add cumin powder, chaat masala and red chilli powder.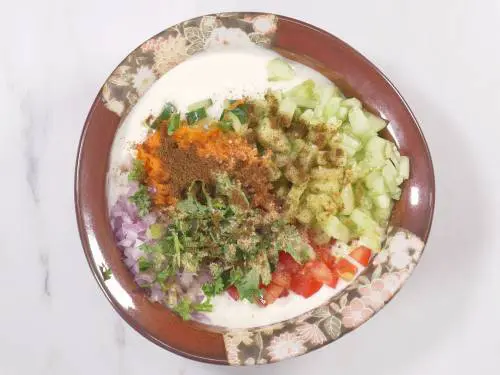 Mix well and taste test and adjust the seasoning. If you prefer more veggies, stir in more yogurt at this stage. Garnish mixed vegetable raita with red chilli powder, chaat masala and cumin powder.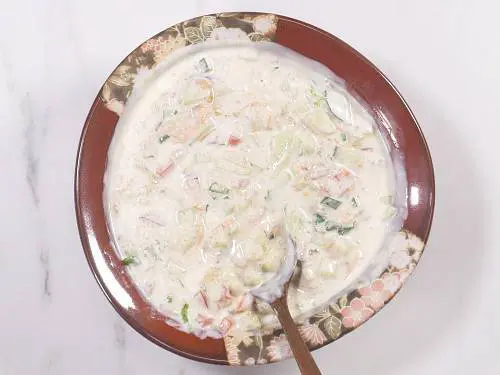 South Indian Onion Raita
South Indian onion raita is the simplest of all the raitas and you will find this always served with meat and vegetarian biryanis and pulaos. Also known as thayir pachadi, perugu pachadi or perugu chutney, this is a staple in most places – from South Indian households to budget and upscale restaurants.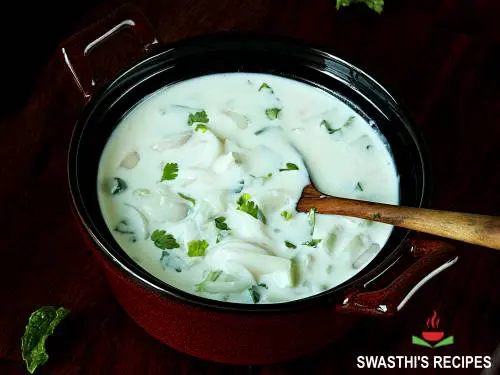 In this version you won't find the ground spices or any other ingredients like cumin powder or red chilli powder. Some people like to add grated carrots or a few tbsps of chopped cucumber, but these are optional.
For this version it is important to use good quality onions that don't smell bad. If your onions are too pungent, you may cut each onion to 2 parts and soak them in water for 15 to 20 mins. This removes the pungent smell. Then drain the water completely and then slice.
Ingredients
1 cup yogurt/ curd (more if required to adjust the consistency)
½ cup onions roughly chopped (1 medium)
1 to 3 green chilies deseeded and chopped
Salt as required
1 to 2 tbsps coriander leaves fine chopped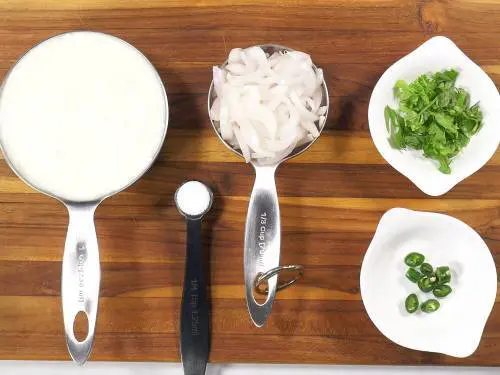 Instructions
1. Whisk curd with salt until smooth.
2. Add all the other ingredients and mix. Taste test and adjust the seasoning.
Mint Coriander Raita
This is known by different names as dahi chutney, kebab chutney, kebab raita, mint raita, mint chutney for kebab etc. These names are purely region or country specific, mostly used in Indian restaurants abroad.
This goes so well with pulao, biryani, parathas, rolls and wraps. You can also serve with kababs like Chicken kebab, Soya seekh kabab, Vegetarian Hara bhara kabab, Grilled tandoori chicken, Reshmi / malai kabab, Mixed veg cutlet and chicken cutlet.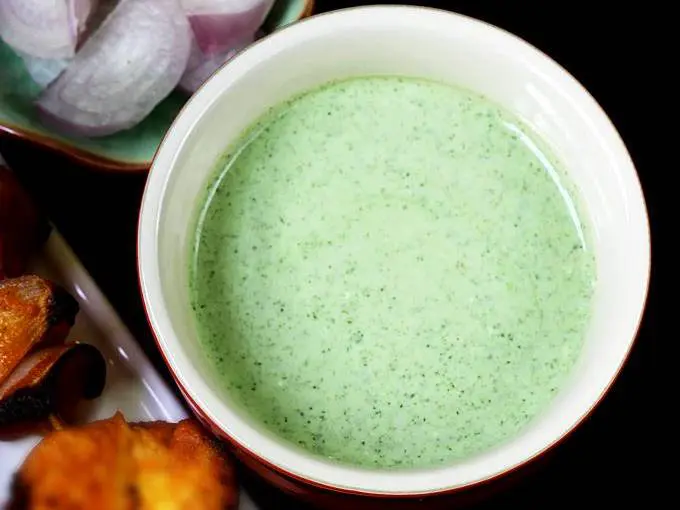 Ingredients
¾ to 1 cup thick fresh curd / dahi
2 to 3 deseeded green chili
1 cup loosely measured fresh pudina / mint leaves (15 grams)
½ cup coriander leaves (15 grams)
1 small garlic clove
¼ inch ginger
½ to ¾ tsp roasted cumin powder/ jeera (or 1 tsp cumin seeds)
¼ to ½ tsp sugar
salt as needed
How to make
Wash mint & coriander in lot of water. Drain them very well in a colander.
Dry roast 1 tsp cumin until aromatic and cool it. Powder it in a small grinder/blender jar.
Add 2 tbsp of curd, coriander, sugar, mint, salt, ginger, garlic and chili to the blender jar.
Blend them all well until smooth.
Whisk the remaining yogurt in a bowl and then add the mint coriander paste. Mix well. Taste test and add more salt if required. If you want you can also add some chaat masala.
Onion Mint Raita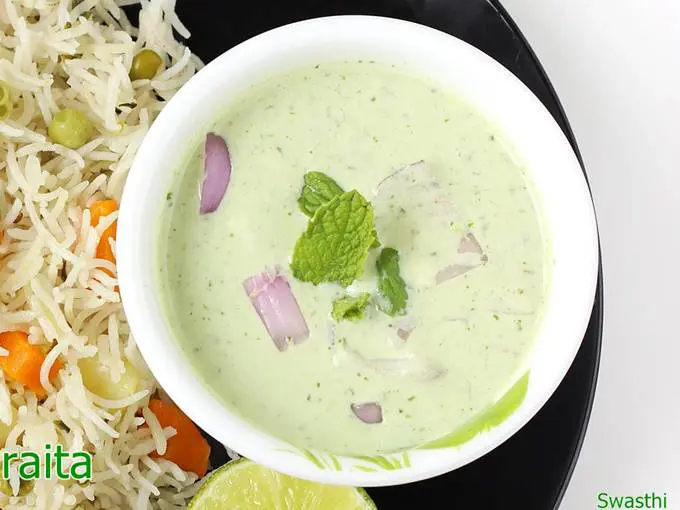 Ingredients
¾ cup fresh mint leaves/pudina (loosely measured)
1 large onion chopped or half cup chopped cucumber
½ tsp cumin seeds
¼ to ½ tsp. sugar
salt as needed
1¼ cup thick curd or Greek yogurt
small green chili (deseeded)
Method
1. Wash mint/ pudina leaves few times. Drain them to a colander.
2. Dry roast cumin and cool it. Add cumin to a blender jar and powder. You can skip this if you have the powder ready, just use the powder directly.
3. Add 1 tbsp of curd, mint, coriander, sugar, salt and chili to the jar.
4. Blend until fine. Mix with the rest of the curd.
5. Add chopped onions or cucumber pieces. Serve onion mint raita with any meal.
Green Chilli Raita
This may be a good choice for those with young kids at home. Make your biryani, pulao kids friendly with out green chilies. Make a carrot raita for the kids. Then make this chilli raita to go with your biryani.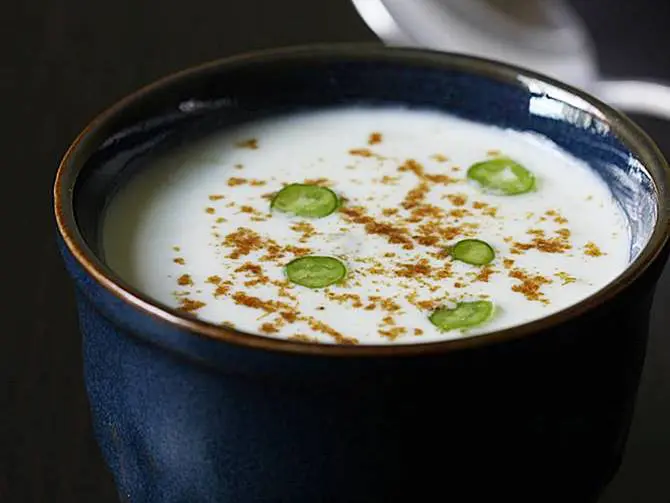 Ingredients
¾ to 1 cup fresh curd
2 to 4 hot green chilies
¼ to ½ tsp sugar (organic) (optional)
½ to ¾ tsp cumin or jeera powder
coriander leaves few chopped (optional)
Method
1. If you like you can deseed and use the green chilies to reduce the heat.
2. Fry green chilies in 1 tsp oil until they blister. Cool and blend with 2 tbsps curd and sugar in a blender. Mix with the rest of the curd and salt. Garnish with cumin powder. It is good to serve this chilled.
Cabbage Raita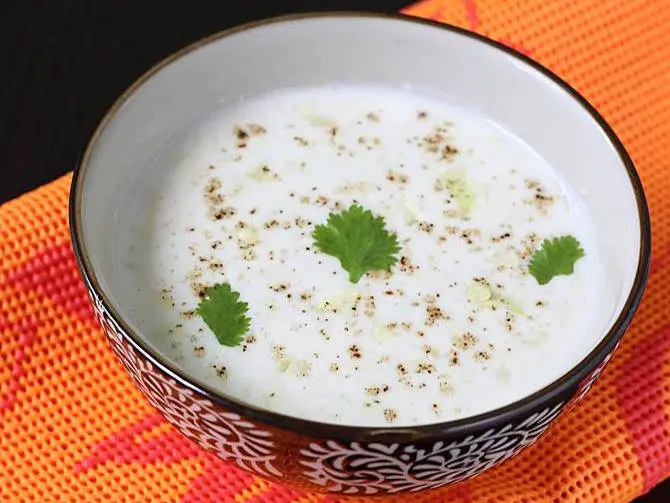 Ingredients
½ cup finely chopped cabbage
1 cup greek yogurt or hung curd
1 green chili deseeded & chopped
Roasted cumin powder / jeera powder to suit your taste
Few coriander leaves chopped
Sat as required
How to make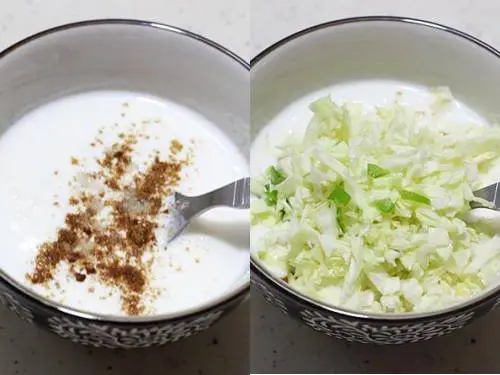 Bring 5 to 6 cups water to a boil and turn off the heat. Add the shredded cabbage and give a good mix and drain to a colander.
Immediately pour cold water and rinse well. Drain water completely and set aside.
Whisk curd with salt & cumin.
Add cabbage, green chili and coriander leaves.
Mix everything well.
Sprinkle black pepper.
Pahadi Raita
What do hills and yogurt have in common? Nothing except that this raita from Kumaon cuisine can transport to you to lush green mountains of Uttarakhand with clean air and breathtaking views.
The original pahadi recipe uses a locally grown variety of giant cucumber with yellowish skin. Use any type of cucumber to recreate this recipe.
Grated cucumber blends with thick curds. The exceptional tasting spice paste contains yellow mustard seeds combined with red chili powder and turmeric. Chopped green chili and coriander leaves add the finishing touches to the raita.
How to make
Grind 1 teaspoon mustard seeds to a smooth powder.
Grate cucumber (1 cup) and squeeze off the excess juices from it.
Whisk 1 cup yogurt with mustard powder, 1/8 teaspoon turmeric and 1/4 teaspoon salt to a smooth consistency. You can also add little red chilli powder if you like.
Add 2 fine chopped green chilies and 2 tbsps coriander leaves.
Mix everything well and your pahadi raita is ready.
Burani Raita
If you love adding garlic to everything you cook, this raita will soon become your go-to recipe. Deceptively simple but damn delicious, this curd condiment gets all its tang from garlic.
You can simply add minced garlic cloves or fresh garlic paste to the curd mixture with salt and other seasonings.
To get a deeper and smokier flavor from the garlic, fry the garlic cloves in oil and add the tempering to the yogurt.
Ingredients
1 ¼ cup fresh thick curd / yogurt
2 medium garlic cloves
Salt to taste
¾ tsp roasted cumin powder
2 generous pinches of red chili powder
How to make
Whisk together curd, chilli powder and salt.
Blend 2 garlic cloves with 2 tbsps of yogurt. Optionally you may skip this step and fry the fine chopped garlic in 1 tbsp of oil until uniformly golden. Do not brown it to avoid bitter flavor. Cool this and pour the whole thing to whisked yogurt. If you love the more intense garlic flavor, you can add the raw garlic and add more fried garlic too.
Mix it with the rest of the whisked yogurt.
Garnish with cumin powder.
Pomegranate raita or fruit raita
Ingredients
1 cup thick curd / yogurt
½ cup pomegranate / anardana (or sweet mangoes & grapes)
Salt to taste
¼ tsp roasted cumin powder
2 generous pinches of red chili powder (optional)

Whisk the curd to smooth with salt, chili powder and cumin powder. Add the pomegranate seeds and serve. This goes well with pulao and biryani that are not much hot (from chilies) as this tastes slightly hot.
Grilled or sautéed Vegetable Raita
Bored of those simple flavors of the regular raita? If you're looking for crunch, depth and bold flavors in your yogurt dip, you ought to recreate this recipe of mine at least once in your kitchen.
This one is vastly different from the others because of sautéed or roasted vegetables. This dish is heavier than the others and works as a standalone side to a spicy biryani or flavored rice dishes.
You can use any vegetable you like or a combination or two or more. Cook the vegetables well with cumin seeds and green chili. Add in aromatics like garlic and ginger for a burst of extra flavor. Go ahead and mix-in seasonings including salt, cumin powder or chaat masala.
Add the cooled veggies to the yogurt and serve. Easy enough.
So, what kind of veggies complement this raita? Greens like spinach work for this dish. Roast some eggplants to give a flavorsome twist. Sauté some bottle gourd or snake gourd. White pumpkin and squash could add a refreshing note to the raita.
I have a few which I have shared on the blog. You may check them here – Potlakaya perugu pachadi and Bottle gourd perugu pachadi.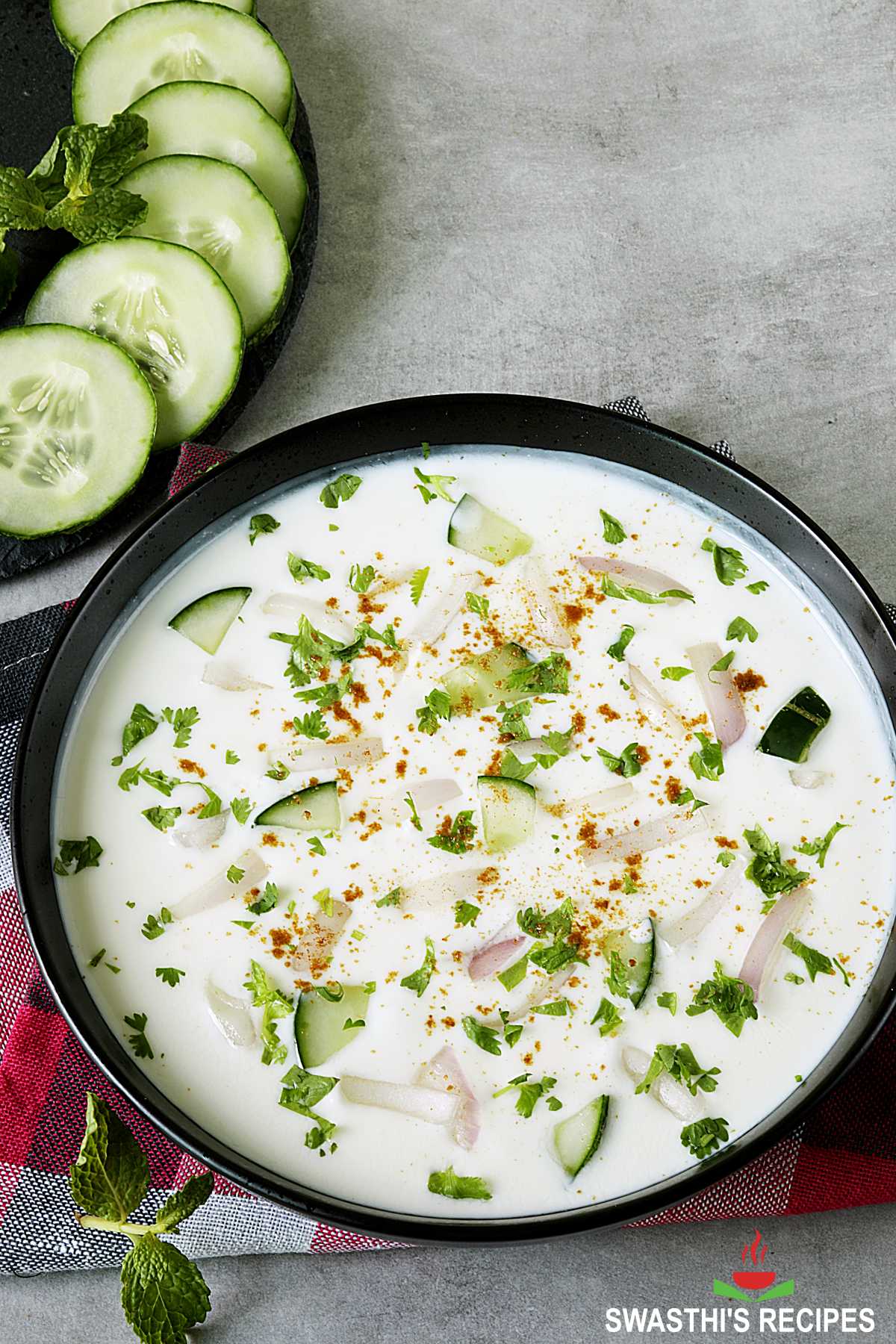 About Swasthi
I'm Swasthi Shreekanth, the recipe developer, food photographer & food writer behind Swasthi's Recipes. My aim is to help you cook great Indian food with my time-tested recipes. After 2 decades of experience in practical Indian cooking I started this blog to help people cook better & more often at home. Whether you are a novice or an experienced cook I am sure Swasthi's Recipes will assist you to enhance your cooking skills. More about me
Follow Swasthi's Recipes