Paratha recipe – Learn how to make plain paratha with step by step photos. Parathas are one of the most popular unleavened flatbreads from Indian Cuisine. These are made using whole wheat flour known as atta. They are eaten with a curry or chutney and is a staple food in many homes for breakfast or a meal.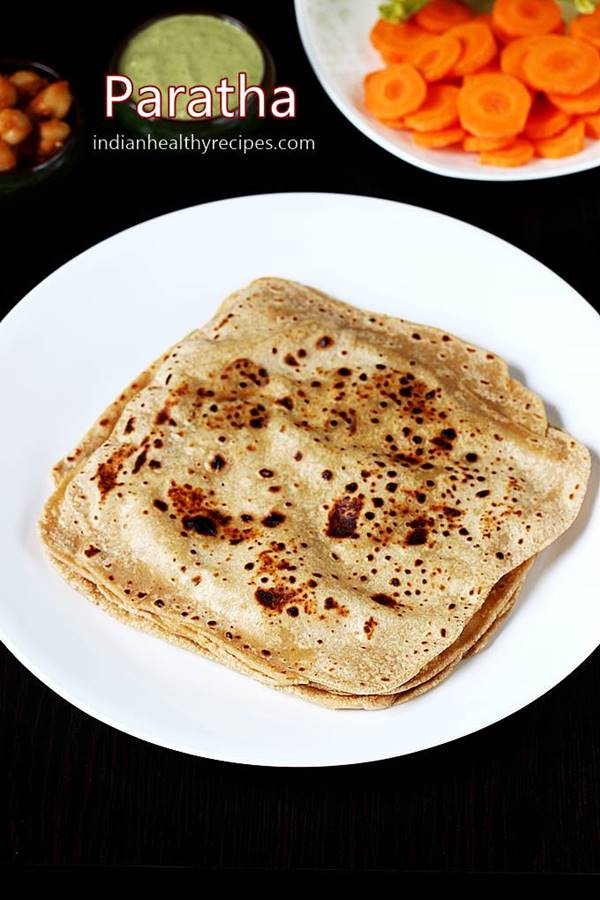 More Paratha recipes
Vegetable paratha
Egg paratha
Palak paratha
Methi paratha.
I am sharing the recipe for plain paratha made with atta. These go good even in the lunch box or can also be eaten as a evening snack with a good Curry or Chutney. I use oil if making for lunch box as ghee tends to harden the paratha in cold temperatures.
You can also add a tbsp of curd or yogurt while mixing the dough. This helps the paratha to remain soft for long hours.
You can also accompany these with
Dal dishes
Chicken curry
Egg curry
Paneer recipes.
You can find more breakfast recipes here.
Paratha recipe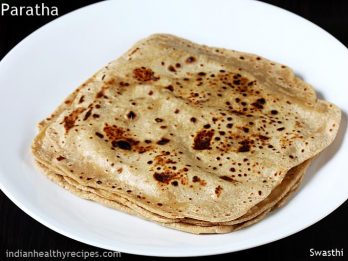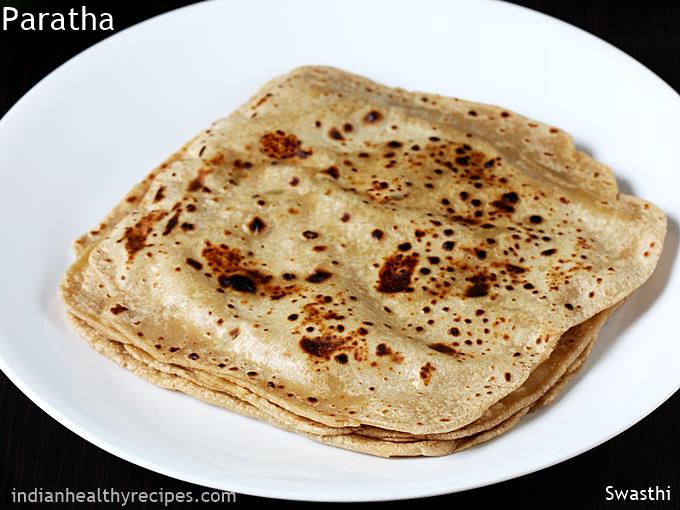 Paratha recipe | How to make plain paratha recipe | Atta paratha
Plain paratha recipe - Parathas are unleavened Indian flat breads made with whole wheat flour. They are eaten for breakfast or a meal with chutney, pickle, curry or yogurt. This recipe shares how to make simple layered paratha.
Ingredients (240 ml cup used)
Ingredients for paratha recipe
2

cups

wheat flour

or atta (substitute with all-purpose flour)

2

tsps

oil

(optional)

¾ to 1

cup

water

(or luke warm water)

¼

tsp

salt

(optional)

2

tbsp

ghee

or oil as needed
How to make the recipe
Making dough for paratha
Mix together flour, salt, oil in a wide mixing bowl. Pour water little by little to make a tight or stiff dough. The dough must not be sticky.

Knead well to make the dough soft and pliable. If necessary knead with moist fingers.

Wrap it in a moist cloth and set aside for 30 mins. You can also grease the ball with a few drops of oil and cover.

Knead the dough lightly. Divide the dough to 8 parts. Then roll them to balls. Keep them covered.
How to make paratha
Take a few tbsps of flour to a small bowl. Flour the rolling area. Dip a ball in the flour and dust off excess. Too much flour on the parathas can make them hard.

Place the ball on the rolling area and flatten it slightly with fingers.

With the help of a rolling pin begin to roll each ball to a round layer or roti of 7 inches.

Apply ghee all over and fold 1/3 part of it and then apply the ghee to the folded part as well. Repeat folding the other 1/3 part and then further to get a square.

Sprinkle little more flour if needed to prevent sticking. Then roll the square further to make a 7 inch square paratha.
Frying paratha
Heat a tawa or griddle until hot on a medium high flame. Transfer paratha to the griddle. When you see bubbles flip it.

Fry on a medium high flame on the other side as well until brown spots appear.

Drizzle ghee on both sides.

Stack them one over the other and keep them covered in a kitchen tissue or a cloth.

Serve paratha with curry or chutney.
Nutrition Facts
Paratha recipe | How to make plain paratha recipe | Atta paratha
Amount Per Serving
Calories 155
Calories from Fat 45
% Daily Value*
Total Fat 5g 8%
Cholesterol 9mg 3%
Sodium 73mg 3%
Potassium 33mg 1%
Total Carbohydrates 23g 8%
Protein 3g 6%
* Percent Daily Values are based on a 2000 calorie diet.
Making dough for paratha
1. Add 2 cups or 250 grams whole wheat flour (atta), ¼ tsp salt (optional) and 2 tsps oil (optional) to a mixing bowl.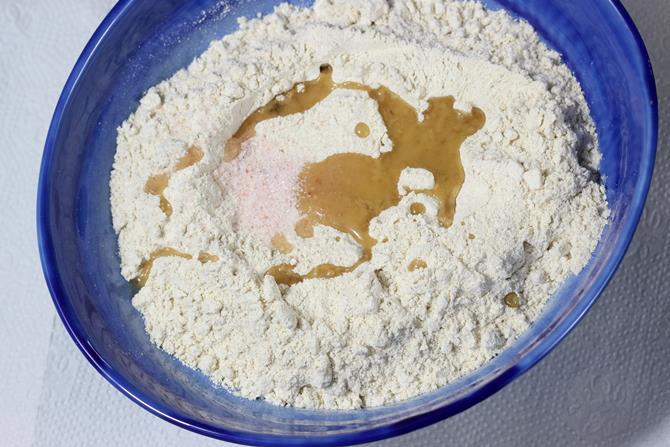 2. To knead the dough I use 1 cup water for 2 cups flour, it may vary slightly depending on the kind of flour. Add ¾ cup plain water over the salt and oil. You can also use luke warm water.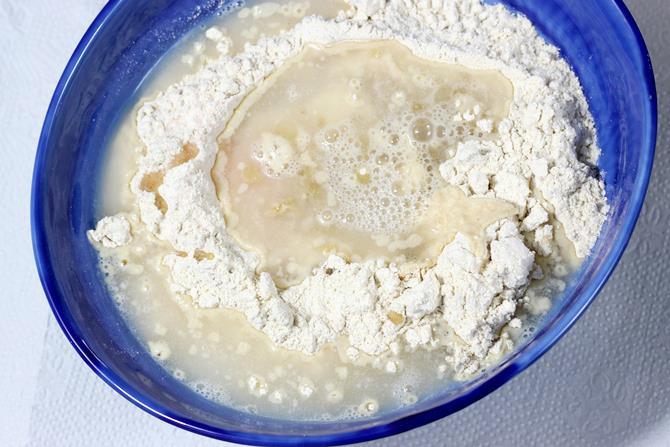 3. Begin to mix the flour. Use your fingers to mix.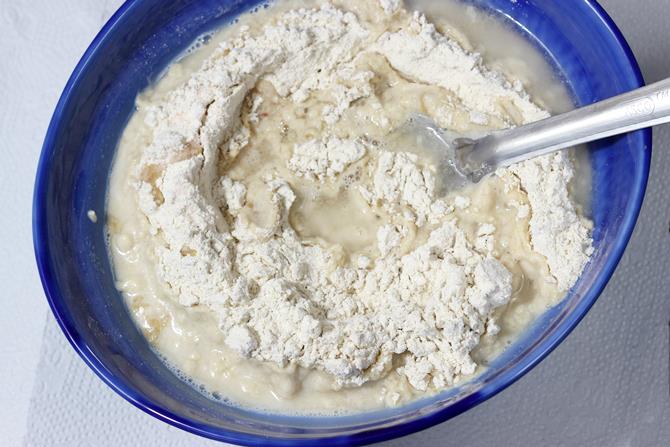 4. Use water as needed and make a non sticky tight dough.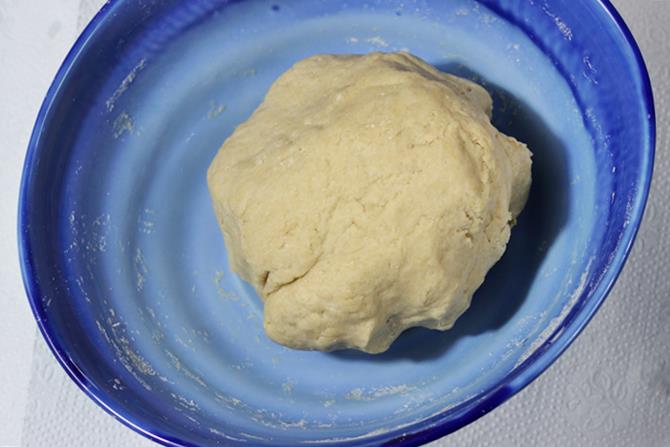 5. Begin to knead the dough on the platform or a wide utensil. If the dough is too tight and difficult to knead, I dip my fingers in a bowl of water just to moisten them. Then continue to knead. I repeat this until the dough turns soft.
6. After kneading the texture of the dough must be soft and pliable.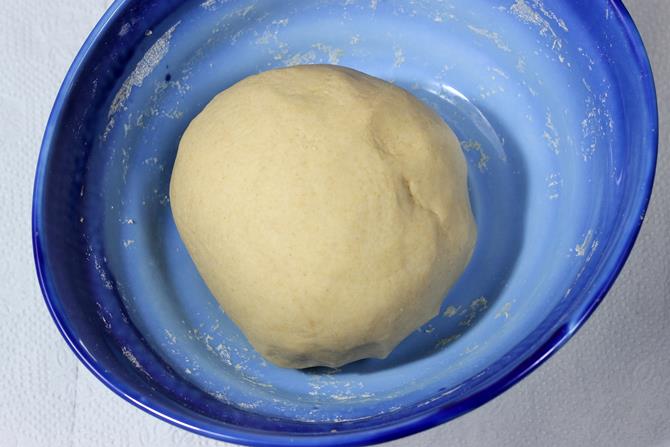 7. Wrap it with a moist cloth. Cover & set aside for at least 30 mins.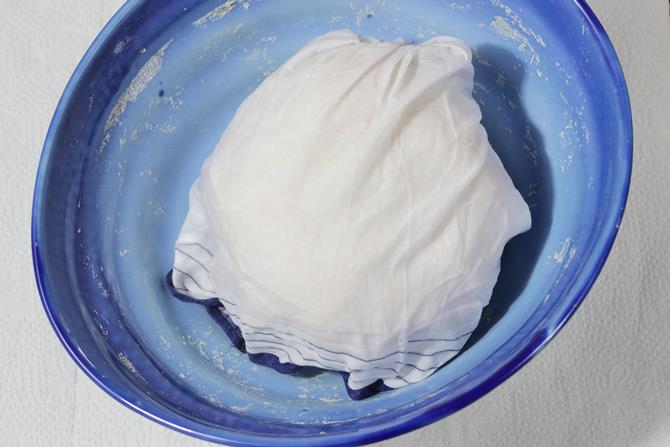 8. Divide the dough to 8 equal parts and make smooth balls. You can also knead the dough again and then roll to balls. Keep them covered until we finish using them up.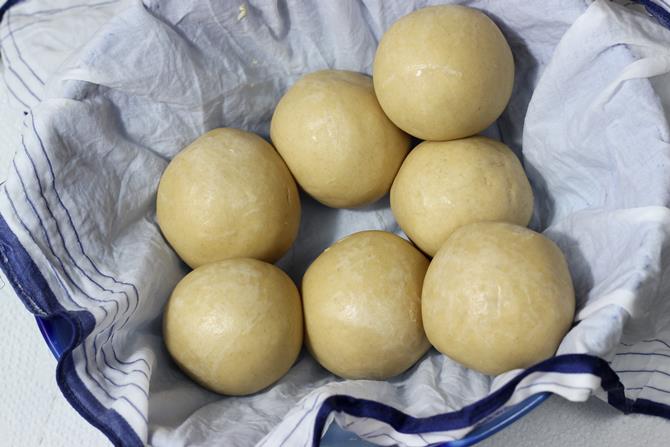 How to make paratha – step by step photos
9. I suggest using melted ghee for rolling since it is easy to control the quantity used. You can melt the ghee in a small bowl and set aside. Lightly flour the rolling area . Flatten a ball. Sprinkle flour over it.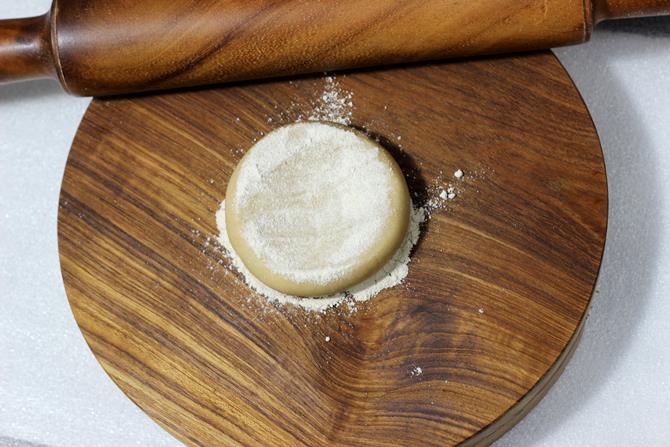 10. Roll the dough to a round layer. Smear ghee evenly using your fingers. You can substitute ghee with oil. I am sharing square parathas in this post, to make triangle shaped ones, refer this dal parantha recipe.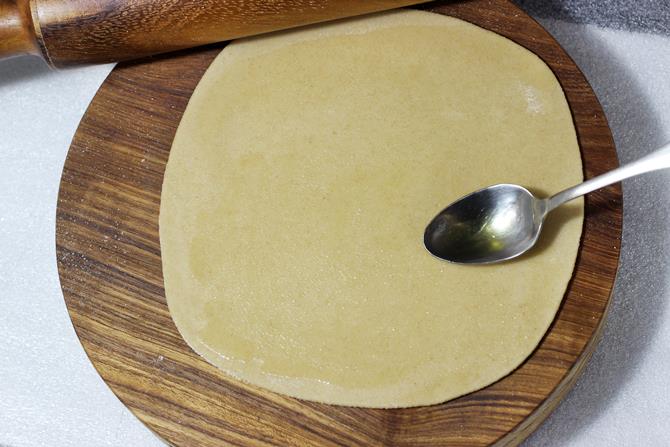 11. Fold 1/3 of the roti as shown in the picture below. Repeat applying ghee.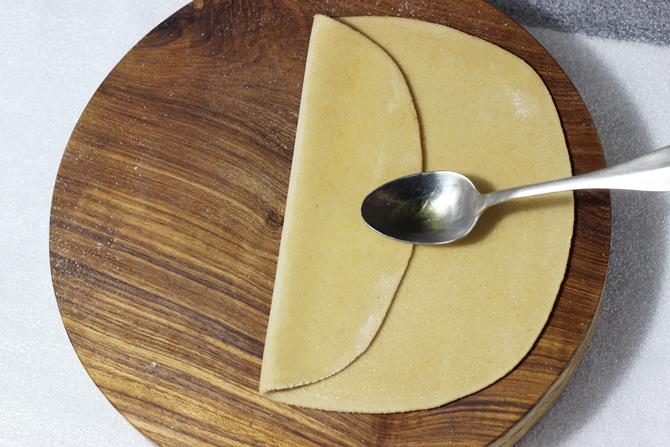 12. Fold the other 1/3 and apply ghee.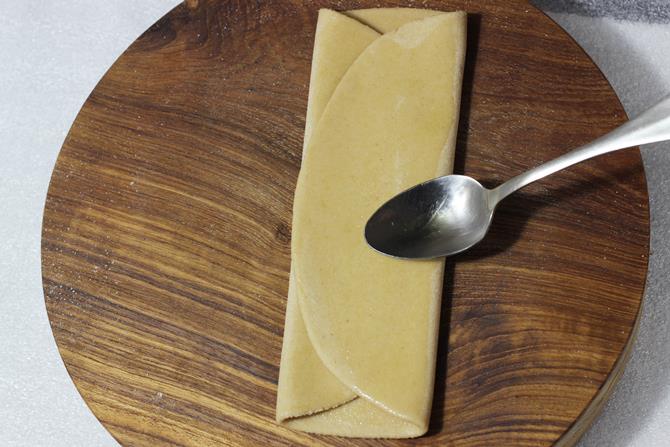 13. Repeat the folding.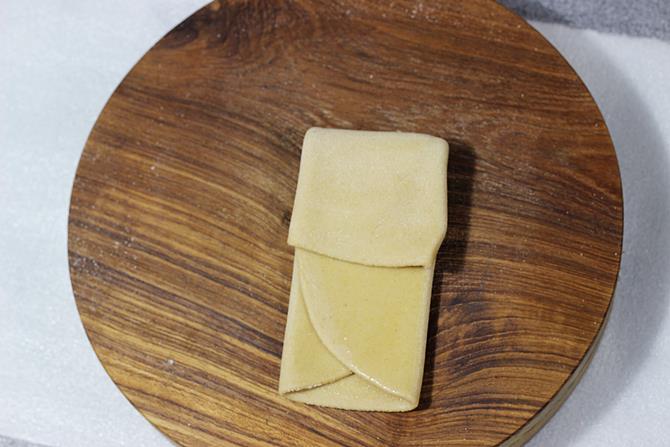 14. Finish off.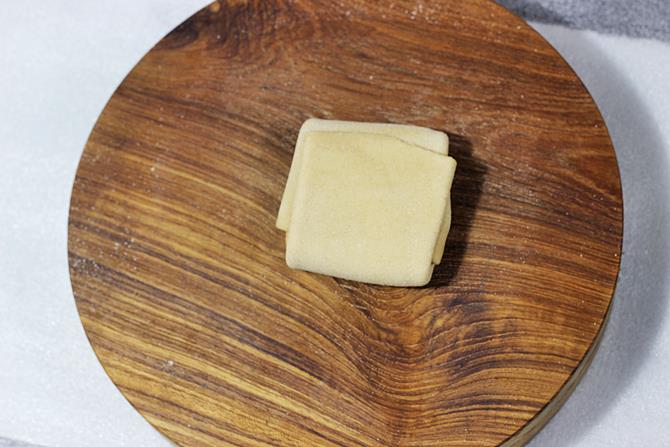 15. Roll this evenly to a paratha. You can also sprinkle some flour before rolling. I prefer to roll 4 to 5 parathas and finish frying them to prevent drying up. Then finish rolling and frying the rest.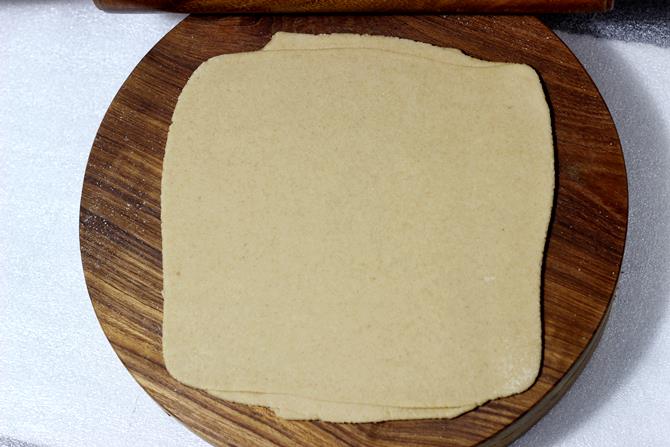 Toasting paratha
16. While you roll the rest, heat a tawa or pan on a high flame. When it is hot enough, transfer the paratha to the pan. Very soon bubbles begin to show up. You will have to adjust the heat as needed. Very high flame may burn them and low flame tends to make them hard.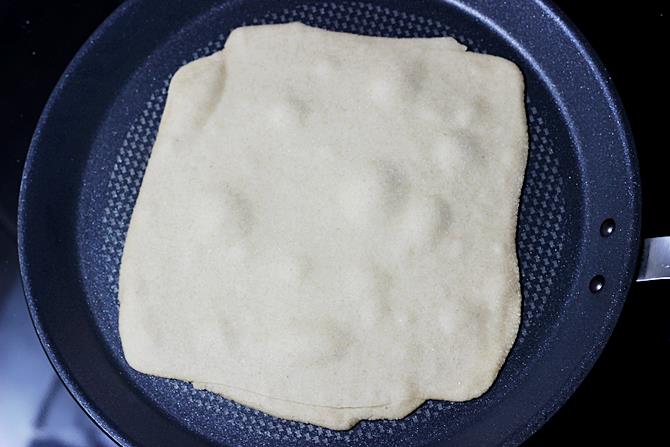 17. Flip it to the other side. Gently press with a wooden spatula. It begins to puff up and the layers get cooked and separated well. Add ghee as desired.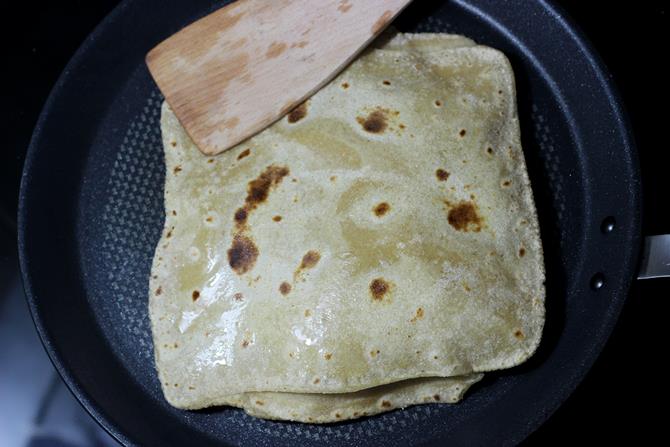 18. If you are on a low fat diet, ghee can be skipped while frying. Fry well until cooked & dark brown spots appear.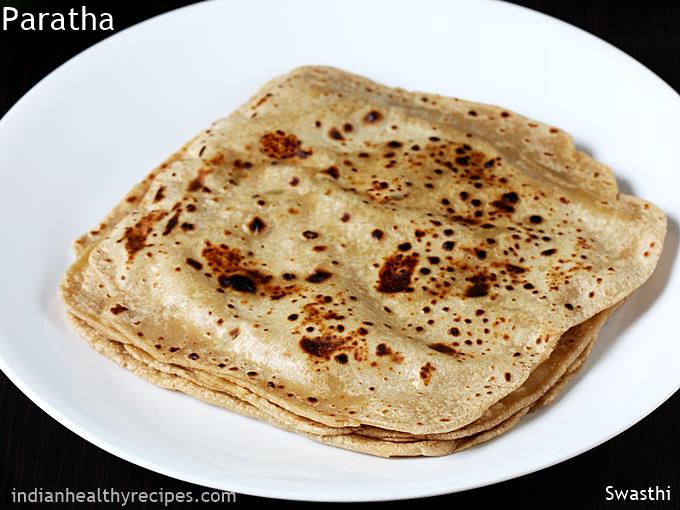 How to keep paratha soft
1. Keep them covered using kitchen tissues or clean cloth.
2. Place a cloth or kitchen napkin in a casserole or a box, stack them. Keep them covered.
3. Do not fry them on a low flame as this will harden them.