Manchow Soup is a restaurant style Chinese vegetarian soup made with mixed vegetables, garlic, ginger, soya sauce, ground pepper & a few other pantry ingredients. This super flavorful umami tasting Manchow Soup is served with crispy fried noodles. Doesn't that sound addictive? Yes! It is one of the most loved soups by the kids and youth in India. If you taste this once you are sure to agree – it's fabulous! Try out this best Manchow Soup at home with my easy recipe. I also share the tips and tricks to make it healthier.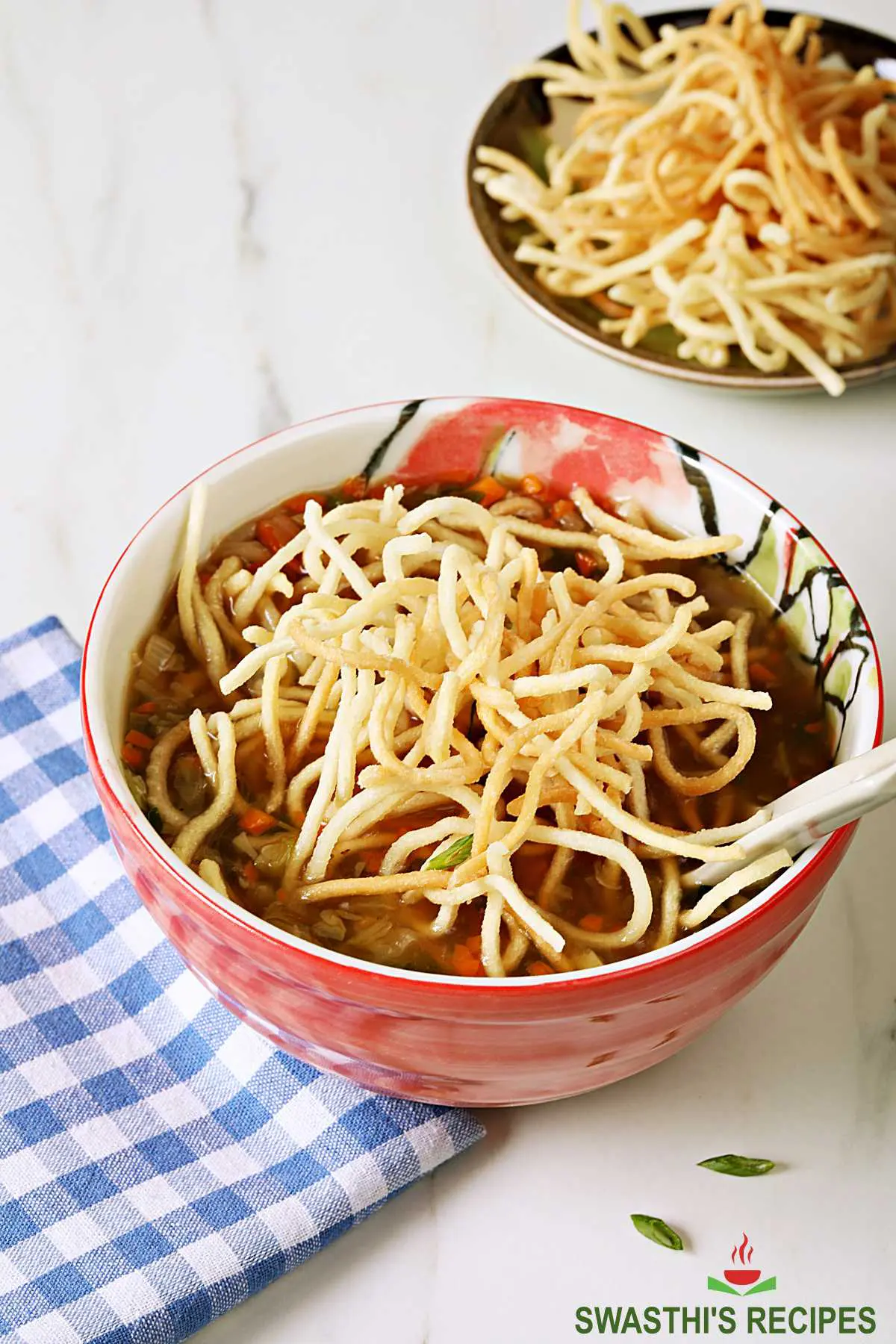 Indo Chinese cuisine has a lot of gems hidden within its recipe box. Soups hold a prominent position on the menu. Manchow soup is one of those hot and yummy soups that is a crowd favorite with very few party poopers.
Anyway what is it actually?
About Manchow Soup
Manchow soup is one of the popular hot soups from the Indo-Chinese cuisine. Stir fried vegetables are immersed in a pot of water/stock enriched with aromatics and seasonings to create a flavorful dish full of nutrients. The smoky aroma, umami taste, crunchy vegetables and a right balance of all the tastes is what makes this manchow soup so good.
Moreover the garnish isn't simply your everyday ingredients but crunchy fried noodles that make you want to eat more.
For a vegetarian version, vegetable broth is often used to provide the extra flavor. For a chicken version, sometimes chicken stock is used. However for a homemade version we can simply use water & yet make it taste good.
If you've enjoyed hot and sour soup (another Chinese restaurant favorite), you'll definitely relish this manchow soup. While both soups employ similar elements, manchow contains more of stir-fried vegetables and is less sour.
The best thing about making these restaurant style soups at home is that you can control the ingredients that go into it. This is a nutritious hot soup (if you discount the fried noodles) with fresh foods.
My Recipe
I've made this the simplest way by using basic vegetables you find in most Chinese recipes. More than the ingredients it is the method and the carbon steel wok that actually imparts the magical smoky aroma to your manchow soup.
So I highly suggest using a carbon steel wok for the true Chinese flavors. If you don't have one, use a bare cast iron pot but refrain stirring vinegar into the pot. Pour it directly into your serving bowl instead.
You can make this soup anytime you want. But you can prepare this in no time if you're already cooking vegetables for other Chinese dishes like Fried rice or Noodles.
The manchow soup served in restaurants is thicker than traditional Clear soup. I am using cornstarch to provide the similar effect. But I have cutdown the cornstarch so it won't be as thick as in the restaurants. If you want thicker soup, add more cornstarch.
For a healthier version, you can air fry the noodles instead of deep frying. The other option is to skip the fried noodles and use al dente cooked noodles instead, but it won't be the authentic version you order in restaurants.
You can also skip the step of boiling and preparing noodles in this recipe and simple use Mamee monster crunchy noodle snack as a topping. By skipping this step making manchow soup at home becomes super easy.
More Soup Recipes
Spinach Soup
Corn Soup
Vegetable Soup
Tomato Soup
Barley Soup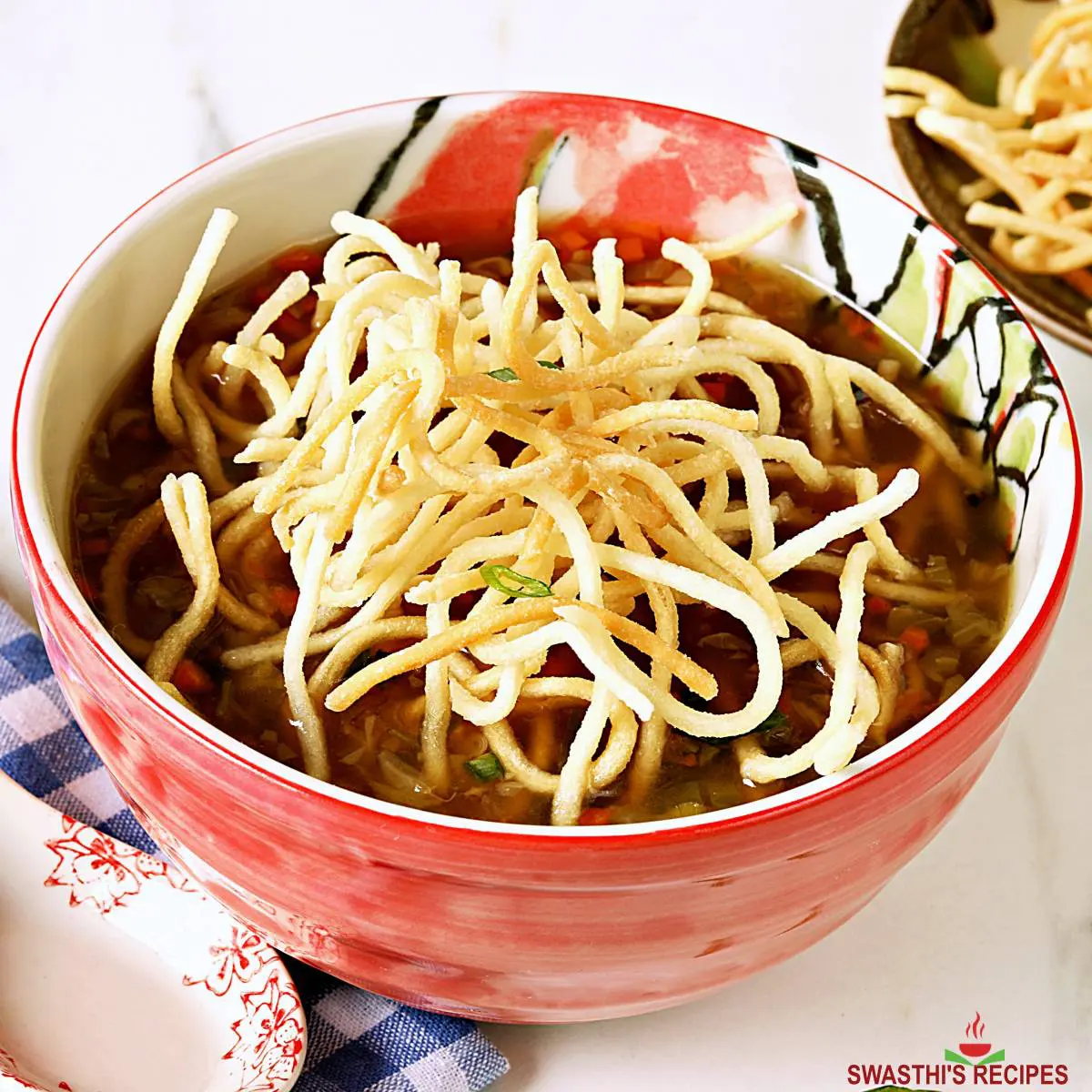 How to make Veg Manchow Soup (Stepwise Photos)
Cook the Noodles
1. For this step you may follow the instructions on the pack of your noodles. or Bring 2.5 liters of water to a rolling boil in a pot. Break 150 grams of noodles, preferably Hakka noodles to 3 to 4 pieces. Add to the pot of boiling water & cook al dente, on a moderately high heat for the time mentioned on your pack. I had to cook mine for 2 to 3 minutes. I turned off after 3 minutes. Ensure your noodles are al dent and not over cooked.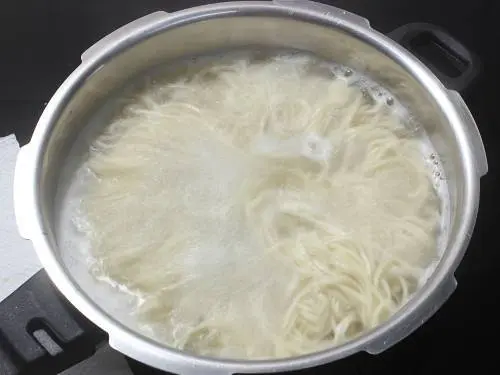 2. Immediately drain the cooked noodles to a colander and rinse with running cold water, under the tap. Let the noodles sit for a while in the colander, until all of the water drains.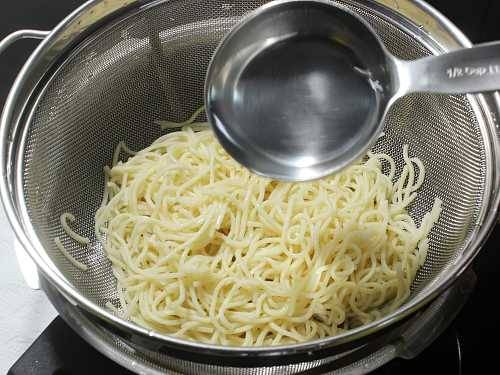 3. Spread on a large tray or plate. Set aside for 30 minutes.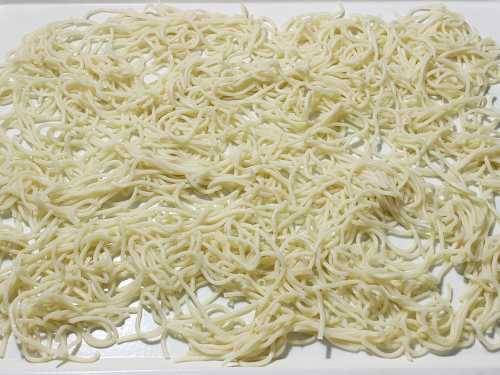 Prepare the Vegetables
4. It is very important to finely chop the following vegetables
1 small carrot (⅓ cup)
4 to 5 French beans (2 to 3 tablespoons)
2 to 3 tablespoons bell peppers (optional)
3 to 4 mushrooms (optional)
2 tablespoons coriander leaves and stems (separated or celery)
¼ cup onions (1 small)
Shred ¾ to 1 cup cabbage. I put the shredded cabbage in luke warm salted water and let rest for a while. Then rinsed and drained to a colander with no excess moisture in it. Chop 2 stalks of spring onions and keep the green and white parts of the onion aside separately. Finely chop ¾ tablespoon peeled ginger and ¾ tablespoon garlic and 1 green chilli.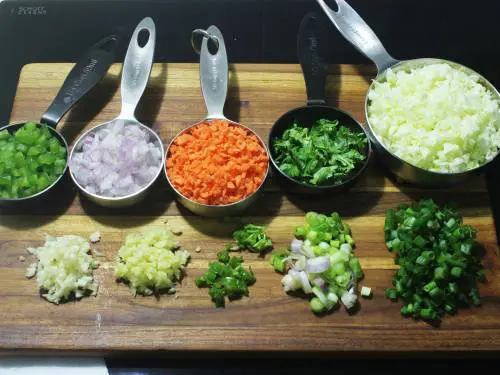 5. Add 1½ to 2 tablespoons of oil to a wok and heat it on high heat. Add more or less of oil as per your cooking preference. You have to be quick in following these steps so you don't burn the food. Add ¾ tablespoon of finely chopped ginger, ¾ tablespoon of finely chopped ginger, green chili and coriander stems. Sauté until slightly aromatic for 30 seconds.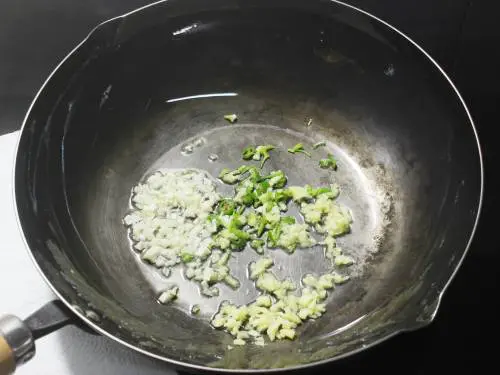 6. Add ¼ cup of finely chopped onion and the chopped white parts of 2 to 3 sprigs of spring onions. You'll be using the green parts later.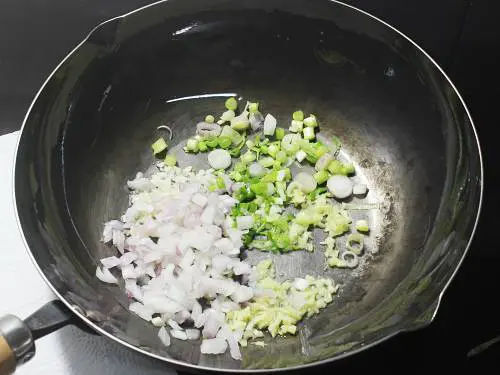 7. Fry for 3-4 minutes, stirring often until they turn golden but not burnt.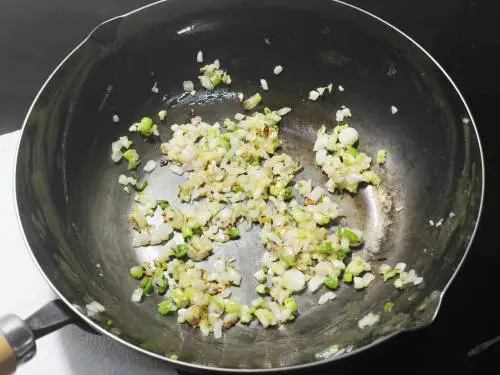 8. Now add all the chopped vegetables. Add 1 small carrot (⅓ cup), ¾ to 1 cup of shredded cabbage, 2 to 3 tablespoons of finely chopped French beans and bell peppers (capsicum). Add 3-4 finely chopped mushrooms and mix well to combine.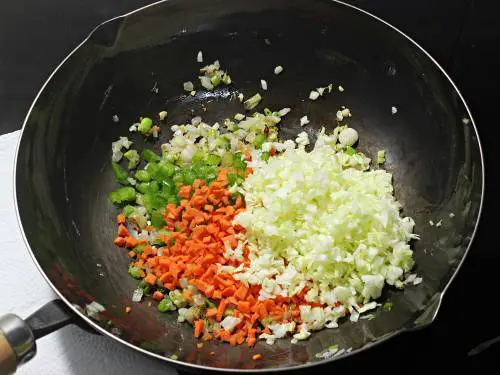 9. Stir fry vegetables (continue on a high flame) for 2 minutes until aromatic. Stir frequently to ensure the food doesn't burn.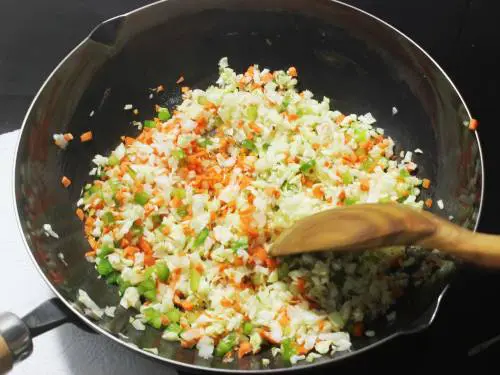 10. Pour 4 cups of water or vegetable stock and bring to a rolling boil.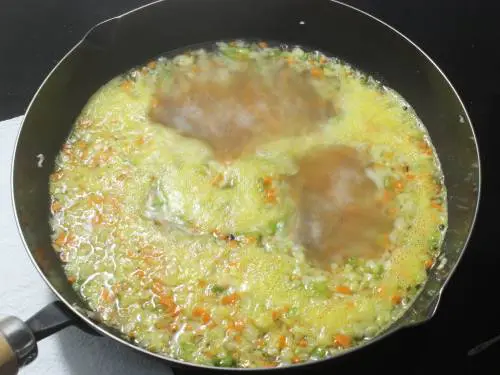 11. Make a slurry 1½ tablespoon of corn flour (cornstarch) with 3 tablespoons of water. Reduce the heat slightly. Keep stirring the soup with a ladle and slowly incorporate the cornstarch slurry into the soup.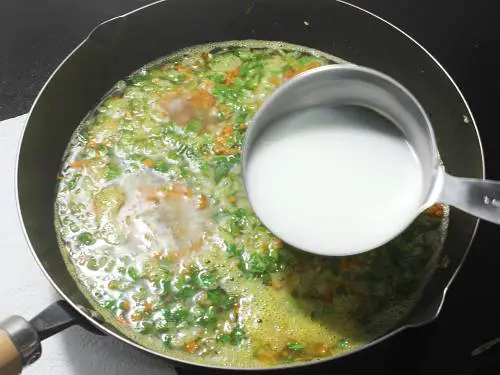 12. Let the soup simmer on medium-low heat. The cornstarch will help thicken up the soup. Add 2 tablespoons of finely chopped coriander leaves and the green onions.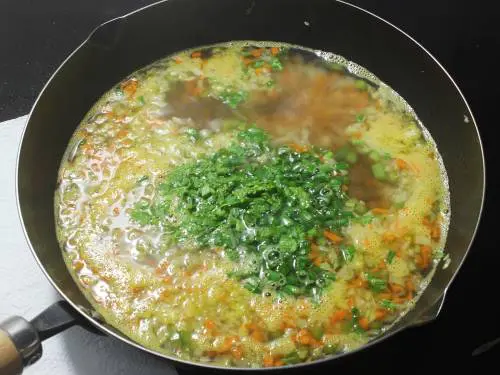 13. Pour 3 tablespoons organic soya sauce or tamari.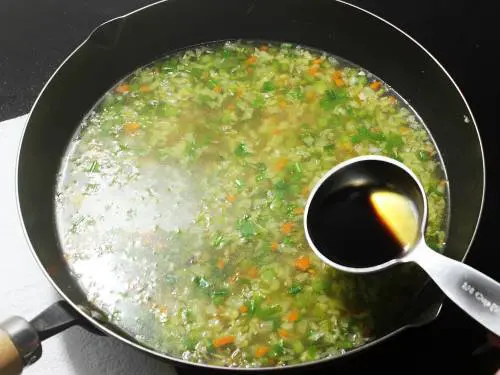 14. Add ½ to ¾ teaspoon salt and ¼ teaspoon of crushed black or white pepper. Start with less salt initially as soy sauce comes with added salt. Turn off the heat when the soup turns slightly thick.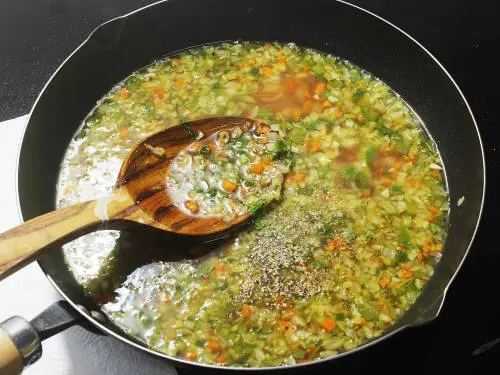 Frying Noodles
If you're adding fried noodle as topping, now is the time to fry it.
15. Dust the dry noodles with 2 to 2½ tablespoons of cornstarch and toss them well.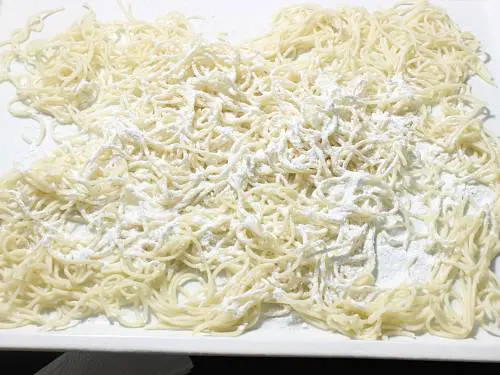 16. This removes remaining moisture and prevents the noodles from sticking together. The fried noodles are crispier too.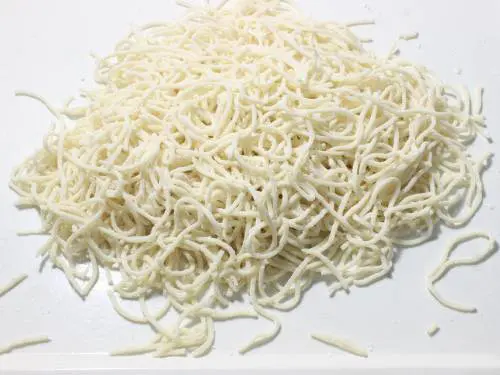 17. Heat 1 cup of oil in a pan or skillet on a medium heat. When the oil is hot enough, add the noodles in batches and fry until they are crisp and golden. Do not over crowd the pan. When one side of the noodles are done, turn them to the other side and fry. I fried the entire noodles in 4 to 5 batches.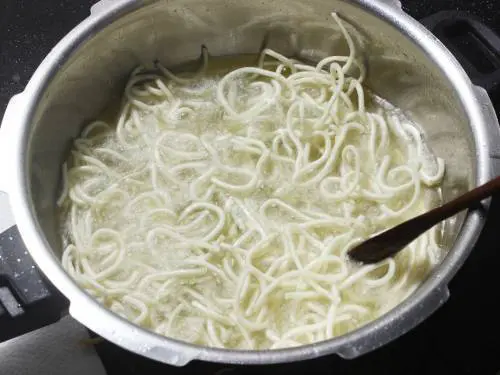 Drain the noodles to a steel colander.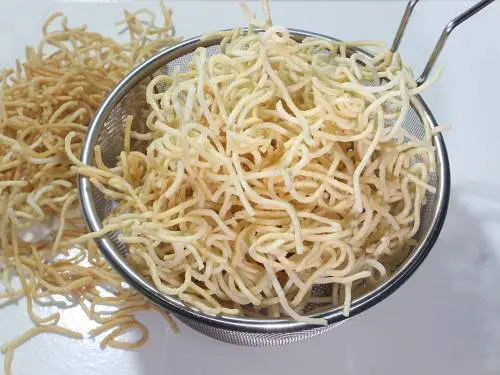 How to serve Manchow Soup?
Taste manchow soup and add additional seasonings if required. Add 1 teaspoon to tablespoon of rice vinegar and stir.
Ladle equal amounts of soup into individual bowls. Top with fried noodles and the green parts of chopped spring onions.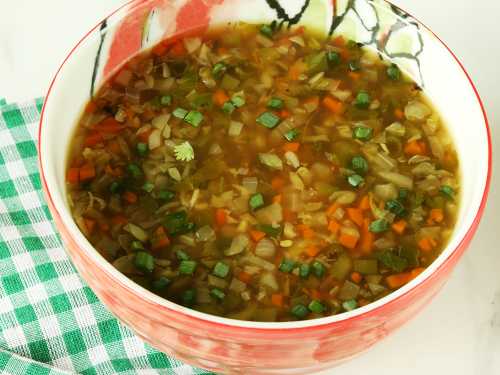 Serve the soup as an appetizer. The soup make a healthy afternoon or evening snack. Add it to a main meal and serve it with fried rice or noodle dish.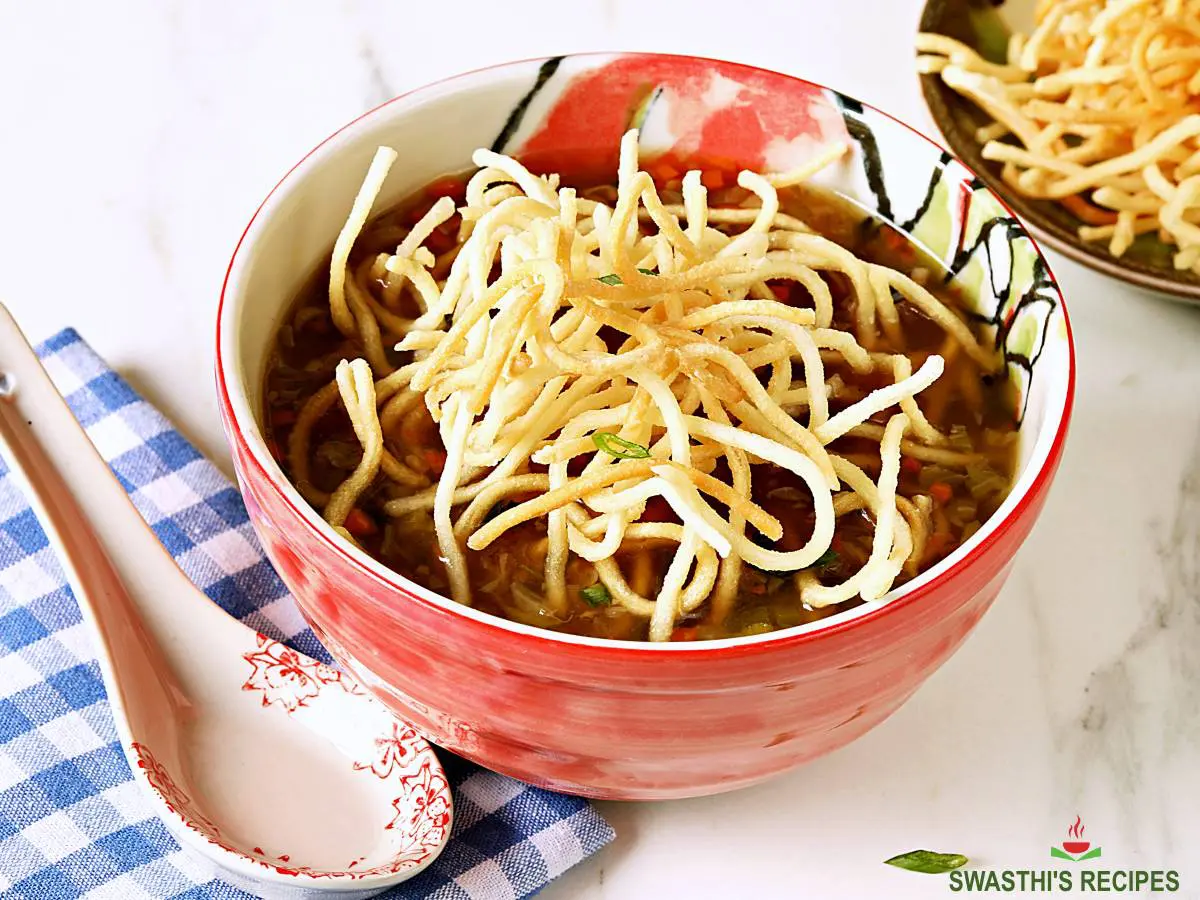 How long can I keep manchow?
The soup stays fresh in an airtight container in the fridge for 4-5 days. Make a big batch of this soup for the week. Don't add fried noodles or other toppings to the soup, but store them separately.
Ingredients and Substitutes
If you regularly make Chinese food at home, you'll probably have all the ingredients stocked in the kitchen.
Fresh vegetables: This soup is nutrient rich with vegetables like carrots, French beans, cabbage and bell peppers. Add more of the vegetables like mushrooms, sweet corn etc, if you prefer.
Can you modify this recipe by using other vegetables?
Use those vegetables that complement soup dishes and Chinese flavors from red cabbage and lettuce to zucchini and radishes, and even lotus root.
Asian Noodles: Hakka noodles are the other important element in a manchow soup. However you may use soba, udon or any other whole grain noodles to serve. Boil, drain and serve them. The crispy noodles part in this recipe has not been tested with other kind of noodles.
Coriander leaves and celery stalks: Fresh celery and coriander leaves add an extra level of flavor to your soup. If you don't have celery add chopped coriander stems instead like the way I did.
Aromatics: Ginger, garlic and onions transform an ordinary tasting dish into something delectable. This soup contains both spring onions and onions. The white parts of spring onions go into the soup while we reserve the green for toppings.
Soy sauce: This provides the unique umami flavor to this Chinese soup. You may substitute that with the same amount of Tamari like the way I did.
Tofu or paneer or mushrooms: They provide the protein content and meat-like texture to your dish. Add pan seared tofu or paneer if you can't have or don't like mushrooms.
Cornstarch: My recipe uses cornstarch to thicken the soup. Skip this for a thin soup. Or sub with equal amounts of arrowroot powder or tapioca flour. The thickener is also added to dry noodles to remove excess moisture, prevent them from sticking together. The starch coated noodles are crispier when deep fried.
Pro Tips
Cook the noodle in advance as they need to dry out before you fry them.
Add 1 to 2 teaspoons of hot or chili sauce if you prefer heat in your soups.
Go easy on the cornflour paste if you prefer a thinner soup.
Variations of Manchow Soup
Make this healthier by skipping the fried noodles. Add the cooked noodles directly to the soup while it simmers.
Add soba, udon or millet noodles to serve a different variety of manchow soup.
To make a soup meal or a light dinner, add more protein like tofu or paneer while cooking the vegetables.
For a chicken version, saute shredded chicken in the pan on a high heat until just tender. Pour hot water or hot broth to cook the soup. For a shrimp version, saute them until tender and just cooked. Season with salt, pepper and 1 tsp chilli sauce. Set aside and serve as a topping along with noodles.
Related Recipes
Recipe Card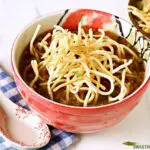 Manchow Soup Recipe (Chinese Soup)
Is the taste of that lip smacking soup you had at a Chinese restaurant still lingering in your mind? Are you wondering how to replicate the flavors at home? You're in luck as my recipe features one of the popular and delicious restaurant-style manchow soup.
Print Recipe
Pin Recipe
Jump to Comments
For best results follow the step-by-step photos above the recipe card
Ingredients (US cup = 240ml )
½ to 2

tablespoons

oil

¾

tablespoon

ginger

(fine chopped)

¾

tablespoon

garlic

(fine chopped)

1

green chilli

(fine chopped, deseeded for low heat)

¼

cup

onions

2 to 3

stalks

spring onions

(fine chopped, greens & white separated)

⅓

cup

carrot

(1 small, fine chopped)

¾ to 1

cup

cabbage

(fine shredded)

2 to 3

tablespoons

French beans

(4 to 5 green beans, fine chopped)

2 to 3

tablespoons

bell peppers

(capsicum)

3 to 4

mushrooms

(optional, fine chopped)

1 to 2

tablespoons

coriander stems

(or celery stalks, fine chopped)

2

tablespoons

coriander leaves

(fine chopped)

½ to ¾

teaspoon

salt

(adjust to taste)

3

tablespoons

organic soya sauce

or tamari

½

teaspoon

pepper

(crushed white or black pepper)

1½

tablespoon

cornstarch

(more for a thicker soup)

1 to 3

teaspoons

rice vinegar

(or apple vinegar)
For crispy noodles (or use Mamee monster crunchy noodle snack)
150

grams

noodles

(preferably hakka noodles)

1

cup

oil

(to fry or 1 tbsp for air frying)

2 to 2½

tablespoons

corn starch

(white corn flour)
Instructions
How to make Manchow Soup
Pour oil to a hot pan. When the oil turns hot, regulate the flame to high and add fine chopped garlic, ginger, chilli and coriander stems.

Saute for 30 seconds and add spring onion whites and onions. Fry until onions turn golden.

Add shredded cabbage, chopped beans, bell peppers, mushrooms and carrots. Fry stirring constantly for 2 minutes until you smell the veggies aromatic.

Pour 4 cups of water or broth and bring it to a rolling boil.

Meanwhile stir together 1½ tablespoon cornstarch with 3 to 4 tbsps of water to make a smooth slurry. Reduce the heat slightly and keep stirring with a ladle and slowly incorporate the corn slurry into the boiling manchow soup.

Cook until the soup turns slightly thick. Add coriander leaves and spring onions.

Pour soya sauce and add ½ teaspoon salt and crushed pepper. Stir and taste test. Adjust the quantity of soya sauce, salt and pepper to your taste.

Turn off when the manchow soup thickens, do not overcook we want the veggies crunchy. Keep this covered until served. Stir in the vinegar when you are ready to serve.
Make Crispy Noodles
Boil the noodles following the instructions on your pack of noodles. Make sure you cook them al dente and not mushy.

Once cooked, drain to a colander and rinse them under running water to get rid of the starch.

You can also skip all of the following steps and serve the soup with boiled noodles. To fry them proceed further. Shake off the colander to remove all the excess water and spread the noodles on a tray. Let them air dry for 30 minutes until completely dry.

Sprinkle 2 to 2½ tablespoons cornstarch all over the noodles and mix gently to coat the noodles with the flour.

Heat 1 cup oil in a frying pan until hot enough. When the oil is hot, drop some noodles to to the oil and fry until they turn crisp on the base.

Turn them to the other side and fry again until crisp and light golden. Remove them from oil when they are crisp. Continue to fry all of the noodles in 4 to 5 batches ensuring the oil is hot enough before every batch.
Serving Manchow Soup
Ladle the soup to serving bowls. Top with crispy noodles and green onions. If you prefer you may add some chilli vinegar or any hot sauce.
Alternative quantities provided in the recipe card are for 1x only, original recipe.
For best results follow my detailed step-by-step photo instructions and tips above the recipe card.
NUTRITION INFO (estimation only)
Nutrition Facts
Manchow Soup Recipe (Chinese Soup)
Amount Per Serving
Calories 309
Calories from Fat 117
% Daily Value*
Fat 13g20%
Sodium 1233mg54%
Potassium 270mg8%
Carbohydrates 42g14%
Protein 6g12%
Vitamin A 4149IU83%
Vitamin C 23mg28%
Calcium 40mg4%
Iron 1mg6%
* Percent Daily Values are based on a 2000 calorie diet.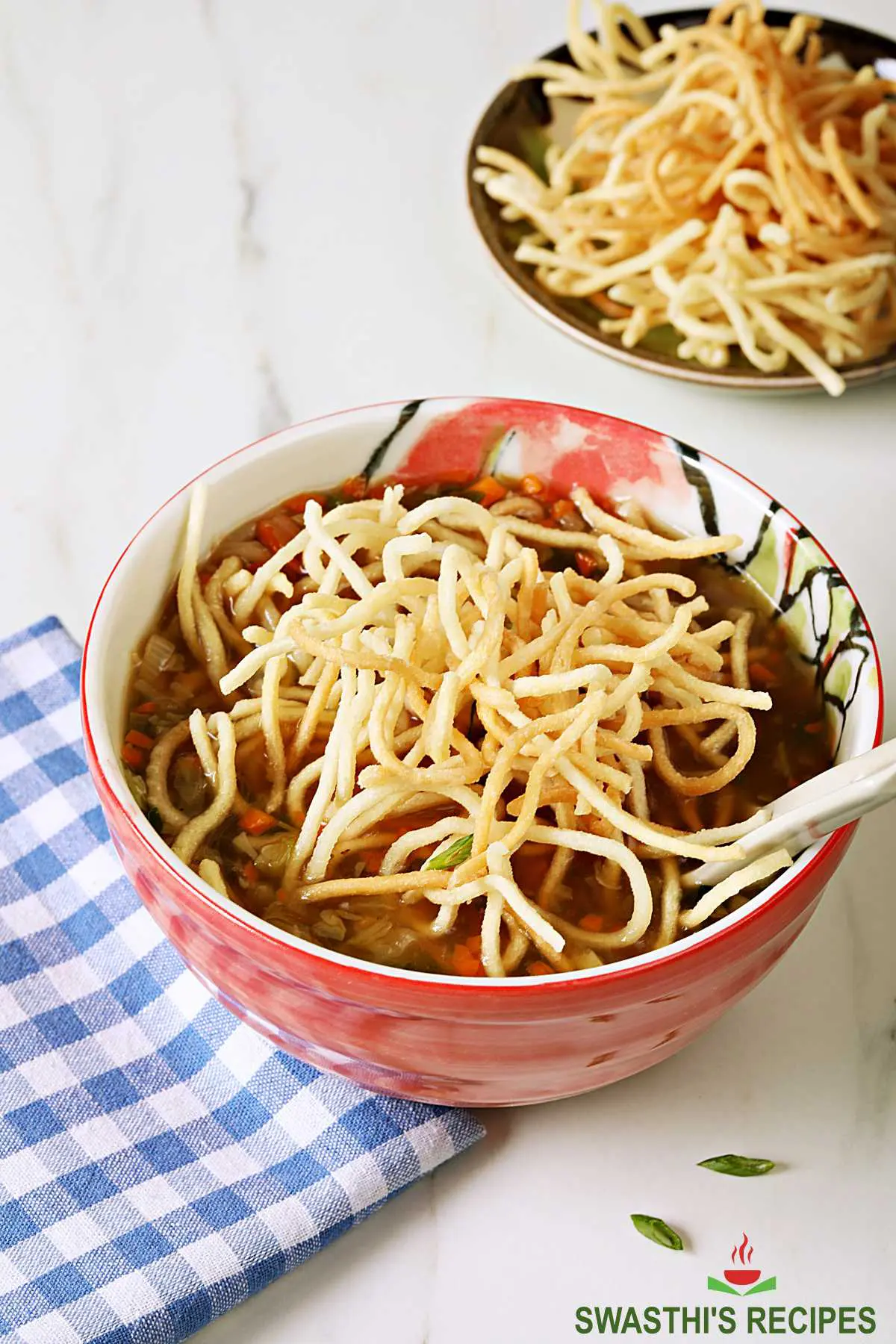 About Swasthi
I'm Swasthi Shreekanth, the recipe developer, food photographer & food writer behind Swasthi's Recipes. My aim is to help you cook great Indian food with my time-tested recipes. After 2 decades of experience in practical Indian cooking I started this blog to help people cook better & more often at home. Whether you are a novice or an experienced cook I am sure Swasthi's Recipes will assist you to enhance your cooking skills. More about me
Follow Swasthi's Recipes