Tomato soup recipe – This Tomato soup is absolutely comforting, tastes delicious & is flavor packed. A good tomato soup is all about flavors, with a right balance of sour & sweetness. This homemade soup is one of the best I have been making for my family. It is super simple to make and needs only a handful of ingredients yet tastes amazing.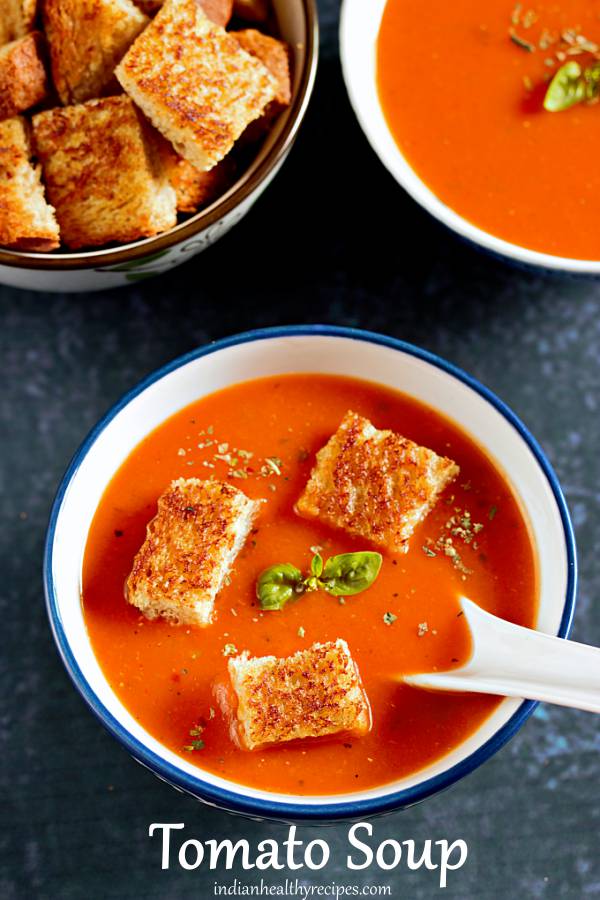 Tomato soup is made in so many ways. Each taste different depending on the ingredients used & cooking method. Some taste so plain with no flavor, while some taste very sour or runny.
This tomato soup has amazingly great flavors, nice texture & tastes superb with slight tang & sweetness.
If you are a newbie these FAQs may help you. I have given many options to flavor, spice up & thicken the soup.
How to make tomato soup?
The recipe goes in 3 simple steps
Roast onions, tomatoes, garlic, herbs with some salt.
Blend them and pass through a strainer.
Simmer with some thickener, herbs & spices.
Is it healthy?
Yes homemade tomato soup is healthy. It is rich in nutrients especially vitamin C, A & iron. When compared to raw ones, cooked tomatoes have more lycopene, an important antioxidant that protect us against free radicals.
Homemade soup is also lower in sodium when compared to the canned soup. So a bowl of fresh homemade soup is not only tasty & comforting but is also rich in nutrients.
How to thicken the soup?
Corn starch, flour, potato starch, arrow root powder are some of the most common ingredients used to thicken soups. I often use a fresh boiled potato to thicken the soup. More details in the recipe notes.
How to make creamy tomato soup?
Tomato soup tastes good even without cream. Most times we avoid consuming dairy with acidic foods, like here tomatoes & cream. But if you prefer it creamy then here is how to do it.
Boil the soup until thick. Turn off the heat and bring down the pot. Pour half cup heavy cream to a bowl and stir in some soup. Mix well and add back to the pot. This prevents the tomato soup from curdling.
How to spice the soup?
Pepper, red chilli flakes & cinnamon spice up & flavor the soup. If using cinnamon add it along with the tomatoes to the pot. Discard it before blending. Pepper and red chili flakes provide heat to the dish. These are good to add when the soup is done.
What to serve?
Most folks love tomato soup with some toasted bread or croutons. To enjoy this in a meal, you can have it with salads, grilled veggies, Cheese toast, Sandwiches , spring rolls & Bread Snacks like cheese balls, toasts & rolls.
You can also have the soup with some Aglio olio, Gobi manchurian, or any noodles
How to make the best tomato soup?
Always choose red ripe tomatoes. Unripe tomatoes taste sour and do not taste good in soup.
Adjust the quantity of onions in the recipe depending on the sourness of the tomatoes. Onions help to balance the sourness from tomatoes so using the right amount of onions is the key.
Flavor the soup with any of your favorite herbs. Without herbs tomato soup tastes like a onion tomato puree.
Adding little sugar will not sweeten the soup but will balance the sour & pungent taste.
Always simmer the soup well before adding the slurry. Continue to simmer until it reaches a desired consistency.
Cinnamon goes great in this soup, do give it a try if you love the flavor.
More Soups
Vegetable Soup
Clear Soup
Sweet corn soup
Dal soup
Mushroom soup
Tomato soup recipe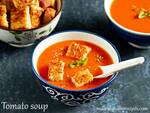 Tomato soup
This homemade tomato soup is comforting, tastes slightly tangy & sweet with subtle flavors of basil.
Pin Recipe
Print Recipe
Ingredients (1 cup = 240ml )
500

grams

Tomatoes

(ripe red tomatoes) cubed

1

tbsp

olive oil

or butter

1

small

bay leaf

1

medium

onion

cubed

2

large

garlic

cloves

1/3

tsp

Salt

or as needed

2

stalks

Basil

(or replace with some fresh herbs)

1½

cup

water

(or stock) more if needed

1

tbsp

sugar

¾

tbsp

corn starch

or corn flour or arrowroot powder or 1 boiled small potato

½

tsp

pepper

or as desired

¾ to 1

tsp

dried herbs

(I use mixed Italian herbs)

2

tbsp

cream

or as needed (optional)

1

small

carrot

(optional) (diced)
How to make the recipe
Preparation
Heat oil in a pan. Add bay leaf, garlic and onions. Saute all of these on a high flame for 3 to 4 mins.

Then add in tomatoes and salt. Stir and cook until soft.

Next add in basil and cook until tomatoes turn completely mushy. Turn off and cool.
How to make tomato soup
Discard the basil & bay leaf.

Add the mushy tomato mixture along with the juices to a blender jar.

Pour 1 cup water or stock and blend smooth.

Place a sieve over a pot & transfer the blended tomato soup to it.

Filter and discard the leftovers. Bring it to a boil on a medium heat & simmer for 2 to 3 mins.

Meanwhile stir in corn starch in half cup water and add it gradually to the boiling tomato soup.

Stir constantly and boil until slightly thick.

Add sugar & more salt if desired. Simmer until it reaches a desired consistency.

Add herbs & pepper. Cover the soup & turn off the stove. Allow it to cool down a bit before adding the cream.
Making croutons
Spread butter on the bread slices and toast them on a medium heat until crisp.

Then cut them to bite sized pieces.
Serving suggestion
Transfer tomato soup to serving bowls. Garnish with herbs & cream. Enjoy with croutons.
NUTRITION (estimation only)
Calories:
148
kcal
|
Carbohydrates:
17
g
|
Protein:
2
g
|
Fat:
8
g
|
Saturated Fat:
3
g
|
Cholesterol:
13
mg
|
Sodium:
277
mg
|
Potassium:
448
mg
|
Fiber:
2
g
|
Sugar:
9
g
|
Vitamin A:
1635
IU
|
Vitamin C:
26.2
mg
|
Calcium:
42
mg
|
Iron:
1
mg
Notes
For oven method: Spread onions, tomatoes, garlic, basil on a baking tray. Drizzle some oil and salt. Grill them in a preheated oven at 200 C for 30 to 40 mins or until the tomatoes turn mushy. Cool completely. If using carrot chop it small and add along with tomatoes.
If using potato, boil it until soft, chop and blend with cooked tomatoes. For the above quantities I usually use 2 baby potatoes or 1 medium potato.
If you are new to cooking, follow my detailed step by step photo instructions for best results.
More tomato recipes
Tomato rice
Tomato chutney
Easy Tomato rasam
Preparation
1.Choose ripe, red & less sour tomatoes. Wash them well and cube them along with onion.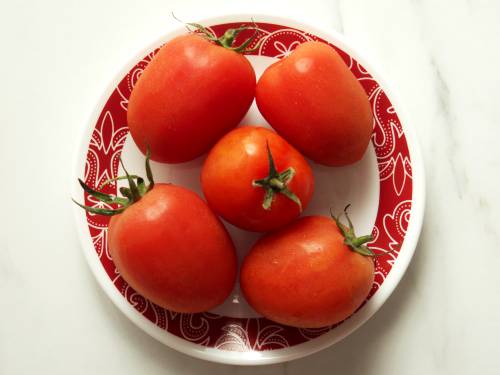 2.Heat oil in a pan and add bay leaf, garlic & onions.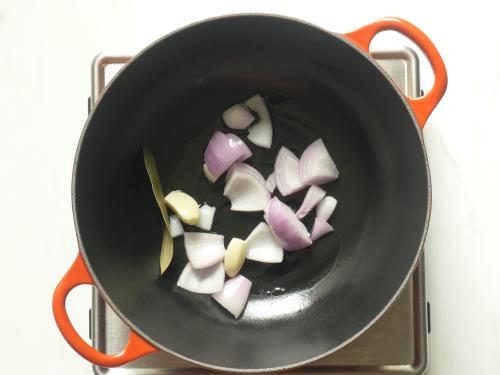 3. Fry them on a high flame for 3 to 4 mins until they are slightly roasted.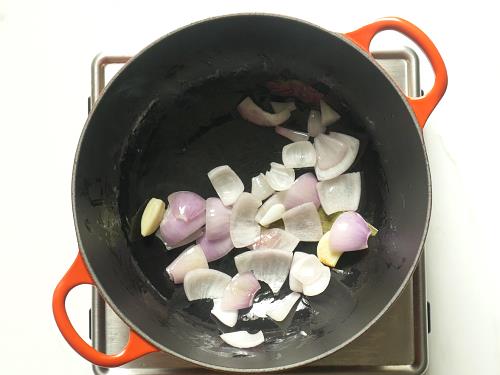 4. Add tomatoes, carrot (optional) and sprinkle salt.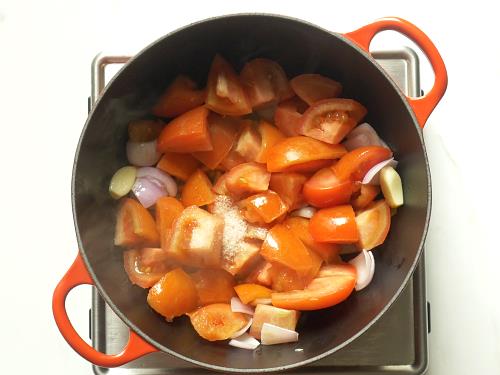 5. Cook them until slightly soft. Add basil and cook until tomatoes and onions turn completely mushy.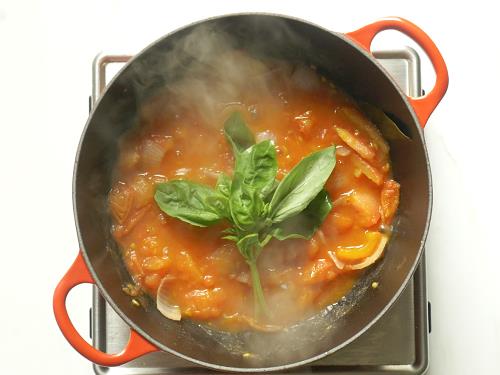 6. Cool the mixture. Discard basil & bay leaf.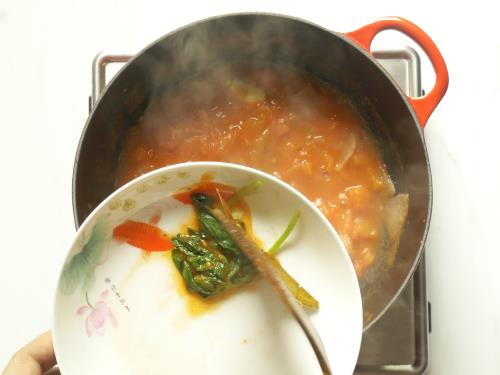 7. Transfer to a blender jar and pour water. If using potato, then boil it until soft, cool it and add to the blender.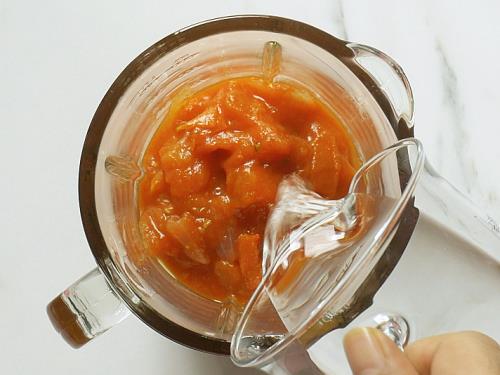 8. Blend very well until smooth.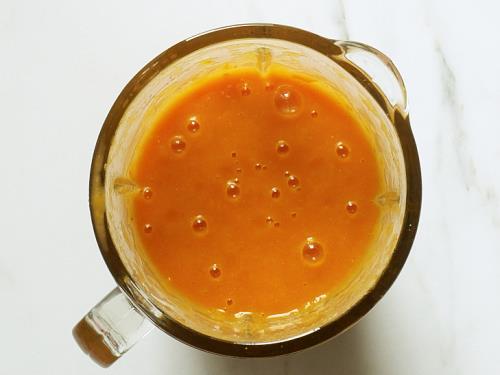 How to make tomato soup
9. Firstly place a sieve over the pan or pot. Pour the blended mixture & filter. Discard the coarse particles. Bring the soup to a boil on a medium heat.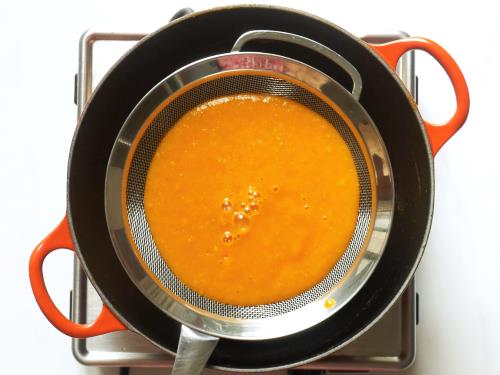 10. Meanwhile add corn flour to half cup water and mix well to make a slurry. Ensure there are no lumps of flour. Skip the flour if using potato.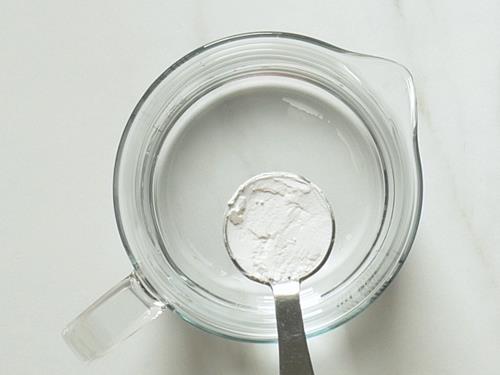 11. Once it comes to a boil, simmer for 2 to 3 mins.
12. Then gradually stir in the corn flour mixture.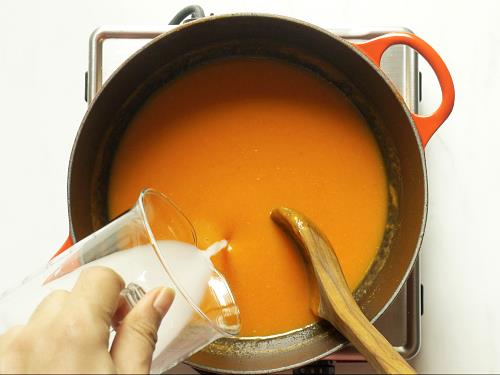 13. Next stir in sugar and more salt if needed. Boil this well until the tomato soup thickens and the raw flavor of the flour has gone.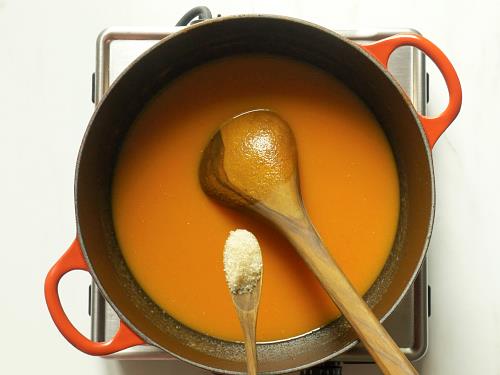 14. When it reaches your desired consistency then add herbs & pepper. Turn off the stove. Set the pot aside and stir in cream if using.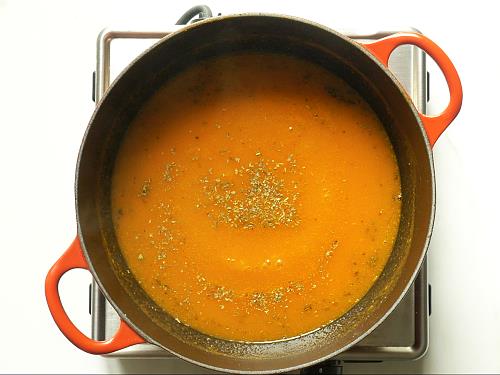 Lastly transfer tomato soup to serving bowls. Garnish with herbs & cream. Serve with croutons or toasted bread.
Make croutons
Butter bread on both the sides. Heat a pan & toast them on a medium heat until crisp. You can also toast them in a oven. Cool them and cut with a knife. You can also add some grated garlic and red chili flakes to the bread and toast.
Croutons loose the crispness if left for too long so toast the bread just before you serve the soup.