Veg noodles recipe without sauce or vinegar – A quick dinner idea for busy week nights. Making this healthy & delicious vegetable noodles is super easy, takes only 20 mins to make 2 servings. This also goes great with a saucy Indo chinese side like gobi manchurian, veg manchurian, chilli mushroom etc. As such it tastes great on its own even without a side.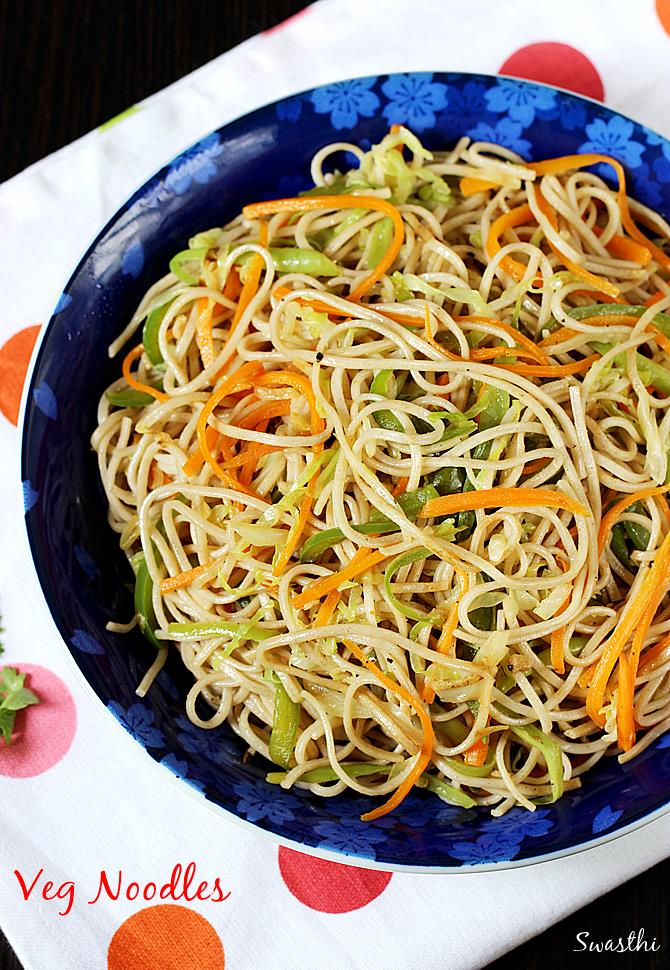 You can use any of your favorite veggies like cabbage, carrots, capsicum, zucchini, broccoli, cauliflower, green peas, bean sprouts and beans.
As with any fried noodles recipe this one too has to be prepared on a high flame that lends a smoky aroma. A heavy bottom pan, cast iron skillet or a kadai or a wok will work very well for this. If you have one you can use it. As the title says there is no sauce or vinegar used in this recipe, just a single strand of mace and a petal of star anise lend a wonderful aroma to this vegetable noodles.
For more noodles recipes, you may like to check
Chicken noodles
Hakka noodles
Chilli garlic noodles
Spicy schezwan noodles
Egg noodles
Easy veg noodles recipe card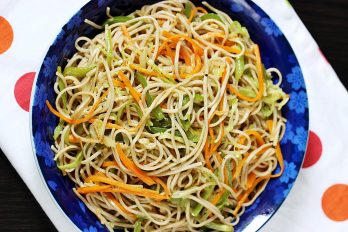 Veg noodles recipe | How to make noodles recipe without sauce
Veg noodles recipe made the basic Chinese way to yield aromatic, healthy and delicious noodles.
Ingredients (240 ml cup used)
2

packs

noodles

individual packs or 2 servings (prefer whole wheat or whole grain noodles)

salt

as needed

2 to 3

tbsp

Extra virgin olive oil

or sesame oil

1

tbsp

garlic

chopped

3 to 4

green chilies

slit (use as needed)

2 to 3.5

cups

mixed veggies julienned

(cabbage, carrots, bell pepper, beans etc)

½

tsp

pepper powder

1 to 2

parts

star anise

1

strand

mace

or javitri
How to make the recipe
Cook noodles al dente in ample amount of water. Drain and rinse them well in cold water.

Set aside. While the noodles cook, prepare the veggies.

Add oil to a hot pan and put on to a high flame.

Saute garlic, green chilies, mace and star anise for a minute.

Add the veggies and saute for 2 to 3 mins until they are half done.

Add cooked noodle, pepper and salt.

Toss and stir fry for 2 to 4 mins.

Serve veg noodles hot or warm.
Nutrition Facts
Veg noodles recipe | How to make noodles recipe without sauce
Amount Per Serving
Calories 160
Calories from Fat 18
% Daily Value*
Total Fat 2g 3%
Total Carbohydrates 30g 10%
* Percent Daily Values are based on a 2000 calorie diet.
For more similar recipes you can check this collection of Quick Indian recipes
Boiling noodles
1. Bring water to a boil to cook noodles. I used organic soba noodles (made of wheat flour & buck wheat flour/ kuttu in hindi) which calls for cooking for 4 minutes. You can simply follow the instructions on your pack for the cooking time. Do not overcook as they turn mushy. While the noodles cook shred the veggies. I used about 2 heaped cups of cabbage, 3/4 cups of carrot, 1/4 cup of beans, 3/4 cup capsicum. You can use upto 3 1/2 cups of mixed veggies. Make sure cabbage is well drained.
2. When the noodles are cooked al dente, drain them and rinse with cold water. Drain in a colander.
How to make veg noodles recipe
3. Heat a pan with olive oil on the highest flame. Add chopped garlic, slit green chilies, 1 strand of mace / javitri and 2 small petals of star anise. Saute until the garlic smells good, just for a minute. Make sure you use enough green chillies for the heat else the noodles will be very bland since no sauces are used.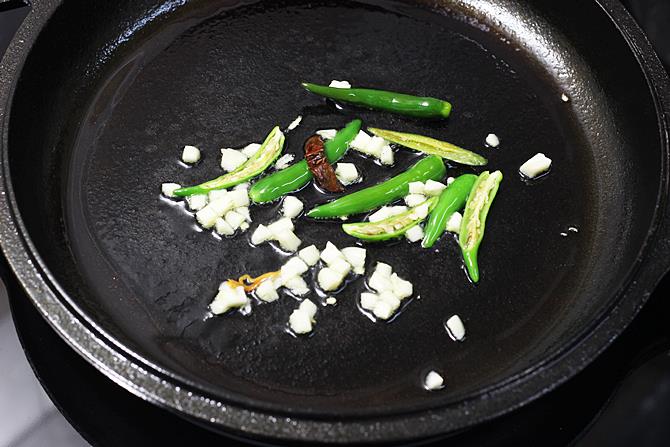 4. Add all the veggies.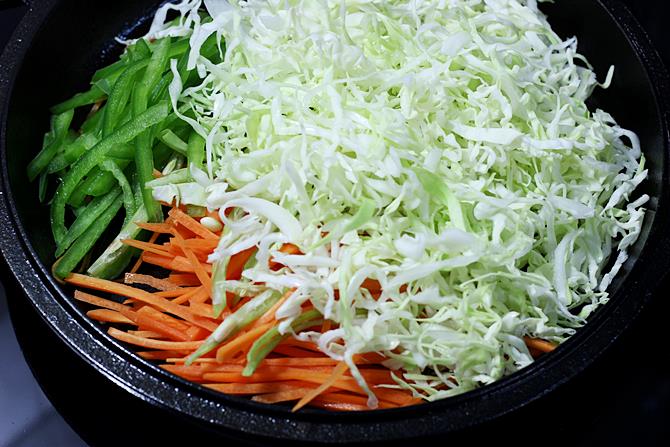 5. Fry stirring often for 2 to 3 minutes. Do not over cook, we want the veggies to be crunchy.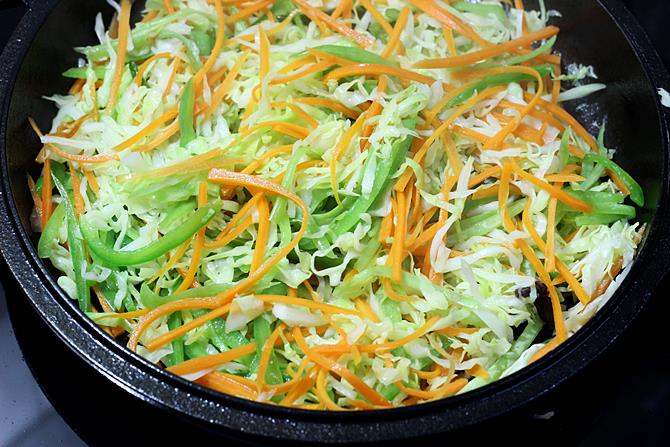 6. Add drained noodles, salt, pepper and then some more olive oil. Add salt with caution if you have used it already while boiling.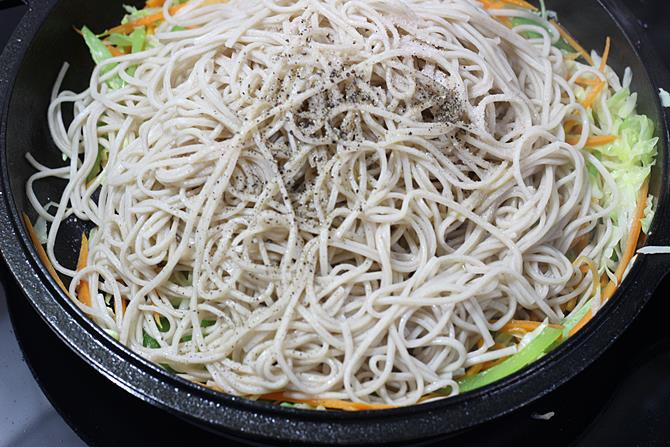 Frying veg noodles
7. Toss or mix and fry for 2 to 4 mins without burning.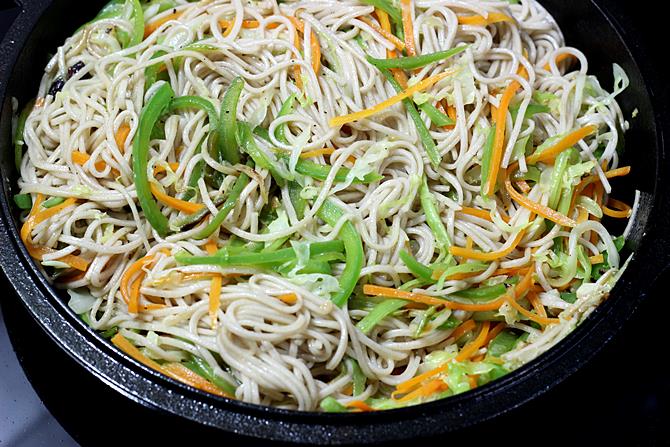 If you like your noodles to be slightly tangy, you may add some lemon juice just before serving. But the flavor of vinegar cannot be replicated. But this noodles taste great, just use the right amount or generous amount of olive oil, salt and green chilies.
If you are specific about adding some protein to your meal, you can also make some fried eggs in the same pan. Set aside your noodles to serving plates. Add 2 tsp oil to the hot pan. Just pour your egg on the hot pan and cook on a low heat until the yolk is partially set. Flip it and cook until done. Sprinkle some salt and pepper. For step by step photos, you can check this post on fried eggs.
Enjoy veg noodles.