Veg Noodles Recipe | Vegetable Noodles
Veg noodles aka Vegetable noodles is an easy to make Indo-Chinese dish that serves as a quick dinner or meal option. Made with noodles of choice, some basic vegetables, a hint of black pepper and your favorite sauce, this vegetable noodle dish is flavor disguised in simplicity. It's a complete meal and you won't need any sides. But these saucy Chilli Paneer, Gobi Manchurian, Paneer Manchurian & Vegetable Manchurian make great sides.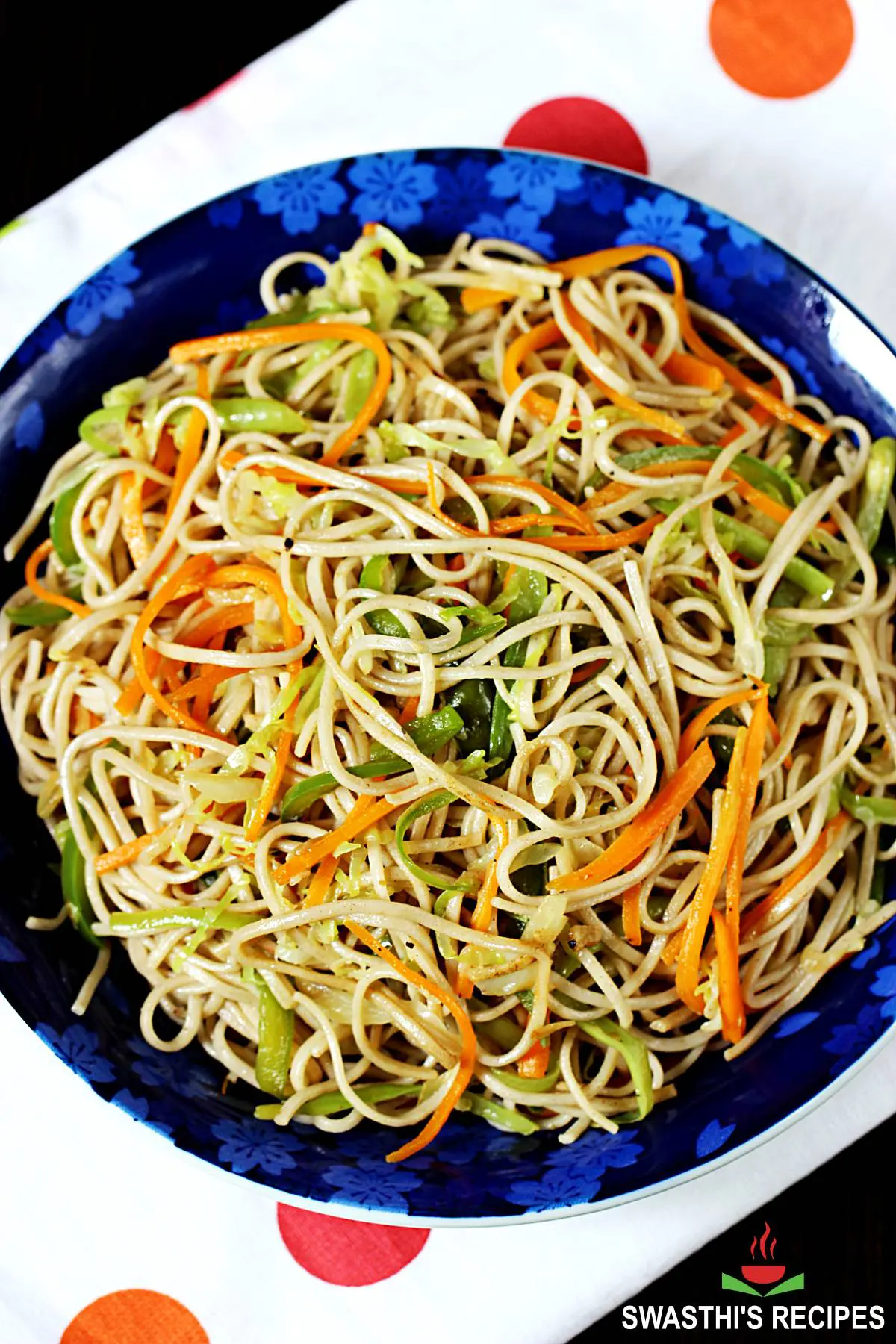 Noodle and vegetable or meat combos are popular across the world, so much. They have become comfort food for many. Serve a plate of steaming hot noodles straight from the wok, and you have big fat smiles all around the dinner table.
About Vegetable Noodles
Vegetable noodles is a healthy Chinese inspired dish where cooked noodles are stir fried with lots of vegetables. Further the dish is seasoned with a splash of sauces, vinegar and black pepper to up the taste and flavor.
The beauty of this dish is that there is no big ingredient list or long prep work involved, except for cutting the mixed vegetables. This makes veg noodles a perfect recipe option that working folks should have around for a busy weeknight.
Best of all, you only need a single wok if you have precooked noodles. Starting with frying the garlic & chili and ending with a splash of your favorite sauces, you will be surprised at how delicious this bowl of vegetable noodles tastes!
Plus the dish is nourishing, flavorful & so colorful, that even picky kids will love to dig in.
Veggies like carrots, cabbage, bell peppers, green beans & zucchini go well here. To make the dish wholesome, you can use wholegrain noodles and avoid the refined flour stuff. Soba, Udon, Hakka, Ramen and even rice noodles go well in this recipe.
My Veg Noodles Recipe
Though this veg noodle recipe is inspired from the Indo-Chinese cuisine and is much similar to the Hakka noodles, I love to make plenty of tweaks for my boys.
This vegetable noodles is akin to a free form drawing. Make it yours by using any combination of vegetables, noodles or sauces you like.
Given that you have noodles and vegetables added in, and a hint of fat from the cooking oil, you have a complete meal. But you can always serve a paneer, tofu or chili based Chinese side to elevate the dish.
Don't like soy sauce?
Soya sauce adds an umami flavor to the vegetable noodles but stir frying the dish in a carbon steel wok at high heat imparts a smoky aroma to the dish and you may not notice that soya sauce is missing.
If you are on a low sodium diet and want to avoid soya sauce completely, you may simply skip it. I have made this recipe without it for years for my young kids. They have always loved it.
Alternately use Tamari for a gluten-free option or coconut aminos for a soya-free option.
How about Vinegar?
A lot of Chinese restaurants use rice vinegar to impart a unique flavor. However I love using Apple Cider vinegar here for a slightly tart and sweet flavor.
Which oil to use?
A lot of Chinese noodles recipes use sesame oil. If you prefer that, make sure you do not use the toasted sesame oil to stir fry the noodles. This kind of oil is best added to the dish before finishing for flavor.
You may use any neutral cooking oil or something that suits your diet.
How to Make Veg Noodles Recipe (Stepwise Photos)
Boiling noodles
1. Bring 5 cups water to a boil in a large pot to cook noodles. Once the water begins to boil rapidly, drop the noodles and cook them al dente following the instructions on your pack of noodles. I used organic soba noodles (made of wheat flour & buck wheat flour) which calls for cooking for 4 minutes. Do not overcook as they turn mushy.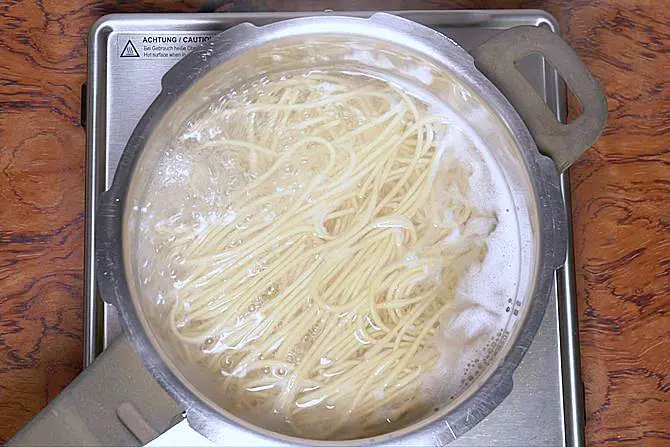 Prepare the vegetables
2. While the noodles cook rinse the veggies well under running water.
Quarter the cabbage and immerse it in a bowl of warm water. Leave it for a while and repeat a few times in a bowl of fresh cold water. Drain the water completely from the cabbage. Julienne the cabbage and keep it aside. Make sure cabbage is drained well. Excess moisture can make the veggies soggy.
Peel and julienne the carrots, bell pepper, green beans & zucchini (optional).
Slice the green chilies and onions thin (optional).
I used about 2 heaped cups of cabbage, 3/4 cups of carrot, 1/4 cup of beans, 3/4 cup capsicum. You can use up to 3½ cups of mixed veggies.
3. When the noodles are cooked al dente, drain them to a colander. Rinse with cold water. Spread 1 teaspoon oil all over the noodles.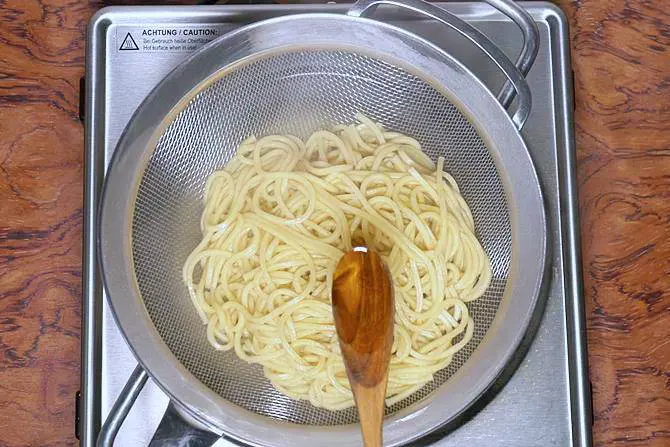 Fry Vegetables
4. Before you begin to stir fry the vegetable, prepare the sauces by adding 1 tablespoon soya sauce, 1 teaspoon vinegar and 1 to 2 teaspoons hot sauce to a small bowl. You won't have time to do it later. So keep it ready. For substitutes check my notes below.
5. Heat a wok or a pan. Add 2 tablespoons oil & heat on the highest flame. Add 1 tablespoon chopped garlic & 1 to 2 slit green chilies. [I also use 1 strand of mace / javitri and star anise. These spices flavor up the noodles and you can skip the sauces.]
6. Fry the garlic until it smells good, just for a minute. Make sure you use enough green chilies for the heat if you do not prefer to use any hot sauce else the noodles will be very bland.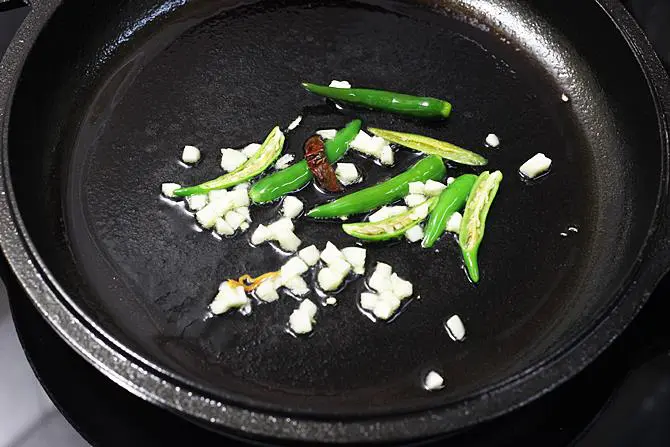 7. I skipped onions. If you are using toss them for a minute or 2. We want the onions to be crunchy and not soft. Next add all the veggies.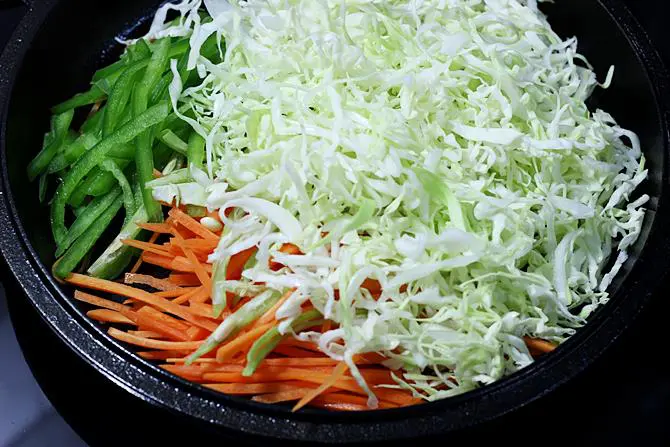 8. Fry stirring often for 2 to 3 minutes. Do not over cook, we want the veggies to be crunchy and not soggy or soft.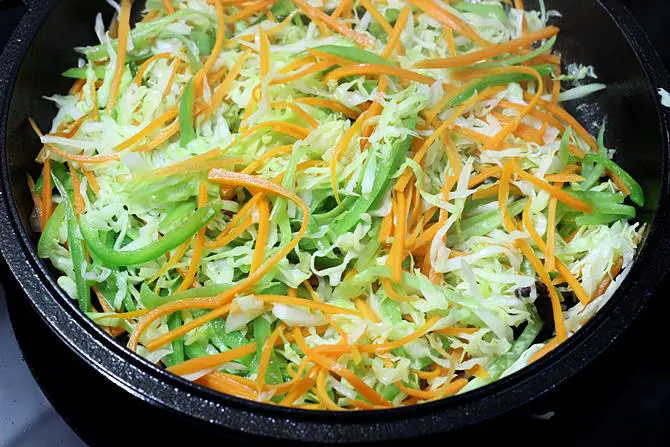 Make Vegetable Noodles
Remember the flame/ heat has to be at the highest so the noodles will have a smoky aroma.
9. Add the cooked noodles, ¼ teaspoon salt & ½ teaspoon black pepper. Pour soya sauce, hot sauce and vinegar around the pan. I skipped the sauces and just drizzled some apple cider vinegar. Optionally you may add 1 teaspoon toasted sesame oil for flavor if you prefer. Add salt with caution since the sauces have some salt in it.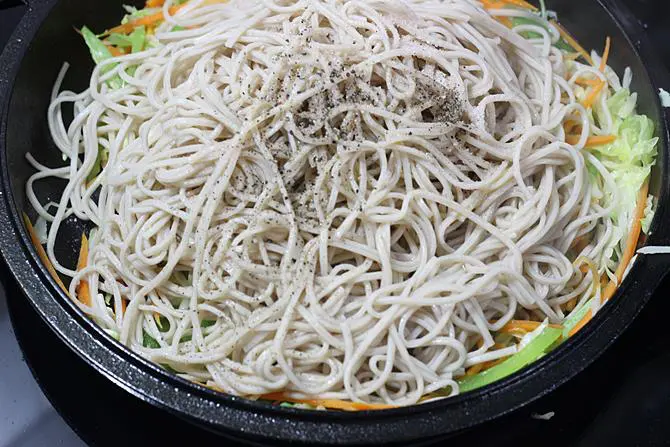 10. Toss or mix and stir fry for 2 mins without burning. Turn off the heat.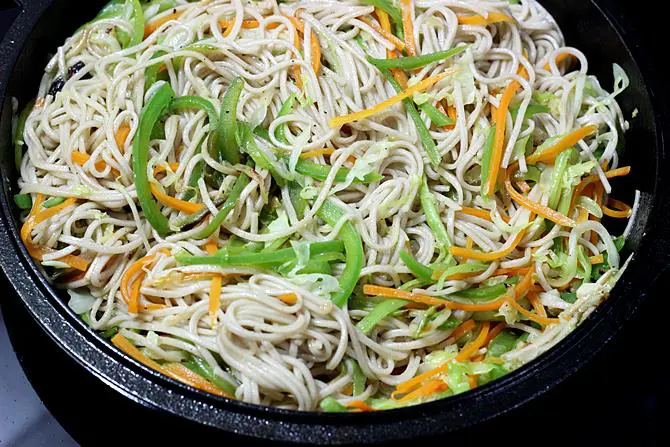 I made some fried eggs in the same pan. Transfer the noodles to serving plates. Add 2 tsp oil to the hot pan. Just pour your egg on the hot pan and cook on a low heat until the yolk is almost set. Turn it to the otherside and cook until done. Sprinkle some salt and pepper. For step by step photos, you can check this post on fried eggs. Serve vegetable noodles hot or warm.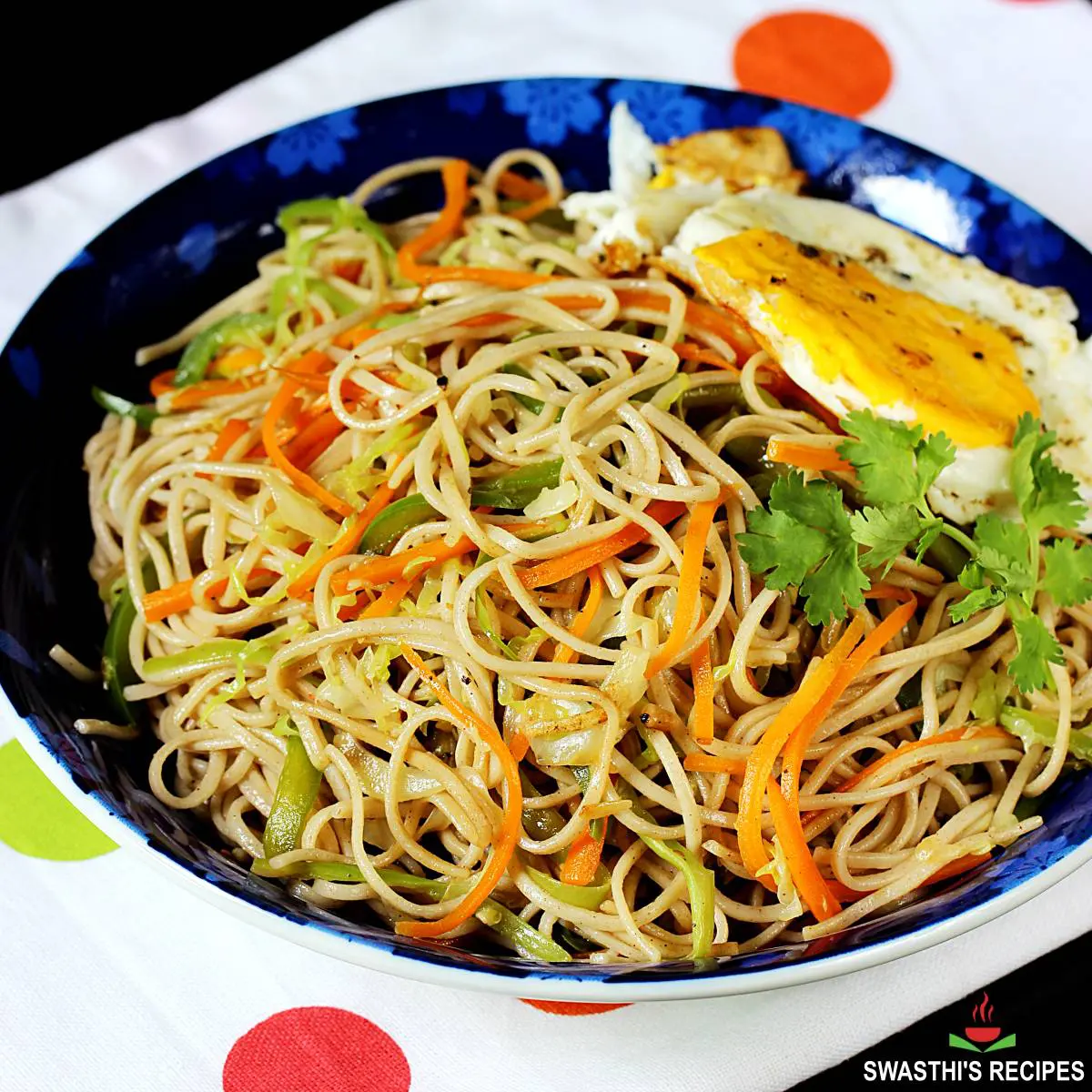 Ingredients & Substitutes
Noodles : For this recipe you can use any kind of noodles like whole grain, hakka noodles, egg noodles, soba noodles etc. I have used soba noodles here.
High flame is the main factor that imparts a smoky aroma to the Chinese dishes. So just like any other Chinese dishes the vegetable noodles have to be prepared on a high flame.
Wok: Most Chinese restaurants use a wok made of carbon steel which also helps to fry the food imparting a smoky aroma. A heavy bottom pan or a bare cast iron skillet also works well for home preparations. If using bare cast iron cookware, don't pour vinegar on the pan, instead pour it over the noodles.
Soya sauce is the key ingredient used to make any Chinese noodles to get a umami taste. Choose organic or naturally brewed soya sauce for health reasons. You can also use tamari or coconut aminos. You can also skip all of these, just use the right amount of oil, salt and green chilies.
Other sauce: I have not used any kind of sauce here, but you can simply add your favorite sauce like chilli sauce, schezwan sauce or sriracha. You can also skip all the sauces and just add a single strand of mace and a star anise along with garlic. These impart a wonderful aroma to the vegetable noodles.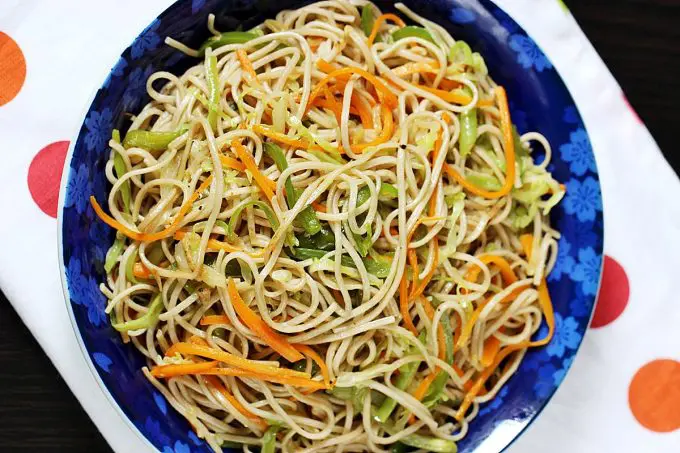 Pro Tips
Always bring water to a rolling boil before adding the noodles to the water.
Use salt and oil only if mentioned on the pack. Some kind of noodles do not require both as they are already salted.
Cook the noodle al dente without making them mushy. Please follow the instructions on the pack for cook time of the noodles. The cook time varies depending on the kind of noodles.
Once the noodles are drained to the colander, rinse them well under cold water. Please check the pack of your noodles. Some kind of noodles turn limpy when put under cold water. So they should not be rinsed.
You can also smear 1 tbsp oil to the cooked noodles to prevent them from turning sticky.
More noodles recipes
Chicken noodles
Hakka noodles
Chilli garlic noodles
Spicy schezwan noodles
Egg noodles
Related Recipes
Recipe Card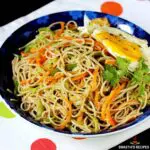 Veg Noodles Recipe | Vegetable Noodles
Super quick & delicious veg noodles made with lots of fresh vegetables, It's a complete meal but is great to have some sides like Chilli Paneer, Gobi Manchurian or Vegetable Manchurian.
Pin Recipe
Print Recipe
For best results follow the step-by-step photos above the recipe card
Ingredients (US cup = 240ml )
150

grams

noodles

(2 servings)

¼

teaspoon

salt

(adjust to taste)

2 to 3

tablespoons

cooking oil

1

tablespoon

garlic

chopped

1 to 3

green chili

slit (adjust to taste)

1

small

onion

sliced or 3 tbsp spring onions (optional)

3

cups

mixed veggies julienned

(cabbage, carrots, bell pepper, green beans)

½

teaspoon

black pepper

crushed (powder)
Sauce
1

tablespoon

soya sauce

(or Tamari/ coconut aminos/ star anise & 1 strand mace)

1

teaspoon

rice vinegar

(or 1 tbsp apple cider vinegar or lemon juice)

1 to 2

teaspoon

hot sauce

(like chilli sauce or sriracha or any other)
Instructions
Cooking noodles
Bring 5 cups water to a rolling boil. Add the noodles and cook them al dente and not mushy.

They should be cooked just until done & not overcooked. Follow the instructions on the pack for cook time. When they are done, drain them to a colander.

Rinse them well under running cold water. Sprinkle 1 tsp oil and spread it all over the noodles. This prevents them from drying out and becoming lumpy. Set aside.
Prepare Vegetables
While the noodles cook, prepare the veggies & garlic.

Rinse all the vegetables under running water. Peel the carrots and julienne all the vegetables as thin as possible (refer step by step pictures)

To a small bowl, add all the sauces you prefer to use along with your choice of vinegar. Keep this near to your stove.
Making veg noodles
Pour oil to a hot wok and spread the oil all over the wok. Regulate the flame to medium high.

Add garlic and green chilies. Stir fry for 30 seconds and add onions (optional). If using spring onions, add only the white portions.

Fry them for a minute only we don't want soft onions. Add all the veggies – carrots, bell pepper, green beans & cabbage.

Toss & stir fry on the highest flame/heat for 2 to 3 mins until they are half done yet crunchy. Do not over cook the veggies.

Add cooked noodles, pepper and salt. Pour all the sauces around the sides of the wok/pan.

Toss and stir fry for 2 mins. Serve veg noodles hot or warm.
Notes
Soya sauce: Substitute soya sauce with tamari for a gluten-free option and coconut aminos for a soya-free option. If you want to avoid all of these you may add a star anise and strand of mace to the tempering just before garlic. This infuses some magical flavors to your noodles.
Vinegar adds a tang to your noodles. Rice vinegar is commonly used in Indo-Chinese cooking. However you may replace with apple cider vinegar or lemon juice.
You can skip the hot sauce, if you use hot green chilies.
You can skip all sauces and vinegar in the recipe if you are using a carbon steel or bare cast iron wok. Make sure you stir fry the noodles on a high flame which imparts a slightly smoky flavor to the dish.
Alternative quantities provided in the recipe card are for 1x only, original recipe.
For best results follow my detailed step-by-step photo instructions and tips above the recipe card.
NUTRITION INFO (estimation only)
Nutrition Facts
Veg Noodles Recipe | Vegetable Noodles
Amount Per Serving
Calories 591
Calories from Fat 153
% Daily Value*
Fat 17g26%
Sodium 1293mg56%
Potassium 684mg20%
Carbohydrates 98g33%
Protein 18g36%
Vitamin A 14070IU281%
Vitamin C 37mg45%
Calcium 89mg9%
Iron 3mg17%
* Percent Daily Values are based on a 2000 calorie diet.
Veg noodles recipe first published in May 2016. Updated and republished in February 2022.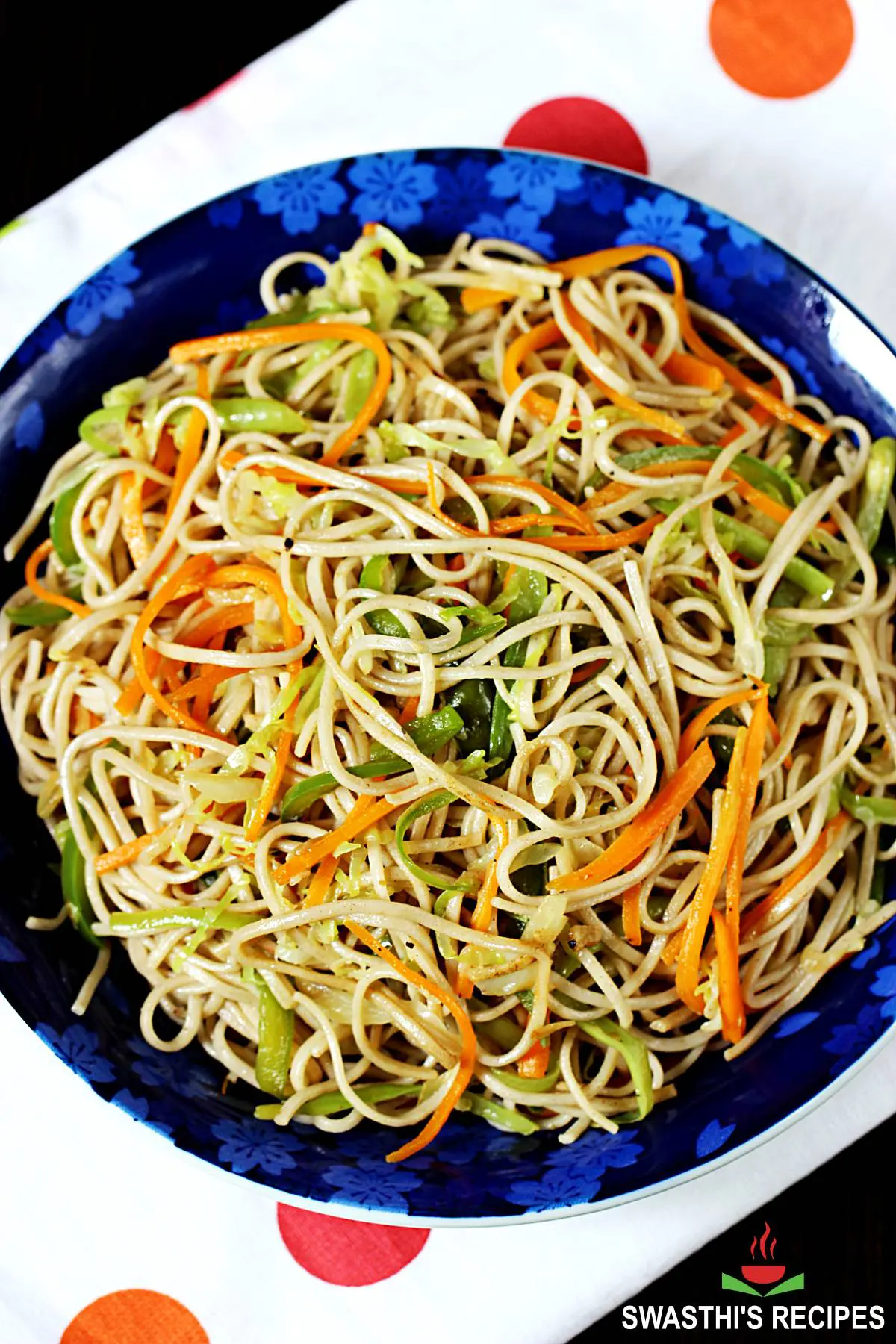 About Swasthi
I'm Swasthi Shreekanth, the recipe developer, food photographer & food writer behind Swasthi's Recipes. My aim is to help you cook great Indian food with my time-tested recipes. After 2 decades of experience in practical Indian cooking I started this blog to help people cook better & more often at home. Whether you are a novice or an experienced cook I am sure Swasthi's Recipes will assist you to enhance your cooking skills.
Follow Swasthi's Recipes