Veg fried rice recipe with video & step by step photos – Delicious, flavorful and quick to make veg fried rice! There are so many ways a fried rice can be made. Chinese fried rice, schezwan style, egg fried rice, chicken fried rice are some of the most common ones from the Indo chinese cuisine.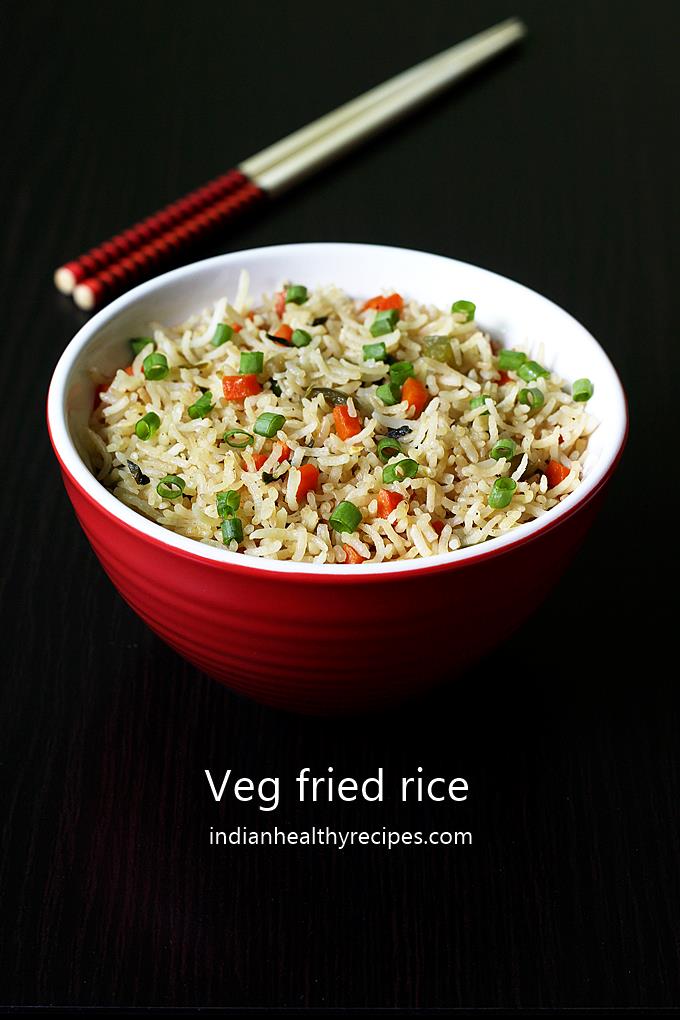 This vegetable fried rice is an easy one to follow, can be made with any sauce one likes. It can be made in a jiffy with basic ingredients and rice.
Chinese Restaurants serve veg fried rice that often taste different from one another. The few ingredients that are used in almost all recipes is the monosodium glutamate called as ajjinomotto and the olive oil or sesame oil.
Ajjinomotto or MSG lends a different taste and flavor to the rice that dominates every other ingredient that is used. Due to the controversies associated with it, I do not use it for any of my foods.
You can still make a very good vegetable fried rice with out it.
This fried rice can be served with any of these sides:
Veg manchurian
Chilli paneer
Chilli chicken
Gobi manchurian
Chilli potato
Chicken manchurian
Tips to make best veg fried rice
Always use non sticky rice. Cook it al dente and not mushy. A good method to cook rice is to rinse it well to get rid of the starch. Then cook it in a open pot.
Cool the rice completely before adding it to the pan.
Do not use cold vegetables from fridge as they let out lot of moisture & turn too soft.
Always make veg fried rice on the highest flame this lends a unique aroma.
Veg fried rice can be made without any sauce. But soya sauce imparts a flavor. You can also add any sauce of your choice like schezwan sauce or chilli sauce.
After cooking the rice, adding a tbsp of oil and tossing will prevent the rice grains from sticking up to each other.
What vegetables do you put in fried rice?
To make veg fried rice, you can use your favorite veggies like corn, baby corn, beans, bell pepper, spring onions, peas, carrots,mushroom and cabbage too.
We love using cabbage but it is optional. If you have a dislike towards it you can skip. But fresh tender shredded cabbage lends a unique flavor that one can find in restaurants served fried rice.
This recipe can be altered to suit your taste, make an Chinese style fried rice by using soya sauce or use peri peri sauce to make a hot spicy peri peri rice. It can also be made using only vinegar.
Typically a simple Indian style fried rice is made using only vinegar & without any sauce.
Health tips on using Soya sauce:
Soya sauce if used in moderation is said to be healthy. Hence do not include it often in your diet as it is high in sodium & may cause health issues.
While buying soya sauce choose one that is labelled as naturally brewed or traditionally brewed other ways of making soya sauce uses harsh chemicals which cause side effects in the long run.
Also check the ingredients, some soya sauce come with MSG (ajinomotto) included in it. Do not buy such bottles.
Soya is a hormone disrupter, so use with caution especially for kids.
Variations of the recipe
I have shown the basic version of making fried rice, but you can try these variations:
1.You can make egg fried rice using the same recipe. Just stir in 4 eggs once the veggies are cooked. Scramble & cook the eggs then add rice.
2. Stir in your favorite sauce to spice up the fried rice. You can use some schezwan sauce or sri racha.
3. You can also use some cooked chicken chunks in this dish. Just add them to the pan along with the veggies.
More Fried rice recipes,
Schezwan fried rice
Egg fried rice
Chicken fried rice
Veg fried rice recipe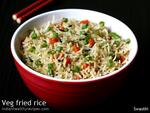 Veg fried rice
Fried rice recipe – Restaurant style easy vegetable fried rice recipe made in Indo Chinese style. This recipe will yield you one of the most flavorful & delicious fried rice.
Ingredients (1 cup = 240ml )
Ingredients for veg fried rice
2

cups

Rice

(long grain)

1

tablespoon

Garlic

chopped

2

tablespoons

Olive oil

or sesame oil

1

tablespoon

Soya sauce

(about 2 to 3 tsp, use to suit your taste)

¾ to 1

tablespoon

Vinegar

(apple cider or white vinegar)

Salt

as needed

½

teaspoon

Pepper

coarsely crushed
Vegetables for fried rice recipe
¼

cup

Carrots

chopped finely

¼

cup

Bell peppers

or capsicum chopped finely

¼

cup

Beans

chopped finely

¼

cup

Cabbage

(or 3 to 4 tablespoon chopped )

¼

cup

Spring onions

(or 3 to 4 tablespoon chopped )
Optional ingredients (skip if you don't have)
1

green chili

slit

8

sprigs

celery

chopped finely

¼

cup

mushrooms

sliced

1

star anise

or ¼ teaspoon star anise powder

1

strand

mace
How to make the recipe
Preparation for fried rice recipe
Skip this section if you have precooked rice. Wash rice a few times till the water runs clear.

Soak it for at least 10 mins & drain the water.

Bring 8 to 10 cups of water to a boil in a large pot.

Add the rice & pour 1 tsp oil to prevent the rice from turning sticky.

Cook rice till al dente. Rice must not be mushy but has to be grainy.

Drain off the rice to a colander. Cool it completely & fluff it up with a fork.

Chop the veggies, garlic and other ingredients.
How to make fried rice
Heat a wok with oil on the highest flame and fry chopped garlic slightly.

Add mace and star anise (optional) for a wonderful flavor.

Next put in all the chopped veggies and fry for a min or two.

Add in half tsp sugar (optional) to cut down the pungent taste from vinegar.

To make Indian fried rice recipe just add vinegar & salt to the wok.

To make Chinese style, add soya sauce, vinegar & very little salt.

Add rice and pepper powder. Fry the vegetable fried rice for 2 mins.

Garnish veg fried rice with fresh chopped spring onions.
Video
Video of veg fried rice recipe
NUTRITION (estimation only)
Serving:
2
g
|
Calories:
424
kcal
|
Carbohydrates:
78
g
|
Protein:
8
g
|
Fat:
7
g
|
Saturated Fat:
1
g
|
Sodium:
304
mg
|
Potassium:
207
mg
|
Fiber:
2
g
|
Sugar:
2
g
|
Vitamin A:
1690
IU
|
Vitamin C:
18
mg
|
Calcium:
37
mg
|
Iron:
1.1
mg
Notes
Notes for veg fried rice recipe
A Chinese wok lends the best flavor to the rice. Even a cast iron skillet works good.
Rice must be fried on the highest flame or heat. That lends a smoky flavor to the rice.
Do not use mushy rice.
Refrigerated rice can be used.
You can make variations to this by adding some schezwan sauce
You can also stir in an egg after frying the veggies.
If you prefer to use star anise powder skip add it to the pan just before putting in the rice.
If you are a beginner or new to Indian cooking, I highly suggest you to check the supporting step by step photos for best results. Step by step photos with description available below after the recipe card.
Preparation for veg fried rice recipe
If you have precooked rice, then skip the first too steps. Most people prefer to use up 1 day old cooked rice or left over rice. We don't eat leftover rice so I always make fried rice with fresh cooked rice. I have shown below the way we personally prefer.
1. Soak rice for 10 to 20 mins and cook in lot of water with few drops oil. Cook the rice till al dente but not mushy. Grains must be separated.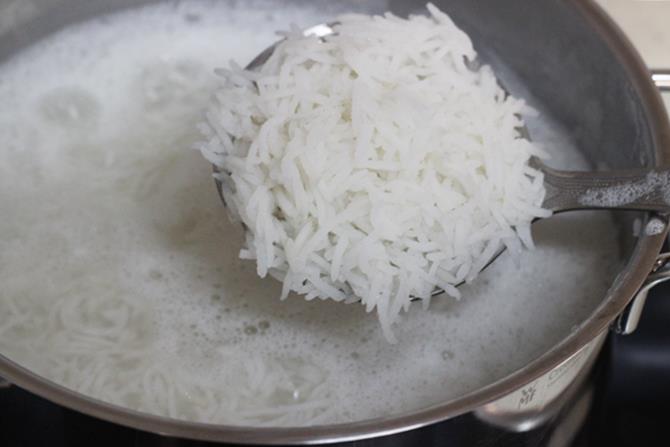 2. Drain off the rice to a colander and cool it. While the rice cooks, chop all the veggies.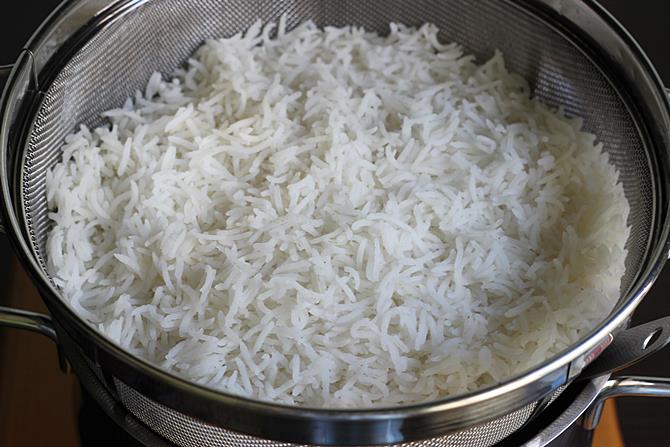 How to make veg fried rice recipe
To cook on high flame and do not overcook the veggies as they lose the crunch
3. Heat oil in a wok on the highest flame, If you don't have a wok, use a wide pan. Add garlic sauté till you get an aroma. If you wish to use spices, you can add a single strand of mace and star anise now and fry for a min. This is optional but gives the authentic Chinese cuisine flavors.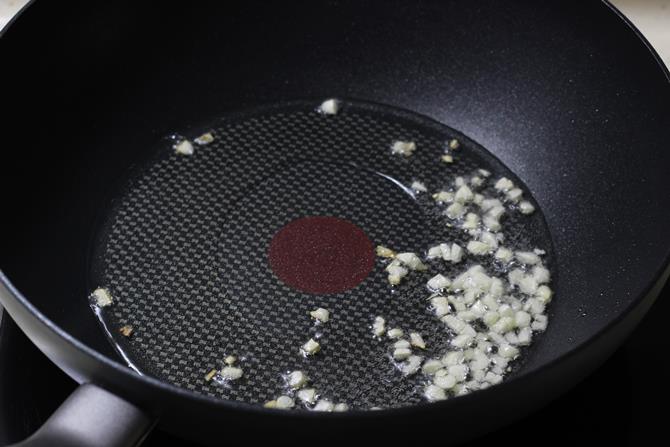 4. Add all chopped vegetables and fry for 2 minutes.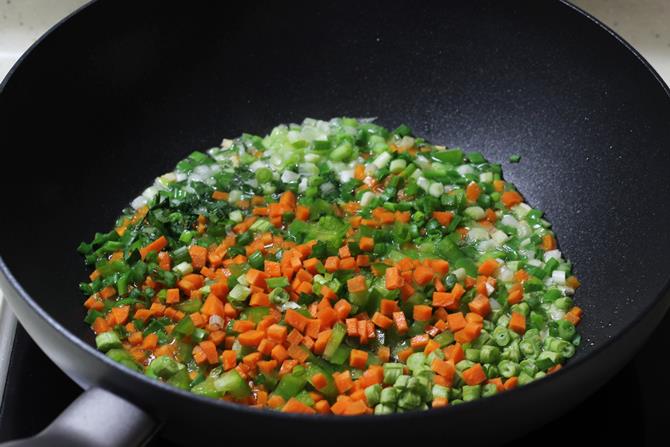 5. Next add sugar if you like. Using sugar keeps the veggies color intact.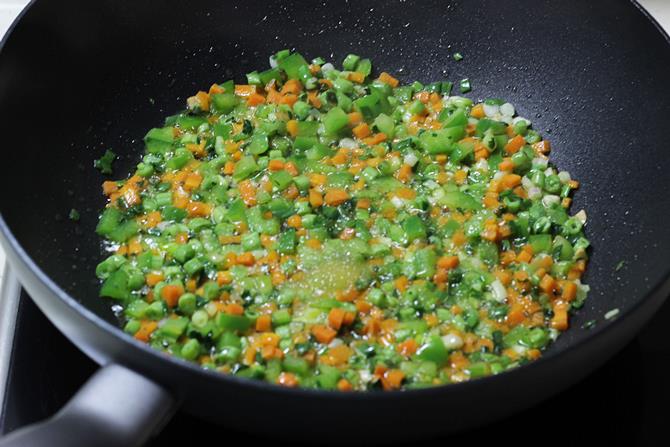 Adding sauces
6. For making Indian fried rice just add vinegar and salt. To make chinese style, add soya sauce, vinegar and salt.
You can also add red chili sauce as needed and this is optional.There is already salt added in the sauces, so take care not to add too much.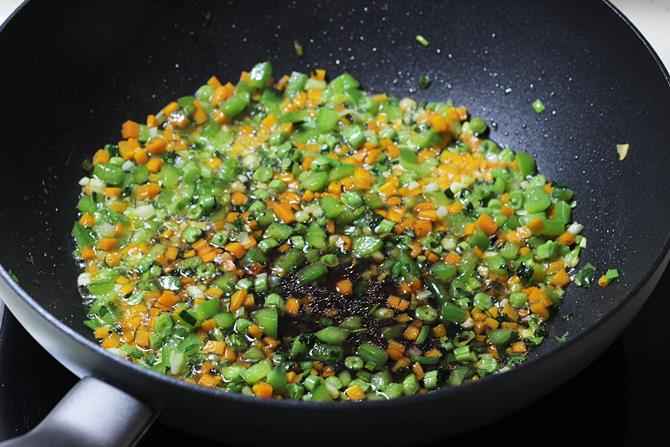 7. When the sauce bubbles, add rice and pepper.You can even sprinkle pepper powder fresh before serving.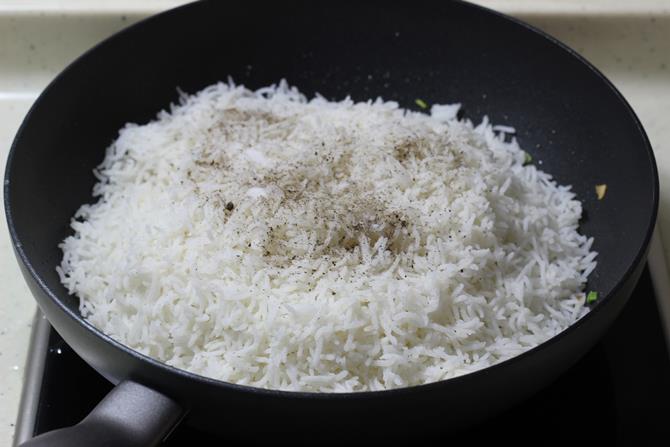 8. Toss, Mix, fry for 2 to 3 mins. Adjust more of less sauce now to suit your taste. Remember the entire cooking process should happen on the highest flame. Otherwise the moisture from the veggies can make the rice mushy.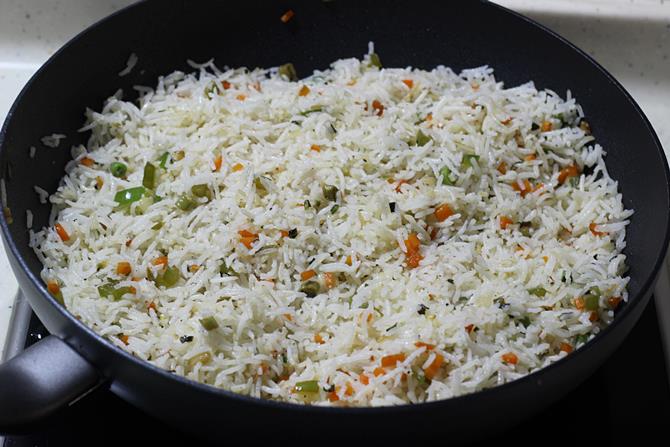 Garnish veg fried rice with spring onions.