Peanut ladoo recipe. Peanuts are high in protein and many other nutrients. They are one of the most commonly used nuts across the world. These peanut ladoos make a good and quick energy booster for all age groups. No ghee is needed to prepare these. The moisture in the jaggery and oil in the peanuts will be sufficient for binding. So it is absolutely nourishing and healthy if made without sugar.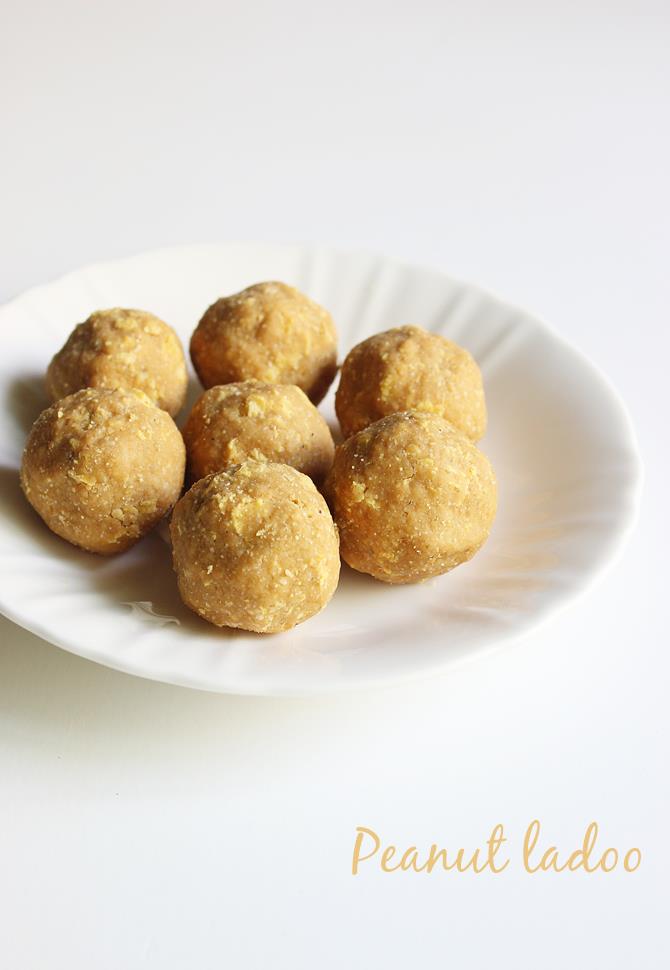 To make these peanut ladoo, cornflakes or poha can be used to give a crunchy feel while we bite into it. However it is optional using them, you can make the ladoos even without cornflakes or poha.
These make a great sweet snack for the kids' school box. I often make these for my kids. If you are trying to increase the protein intake of your kids, do give them these regularly. They are quick to make and keep good for 2 to 3 weeks at room temperature.
You can try out these ladoos in so many ways, get creative and make them.You can dd few raisins or dates as well. But I usually make these with few some poha or cornflakes as the kids love the crunch.
To make these peanut ladoo, make sure you use good quality peanuts that are not rancid smelling. Choose jaggery that does not have any impurities as we do not melt or filter the jaggery in this recipe.
For more easy ladoo recipes, check
dates and nuts ladoo
sesame seeds ladoo
badam ladoo
coconut ladoo
raisin nut balls
Peanut ladoo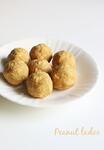 Peanut ladoo
Delicious, aromatic and quick to make peanut ladoos made with jaggery, cardamom powder and roasted peanuts.
Ingredients (1 cup = 240ml )
1

cup

peanuts

1

cup

jaggery

¼

tsp

cardamom

powder

½

cup

poha

aval, avalakki or cornflakes (optional)
How to make the recipe
Dry roast the peanuts on a tawa until golden and aromatic. Cool them and remove the skin. You can even use them with skin, it does not affect the taste.

Once cool grind the peanuts with cardamom powder and jaggery.

Crush poha or cornflakes and add them to the powder. If using poha, dry roast them on the tawa till crunchy. Powder and mix everything well.

The mixture should come together to bind well. If it does not then blend a little more. Avoid over blending as it will release oils from the mixture.

Take small portions of this mixture and roll to ladoos. Store peanut ladoo in an airtight jar and use within 2 weeks. If you intend to keep longer, do not use cornflakes as they turn soft.
NUTRITION (estimation only)
Calories:
142
kcal
|
Carbohydrates:
19
g
|
Protein:
3
g
|
Fat:
6
g
|
Sodium:
2
mg
|
Potassium:
90
mg
|
Fiber:
1
g
|
Sugar:
16
g
|
Calcium:
19
mg
|
Iron:
0.8
mg
If you are a beginner or new to Indian cooking, I highly suggest you to check the supporting step by step photos for best results. Step by step photos with description available below after the recipe card.
How to make peanut ladoos
1. Dry roast peanuts on a medium flame until golden and aromatic. Cool them and remove the skin. I usually do it on the stove in a pan. Sometimes I also do this: Wash the peanuts, drain them off in a colander for about 5 minutes. Microwave them on high for about 4 minutes, stirring after 2 minutes. When the nuts cool down, the skin peels off easily, a light rub is just enough. If this is done on the stove top, the pan gets charred.

2. Grate jaggery. Pick and discard any debris.
3. Blend together jaggery, peanuts and cardamom powder till smooth.
4. Add crushed poha or cornflakes and mix well. Take small portions and roll them to balls.
5. Store peanut ladoo in an airtight container. The cornflakes begin to lose crunch after 2 days, so make in small quantities or avoid using cornflakes