Coconut ladoo recipe with video & step by step photos – Coconut ladoo are delicious sweetened balls made with coconut, sugar, cardamom powder and milk (optional). These are one of the most easiest of all Indian sweets recipes that can be made for any festival or occasion. There are 3 different ways of making coconut ladoos which I have shared in this post.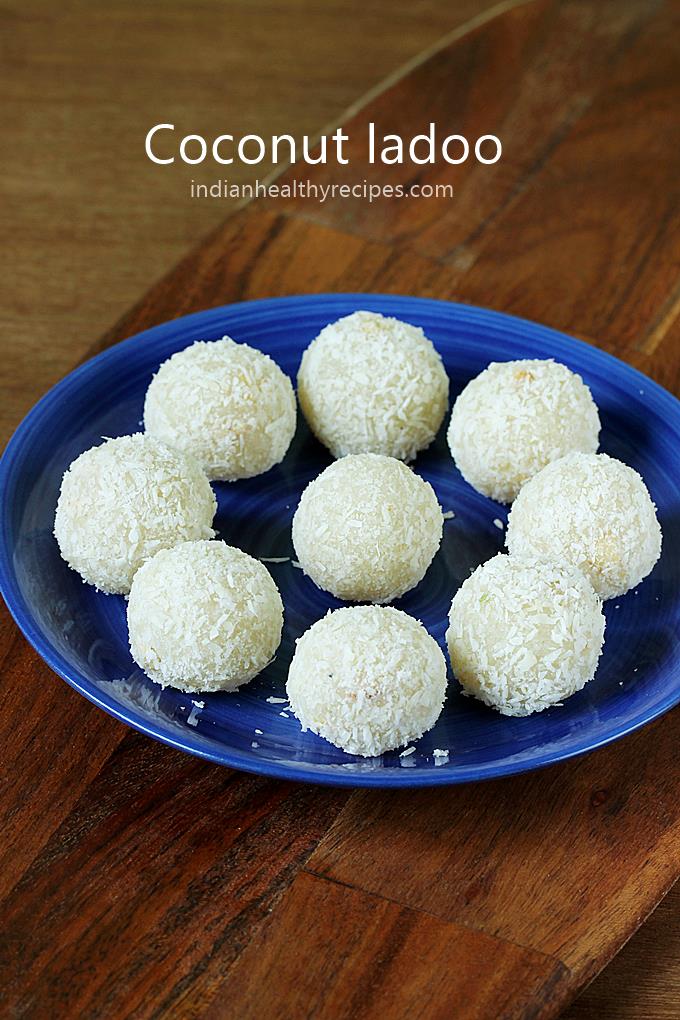 Traditionally coconut ladoos were made with fresh grated coconut and jaggery as it was the most common sweetener used in Indian cooking. These were made across India mostly in the coastal regions where fresh coconuts were grown.
However these delicious ladoos can be made using fresh coconut, frozen coconut or even desiccated coconut. To sweeten the balls you can use sugar or jaggery to suit your taste buds. I made these with desiccated coconut, sugar and milk.
Tips to make coconut ladoo
Choosing coconut: Fresh coconut tastes best to make these balls. But you can also use frozen coconut or desiccated coconut. If you prefer to use frozen coconut make sure it is raw coconut and not steamed. If using desiccated coconut then use the fine shreds and not large ones. You can also use copra and make these no cook copra ladoos
Sweetener : You can use sugar, jaggery, palm jaggery or condensed milk to sweeten the balls. The coconut ladoos made with jaggery are the best and have a depth of flavor. If your jaggery has debris then you will need to dissolve it first and then use. You can find the detailed step by step photos here on kobbari jaggery laddu.
Flavoring : Traditionally cardamoms are used to flavor the coconut ladoos. However during winters some people also use dried ginger powder & nutmeg.
Vegan : For a vegan version just replace the milk in the recipe with coconut milk or make them with jaggery. Jaggery has lot more moisture in it than sugar so the recipe works well without milk.
Optional ingredients : There are so many optional ingredients you can add to these coconut ladoos to make them taste rich. Khoya, milk powder, cashew nut powder & sesame seeds are some of the ingredients I use. To make khoya coconut balls, you can check these stuffed kova ladoo recipe.
Variations
Here are the details of the 3 versions I have shared in this post.
First one is made with coconut, sugar, cardamoms & milk.
Second one is made with desiccated coconut & condensed milk.
Third one is made with coconut and jaggery.
For the first recipe if using fresh or frozen coconut, the amount of milk used in the recipe is either scaled down to half. Otherwise the milk is simmered till it reduces to half the quantity and then the coconut and sugar are added.
To make coconut ladoo recipe, I have doubled the ingredients and made 24 ladoos. In the step by photos you will find the quantity of ingredients more than mentioned in the recipe.
You can also check these 30 ladoo recipes
Rava laddu
Besan ladoo
Boondi ladoo
Atta ladoo
Peanut ladoo
Poha ladoo
You may like to check these 30 Coconut Recipes.
Recipe of coconut ladoo or nariyal ladoo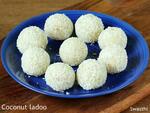 Coconut ladoo
Coconut ladoo are delicious sweet balls made with grated coconut, sugar & cardamom powder. These coconut laddus are a festive delight and are mostly made during festivals & celebrations.
Ingredients (1 cup = 240ml )
Ingredients for coconut ladoo
2

cups

coconut

or nariyal (fresh or desiccated)

1/8

teaspoon

green cardamom powder

or elaichi powder

8

cashews

broken or as needed

1

teaspoon

ghee

¾

cup

sugar

or ½ tin condensed milk or jaggery

1

cup

milk

(½ cup if using fresh coconut) (skip if using condensed milk)
How to make the recipe
Method 1 – Preparation for coconut ladoo
Heat 1 teaspoon ghee in a pan, add 8 broken cashew nuts. Fry them stirring often until they turn golden. Remove these to a plate and set aside.

To the same pan, add grated coconut, milk and sugar. If using desiccated coconut set the pan aside for 15 minutes for the coconut to absorb the milk and soften.

Mix all of the ingredients and cook till the coconut ladoo mixture thickens and all the moisture evaporates completely. The mixture must still be moist and not dry.
How to make coconut ladoo
Add cardamom powder and nuts. Mix well. Cool the mixture slightly. When it comes down to warm temperature, take small portions of this mixture and roll to coconut ladoos.

When they are still warm and moist you can also roll the ladoos in desiccated coconut. Store coconut laddu in an airtight jar and refrigerate. Use within 5 to 7 days.
Method 2 – Coconut ladoo with condensed milk
To a pan, add 2 cups coconut, 1/4 tsp cardamom powder and ½ tin condensed milk. Mix up all of these and cook on a low flame stirring often. The mixture thickens and turns to a mass. The coconut ladoo mixture must be still moist. If you overcook then the ladoos will turn hard.

If needed add more condensed milk for more sweetness. Cool and add chopped pistachios. Take small portions of this mixture and roll to coconut ladoos. Store these in a air tight box and refrigerate. Use up within a week.
Method 3 – Coconut ladoo with jaggery
Mix together coconut and grated jaggery in a pan. Cook until the mixture smells good and turn thick & you see strings in the mixture. Add little ghee, cardamoms and nuts. Cool down and roll to balls. Store coconut laddus in a air tight jar and store at room temperature. Use up within 7 days.
Video
Video of coconut ladoo
NUTRITION
Calories:
111
kcal
|
Carbohydrates:
15
g
|
Protein:
1
g
|
Fat:
5
g
|
Saturated Fat:
4
g
|
Cholesterol:
3
mg
|
Sodium:
11
mg
|
Potassium:
74
mg
|
Fiber:
1
g
|
Sugar:
14
g
|
Vitamin A:
0.7
%
|
Vitamin C:
0.5
%
|
Calcium:
2.5
%
|
Iron:
1.8
%
Notes
To make coconut laddu, if using fresh coconut then you can use only half cup milk or boil one cup milk till it thickens and reduces to half cup. Then add sugar and coconut.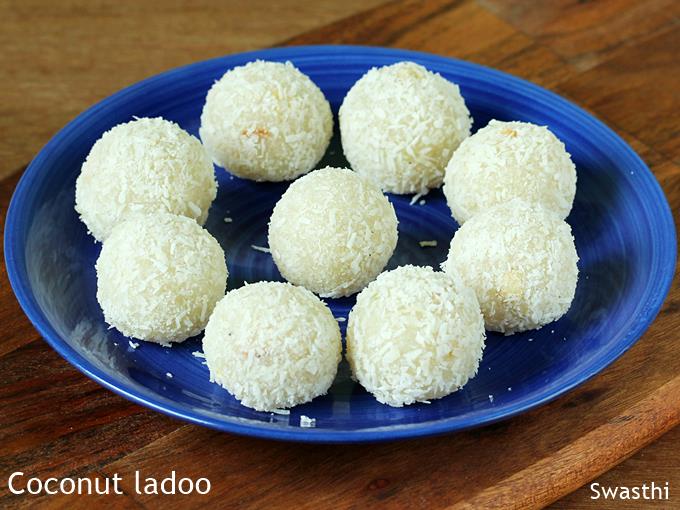 How to make coconut ladoo recipe
1. Add coconut, sugar and milk to a pan.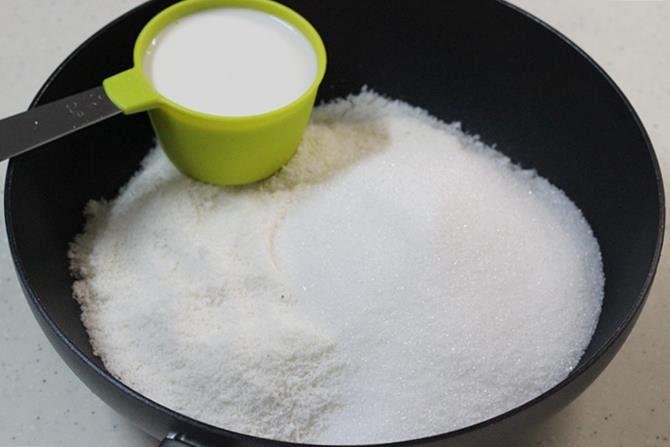 2. Mix well and leave aside for about 15 minutes.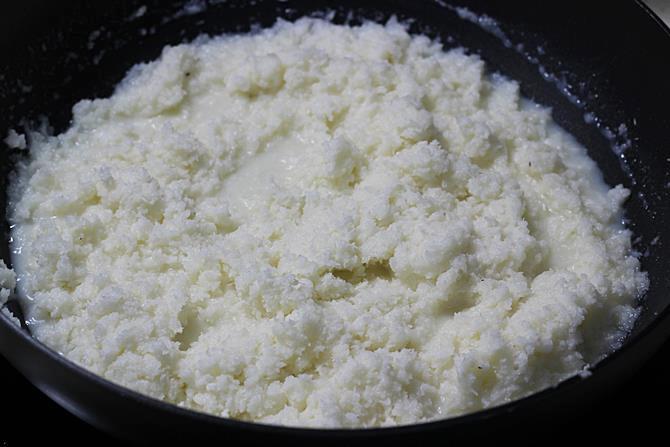 3. Begin to cook, stirring often to prevent burning. The mixture becomes gooey when the sugar begins to melt.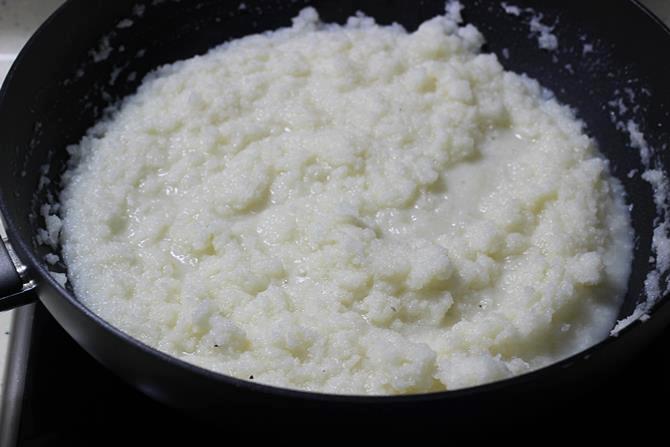 4. Cook till the mixture gets cooked well and all the moisture evaporates. The mixture should be moist but not soggy else they will not get a good shape when rolled. Add roasted nuts, cardamom powder and stir well. Set aside till the temperature comes down.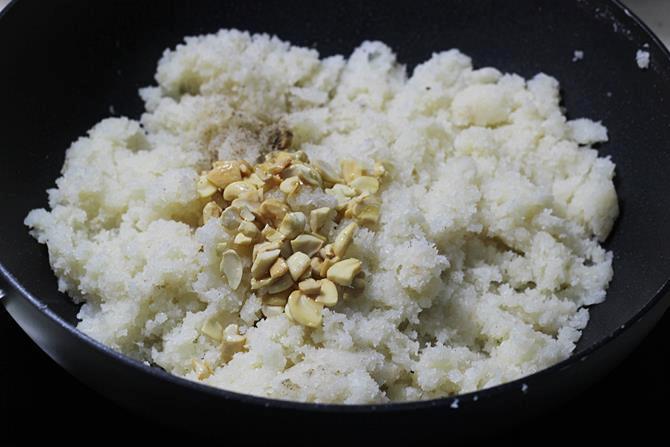 5. When the temperature comes down to warm, take small portions of the mixture and roll to balls. You can also roll them in desiccated coconut if you prefer. To roll the balls in coconut make sure the balls are still warm and moist.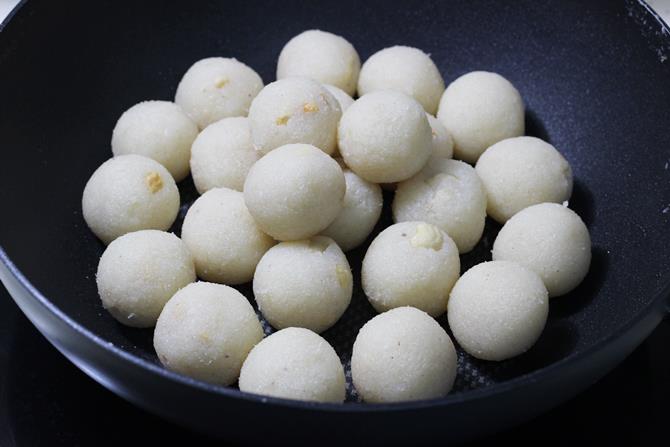 Store coconut ladoo in an airtight jar. Refrigerate and use with in 5 to 7 days.