Ginger Shot, an immune boosting drink made with fresh ginger, lemon & pantry staples. Learn to make the simplest wellness drink at home with my easy time-tested recipe. Invest just 5 minutes of your daily time into making this Ginger Shot, you will thank yourself later!! After experiencing the benefits of Ginger Shots for more than a decade I thought of sharing it here with all the details.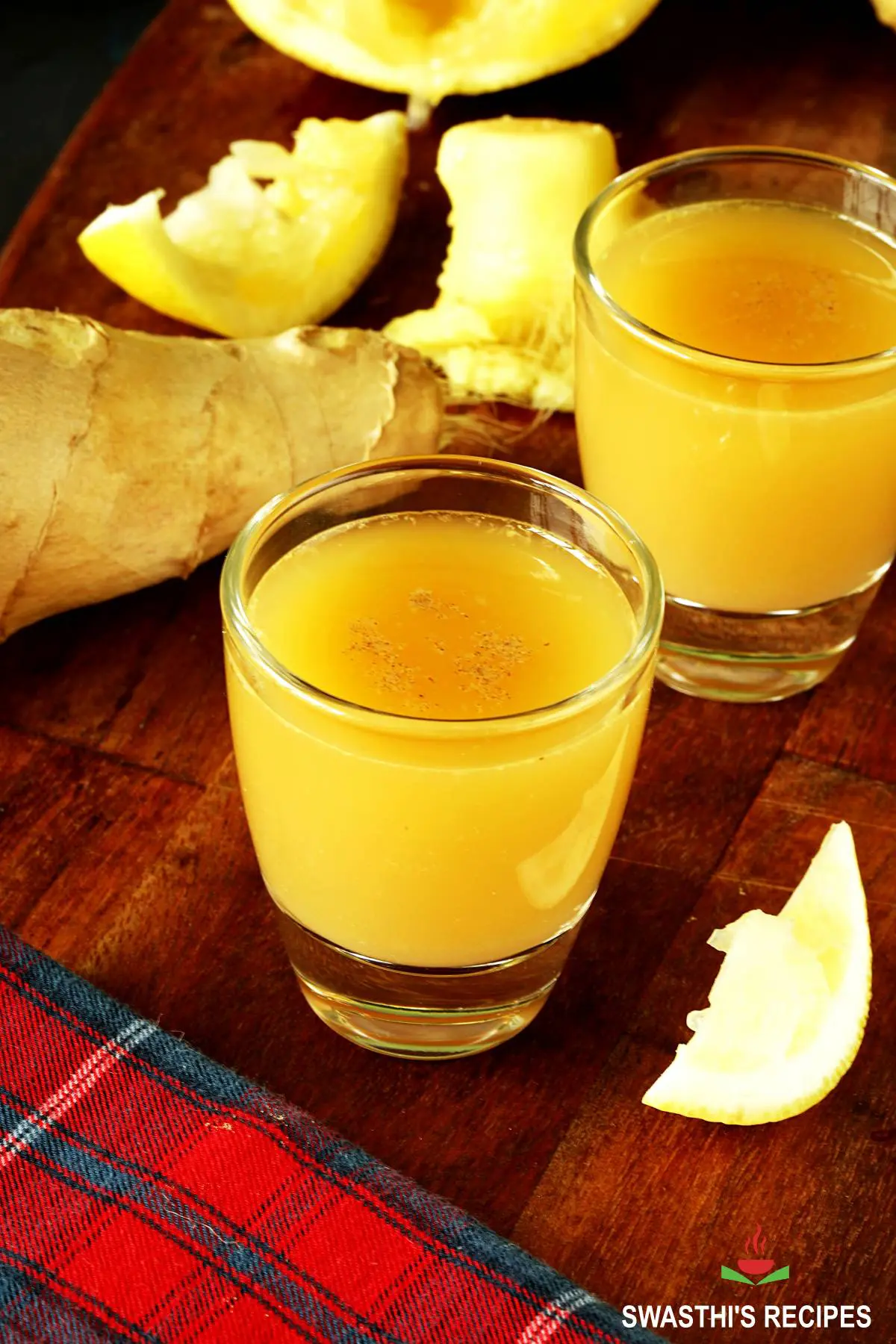 What is a Ginger Shot?
Ginger Shot is a small concentrated, intensely flavored drink that is based largely on the juice of ginger root combined with lemon juice. It is further heightened with black pepper and sweetened with honey. In this homemade version we strike a balance of spicy, sweet and tangy tastes.
While it is certainly flavorful and delicious, some may find the flavor rather intense with a pretty strong kick of heat. But it really lasts just a few moments. Arguably, the benefits certainly outweigh the drawback of their intensity.
Ginger shot is a combination of ingredients that work together to deliver a number of health benefits. Unlike a glass of juice that one might sip to enjoy the flavor, these are swallowed quickly.
Homemade vs. Store Bought
There are a number of pre-bottled ginger shots available on the market. But when you are making a choice between the bottled variety and making them in your home kitchen, the choice is clear. Homemade is clearly better for a number of reasons.
First of all, when making them at home you are able to hand-select the ingredients. As is the case with all juices, organic is the best choice here. Because it limits the amount of chemicals in your diet, namely pesticides, fungicides, and fertilizers.
The second reason is that the benefits of the ginger begin to deteriorate as the juice oxidizes. The very optimal time frame for consumption is immediately after juicing.
For this reason, it is best not to freeze or store ginger shots for extended periods of time so as to derive maximum benefits. Finally, homemade ginger shots are less expensive than the store bought version. In the end, you are getting the most for your money which is always a wise choice.
Similar recipes,
Turmeric Tea
Ginger Tea
Turmeric Shots
Turmeric Milk
Masala Chai (Tea)
Chai Latte
Faqs
What are ginger shots good for?
There are a number of reasons to add ginger shots to your daily health regimen. Since they possess powerful anti-inflammatory and antioxidant properties, they benefit immune health, soothe nausea and digestive issues.
When should you drink ginger shot?
For full benefits, ginger shots are best when taken once a day, first thing in the morning, and on an empty stomach. It is strongly recommended that they be consumed in limited quantities, because they may cause heartburn and stomach acidity. It can be said of ginger shots that more is not necessarily better.
What are ginger shots made of?
Ginger
In India and China, it has long been understood that ginger has a lot of beneficial medicinal applications. Among those are anti-inflammatory and antioxidant properties. It is believed to improve so many bodily functions including the brain and heart.
It is also widely used to treat a variety of digestive issues, such as nausea, while helping to fight colds and flu. Beyond that, it may even lower blood sugar levels when we incorporate it in our diet.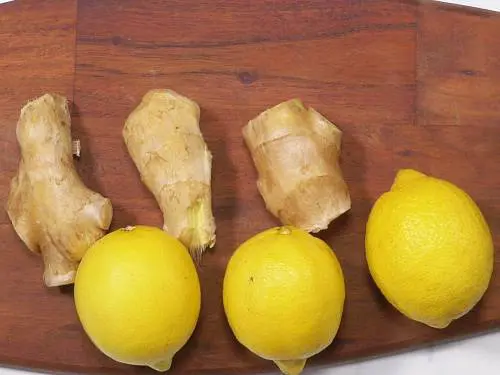 Lemon
Due to the high Vitamin C content of fresh lemon, it is a natural boost for your immune system. It is also believed to contain a number of antioxidants that cleans and detoxify your liver and digestive system.
Beyond those benefits, lemon juice may also aid in balancing your body's pH level. It brings antibacterial and antiviral properties to the table, making it not only a beneficial ingredient, but a flavorful one.
Honey
Beyond tempering the heat and intense flavor of the ginger and lemon, honey contains amazing properties that help to boost immunity & fight infection. It also improves the digestive system as a natural cleanser. This is a real benefit to ginger shots.
In this recipe I recommend Manuka honey because it offers the best antibacterial/antiviral and antioxidant properties. Manuka honey is simply honey derived from the bees that feed on the manuka plant, which are found in New Zealand.
With that said, it stands to reason that it is more expensive than other widely available honey. If you are unable to get Manuka honey, raw honey is a suitable substitute. It is better than regular honey in that its properties are still intact.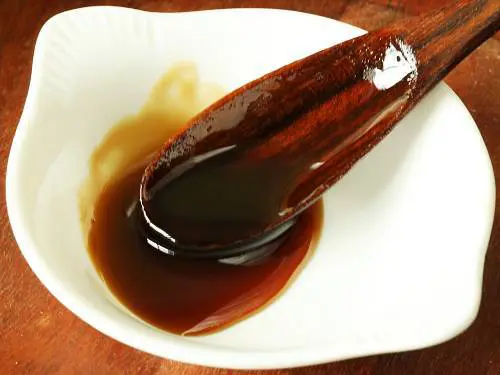 Black pepper
Beyond adding a bit of heat to the ginger shot, black pepper contributes other health attributes. Specifically its active compound, piperine, is believed to enhance the absorption of certain nutrients. It further improves digestive health.
For these reasons, it stands to reason that the benefits are compatible with the other ingredients for optimal digestive health.
3 ways to make
Once you committed to making ginger shots at home, there are a couple of ways for you to get started.
Grate and extract the ginger juice manually. Then mix it with lemon juice.
Blend in a small grinder with lemon juice and then filter it.
Using a slow juicer is good if you are making at least 4 to 5 shots.
By far the first method is the best and I have been making our shots this way.
How to Make Ginger Shots (Stepwise photos)
1. Begin by rinsing the ginger well under running water. Scrub with a vegetable brush and rinse to remove any mud stuck there. Pat dry with kitchen papers or air dry.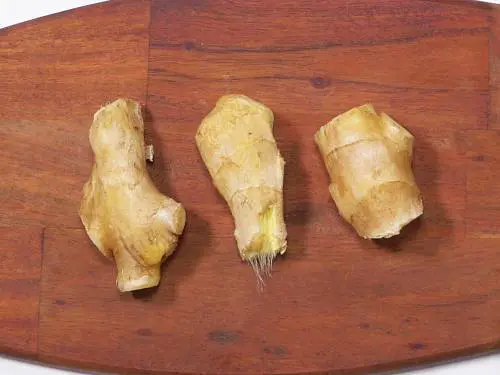 2. Peel the ginger root with a spoon or table knife to remove the skin. Since I was making 3 servings, I peeled the full root. If making a single serving shot, peel only an inch of ginger (about 5 grams) keeping the rest intact so it can be used the next day.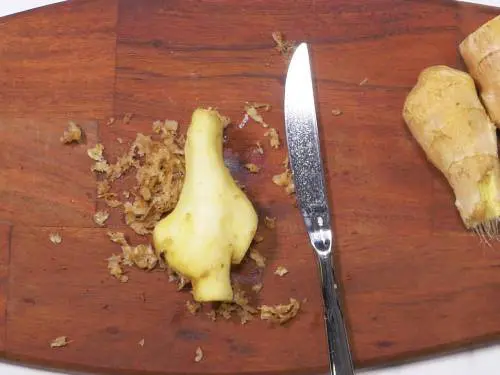 3. Rinse and cut the lemon. Make sure you use fresh cut lemon every day.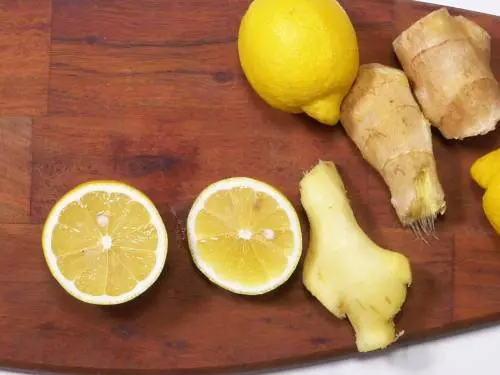 4. Begin to grate the ginger.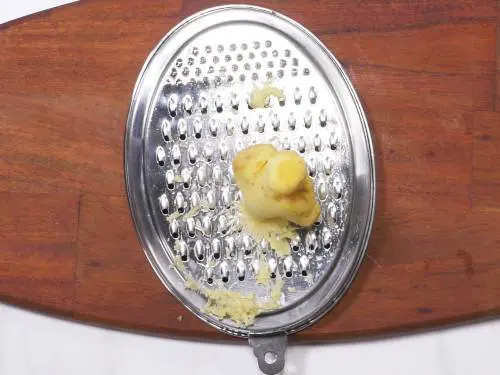 5. I grate only as needed.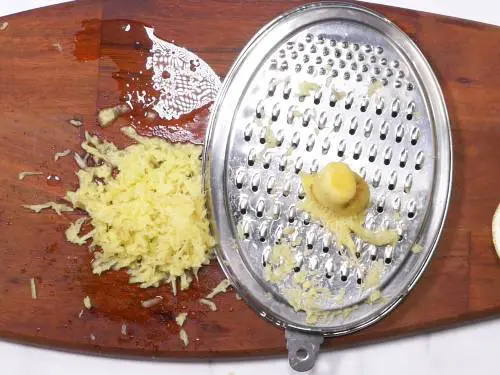 6. Place strainer over a cup and transfer the ginger to a fine strainer. Press down with a spoon to extract juice. Lastly squeeze the pulp with your fingers to extract as much as possible.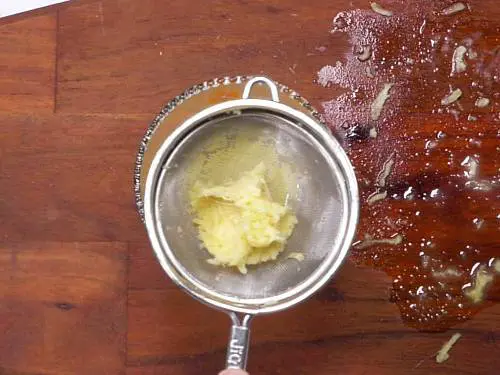 7. You will have clear ginger juice. Measure this as per your requirement. Here is the amount that we follow at home. 15 ml per adult, 5 ml for kids between 3 to 6 years and 10 ml for kids between 7 to 12 years. I separate the portions to small individual cups.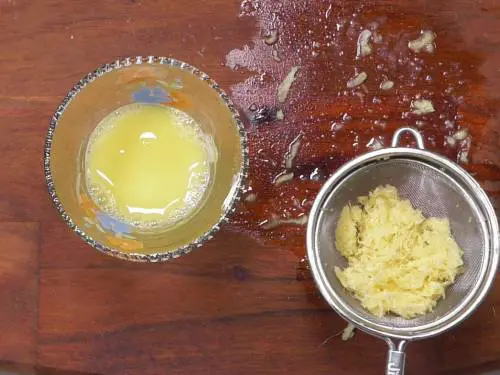 8. Squeeze the lemon.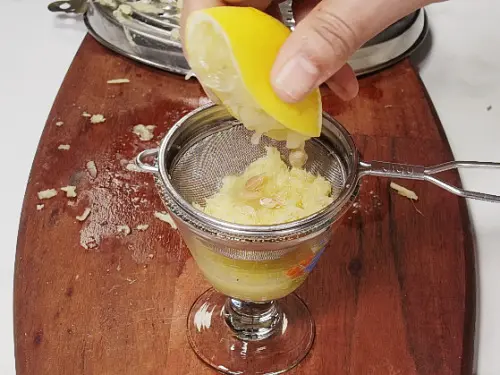 9. Mix together ginger juice and lemon juice. Ginger shot is ready at this stage.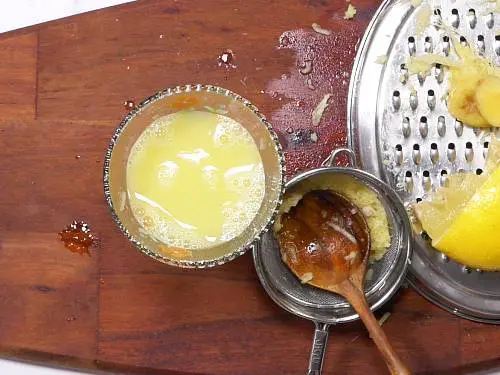 10. Adding honey and black pepper is optional. But we always add honey as we don't have any diet restrictions. You may avoid it if you don't prefer to begin your day with sweetener. I use 1 teaspoon honey per shot.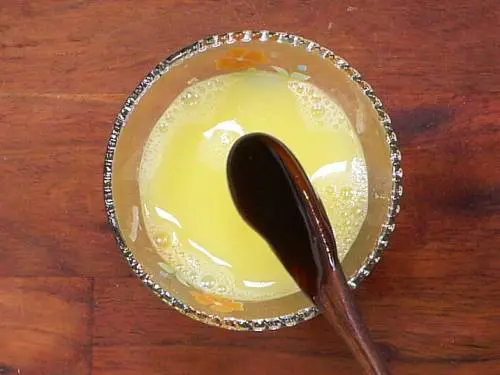 11. Honey takes a while to dissolve with the other ingredients. Stir it well. The color of your ginger shot depends on the kind of honey used.
Tip: Avoid using more than 15 ml ginger in each shot. You can add more lemon juice but not more ginger juice as it can cause heartburn & acidity.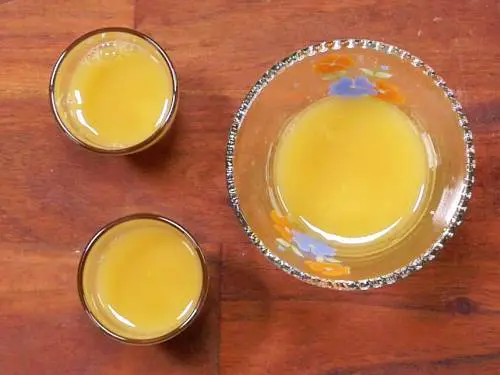 Consume ginger shot immediately on an empty stomach. We usually do not consume anything for at least 25 to 30 mins after having this.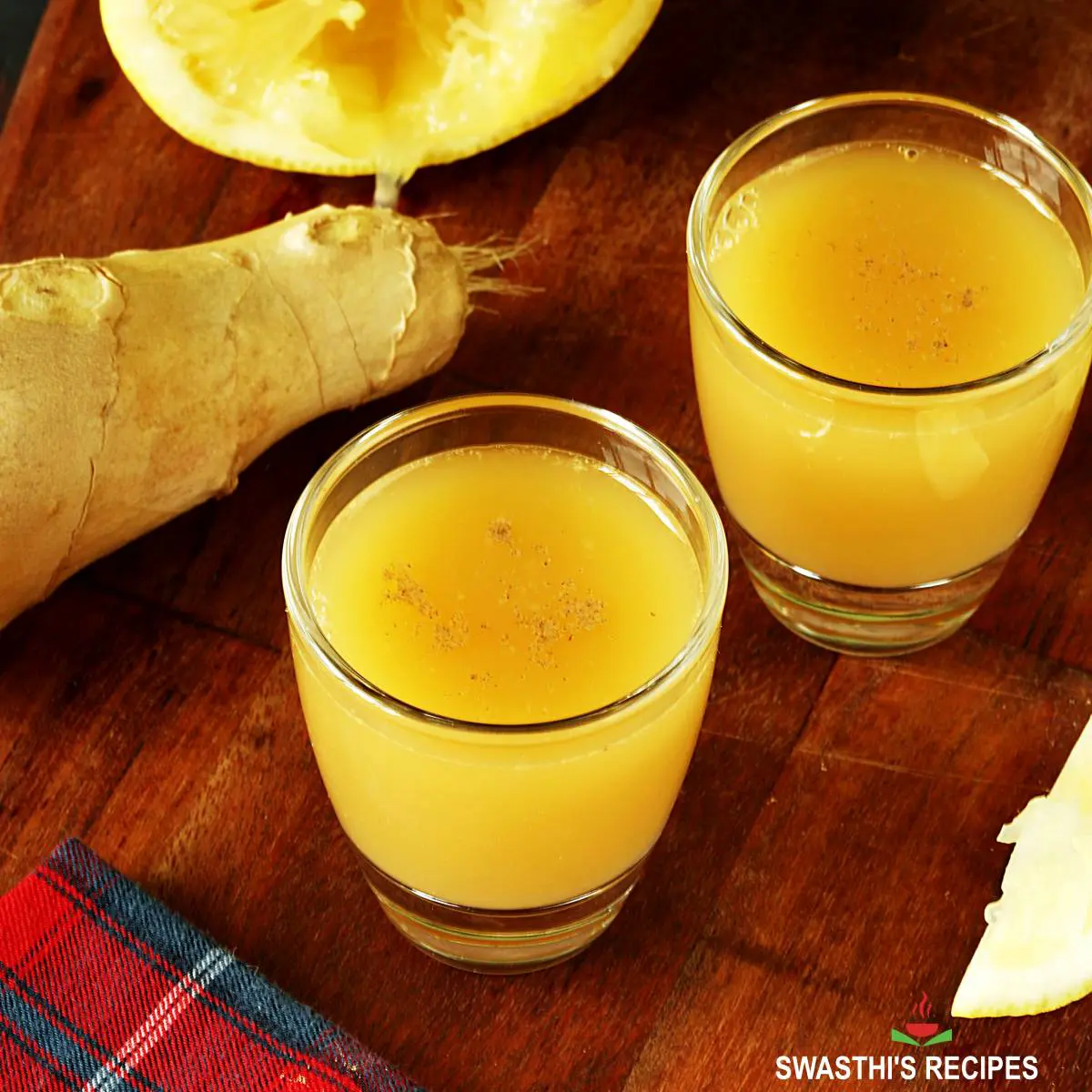 We don't consume ginger shots through out year. But seasonally whenever we feel the need. We continue it for 2 to 3 weeks max. Restrict the shots for kids to 5 to 7 days unless it is winter.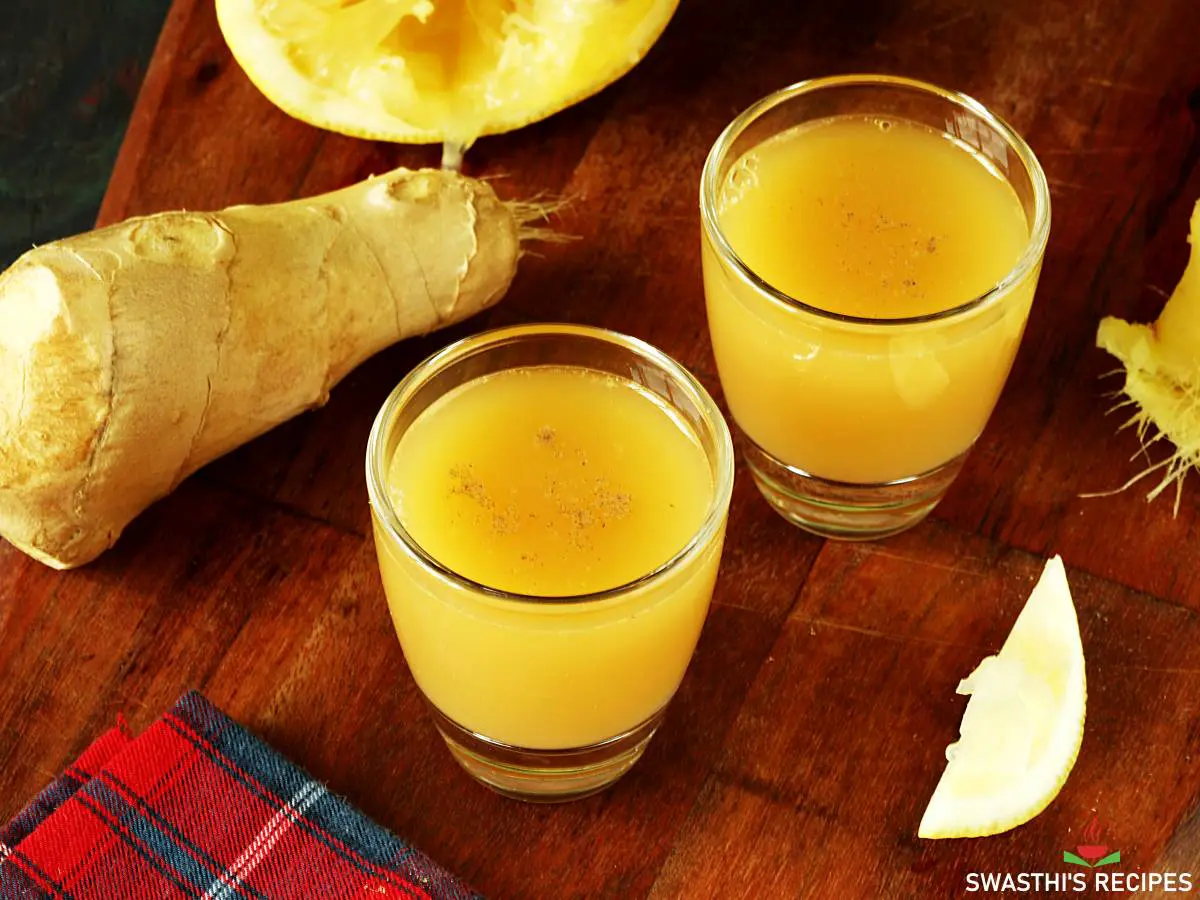 Related Recipes
Recipe Card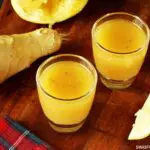 Ginger Shots Recipe
Homemade ginger shot is an immune boosting beverage made with ginger, lemon juice & pantry staples.
Pin Recipe
Print Recipe
For best results follow the step-by-step photos above the recipe card
Ingredients (US cup = 240ml )
1

inch

ginger

(5 grams, fresh peeled root, 1 tablespoon juice)

1

tablespoon

lemon juice

(more if preferred, fresh cut)

1

teaspoon

honey

(optional, preferably manuka honey)

⅛ to ¼

teaspoon

crushed black pepper

(optional, preferably freshly crushed, 2 to 3 whole)
Instructions
How to Make Ginger Shots
Rinse ginger very well under running water. Scrub the ginger well with a vegetable brush and rinse thoroughly.

Pat dry and peel the skin with a spoon or table knife. Dust off all of the peel.

Using a Blender/Grinder: If you want to make a large batch of ginger shots, add the peeled ginger to your grinder/blender, black pepper and pour lemon juice. Grind until smooth, strain and stir in honey just before serving.

Manual Method: Grate it only as required to extract 1 tablespoon ginger juice per serving. Usually 5 grams of peeled ginger gives 1 tablespoon juice.

Place a strainer over a small cup and add all the grated ginger to it. Press down with a spoon and then squeeze it with your fingers to extract every drop of the juice.

Then squeeze 1 tablespoon of lemon juice to it. Add honey and black pepper. Give a good stir until honey dissolves.

Consume ginger shot immediately before it begins to oxidize. For best health benefits consume it on an empty stomach.
Slow Juicer Ginger Shot
Using a slow juicer is advisable only if you are making at least 4 to 5 servings of the ginger shots otherwise the quantity will be too little for the machine to crush. Run your slow juice. To the chute, add the ginger immediately followed by the lemon juice. Add back the pulp and then pour the collected ginger shot.

Serve ginger shot immediately.
Notes
Nutritional values are with honey and black pepper. To make it sugar free skip honey.
Easier way to clean and grate ginger: Rinse the whole ginger root and pat it dry. Peel approximately only an inch of the ginger keeping the root intact (without chopping it). Grate the ginger as needed and save the root for the next day. Peel only an inch of it when ever need. This way it is easier to grate as the ginger is long.
Ginger shots are best consumed at room temperature.
If the ginger and lemon are too cold, leave them at room temperature for a few hours.
These are best made and consumed immediately for best health benefits so avoid storing.
Alternative quantities provided in the recipe card are for 1x only, original recipe.
For best results follow my detailed step-by-step photo instructions and tips above the recipe card.
NUTRITION INFO (estimation only)
Nutrition Facts
Ginger Shots Recipe
Amount Per Serving
Calories 27
Calories from Fat 9
% Daily Value*
Fat 1g2%
Sodium 1mg0%
Potassium 22mg1%
Carbohydrates 7g2%
Protein 1g2%
Vitamin A 2IU0%
Vitamin C 6mg7%
Calcium 2mg0%
Iron 1mg6%
* Percent Daily Values are based on a 2000 calorie diet.
Disclaimer: This post is for information purpose only. It should not be considered for treatment or cure of any disease. Ginger shots are not suitable to everyone so please check with your doctor if you are on medication.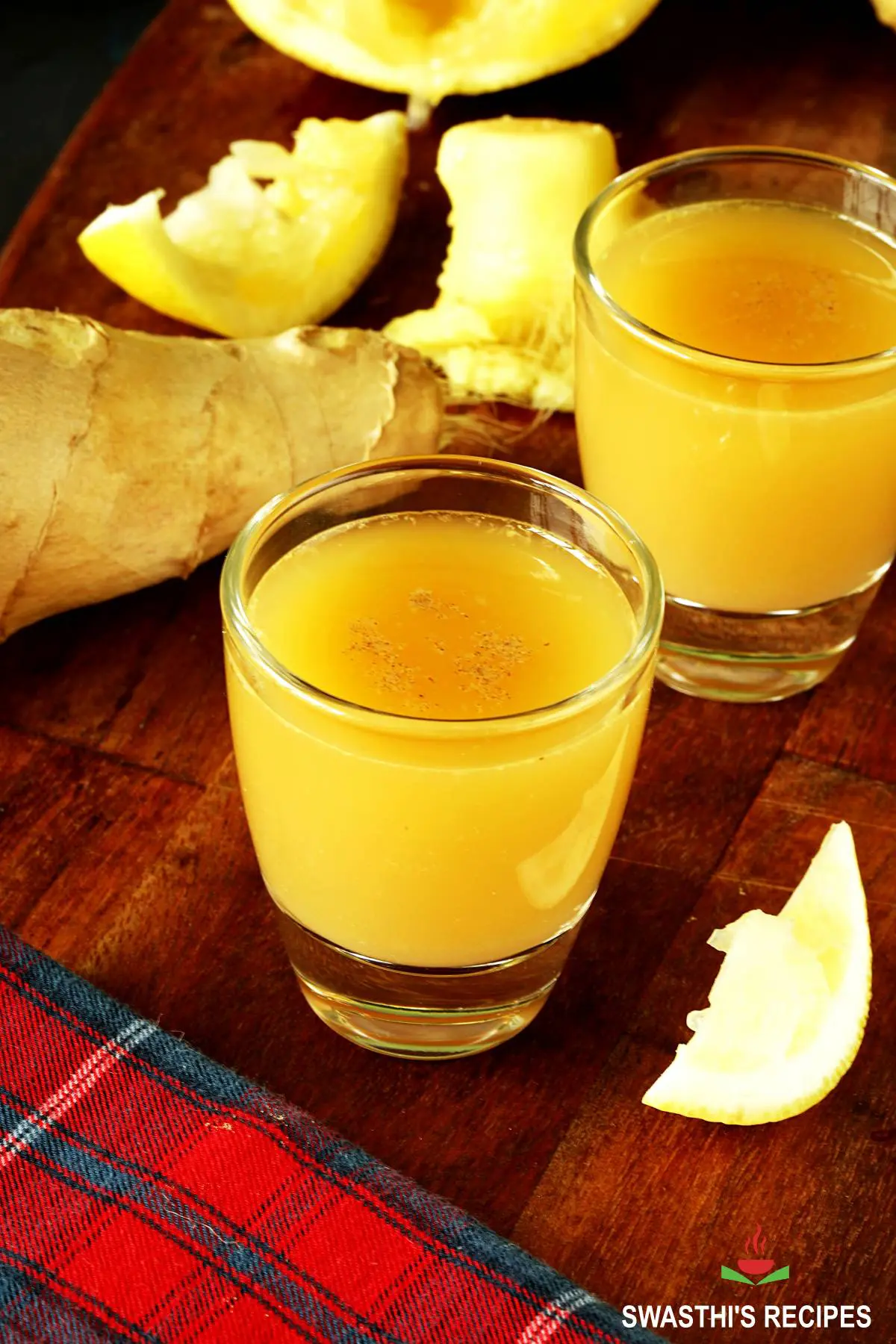 About Swasthi
I'm Swasthi Shreekanth, the recipe developer, food photographer & food writer behind Swasthi's Recipes. My aim is to help you cook great Indian food with my time-tested recipes. After 2 decades of experience in practical Indian cooking I started this blog to help people cook better & more often at home. Whether you are a novice or an experienced cook I am sure Swasthi's Recipes will assist you to enhance your cooking skills. More about me
Follow Swasthi's Recipes