Cucumber Juice is the perfect way to beat the summer heat! Cucumbers are classic summertime vegetables known for their invigorating qualities. Fun fact: cucumbers are actually classified as fruit by botanists because they contain seeds. But what if you could distill all that goodness down to its essence? In this Cucumber Juice Recipe, we combine cucumber with the cooling flavors of mint, lemon, and optionally, some zesty ginger.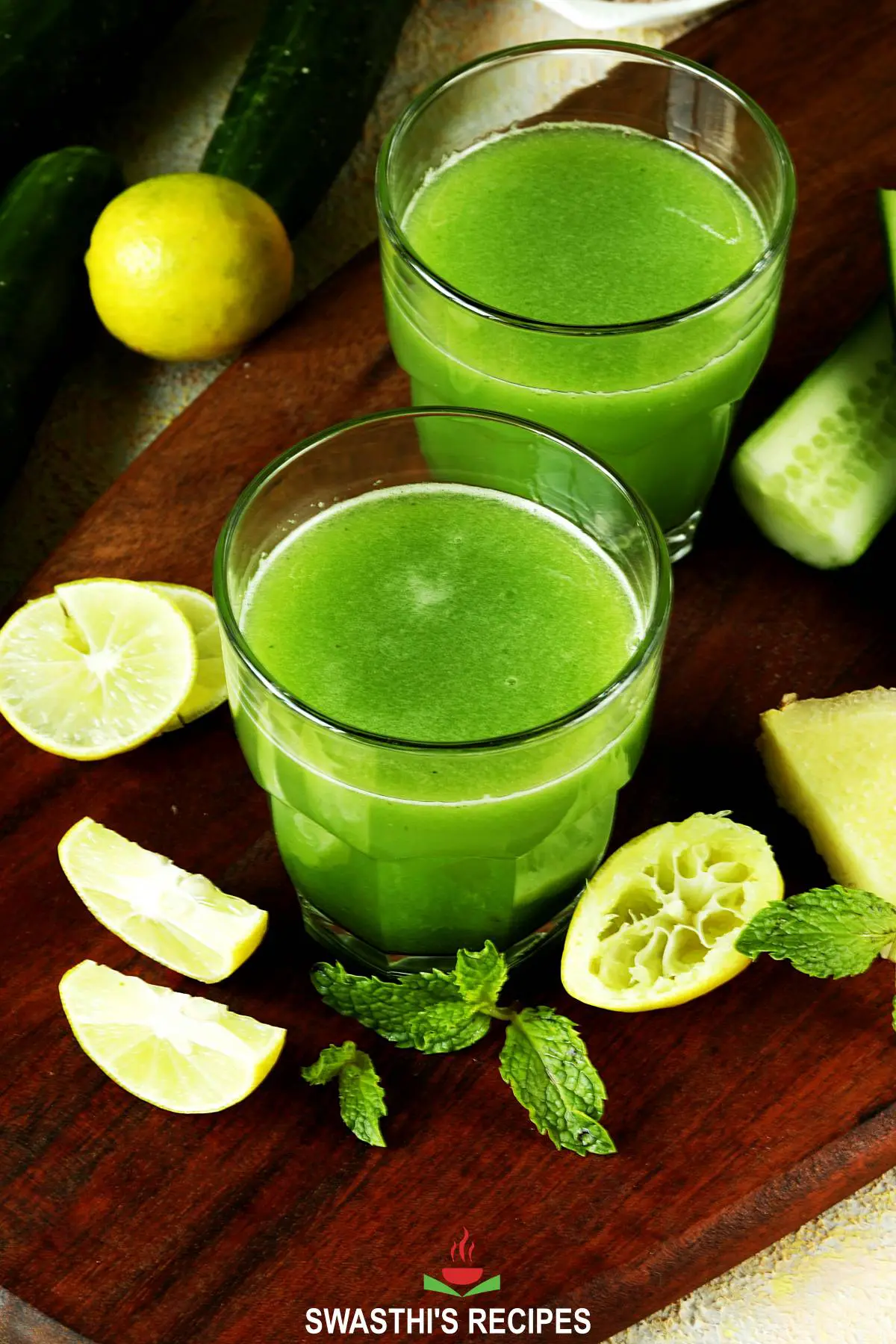 If you want to feel like you just went to the spa without stepping outside, try making some of this gorgeous Cucumber Juice.
Benefits of Cucumber Juice
Most of the benefits of Cucumber Juice come from the fact that it's made of…well, cucumbers.
Cucumbers are full of vitamins C and K, as well as antioxidants, fiber, and several different kinds of minerals. All of these nutrients help keep your body working in tip-top shape. If you add other ingredients to the cucumber juice, then their nutritional value would be added to the cucumber juice as well.
The biggest benefit of cucumber juice is that it's extremely hydrating. Cucumbers are about 96% water, and that hydration helps regulate the body's temperature and waste disposal. If you're worried about getting enough water in your diet, consider adding cucumber juice to your daily routine.
This cucumber juice is also delicious when you mix in with fruit/vegetable juices like Celery Juice
Watermelon Juice
Apple Juice
Carrot Juice
Pineapple Juice
Grape Juice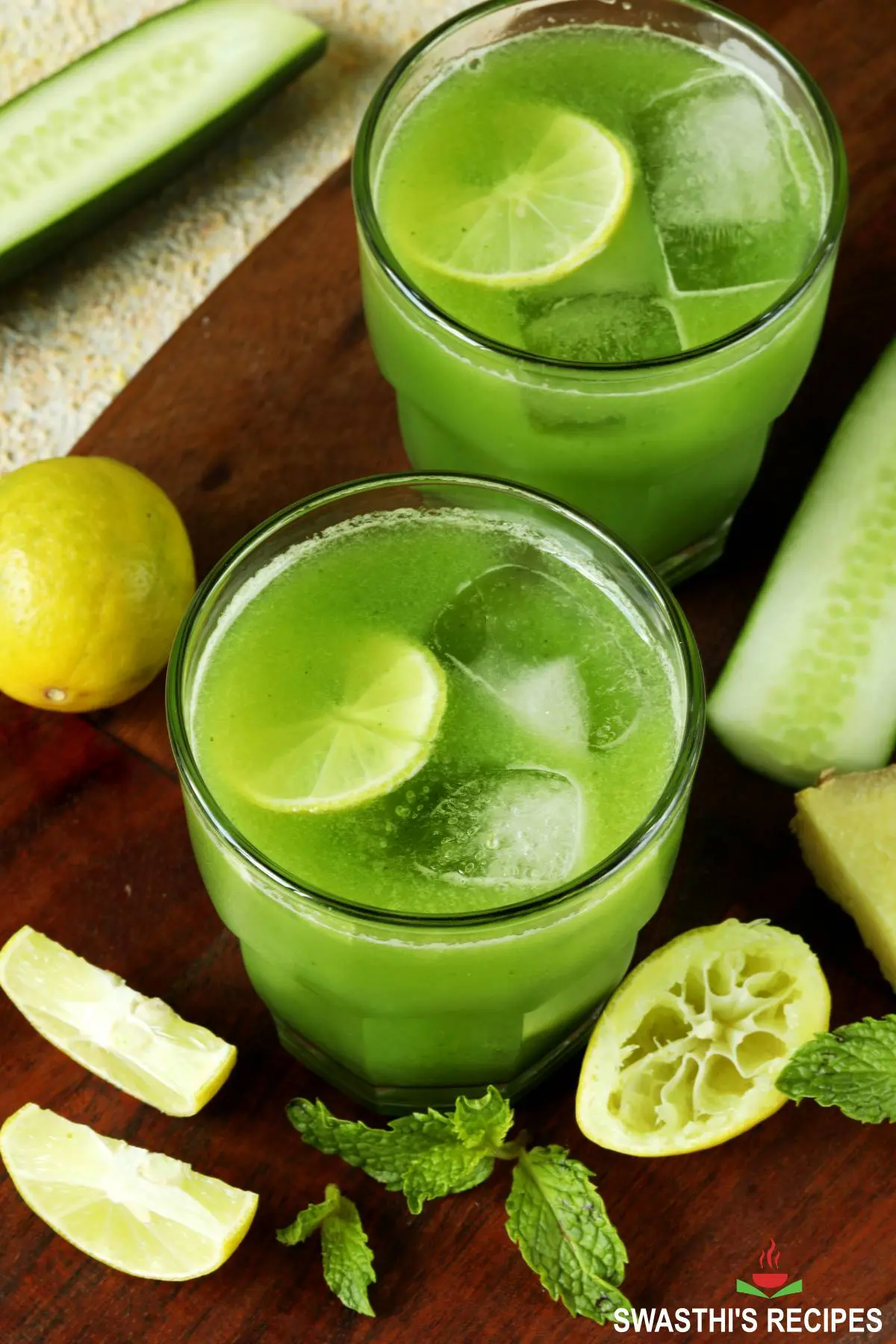 The best Cucumbers for Juicing
While the cucumber originated in ancient India, it is now a crop grown and eaten all over the world. As a result, there are many variations available. Some are quite popular and in many supermarkets; others are more common at specialty stores or farmers' markets.
Not all kinds of cucumbers are good for juicing. Here are some that are absolutely good for juicing:
English or hothouse Cucumbers are long, thin, dark green, with little to no seeds or seedless. Many supermarkets wrap them in plastic wrap to help them retain their freshness and crispness, as they have relatively thin skin. With a very mild flavor, they're popular for eating raw, juicing or in cocktails.
English cucumbers are easily available all-round the year across the world.
Persian Cucumbers are very similar to English cucumbers in terms of their mild flavor and thin skin but can vary much more in length and skin texture. They're generally sold in smaller sizes and have little to no seeds. As the name suggests, they originated in what is now modern-day Iran.
Japanese Cucumbers are said to be the sweetest among all others and are more flavorful. What I have used for this cucumber juice recipe is Japanese cucumbers.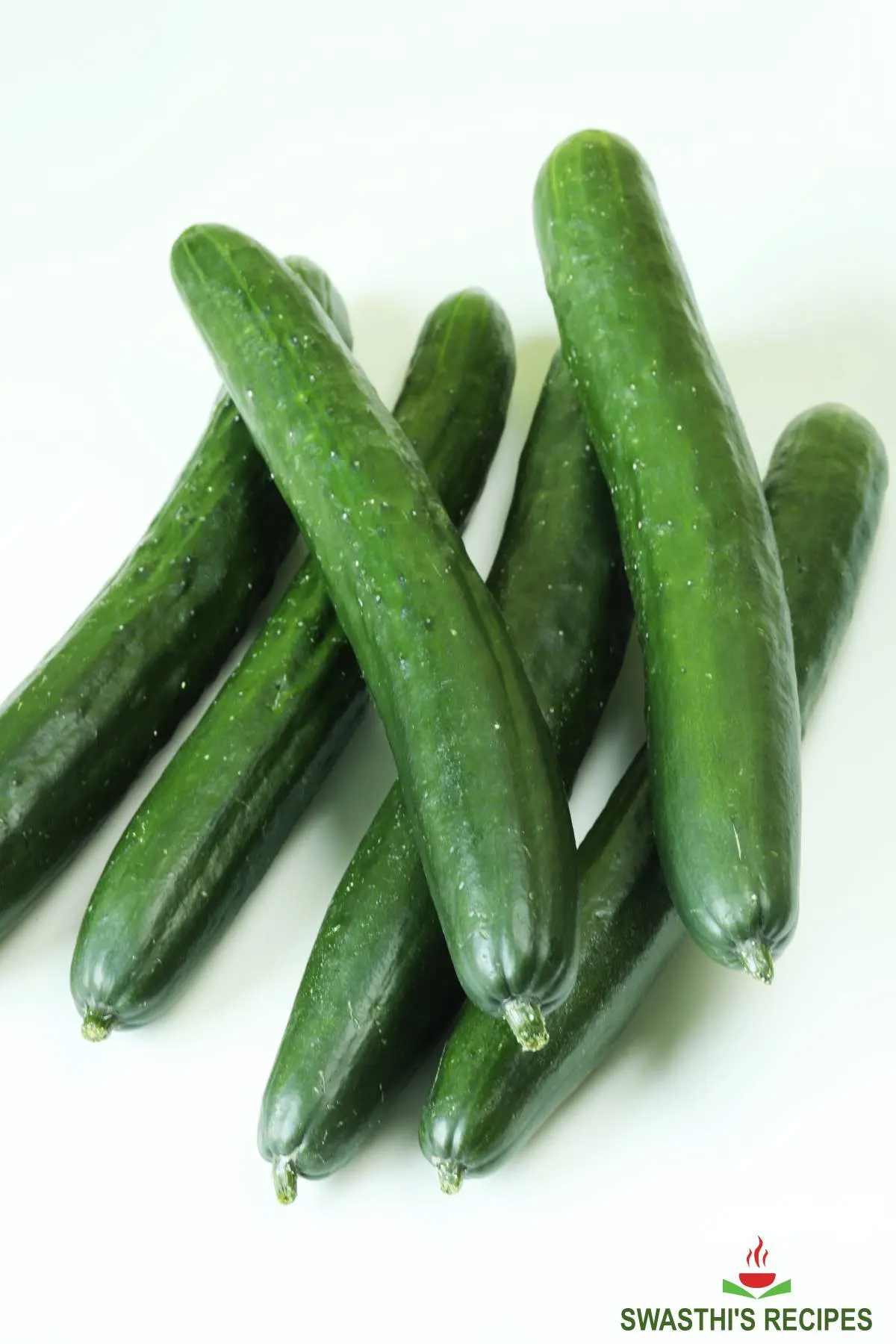 How to Pick and Prepare Cucumbers
Whether you pick your cucumbers from your garden or your local grocery store, there's a few key characteristics to know if your cucumber is good to use.
You'll want your cucumbers to be on the dark green side, with few to no blemishes or yellow spots. Yellow spots mean the cucumber was left on the vine for too long. If you can, try to touch the cucumber. It should be firm, not soft or wrinkly; soft and wrinkly cucumbers are old and have lost some of their moisture.
To prepare cucumbers before cooking or juicing them, you'll want to rinse them under cold water and give them a gentle scrub with a vegetable or fruit brush.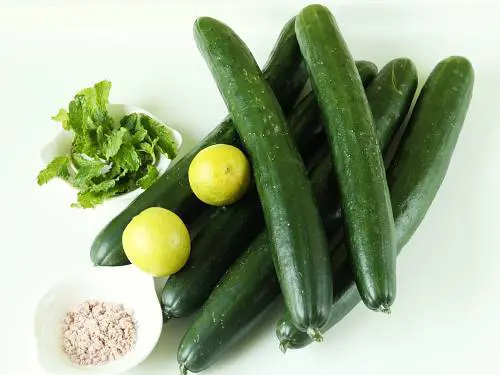 While cucumbers are not current members of the Dirty Dozen 2022 list, they have been on the pesticide watch list in the past. Cleaning and scrubbing them will help get rid of leftover bacteria, pesticides, and dirt.
You don't even have to peel them. English or Japanese cucumber skins are thin, tender, and contain many nutrients! Just chop off the ends of the cucumber before you work with it.
Rub the ends with the other part of cucumber for a minute or 2. You will be able to bring out some foam out of the cucumbers. This step gets rid of the bitter taste from the cucumbers. After this give a quick rinse under the running water.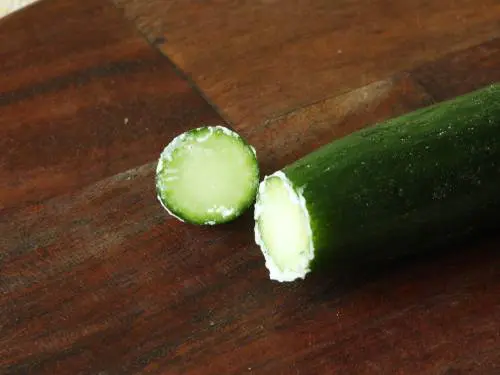 How to Make Cucumber Juice
For the cucumber juice, chop up the whole cucumber (skins included) and add it to a blender, food processor, or juicer.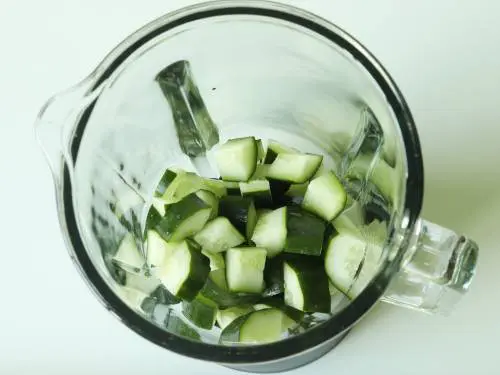 Add the mint, lemon juice, and Himalayan salt or black salt. If you want to add fresh ginger or black pepper, include them in this step. Add ice cubes or coconut water cubes.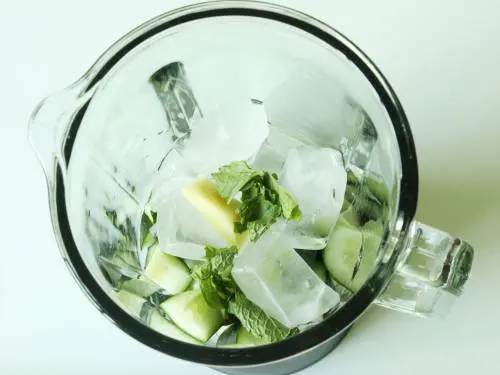 Blend or process everything together until smooth.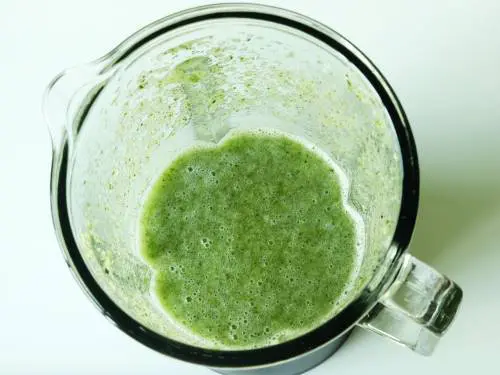 Then strain the mixture into a bowl through a fine mesh sieve (optionally lined with a cheesecloth.) Alternatively, you can use a jelly bag. Gently press on the pulp with the back of a spoon to squeeze out any leftover juice.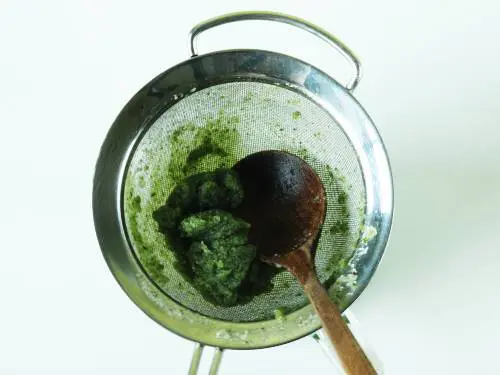 Test the cucumber juice and season to taste with more lemon juice or salt if desired. If you want you may add some chaat masala.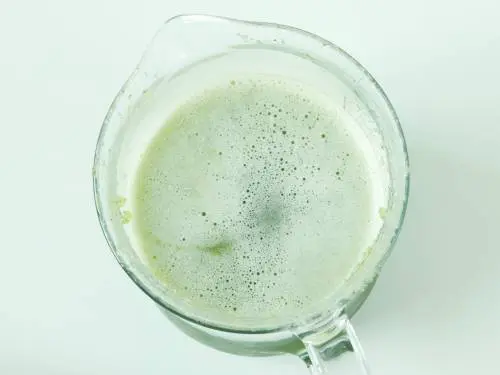 Pour over ice and enjoy! (Don't be afraid to garnish with some extra mint or a lemon wedge.) Too much ice is going to dilute the flavors so follow the recipe card.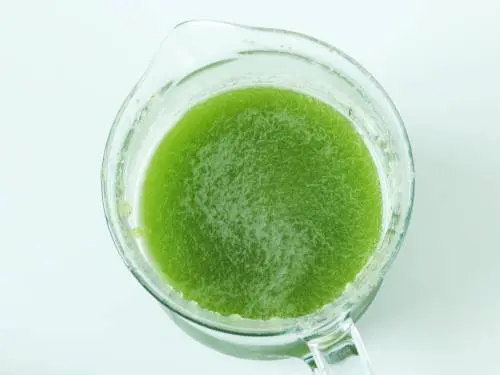 If you use a slow juicer, add the whole cucumbers with skin , ginger and mint into the chute. Stir in lemon juice or calamansi and serve.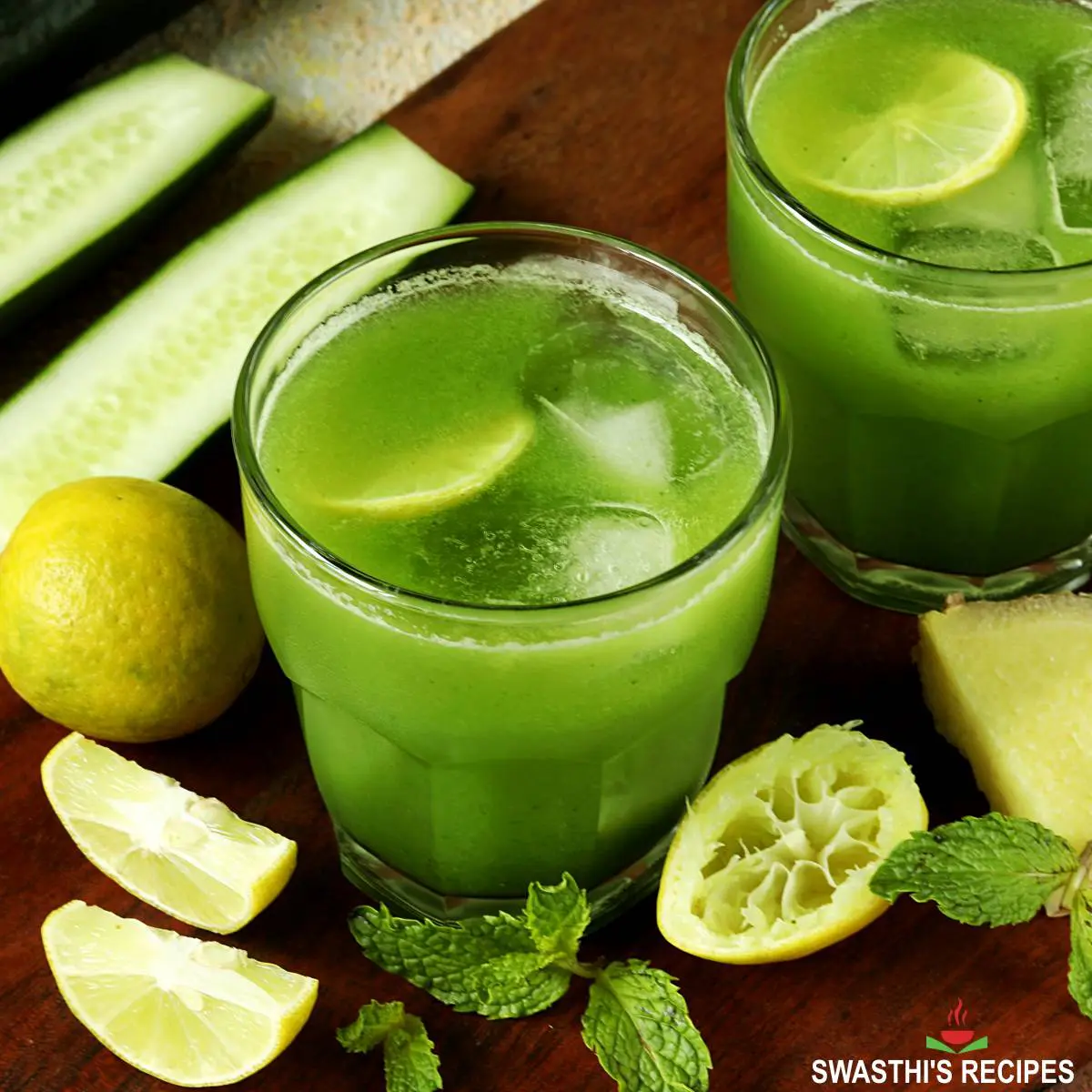 More Cucumber Juice Combinations
Here are some tried and tested combinations:
This combination of cucumber, ginger, black pepper, pink salt & lemon or oranges makes a great detox drink. This helps in weight loss by flushing out toxins.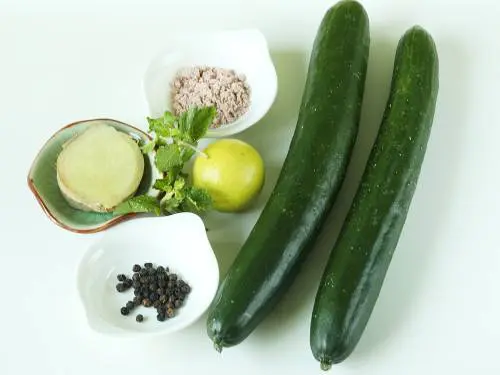 Cucumber, celery and orange (not in the picture) also makes a delicious combination.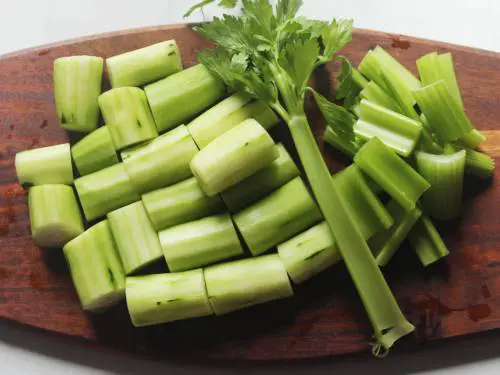 Frequently Asked Questions
Why is my cucumber bitter?
Cucumber plants contain a bitter compound called cucurbitacin. It's always present in the fruit, usually in smaller amounts–but the amount can vary depending on different factors in the growing process.
Are bitter cucumbers safe to eat?
While cucurbitacin can make you sick, commercially sold cucumbers are only mildly bitter and don't have enough cucurbitacin to hurt you. If you're eating a homegrown cucumber that is entirely bitter, it's better to throw it away and not risk it.
What can I do with bitter cucumbers?
Bitterness in cucumbers can sometimes be mitigated by cutting off the ends and peeling the skin, where it is most concentrated. Slice the ends of cucumber and rub the sliced end with the cucumber to release some frothy substance. Rinse well and they no more taste bitter. Salting cucumbers can also help temper some of the bitterness.
Related Recipes
Recipe Card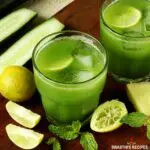 Cucumber Juice Recipe
Make healthy and refreshing cucumber juice in minutes using a blender or a juicer. This mint cucumber cooler is delicious and helps beat the summer heat.
Pin Recipe
Print Recipe
For best results follow the step-by-step photos above the recipe card
Ingredients (US cup = 240ml )
1

large

cucumber

(or 2 small)

4 to 6

ice cubes

(or chilled water or coconut water)

8 to 12

mint leaves

1 to 2

tablespoons

lemon juice

or lime juice or 1 orange

1

pinch

salt

(pink or black salt)
Optional
¼

inch

fresh ginger

peeled

⅛

teaspoon

ground black pepper

¼ to ½

teaspoon

chaat masala

(or roasted cumin powder)

3 to 4

pieces

celery stalks

(2 inch pieces)
Instructions
Rinse the cucumber well under running water. Using a vegetable brush scrub well. Optionally you may spray some vinegar and rub with sea salt to get rid of the bacteria and dirt. Rinse throughly.

Rinse and peel ginger. Also rinse the mint leaves under running water. Slice both the ends of cucumber.

Optional – Rub the sliced ends with the cucumber for a minute until you see some frothy substance, this step helps to take away the bitterness from the cucumber. (check picture in the post)
How to Make Cucumber Juice
Chop the cucumbers and them to a blender along with salt, ginger, ice cubes, and mint. Strain this through a fine mesh strainer.

Mix in salt, lemon juice and chaat masala or cumin powder (optional). Serve cucumber juice immediately.

To make in a cold press juicer, start your machine and add the whole cucumber into the chute along with other ingredients. Squeeze lemon juice, chaat masala and salt if desired. Serve fresh. Keeps good in the refrigerator for 2 days.
Notes
Nutritional values are calculated without salt and optional ingredients.
Alternative quantities provided in the recipe card are for 1x only, original recipe.
For best results follow my detailed step-by-step photo instructions and tips above the recipe card.
NUTRITION INFO (estimation only)
Nutrition Facts
Cucumber Juice Recipe
Amount Per Serving
Calories 43
Calories from Fat 9
% Daily Value*
Fat 1g2%
Sodium 11mg0%
Potassium 442mg13%
Carbohydrates 8g3%
Protein 2g4%
Vitamin A 542IU11%
Vitamin C 17mg21%
Calcium 61mg6%
Iron 1mg6%
* Percent Daily Values are based on a 2000 calorie diet.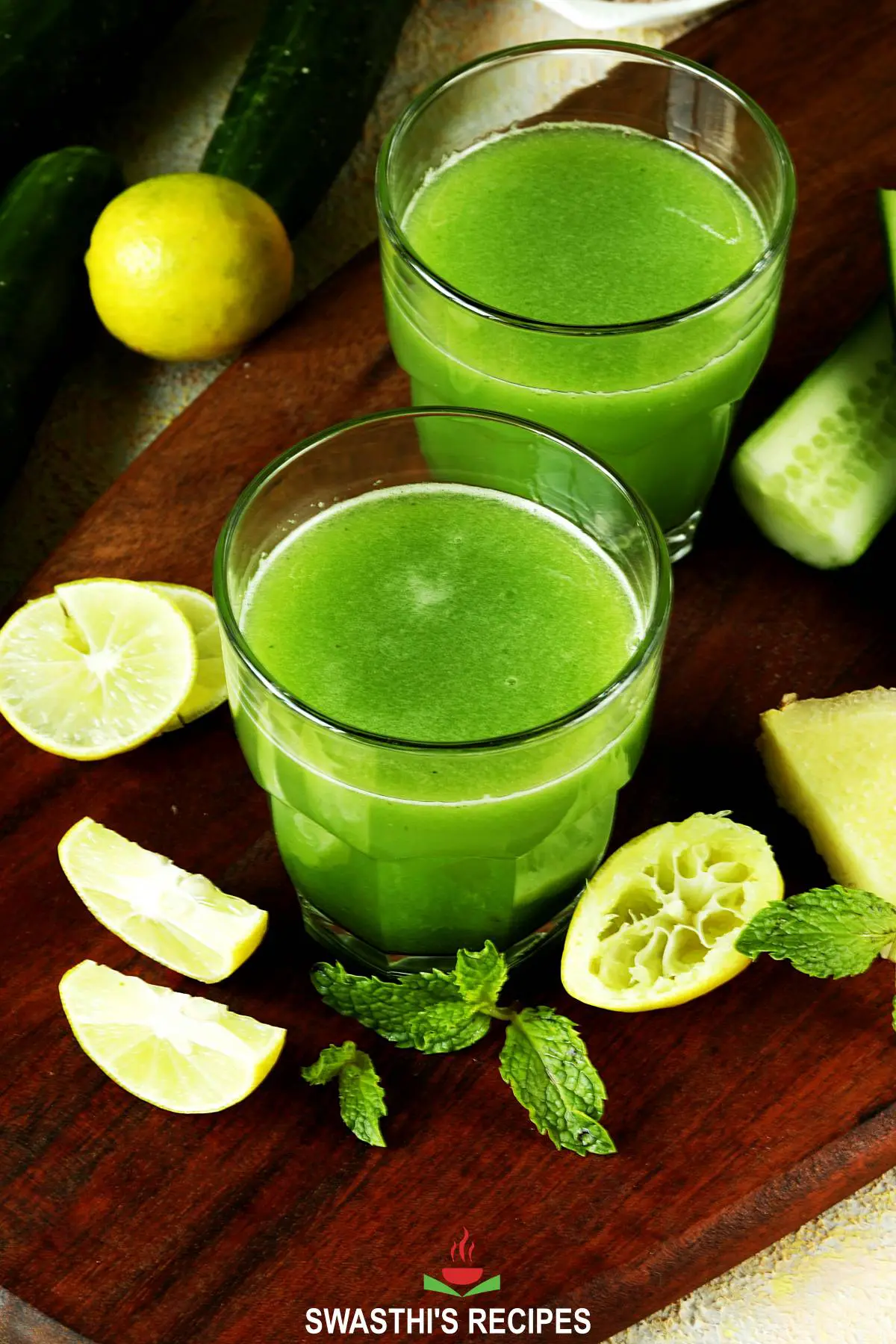 About Swasthi
I'm Swasthi Shreekanth, the recipe developer, food photographer & food writer behind Swasthi's Recipes. My aim is to help you cook great Indian food with my time-tested recipes. After 2 decades of experience in practical Indian cooking I started this blog to help people cook better & more often at home. Whether you are a novice or an experienced cook I am sure Swasthi's Recipes will assist you to enhance your cooking skills. More about me
Follow Swasthi's Recipes