Coconut burfi recipe – A detailed post on 3 simple ways to make coconut burfi. Nariyal burfi or coconut barfi is a sweet made with coconut, sugar & cardamons. It is one of the simplest traditional Sweet recipes made for festive occasions. Traditionally burfi was made with milk and sugar, but there are also many versions made without using milk. Coconut burfi is one of those varieties.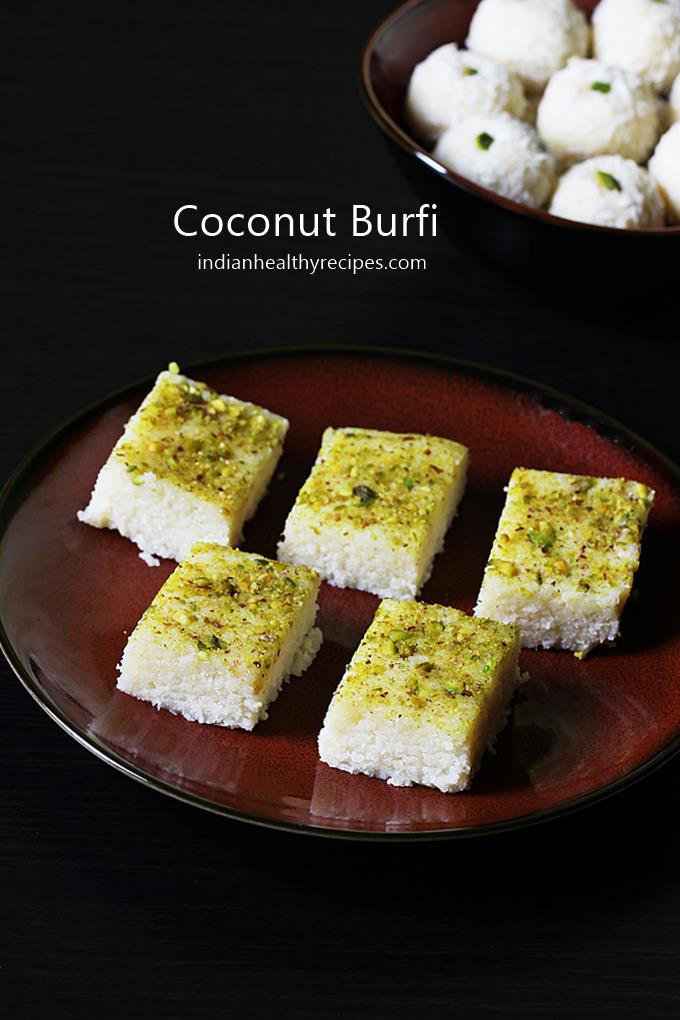 It can be made in many ways. In this post I have shared 3 quick and simple recipes that can be made under 15 mins using very few ingredients. For more diwali sweets you can check this collection of 100 Diwali recipes.
To make coconut burfi we do not need to check any string consistency, this makes it more simpler and easier for beginners. I have used fresh grated coconut from the frozen section. You can also use home made hand grated coconut or the one from wet grinder attachment.
But make sure it is juicy and fresh and is not from young coconuts. Dry coconut gratings or desiccated coconut has no moisture so use milk as mentioned. I have used pistachios for garnishing. You can use almonds, cashews or even chironji.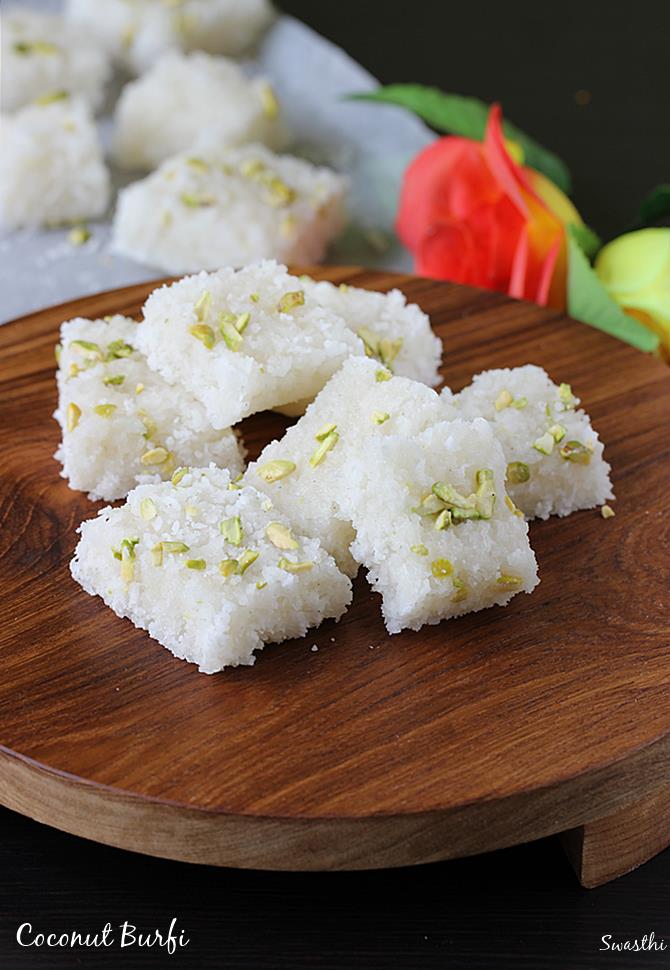 The first method of coconut burfi shared here is a traditional one that just uses coconut, sugar, cardamom powder and an optional ingredient milk.
The second method uses desiccated coconut and condensed milk. This yields a delicious dessert very close to Kalakand but with coconut taste. It tastes very rich and very unique.
The third method is shown in the video.
More Barfi / burfi recipes
Mawa barfi
Badam burfi
Kaju katli
Chocolate burfi
7 cups burfi
You may also like to check these Coconut Recipes.
Coconut burfi recipe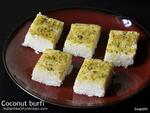 Coconut burfi
Coconut burfi is a sweet made with coconut, sugar & cardamoms. I have shared 3 recipes below.
Ingredients (1 cup = 240ml )
Recipe 1 – Ingredients for coconut burfi
2¼

cups

coconut

grated or nariyal (fresh or desiccated fine coconut)

1½

cups

sugar

1

teaspoon

ghee

or more

1/8

teaspoon

cardamom powder

or elaichi

2

tablespoons

pistachios

chopped or cashews

4

tablespoons

milk

optional – Use 1 cup milk for desiccated coconut
Recipe 2 – Ingredients for coconut burfi with condensed milk
1¾

cup

desiccated coconut

(fine)

½

tin

condensed milk

or milkmaid (about ½ cup + 2 tbsp)

½

cup

milk

1/8

teaspoon

cardamom powder

or elaichi powder
How to make the recipe
Preparation for coconut burfi
Grease a pan or keep a parchment paper ready. Heat a pan with ghee. Toast cashews if using. Set aside.
Recipe – 1 – How to make coconut burfi
Add coconut, sugar & milk (optional) to the same pan. Mix and cook together on a medium flame.

Mixture turns gooey and bubbly. Add cardamom powder. Continue to cook until the mixture comes together and turns thick. It also begins to leave the sides of the pan.

Pour it immediately to a greased plate, foil or butter paper. Level it well and make a square with the spatula.

Allow to cool down for about 15 mins. Cut them to desired sizes while it is still warm. Cool and store coconut barfi in a air tight jar.
Recipe – 2 – Making coconut barfi with condensed milk
To a pan, add coconut, desiccated coconut and milk. Mix and cook on a medium flame until the entire mixture turns thick and to a mass.

Add cardamom powder and mix. Transfer this to a tray. Press down with a spatula. Sprinkle some nuts. Refrigerate for an hour. Cut coconut barfi to squares and enjoy.
NUTRITION
Calories:
154
kcal
|
Carbohydrates:
27
g
|
Fat:
5
g
|
Saturated Fat:
4
g
|
Cholesterol:
1
mg
|
Sodium:
2
mg
|
Potassium:
60
mg
|
Fiber:
1
g
|
Sugar:
25
g
|
Vitamin A:
0.1
%
|
Vitamin C:
0.6
%
|
Calcium:
0.3
%
|
Iron:
2.1
%
Notes
Make sure the coconut gratings are fine.
Method 1
How to make coconut burfi recipe
1. Grease a plate or pan and keep aside. I prefer to use a parchment paper for easy removal. You can also use aluminum foil.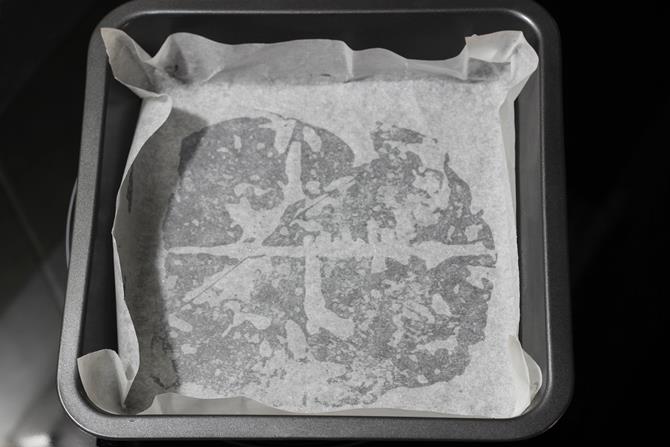 2. Heat a pan with ghee and saute cashews if using. I used pistachios so lightly roasted to make them crunchy. You can also use chironji. Even if you are not using nuts i suggest using at least a tsp of ghee or light coco nut oil.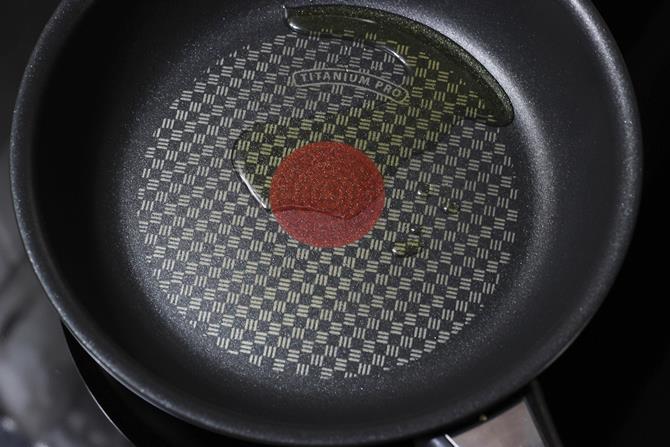 3. Add in coconut.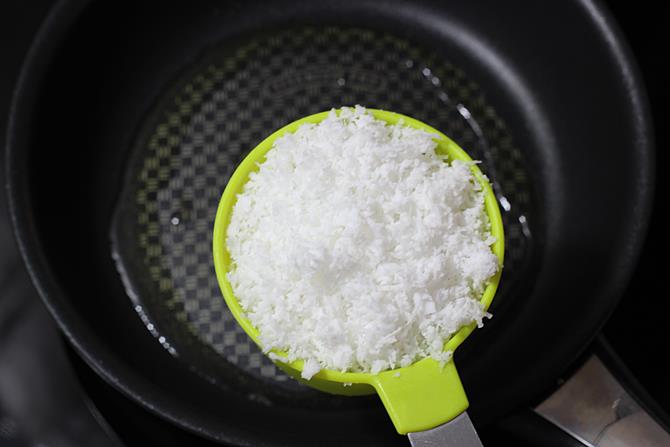 4. Add sugar.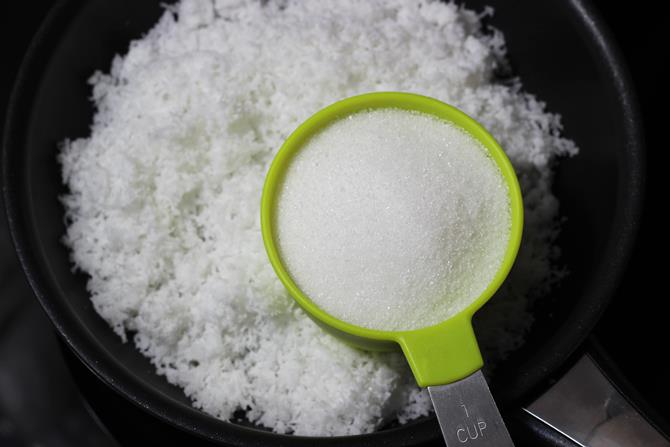 5. Mix and begin to heat on a medium heat. If using milk add it now.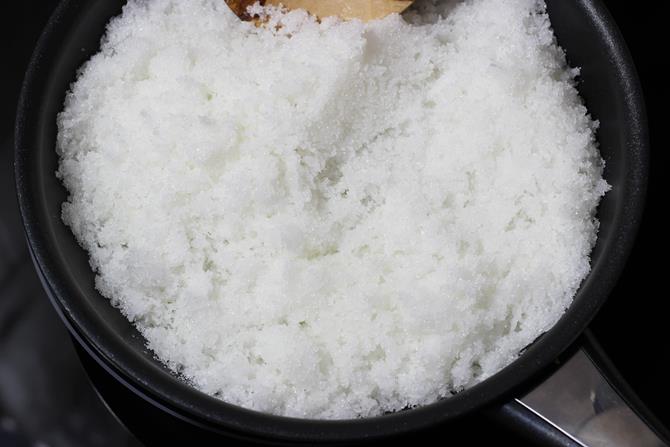 6. Sugar begins to melt.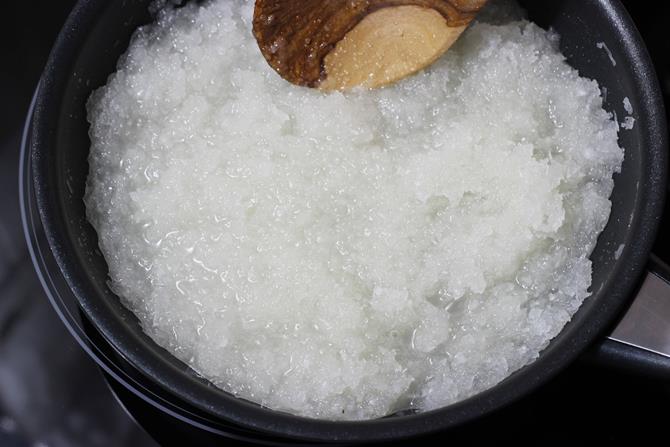 7. Add cardamom powder. Keep stirring.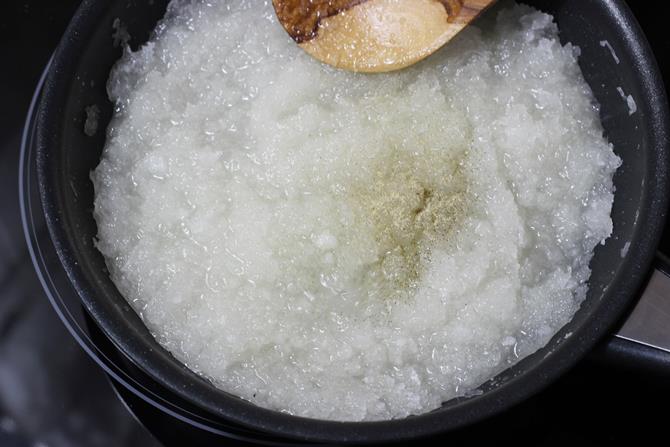 8. Mixture turns gooey and bubbly. Continue to stir.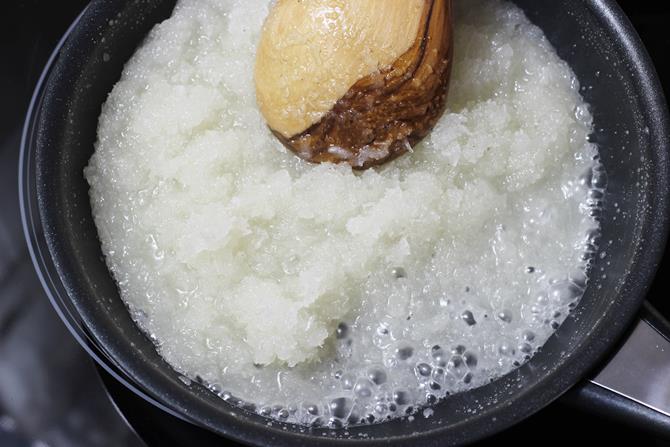 9. After a while the mixture begins to thicken and the bubbles reduce slowly. Continue to stir.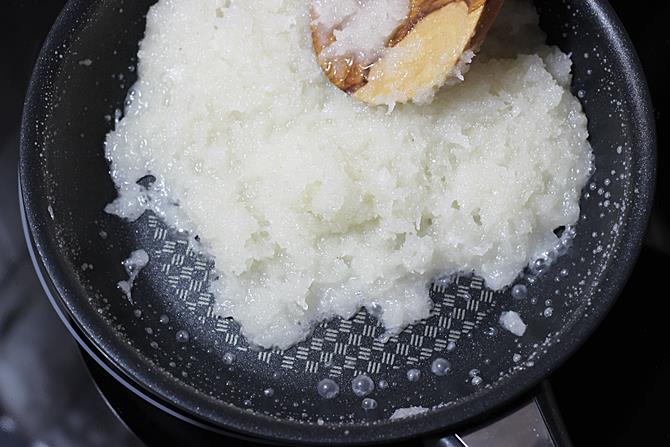 10. Bubbles are almost gone but the mixture is soggy. Continue stirring.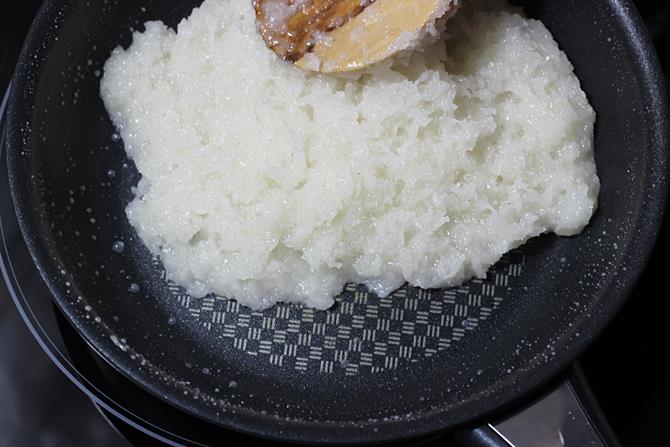 Consistency of coconut barfi mixture
11. We need to cook past the earlier step just for few seconds until all the bubbles vanish. The mixture also begins to leave the sides of the pan. Nuts can be added now.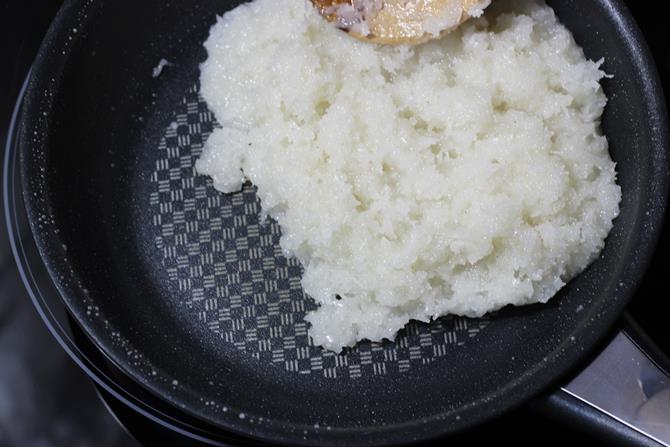 12. Immediately pour this to the pan and level the top. Quickly add the nuts and tuck them in.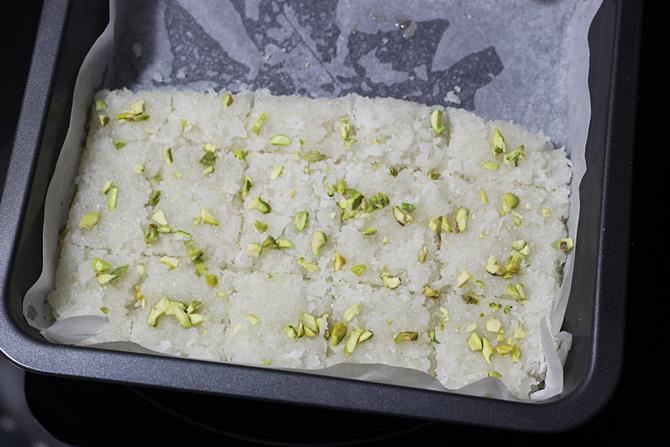 13. Gently cut coconut burfi to desired size when the mixture cools down a bit and still hot. If the mixture cools down completely, we may not get proper shaped burfi. So do it when it is still hot.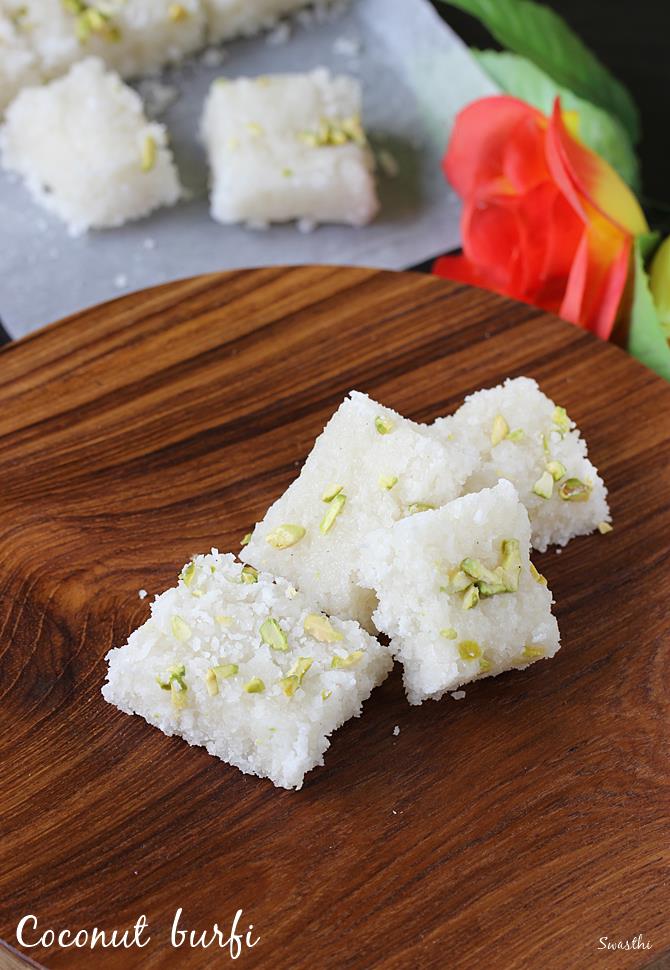 Store in a air tight jar.
Method 2 – Coconut burfi with condensed milk and desiccated coconut
1. To make this version of coconut burfi, we need fine desiccated coconut. The finer it is the more tasty and melt in the mouth it will be. I processed the coconut in mixer for 2 to 3 mins since mine was very very coarse. You can dry roast few nuts for garnishing. Set aside to cool. I roasted 2 tbsp pistas and powdered coarsely in mixer.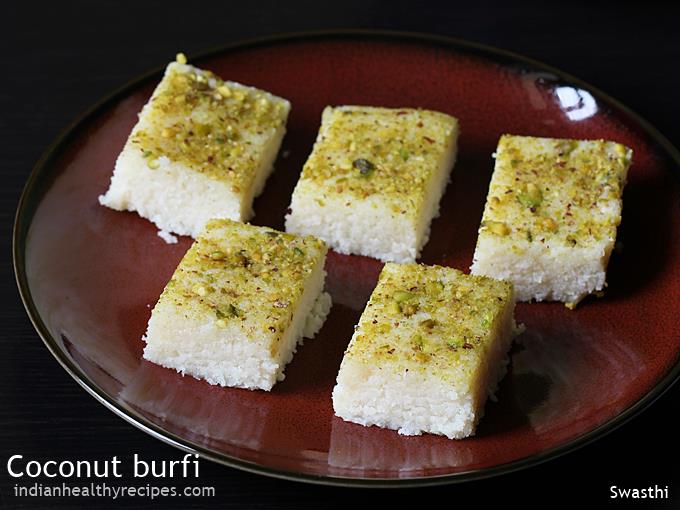 2. For this recipe, we need 1 ¾ cup desiccated coconut, powder and then add it to a heavy bottom pan.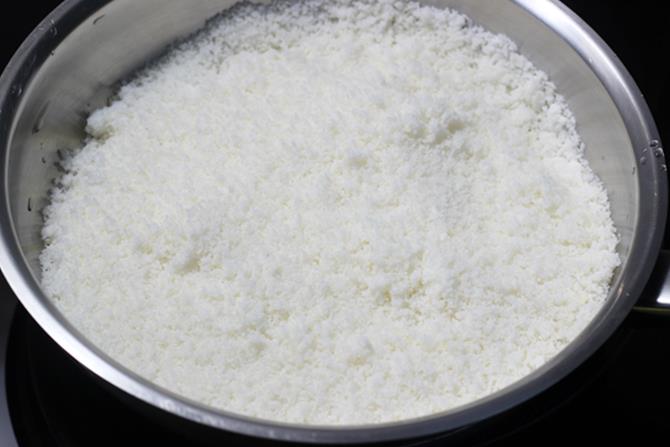 3. Next pour half tin sweetened condensed milk. It will be about half cup plus 2 tbsps.I used milk maid.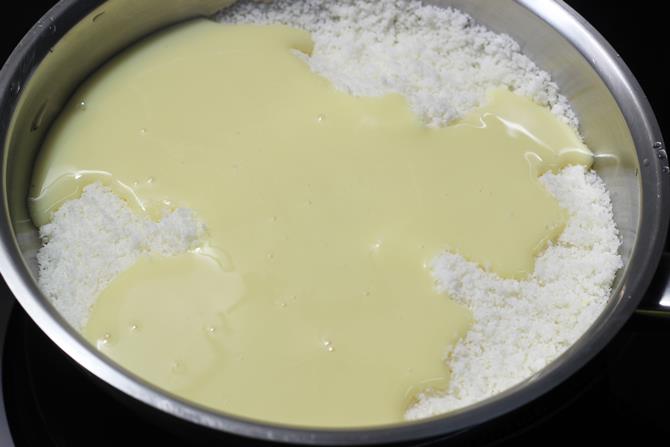 4. Add half cup full fat milk.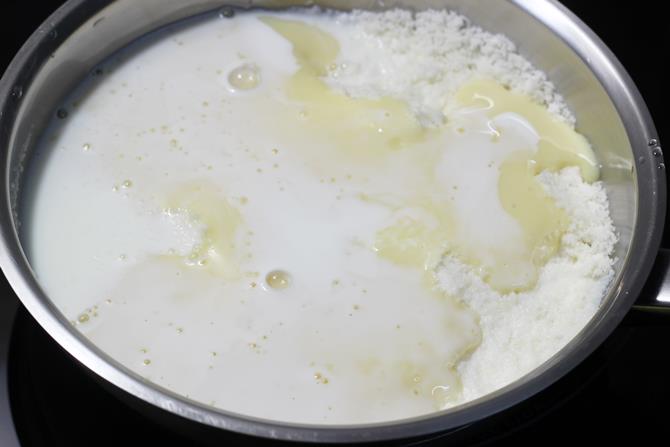 5. Mix everything well. Break the lumps if any.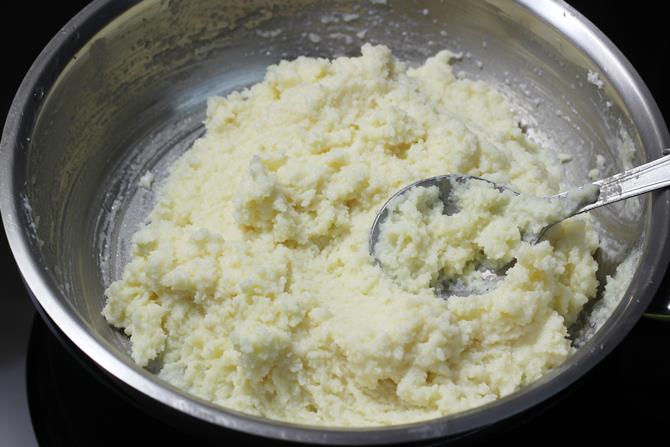 6. Cook this until the mixture thickens and turns to a mass. This just takes about 3 to 5 mins. Add a generous pinch of cardamom powder. Mix well.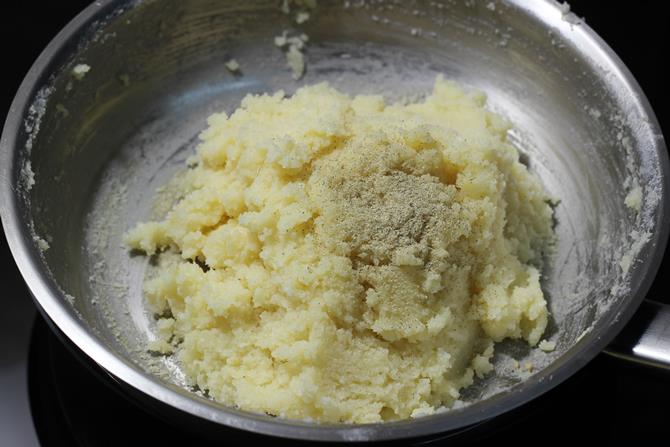 7. Transfer this to a greased tray. Grease your finger with ghee and press it gently. Add cashews or pistachios. I like to add powdered pistachios. I sprinkled and pressed a bit. Refrigerate for one hour. Cut to desired sizes.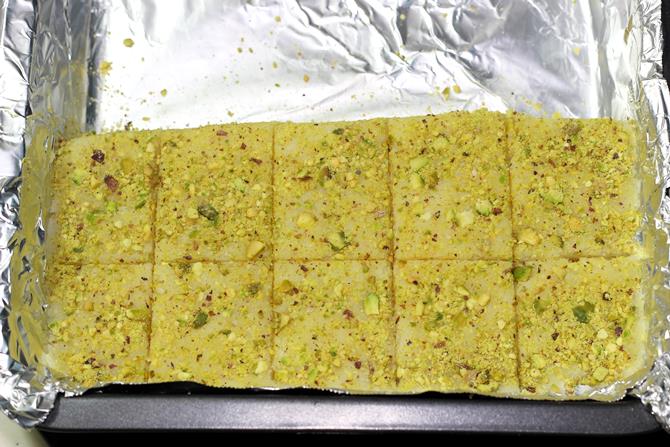 Refrigerate coconut burfi and consume with in 3 days.