Ginger Tea is the perfect wellness drink to begin your day! Homemade fresh ginger tea not only detoxifies and strengthens your digestive system & mind but also boosts overall health by building immunity. Ginger Tea is the best warming drink that awakens your taste buds, fine tunes your digestive system, calms your mind and prepares your body for the day's work.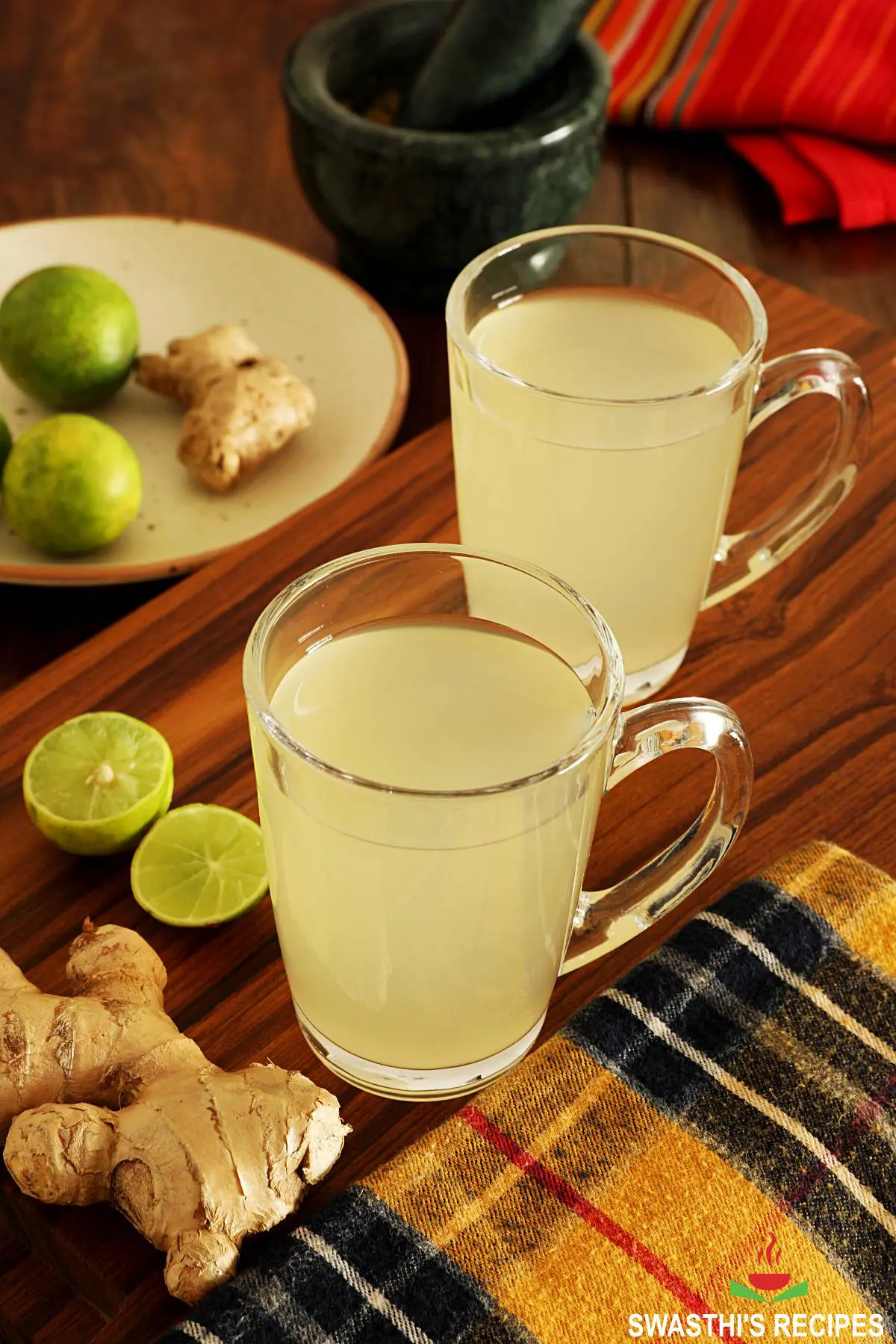 Herbal and spice teas are considered as some of the earliest beverages created. Given the medicinal properties and the zesty flavor it provides, ginger remains a popular ingredient among the health conscious.
What is Ginger Tea?
Ginger tea is a traditional drink made by steeping fresh grated ginger in boiling water. There are various kinds of ginger tea made across the world. But in its simplest avatar ginger tea is nothing but a concoction of hot water and freshly grated or crushed ginger.
While ginger remains the key ingredient, various ingredients like lemon, oranges, sugar, palm sugar, milk, spices and herbs are also used in some versions.
Did you know that ginger is a close cousin of turmeric, galangal and cardamon? Ginger is more than a flavor enhancing culinary spice. It is a powerful antioxidant, and antifungal ingredient that enriches the body.
This aromatic spice with Southeast Asian roots was introduced in Europe around 800 AD. However, it has been featuring in Asian, Indian and African dishes and alternative and folk medicine for over 5000 years.
Ginger Tea Benefits
Ancient Ayurvedic writings mentioned ginger as an universal medicine for healing and improving the over all well-being. Indian households have consumed ginger tea from hundreds of years.
Caribbeans use it to cure many health issues including colic and constipation. The Burmese consider ginger an effective aid against flu while the Japan swear by its ability to boost blood circulation. Modern science too recognizes some associated benefits.
Here are some uses of consuming this tea:
A hot cup of ginger tea is a great monsoon and winter drink. It keeps your body warm, builds immunity, keeps you away from cold, flu and cough & detoxifies the body.
It works on the digestive system. Improves appetite, digestion and helps in better absorption of nutrients from the food we consume.
The anti-inflammatory gingerol in this rhizome can cure headaches, provide relief from arthritis, and migraines and reduce high blood pressure.
Ginger tea can prevent nausea and vomiting, especially from morning sickness during pregnancy. It can be comforting against menstrual cramps.
It is a fat buster and helps in weight loss efforts too.
Ginger Tea Recipe
This 2 ingredient ginger tea recipe is simple to make but the benefits are immense. I have made this for my family for more than 20 years. And we love it not because it tastes delicious or pleasant but because it's a healing drink and gives an instant relief from cold, seasonal flu & allergy symptoms.
If you are trying to fight cold, flu and cough or trying to find relief from arthritis make the basic version with ginger and water.
We also love this with lemon juice, honey, orange juice, calamansi juice or grapefruit juice. If you are a spice lover, then ground spices like cinnamon, star anise or even black pepper will add a zing to your tea.
Ginger can reduce the effects of certain medications. Always speak to a medical expert before you embark on a daily ginger tea journey. Read the faqs below
Related Recipes
Turmeric Tea
Cumin Tea (Jeera Water)
Ginger Shot
Masala Chai
Turmeric Milk
3 Methods To Make Ginger Tea (Stepwise photos)
Preparation
Fresh and tender ginger shoots are best for making tea. They have a mild spicy mouthfeel and an appealing taste. This is the reason fresh ginger is preferred both in tea and as a cooking ingredient in savory dishes. There are 2 kinds of ginger available in the markets. One is Hybrid variety and the other Non-hybrid or Non-GMO.
The hybrid ginger is less pungent and less bitter in taste and works well equally like the non-hybrid kind. If you are sensitive to spice or suffer from acidity then avoid the non-hybrid kind as it is too strong and too pungent. Both these are available in grocery stores, super markets and farmers markets.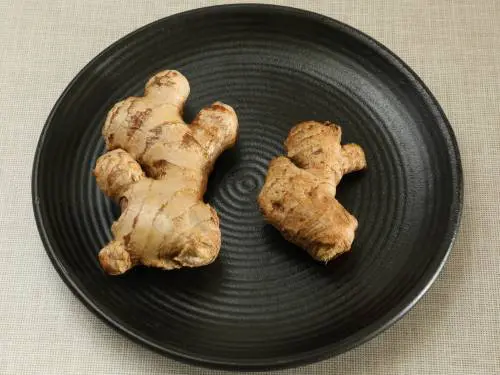 Wash ginger well under running water. You may also soak it in water for a while & scrub with a vegetable brush to get rid of hard mud deposits.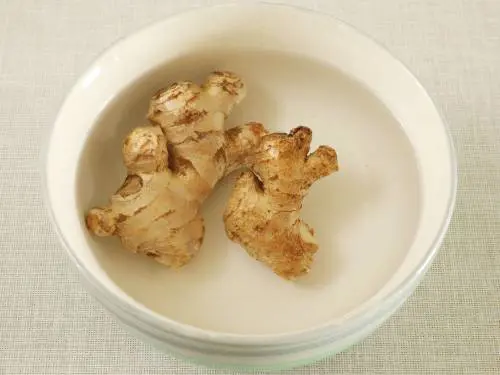 If you want you may peel the ginger. You will require 5 grams of ginger per serving, about 1 * ½ inch piece. Peel only the amount you require. Meanwhile bring water to a boil. You will need 1 cup water per serving.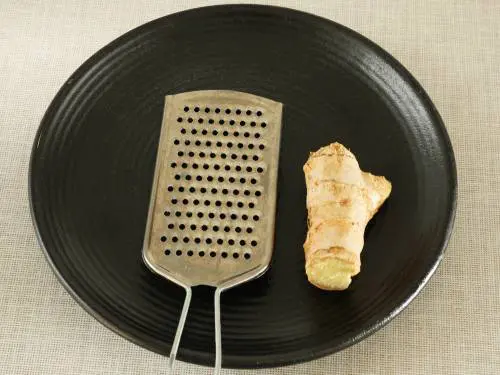 You can either grate or chop it. I personally prefer to grate it as it reduces the steep time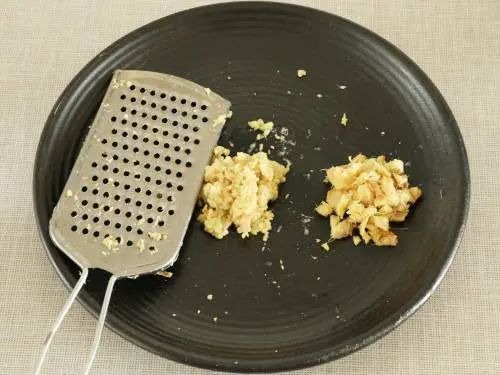 Make tea
Bring water to a rolling boil. Add the chopped or grated ginger. I used 2 cups water and 10 grams ginger here.
[Method 2: Optionally Infuse further with ¼ teaspoon tea powder or leaves, 1/8 teaspoon ground cinnamon, 1 pinch of crushed black pepper per serving or any other herbs like 6 to 8 Mint or Tulsi leaves (Holy Basil)]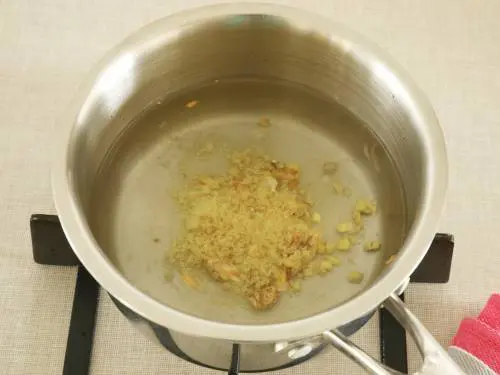 Cover and simmer for 3 to 4 minutes. If using chopped or sliced ginger boil for 5 to 6 mins.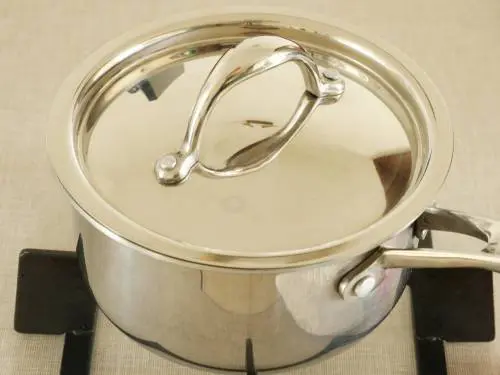 When the tea is ready you will see the color changes to slight yellow.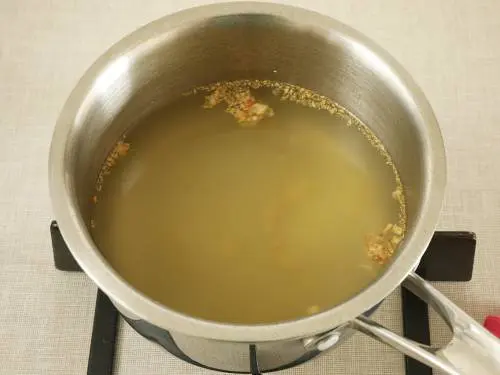 Strain and press down the ginger with a spoon to extract all of the flavor.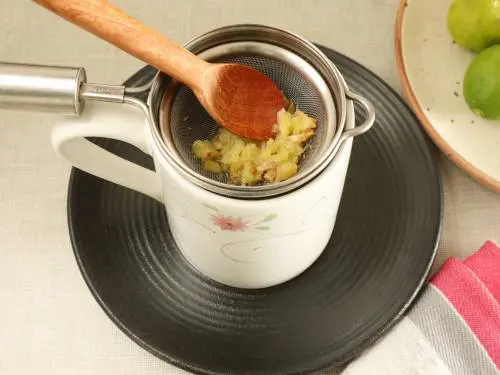 Squeeze in lemon juice and stir well. If you want to use honey, cool down slightly and then stir a tsp of honey.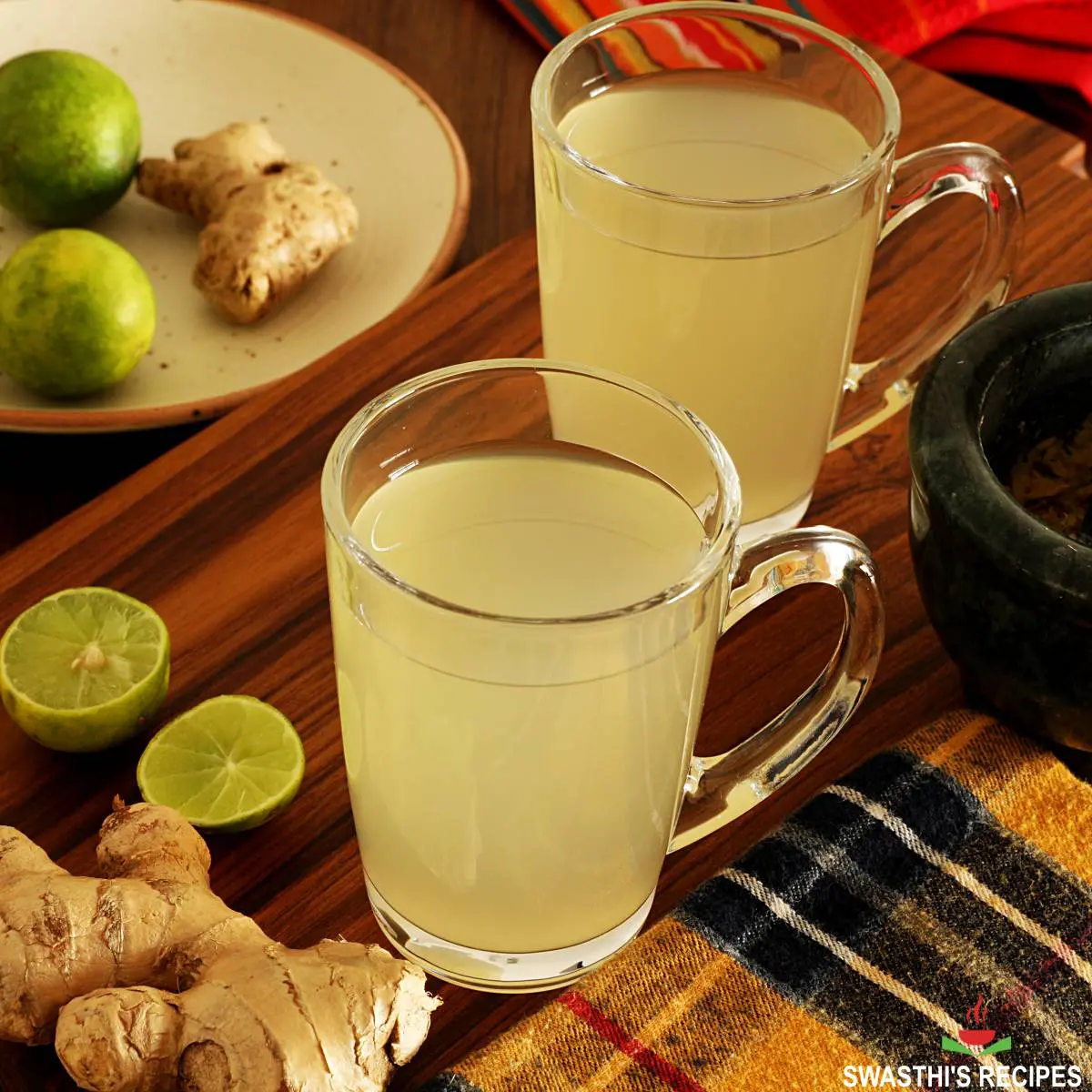 Indian Adrak Chai (Method 3)
The third is a popular method of making adrak chai in India. Steep 1 tsp grated ginger and 1 to 1.5 teaspoons tea leaves or tea powder in ¾ cup boiling water for 3 to 4 mins. Ensure the black tea is boiling rapidly, then reduce the heat and pour ¼ to 1/3 cup milk and add sugar to taste. Simmer for a while. Enjoy a sweetened, milky tea that is aromatic and delightful.
For this method I prefer to crush ginger and few black pepper corn in a mortar pestle.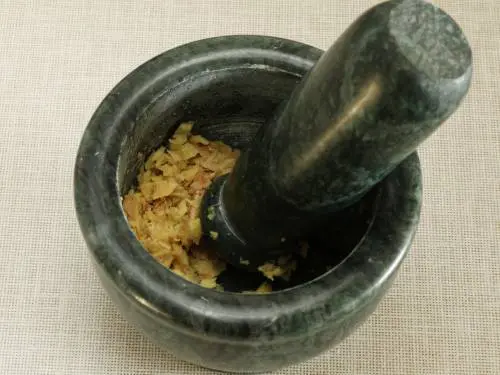 Faqs
What is ginger tea good for?
Ginger tea is a health drink with anti-inflammatory, antioxidant and anti-fungal properties. Enjoy it as an aromatic and refreshing drink, and a better option to carbonated and sugary drinks.
Is it good to drink ginger tea every day?
You can drink ginger tea every day in its diluted form, as long as the ginger amount is less than 5 grams a day. Milky gingery tea is consumed by Indians multiple times a day without any issues.
What is the best time to drink ginger tea?
A cup of this tea gives you a fresh morning start. It aids digestion, prevents nausea and headaches, and best still, fires up your metabolism for the day.
Can I drink ginger tea on an empty stomach?
Yes, you can drink it without upsetting your stomach. Too much of ginger or strong teas can cause acidity in some people.
Is ginger tea good for acid reflux?
Yes and no. The anti-inflammatory properties provide relief from acid reflux when you drink in small quantities. Have too much of it, and you'll be worsening your acidosis symptoms and increasing heart burn.
Does ginger tea help with nausea?
Yes. Ginger has been traditionally used both home and medicinal remedy for reducing nausea and vomiting.
What are the side effects of drinking ginger tea?
Too much of ginger can cause heartburn, insomnia, acidity and restlessness. Some people could be allergic to it and suffer from severe symptoms.
Does ginger tea have caffeine?
Plain tea made with water and fresh ginger has no caffeine. Ginger and herbal teas for that matter contains zilch. But if you steep ginger with green, oblong or black tea, it does have caffeine, although it is much less than found in coffee.
Related Recipes
Recipe Card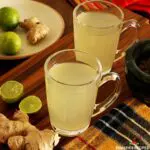 Ginger Tea Recipe
Pour yourself a cuppa nourishing ginger tea anytime you need an immunity booster or seek a refreshner.
Print Recipe
Pin Recipe
Jump to Comments
For best results follow the step-by-step photos above the recipe card
Ingredients (US cup = 240ml )
5

grams

ginger

(1 teaspoon grated or 1 * ½ inch)

1

cup

water
Optional
1

tablespoon

lemon juice

(or lime juice, calamansi or grapefruit juice)

½

inch

cinnamon

(or ⅛ teaspoon ground)

1

teaspoon

honey

6 to 8

Holy Basil

(Tulsi) or mint leaves
Instructions
How to Make Ginger Tea
Method 1: Rinse ginger under running water. If required soak it in a bowl of water to loosen the mud deposits and scrub it well with a vegetable brush.

If you want you may peel the ginger with a table knife or a spoon. Do not peel the whole root, peel only an inch keeping the rest intact.

Bring water to a rolling boil. Meanwhile grate or chop the ginger.

Add to the boiling water. If you want to use spices and herbs add them too at this step.

Simmer covered for 3 to 4 mins. If using chopped or sliced ginger boil for 5 to 6 mins.

When the ginger tea is ready you will see it turns to a light yellow color. Turn off the heat and strain to a serving cup. Press down with a spoon to extract most of the ginger flavor. Stir in lemon juice.

If you want to sweeten it add a tsp of honey when it cools down slightly. Do not stir in honey to very hot tea. If the tea is too spicy for your taste, simply dilute it with hot water.

Method 2: You may also add ¼ teaspoon tea powder or tea leaves, ⅛ teaspoon ground cinnamon and a pinch of black pepper along with ginger. Follow the rest from above method 1.

Method 3: To make Indian ginger tea, Boil 1 tsp ginger, 1 to 1.5 teaspoons tea leaves or tea powder in ¾ cup water for 3 to 4 mins. If you want you can also add tulsi or mint leaves. When the tea is boiling rapidly, pour ¼ to ⅓ cup milk and sugar to taste. Simmer for a while. Strain and drink. Avoid lemon in this adrak chai.
Notes
1 teaspoon grated ginger per serving makes a strong tea. You may reduce it if you can't handle spicy drinks. Or simply dilute the tea with more hot water. This will reduce the strength.
If you are suffering from acidity use only lemons and not limes.
The non-hybrid variety of ginger is Spicer, pungent and bitter. Use less in that case.
If you are suffering from dehydration, heat, sunstroke or constipation stay away from this drink.
This can be given to kids above 4 years with only 1/4 teaspoon ginger steeped in 1 cup water.
Fresh tea tastes best. But it can prepared and left at room temperature for 5 to 6 hours and reheated.
You can also refrigerate for 1 to 2 days and reheat.
If using orange juice, I generally warm it up a little before stirring it to the hot tea.
Alternative quantities provided in the recipe card are for 1x only, original recipe.
For best results follow my detailed step-by-step photo instructions and tips above the recipe card.
NUTRITION INFO (estimation only)
Nutrition Facts
Ginger Tea Recipe
Amount Per Serving
Calories 3
Calories from Fat 9
% Daily Value*
Fat 1g2%
Sodium 6mg0%
Potassium 8mg0%
Carbohydrates 1g0%
Protein 1g2%
Vitamin A 1IU0%
Vitamin C 3mg4%
Calcium 4mg0%
Iron 1mg6%
* Percent Daily Values are based on a 2000 calorie diet.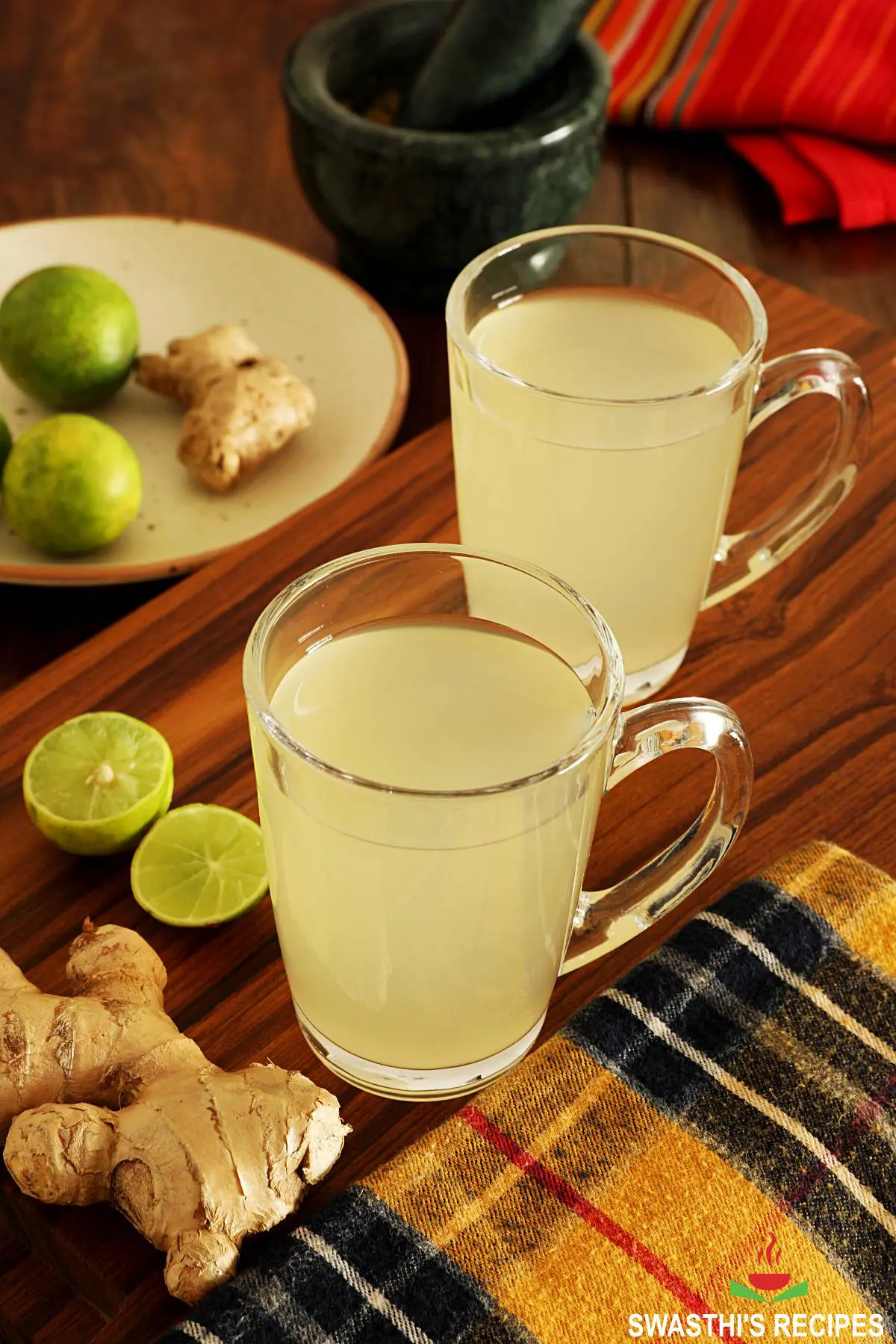 About Swasthi
I'm Swasthi Shreekanth, the recipe developer, food photographer & food writer behind Swasthi's Recipes. My aim is to help you cook great Indian food with my time-tested recipes. After 2 decades of experience in practical Indian cooking I started this blog to help people cook better & more often at home. Whether you are a novice or an experienced cook I am sure Swasthi's Recipes will assist you to enhance your cooking skills. More about me
Follow Swasthi's Recipes