urad dal khichdi recipe for babies & toddlers – Vigna mungo or black gram or black lentil is called as urad or sabut urad in Indian language. It is used whole or split and skinned in Indian cuisine. It is considered to be one of the most nutritious lentils and hence is used often to make everyday foods. Apart from being high in calcium and protein, it is also a great brain food since it is high in essential fatty acids. Towards the south it is used to make idli, dosa and vada. In other parts of India it is used to make dishes like dal makhani, ma ki dal, pancharatan dal and many other dishes.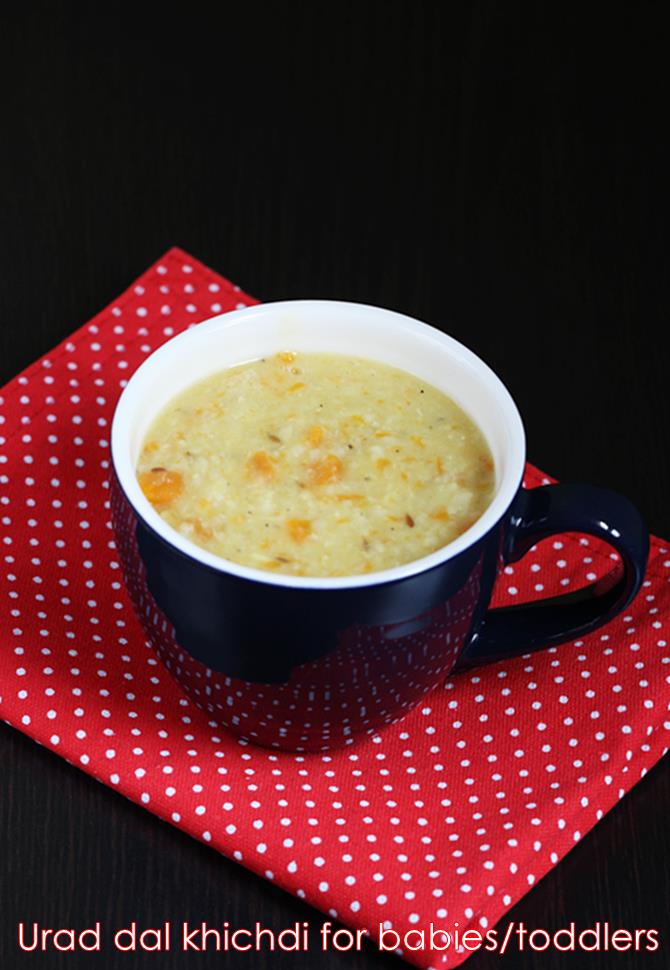 For feeding babies or toddlers, urad dal in the form of idli is the best since they are made from fermented batter. Fermentation enhances the nutrients and are retained in idli as they are steam cooked only for a short time. It also boosts a healthy weight gain in babies and kids.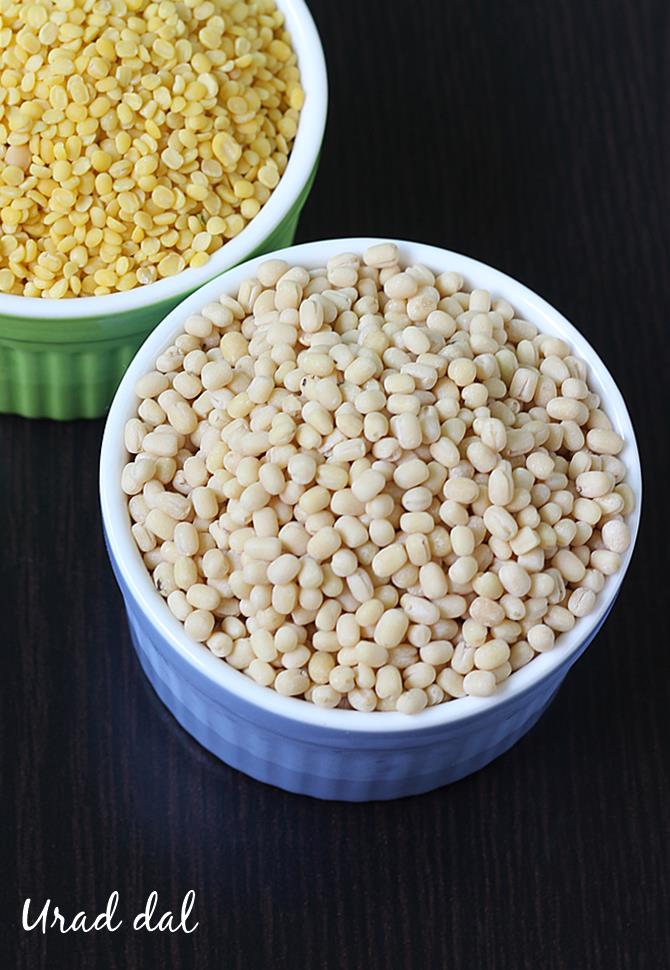 I have shared this recipe with few readers briefly in comments but wanted to make it a separate post so that many of you can try it. This urad dal khichdi makes a great food for babies especially for those who are on average to low weight. I had made this for 3 to 4 months regularly for one of my babies since i was unable to make idli at that time. After a few months, i started to make idli regularly and then discontinued this. But during the months i fed him this urad dal khichdi, he was on a steady weight gain. Last week i made this for my little one again as he was bored of the regular moong dal khichdi for lunch.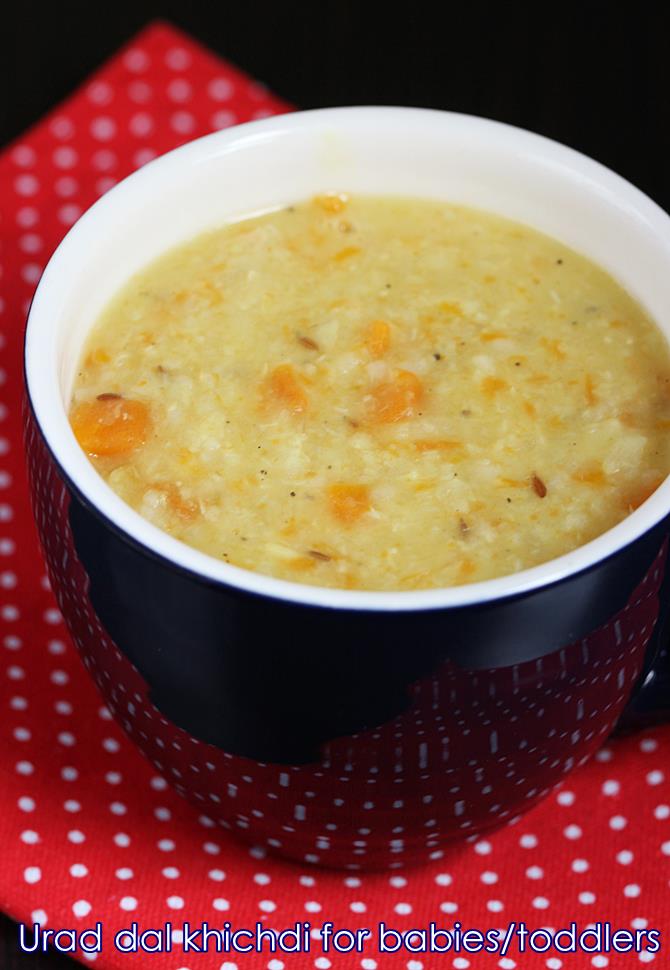 Regarding the taste, i would not say it tastes delicious but certainly is a must try for the babies who are having difficulty gaining weight. To make this urad dal khichdi, you can use any non starchy veggies like carrot, pumpkin, spinach, methi, tomato, bottle gourd or ridge gourd. You can feed this for about 3 to 4 times a week for breakfast or lunch. Avoid this for dinner as it is very heavy.
If you plan to make this for the baby breakfast the next morning, you can soak the dal and brown rice in the night and refrigerate it along with water. Next morning you can add veggies and cook it.
If your baby has begun teething or is above 8 to 9 months, teach your baby to chew the foods. Do not serve pureed foods to babies over 9 months unless the baby has sore gums due to teething. Mash the food well and feed.
urad dal khichdi for babies and toddlers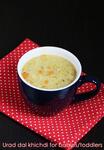 urad dal khichdi for babies & toddlers
Ingredients (1 cup = 240ml )
1.5

tbsp

rice

(refer notes)

1.5

tbsp

urad dal

(refer notes)

1

cup

water

+ 2 tbsp (refer notes)

2 to 3

tbsp

veggies

(non starchy)

1

pinch

cumin

or jeera powder

salt

as needed

Ghee

as needed
How to make the recipe
Wash rice and dal together and soak for about 4 hours. Drain and set aside.
method 1
On a low flame pressure cook rice, dal and veggies with 1 cup plus 2 tbsp water for 2 whistles.

When the pressure goes off, mash the rice well. Add ghee, salt and cumin powder.
method 2 (for fussy kids)
Heat ghee in pressure cooker, add cumin and allow to splutter.

Add drained rice and dal . Saute in ghee for 1 to 2 minutes until the dal smells good. Add veggies.

Add 1 cup plus 2 tbsp water and pressure cook for 2 whistles.

When the pressure goes off, mash and add salt.
NUTRITION
Calories:
167
kcal
|
Carbohydrates:
32
g
|
Protein:
7
g
|
Sodium:
29
mg
|
Potassium:
62
mg
|
Fiber:
5
g
|
Vitamin A:
1500
IU
|
Vitamin C:
4
mg
|
Calcium:
13
mg
|
Iron:
2
mg
Notes
Rice :
Only white rice can be used. I had used half brown basmathi and half white basmathi. You can also use it that way. But if using brown rice, make sure you soak it along with dal for 4 hours else the rice will not get cooked well.
Urad dal :
for babies from 10 months, you can use 1.5 tbsp.
for babies from 8 to 9 months, use 1 tbsp.
for babies from 6 to 7 months use half tbsp.
Water:
Reduce water proportionately if using less dal.
Veggies:
Do not use starchy veggies like potatoes, sweet potatoes or yam in this khichdi.
Prefer light veggies like carrots, pumpkin, turai, lauki, methi, palak