Chicken manchurian recipe – Manchurian is one of the popular Indo chinese recipes that was initially made with chicken. Later a lot of vegetarian versions came up like Veg manchurian, Mushroom manchurian, Gobi manchurian and Paneer manchurian.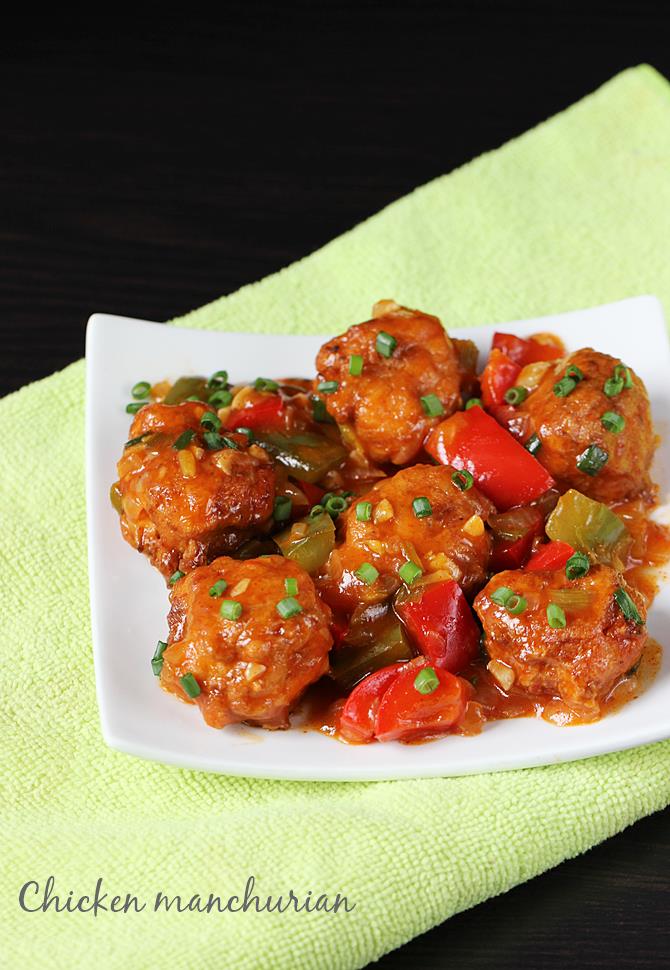 There are a few different versions of chicken manchurian recipe, one of the most common method is using chicken cubes. It is prepared the same way like the chilli chicken which i shared earlier on the blog. The other version is made using chicken balls, this is what I have eaten in Indo chinese restaurants.
To make this chicken manchurian, you can use chicken in any form – cubes, mince or finely chopped. It is marinated first. Then deep fried and then added to the manchurian sauce. Alternately they can be baked or shallow fried before adding to the sauce.
For more chicken recipes visit
Chicken kebab
Chicken burger
Shawarma recipe
Chicken lollypop
Chicken manchurian is best served as a starter or as a side with chilli garlic noodles or any kind of noodles.
Find chicken manchurian recipe below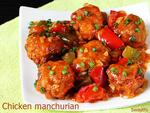 Chicken manchurian recipe | How to make chicken manchurian recipe
Fried chicken balls in manchurian sauce, a popular Indian Chinese appetizer also served as a side with fried rice or noodles.
Ingredients (1 cup = 240ml )
marination
250

grams

chicken

boneless, (cubes or keema/ mince)

½

egg

of 1 white (1 egg white for ½ kg chicken)

1/8

tsp

pepper

coarsely crushed

1

tsp

soya sauce

(Prefer naturally brewed)

2

pinches

chili powder

2

tbsp

corn flour

1 ½

tbsp

rice flour

1

tsp

ginger garlic paste

salt

little

oil

as needed
for manchurian sauce
1

tbsp

garlic

chopped

½

tbsp

ginger

chopped

1

onion

medium

1 ½

tsp

soya sauce

2

tbsp.

red chili sauce

1

tsp

vinegar

1

cup

chicken stock

or water

2

tsp

corn flour

(3 for gravy)

3

tbsp

water

to mix with flour

salt

little

½

tsp

sugar

(if red chili sauce has no sugar use 3/4 tsp)

¾

cup

capsicum

cubed

onions

few spring , whites

onion

few spring , greens
Instructions
Preparation for chicken manchurian
Mix chicken with soya sauce, salt, ginger garlic paste, red chili powder and pepper powder.

Add egg white and flour. Mix well. Set aside for at least 1 hour.

If you have used chicken cubes then skip this step. If you have used the mince divide the mixture to 10 to 12 portions. Make balls. If you don't get round balls, that'f fine.

Heat oil and deep fry chicken on a medium flame until golden. Drain to a kitchen towel. Please make sure the chicken is cooked completely inside.
Making manchurian sauce for chicken manchurian
Stir in the corn flour with 3 tbsp water in a small bowl.

To another small bowl, add vinegar and red chilli sauce. You can also add tomato ketchup if you prefer. Mix all of these and set aside.

Transfer the oil to a bowl and retain only half a tbsp. Fry ginger garlic until aromatic.

Fry onions until transparent.

Add bell peppers and fry for 2 minutes.

Next add little red chili powder (optional, used for color). Add sauces as well.

When they begin to bubble, pour the corn flour mixture along with 1 cup water or stock.

When the sauce begins to bubble, add fried chicken. Next also add in spring onions and then toss.

Cook for 1 to 2 mins if you have used cubes. If you have made to balls then cook for 5 to 6 minutes. If the sauce becomes too thick, add very little water and cook.

Garnish with spring onions and serve chicken manchurian as a appetizer.
Nutrition
Calories:
302
kcal
|
Carbohydrates:
22
g
|
Protein:
20
g
|
Fat:
13
g
|
Saturated Fat:
3
g
|
Cholesterol:
64
mg
|
Sodium:
609
mg
|
Potassium:
445
mg
|
Fiber:
2
g
|
Sugar:
6
g
|
Vitamin A:
32.6
%
|
Vitamin C:
67.3
%
|
Calcium:
2.8
%
|
Iron:
8.5
%
Preparation for chicken manchurian recipe
1. Make sure there is no water in the chicken before you use it. You can either use cubes or mince (keema) or finely chopped chicken.
I prefer to chop finely and then use. Add soya sauce, ginger garlic, salt , red chili powder and pepper to a mixing bowl. Mix well. For Chinese recipes, generally no chili powder is used. But i prefer to use to get a a good color which otherwise is got by food colors in restaurants.
An optional step : If the meat is not tender, I suggest soaking your meat in buttermilk for 2 hours or overnight in the refrigerator. Drain off completely and then use in the recipe.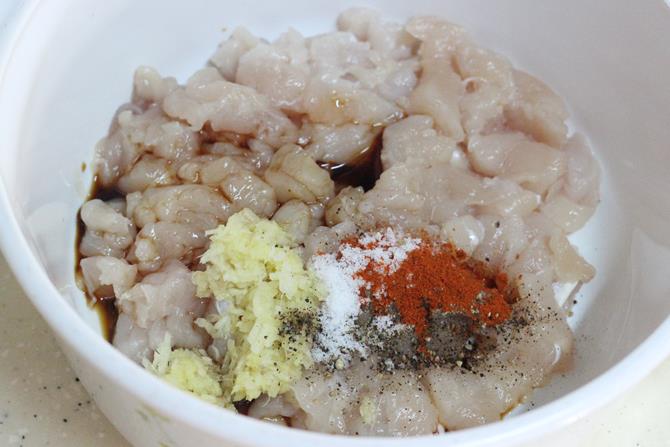 2. Add egg white, rice flour and corn flour. 1 egg white works good for half a kg chicken. I used only half of 1 egg white since i used only 250 grams chicken. Do not add more egg otherwise the mixture will turn soggy and will not bind well to make the balls. We will have to use more flour to bind the mixture.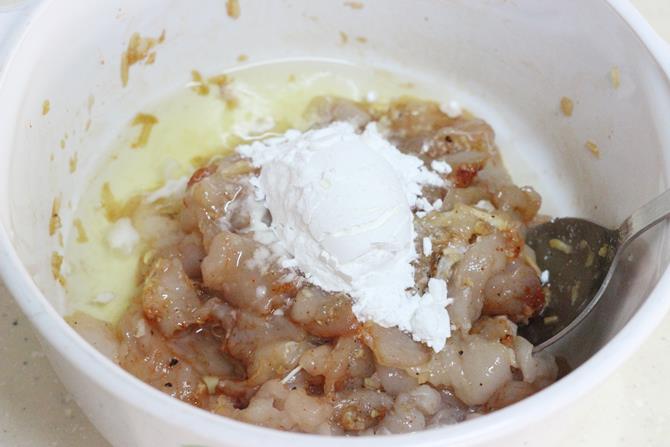 3. Mix everything well and set aside for at least 1 hour.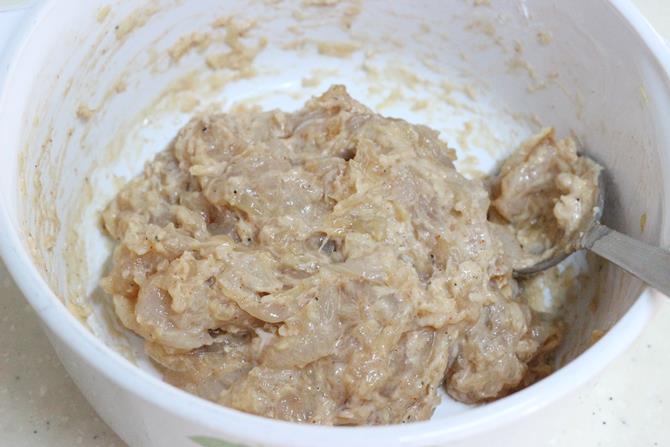 Frying chicken
4. Take small portions of the mixture and make balls. Fry them in hot oil. You may not get round balls, that is just fine. In case you want to make perfect round balls, then you need to reduce egg or add more flour. But that alters the texture of the ball.
Egg is used to lock the meat juices and prevents the meat balls from turning dry. A reduction of egg may turn the balls dry and hard.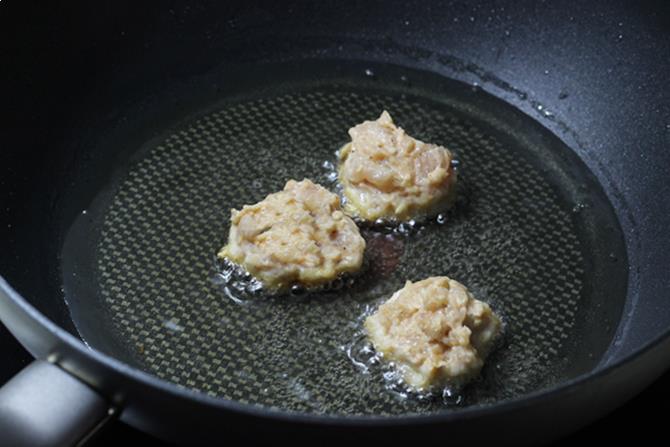 5. We need to stir often while frying to cook the meat evenly.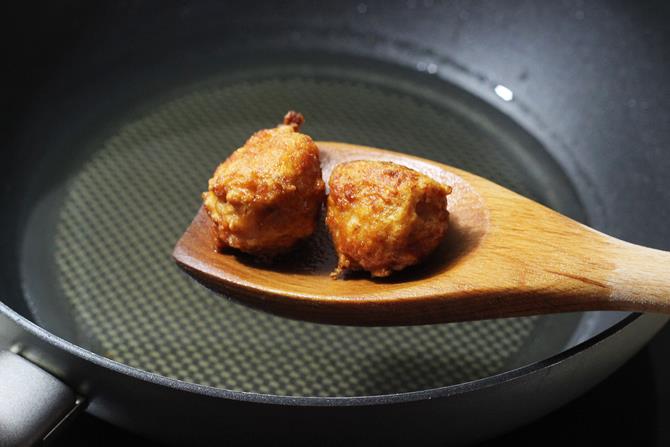 6. Transfer all the balls to a kitchen towel. Switch off the stove.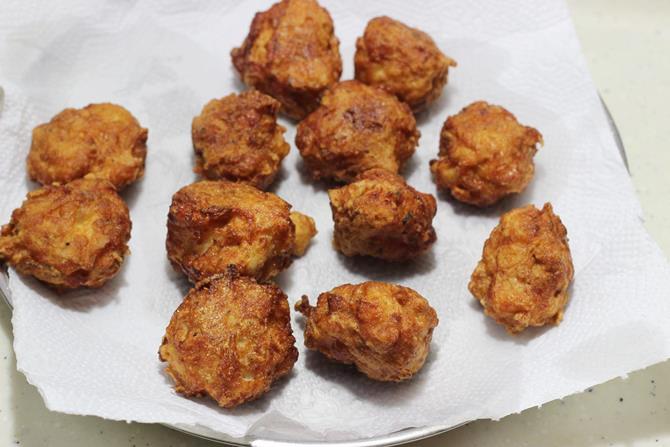 7. Add 2 tsp corn flour to a bowl and mix with ¼ cup water. Stir and set aside.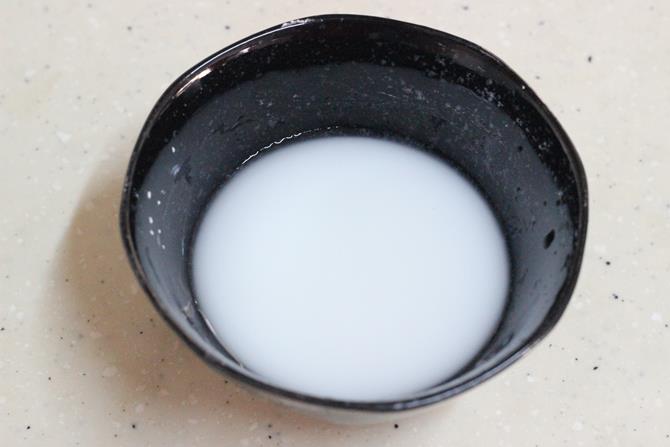 8. Add vinegar, soya sauce, sugar and red chili sauce to a bowl. You can also add little tomato ketch up. Set this aside as well.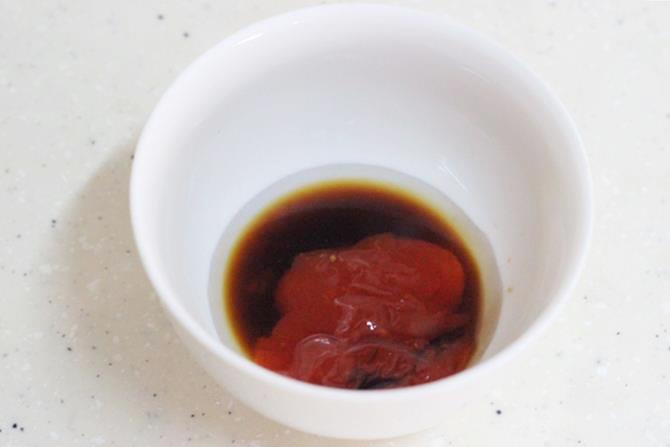 How to make chicken manchurian
9. We can use the same pan further. Transfer the hot oil to a cup, keep only ½ tbsp oil. Fry chopped garlic ginger till you begin to smell good.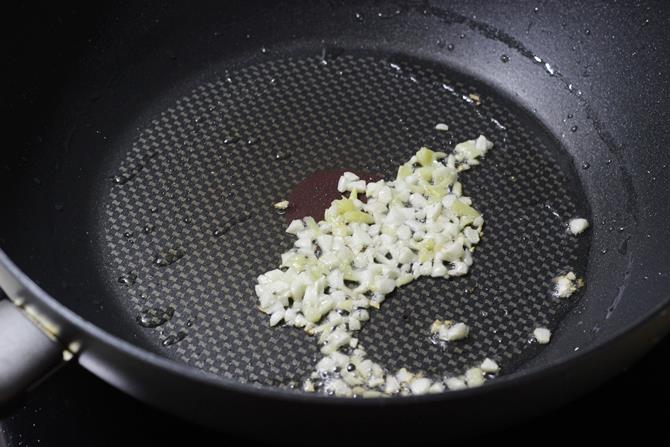 10. Add onions and spring onions and saute till they turn transparent.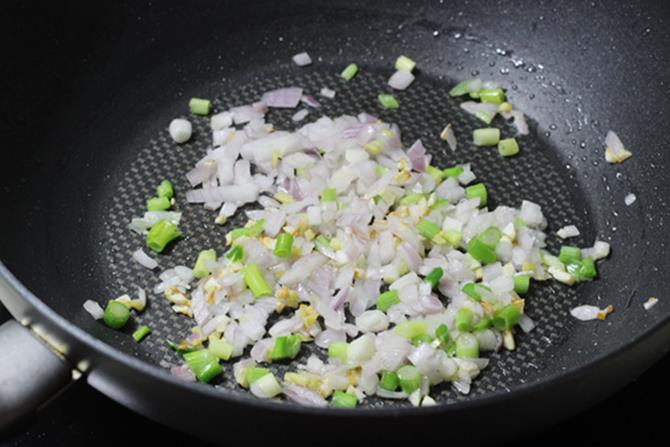 11. Add bell peppers, these are optional. If you do not have skip them. Fry for 2 to 3 minutes.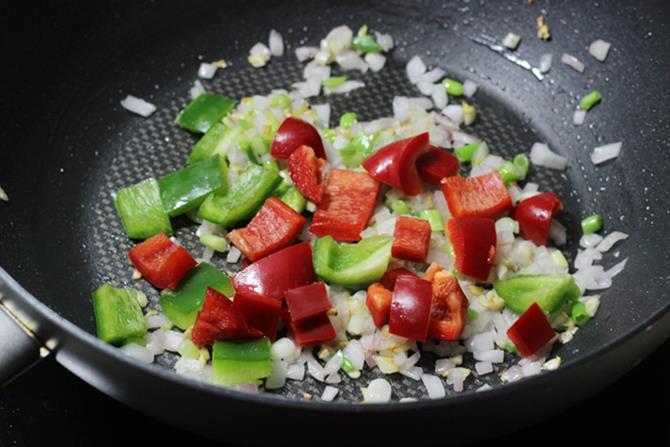 12. Add a bit more of chili powder for the color. Pour the sauces over it. Stir and mix.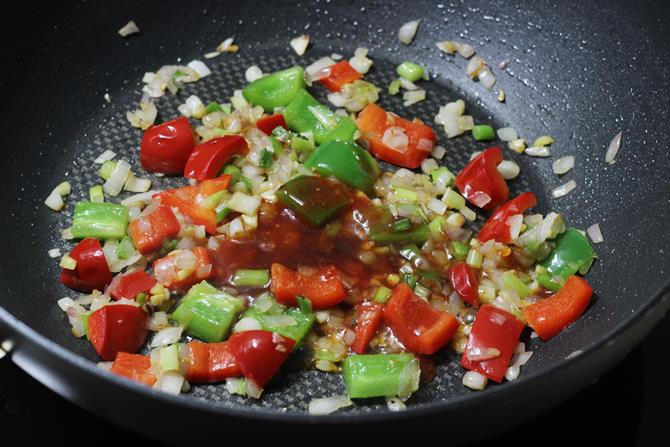 13. When the sauces begin to bubble, Stir the corn flour mixture and then pour it to the pan.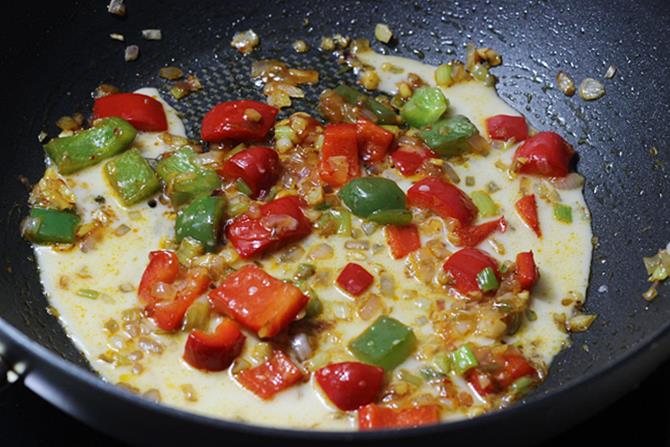 14. Pour 1 ¼ cup water and begin to cook. Taste the sauce and adjust if particular taste is needed. This has to be slightly sweet, sour and hot.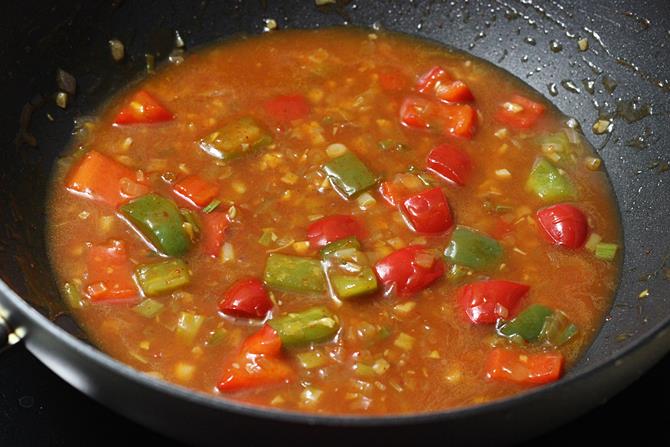 15. When the sauce begins to bubble, add the fried balls and spring onions. Toss well to coat them in sauce. Simmer for 5 to 6 minutes, this helps the balls to absorb the flavors. If the sauce becomes very thick, you can add one to 2 tbsp. water and stir. This recipe yields a semi dry chicken manchurian. If you like to have more gravy, just add 1 tsp more of cornflour and ½ cup more water.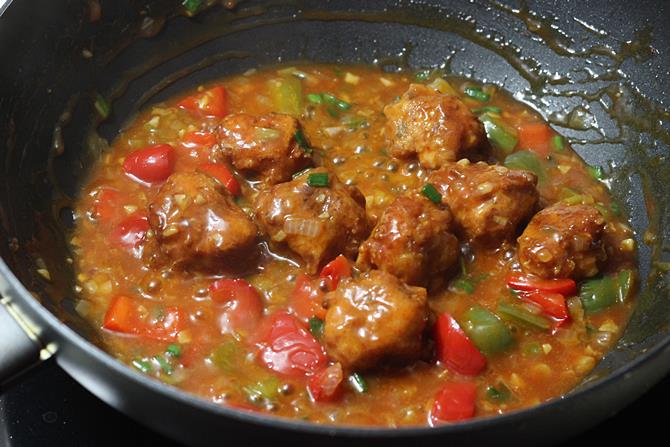 Serve right away as a appetizer or as a side to fried rice or hakka noodles or simple veg noodles.