Chilli potato recipe is one of the well liked chilli recipes from the Indo chinese cuisine. It is served as a starter or as a side with fried rice or fried noodles. A chilli recipe can be made with any of the main ingredients like chicken, paneer, gobi, soya chunks or even with potato.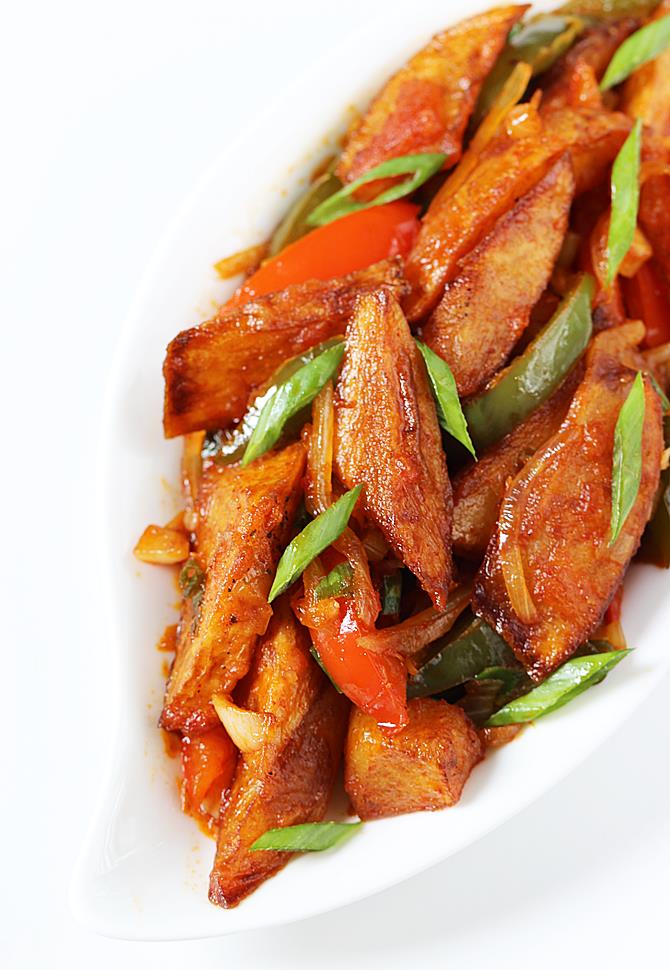 To make this chilli potato recipe, potatoes need to be crisp fried and then tossed in sweet sour chilli sauce. Alternately for a better healthier option, they can also be grilled or pan roasted and added to the sauce.
Dry chilli potato goes well as a starter. A gravy version suits as a accompaniment to fried rice or fried noodles. I am sharing both dry and gravy version too.
You may also like to check
Chilli paneer
Chilli chicken
Crispy chilli chicken
For more potato recipes, you can check
Aloo bonda
Potato bread pakora
Potato bread rolls
Tandoori aloo tikka
Gravy & dry chilli potato recipe to serve as starter or side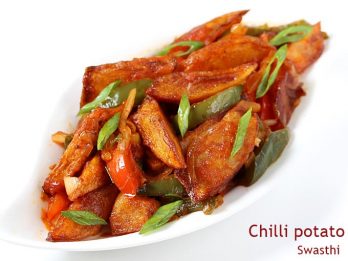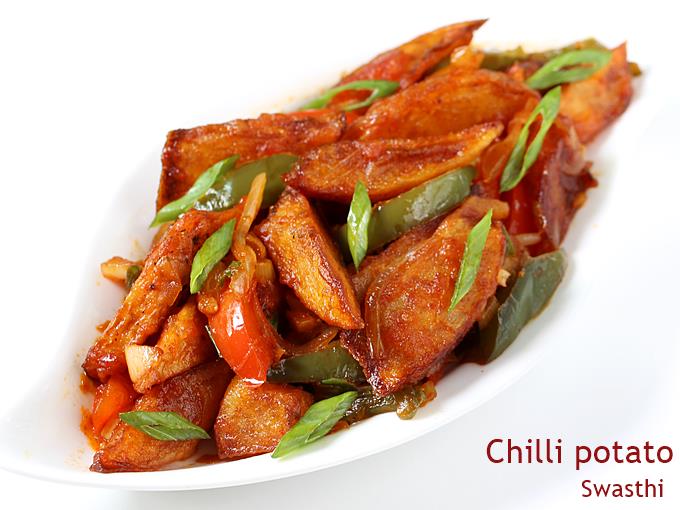 Chilli potato recipe | How to make chilli potato | Chilli aloo recipe
Chilli potato is a spicy Indo chinese style starter made with fried potatoes. It can also be served as a side in a meal with noodles or fried rice.
Ingredients (240 ml cup used)
3

potatoes

or (3 medium aloo)

2

tbsp

corn starch

or corn flour (or unbleached organic plain flour)

¼

tsp

red chilli powder

or paprika powder

salt

as needed

1/3

cup

oil

or as needed

1½

tbsp

garlic

chopped

1

onion

sliced or spring onions chopped

¾

cup

capsicum

or bell peppers

1

green chili

deseeded

½

tbsp

soya sauce

(naturally brewed)

1

tbsp

red chilli sauce

½ to ¾

tsp

red chili powder

or paprika

½ to ¾

tsp

vinegar

Salt

as needed
How to make the recipe
Preparation for chilli potato
Mix red chilli sauce with red chili powder using little water. Make a thick paste. Set aside.

Peel potatoes and cut diagonally. Immerse them in salted water for 30 minutes.

Add them to a bowl of water and boil until they are slightly cooked. Do not over cook they need to be firm. Drain them.

Sprinkle flour, red chili powder and salt over the drained potatoes. Toss well.

Heat oil in a deep pan. When hot enough drop one by one in hot oil.

Deep fry on a medium flame or grill until golden. Check if the potatoes are completely cooked from inside yet crisp.
How to make chilli potato
Heat one tbsp oil on a high heat in a pan.

Fry garlic and chilli until they smell good.

Add onions and saute until transparent or pink.

Next add capsicums and saute for a while.

Add the red chilli sauce, soya sauce and vinegar.

Pour little water and cook till it slightly thickens. To make gravy chilli potato , dissolve 3/4 tbsp corn starch with 3/4 cup water. Stir and pour to the pan.

When the sauce thickens add fried potatoes and saute for 2 to 3 minutes. Add spring onion greens.

Serve chilli potatoes hot or warm as a starter or as a side.
Nutrition Facts
Chilli potato recipe | How to make chilli potato | Chilli aloo recipe
Amount Per Serving
Calories 311
Calories from Fat 171
% Daily Value*
Total Fat 19g 29%
Sodium 523mg 22%
Potassium 770mg 22%
Total Carbohydrates 31g 10%
Protein 5g 10%
* Percent Daily Values are based on a 2000 calorie diet.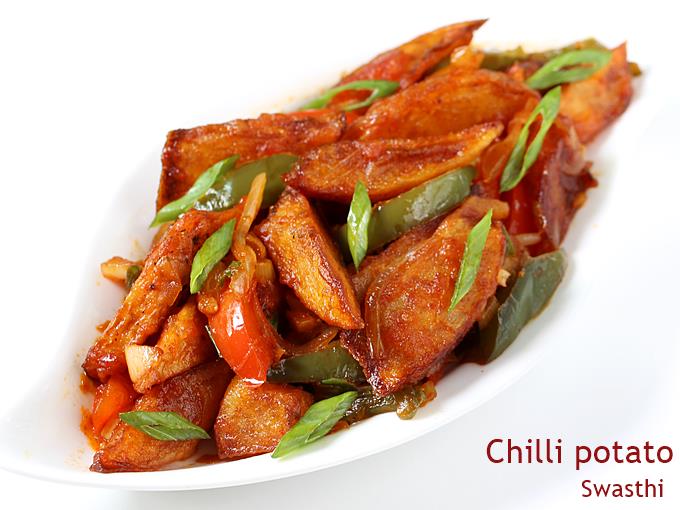 How to make chilli potato recipe with step by step photos
1. Wash and peel potatoes. Cut to half inch thin strips or wedges of 2 inches length. Soak them in salted water for about 30 minutes. They will have to be parboiled too if using a variety that doesn't get cooked fast. I did not parboil mine.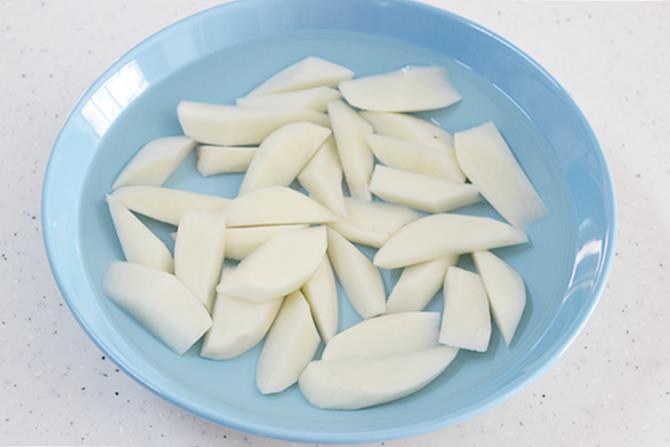 2. Drain them up completely in a colander.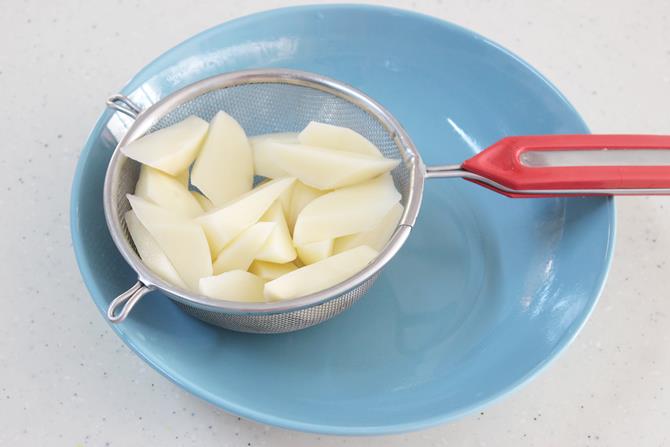 3. Add them to a wide bowl. Sprinkle salt, chilli powder (or paprika) and flour. I have used organic unbleached plain flour. To make the restaurant style chilli potato you will have to use corn starch (white corn flour).
For health reasons if you want to avoid plain and corn flour as well, then skip using flour. It really doesn't make much difference if making dry starter.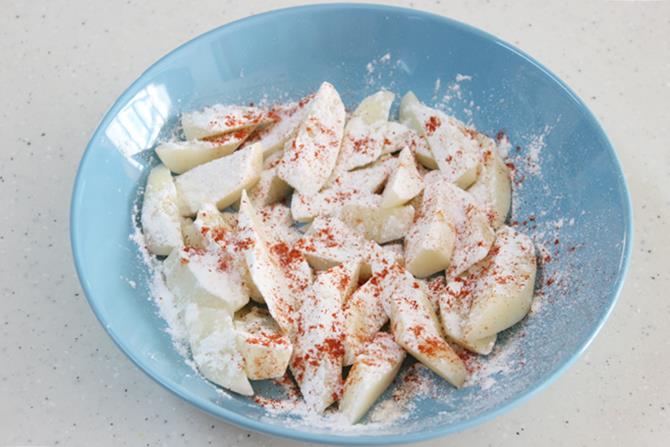 4. Heat oil and fry until golden on a medium heat. For a healthier option, you can also bake these in a oven even without using flour like i did for the potato wedges here.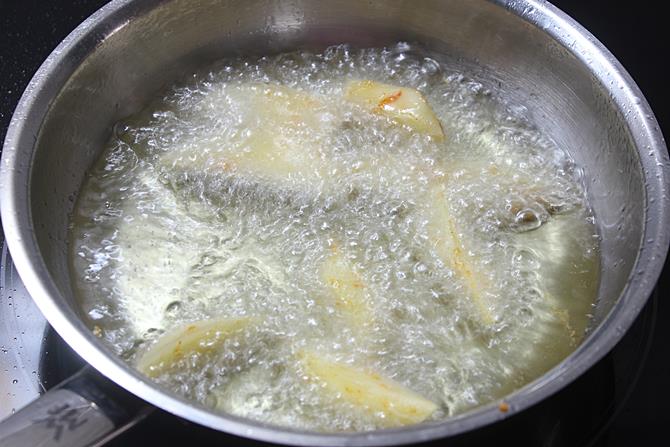 5. When they are half done, the flame can be lowered a bit to make sure they are completely cooked inside without burning outside. When they are golden fried drain them on a kitchen tissue or on a colander. Do check if they are completely cooked.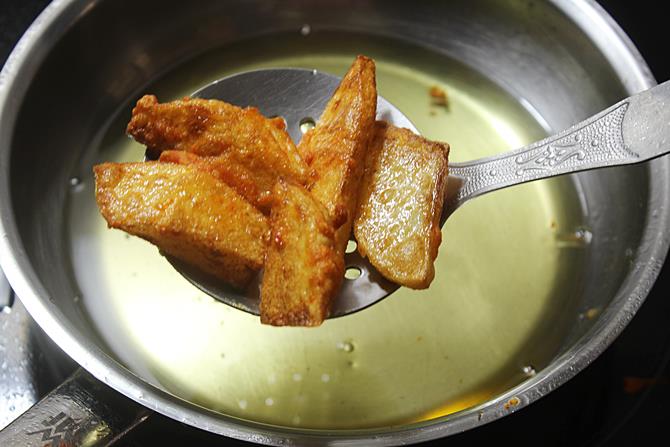 6. Transfer the oil to a bowl. Retain 1.5 tsp oil and fry slit chilli and garlic. You can also use fresh sesame or olive oil to enhance the flavors.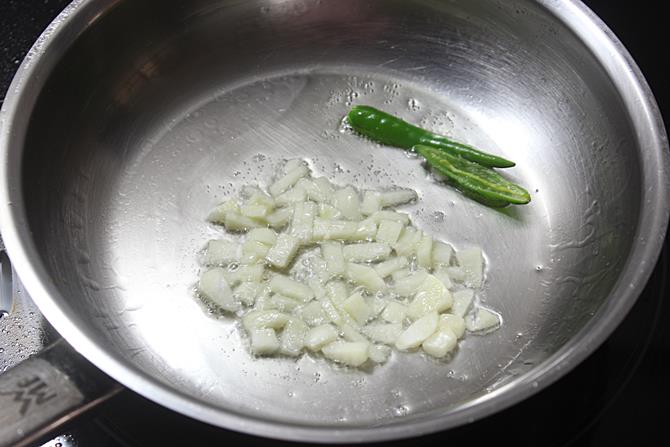 7. When the garlic begins to smell good, add thinly sliced onions and white parts of spring onions. You can use any one kind of onions. Saute until the onions turn transparent.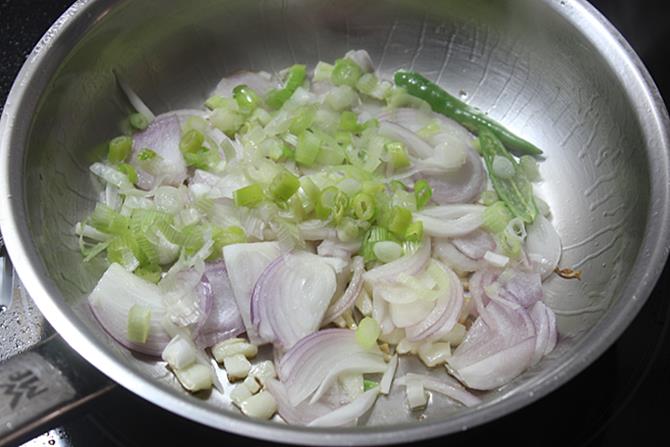 8. Add bell peppers and saute. You may skip these as well but they add flavor and volume. So i suggest using.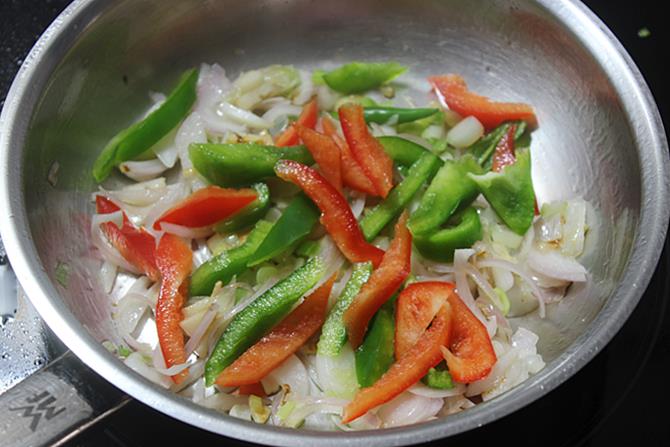 9. While capsicum is getting sauteed, mix ½ to ¾ tsp of red chili powder with 1.5 to 2 tsp of red chilli sauce. Add few tsps of water and beat with a fork. Using red chili enhances the color of the dish without addition of too much sauce or food color.
Alternately you can also add only red chili sauce and skip using the powder. Saute capsicums for just 2 minutes. Then add sugar, ½ tbsp soya sauce salt and red chilli sauce.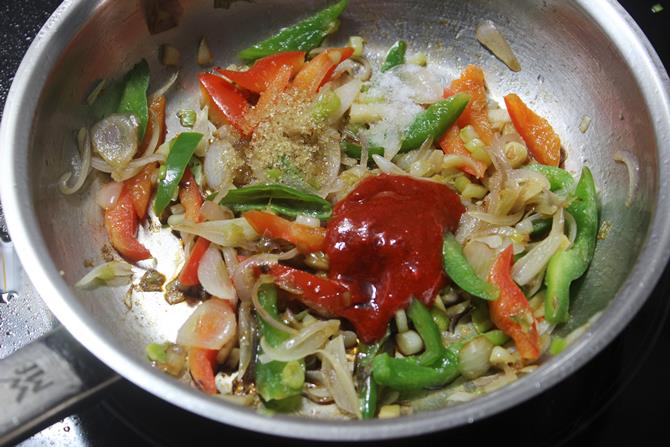 10. Stir every thing well and fry just for a minute. Add half tsp vinegar.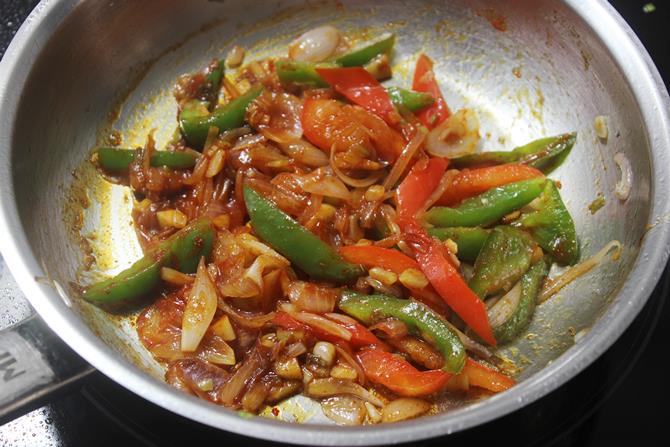 11. Add few tbsps water to the pan and allow the sauce to thicken just for a minute or two. If you like to make a gravy dish, add ¾ tbsp corn starch to ¾ cup. Stir it well and pour it to the pan.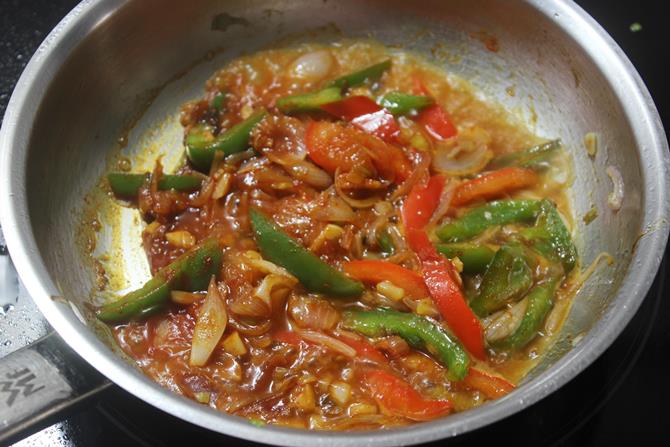 12. When the sauce thickens, add the fried or baked potatoes.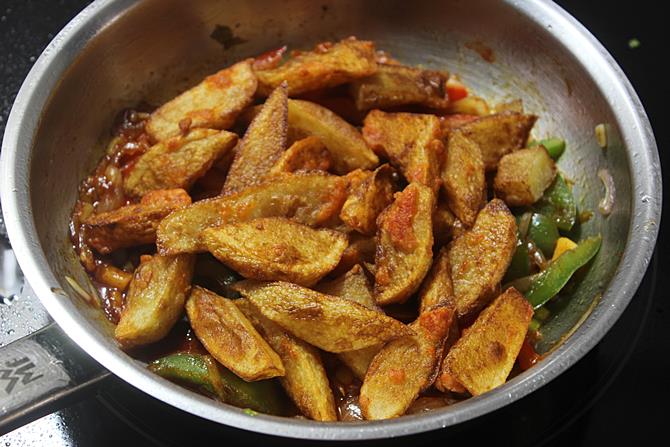 13. Saute everything well for about 2 minutes. Add spring onions.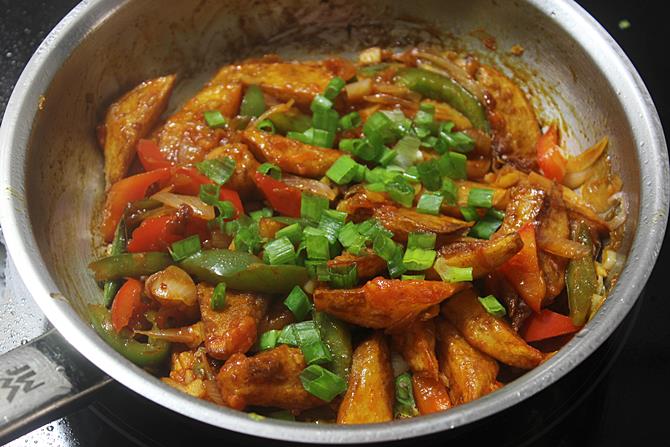 Serve chilli potato hot.