Chicken 65 recipe. – Learn how to make chicken 65 recipe at home. Chicken 65 is a popular spicy, delicious and hot South Indian restaurant style boneless chicken starter. There are so many ways a chicken 65 is made. All totally different from one another with different styles Andhra style or hyderabadi style, Madurai style, restaurant style etc.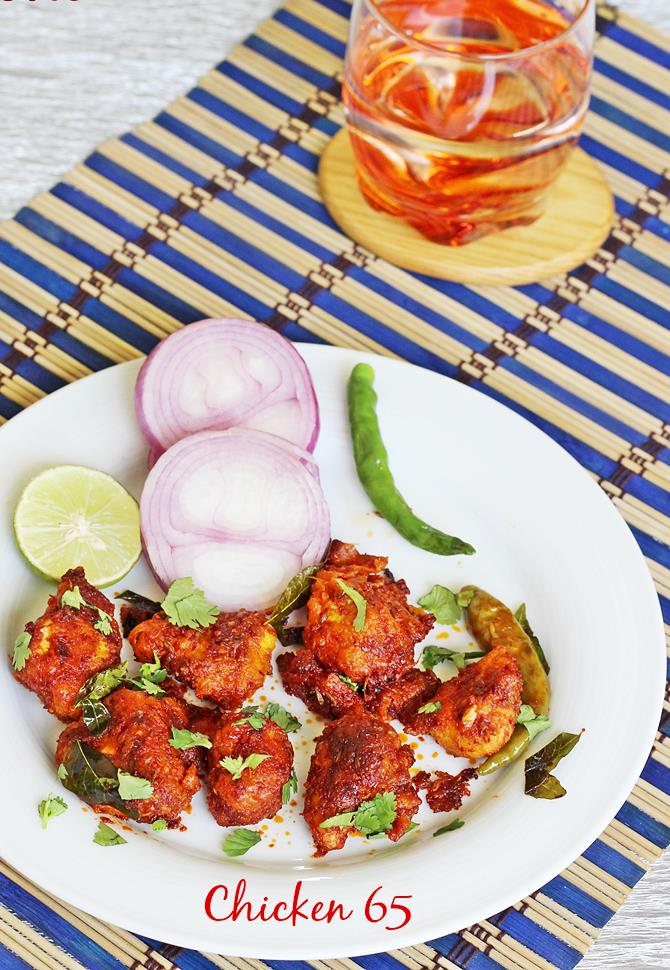 I have tried quite a lot and ended up concluding this as one of the best chicken 65 recipe. It is worth serving as a starter for any parties or when you have guests home.
Chicken 65 recipe has roughly been adapted from Vahchef's recipe. I have made it many times and it has never turned me down even when I make for a crowd. I made a few changes to the original recipe.
I use a freshly ground homemade garlic chili seasoning instead of the store bought one which the chef suggests. It took a while for me to come out with this good spicy flavorful seasoning.
Variations of chicken 65
To make a hyderabadi chicken 65, you can use yogurt for marination as well for seasoning.
To make it street style, you can use egg. But I prefer not to use it since it makes the chunks soggy and smelly once cooled down. This recipe can be made even without yogurt and egg if you desire. The result will still be juicy and soft chicken.
If you make the chicken 65 without egg, then it can be kept for few hrs. While there will be no change in the taste and flavor. It can be refrigerated for later use and heated as well. But eating reheated chicken often is not a good idea.
For more Indian chicken recipes , check
Indo chinese chilli chicken
Chicken pakoda
Restaurant style tandoori chicken
Hot garlic chicken
Andhra or hyderabadi chicken majestic
Tandoori chicken tikka
Restaurant style chicken 65 recipe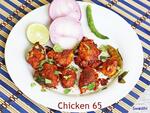 Chicken 65 recipe | How to make chicken 65 restaurant style recipe
Spicy chicken 65 is a popular south Indian chicken starter or appetizer served in restaurants.
Ingredients (1 cup = 240ml )
250

grams

chicken

boneless & tender

1

egg white

(optional, refer notes) or whole egg for half kg chicken

2

tbsp

Corn flour

1

tbsp

rice flour

or cornflour

oil

for deep frying
marination
½

tbsp

ginger garlic paste

½

tsp

red chili powder

1 ½

tbsp

curd

(don't use sour curd)

½

tsp

pepper powder

1/8

tsp

turmeric

Salt to taste

(about 1/8 tsp)
Seasoning for chicken 65 recipe
½

tsp

cumin

or jeera

1

sprig

Curry leaves

½

tsp

garlic

chopped

2

green chilies

sliced

½

tsp

pepper powder
Seasoning mixture to coat the chicken
¾

tsp

red chili powder

½

tsp

sugar

(removes pungent taste from garlic)

2

cloves

garlic

paste

¼

tsp

Salt

– use as per your taste

2

tbsp

curd

thick (or 1 tsp vinegar with 2 tbsp. water)
Instructions
Preparation
Wash chicken under running water and drain off completely.

Marinate it with marination ingredients. Set aside for at least 45 mins to 1 hour. Overnight yields the best soft chicken.

Make the seasoning mixture. Add red chili powder, sugar, garlic paste, salt, yogurt or vinegar with 2 tbsp. water to a bowl. Set this aside.

Sprinkle the dry flour over the marinade. If you chose to use egg, you can use. Mix well. If needed sprinkle little water for a good binding.
How to make chicken 65
Heat oil in a deep pan until hot enough.

Fry the chicken until cooked fully and golden. Stir while frying for even frying. Drain them on a kitchen tissue.

Heat a pan with 1 tbsp. oil.

Add curry leaves, green chilies and cumin. Fry till the leaves turn crisp. You can set aside few for garnish.

Next pour the chili garlic seasoning mixture we prepared above. Let it begin to bubble.

Add the fried chicken and toss.

Fry on medium heat till it absorbs all the moisture and the raw smell of garlic disappears. Over frying can make the it hard. So turn off in time.

Serve chicken 65 with onion wedges.
Notes
Using egg or egg white is optional, it locks in the chicken juices and keeps it soft. But it will leave an egg smell if you are serving later after a while.
Nutrition
Calories:
468
kcal
|
Carbohydrates:
11
g
|
Protein:
30
g
|
Fat:
32
g
|
Saturated Fat:
7
g
|
Cholesterol:
114
mg
|
Sodium:
829
mg
|
Potassium:
333
mg
|
Fiber:
1
g
|
Sugar:
2
g
|
Vitamin A:
16.4
%
|
Vitamin C:
23.4
%
|
Calcium:
3.3
%
|
Iron:
9.8
%
Serve with Chinese fried rice, South Indian style Ghee rice, Andhra style coconut milk pulao or South Indian coconut rice.
Preparation for chicken 65 recipe
1. Marinate chicken with ginger garlic paste, red chili powder, lemon juice or yogurt , pepper powder or garam masala, turmeric and very little salt.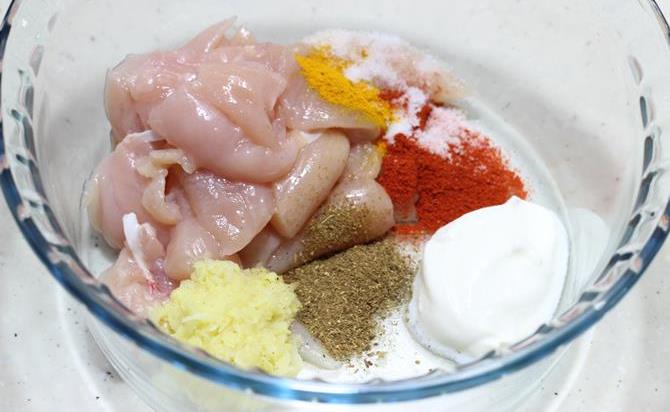 2. For a restaurant flavor, you can also add very finely chopped curry leaves. Keep it aside for 45 minutes to 1 hour. Overnight makes the meat chunks super soft.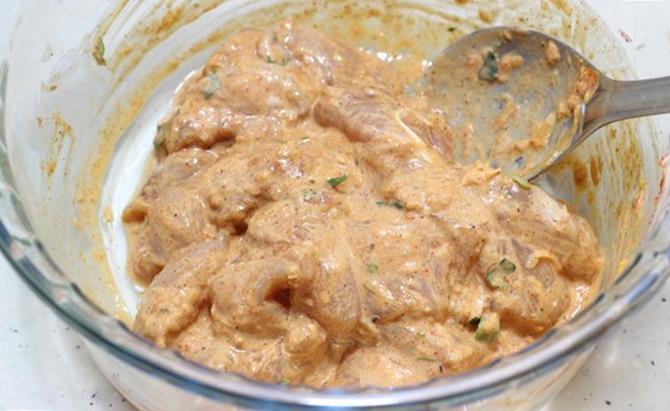 3. Add corn flour and maida or rice flour.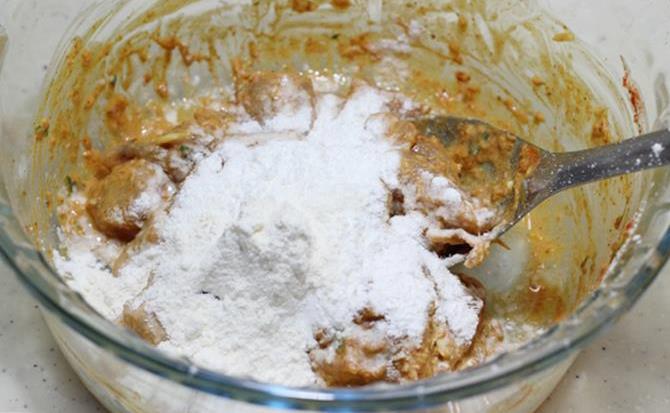 4. Mix well using very little water or egg. one egg for half kg chicken. If you have used yogurt no need to use egg. But if you have not used yogurt, i suggest using egg since it will locks the meat juices and prevent it from becoming hard when fried. Since i have used yogurt i did not use egg.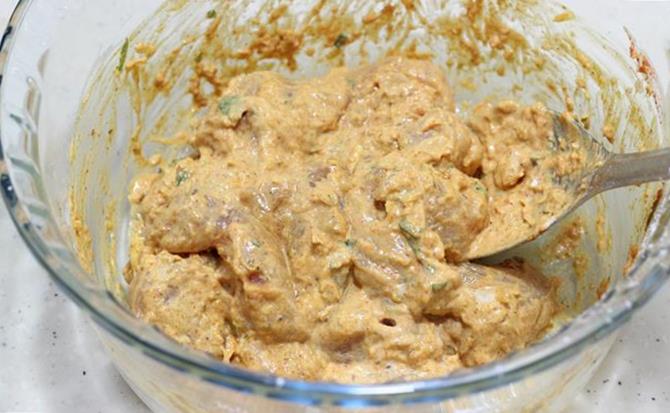 Frying chicken
5. Heat oil and deep fry until golden.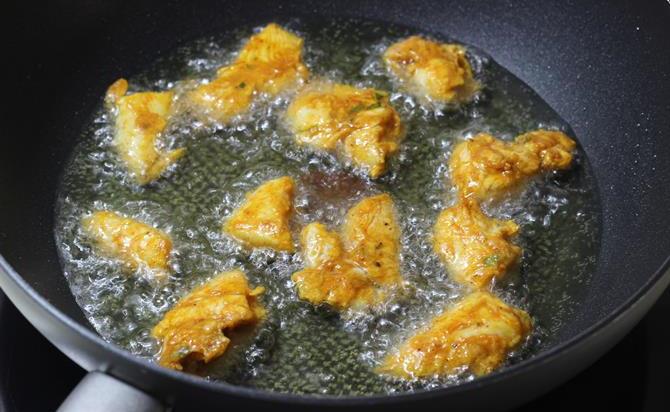 6. Drain them on a kitchen tissue.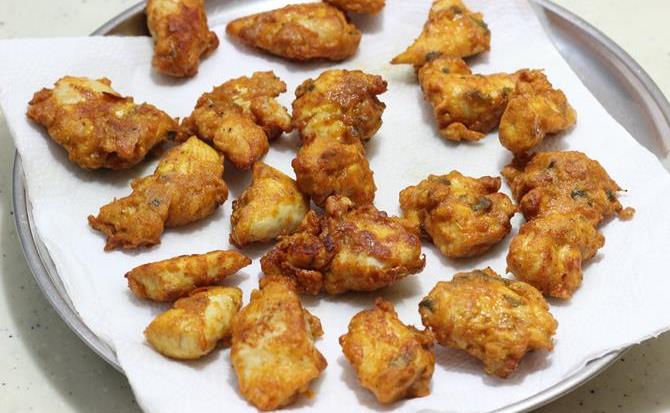 How to make chicken 65 recipe
7. Add garlic paste, red chili powder, salt, very little sugar and yogurt or vinegar with 2 tbsp. water to a bowl. To remove the pungent taste of garlic very little sugar is used but that doesn't sweeten the dish. Some restaurants use yogurt, some use vinegar. To make andhra style chicken65 use yogurt.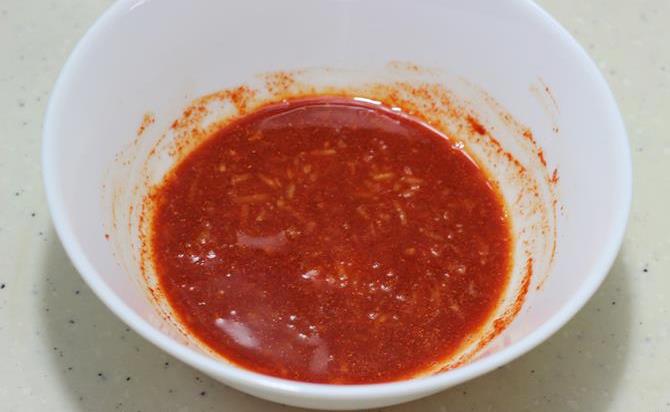 8. Transfer the oil to a bowl from the pan and retain just 1/2 to 1 tbsp. oil. Add garlic, when it is lightly fried add cumin, chilies and curry leaves.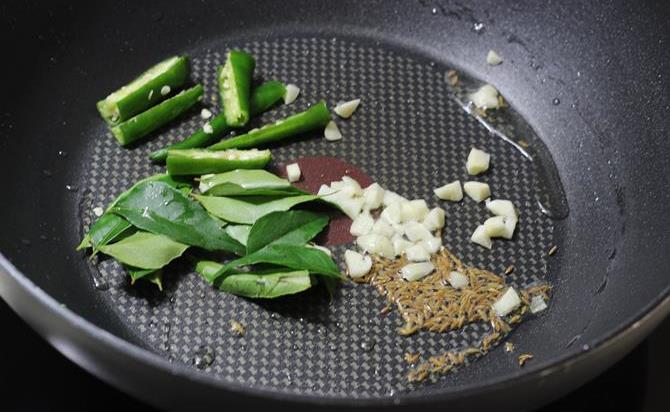 9. When the curry leaves turn crisp, add the mixture we just made above.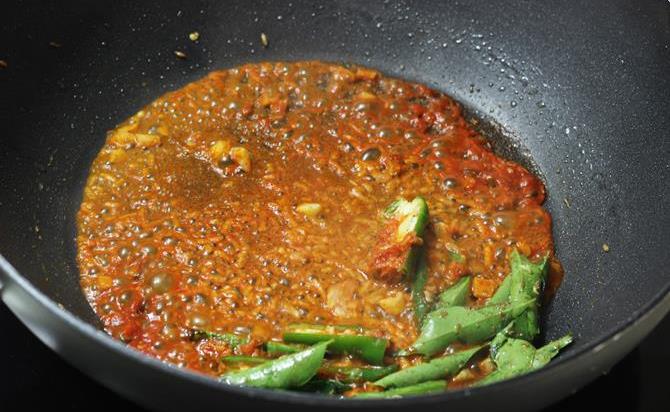 10. Allow it to thicken a bit.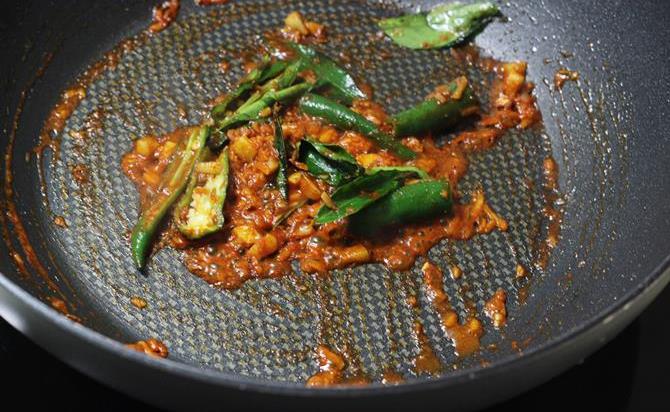 11. Add the fried chicken and saute for 2 to 3 minutes to coat the mixture well.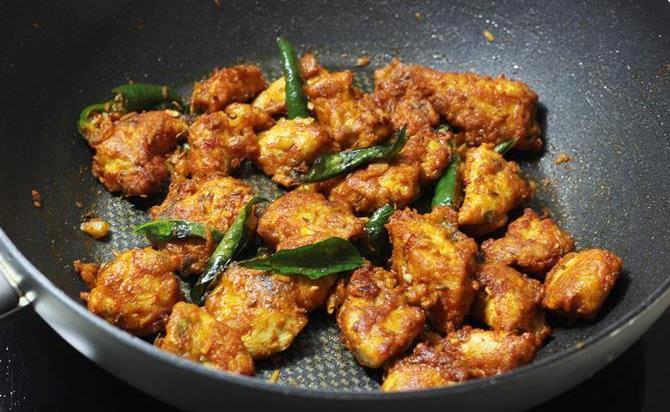 Delicious, juicy chicken starter is ready, serve with onion wedges.