Peanut chikki recipe under 30 mins with easy step by step photo guide and video. Make the perfect chikki that's crunchy, delicious and truly addictive!! This 2 ingredient, peanut and jaggery sweet snack confectionery is nutrient dense, healthy and refined sugar free. In this post I also share lots of tips and tricks to make peanut chikki that doesn't get sticky or turn stringy but turns out perfectly crunchy.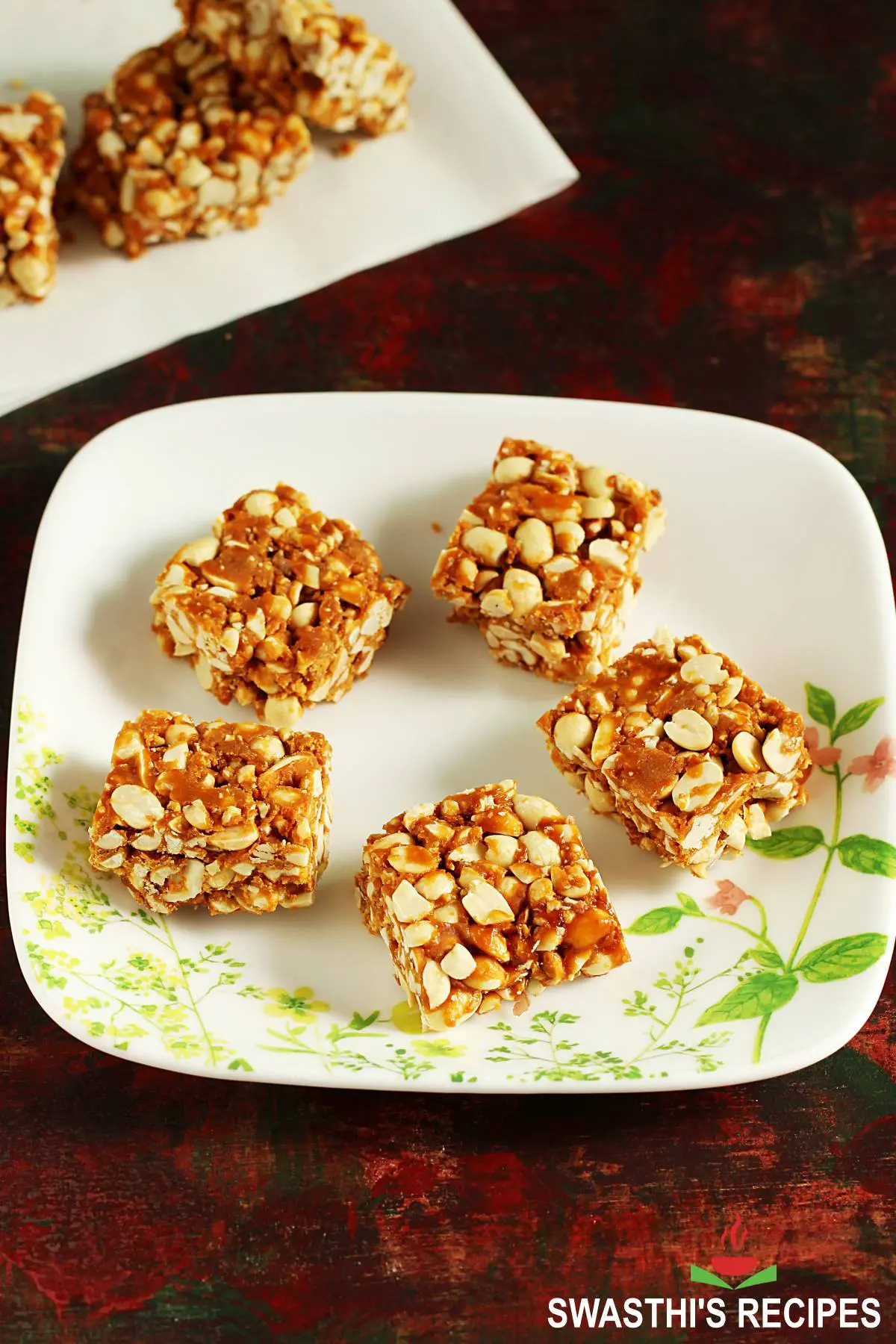 About Peanut Chikki
Chikki is a traditional Indian sweet candy like brittle made with jaggery, nuts and seeds. Various roasted crunchy ingredients like peanuts, almonds, cashews, sesame seeds, puffed rice, roasted chana dal and dried coconut are used to make a chikki. There are many varieties of chikki made and every variety is named after the ingredient used.
Peanut chikki is made by stirring crunchy roasted & skinned peanuts in a hot viscous jaggery solution. The hot mixture is allowed to set hard as slabs which are further sliced to squares.
Also known as gud dani, gud patti, kadalai mittai and palli patti, peanut chikki is everyone's favorite and is enjoyed in all parts of India. It is also made during festivals like Sankranti and Dusshera in South India.
This energy boosting treat is equally healthy and nutritious since it uses jaggery, an Indian unrefined sweetener made from Sugarcane juice.
While it is convenient to buy peanut chikki from the Indian stores, the homemade version is healthier. The store bough versions most times have the liquid glucose or corn syrup or even refined sugar added to them for the crunch.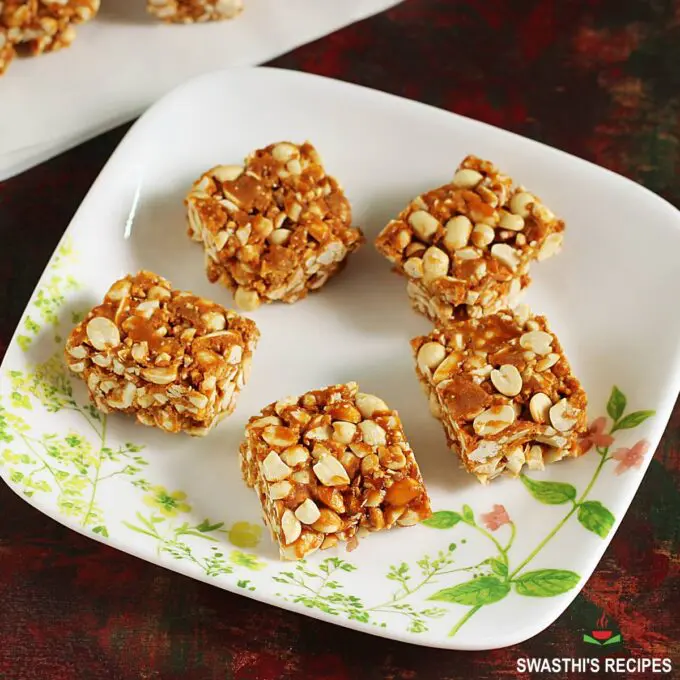 My Recipe
This easy recipe will teach you how to master making chikki at home.
Peanut chikki has always been a favorite with my kids and for years they enjoyed the homemade versions made by my Mom & MIL during our visits to India. However many of my trails in Singapore ended up in failure.
Later I figured out that using the right kind of jaggery is very important to make a proper chikki.
There are numerous kinds of jaggery available in the market these days. Not all kinds of jaggery work well to make a crunchy chikki. Premium quality jaggery like organic ball jaggery or unrefined jaggery are not suitable to make chikki as it turns stringy even after reaching the hard ball consistency.
A lot of times even organic jaggery powder do not work well. Most often export quality jaggery has lesser additives & is lesser processed to conform & pass the quality tests.
So If you are living abroad & trying to make with locally bought jaggery then you may or may not succeed in making good chikki.
The results may vary with every batch of jaggery you buy. I had lot of readers asking me about why the chikki turns stringy even after reaching the hard ball consistency so I am sharing the details here.
To make perfect chikki, choose normal jaggery. Avoid the premium quality ones labelled like – organic, unrefined, pure jaggery, no added chemicals, evaporated sugarcane juice powder etc.
If you are unable to find the normal one, then just replace 6 tbsps of jaggery with 4 tbsps refined sugar in the recipe.
More Sweets Recipes
Jalebi recipe
Kalakand recipe
7 cup burfi
Mysore pak
Preparation for chikki recipe
1. Dry roast 1 cup peanuts on a medium to low heat stirring often.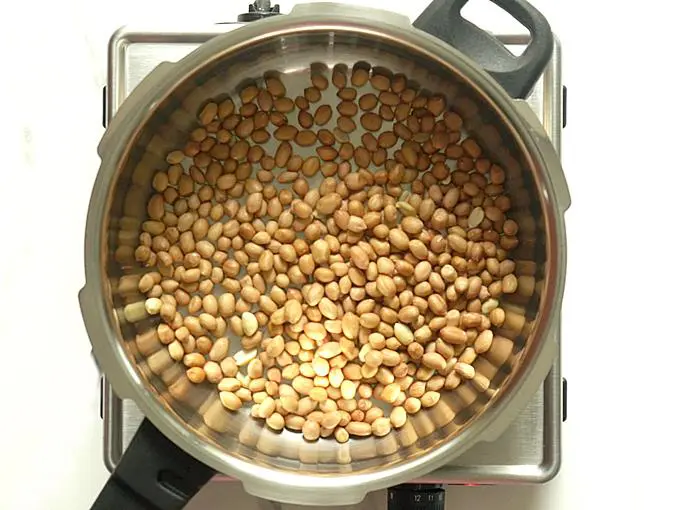 2. When they are half done, the skin begins to come off. Continue to roast until the peanut turns slightly golden. Remove the skin and check. Not only the peanut skin even the nut has to turn slightly golden to bring out the aroma of peanuts.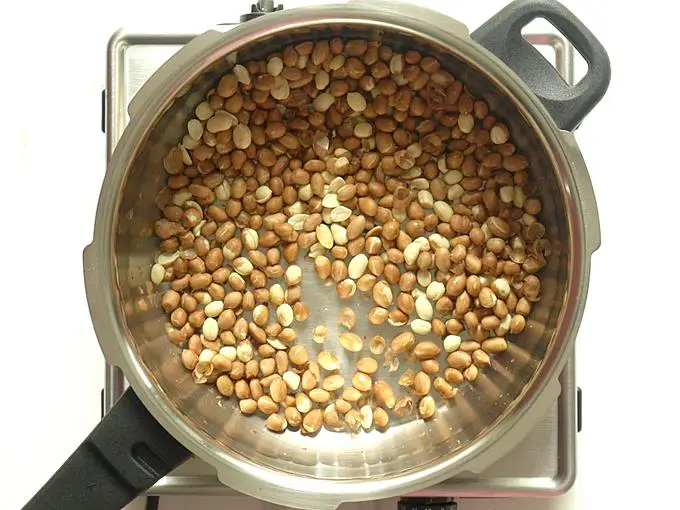 3. Cool them completely. Begin to remove the skin by crushing the nuts gently with the base of a cup. You can also transfer the nuts to a cloth and cover. Then crush the nuts gently just to loosen the skin.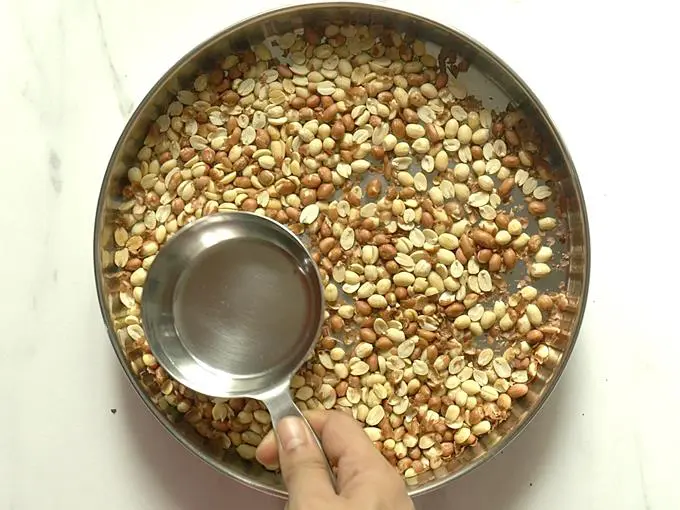 4. Separate the skin from the peanuts.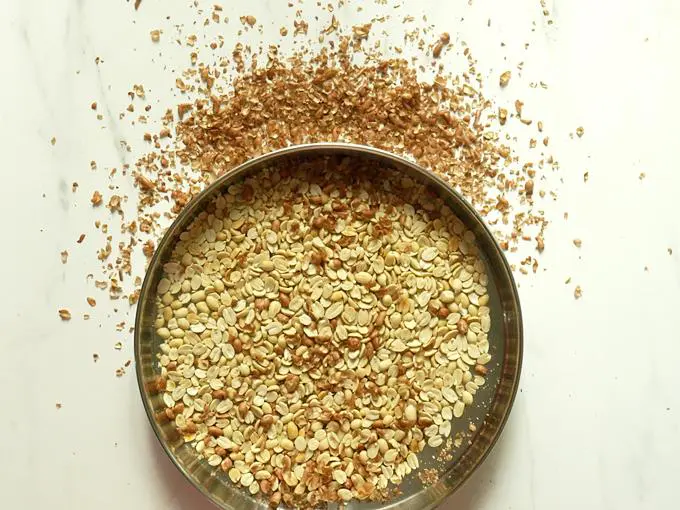 5. This is an optional step but we do it just to bring out the nutty aroma of peanuts. Gently crush the peanuts with the base of a cup for 1 to 2 mins. You can also pulse 2 tbsps of peanuts in a grinder and use. Set the peanuts aside.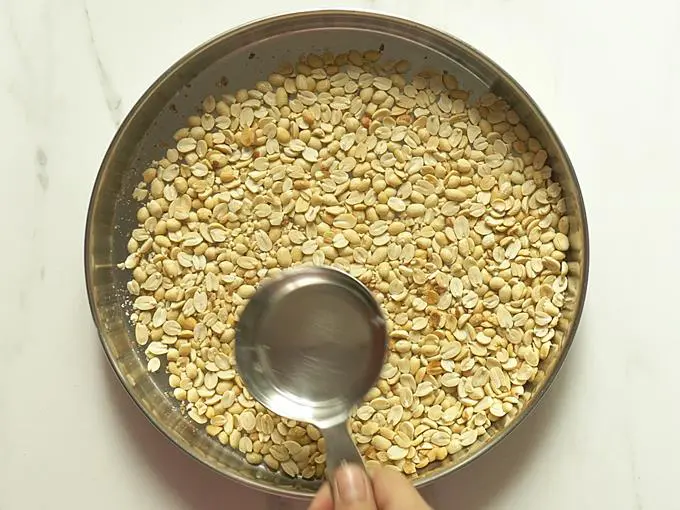 6. Grease a plate, knife and rolling pin. You can also grease the base of a steel cup and use. Pour 1 cup water to a bowl and keep it handy for checking the jaggery syrup consistency.
Making jaggery syrup for chikki
7. Add 140 to 150 grams grated jaggery (¾ cup + 2 tbsp) to a heavy bottom pot or pan.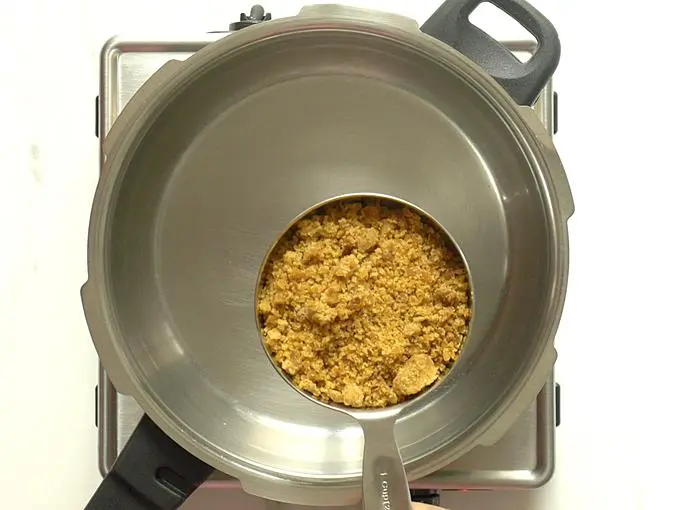 8. Pour 1 tbsp water.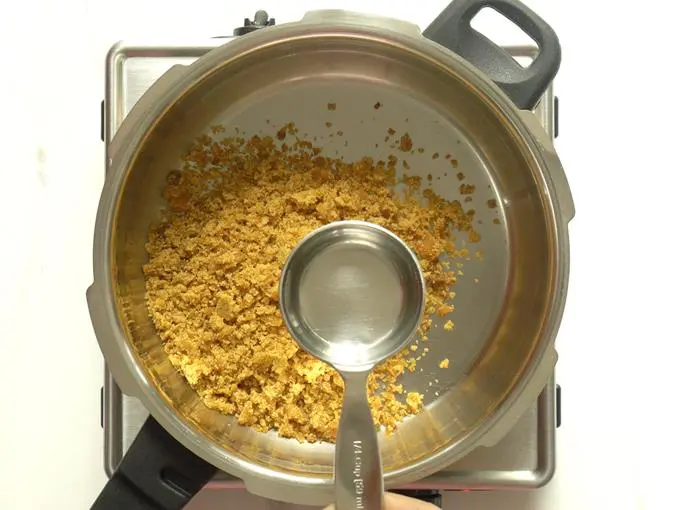 9. Begin to dissolve on a low to medium heat.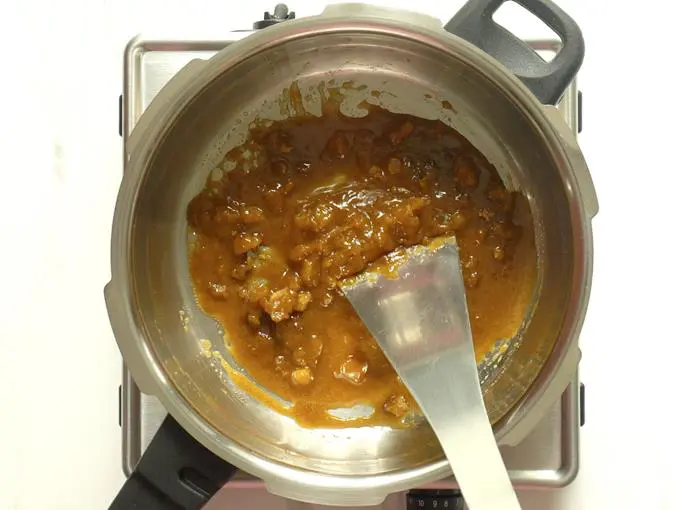 10. When it is completely dissolved, add 1 tsp ghee. If you find any impurities in jaggery, you can filter it at this stage.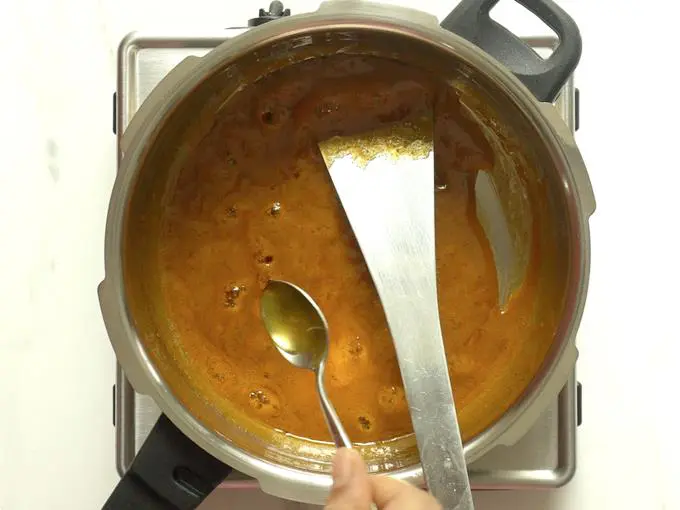 11. Begin to boil on a medium to low heat, stirring constantly until the syrup bubbles well and thickens slightly.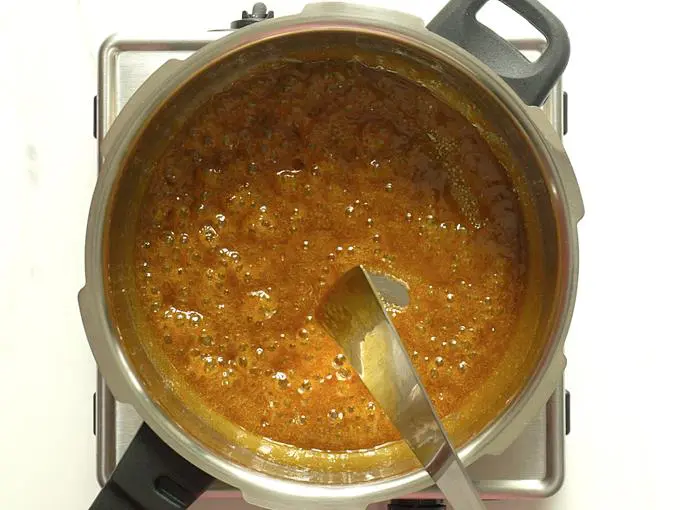 12. Keep checking the syrup consistency. To check, drop a few drops of jaggery syrup to the water.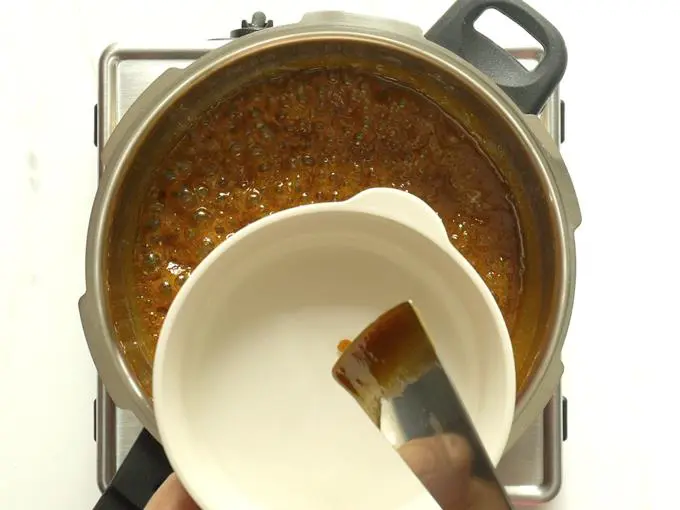 13. The first stage will be soft ball consistency. This is not the consistency we need for chikki recipe. Add back the jaggery ball to the pan. So continue to cook beyond this stage.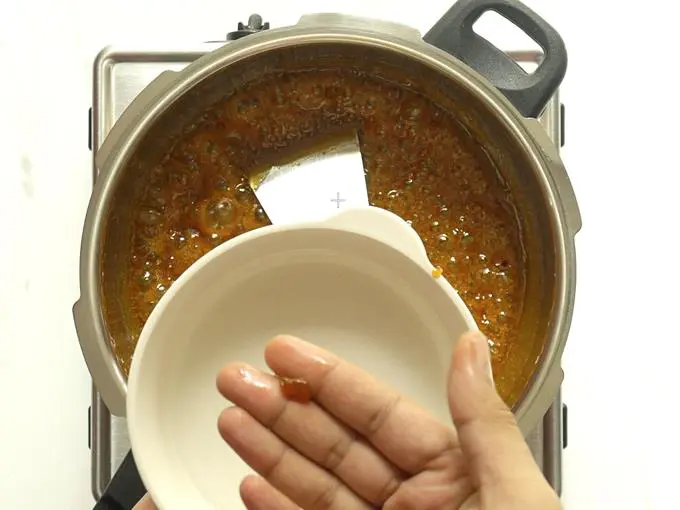 14. After a while, repeat checking by dropping the jaggery syrup again.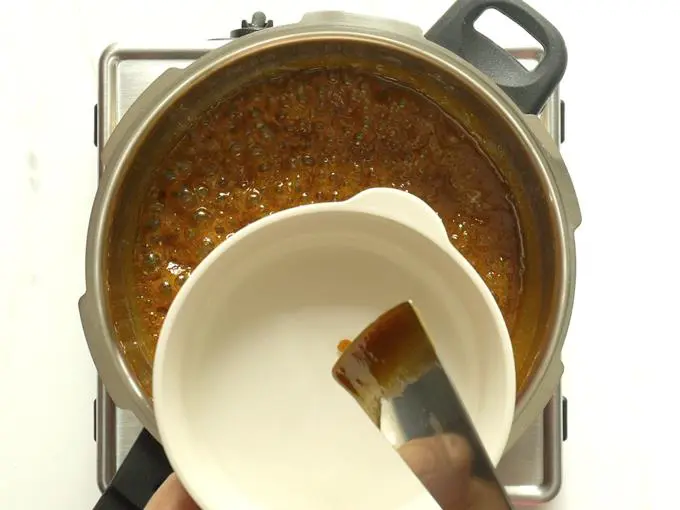 Consistency of jaggery syrup for chikki
15. In between the soft ball stage and the hard ball stage you will come across this stage. It is not soft nor like a brittle.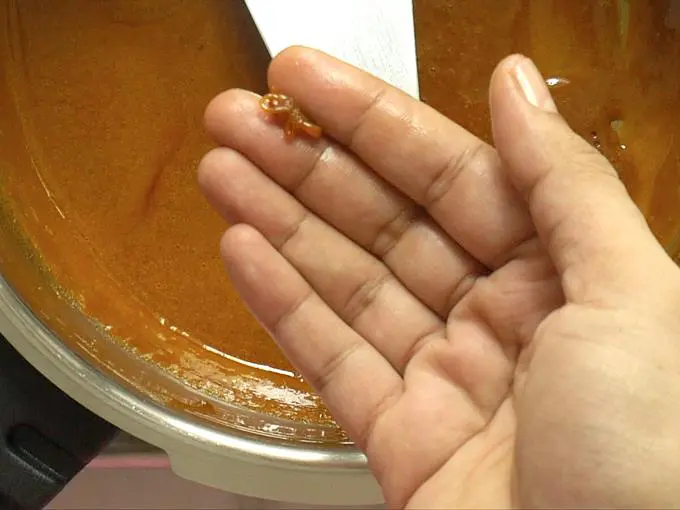 16. When you try to break it turns stringy and then breaks. This is not the consistency we are looking for.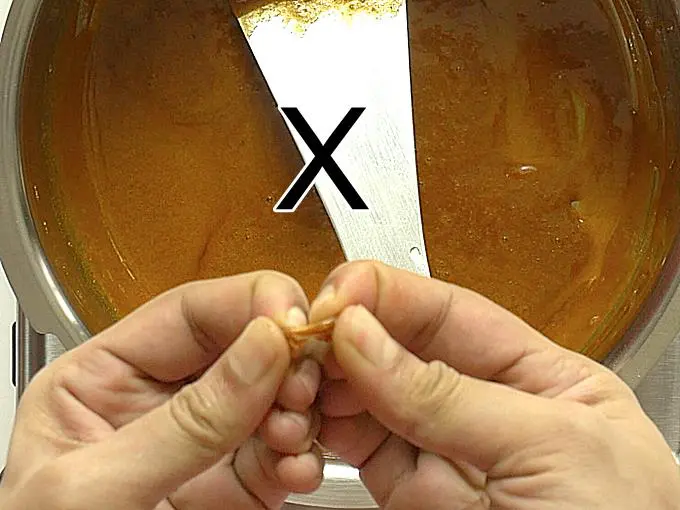 17. Lower the flame completely and be alert as it is coming to an end stage. Continue to stir and cook for a little while. Not too long, check again by dropping the syrup. When it reaches the right consistency, jaggery syrup will harden immediately when dropped to cold water and forms a brittle.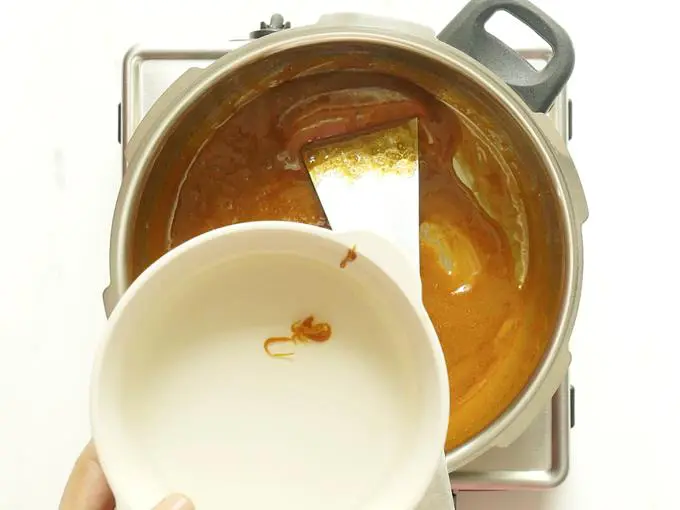 18. Remove it and break. It must be like a brittle or candy and should not be stringy. If you are unable to get this brittle then try cooking further for few seconds.
If you fail to get this brittle, just use up the syrup for something else. This will not give you good chikki.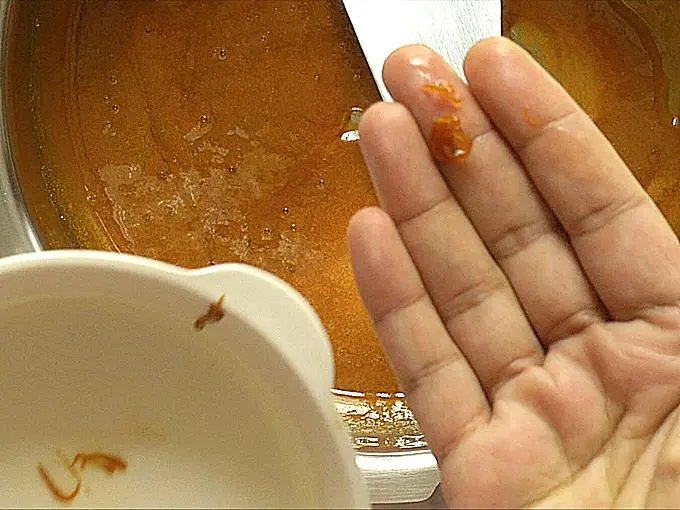 How to make peanut chikki
19. Turn off and remove from fire. Mix in the peanuts.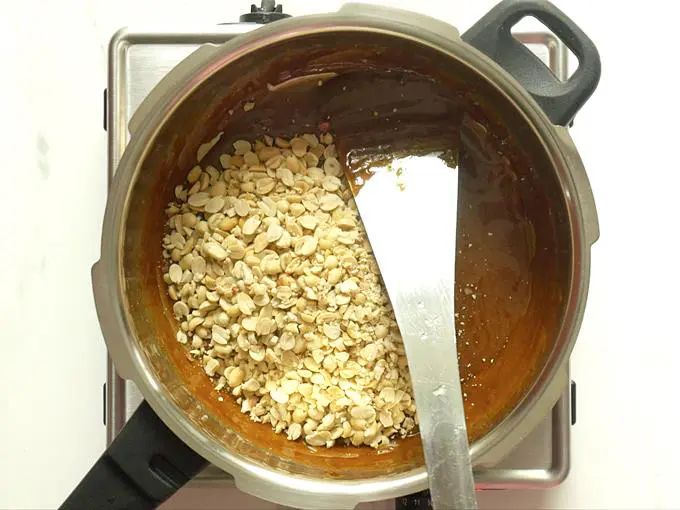 20. Be quick and stir in the peanuts well with jaggery syrup.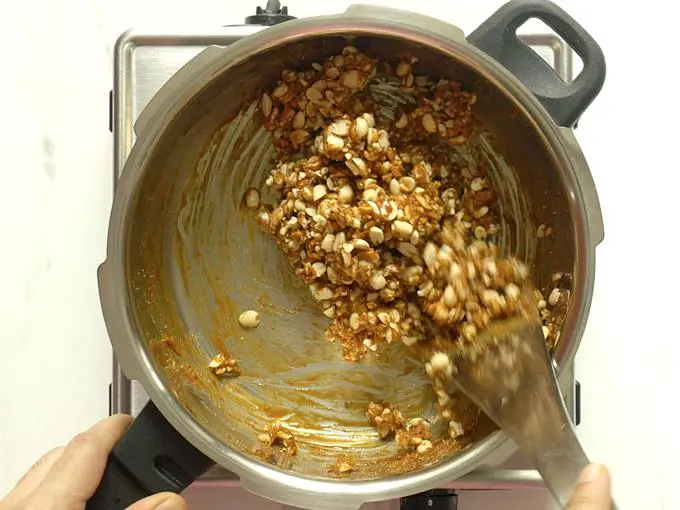 21. Immediately transfer to the plate. Quickly I shaped it to a rectangle with spatula. Roll with the rolling pin to level the top. You can roll it as thin as possible. You can also use a greased cup to level the top.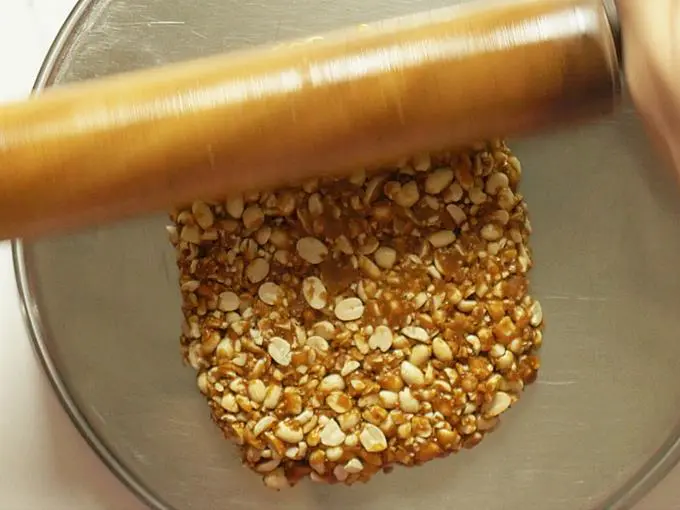 22. Make marks when it is hot. Cut them while still warm.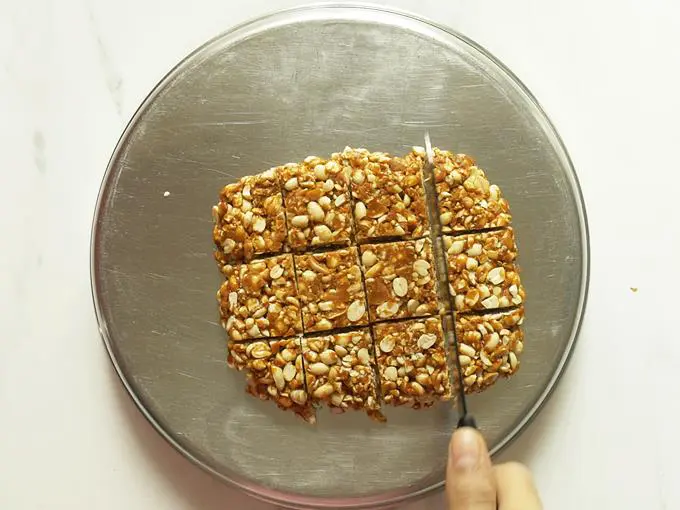 Cool completely and store peanut chikki in air tight jar.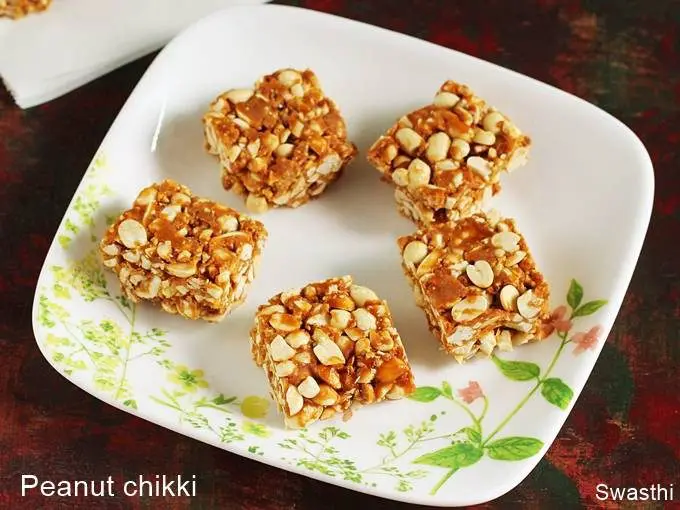 Faqs
Is Chikki healthy to eat?
Yes chikki is healthy to eat if made with jaggery. Ingredients like corn syrup, liquid glucose and refined sugar are not healthy so avoid using them in your chikki.
Is chikki made of jaggery?
Yes traditionally chikki is made with jaggery. Though in the modern days you find the store bought ones has sugar in them.
Who invented chikki?
Chikki was invented by Maganlal Agarwal in the 19th Century, at Lonavla, an Hill station near Mumbai. The original version was named gud dani and was made with just 3 ingredients – Peanuts, Jaggery and Ghee.
Can I use sugar to make chikki?
Yes you can use sugar to make chikki. Cook the sugar syrup until a hard ball consistency is achieved and then stir in the roasted skinned peanuts.
Related Recipes
Recipe Card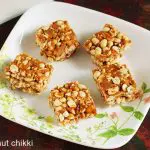 Peanut Chikki Recipe
Chikki is a Indian sweet traditionally made with jaggery and peanuts. There are different variations made with sesame seeds, cashews etc. Peanut chikki is one of the most common version made with roasted and skinned peanuts.
Pin Recipe
Print Recipe
For best results follow the step-by-step photos above the recipe card
Ingredients (US cup = 240ml )
1

cup

peanuts

– level the cup

140 to 150

grams

jaggery

(¾ cup + 2 tbsp)

1

tablespoon

water

1

teaspoon

ghee

or coconut oil
Instructions
Roasting Peanuts on Stovetop
Roast peanuts on a medium to low flame in heavy bottom pan, stirring often until deep golden and aromatic. To check remove the skin and look for golden color on the nut. This deep roasting brings out a nutty aroma from peanuts.

Cool and deskin them. To remove the skin easily, wrap in a clean cloth.

Take a cup and gently rub the nuts with the base of the cup. It is easy to separate the nuts from the skin.
Roasting peanuts in Air fryer
Spread the peanuts in a single layer in the air fryer basket. Air fry them at 165 C or 330 F for 5 mins, stirring them every 2 mins until golden and crunchy. If you are using the larger kind of peanuts, you may need another 1 minute.

Once cool rub the nuts with both your hands to loosen the skin completely. Shake the air fryer basket in your kitchen sink to separate the skin and nuts.
How to Make Chikki
Transfer them to a plate and crush them randomly with the base of the cup for 2 to 3 mins. This will crush the peanuts a bit and bring out the nutty aroma of the peanuts. Keep this aside.

Grease a steel plate with little ghee. Set this aside. Next grease a rolling pin or the base of a cup to level the hot chikki mixture.

Keep a small bowl half filled with water ready to check the consistency of jaggery syrup.

Grate the jaggery and add to a heavy bottom pan. Pour just 1 tbsp water.

Begin to dissolve on a low flame.

When it dissolves completely, if you find some impurities, then pass it through a coffee filter.

If needed you can also pour 1 more tbsp water.

Boil the jaggery syrup until it reaches a hard ball brittle consistency.

To know the exact stage please refer to the pictures in the step by step section below.

Lower the flame completely.

To check hard ball brittle consistency, drop little jaggery syrup to the bowl of water.

It must become hard immediately.

Remove and break it. The jaggery piece must break to pieces without getting stringy.

The broken pieces must be like candy or brittle and not soft. This is the right consistency.

If you cook past this stage you will have broken pieces of chikki or burnt jaggery. So turn off.

Add the peanuts and mix well.

Quickly pour this to the steel plate. With the help of a spatula, shape to a rectangle.

Roll the mixture with the rolling pin evenly.

Within a minute it will set. so you must be fast. Cut to pieces, when it is still slightly hot.

Cool completely and break the peanut chikki to pieces. Store in a air tight jar.
Notes
I made the chikki with just 3/4 cup jaggery hence the mixture looks dry. You can use up to 1 cup jaggery if you prefer more jaggery in the peanut chikki.
Alternative quantities provided in the recipe card are for 1x only, original recipe.
For best results follow my detailed step-by-step photo instructions and tips above the recipe card.
Video
Video of peanut chikki recipe
NUTRITION INFO (estimation only)
Nutrition Facts
Peanut Chikki Recipe
Amount Per Serving
Calories 111
Calories from Fat 54
% Daily Value*
Fat 6g9%
Cholesterol 1mg0%
Sodium 2mg0%
Potassium 90mg3%
Carbohydrates 11g4%
Protein 3g6%
Calcium 16mg2%
Iron 0.6mg3%
* Percent Daily Values are based on a 2000 calorie diet.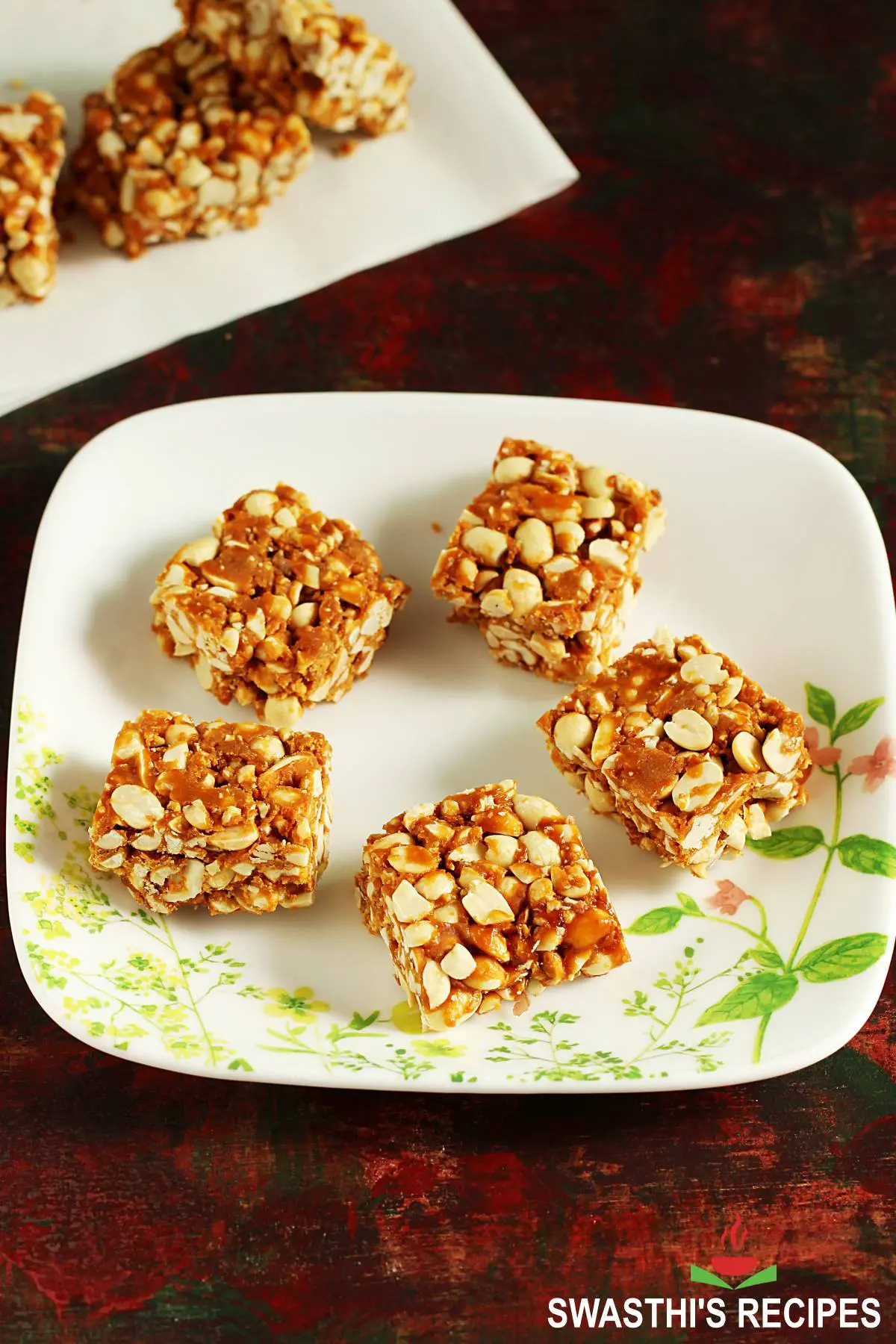 About Swasthi
I'm Swasthi Shreekanth, the recipe developer, food photographer & food writer behind Swasthi's Recipes. My aim is to help you cook great Indian food with my time-tested recipes. After 2 decades of experience in practical Indian cooking I started this blog to help people cook better & more often at home. Whether you are a novice or an experienced cook I am sure Swasthi's Recipes will assist you to enhance your cooking skills.
Follow Swasthi's Recipes