Falooda Recipe (Faluda Ice Cream)
Falooda is an iconic frozen dessert that you'll find at every restaurant, ice cream bar /parlors & food joints in the Indian subcontinent. But did you know it's one of the easiest to make at home? Also, you can always customize it to your taste with your favorite ingredients & toppings. And refills are always free!!! In this post I share the recipe to make a delicious falooda, in the simplest way. I also have the substitutes for ingredients to make faluda. In fact you can make your own jelly and ice cream too without machine, following my tips section.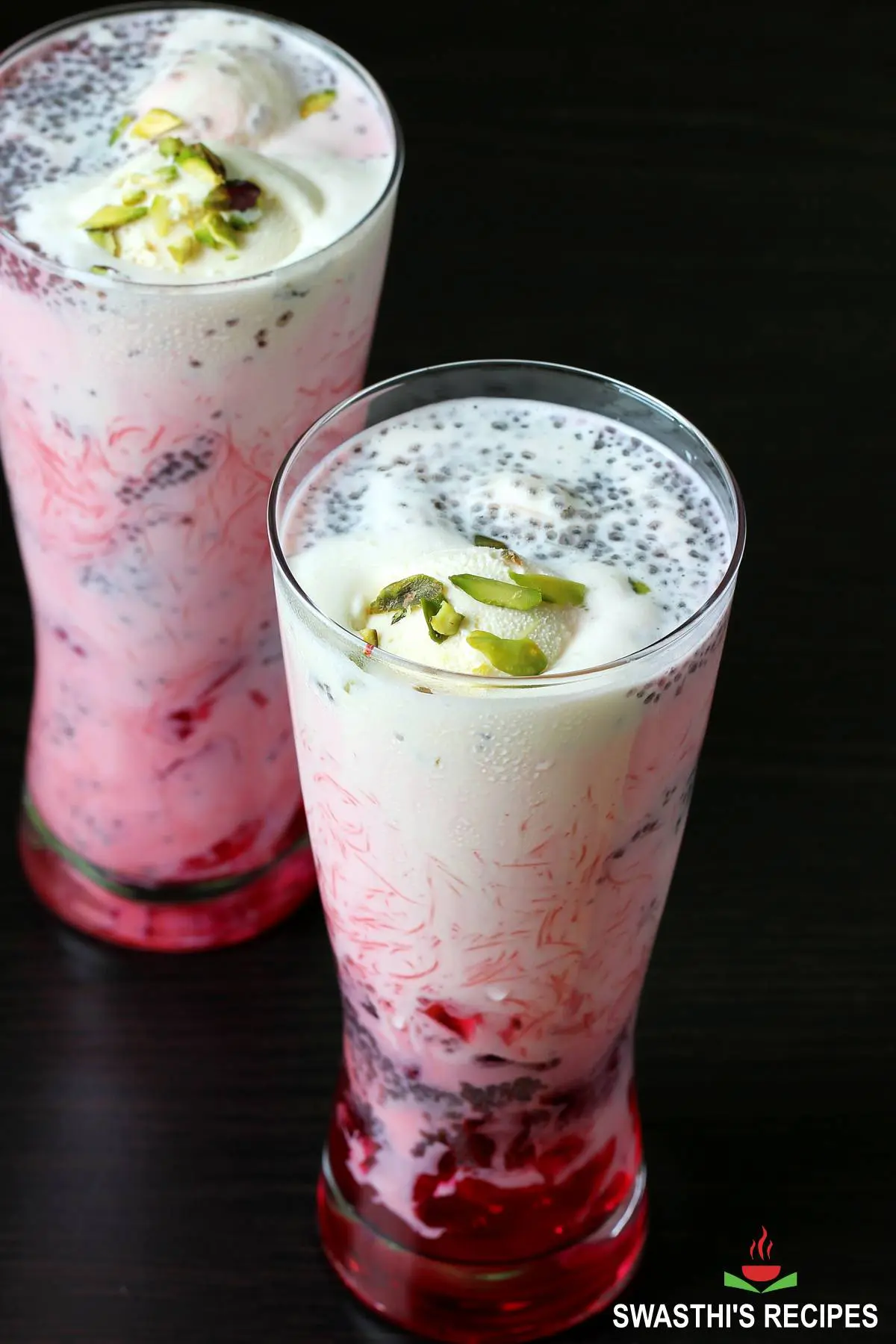 This super good dessert is great to enjoy on a hot and humid day, when you crave for something cold.
About Falooda
Falooda is a popular Ice cream dessert made with vermicelli, jelly, rose syrup, sabja seeds, milk and ice cream. Also spelled as 'Faluda', it is popular in India, Pakistan and the middle-east. Falooda is an Indian Mughlai version of the Persian dessert "faloodeh". There are many versions of faloodeh found all over Asian countries.
Similar versions of this dessert are popular across Asian countries and is known by different names.
To make falooda, various ingredients are added in several layers and then topped with an ice cream and nuts, dried fruits, glazed cherries etc. So this is similar to an Ice cream float.
Making this at home is super easy. Grab the things, prepare and assemble!!
Ingredients & Substitutes
Vermicelli or sev: To make falooda, usually thin vermicelli made of corn starch are used. These are known as falooda sev and have a distinct milky taste and flavor.
They are also soft, silky and have a melt in the mouth texture. However falooda sev can be replaced with thin vermicelli made with wheat flour. But you will notice the nutty flavor of the wheat. If you want that milky and silky smooth vermicelli read my faq section below to make your own falooda sev at home.
Milk: To make falooda rich and creamy, full fat milk is ideal to use. If you are a vegan then you can also use vegan milk.
Ice cream: I have used this homemade VANILLA ICE CREAM, you can also use store bought. But make sure you use an eggless ice cream, otherwise the egg smell dominates the falooda. You can also use kulfi if you don't have ice cream.
Sabja seeds also known as Tukmaria or sweet basil seeds are the key ingredient in falooda. These seeds have amazing health benefits & are said to be cooling to the body. Using these seeds during summer keeps the body cool. Adding these seeds to falooda makes it a real summer treat.
If you do not have them, simply replace with chia seeds. But the aroma of sabja seeds will be missing in your falooda. If you want to know more about you can check this link sabja seeds.
Rose syrup is similar to any other flavored syrup. If you do not get rose syrup simply replace with rooh afza or strawberry syrup. You can also make your own rose syrup at home following my faq section below.
Jelly: Rose jelly or strawberry jelly goes well in a falooda. If ready jelly is not available where you live you can also use store bought ready to make jelly crystal powder. You will just need to stir the powder with hot or room temperature water and rest as mentioned on the pack. It will set and form to a jelly.
Most jellies sold in the stores have gelatin & the ready to make crystals come with lots of chemicals. So I made mine using agar agar which I have shared below in the recipe & faq section.
The pictures and the video shared in this post were shot at two different times so there is a variation in the color of the rose syrup and the jelly used. In the video I have used organic rose syrup and homemade jelly which I made using agar agar & rose syrup.
For more summer desserts, you can check
Kulfi
Lassi
Mango kulfi
Fruit custard
Shrikhand recipe
Rabri
Basundi
How to Make Falooda (Stepwise Photos)
1. Clean half tablespoon falooda seeds and rinse them. I usually add them to a large bowl of water and drain them to a tea strainer. Then add more water and soak. You can also directly add them to a tea strainer and rinse them under running water. Soak them in half cup water.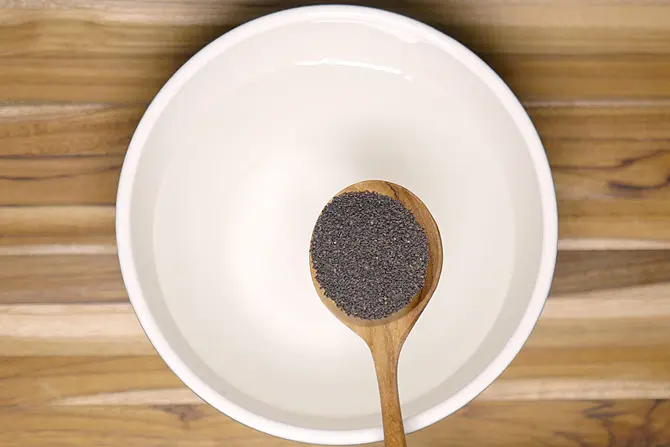 2. Soak them for about 20 minutes to 2 hours. They will swell up and absorb water. When you are ready to make the falooda, drain them to a tea strainer to get rid of excess water.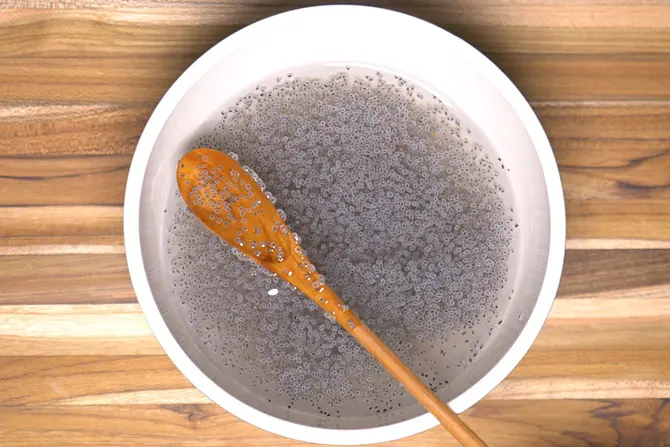 3. There are different kinds of falooda sev. Some need to be soaked in hot water and some require boiling for a minute. So follow the instructions on your pack. I had to bring water to a boil in a pot or pan. Then add half cup sev and cook until they are done for 2 mins. Follow the instructions on the pack for cooking time as it varies depending on the brand used. Once cooked drain these and set aside.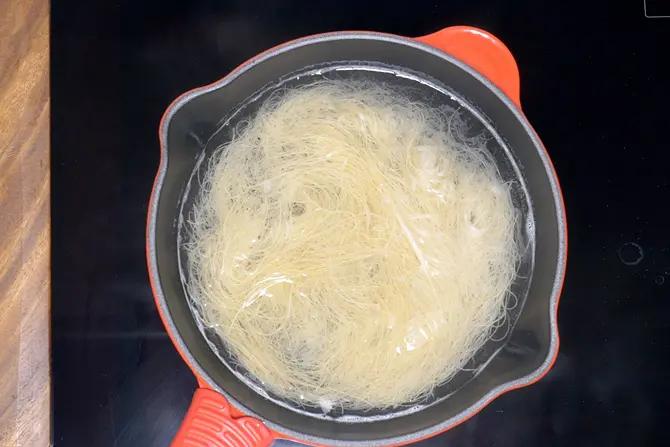 4. Add 2 to 3 tablespoons sugar to 1¾ cups chilled milk.
Tip: To make falooda rich and tasty, boil 2 cups milk with 2 to 3 tbsps sugar until it reduces to 1¾ cups. Cool this and chill. If you want to skip this step, you may use chilled sweetened milk directly & add more ice cream to your falooda. Alternately for an extremely rich falooda, you can make rabdi with 3 cups milk by boiling until it reduces to 1½ cups.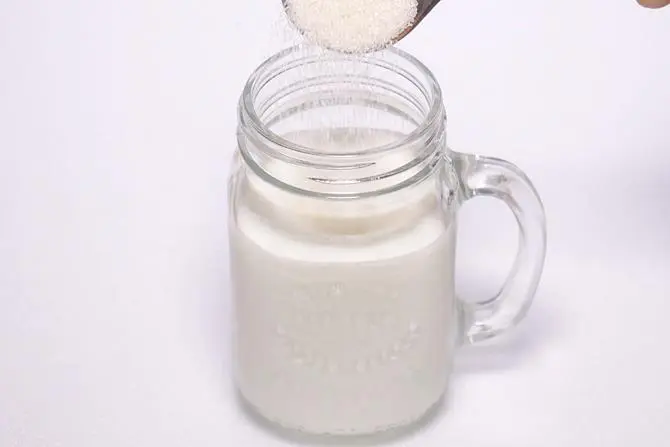 5. Stir it until dissolved.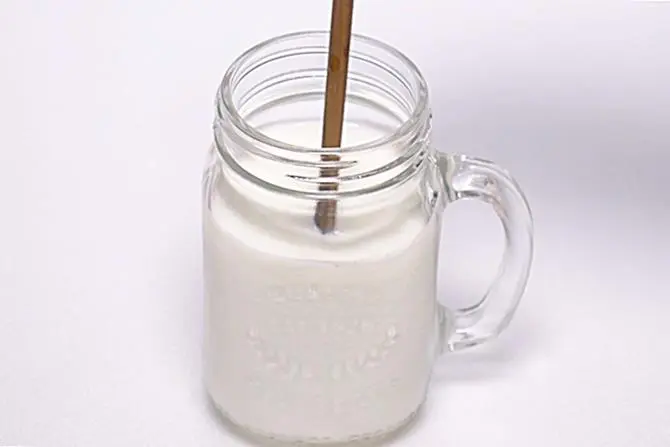 Assemble Faluda
6. Using jelly is optional. I made it using agar agar and organic rose syrup. Add 1 tablespoon jelly.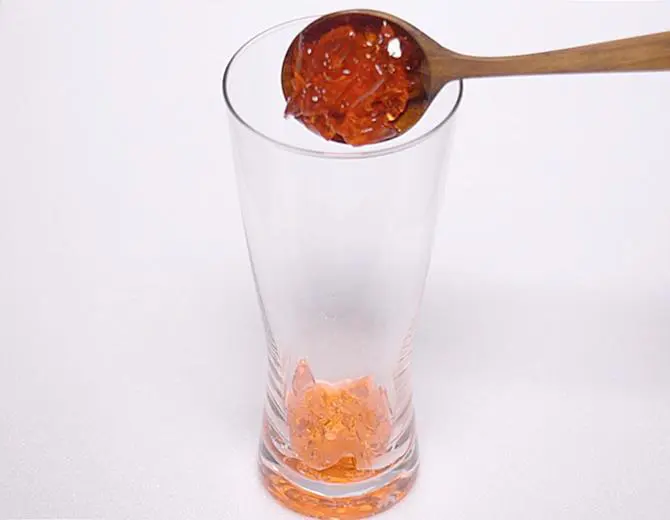 7. Add 1 tablespoon sabja seeds. Ensure there is no water in your sabja seeds.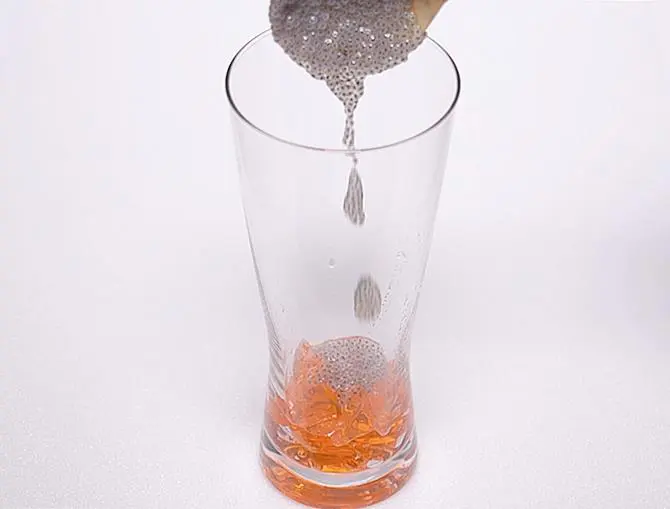 8. Add 2 to 3 tbsps of sev. Make sure there is no water in your sev.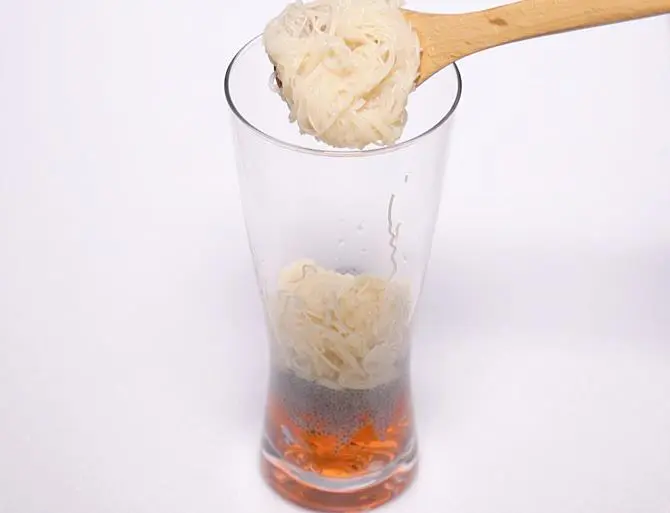 9. Pour 1 to 2 tablespoons rose syrup.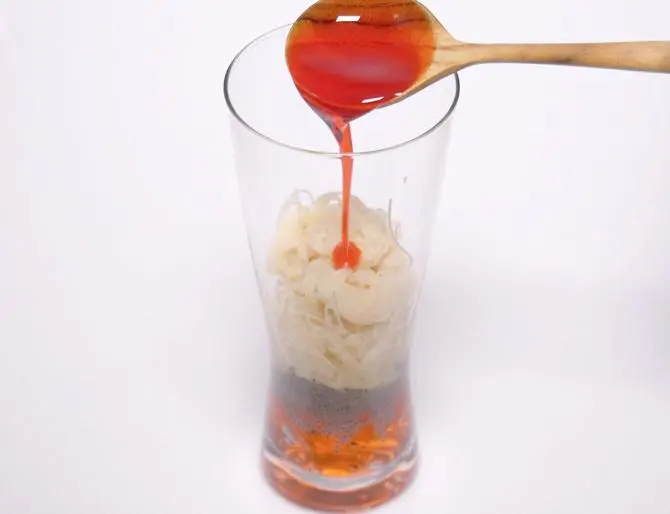 10. Next transfer chilled milk.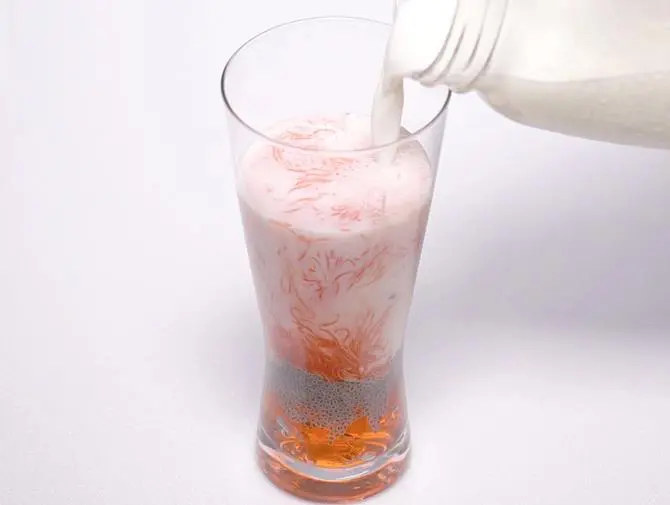 11. Scoop off the ice cream and top it.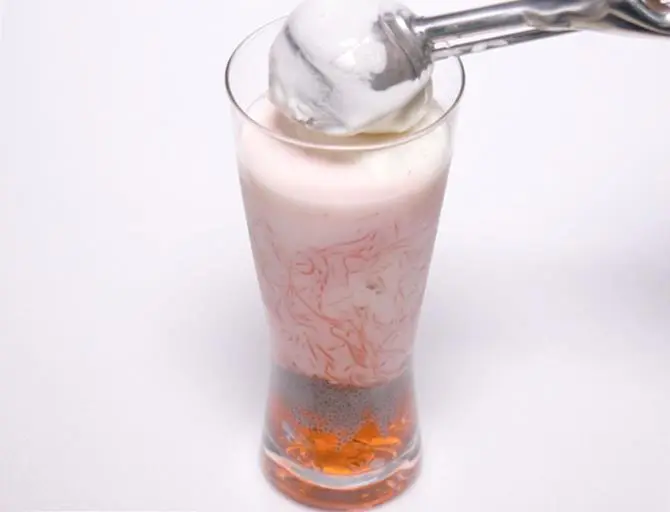 Garnish falooda with chopped pistachios or any other nuts. You can pour 1 tbsp rose syrup and garnish with cherries.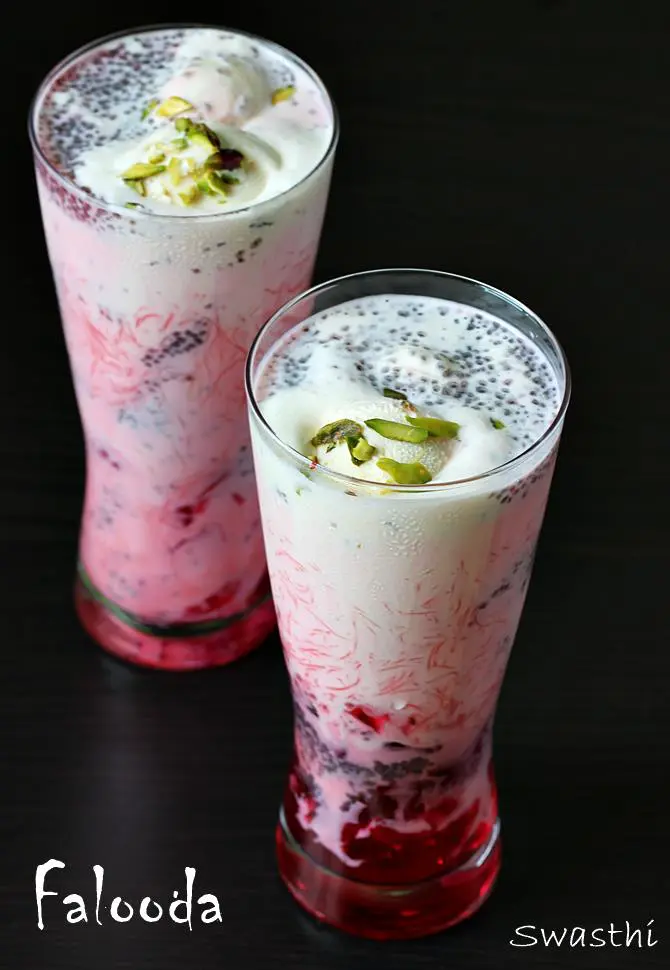 Pro Tips
Sugar: Adjust the quantity of sugar in the milk. This depends on the brand and quantity of rose syrup or rooh afza you use. Note that jelly, rose syrup/ rooh afza and ice cream are sweetened so add sugar accordingly. I have mentioned the quantities I use and this can vary depending on the brands.
Make ahead: You can make this ahead by preparing every layer of the falooda separately. Refrigerate the prepared ingredients and just assemble when you are ready to serve. You can prepare the following
Soak sabja seeds and refrigerate for upto 3 days.
Prepare jelly if making at home and store it in air tight box in the refrigerator.
Boil falooda sev. Cool completely and Immerse in fresh clean water and refrigerate for 2 days.
Boil the milk or make rabdi and refrigerate upto a week in a clean dry air tight bottle or container.
Toast and slice the nuts.
Boiling milk: For a rich falooda, boil milk with sugar until slightly thick. Cool and then chill it. You can add pasteurized chilled milk directly but I always felt slightly thickened milk gives a better taste to the falooda. A lot of places serving falooda also thicken this milk with corn starch to give that thicker consistency.
To save time, you can totally skip this boiling and chilling step. Use pasteurized chilled milk and more ice cream in your falooda.
Seeds: If you don't like sabja seeds or chia seeds in falooda simply add boiled sabudana / tapioca pearls. This is the local version we get in a lot of places in Singapore.
Variation: As I mentioned there are lots of variations of this dessert. We get so many kinds in Singapore too. Here is another version which is super quick and easy. Boil sabudana with water and milk until slightly thick. Then add sugar and boil further for 2 to 3 mins. It must be of pouring consistency. Chill it.
Pour the cooled sabudana to serving glasses. Pour rose syrup or rooh afza and gently stir. Add jelly and Top with ice cream.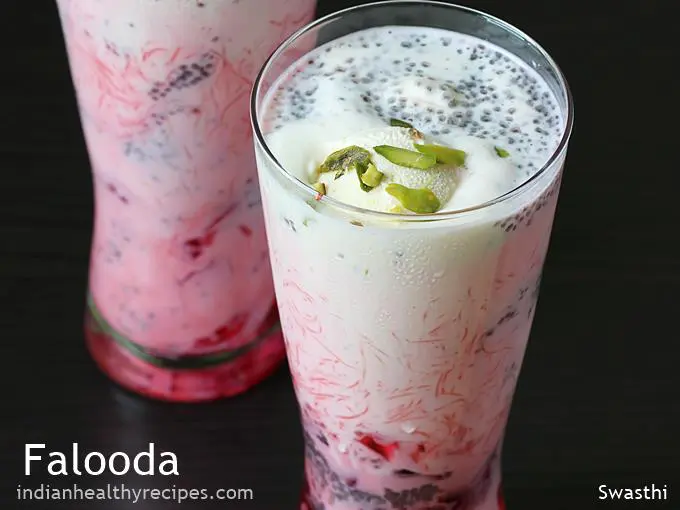 Faqs
How to make rose syrup?
Simply stir together equal amounts of rose petals, water and sugar in a pot and boil until the mixture turns sticky. Stir in rose syrup & simmer for a minute. Mix lemon juice and strain the rose syrup
How to make rabri falooda?
To make rabri falooda, instead of the milk pour rabri to the serving glasses. You can follow this recipe to make rabri at home.
How to make falooda sev?
Mix half cup corn starch with ½ cup water until smooth. Add 1 cup water and 2 tablespoons sugar. Cook this until thick like halwa. Transfer the hot mixture to a sev maker with thin sev mould fitted to it. Press down the sev maker so the sev drops in a bowl of ice cold water. Refrigerate for an hour undisturbed. Later drain and use them.
How to make jelly for falooda?
To make your own jelly, stir together 300 ml cold water with 4 tbsps refined sugar & 1 teaspoon agar agar powder (2.5 to 3 grams). Bring it to a boil. Add few drops of color and turn off. Pour and set in a bowl. To quicken you can also store it in the refrigerator. Cut the jelly with knife.
Alternately you can substitute some of the water with rose syrup & cut down the sugar slightly. I use about 50 ml for the above quantities. But note that the color slightly changes as the agar agar boils. Like as seen in the step by step pictures mine turned out orange.
More Info: You can make your own jelly at home the way I make with agar agar also known as china grass. This is easily available in Asian grocery stores, Chinese stores or in health stores. It is also available in Japanese stores and is labelled as dried Kanten or kanten powder.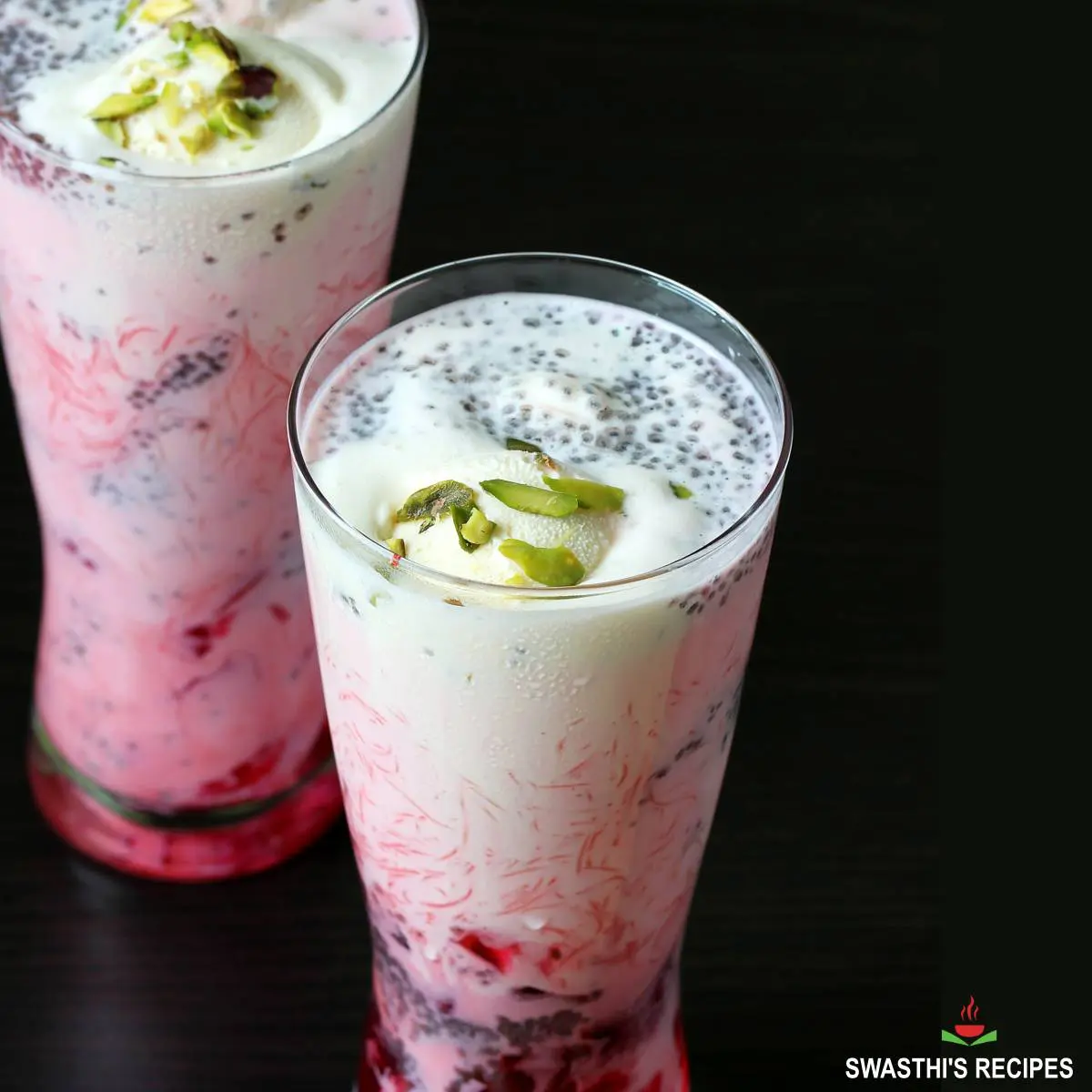 Related Recipes
Recipe Card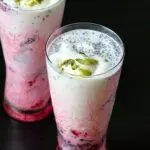 Falooda Recipe (Faluda Ice Cream)
Falooda is a popular ice cream dessert made with sweet basil seeds, vermicelli, rose syrup, milk and ice cream. Falooda is simple to make if you have ice cream & other ingredients.
Print Recipe
Pin Recipe
Jump to Comments
For best results follow the step-by-step photos above the recipe card
Ingredients (US cup = 240ml )
1¾

cups

full fat milk

(chilled, 400 ML)

3

tablespoon

sugar

(organic, adjust to taste)

½

tablespoon

sabja seeds

(tukumaria seeds, substitute with chia)

½

cup

water

(to soak sabja seeds)

2 to 4

tablespoons

rose syrup

(or rooh afza, use as needed)

½

cup

falooda sev

or any thin vermicelli or semiya

2 to 4

tablespoons

jelly

(rose or strawberry, optional)

4

scoops

vanilla ice cream

2 to 4

tablespoons

chopped nuts

(pistachios, cashews, almonds)

2

glazed cherries

optional
Instructions
Chill the milk and add sugar to it. Stir well until dissolved.

You can also boil the milk until it reduces and thickens a bit. Usually milk is boiled until it reduces to half. Then chilled.

Add falooda seeds to a tea strainer and rinse them with clean water.

Soak them in a bowl of water for 20 minutes. Drain them to the tea strainer if there is excess water. If you skip this step your falooda will thin down with the excess water.
Preparing sev
Check the instructions on the falooda sev pack. Some need just a hot water soak and some require boiling. Mine was supposed to be boiled. Bring 2 cups of water to a boil in a pot.

Add vermicelli or sev and cook until just done. Follow the instructions on the pack for cook time.

Drain excess water and set aside.
How to make falooda
You will need 2 large serving glasses. Add jelly to the glass first if using.

Then sabja seeds. Add vermicelli and then rose syrup.

Next pour chilled milk, followed by more jelly if you wish.

Then scoop off the ice cream and add it to the glass. Sprinkle fine chopped nuts. Top with glazed cherries if you have.

Serve falooda immediately.
(optional) Jelly for falooda or buy ready made
Dissolve ⅓ sugar, 5 grams of agar in 500 ml of water. Pour ½ cup rose syrup and stir. Check the sweetness and add more sugar if you prefer.

Bring it to a boil and simmer for 1 to 2 mins. Add in a a few drops of organic food color.

Turn off and pour it to a bowl or tray for setting.

Cut to desired sizes and store in fridge until use.
Notes
Adjust the amount of sugar in the milk. It depends on the sweetness of your rose syrup. If you are using a lot of rose syrup then you may cut down the sugar.
Alternative quantities provided in the recipe card are for 1x only, original recipe.
For best results follow my detailed step-by-step photo instructions and tips above the recipe card.
NUTRITION INFO (estimation only)
Nutrition Facts
Falooda Recipe (Faluda Ice Cream)
Amount Per Serving
Calories 814
Calories from Fat 198
% Daily Value*
Fat 22g34%
Cholesterol 80mg27%
Sodium 331mg14%
Potassium 583mg17%
Carbohydrates 141g47%
Protein 14g28%
Vitamin A 907IU18%
Vitamin C 3mg4%
Calcium 433mg43%
Iron 1mg6%
* Percent Daily Values are based on a 2000 calorie diet.
Falooda Recipe first published in April 2017. Updated and republished in April 2021.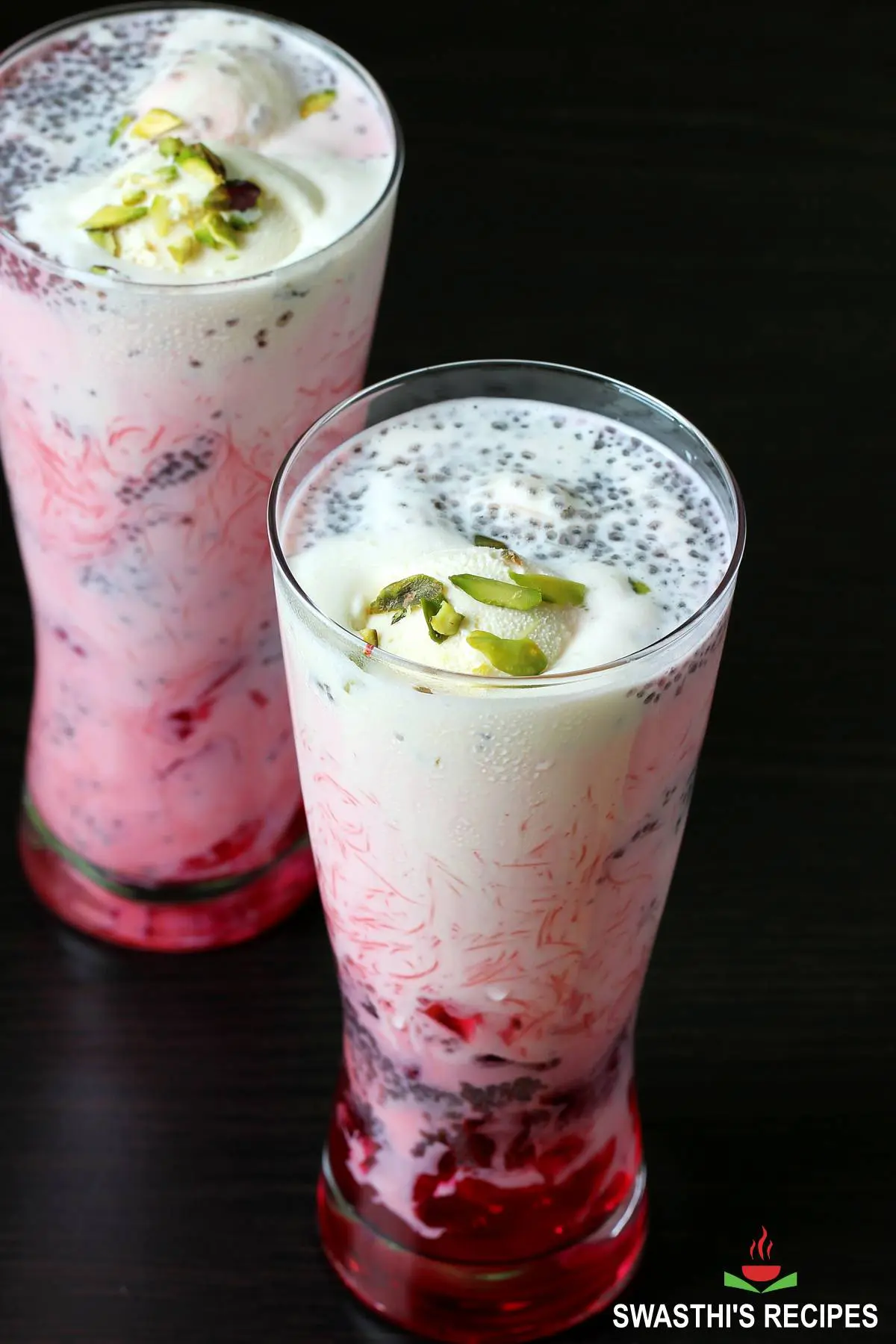 About Swasthi
I'm Swasthi Shreekanth, the recipe developer, food photographer & food writer behind Swasthi's Recipes. My aim is to help you cook great Indian food with my time-tested recipes. After 2 decades of experience in practical Indian cooking I started this blog to help people cook better & more often at home. Whether you are a novice or an experienced cook I am sure Swasthi's Recipes will assist you to enhance your cooking skills. More about me
Follow Swasthi's Recipes