Wheatgrass shot recipe – Learn how to make wheatgrass shots at home and experience the immense health benefits. Wheatgrass, the young shoots of the whole wheat grain or berries are gaining popularity as the new super food. The health benefits of consuming wheatgrass regularly are numerous and is said to keep many health issues at bay. Like most other plants, wheatgrass too contains high chlorophyll, enzymes, amino acids, minerals and vitamins that nourishes, detoxifies and alkalizes the body.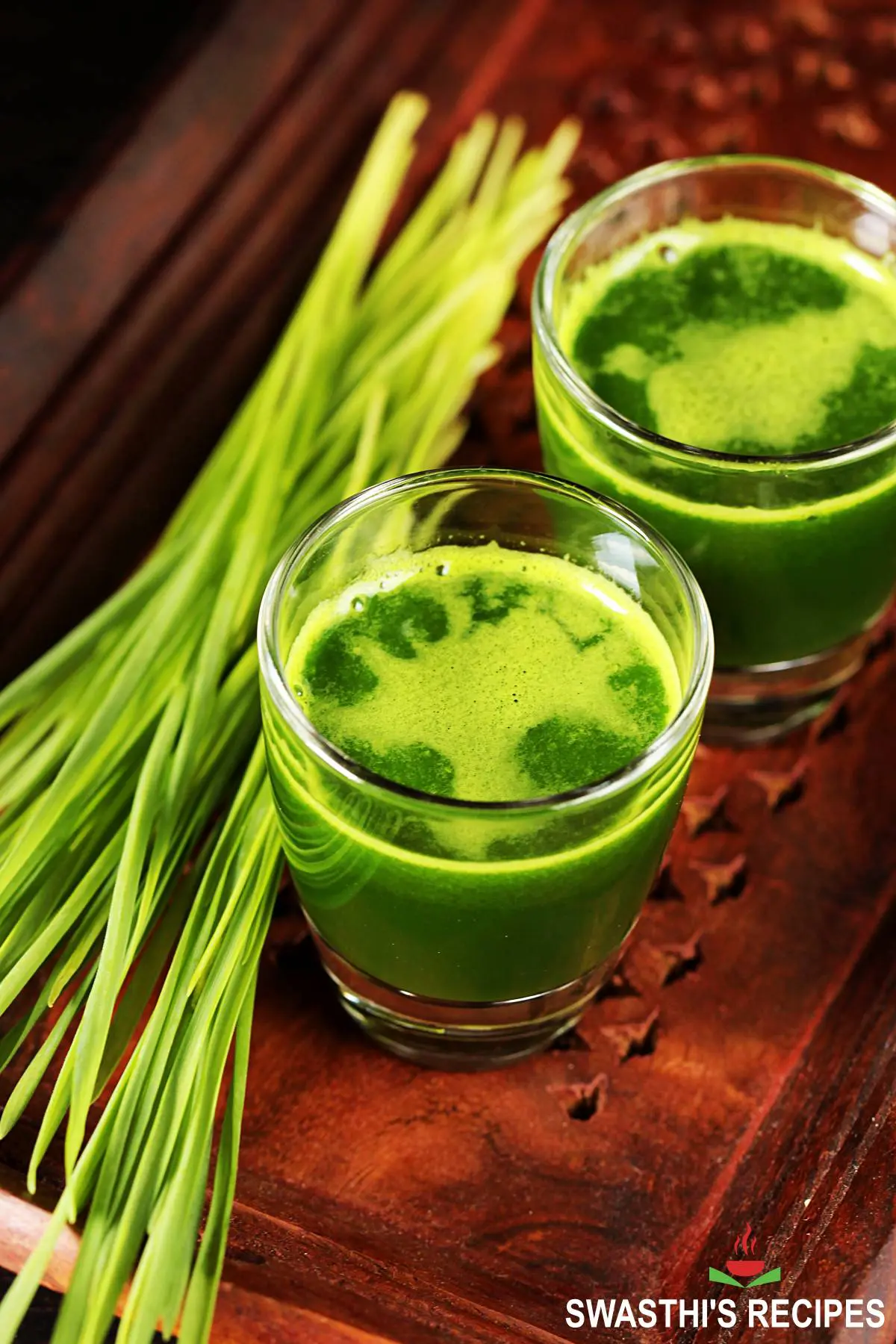 The easiest form of consuming wheat grass is by juicing it along with fruits of your choice. The second way is to make shots which is best for effective results.
About Wheatgrass Shot
Wheatgrass shot is a wellness-drink made with wheatgrass, the young shoots of the whole wheat grain. These shots are prepared by pressing or juicing the wheatgrass. Usually no water or any other liquid is added if made in a slow juicer.
Wheatgrass shots can be anywhere in between 2 to 4 ounces (60 to 120 ml) which is been pressed or juiced without the addition of any other ingredient like water or juice. Pure 100% wheatgrass juice is consumed for maximum health benefits.
While fruit wheat grass juice can be consumed any time of the day, wheatgrass shots are best consumed on a empty stomach (not the first thing after you wakeup). This post comes after several years of consuming (ON & OFF) this wellness beverage.
We initially started juicing wheatgrass with fruits and loved some of the combinations because we there was no strong smell of the grass. I also have a post here on Fruit wheatgrass juice. After a few months, we moved to these shots.
More Juice recipes
Aloe Vera Juice
Watermelon Juice
Orange juice
Amla juice
Pomegranate juice
Carrot juice
Notes
But let me warn you a few things about wheatgrass.
First if you are allergic to pollen, hay or related stuff, stay away from this. This can cause severe allergies.
These shots are not delicious, you will smell the strong grass. It's like drinking grass. But if you are determined to strengthen your health then yes you will be able to have it.
Don't try this if you are sick. We both are healthy and normal people with no known health issues so we absolutely had no problem.
These are best consumed ON & OFF. Take it a few days and then stop. Repeat after several months.
When taken on an empty stomach, the nutrients are better absorbed with in few minutes and the detoxification is best as well. But do not take it as a first food after you wake up.
I have made this in a slower juicer so the oxidation is minimum, hence a bright color. It may be different if made in a blender.
Start with a smaller quantity to check if you have any allergies. I started with just 5 ml and my husband with 30 ml. Also wait and watch for 2 to 3 days after your first dose of shots.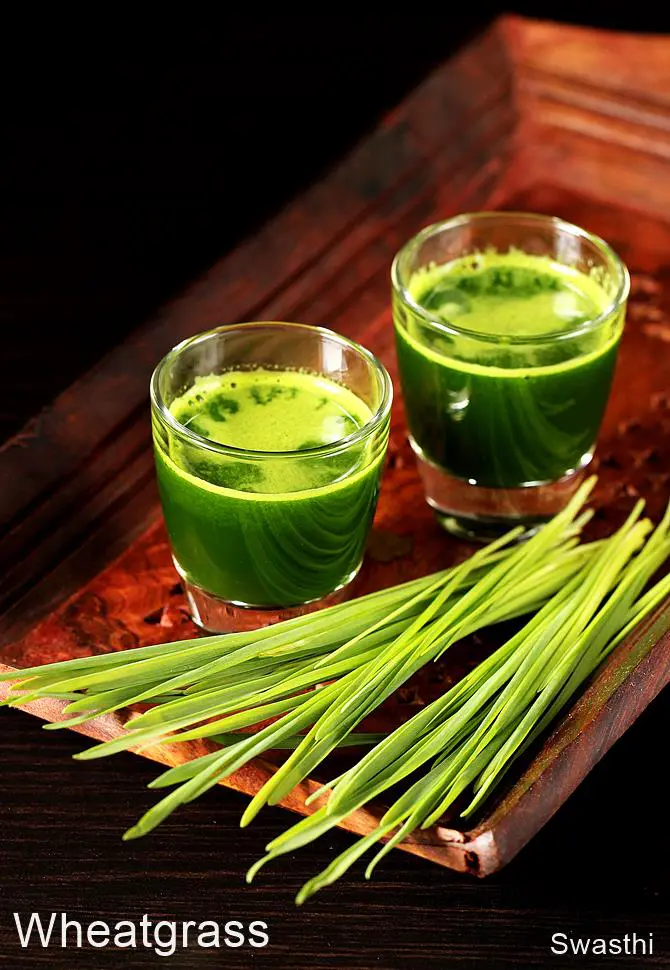 Fresh wheatgrass is available in supermarkets and local organic farms. The live plants are available in pots which can be used as and when needed.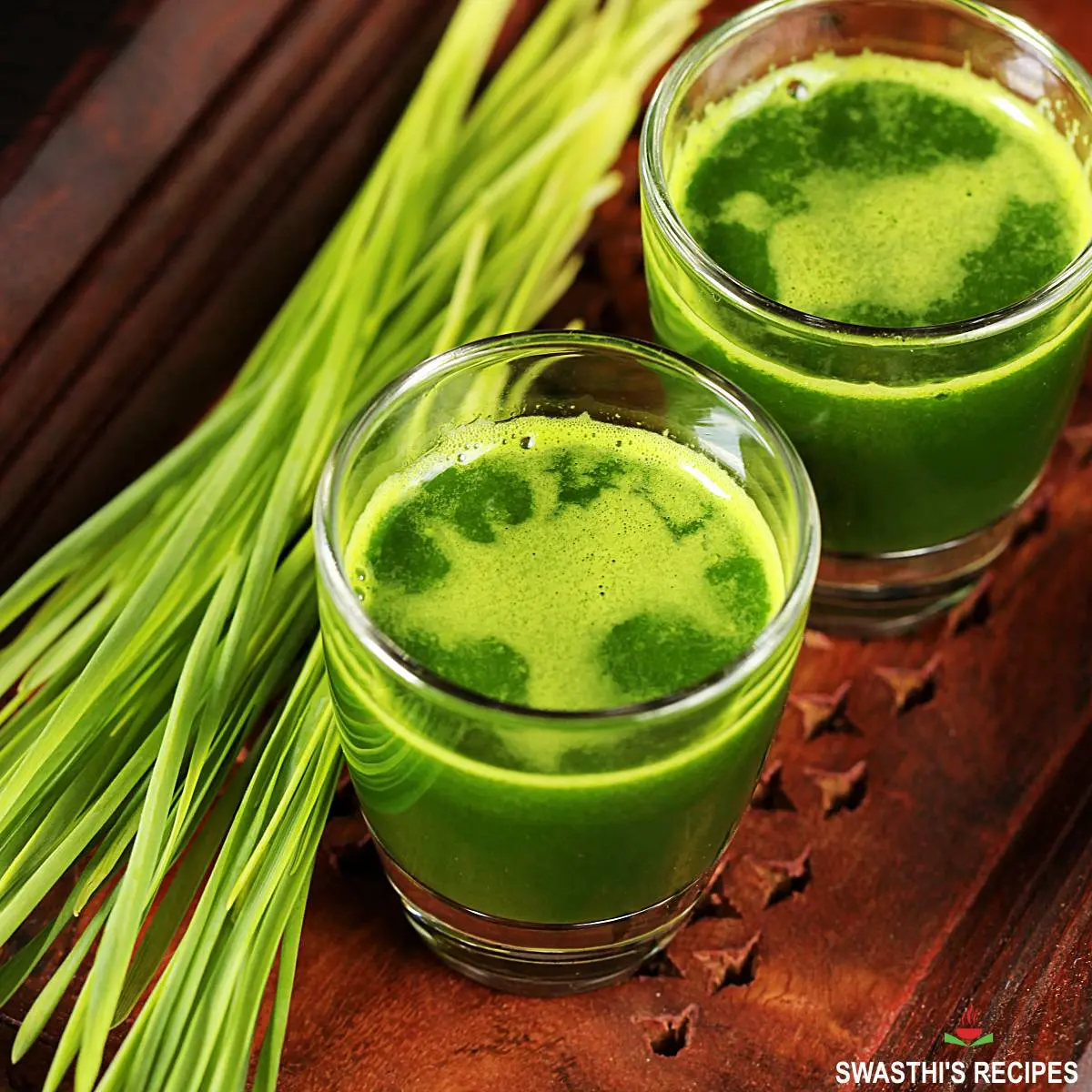 Related Recipes
Recipe Card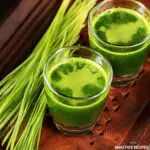 Wheatgrass shot
Wheatgrass shots are healthy, nutritious, detoxifying and alkalize the body. Made with just the young shoots of whole wheat grain, these are a power house of nutrition.
Pin Recipe
Print Recipe
For best results follow the step-by-step photos above the recipe card
Ingredients (US cup = 240ml )
250

grams

Wheatgrass

as needed (preferably organic).
Equipment
Hand pestle or a blender or a slow juicer or any other kind of juicer
Instructions
Preparation
Wash wheatgrass thoroughly under running water. Use fresh and green grass that is young and tender. Discard the yellow grass. Drain completely.

Add them to whatever equipment you want to use.
Wheatgrass shot in slow juicer
Blend completely as much as possible. If making in juicer it gets jammed after making 90 to 120 ml. You will have to remove the pulp manually and continue to juice.
Wheatgrass shot using mortar & hand pestle
If making in a hand pestle, you will have to make a complete smooth paste. Then add it to a cheese cloth and extract the juice.
Wheatgrass shot in blender
If making in a blender too, you will have to add to a cheese cloth. Extract the juice.

Consume 60 to 120 ml immediately after juicing. Within few minutes wheatgrass juice begins to get oxidized and the nutritional values begin to diminish.
Notes
If this is your first time, then dilute 15 ml wheatgrass juice with any other fruit juice and consume. If you do not have any reactions, then then you can slowly increase the quantity of wheatgrass juice mixed with fruit juice. After a week, you can try to consume wheatgrass shots.
Always use organic wheatgrass to keep yourself away from pesticides. Also buy from a reliable source to avoid contamination.
Some of the side effects you may notice – Itchy throat, rashes, allergy, sinus, cold with in few hours of consuming. These symptoms are more likely in folks who have grass or pollen allergies and may last for 5 to 7 days. So if you are allergic to grass, refrain from trying this.
Nutrition values are approximations only
Alternative quantities provided in the recipe card are for 1x only, original recipe.
For best results follow my detailed step-by-step photo instructions and tips above the recipe card.
NUTRITION INFO (estimation only)
Nutrition Facts
Wheatgrass shot
Amount Per Serving
Calories 50
* Percent Daily Values are based on a 2000 calorie diet.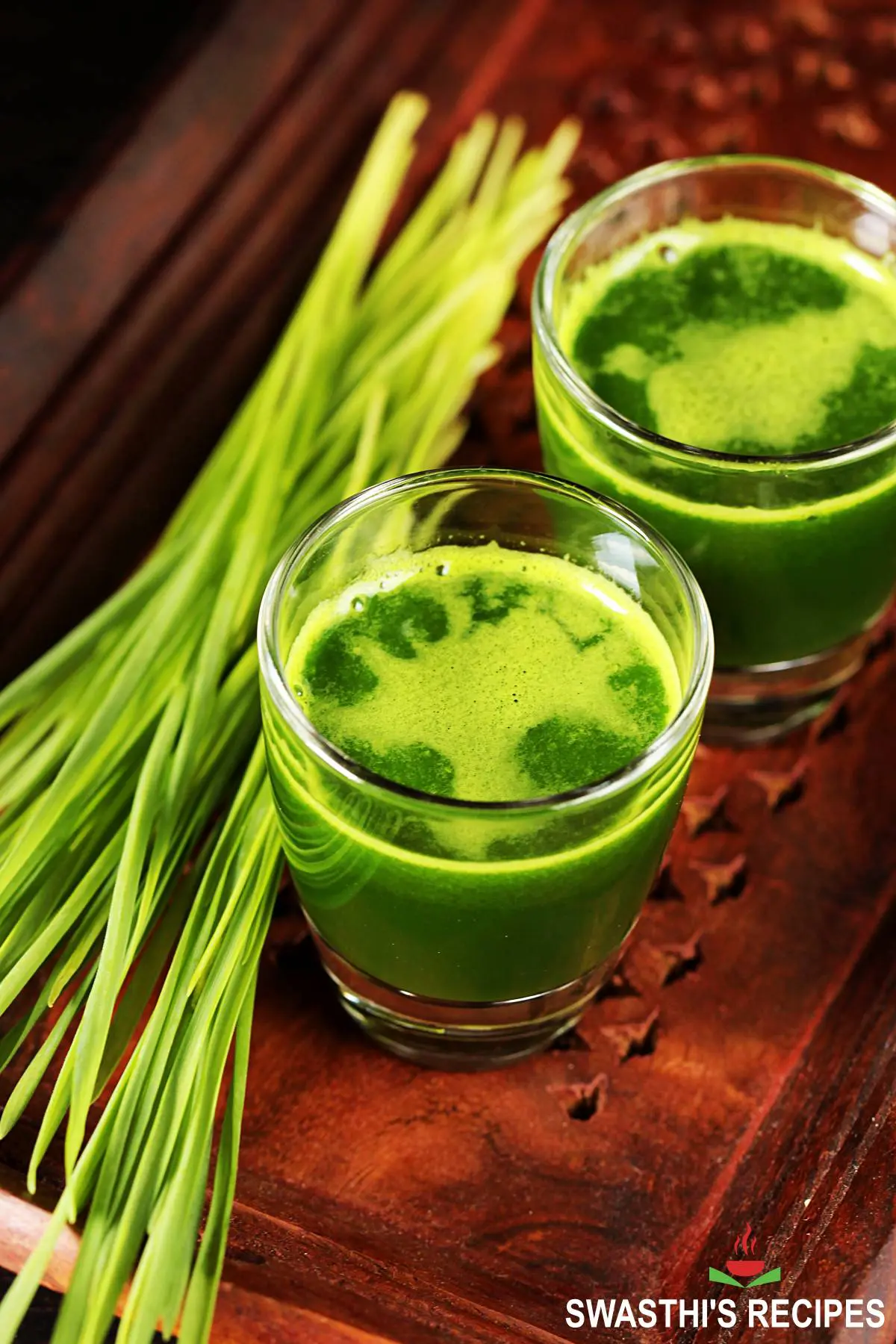 About Swasthi
I'm Swasthi Shreekanth, the recipe developer, food photographer & food writer behind Swasthi's Recipes. My aim is to help you cook great Indian food with my time-tested recipes. After 2 decades of experience in practical Indian cooking I started this blog to help people cook better & more often at home. Whether you are a novice or an experienced cook I am sure Swasthi's Recipes will assist you to enhance your cooking skills. More about me
Follow Swasthi's Recipes