Gond Ke Laddu, How to Make Gond Laddu
Gond ke Laddu are delicious, wholesome and rich traditional sweet balls made with edible gum, jaggery, whole wheat flour, nuts, seeds and ghee. These traditional nutty gond ke laddu are full of flavor, have a great texture and are believed to boost energy instantly. Well-known for the immune boosting and body warming properties, these gond ladoo are traditionally made & eaten during the winters in India.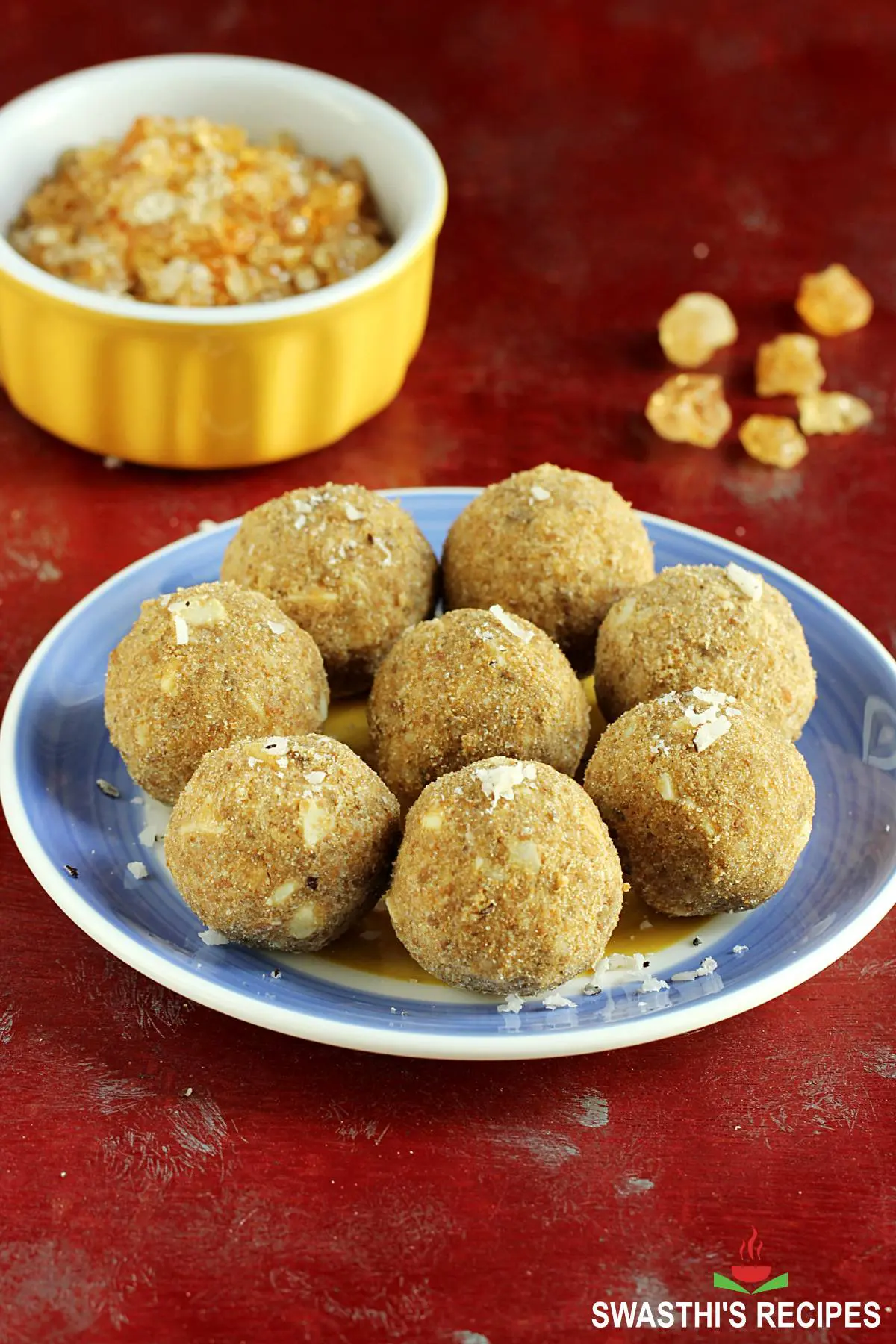 If you are a food enthusiast new to Indian foods, I am sure you are curious to know more about gond.
What is Gond?
Gond is a kind of plant derived edible gum that has been enjoyed in traditional Indian foods as it is believed to have medicinal values.
Gond is the Hindi term for "Edible Gum", a plant gum that is derived from the sap of various trees. The 2 most common edible gums used in Asian foods are Acacia gum (gum Arabic) & Tragacanth gum.
It is believed that both these have different properties & nutrients so they work differently in recipes and even on the body after consumption.
The first type of gum widely used in India is the Acacia gum also known as gum Arabic which is the dried sap of the acacia tree. Kikar is the Hindi name for this tree and is also widely known as Babul tree in India.
Gond that is used in the preparation of Gond ke Laddu is the dried sap of babul/kikar tree. It is also used to make gond panjiri.
It is believed that Acacia gum keeps the body warm so it is widely used during winters & is avoided during summers as it is heaty in nature.
The second type of edible gum is Tragacanth gum. It is known as "Gond katira" or "Badam pisin" in Indian language. It is basically tasteless & swells up when added to water and turns soft like jelly. Gond katira is used commercially to thicken, stabilize & emulsify foods.
It is also added to beverages like Jigarthanda, Falooda and even to shakes, smoothies & sherbets. Tragacanth gum is extremely cooling in nature & is considered to be beneficial to use during summers.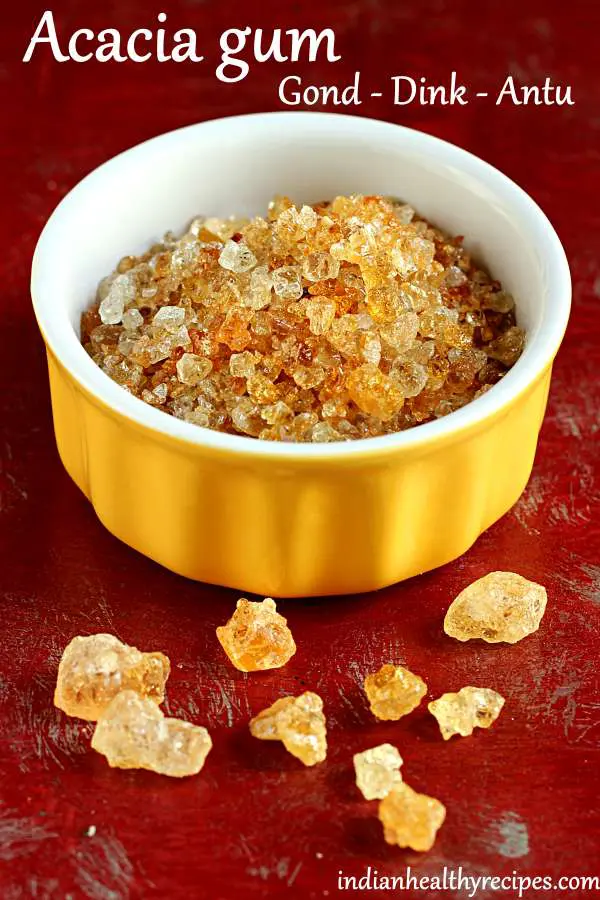 About Gond Ke Laddu
Gond ke Laddu translates to edible gum sweet balls. There are numerous ways to make these ladoos. Gond ladoo are basically the North Indian version and are mostly made with wheat flour, gond, sugar, dried ginger, nuts and ghee.
Another variation is the Antina unde from Karnataka cuisine and it does not use any flour instead a large amount of dried coconut (copra) is used.
A variation known as Dink Ladoo is made in Maharashtrian Cuisine and it has powdered dried dates (kharik/ Kajoor powder) added to it.
Gond ladoo are most often given to women recovering from childbirth. However gond ke ladoo are good for people of all age groups including kids and toddlers. Gond laddu are rich in iron, protein and calcium.
Regular consumption of gond ke laddu for several weeks is said to rejuvenate the entire body by strengthening the bones, improving immunity and digestion.
Wheat flour (atta), gond and nuts are ingredients with body warming properties. So these can relieve from joint pains due to arthritis & also prevent seasonal cold not only in kids but also in grownups.
There are many variations you can make to these ladoos by adding poppy seeds (khus khus), dates, dried dates, sesame, makhana etc.
In this post I have used only the ingredients that are basic and can be eaten by women after childbirth. A lot of people also add ingredients like dried ground ginger (saunt) and fennel seeds.
More Ladoo recipes
Badam ladoo
Ragi ladoo
Coconut ladoo
Rava laddu
Dry fruits ladoo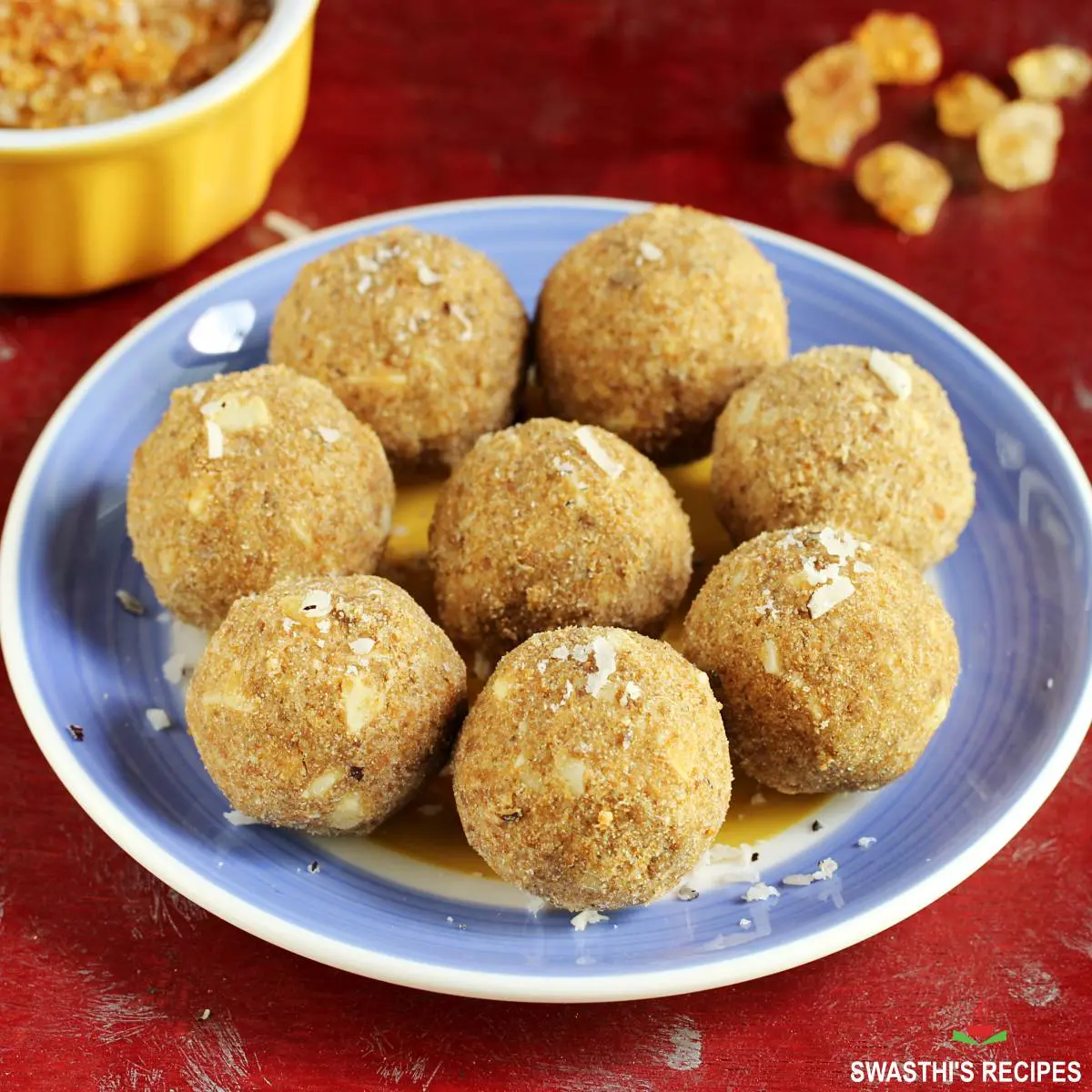 How to Make Gond ke Laddu (Stepwise Photos)
Fry Nuts
1. Heat 1 tbsp ghee in a heavy bottom pan. Avoid using a non-stick pan for this purpose as the nuts and gond easily scratch up the pan.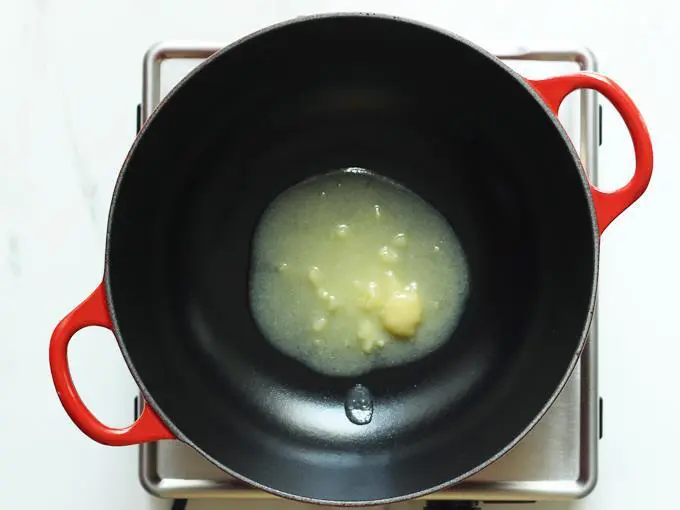 2. Add ¼ cup chopped almonds and cashews to the hot ghee. Fry them until lightly golden. Alternately you may pulse the nuts in a grinder first before frying or fry the whole nuts, cool and coarsely crush in blender. All these methods work, do which ever is easier for you.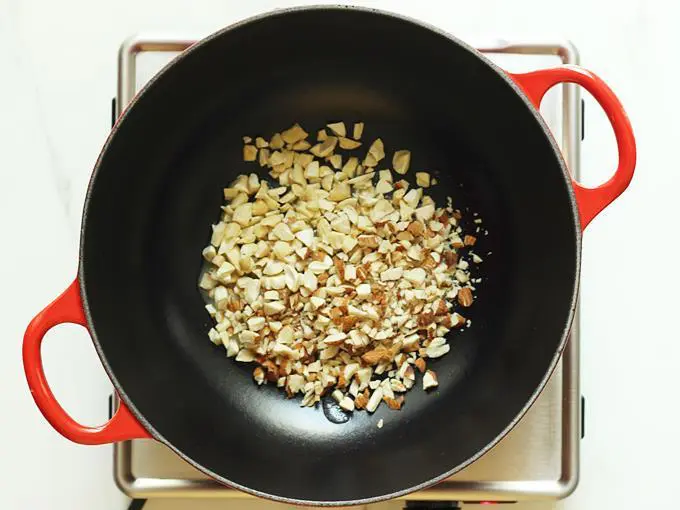 3. Once the nuts turn light golden, add 2 tablespoons dried coconut (optional) and fry lightly. You can add more or skip this. Dried coconut is a rich source of calcium. Do not use fresh coconut as it reduces the shelf life.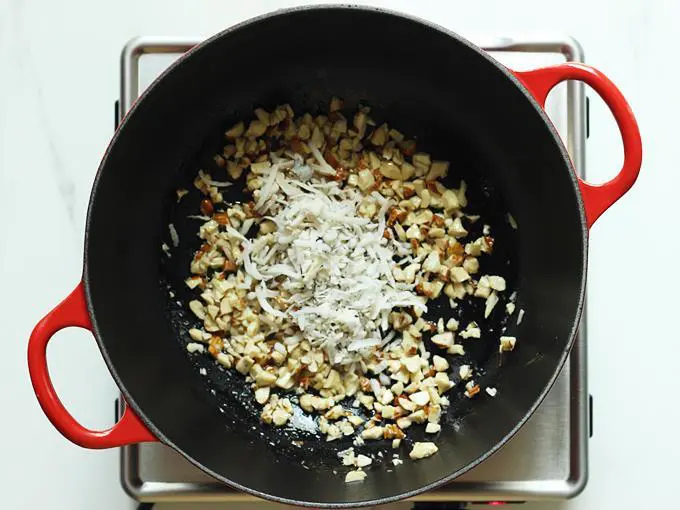 4. Saute just for a minute until aromatic.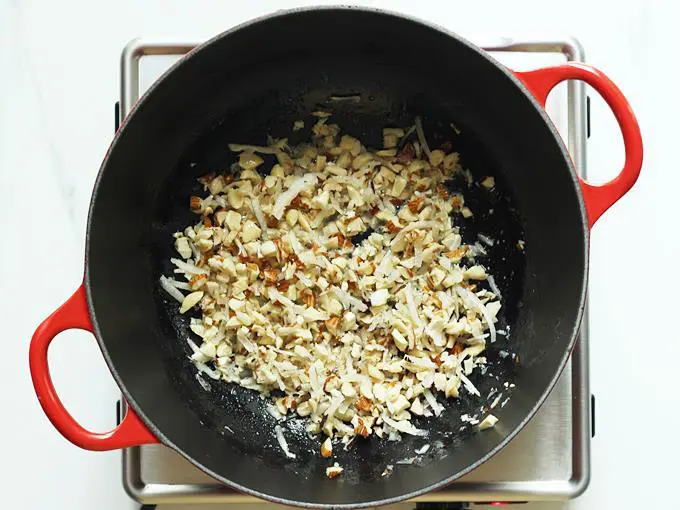 5. Remove all these to a plate. If you are using khus khus add them now and fry until they turn golden & crunchy.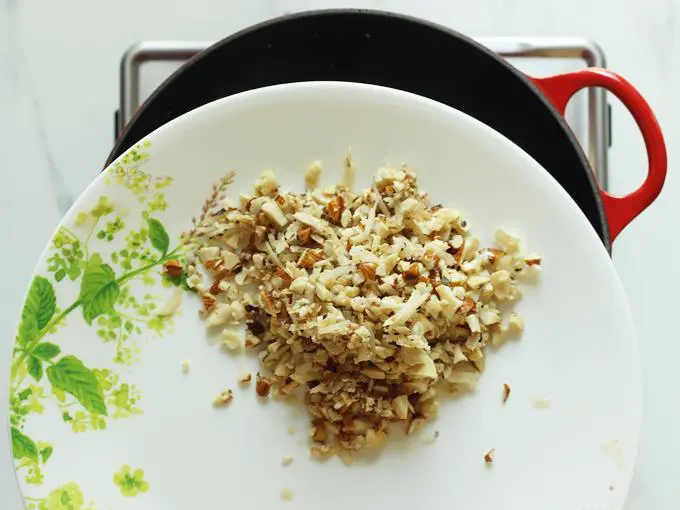 Fry Gond
6. Add gond to a plate and clean up if it is not clean. You may find tiny pieces of the bark or stones stuck to the gond, just discard them.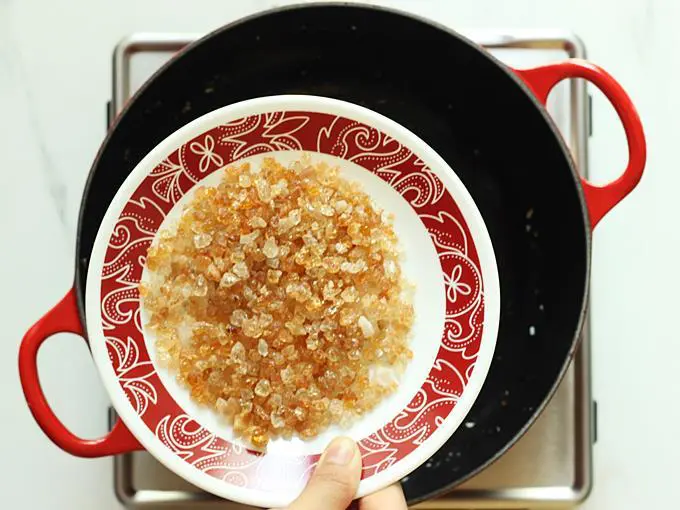 7. Pour ¼ cup ghee to a pan for frying the gond. It will puff well if a good amount of ghee is used and fried well on a medium high flame. Unpuffed gond can cause stomach problems and sticks up to the tooth while eating.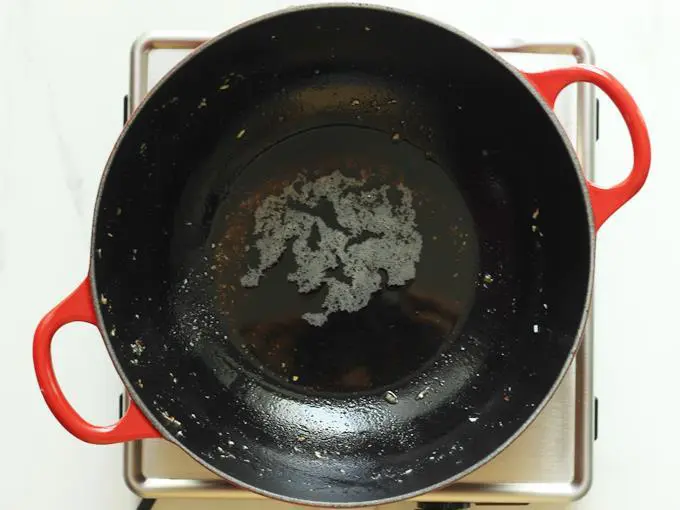 8. When the ghee turns hot, check if it is hot enough by adding 1 small piece of gond. It has to puff well. Then add the 1/3 cup (65 grams) gond to it. Gond must be fully immersed in ghee else they will not puff. Frying in very hot ghee can make it bitter.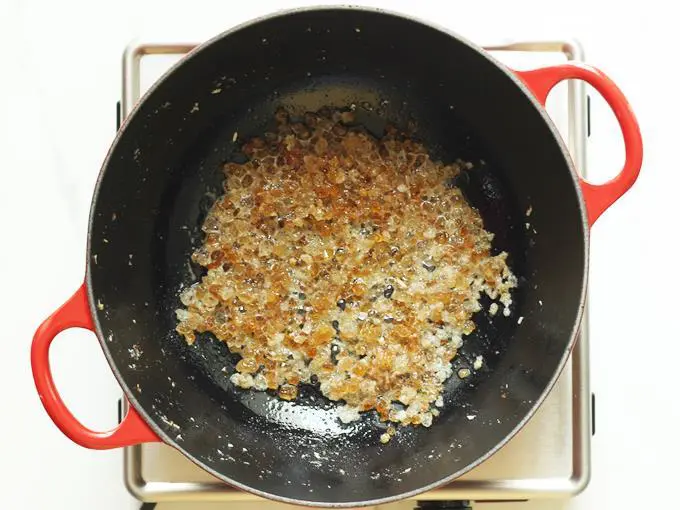 9. Keep stirring and fry until all of it has puffed well. All of the ghee will be absorbed by the gond.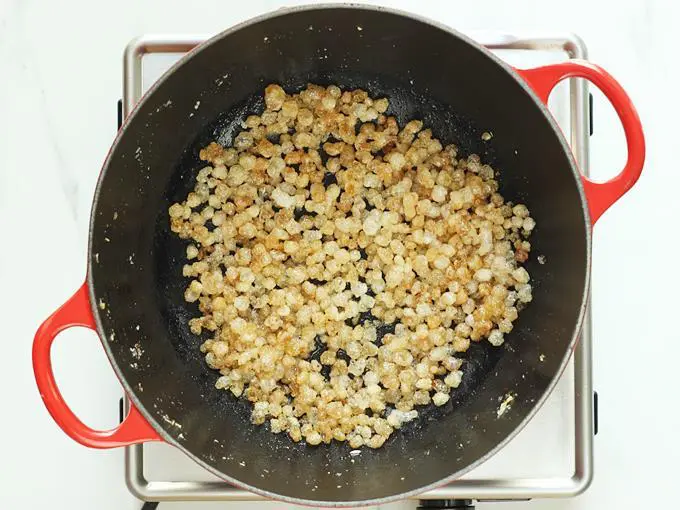 10. Remove it to a plate. Gond will absorb all of the ghee. Crush it well with the base of a cup or just pulse it in a mixer grinder or use a rolling pin. I prefer crushing in the grinder.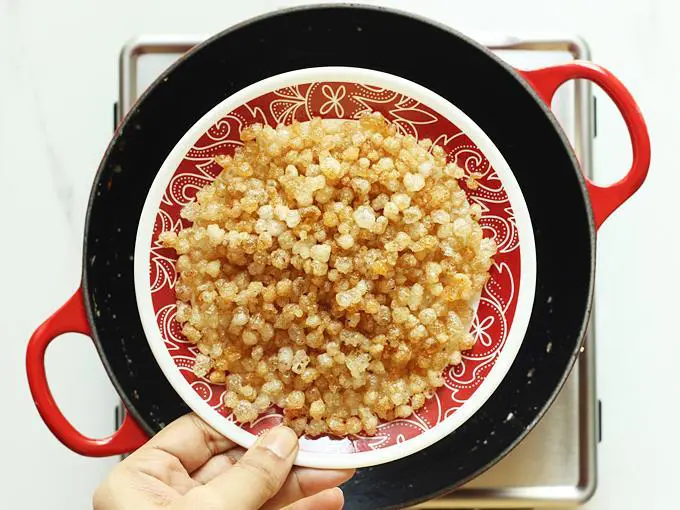 Fry Atta
11. If you think your gond is not very clean, then clean up the pan with a tissue. You may find some unclean particles like tiny pieces of bark in the pan. Pour 3 tbps more ghee and heat up. Add 1¼ cup atta /wheat flour.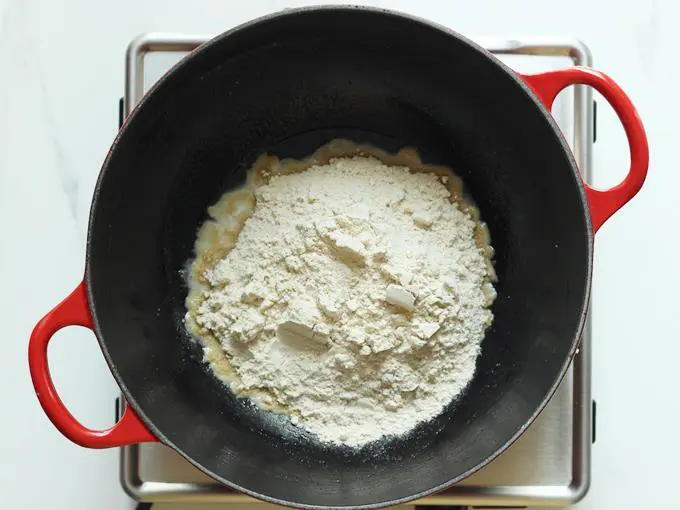 12. Saute on a medium to low flame until it turns deep golden and aromatic. The atta should not have any raw taste in it. Taste test and make sure it is not raw and does not taste bitter.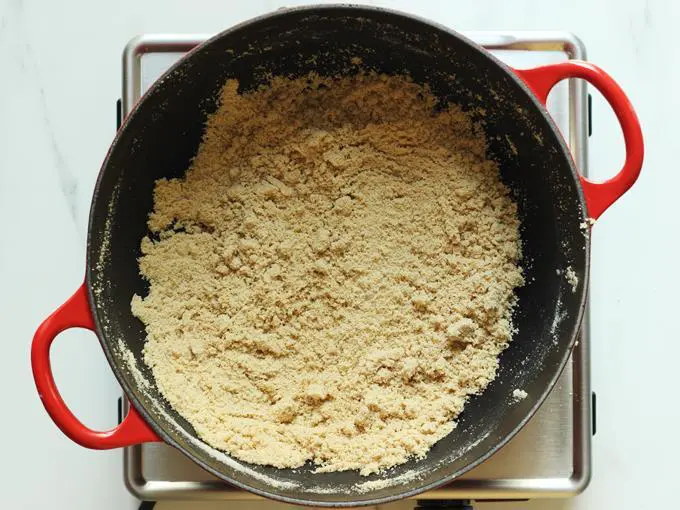 13. Turn off the stove. You can add crushed gond or pulse it in a mixer. I went ahead pulsing it with some nuts as my kids don't like the crushed one.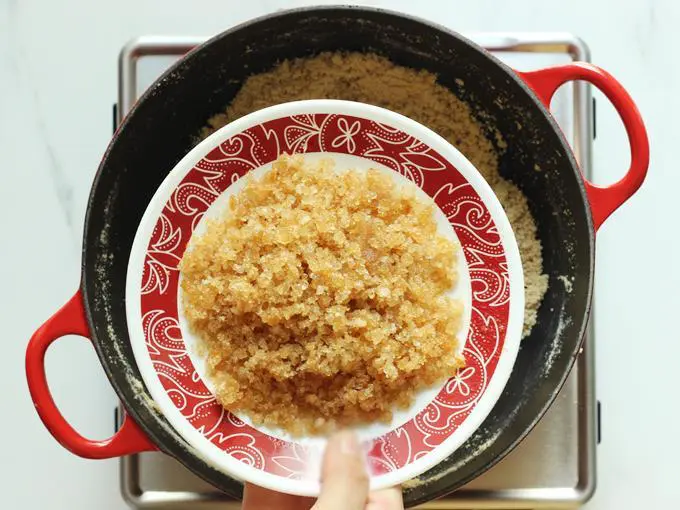 Make Gond ke Laddu
14. Remove the pan from the stove. Add the fried nuts, ¼ teaspoon cardamom powder and crushed gond. Mix everything well.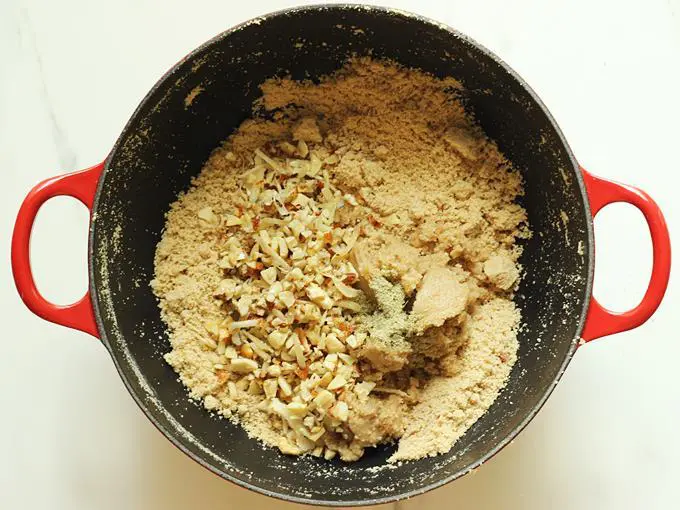 15. Add ¾ to 1 cup powdered jaggery or powdered sugar. If using grated jaggery, make sure you grate it fine. Start with ¾ cup.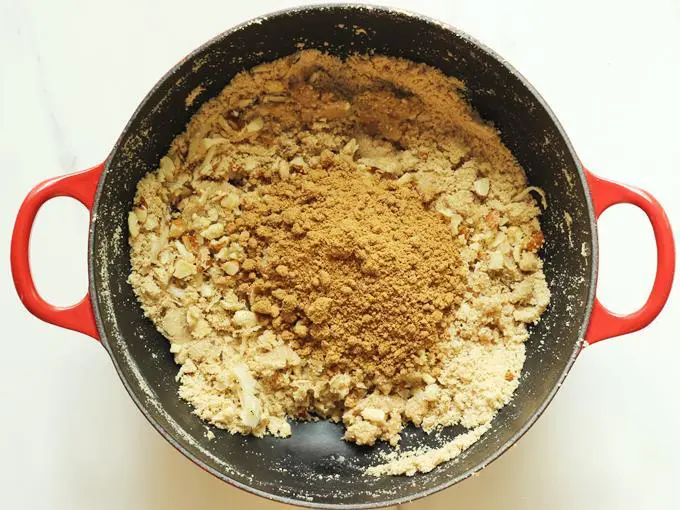 16. Mix well with your hand or a spatula to incorporate the ghee in the gond with the rest of the mixture. Taste test and add more jaggery powder or cardamom for flavor.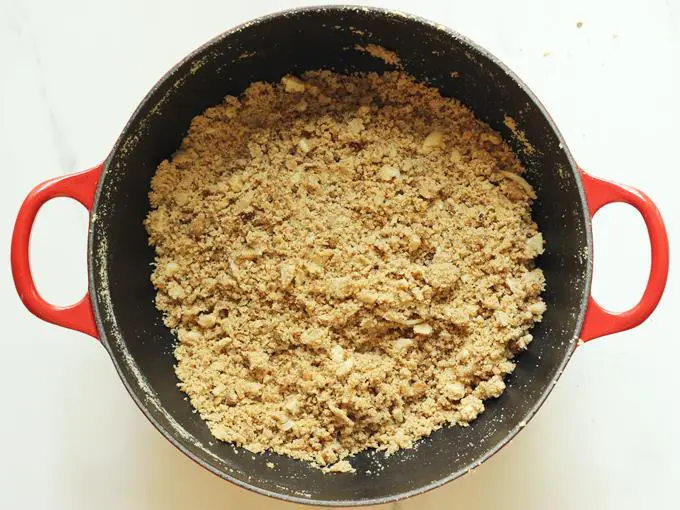 17. Make sure your mixture is slightly hot at this stage. Take small portions of this mixture to your hand and roll to balls, pressing down the mixture in your fist. If required pour some hot ghee if you have a trouble binding them. I did not use any extra.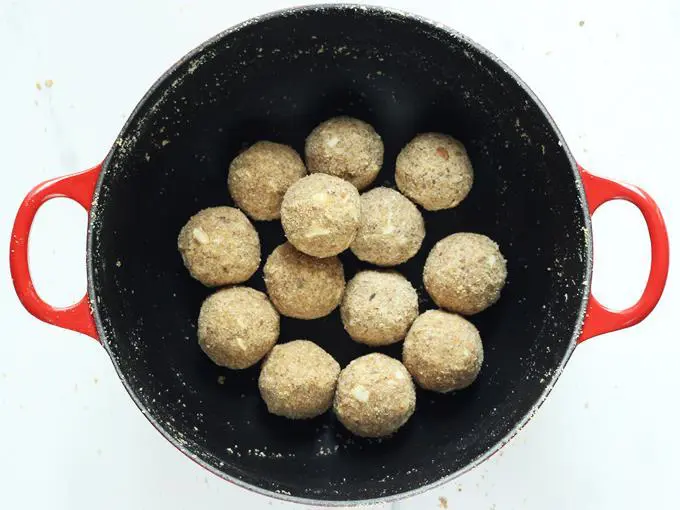 Store Gond ke Laddu in a air tight jar and use up in a month. It is normal for them to become slightly hard during winters / colder temperatures as ghee solidifies. I simply steam them in cooker or a steamer. Place the ladoos in a small container and close with a lid so the water does not seep into the bowl. Place this bowl on a rack/ trivet in the cooker or steamer. Steam until the ladoos become warm.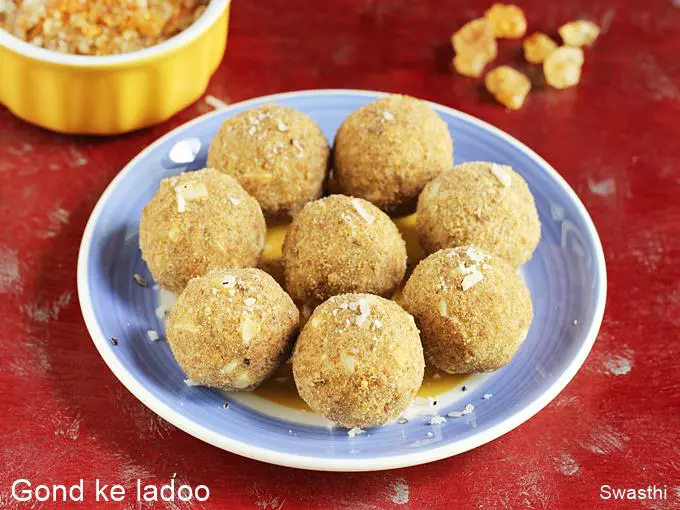 Health Benefits of Gond
Gond has about 50% calcium and 20% of magnesium in it. So regular consumption of gond helps to strengthen the bones, spine and teeth.
Gond also helps in constipation and corrects minor digestive disorders.
It is also believed that regular consumption of gond (for 3 to 4 weeks) helps in managing arthritis as it is anti-inflammatory.
It is proven to be great for women with chronic back pain as it helps to strengthen and rejuvenate the backbone.
Gond helps in lactation and improves the quality of breast milk.
Lastly it helps the uterus to regain its strength and size after the childbirth.
Pro Tips on using Gond
If you are a breastfeeding mother and has never eaten gond, then please consult your elders, gynac or an Ayurvedic expert.
Do not confuse gond with gond katira, another kind of ebdible gum. Both are different. Gond is known as Dink in marathi and Antu in Kannada.
Please buy gond from a reliable source. Uually Ayurvedic shops sell this in India and is also sold in grocery or super markets. In abroad it is sold only in Indian stores and is a seasonal product, not available through out the year.
Pro Tips on Gond Ke Laddu
Always use desi ghee or good quality ghee that is homemade. Desi ghee imparts a great aroma to these gond ladoo.
Ensure you use a good amount of ghee to fry the gond. There must be enough ghee in the pan such that gond is immersed completely in it. Otherwise it my not puff and cook well.
Some kinds of gond absorb the entire ghee in the pan so do not add a lot or all at once. Add ghee in batches separately for frying gond and then add more ghee for roasting flour.
The amount of ghee mentioned in the recipe card was good enough for me to make great tasting gond ke laddu. But the quantity can differ depending on the weather conditions, kind of gond and the flour. So use more if needed.
Too much ghee in the mixture can flatten the ladoos and may hinder the mixture from binding.
Too less ghee also may break the gond laddu so use your judgement.
These gond ladoo can also be made during festivals and are great to enjoy as a snack anytime.
Related Recipes
Recipe Card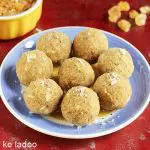 Gond Ke Laddu, How to Make Gond Laddu
Gond ke laddu are wholesome and nutritious sweet balls made with edible gum, whole wheat flour, nuts, jaggery and ghee. These are high in calcium, protein and iron. Gond laddu can be eaten by women recovering from childbirth, kids and people of all age groups.
Print Recipe
Pin Recipe
Jump to Comments
For best results follow the step-by-step photos above the recipe card
Ingredients (US cup = 240ml )
1¼

cup

wheat flour

(atta)

¾ to 1

cup

jaggery

powdered (I used ¾) or powdered sugar

½

cup

ghee

(5 tbsps for gond + 3 tbsps for atta) more if needed)

⅓

cup

gond

about 65 grams edible gum/ antu

2

tablespoons

dried coconut

(copra – optional)

¼

cup

almonds

& cashews (chopped or pulsed in mixer grinder)

1

tablespoons

chironji

(optional or white poppy seeds)

¼ to ½

teaspoon

cardamom powder

or elaichi
Instructions
Preparation
Clean gond well removing pieces of bark or stones if any. It is good to buy cleaned gond.

Heat 1 tbsp ghee in a heavy bottom pan. Fry the almonds, cashews and chironji until slightly golden. Then add coconut and fry just for a minute. Remove and set aside.
Fry Gond
Pour ¼ cup more ghee to the pan and heat it. The ghee has to be medium hot not very hot otherwise gond will turn bitter. Check if the ghee is hot by dropping 1 small piece of gond, it has to be rise and puff well.

Fry gond on a medium heat stirring well. Soon the gond will puff and turn light. Remove this as well to a plate and coarsely crush this with a rolling pin. If you like it fine, blend it with few fried nuts. Keep this aside.
Roast Flour
Next pour 3 tbsps more ghee and heat. Saute wheat flour in this stirring often until it turns aromatic and deep golden. Remove from the stove.

Add the fried cashews, almonds and gond. Also add in cardamom powder. Mix all of these and let the temperature slightly come down but still hot.

Then add in jaggery and mix well to incorporate the ghee in gond with the laddu mixture. If using sugar, powder it and use.
How to make Gond Ke Laddu
When the mixture is still hot, take small portions of this and roll to balls. If the mixture is too dry heat 1 to 2 tbsps ghee and pour it.

Store gond ke laddu in air tight jar and use upto a month.
Notes
Under cooked or under puffed gond can cause stomach problems so make sure to use enough ghee and puff it well.
If using sugar, start with a smaller amount, about half cup.
Alternative quantities provided in the recipe card are for 1x only, original recipe.
For best results follow my detailed step-by-step photo instructions and tips above the recipe card.
NUTRITION INFO (estimation only)
Nutrition Facts
Gond Ke Laddu, How to Make Gond Laddu
Amount Per Serving
Calories 162
Calories from Fat 54
% Daily Value*
Fat 6g9%
Cholesterol 12mg4%
Potassium 34mg1%
Carbohydrates 23g8%
Protein 1g2%
Calcium 12mg1%
Iron 0.8mg4%
* Percent Daily Values are based on a 2000 calorie diet.
Gond ke Laddu Recipe was first published in October 2018. Updated & Republished in December 2022.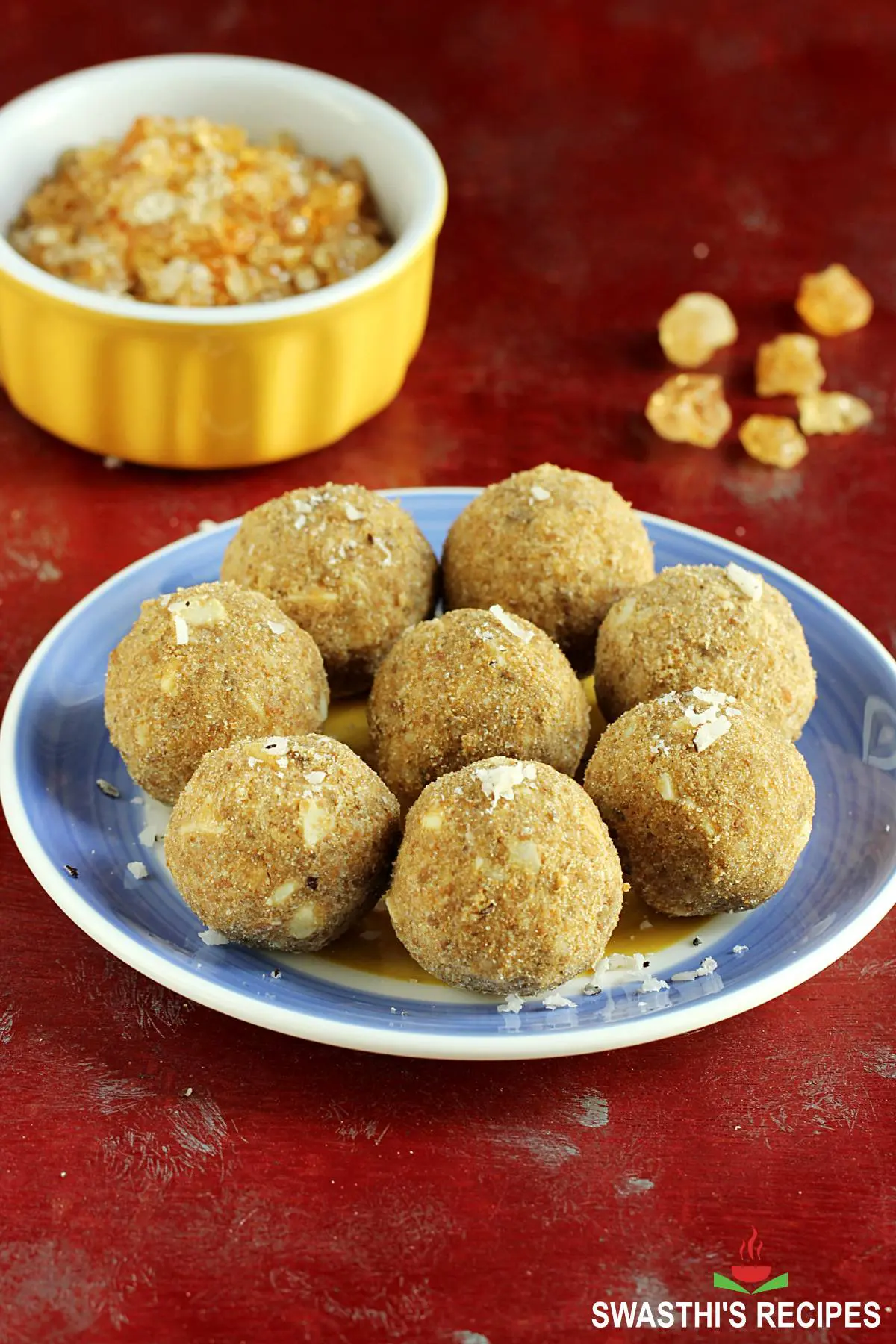 About Swasthi
I'm Swasthi Shreekanth, the recipe developer, food photographer & food writer behind Swasthi's Recipes. My aim is to help you cook great Indian food with my time-tested recipes. After 2 decades of experience in practical Indian cooking I started this blog to help people cook better & more often at home. Whether you are a novice or an experienced cook I am sure Swasthi's Recipes will assist you to enhance your cooking skills. More about me
Follow Swasthi's Recipes