20 Payasam varieties for the festive season 2019
Payasam varieties for the festive season. – Kheer or payasam is a traditional Indian Sweet pudding made using milk, grains, lentils and a sweetener like jaggery or sugar. Grains like rice, millets, broken wheat, semolina/ sooji are most commonly used. Lentils like moong dal too are used to make payasam that is offered to Gods especially to Goddess Lakshmi.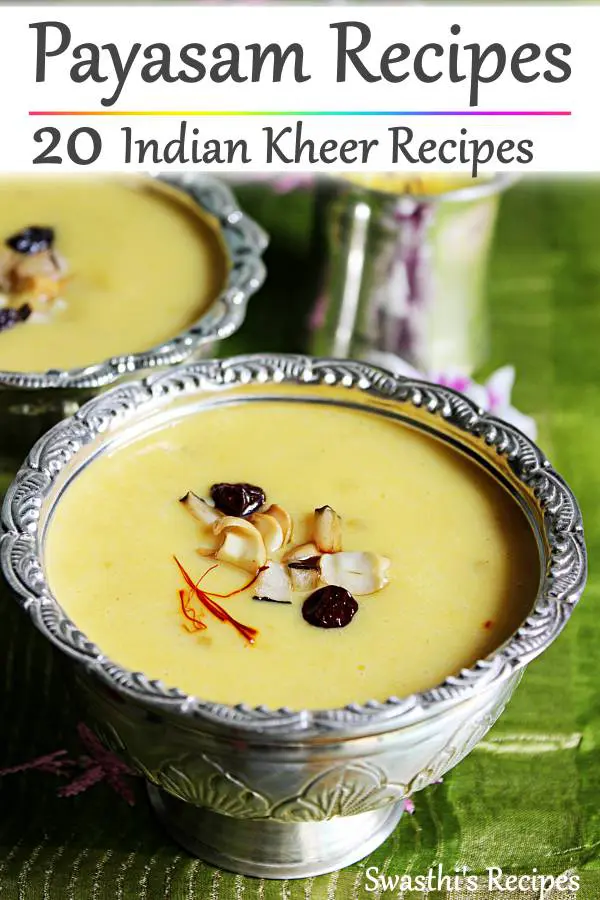 Even some kheer varieties are also made using veggies like carrot, bottle gourd, ash gourd and pumpkin.
Kheer is a term used all over India while Payasam is a word used in South India. Though there are few variations in the recipes that are made in different regions, they are almost made on the same lines using milk, as it is the main ingredient.
In South India, Payasam is mostly made with jaggery as it is unrefined and considered to be the purest form of sweeteners to offer to the deities. Depending on the availability, it can still be made with sugar or kalakandu / rock sugar.
Kheer or Payasam plays a crucial role during most Hindu festivals as it is offered to the Gods as naivedhyam / bhog during religious ceremonies like puja or homa / havan. It is prepared using ingredients based on religious and family beliefs.
Not only during festivals, it is also made in every home even for simple occasions like birthdays, parties and special meals.
Here is a collection of payasam and kheer recipes on this blog that can be made for any festivals like Varalakshmi puja, Ganesh Chaturthi, Durga Navratri and Diwali.
20 Payasam varieties or Kheer recipes
Semiya payasam – is another quick to make dessert with milk, vermicelli/ seviyan and sugar under 20 mins. This can be made anytime with ease even for a crowd.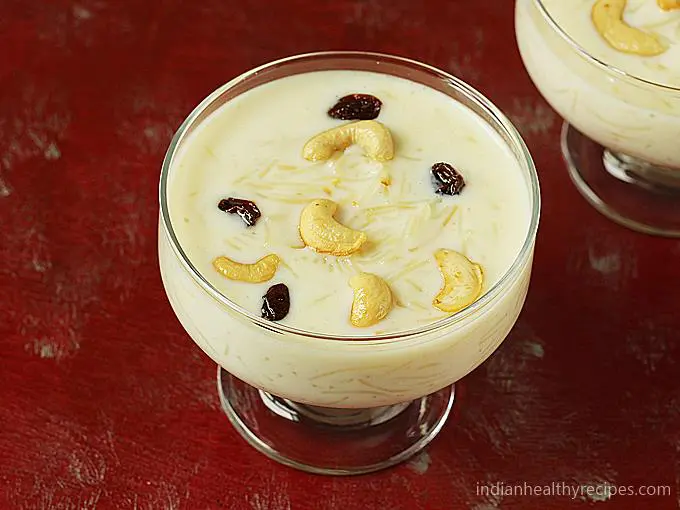 Aval payasam / poha kheer – Simple, thick and delicious payasam made with poha, beaten rice. This is usually made during krishna Jayanthi as Lord Krishna loves poha or aval. This can be made with sugar or jaggery as per the availability.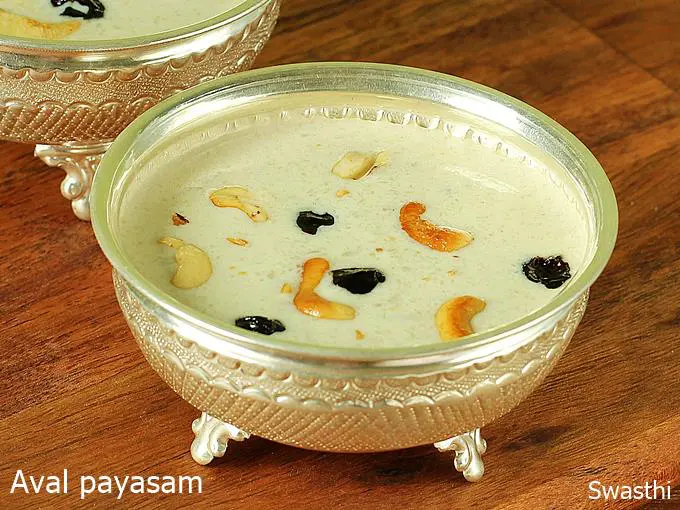 Rice payasam – South Indian style rice pudding made using jaggery and ghee, the traditional way. This is one of the most common and basic sweets that is made in almost all homes for festivals. Apart from making it for naivedyam for puja, it is also made during homa/ havan to offer to the fire God.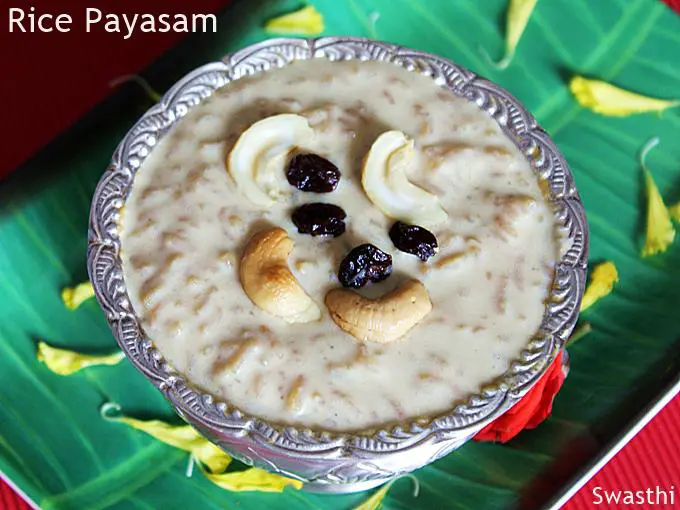 Rice Kheer – also known as chawal ki kheer is a rice pudding made with sugar and full fat milk. It is flavored with cardamom powder and garnished with nuts. This is the north Indian version of the pudding in which rice is simmered in milk and then sweetened with sugar.
The use of whole milk and refined sugar lends a taste similar to that of the condensed milk making the pudding very delicious and flavorful. There is no ghee used in this recipe like the sough Indian version.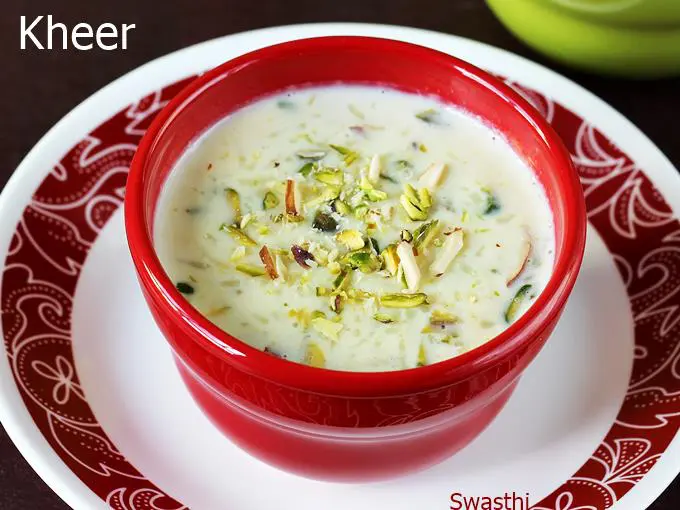 Wheat rava payasam is a simple sweet dish made with whole wheat semolina, jaggery, ghee and nuts. Since it is made with whole grain it is diabetic friendly.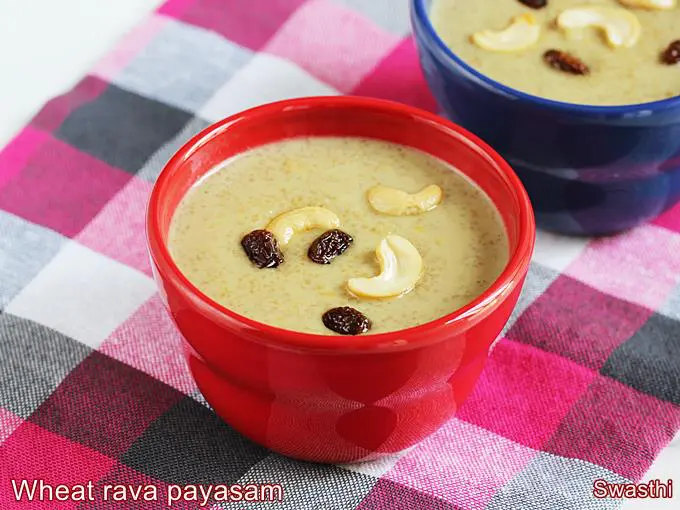 Pala thalikalu recipe – A traditional classic sweet dish prepared with handmade rice noodles, jaggery, ghee and milk. This is a festive payasam which is made in many traditional Telugu speaking homes.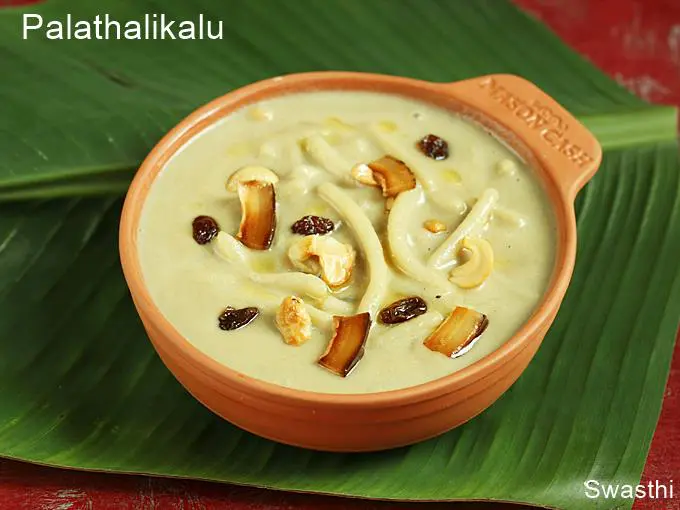 More Kheer recipes
Pumpkin kheer – This is made using golden pumpkin, sago, sugar and nuts. Pumpkin is a symbol of festivity and is used often for religious ceremonies. This unique flavored and delicious kheer is great to serve even in parties to serve as an after meal dessert. Serve it chilled for the best taste.
Paneer kheer – Made with Indian cottage cheese and sugar. A quick festive treat if you have paneer ready in hand. This is another unique payasam made with simple ingredients. It tastes rich and is great to make for special occasions.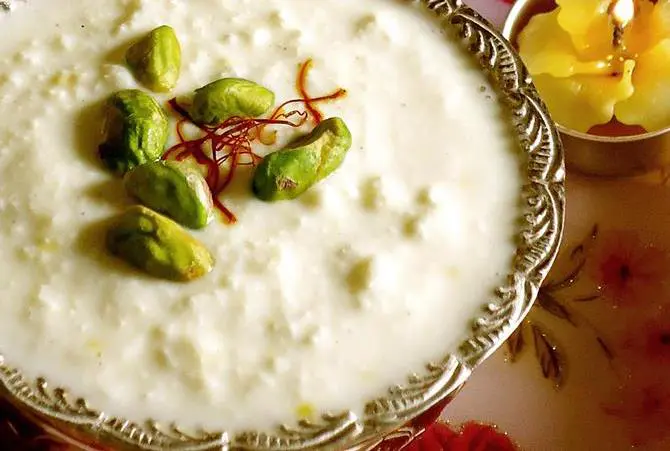 Sabudana kheer with sugar -It is made with tapioca pearls known sago, milk, jaggery or sugar mostly during fasting and vrat. The south Indian version is made with jaggery and the north Indian version with sugar. This is good to reduce the body temperature and is great to have during summers.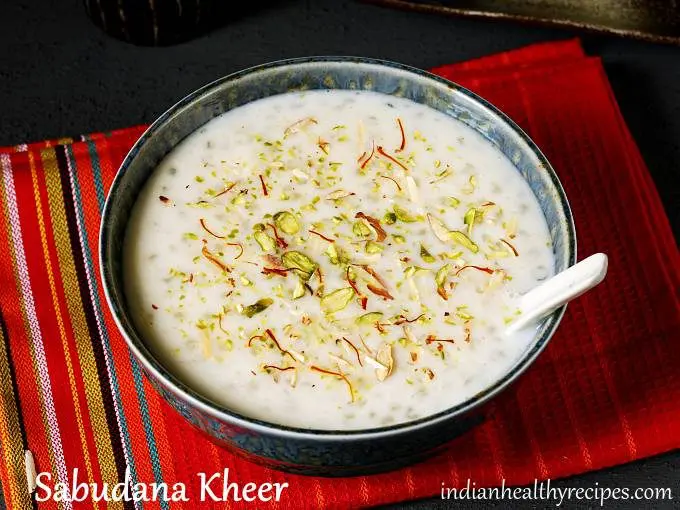 Badam kheer – A rich and delicious dessert made using only almonds, milk and sugar. This is great to serve on festive occasions as a after meal dessert. To add volume, you can also add some sago/ sabudana or semiya to this.
Sheer khurma recipe is one of the most basic kheer varieties made during Ramadan. This rich, delicious and simple vermicelli pudding is great to enjoy during the holy month of ramadan as it is nutrient dense and healthy.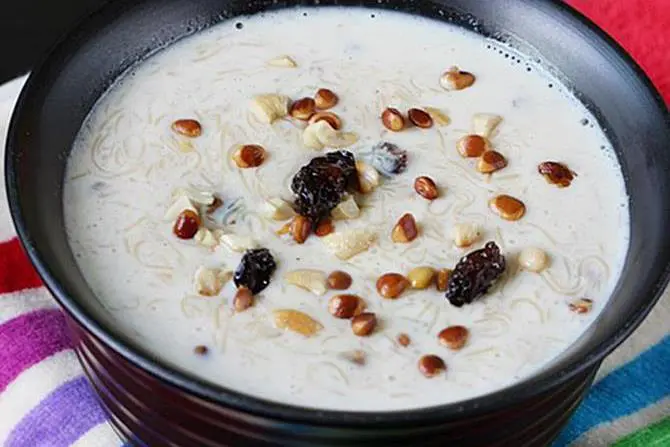 More Payasam recipes
Javvarisi payasam – Made the traditional south Indian style using jaggery and ghee. Ghee is the main ingredient in south Indian payasam that adds flavor and richness to any payasam.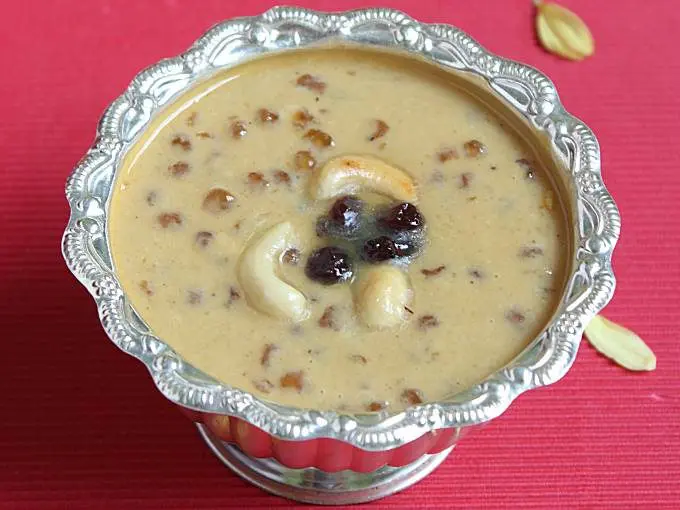 Chana dal payasam – This is a family recipe often made during Durga navratri to offer as naivedhyam to Godess Durga. Chana dal, jaggery and coconut are the 3 main ingredients that bring in great aroma, deliciousness and richness to this dish. It is usually topped with a generous amount of ghee and nuts.
Moong dal payasam – This is another recipe made using moong dal, another traditional recipe. To make this recipe, coconut milk or milk can be used.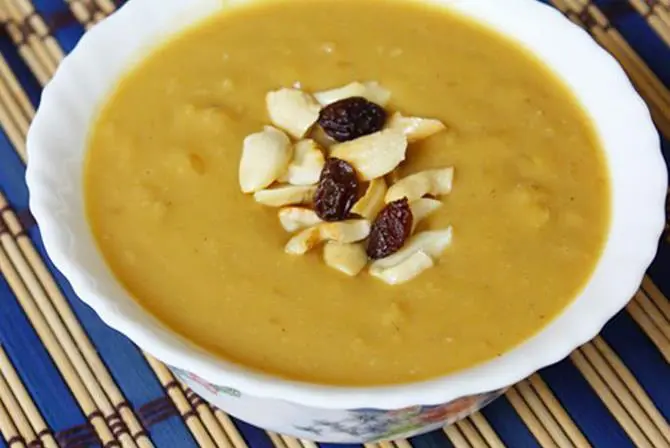 Carrot payasam – Made with carrots, sago and a sweetener. If you have excess carrots and looking for ideas to use up then it is a good dish. This can also be served to kids as a after school snack. Makes a great food even for toddlers.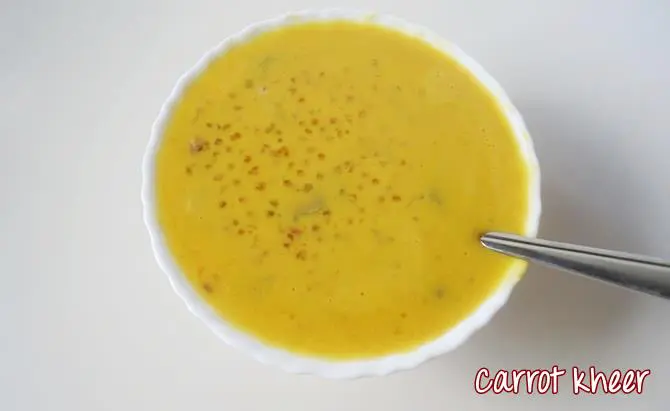 Undralla payasam – Traditional recipe of paala undrallu made during ganesh chaturthi. To make these small balls of rice flour are steamed and added to milk and then sweetened.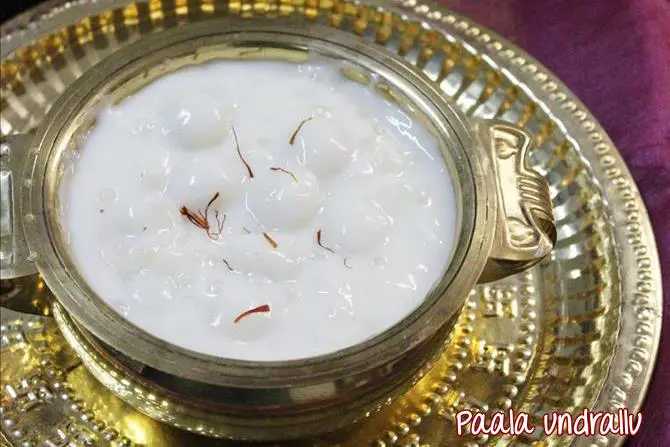 Bellam Paramannam – Also known as bellam pongali is another naivedhyam sweet made during festivals and most commonly during sankranti. This is similar to the rice payasam with an additional ingredient dal which elevates the taste of the dish.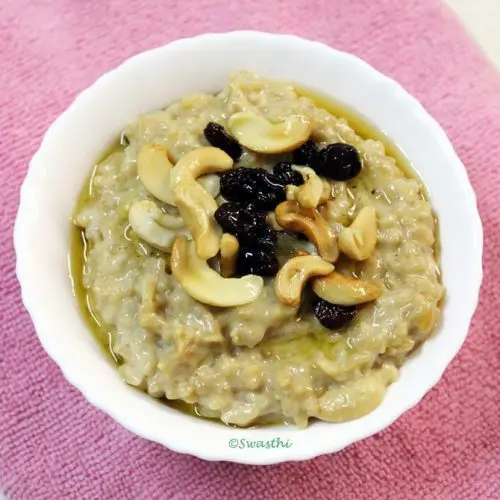 Oats kheer recipe – Healthy guilt free sweet dessert made with oats, milk and jaggery. Great to enjoy this anytime for breakfast or after meal.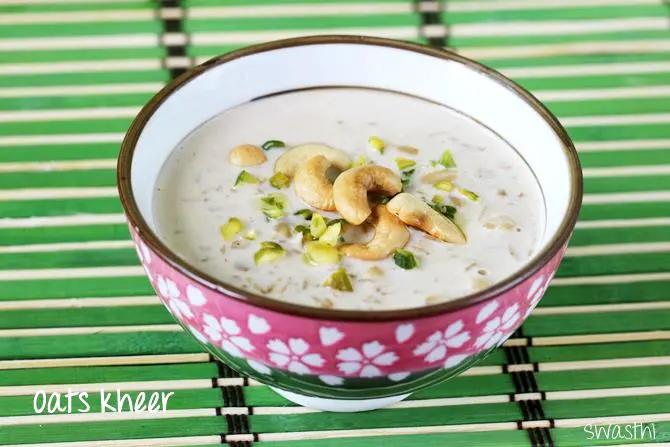 Ragi semiya kheer – Ragi semiya is available in most parts of India. These are made with fingermillet flour, dehydrated and then sold. This payasam can be made just under 5 mins. Healthy, tasty and delicious.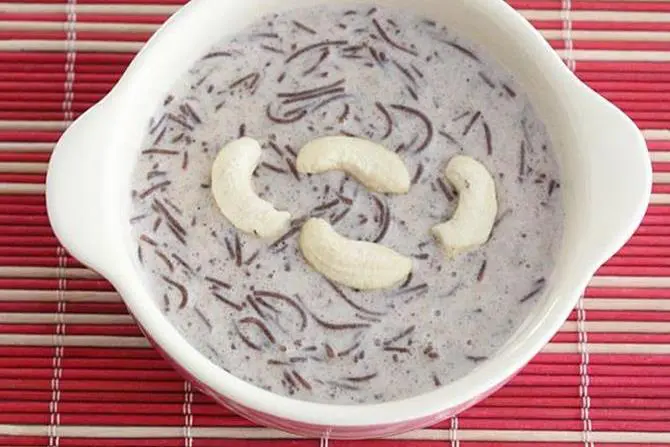 Pasta payasam – Delicious, creamy and healthy pasta payasam that can be made for kids.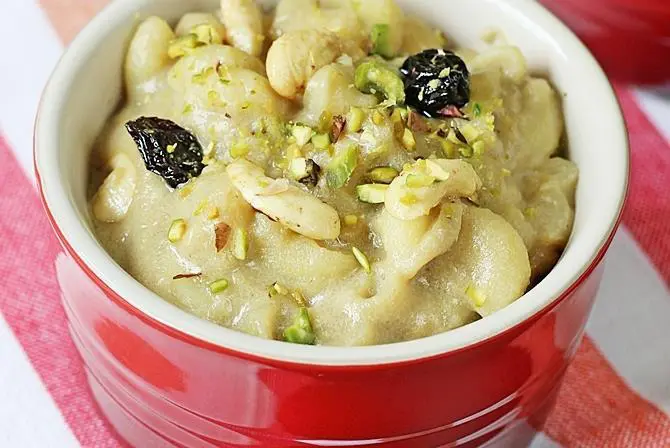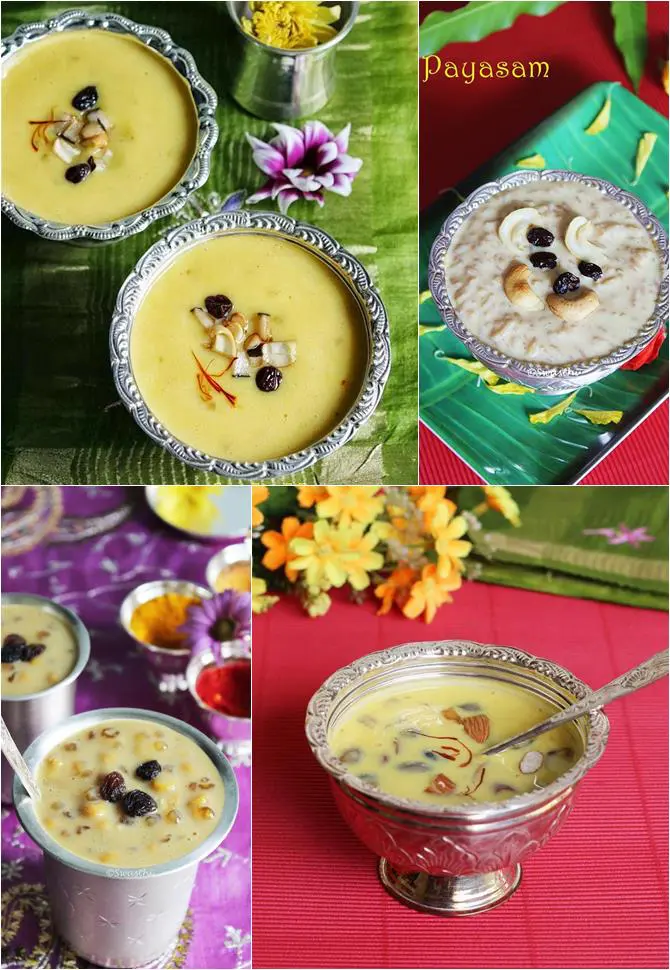 About Swasthi
I'm Swasthi Shreekanth, the recipe developer, food photographer & food writer behind Swasthi's Recipes. My aim is to help you cook great Indian food with my time-tested recipes. After 2 decades of experience in practical Indian cooking I started this blog to help people cook better & more often at home. Whether you are a novice or an experienced cook I am sure Swasthi's Recipes will assist you to enhance your cooking skills. More about me
Follow Swasthi's Recipes