This refreshing Mango Smoothie is a fantastic way to begin your day. It's packed with the best and great things to get your morning going or sweeten your evening. Undoubtedly the best way to enjoy mangoes is to eat them but this Mango Smoothie is yet another fab way to indulge in a nutrient dense drink. Smoothies are great for the fact they're so easy to make. Just throw the ingredients together in a blender and blend until smooth!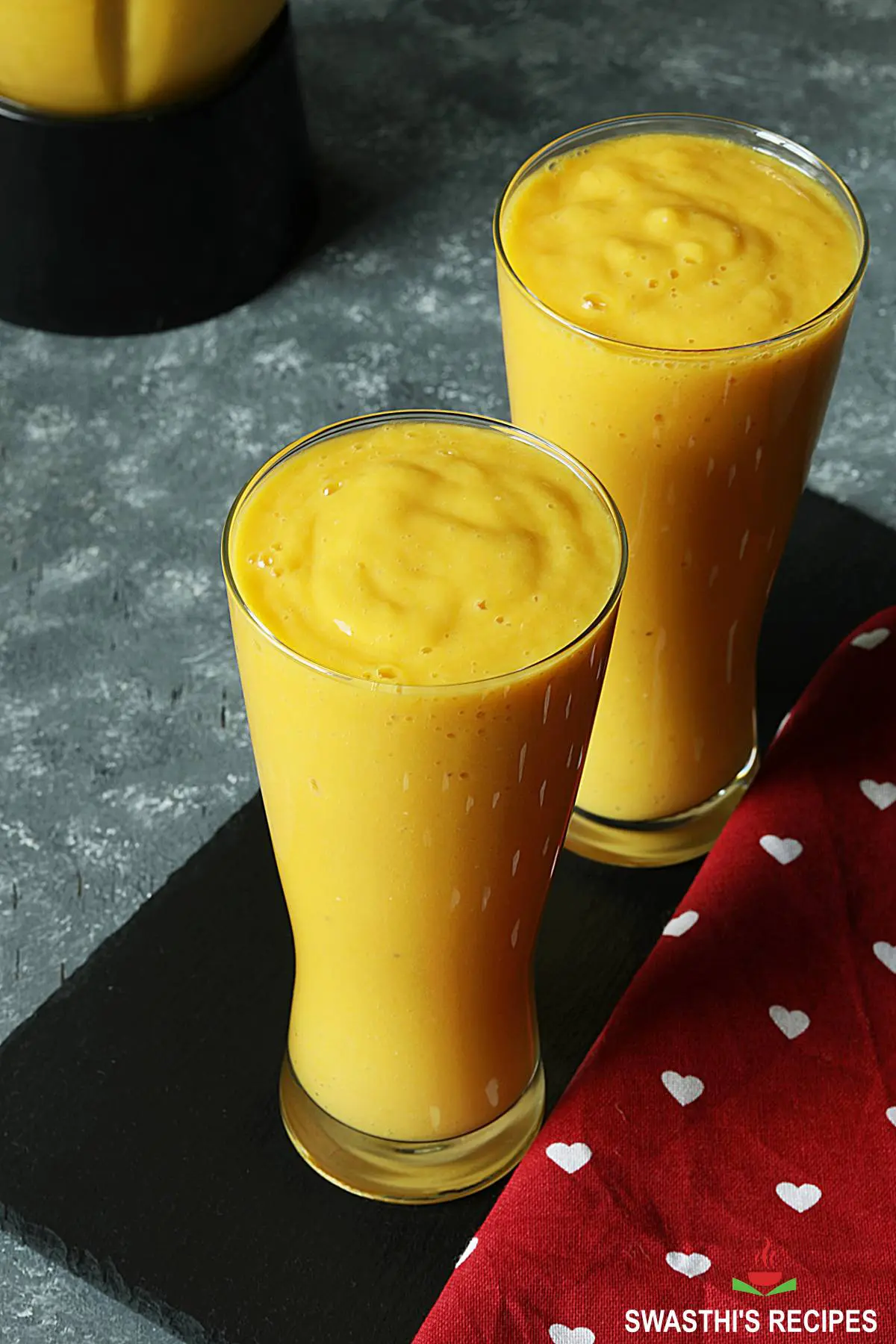 About Mango Smoothie
The same goes for this Mango Smoothie; the ingredients are yogurt, fresh mangoes, ripe bananas, peeled and deseeded oranges, and honey as an optional sweetener. Blend them according to the recipe instructions below, and enjoy.
While sweet enough to eat at the end of a meal, this Mango Smoothie also makes a great breakfast. There's fiber and simple sugars from the whole fruits and honey to get your body going.
Healthy proteins, fats, and probiotics from the yogurt to keep your gut healthy and your stomach feeling full. And how could we forget the importance of vitamins and minerals?
While using fresh or homemade ingredients for this smoothie is great, that's not feasible for everyone. In the absence of any ingredients mentioned in this recipe, don't sweat it. You can easily substitute out the fresh mangoes for frozen ones, the plain yogurt for vegan yogurt or even milk, and the fresh oranges for bottled orange juice.
If you are a vegan you can use this homemade almond yogurt.
More mango recipes
Mango Juice
Mango Lassi
Mango Kulfi
Mango Ice Cream
Mango Shake
How to Pick Ripe Mangoes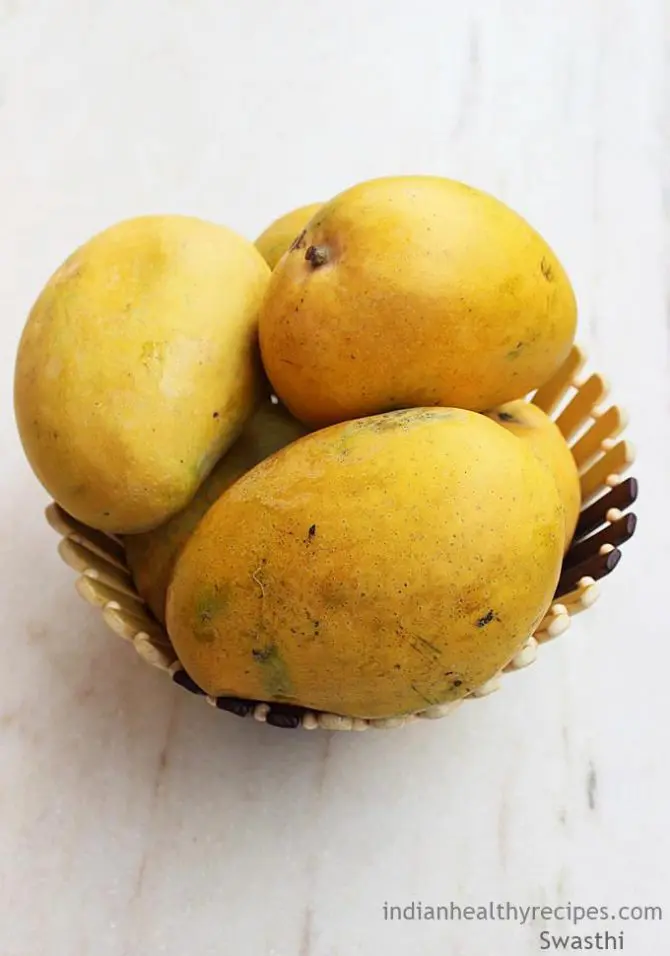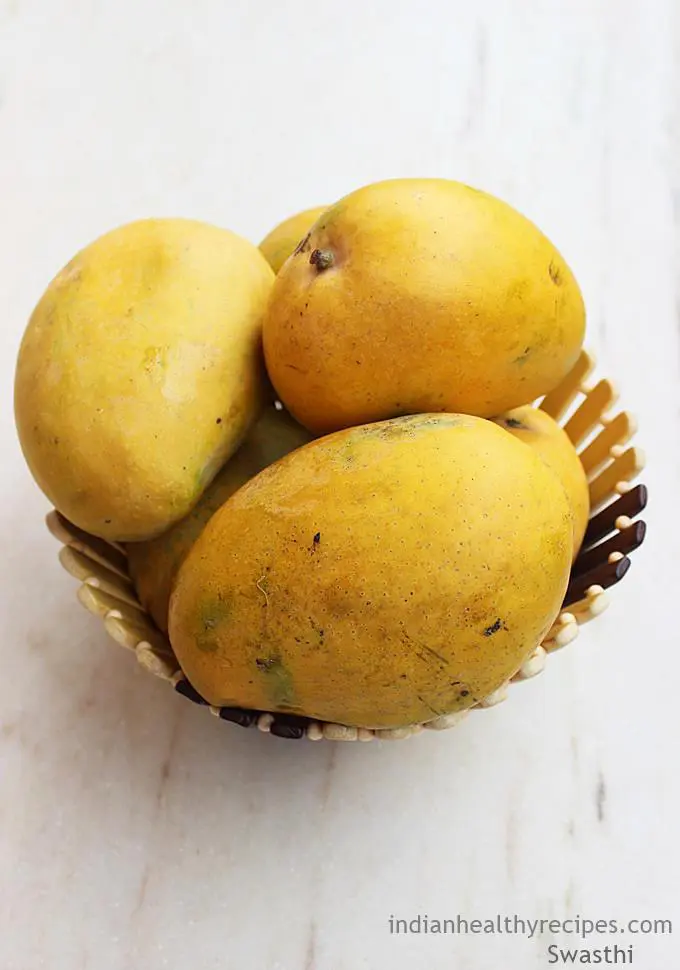 Mangoes are a great part of a daily diet because they're full of fiber, are sodium and cholesterol free, and contain more than 20 different vitamins and minerals. Good for you and great to eat is always a win.
If you're worried about mangoes not being in season, don't be. You can also use frozen mangoes or mango pulp. Mangoes are always available where I live, although different varieties of mango are available at different times of the year. So sometimes I freeze them.
In many countries, you can also find imported mangoes round the year. Many supermarkets have convenient year-round, pre-sliced packs of whatever mango is available at the time. So you can use any!
But what if there's only whole mangoes available? Here are some tips for you!
To start, you'll want to make sure the mangoes are ripe. Color isn't an indicator of ripeness, since mangoes come in different colors – yellow, orange and red. Instead, gently squeeze the mangoes to see if they have some give, like a ripe peach or avocado. Also most times there'll be a slight fruity aroma near the stem, too.
If the fruits aren't quite ready, let them ripen on the counter at room temperature for a few days until soft enough to your liking. You can speed up the process by keeping the mangoes in a paper bag at room temperature. Once ripe, you'll either need to store them in the refrigerator or cut them.
How to Cut a Whole Mango (Stepwise Photos)
If you are new to handling whole mangoes, cutting them can be an intimidating process. But it's okay! The main thing you need to do is accommodate the long, flat seed in the middle.
To cut around the seed, place the mango flat on a clean cutting board and make sure the stem is at the top, facing away from you. With a sharp knife, carefully cut the mango lengthwise about ¼ inch away from the midline to remove one big slice. Repeat the step for the other side.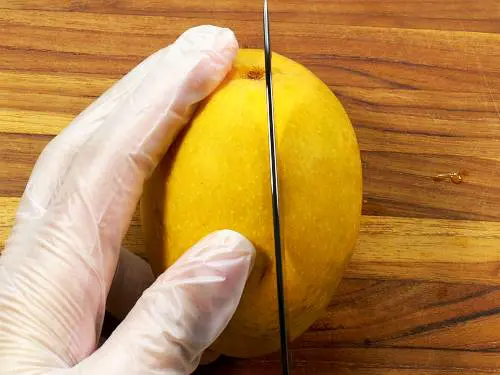 If desired, use a paring knife to slice off the skin and flesh around the seed and prepare as desired. Now that you have two big mango halves, there's two ways to remove the flesh.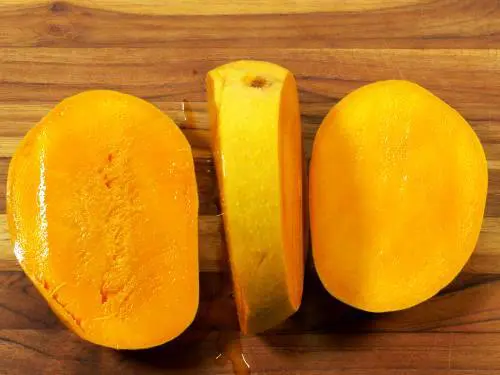 First, cut the inner flesh into cubes with a knife, without cutting through the skin of the mango.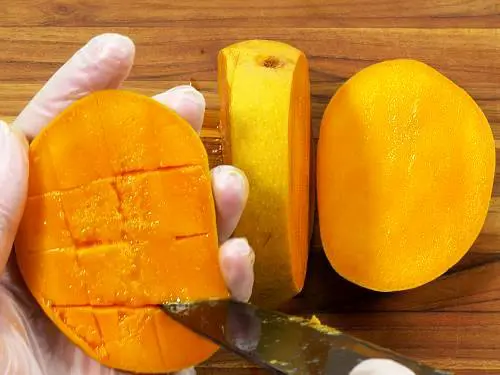 Then use a big spoon to detach the flesh from the skin and scoop out the cubes, like for an avocado. This is the more traditional method but does require a little time and finesse with a knife.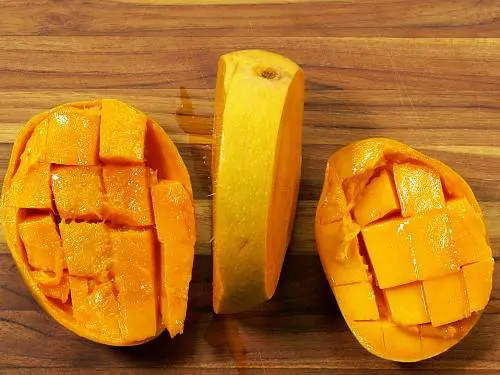 The second way uses a simple drinking glass to peel the flesh from the skin. Taking a mango half, press the smaller bottom edge onto the thin rim of a glass. Continue gently pressing down to finish separating the flesh of the mango from the skin. The resulting flesh should be in the cup, ready to be used!
How to Make Mango Smoothie (Stepwise Photos)
1. Alternately you may simply rinse and peel mangoes. Chop or slice them. Peel oranges with a peeler and remove most of the pith and deseed them. Alternately you can use orange juice. If you prefer a chilled smoothie, chill your mangoes and oranges in the refrigerator or freeze for an hour.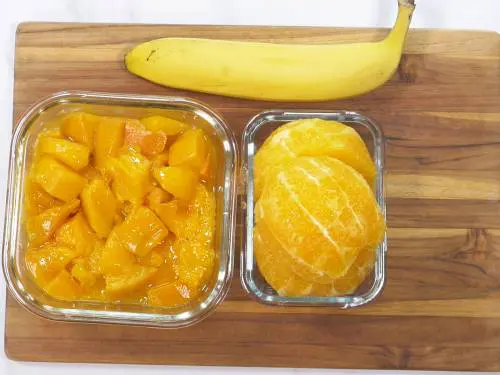 2. Add the mangoes to a blender.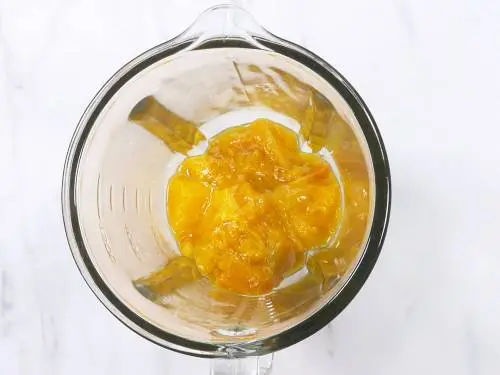 3, Peel and add the banana along with oranges. You may check my orange juice post to know how I deseed the oranges easily.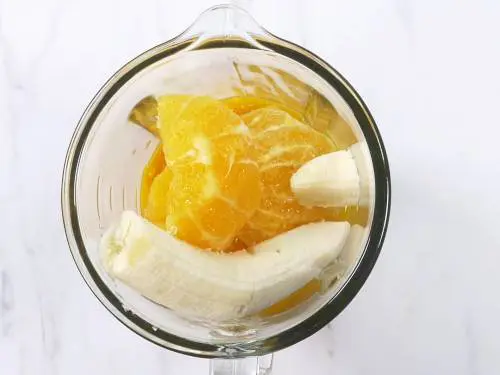 4. Pour water/ milk or juice. You can use plant based milk like almond milk or cashew milk.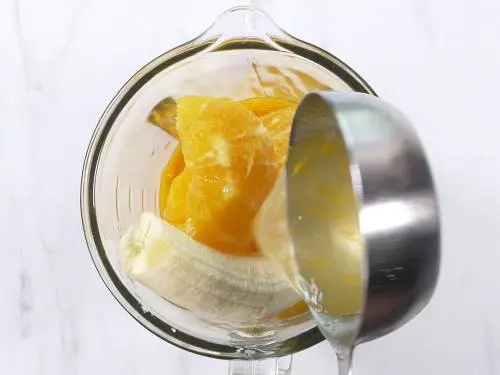 5. Add chilled yogurt and honey. You may add more yogurt or juice to bring to consistency. Also adjust the sweetener.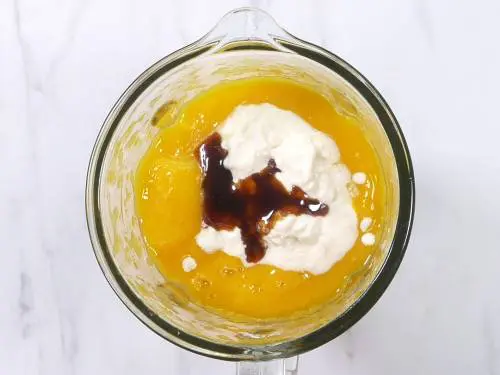 6. Blend until smooth.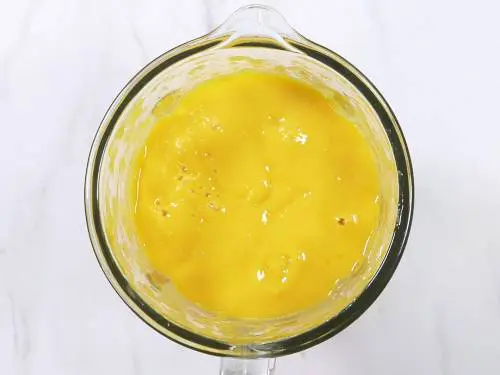 Pour mango smoothie to serving glasses and enjoy!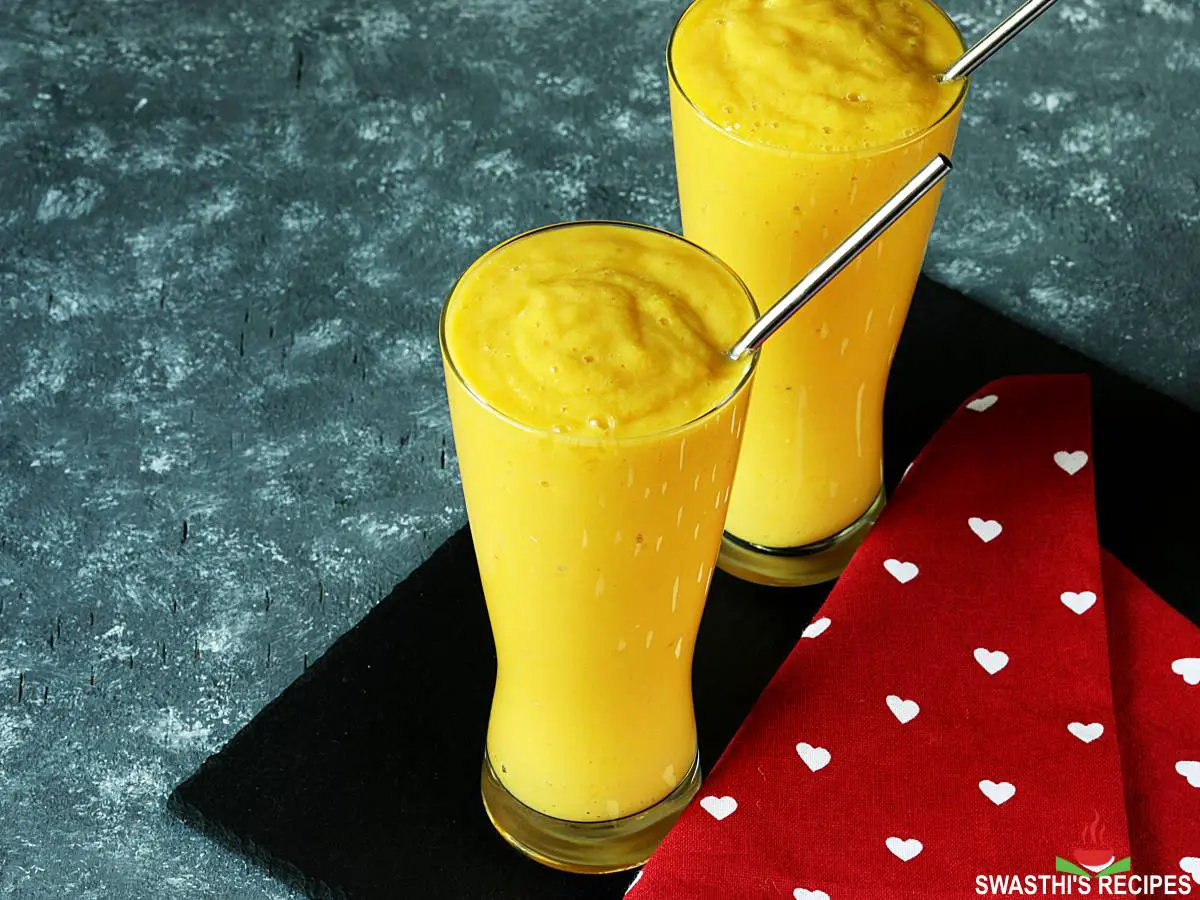 Meal prepping the mango smoothie
Maybe you're realizing cutting and dicing a whole mango from scratch to make a smoothie might take longer than you thought. Does that mean it's still a viable breakfast option?
Absolutely!
The solution is to meal prep the smoothie. Cutting up and using fresh fruit every time is delicious, but if you're someone with limited meal time in the morning it's not very feasible. You can keep it feasible by preparing most of the ingredients in advance and then just add yogurt, liquid, and maybe honey to the blender for a near-instant breakfast.
To streamline your morning meal routine, either cut up fresh mango using the techniques mentioned above or use frozen pre-cut mango and divide the fruit into freezer-friendly bags or containers. Slice and add bananas to each container or bag as well. You can freeze peeled and deseeded orange slices, but the texture won't be the same and the juice you need to loosen the smoothie would be frozen.
When you're ready for a morning mango smoothie, take one of your bags of pre-portioned fruit out of the freezer. Add it to the blender, along with yogurt, honey, and orange juice, and voilà! A beautiful breakfast smoothie with way less work. Keep in mind that frozen fruit will result in a thicker smoothie, so you may have to add more orange juice to thin to taste.
Serve mango smoothie as you like it.
Obviously you can serve the smoothie in a glass—maybe with a straw if you're into that aesthetic—but there's other ways to have your smoothie and eat it too.
If you have leftover smoothies made with fresh fruit, freeze any leftovers into popsicles to enjoy later on a hot day.
Drinking a smoothie too light a breakfast for you? Leave it a little thick and serve it as a smoothie bowl with all your favorite fruit, nut, coconut, or granola toppings.
There's no wrong way to consume this delicious mango smoothie.
Related Recipes
Recipe Card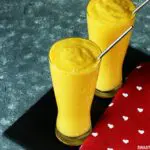 Mango Smoothie Recipe, How to make Mango Smoothie
This refreshing mango smoothie is a fantastic way to begin your day. It's packed with the best and great things to get your morning going or sweeten your evening.
Print Recipe
Pin Recipe
Jump to Comments
For best results follow the step-by-step photos above the recipe card
Ingredients (US cup = 240ml )
2 to 2½

cups

mangoes

(sweet ripe mangoes)

2

large

sweet oranges

(or 1 cup orange juice)

1

medium

banana

(ripe banana, refer notes)

½

cup

yogurt

(or vegan yogurt or almond milk)

½

cup

ice

or water or any juice
Instructions
Wash and peel mangoes. Chop or slice them. Rinse and peel the oranges. Remove the pith and deseed them.

If you want a cold smoothie, freeze the fruits in the freezer for an hour.

Add them to a blender along with banana and ¼ cup of liquid to assist in blending. You can use plain water, juice, whey from homemade yogurt, nut milk or simply water.

Blend all of them until smooth. Serve mango smoothie immediately.
Notes
It is important not to use too much banana, as the smoothie will take on the dominating flavors of banana.
Serve it immediately after blending. Resting the smoothie will enhance and deepen the flavor of banana.
Alternative quantities provided in the recipe card are for 1x only, original recipe.
For best results follow my detailed step-by-step photo instructions and tips above the recipe card.
NUTRITION INFO (estimation only)
Nutrition Facts
Mango Smoothie Recipe, How to make Mango Smoothie
Amount Per Serving
Calories 202
Calories from Fat 18
% Daily Value*
Fat 2g3%
Cholesterol 5mg2%
Sodium 23mg1%
Potassium 661mg19%
Carbohydrates 46g15%
Protein 4g8%
Vitamin A 1851IU37%
Vitamin C 120mg145%
Calcium 118mg12%
Iron 1mg6%
* Percent Daily Values are based on a 2000 calorie diet.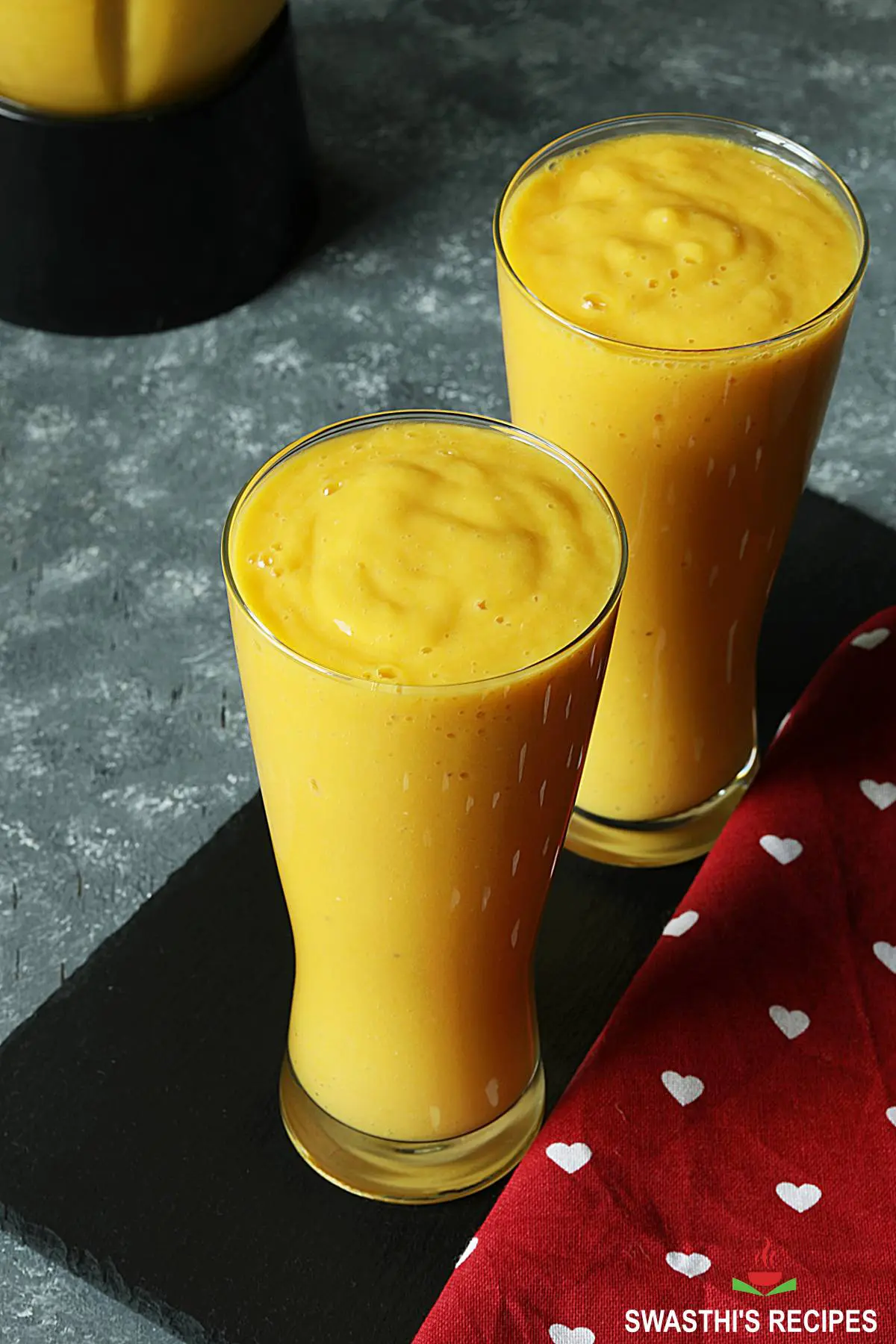 About Swasthi
I'm Swasthi Shreekanth, the recipe developer, food photographer & food writer behind Swasthi's Recipes. My aim is to help you cook great Indian food with my time-tested recipes. After 2 decades of experience in practical Indian cooking I started this blog to help people cook better & more often at home. Whether you are a novice or an experienced cook I am sure Swasthi's Recipes will assist you to enhance your cooking skills. More about me
Follow Swasthi's Recipes