Namak Para Recipe (Namak Pare)
Namak Para is a popular Indian spiced fried cracker made with melted ghee, wheat flour, red chilli powder and other spices, this anytime/ tea-time snack is deep fried to a beautiful golden brown. You can always air fry or bake it in the oven for a healthier version with the help of my instructions. Namak para is a perfect snack when you want something crunchy and savory with the slight heat from Indian spices.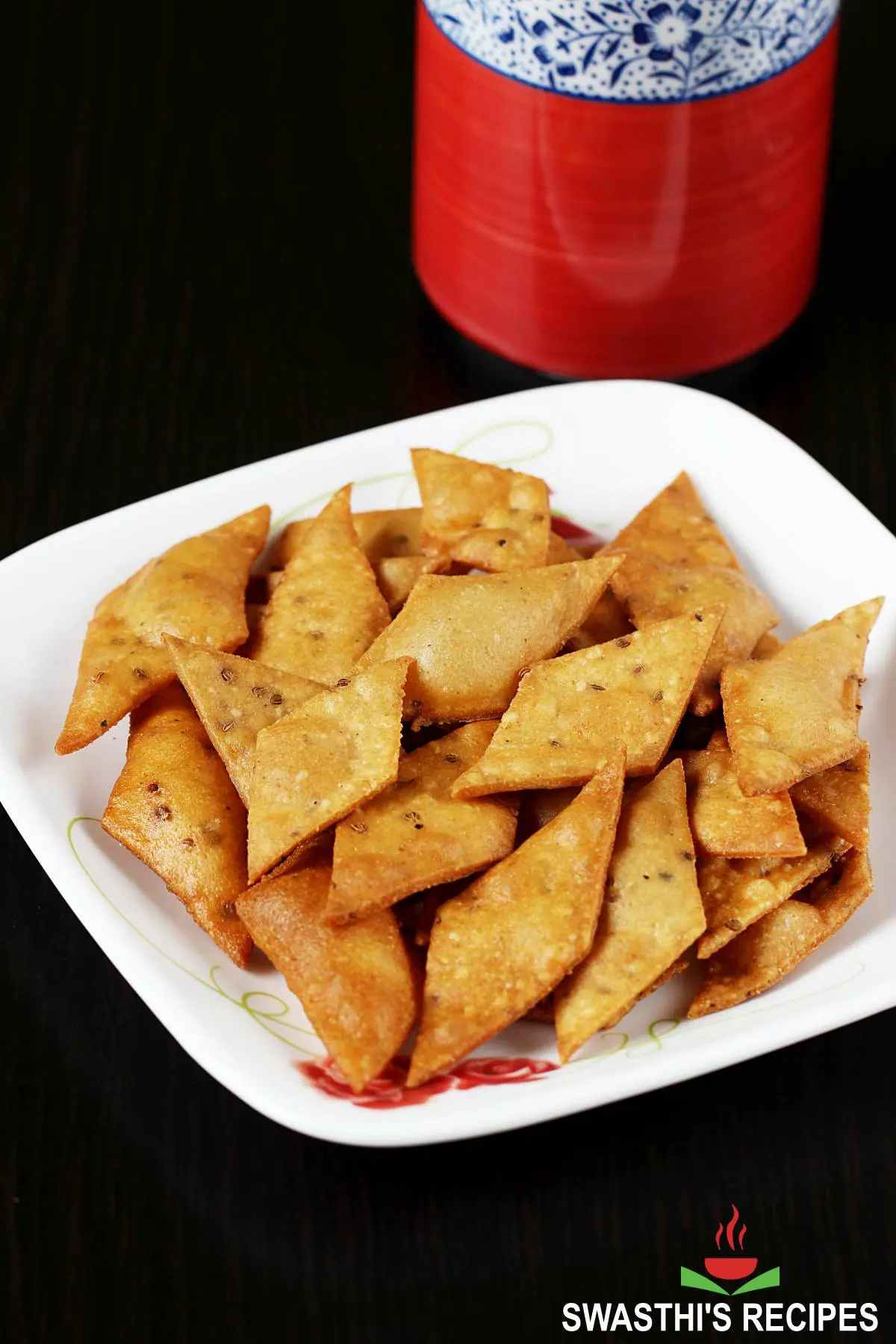 If you're looking for a dish to balance all the sweets you're having for Diwali, why not add this savory finger food to the mix?
This spicy biscuit is with wheat flour and a hint of spices. Like its sweet sibling (shankarpali) this is crispy, flaky and downright delicious!
Savory diamonds, tukdi, nimki, call it what you want, this snack adds a refreshing zing to your snack table on regular days and on special occasions. Make a big batch and ensure the kids have something much home cooked and healthier to eat when hungry rather than store bought junk food.
And why stick to the same old Diwali farsan every year? Add chakli, namak para and even butter murukkus and mathri to your Diwali menu list and watch the compliments roll in.
About Namak Para
Namak para is a rolled-out dough snack made with flour, oil and spices, shaped into diamonds, and deep fried to get the golden-brown texture and crunchy mouthfeel.
While the regular namak para is made with maida, I have made it healthier by using whole wheat flour. Substitute a portion of the flour with besan for a unique version and different taste.
Kids love these flaky biscuits, both the savory and sweet version. As this food stores well, namak para makes a good snack and party appetizer option.
While these savories are cut into squares or diamonds, you can shape it any way, from circles and triangles to flowers and stars using cookie cutters.
Difference between Namak Pare and Shankarpali?
While shankarpali is the sweet biscuit, namak pare is its savory twin. One is made with maida or whole wheat flour, sugar syrup and cardamom. The other contains plain flour or whole wheat flour, chili powder, pepper powder and ajwain.
The ingredients are different but the prepping and cooking technique is the same. Both the enriched doughs are rolled and cut the same way into diamonds before being fried in oil, or baked in the air fryer/oven.
Namak para is again an easy to make recipe and comes together rather quickly.
You can also check these Diwali Snacks,
Shankarpali
Murukku
Chakli
Thattai
Butter murukku
Ribbon murukku
How to Make Namak Para (Stepwise photos)
This recipe has three main steps – mixing the dough, shaping spiced dough and deep frying or air frying the biscuits.
Prepare the dough
1. Add 1 ½ cups of whole wheat or maida/plain flour to a mixing bowl. Add to this:
pinch of baking soda (only for whole wheat flour)
¾ to 1 teaspoon salt
1½ teaspoon ajwain or jeera
½ to ¾ teaspoon pepper powder (ground pepper)
1/8 teaspoon hing (otional)
1 ¼ tablespoon hot oil or soft butter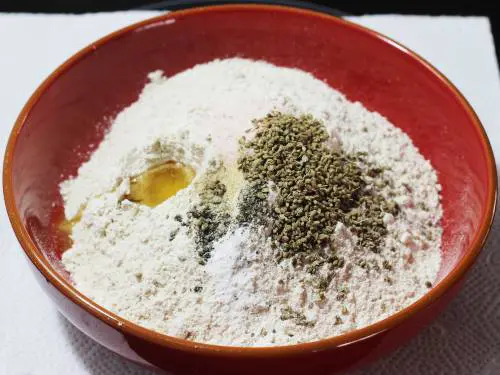 2. Mix well to combine. Crumble or rub the flour well in between your palms
Slowly add water little by little and mix. Add just enough to make a dough.
You need to knead it to a non-sticky and stiff. It should neither be wet, not dry and crumbly. I mixed it until I got the texture seen in the picture below.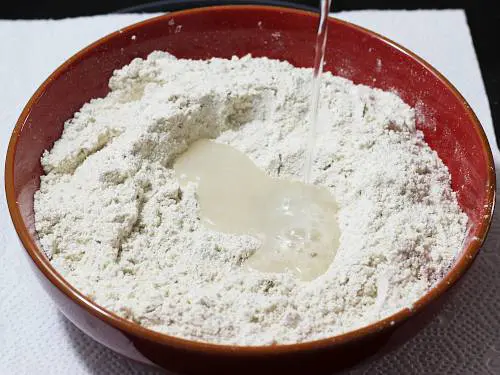 3. Knead the mixture into a stiff and smooth dough.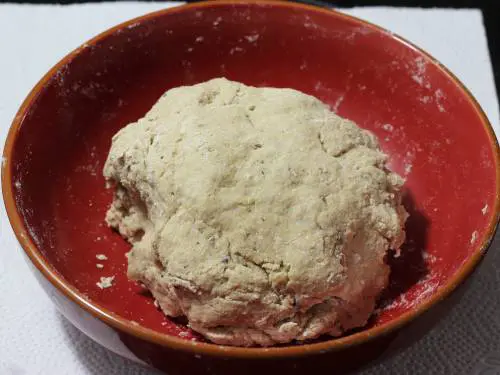 4. The dough must be stiff and not soft. If the dough is not smooth, the fried biscuits will come out hard. If the dough is too soft or sticky, biscuits will absorb a lot of oil.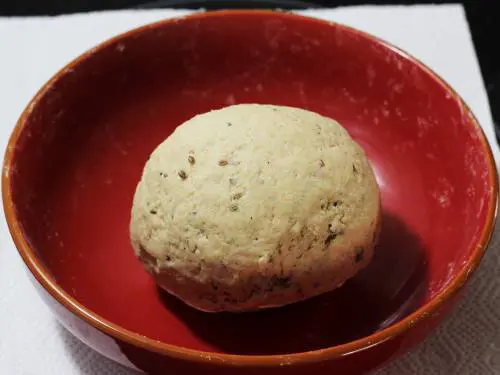 5. Divide the dough into 4 parts, roll them to balls and set aside.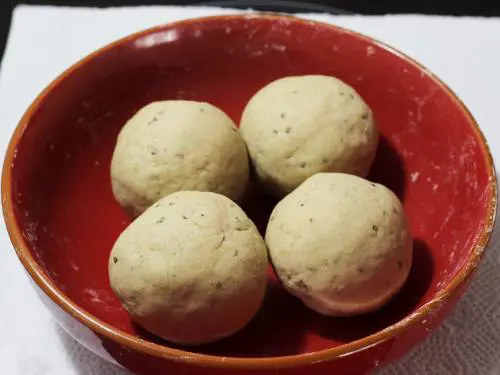 Make Namak Para
6. Grease the rolling area or board with oil but don't flour it. Take one ball, flatten with your thumb and start rolling.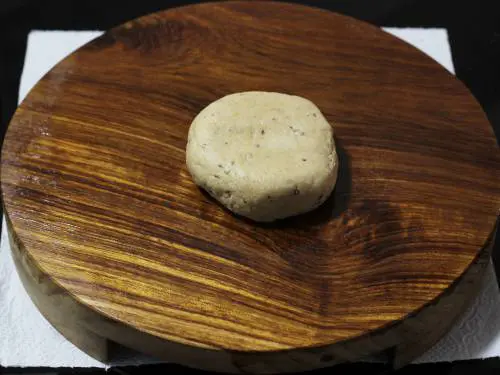 7. Roll it into a 9-inch thin disc or chapati. The recipe should make you 4 balls which can be rolled to 9-inch each. If you make roll the dough thick, then biscuit will be soggy and not crisp up. quickly while you fry them in oil. The namak para will turn soft in a few days.
8. Use a pizza cutter or sharp knife, draw lines ¾ to 1 inch apart from each other. Start from one corner and now draw diagonal lines to get the diamond shapes. (Refer to the pictures below).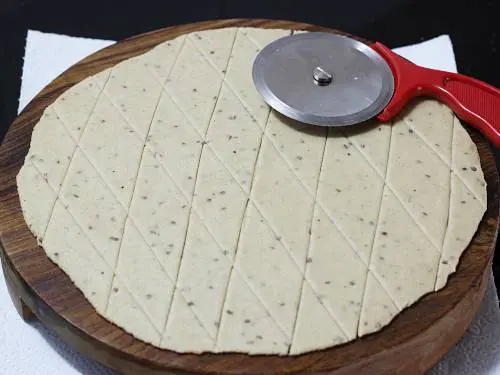 9. Separate the namak para bites and remove to a plate. You can roll all the balls and shape them before frying.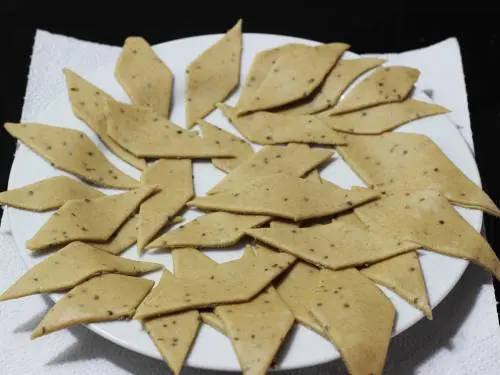 Fry the Namak Para
10. Heat oil in a kadai or large and thick bottomed pan on medium heat. While the oil heats up, make more savory biscuits.
To test if the oil is medium hot, drop a piece of dough into the hot oil. If it sinks and rises up slowly, the oil is perfect for frying.
If the oil is very hot, namalk para will remain uncooked and burn easily.
11. Gently slide the diamond biscuits, a few at a time into the oil. Add as many as the vessel can handle (don't overcrowd it). Stir them immediately and continue frying on medium heat. If you fry on low heat, biscuit may turn rock hard and won't be crunchy and crisp. make them.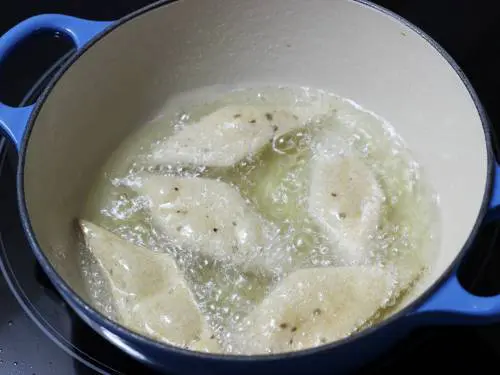 12. Flip the sides at regular intervals to ensure both sides are evenly cooked. Fry until they turn golden brown and crispy. Reduce the heat to low.
13. Remove biscuits to a plate or colander covered with paper napkins (to absorb the excess oil). Increase the heat to medium and fry the remaining batches.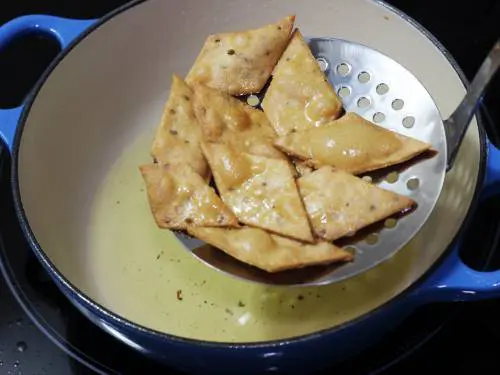 Let the namak para cool completely before you transfer to an airtight steel or glass container. Avoid using plastic jars.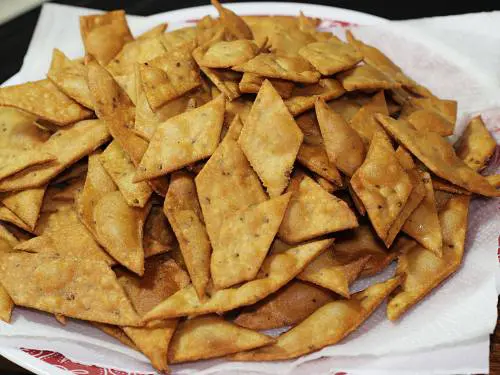 Store it for up to a month at room temperature.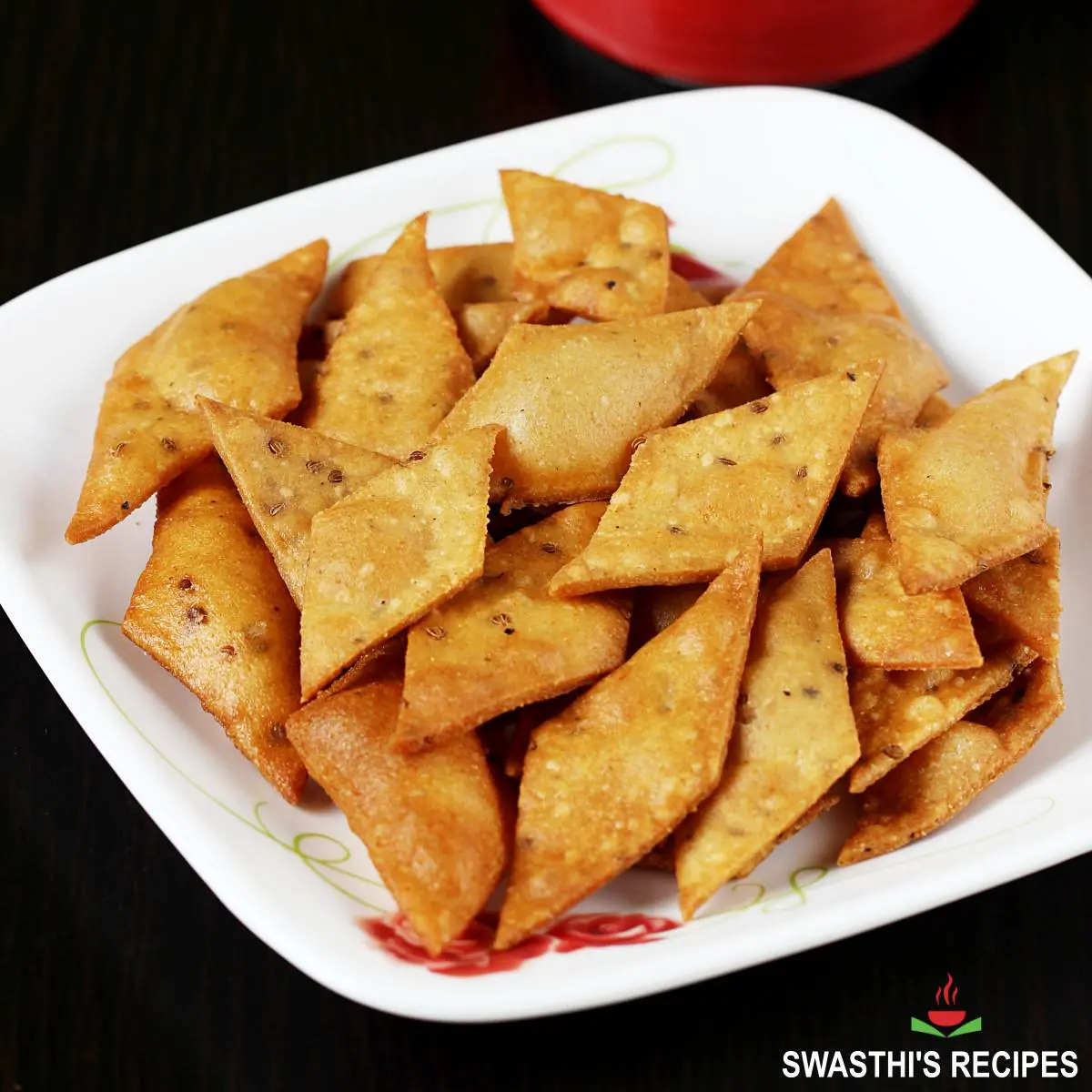 Air Fryer Namak Para
The air fryer makes it easy to eat fried snacks guilt-free. You can definitely make a healthier version of this savory biscuit by air frying nimki for 13 minutes at 160C (300F). Flip them half through cooking. Constantly check the biscuits after the first 8 minutes to avoid burning. To get a browner shade, air fry for 3 to 4 minutes more at 180C (350F).
You can also bake it in the conventional oven or microwave with convection mode. Bake them for 10 to 15 minutes at 180C (375F). Check the biscuits for doneness after the first 10 minutes.
Substitutions
Make namak para with besan. If you don't like the nutty flavor of besan, make the dough with equal parts of whole wheat and besan.
Swap the oil with soft butter while mixing the dough. The biscuits get a lovely buttery mouthfeel.
Skip the chilli powder or black pepper or both if you want a mild tasting biscuit. Add a pinch of turmeric and dry ginger instead.
Swap ajwain (carom seeds) with jeera (cumin seeds) or white til (sesame seeds).
Pro Tips
Make a stiff dough that is not too sticky or dry and crumbly.
Roll the dough thin for even cooking when frying. Roll it too thick and you won't get the crispiness. Besides the biscuits will lose their crunchy and crispy texture in a few days.
Fry on medium or medium high heat to ensure it remains crispy and well-cooked inside. Low heat frying will turn the biscuits into rocks.
Use unbleached and organic refined flour or maida instead of wheat flour.
The biscuits store well for up to a month at room temperature when kept in an airtight container.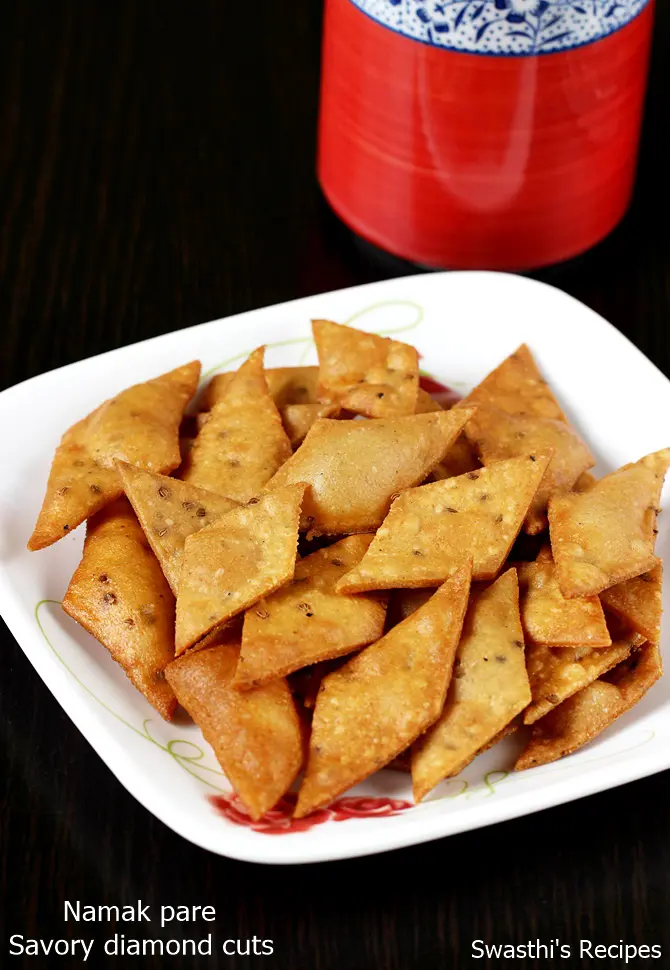 Related Recipes
Recipe Card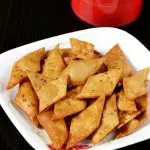 Namak Para Recipe (Namak Pare)
Namak pare recipe, one of deep fried snack from Indian cuisine often made during festivals or holidays. Also known as namak para, savory diamond cuts or nimki.
Pin Recipe
Print Recipe
For best results follow the step-by-step photos above the recipe card
Ingredients (US cup = 240ml )
1 ½

cups

atta

/ whole wheat flour / maida / plain flour

1 ¼

tbsp

oil

hot , or soft butter

1/8

tsp

hing

/ asafoetida (optional)

1

Pinch

soda

if using atta

¾ to 1

tsp

salt

1 ½

tsp

ajwain

/carom seeds or jeera/cumin

½ to ¾

tsp

pepper

crushed

Oil

for deep frying
Instructions
Mix together flour, salt , soda,hing, ajwain or jeera, pepper & hot oil. Nicely rub the flour well in between your palms.

Add water as needed and make a stiff dough. Taste the dough and check the spice and salt level, if needed add more.

Knead it well. Divide the dough to 4 parts and roll them to balls. Keep them covered with a moist cloth.

Grease the rolling board. Begin to roll the ball to a 8 to 9 inch even chapati / roti.

With the help of a knife or a pizza cutter, begin to cut vertically with 1 inch apart straight lines. Begin to cut from the corners to get diamond shaped cuts.

Transfer these to a large greased plate and set aside. Begin to make the rest.

Heat oil in a deep pan on a medium heat. When the oil is hot enough, not smoky hot, begin to drop a few at one time. Immediately stir with a spatula. Do not crowd too many into the oil at one time. Keep stirring to fry evenly until golden and crisp. Fry them in batches. You can refry if any of the batches are not crisp.

Transfer namak para to a plate lined with kitchen tissues. Drain and cool them. Store in a air tight jar.
Alternative quantities provided in the recipe card are for 1x only, original recipe.
For best results follow my detailed step-by-step photo instructions and tips above the recipe card.
NUTRITION INFO (estimation only)
Nutrition Facts
Namak Para Recipe (Namak Pare)
Amount Per Serving
Calories 72
Calories from Fat 36
% Daily Value*
Fat 4g6%
Sodium 487mg21%
Carbohydrates 5g2%
Protein 1g2%
* Percent Daily Values are based on a 2000 calorie diet.
Namak para recipe first published in August 2016. Updated and republished in October 2022.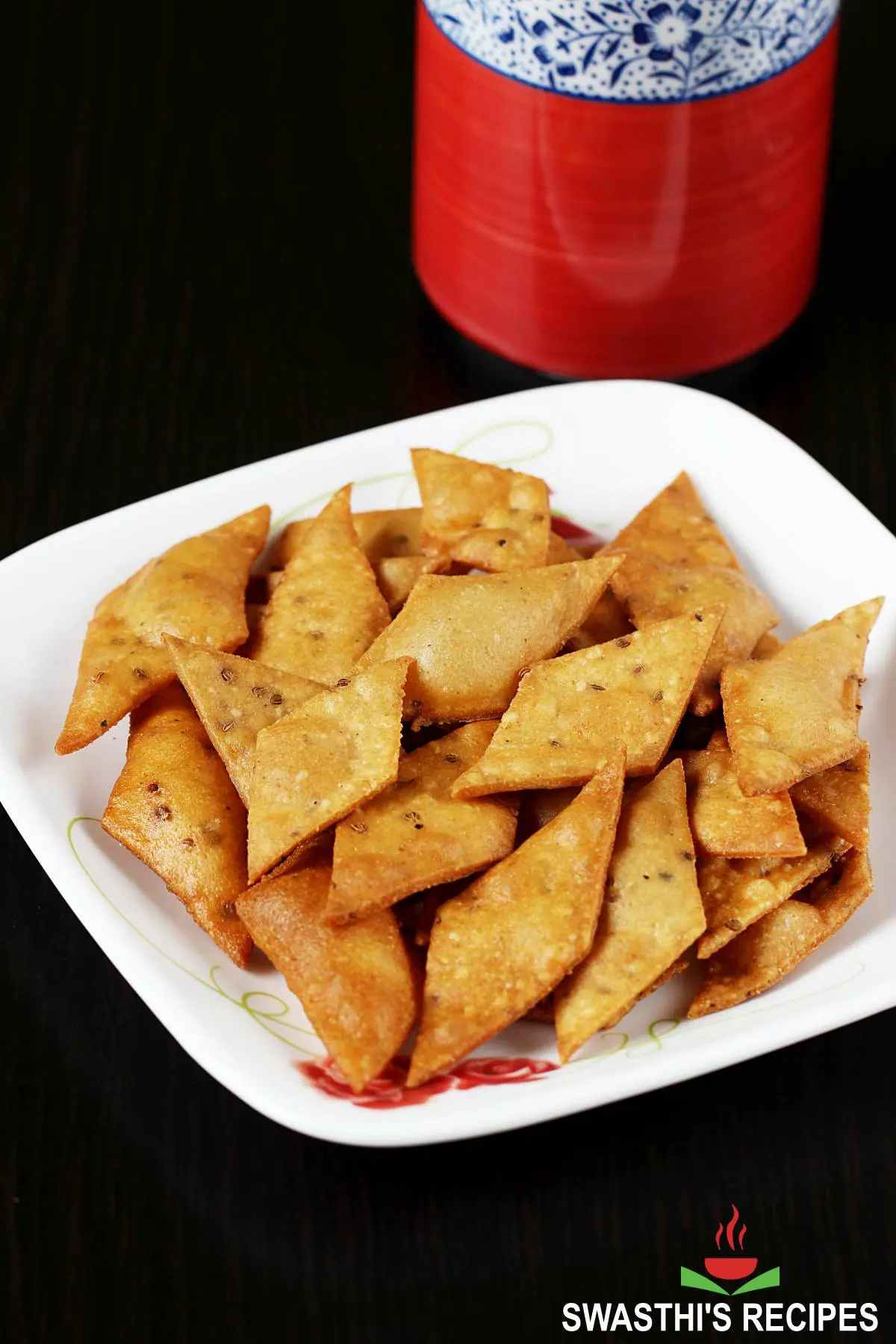 About Swasthi
I'm Swasthi Shreekanth, the recipe developer, food photographer & food writer behind Swasthi's Recipes. My aim is to help you cook great Indian food with my time-tested recipes. After 2 decades of experience in practical Indian cooking I started this blog to help people cook better & more often at home. Whether you are a novice or an experienced cook I am sure Swasthi's Recipes will assist you to enhance your cooking skills.
Follow Swasthi's Recipes