Pizza recipe with video – Learn how to make pizza at home like a pro with simple step by step instructions. This detailed post will help you to make the best pizza that I am sure will be your family favorite. This pizza has a crisp, light & fluffy base with no overpowering flavor of yeast. The sauce is amazingly delicious & aromatic. So this post covers everything from scratch – making the pizza dough, making the sauce and assembling the entire pizza.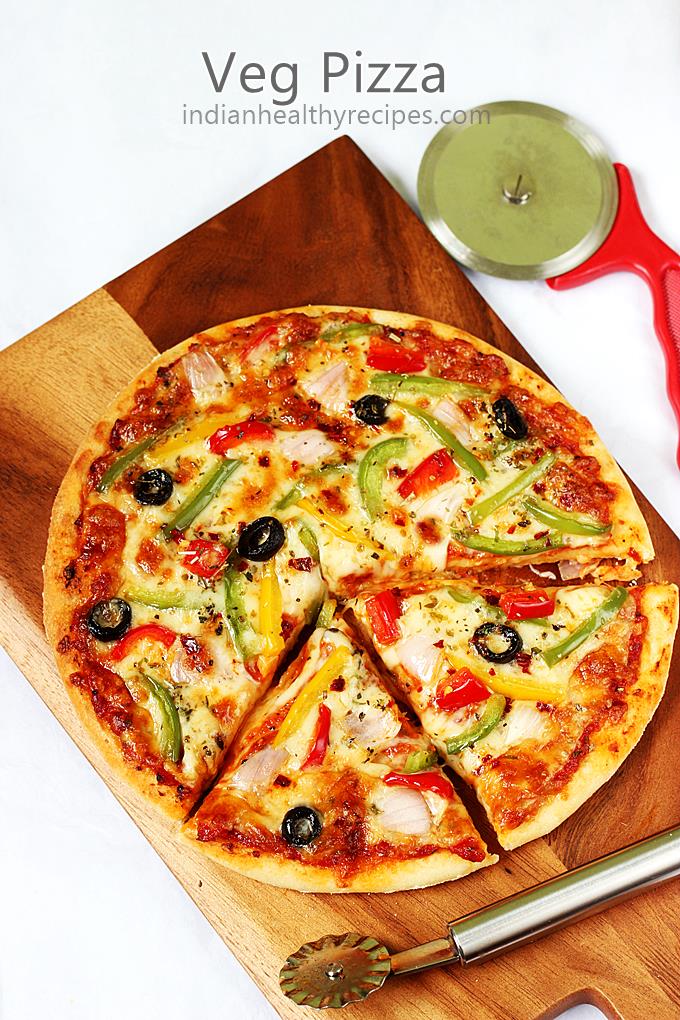 Making pizza at home is much simpler than cooking a special Indian meal.
Initially when I began to make veg pizza at home I had tried using whole wheat flour several times. Since the results were compromising I later tried & got hooked to white whole wheat flour pizza and loved it.
Since then I never looked back for any other alternates since we got used to the taste of white wheat, though not exactly the same we get in any good pizzeria.
I had several readers' requests for a good veg pizza recipe using all-purpose flour or maida. So later whenever I made pizza for my family, I began to use unbleached organic all-purpose flour.
I followed the recipe from Bob's red mill for the pizza base which turned out to be outstanding and delicious.
For the pizza sauce, I had already arrived at the best after making pizza for several years.
All the tips in this post are my own that comes from my own experience.
If you do not have a oven, then you can also make pizza on tawa following this Tawa pizza without yeast or this bread pizza made with bread as the base.
Related recipes you may like
Cheese Balls
Cheese sandwich
Veg burger
Masala pasta
Sandwich recipes
Step-by-step photos
How to make pizza dough at home
1. Pour luke warm water to a warm bowl. If you live in a very cold place, just warm up your bowl for proofing yeast. Firstly make sure the water is just warm.
An ideal temperature of water is 40 to 43 C. Just dip your finger in the water to check if it is just warm. Hot water will kill the yeast and cannot be used further.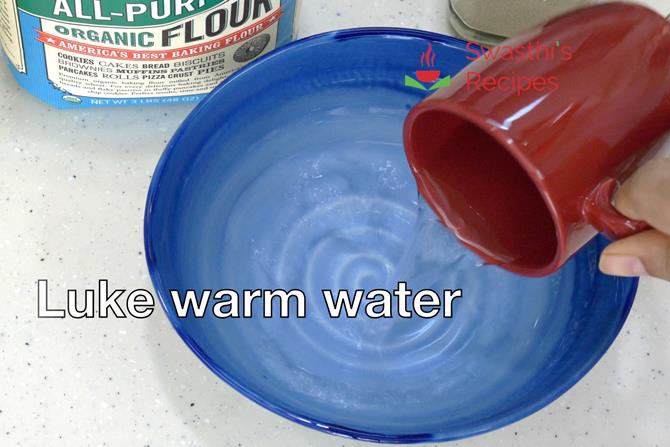 2. Add yeast to the warm water.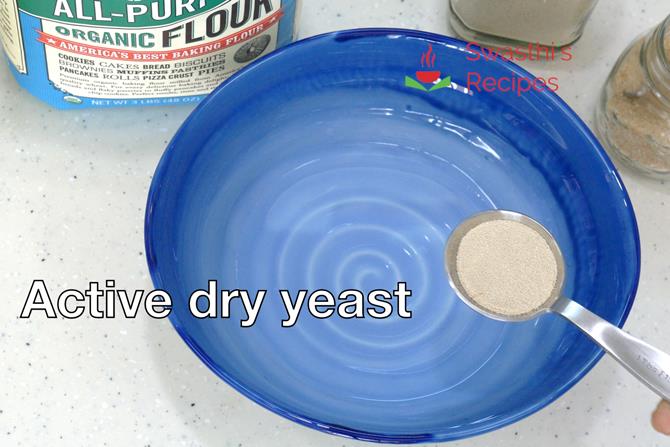 3. Sprinkle sugar as well.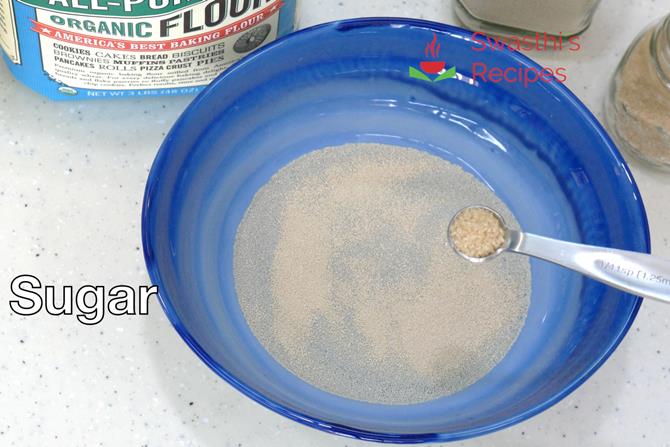 4. Stir it gently. Allow this to rest undisturbed for 10 to 12 mins. The mixture must turn frothy and bubbly. If you fail to get a frothy mixture, do not proceed further with this yeast. It is inactive. So just discard this.
Start again with fresh warm water, yeast and sugar. Repeat the steps from 1 to 4.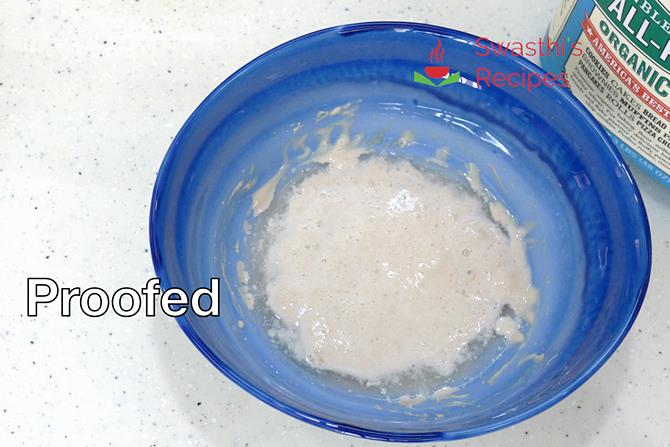 5. When the yeast turns frothy, add flour. Here I have used organic unbleached all purpose flour. If you do not get organic one, just replace with whole wheat flour.
Make a thin pizza. It will turn out good. You can also use half whole wheat flour and half maida.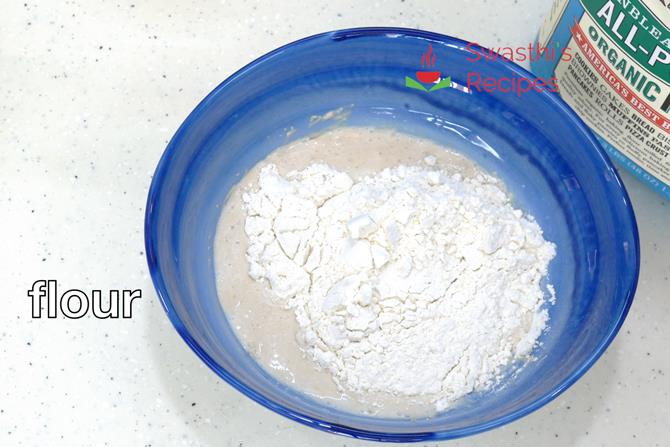 6. Next add olive oil and salt.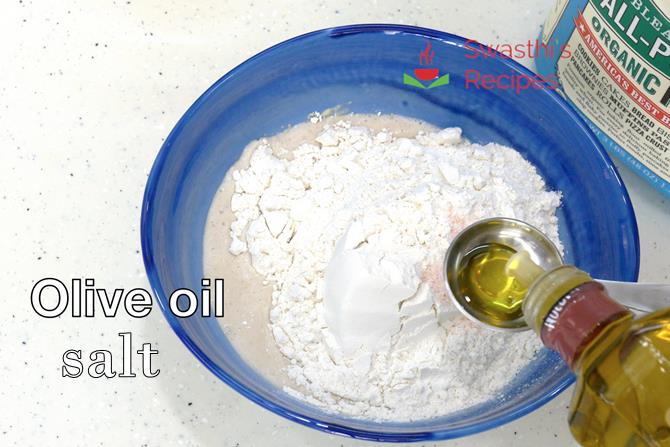 7. Mix to make dough. If needed add more water and knead the dough for 5 to 6 mins. The dough must turn very soft and elastic. When you poke your finger gently the dough must bounce back.
This will happen only if you use all purpose flour. For atta you will have to knead for longer about 9 mins.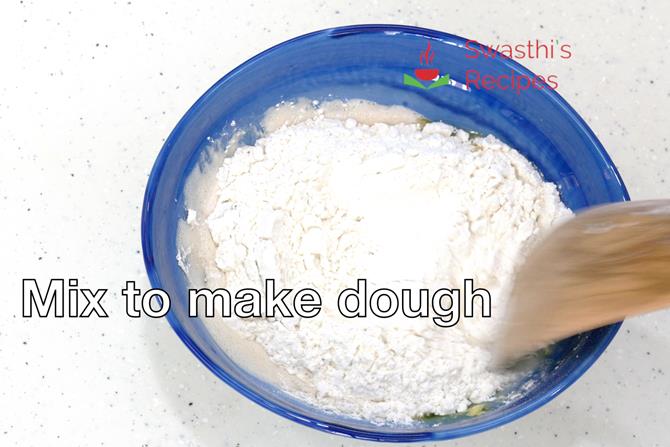 8. Make a ball and next apply a thin layer of oil to prevent the dough from drying up.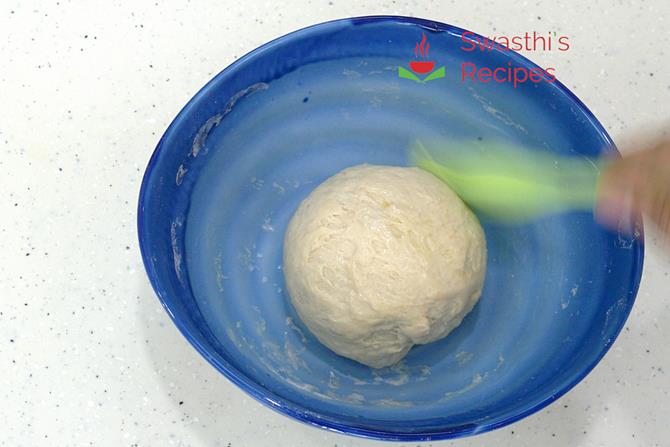 Resting pizza dough
9. Cover with a moist cloth. Rest in a warm place until the dough doubles in size. If your oven has a setting for rising the dough then you can use that as well.
Depending on the temperature, the dough may take anywhere from 1 to 2 hours. But still I advice not to go by timings but to double it in size.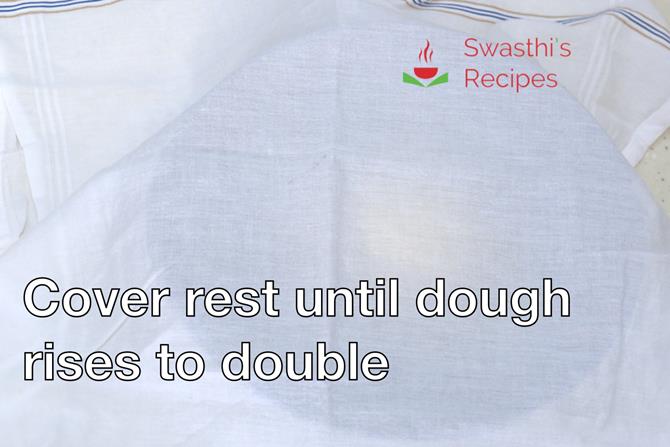 10. Meanwhile make pizza sauce following the video mentioned above or from the recipe card. Then keep the veggies ready. Grate the cheese.
11. Dough has doubled in just 45 mins for me. I made one pizza that day and refrigerated the rest for the next day. Just wrapped it in a cling wrap and put it in the fridge.
The flavor of the yeast dough gets much better as it ages in the fridge. This keeps good for 2 days. If refrigerating, then allow it to come down to room temperature before using. I allowed to rest for 90 mins.
When you see the dough is ready, preheat the oven to 220 to 240 C for atleast 20 to 25 mins. If you have a pizza stone, heat that in the oven as well.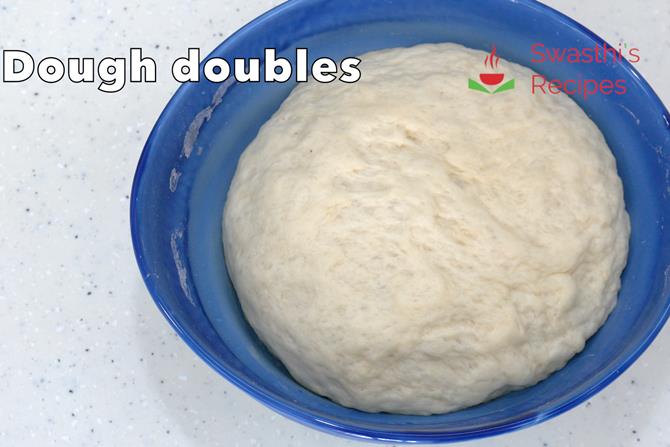 12. Next transfer the dough to the work area and punch it down to deflate. Do check the video above to know the exact process on how to do the further steps. Divide the dough to 2 to 3 parts depending on the size you prefer. I made one 9 inch thin crust and then two 6 inch thick pizzas.
How to make pizza – thin crust pizza base
Sprinkle some corn meal evenly on a tray. Flatten a ball and add few drops of oil. Begin to spread and stretch the dough. Flatten to a 9 inch thin even base.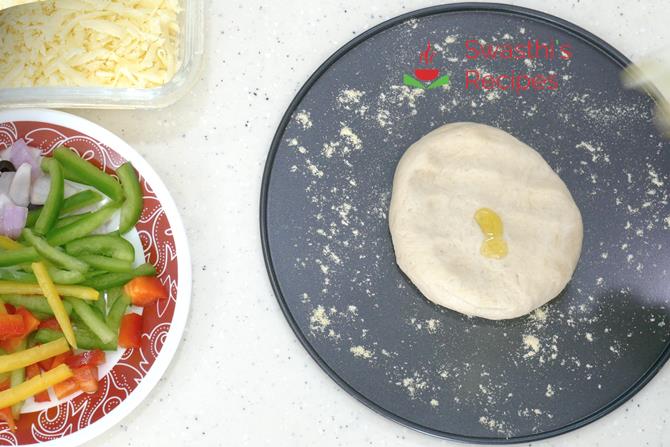 13. Next spread pizza sauce as desired. For the pizza sauce please follow the recipe card or the video.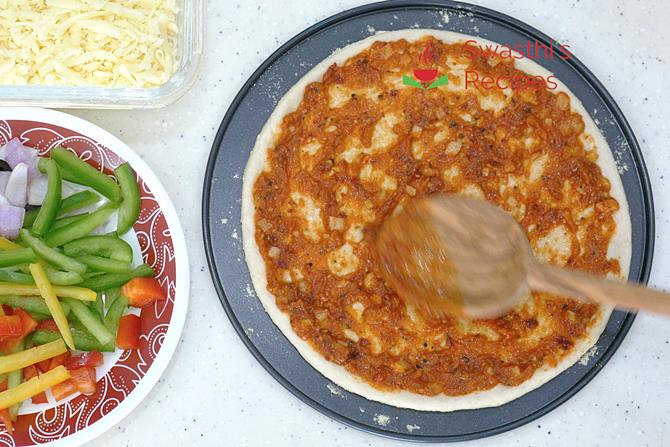 Baking
14. Lastly layer cheese. Then veggies of your choice. We prefer bell peppers, onions and olives. You can also use cauliflowers, mushrooms and firm ripe deseeded tomatoes. Sprinkle Italian herbs and chili flakes if you desire.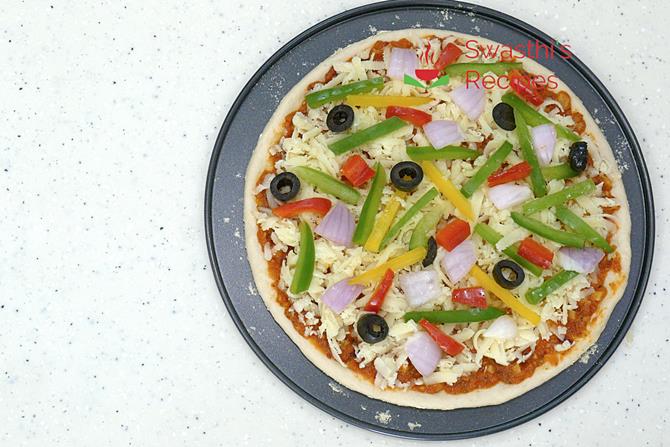 15. Bake it for 8 to 10 minutes or until the cheese turns golden.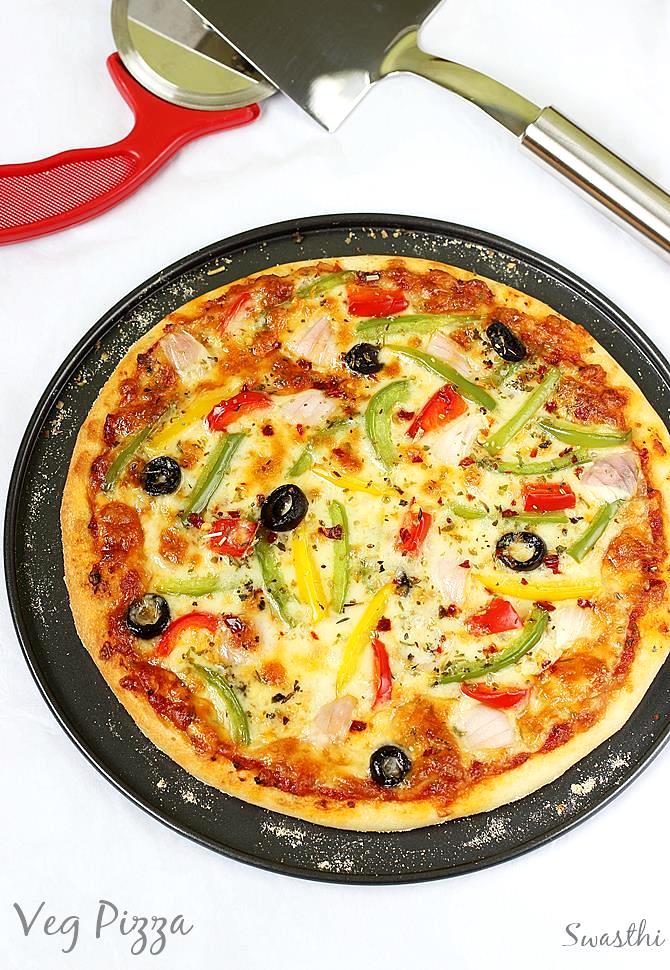 Slice and serve.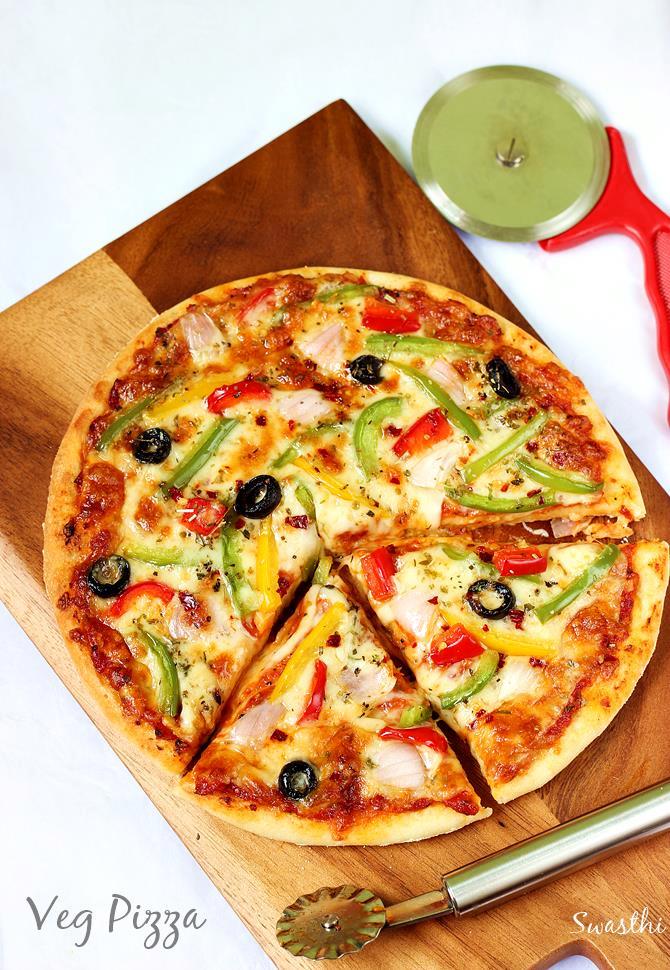 Making thick pizza base
I also made two 6 inch thick personal pizzas. If making thick pizza base then, I stretch the dough & bake it for 5 – 7 mins first. Then smear the sauce and layer the toppings.
Bake this for about 8 to 10 mins. If your cheese doesn't get golden, you can move it to the top rack and bake for another 2 to 3 mins.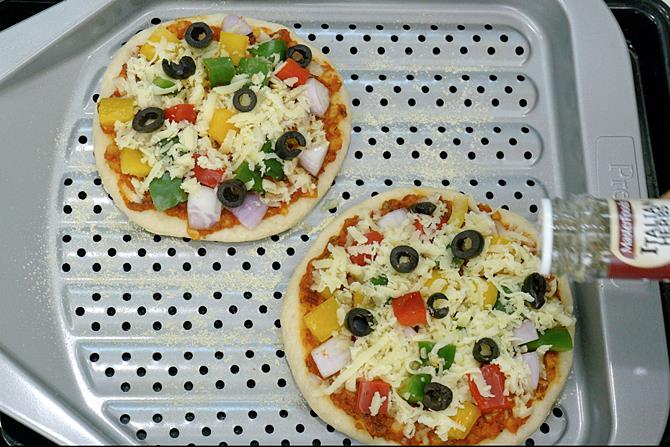 Cut and slice the pizza. Serve hot or warm.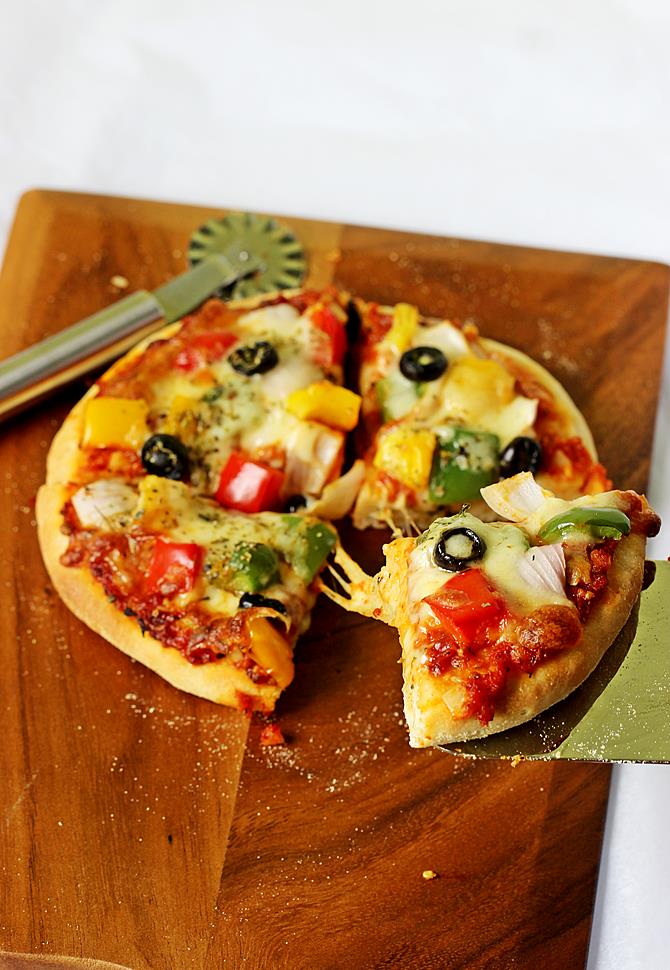 Health Note : Do not use regular maida to make pizza, it is very unhealthy. Regular maida is chemically bleached and has tons of adverse effects on our health.
If you do not find organic or unbleached flour, just make the pizza with very fine quality atta and make a thin crust pizza. It turns out very good that way too.
Important tips for making best pizza
1. Activate yeast : Always activate your yeast first before you add it to the flour. This way you can save your flour from going waste if the yeast isn't good.
2. Let the dough rise well : Allow the dough to rise until it doubles rather than allowing it to rise for a certain period of time. The time taken for the dough to double may vary depending on the temperature or place you live.
So time may not be the right factor, instead wait until the dough doubles in size.
3. Bake the base: If you are baking a thick pizza base in a small oven, then it is good to bake the pizza base first for 5 to 7 mins and then smear the sauce and top it with veggies & cheese. Then bake it to finish off.
Most times a thick pizza base doesn't get cooked well in smaller ovens while the cheese gets browned.
Pizzas served in pizzerias are made in really large ovens that are very hot & mostly baked on pizza stones hence the base gets cooked well.
Using this recipe of pizza you can make a thin crust pizza or medium or thick crust pizza to suit your taste. When I made it for the blog post I had made one 9 inch thin pizza and 2 thick 6 inch pizzas.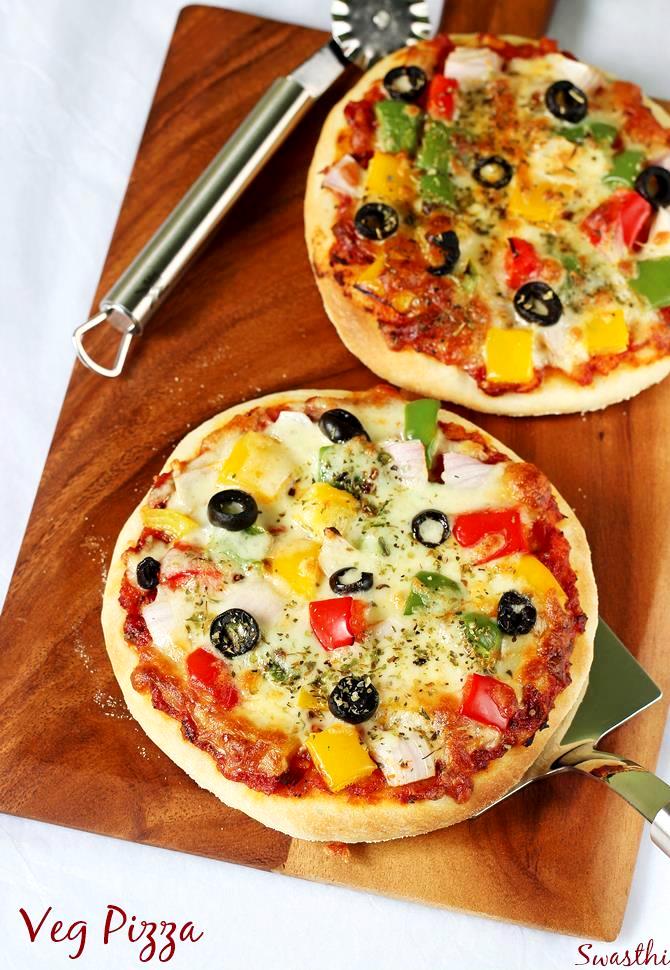 Related Recipes
Recipe
Veg pizza recipe at home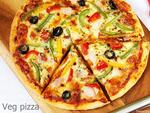 Pizza recipe | How to make pizza
Veg pizza recipe – Learn to make pizza at home with this detailed step by step guide. This pizza recipe helps you to make the best tasting pizza at home along with homemade pizza sauce.
Pin Recipe
Print Recipe
For best results follow the step-by-step photos above the recipe card
Ingredients (1 cup = 240ml )
For pizza dough
2

cups

maida

or organic plain flour or all-purpose flour (or 1 cup maida & 1 cup atta)

1

tsp

active dry yeast

½

cup

water

+1 tbsp. (use as needed)

1 ½

tbsp

olive oil

(replace with any oil)

¼ to ½

tsp

salt

(use as needed)

¾

tsp

organic sugar
For pizza sauce
400

grams

tomatoes

fine chopped or pureed

2

garlic

cloves minced or chopped finely

1

tsp

red chili flakes

1

tsp

Italian herbs

or ½ to ¾ tsp oregano

Salt as needed

½

tsp

pepper

coarse crushed or powder

1 ½

tbsp

oil

(preferably olive oil)

1

tsp

organic sugar
For pizza toppings
200

grams

Mozzarella cheese

or as needed (refer notes)

1 ½

cups

Mix vegetables

sliced or cubed (capsicum, onions, olives, tomatoes, mushrooms)

¼ to ½

tsp

Italian herbs

mixed or oregano (use as desired)

¼

tsp

red chili flakes

(optional)
Instructions
Making pizza dough
Pour luke warm water to a mixing bowl.

Dip your finger and ensure the water is warm and not hot.

Hot water kills the yeast so avoid it.

Add yeast & sugar to luke warm water and stir it.

Set aside for 10 to 15 mins and allow to proof.

After 15 mins the yeast should activate and turn bubbly or frothy.

If the water doesn't turn frothy by then, the yeast is inactive and cannot be used for the dough.

In this case discard and start afresh with luke warm water, sugar and yeast.

When the water turns frothy, add flour, salt and oil.

Next mix and make a dough adding more water if needed.

Knead the dough very well until very soft and pliable for about 5 to 7 mins.

The dough must be soft & elastic.

When you press down the pizza dough with your finger, it must dent and bounce back.

Apply a thin layer of oil to the bowl and the dough as well. Keep covered with a greased plate.

Move this to a warm place like a shelf in your kitchen.

Allow the dough to rise and double in size. It may take anywhere from 2 to 3 hours depending on the weather conditions.
Preparing pizza sauce
Meanwhile prepare the tomato pizza sauce.

To make sauce, heat oil in a pan and saute garlic until it smells good.

Then add red chili flakes and then onions if using. Saute until they turn slightly golden.

Add tomatoes, salt and sugar. Stir and continue to cook covering partially as it splatters a lot.

Cook until the sauce thickens. Add herbs and crushed pepper.

If needed add more salt, herbs and chilli flakes to suit your taste. Set this aside to cool.

Now rinse and cube the veggies. Separate the layers of onions.
How to make pizza
Preheat the oven to 240 C for atleast 20 to 25 mins.

Transfer the dough to the work area.

Punch the dough once to deflate it. Cut to 2 to 3 portions.

Gently shape it to a ball.

Sprinkle some corn meal over the pizza tray.

Place the pizza dough over the tray and flatten it slightly.

Add few drops of oil and begin to flatten it. Spread to a round disc of desired thickness.

If making a thick base & you own a small oven, then put the base in the oven and bake it for 5 to 7 mins.

If making a medium to thin crust pizza then just go ahead with the next steps.

Spread the pizza sauce as desired. Layer the veggies and then grated cheese.

Lastly sprinkle Italian herbs and red chili flakes.

Bake for 10 to 12 mins until the base is cooked and cheese turns slightly golden.

Slice and serve pizza hot or warm.
Video
Video of veg pizza recipe
NUTRITION (estimation only)
Calories:
567
kcal
|
Carbohydrates:
68
g
|
Protein:
22
g
|
Fat:
23
g
|
Saturated Fat:
7
g
|
Cholesterol:
39
mg
|
Sodium:
488
mg
|
Potassium:
569
mg
|
Fiber:
6
g
|
Sugar:
6
g
|
Vitamin A:
4165
IU
|
Vitamin C:
16.7
mg
|
Calcium:
316
mg
|
Iron:
5.1
mg
Notes
Recipe notes for pizza recipe
Cheese: If you are a vegetarian, choose mozzarella cheese made without animal rennet. I guess most cheese made in India are made without animal rennet.
You can also look for cheese mentioned as pizza cheese.
You can find combinations of various cheese like Parmesan, mozzarella and cheddar. You may find Parmesan without animal rennet but mostly uses the cultures from animal extracts.
Please adjust the amount of spice in sauce to suit your taste.
Alternative quantities provided in the recipe card are for 1x only, original recipe.
For best results follow my detailed step-by-step photo instructions and tips above the recipe card.