These Cheese Balls are delicious, irresistible and easily makes to the top favorites. These versatile little Potato Cheese Balls are perfect for special occasions and parties… or they can turn the everyday into something special. They are also easy to customize. Don't want to add breadcrumbs to the outside? Skip it! Intimidated by deep frying? Pan-fry, air-fry or even bake the cheese balls!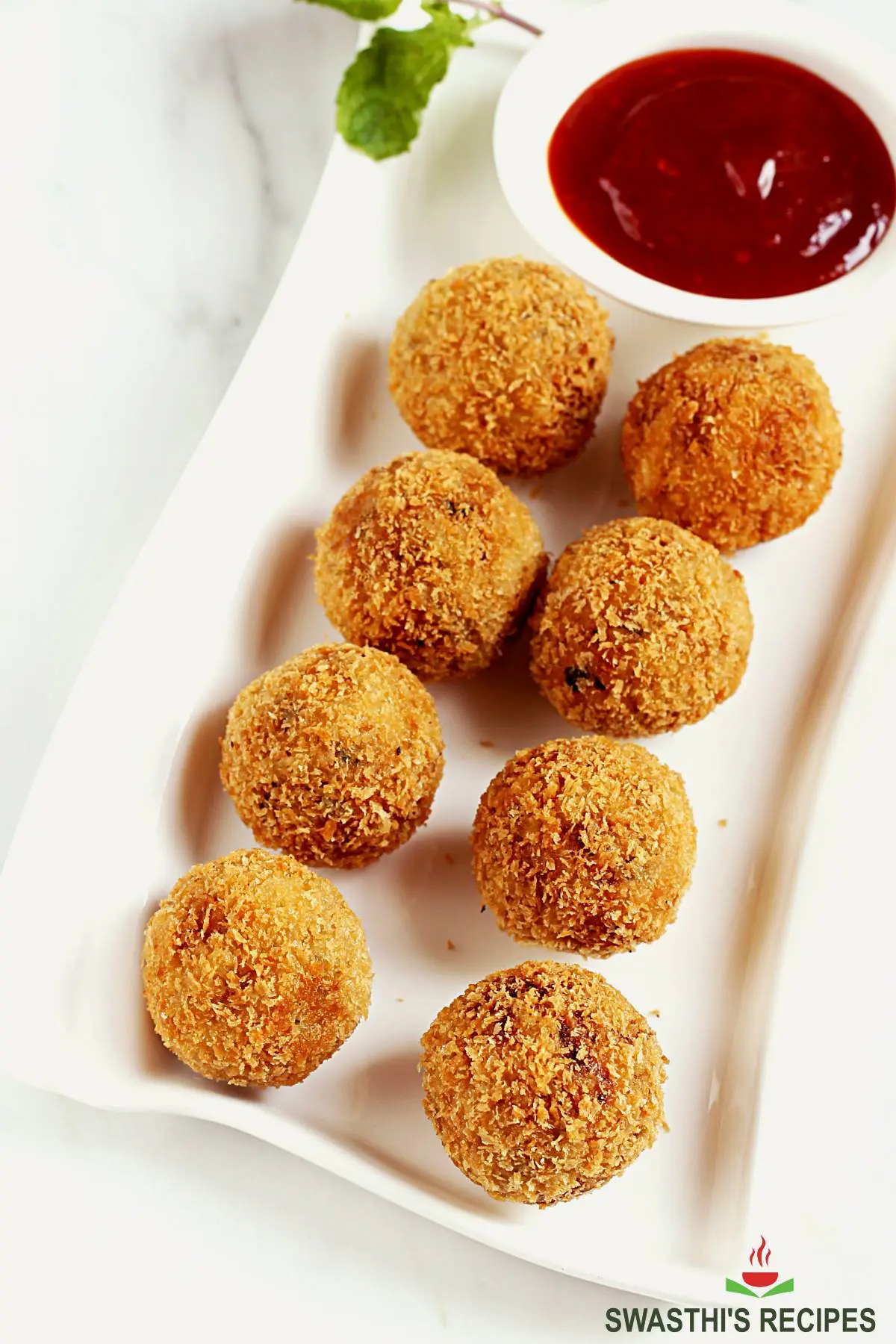 However you decide to make these cheese balls, it's absolutely worth giving them a try.
What are Cheese Balls?
Cheese Balls are somewhat similar to European croquettes (deep fried dumplings filled with meat, seafood, vegetables, or cheese and a binding dough of sauce, potatoes, or wheat) and Caribbean papas rellenas (fried potato dough balls filled with meat, spices, eggs, and vegetables).
Like papas rellenas and many croquettes, our Cheese Balls are made with potato. The term "cheese balls" comes from the delicious cheesy filling that is encased in a mashed potato mix, covered in liquid, cornstarch, and breadcrumbs or panko crumbs for crunch, and then finally either deep fried or baked.
But knowing what cheese balls are is half the battle. How do you make and serve them? Where do they fit into the menu?
Points to note
Luckily these cheese balls aren't too hard to make, but there are a few things to keep in mind when making them.
First, you'll probably want to make the mashed potatoes from scratch. Leftover mashed potatoes from dinner, often cooked with butter and some kind of liquid, would make too soft a dough that would not be able to contain the cheese filling during frying.
Second, you'll want to make sure you use a cheese that melts well. This recipe calls for mozzarella or cheddar, but soft cheeses or Alpine cheeses like Swiss cheese will also work.
Don't use hard, aged cheeses like Parmesan because they won't melt quickly enough.
Third, consider double breading the cheese balls. While you don't have to cover the cheese balls in bread crumbs at all if you want, doing two layers of bread crumbs helps make them extra crispy when fried or baked.
Fourth, if you choose to deep fry the cheese balls, make sure you use an oil that has a high smoke point – meaning you can heat them to a pretty high temperature before it starts to smoke and burn.
Good oils for deep frying include canola oil, refined peanut oil, avocado oil, or safflower oil.
Serving Cheese Balls
When do you serve cheese balls? Whenever you want!
But in all seriousness, they make a great snack or appetizer, especially when served with a dip to cut through the intensely savory and rich flavors and textures.
Ketchup, salsa, marinara, or other tomato-based sauces would work wonderfully as dips. Consider other acidic condiments too, such as hot sauce, mayonnaise, sour cream, or a yogurt-based dip.
Everyone will be very impressed when you bring a big platter of little crunchy cheese balls with some dip on the side.
More Snacks Recipes
Falafel
Samosa
Veg cutlet
Spring rolls
Veg manchurian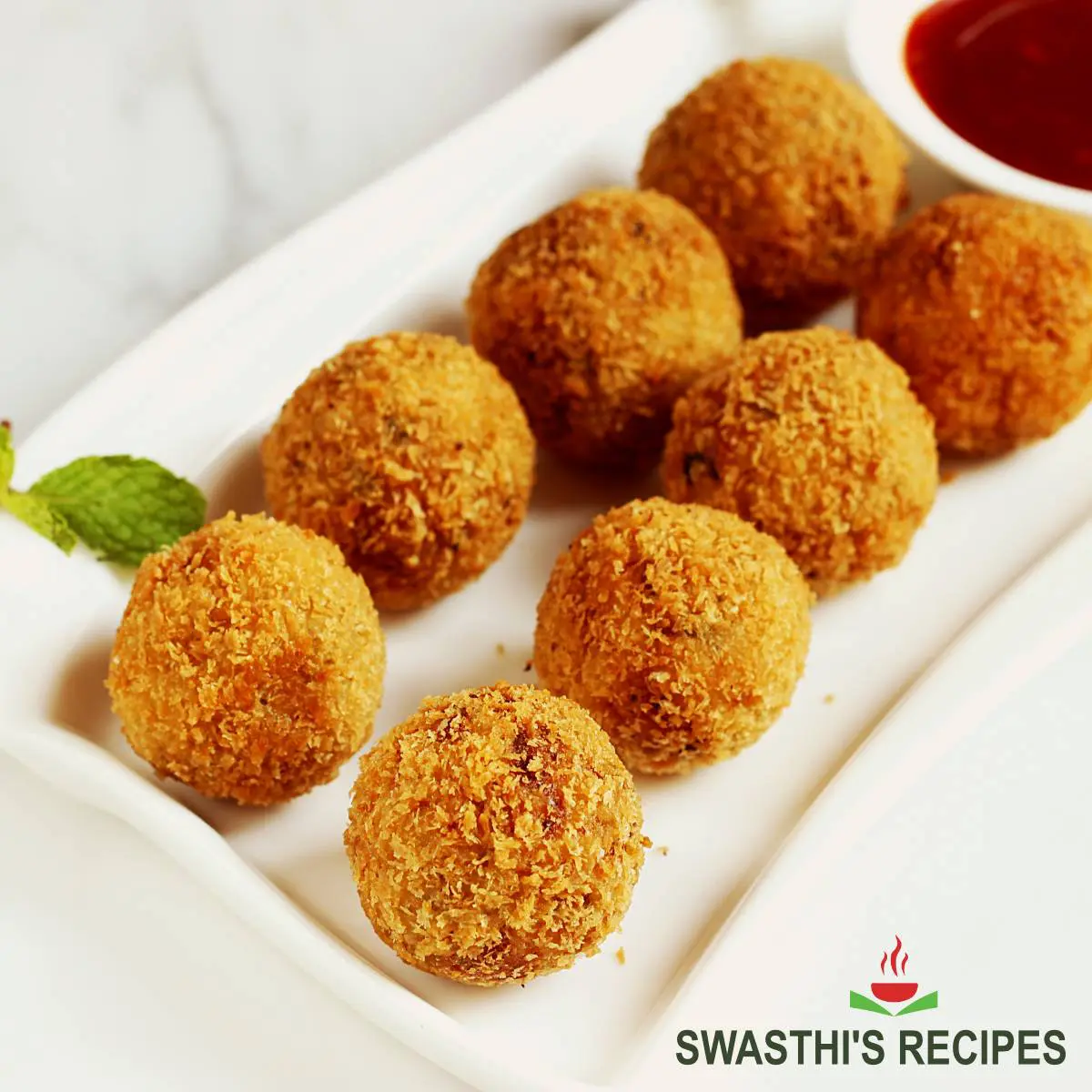 How to make Cheese Balls (Stepwise Photos)
Preparation
1. Boil 250 grams (9 ounces) potatoes in which ever way you like. I prefer to boil them in a pot with water enough to cover them. This way they don't turn too mushy or soft. It is good to keep the skin while boiling as it prevents them from turning mushy.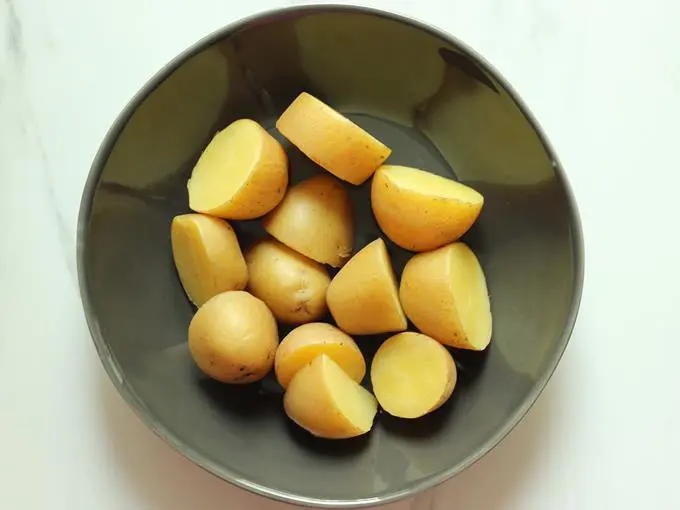 2. Peel off the skin.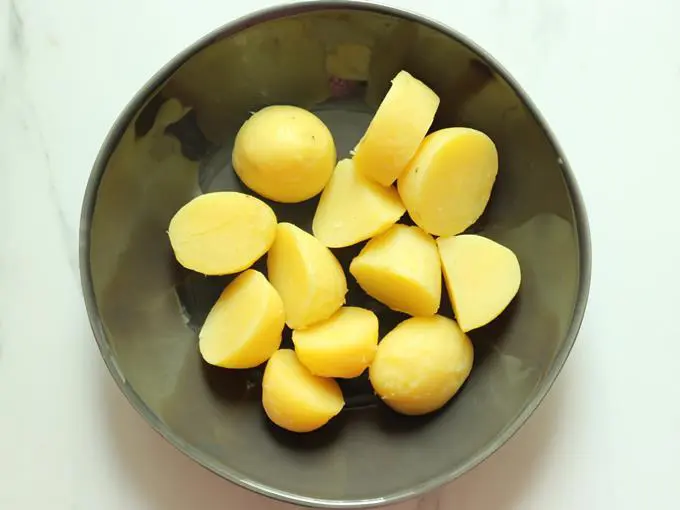 3. Mash them well. There should be no balls or lumps of potato. The mashed potatoes must be smooth. To prevent lumps you can also grate and then mash them.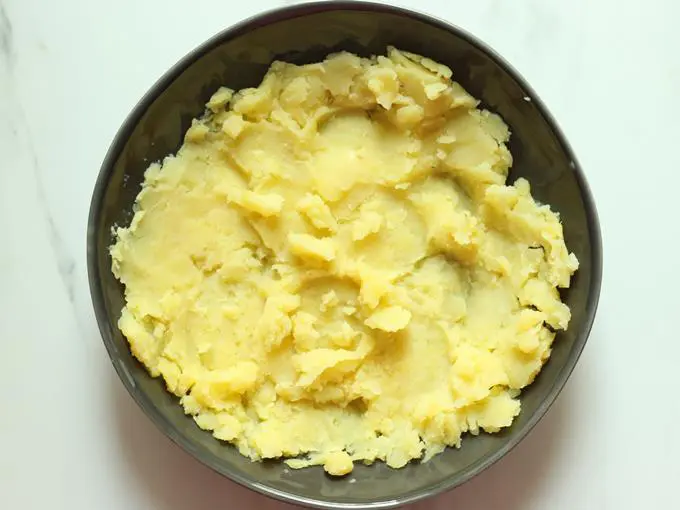 4. Add 6 tablespoons bread crumbs or powdered poha. Also add ½ teaspoon dried Italian herbs, ⅛ to ¼ teaspoon crushed black pepper and ½ to ¾ teaspoon red chili flakes. Also add in little salt. Do note that cheese is salted so you will need very less salt here.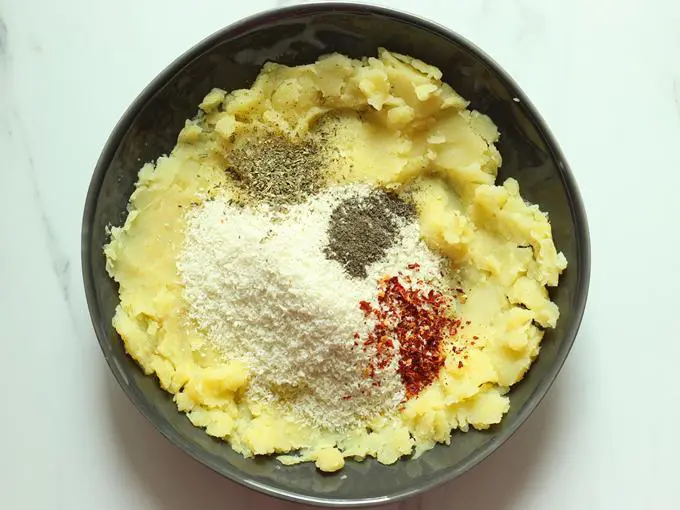 5. Then add 1 teaspoon garlic powder or ginger garlic paste and 2 tablespoons fine chopped fresh herbs like cilantro (coriander leaves) or any other of choice.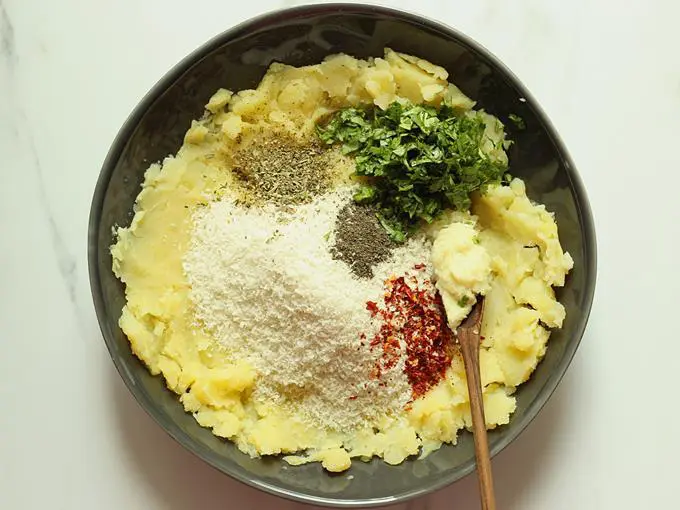 6. Mix together everything and make a ball. The mixture must be non sticky and not too dry. Taste test this and adjust spices and herbs to your taste. Avoid adding too much salt.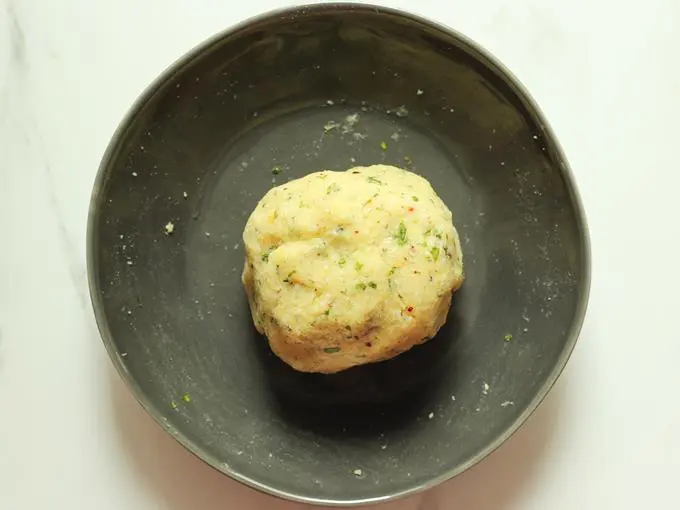 7. Divide the mixture to 8 to 10 balls. I made 2x recipe so I got 18 balls.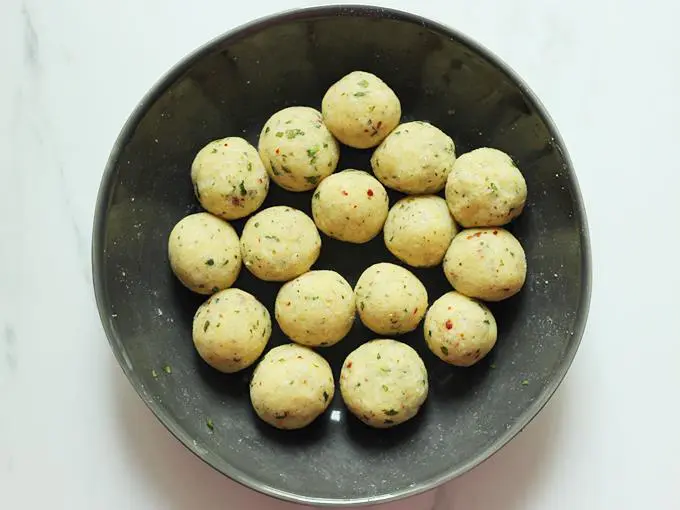 Season the Cheese
8. Cut 100 grams (3.5 ounces) cheese to 10 portions, about ½ to ¾ inch cubes. I made 2x recipe so you see more cheese in my pictures. To a plate add the seasonings.
½ teaspoon dried herbs (Italian or any)
¼ to ½ teaspoon red chilli flakes (skip for toddlers)
⅛ to ¼ teaspoon black pepper crushed or ground
⅛ teaspoon allspice (or any spice blend or ½ tsp garam masala)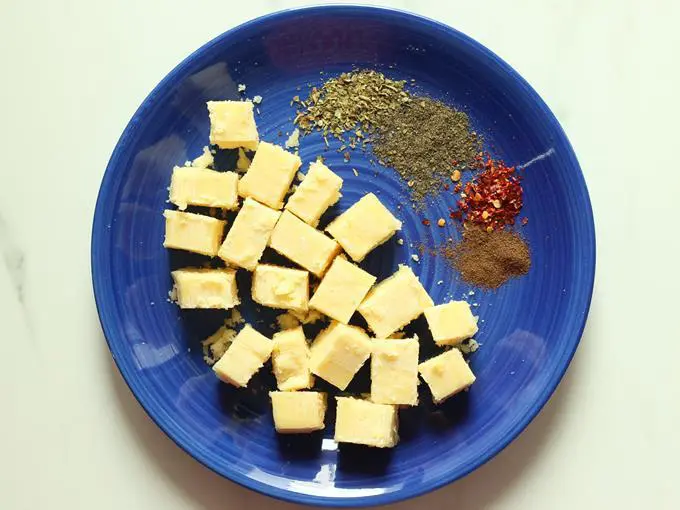 9. Mix all of them and sprinkle it over the cheese.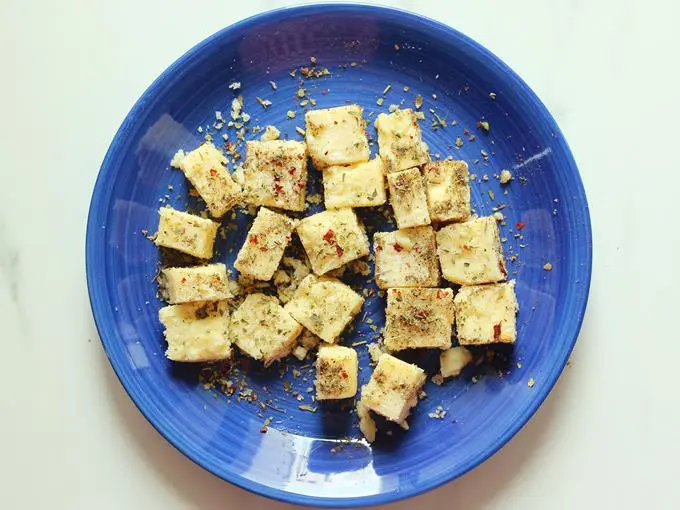 Make Cheese Balls
10. Place a potato ball on your palm. Spread it evenly to a small discs. Do not spread it too thin else the cheese can easily come out while frying. Place 1 cheese cube in the center.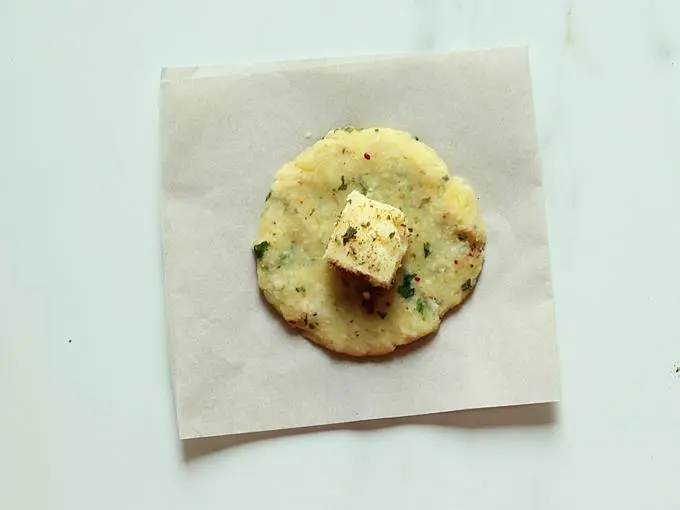 11. Bring the sides together to cover the cheese. The potato mixture may break but it is okay. Just roll it up gently.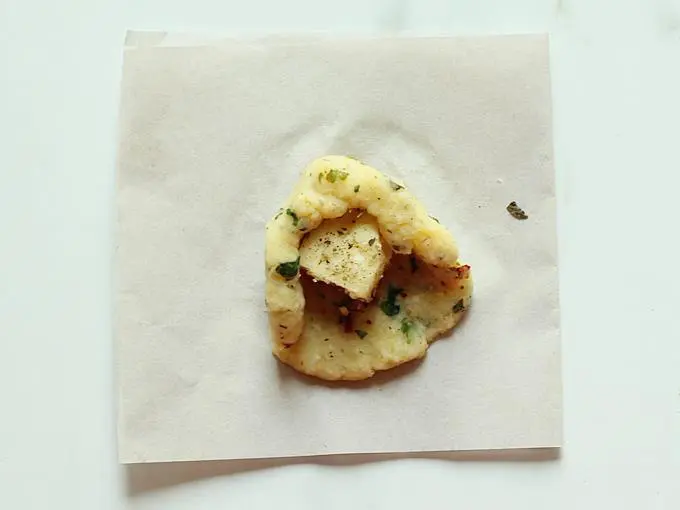 12. Make a round ball.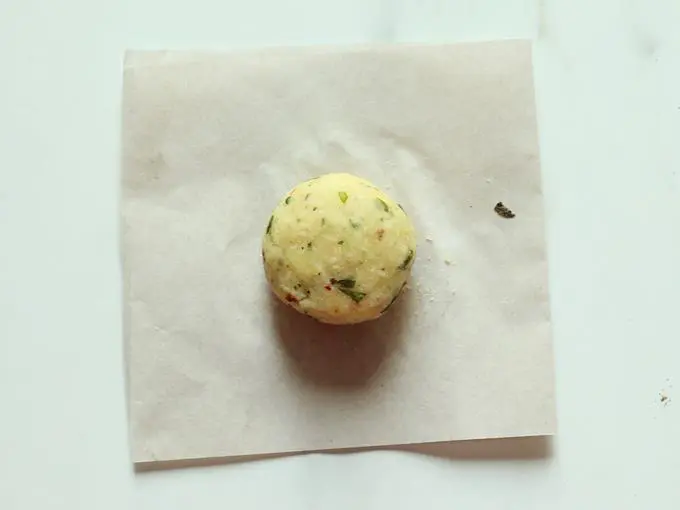 13. Add 2 tbsp of corn flour to a bowl and roll the balls in the flour.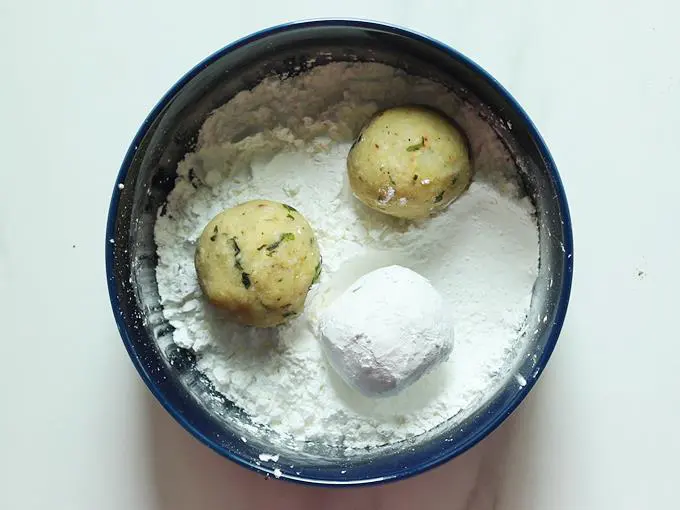 14. This way roll all of the balls and rest them aside for 10 mins.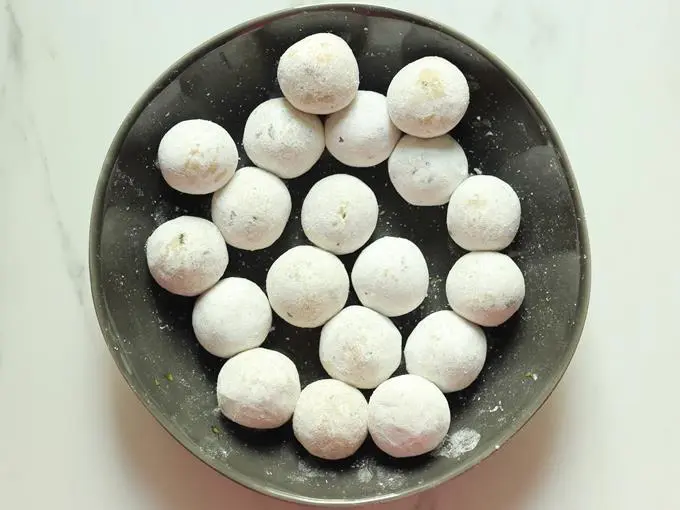 15. Pour 3 to 4 tbsps of water to 2 tbsps of cornstarch and make a uniform slurry. Alternately you can also use beaten egg. Transfer ½ cup bread crumbs to a bowl. Dip each ball in the cornstarch slurry and then quickly roll them in the bread crumbs.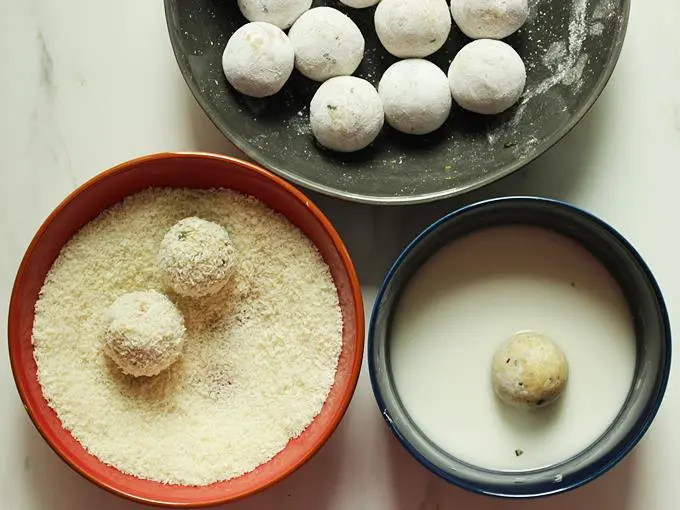 16. I prefer to repeat dipping the once breaded cheese balls in the cornstarch slurry and then roll them in the bread crumbs again. This way they turn extra crisp.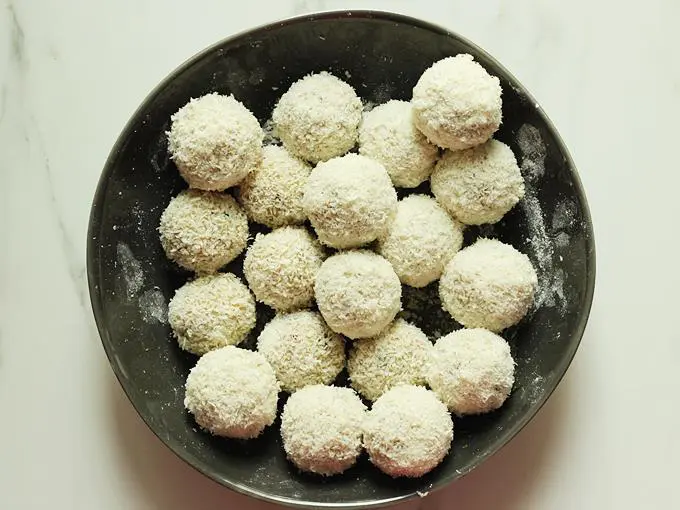 Frying cheese balls
You can also bake these or pan fry them, find the instructions in the recipe card below.
17. Heat oil in a wide, slightly deep pan just enough to half cover the cheese balls. Check the oil if it is hot enough by dropping a small portion of potato. It has to rise immediately without browning.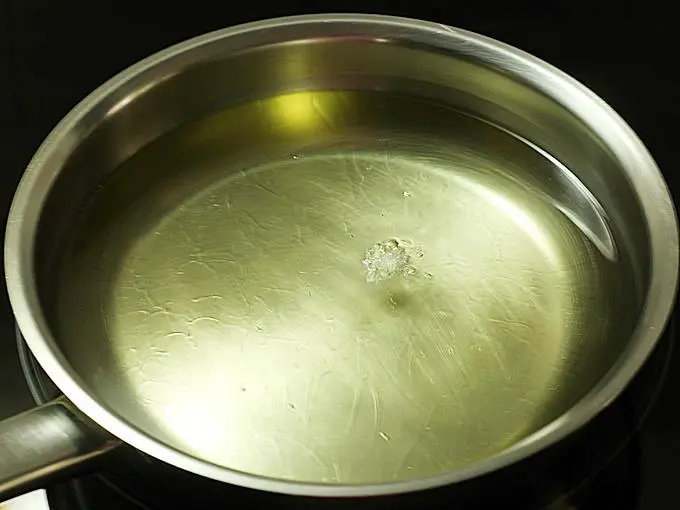 18. Regulate the flame to medium high. Gently slide the cheese balls to hot oil and do not disturb for 30 to 60 seconds. Stirring them immediately often break the balls.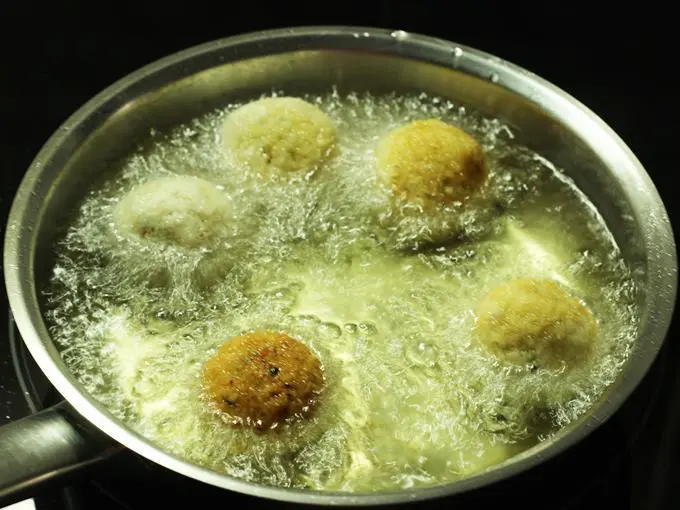 19. Fry until golden and crisp on a medium or medium high heat. Remove to a cooling rack. To fry the next batch remove the bread crumbs from the oil using a skimmer.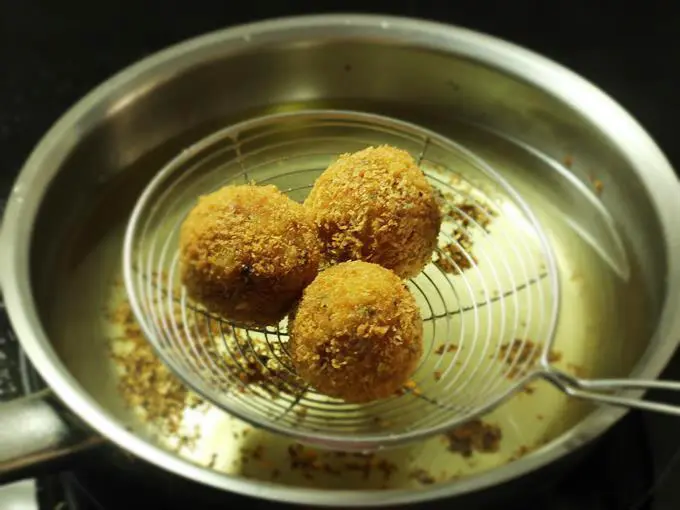 20. These cheese balls are best served hot.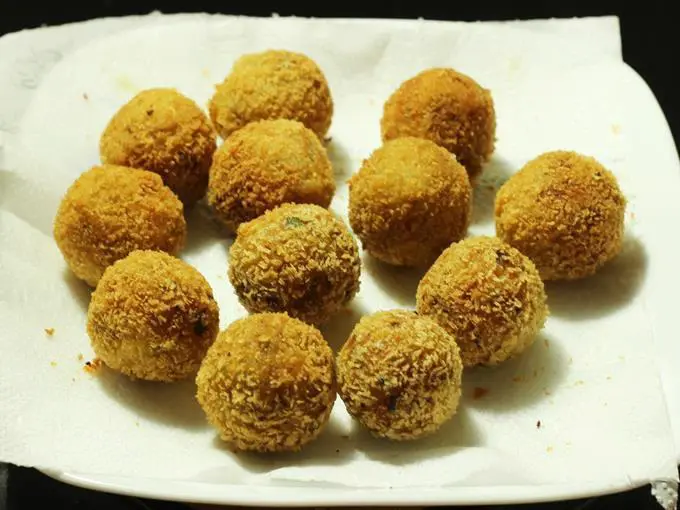 Serve cheese balls with your favorite dip or sauce.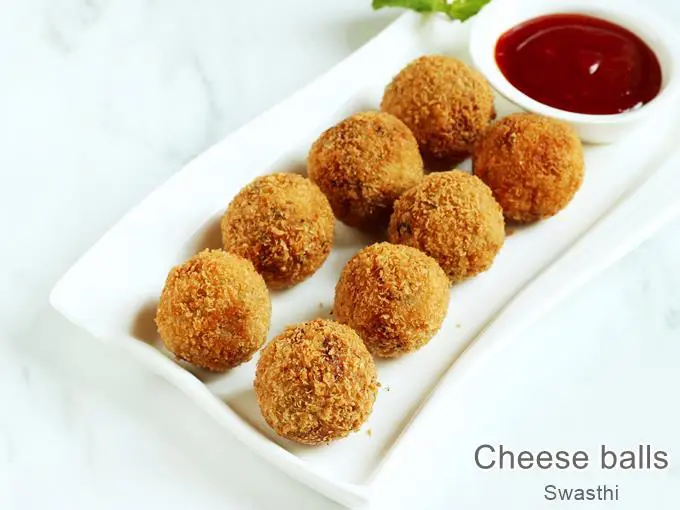 More recipes using cheese,
Cheese sandwich
Pizza recipe
Cheese toast
Cream cheese sandwich
Pro Tips
1. Boil potatoes just until done without making them too soggy or mushy. Over cooked or soggy potatoes will need more bread crumbs to absorb the moisture. This alters the taste of the covering.
2. I have flavored the cheese balls with pepper, red chili flakes, Italian herbs and allspice powder. You may use your choice of herbs and spices or seasonings.
How to make these healthier?
1. If you do not prefer breaded snacks then skip rolling the balls in bread crumbs. Just roll them in corn starch and fry or bake them.
2. For healthier option, I make these cheese balls by avoiding bread crumbs completely. I use coarse poha powder (flattened rice) for the potato mixture as well for the crust. To make your own poha powder, just pulse the thick or medium variety poha in a blender jar. The powder must be like fine rava or suji.
3. To avoid corn starch, just replace it with any other whole grain flour. Just make sure the flour is very fine or smooth.
4. Avoid deep frying and bake them at 200 C in a preheated oven for 15 mins.
Variations
Instead of boiled potatoes, you can use sweet potatoes. The cheese balls will turn sweeter in that case.
You can skip the potatoes and just use plain bread to wrap the cheese cubes. For this cut each bread to 2 triangles and remove the browns. Moisten the bread slice with milk or water until soft. Then place the cheese cube in the center and bring the sides together and roll it to a ball. Then roll it in dry flour and rest for a while. Fry or bake these.
Make chicken cheese balls, by rolling the cheese cubes in minced chicken. Add 1 large potato for binding. Follow the recipe as is and bake them in oven. I haven't tried these deep frying.
Related Recipes
Recipe Card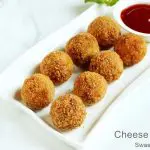 Cheese Balls Recipe, How to Make Cheese Balls
Crispy cheese balls that are easy to make, taste delicious with great flavors. These potato cheese balls make for a great party snack. These can be deep fried, baked or pan fried.
Print Recipe
Pin Recipe
Jump to Comments
For best results follow the step-by-step photos above the recipe card
Ingredients (US cup = 240ml )
250 grams (0.6 lbs., 9 ounces)

potatoes

(Russet or Yukon gold)

1

teaspoon

garlic

paste or powder

salt

use little – cheese is salted

½ to ¾

teaspoon

chilli flakes

(adjust to taste)

⅛ to ¼

teaspoon

black pepper

crushed or ground

½

teaspoon

dried herbs

(Italian or any)

6

tablespoons

bread crumbs

or panko crumbs

2

tablespoons

cilantro

(coriander leaves or any fresh herbs, fine chopped)

oil

as needed for frying
To Stuff
100 grams (3.5 ounces)

cheese

(cheddar or mozzarella)

½

teaspoon

dried herbs

(Italian or any)

¼ to ½

teaspoon

chilli flakes

(skip for toddlers)

⅛ to ¼

teaspoon

black pepper

crushed or ground

⅛

teaspoon

allspice

(or any spice blend or ½ tsp garam masala)
To Coat Cheese Balls
2

tablespoons

corn flour

(corn starch)

2

tablespoons

corn flour

(corn starch) or 1 egg

½

cup

bread crumbs
Instructions
Preparation
Boil potatoes with the skin on till fork tender and not mushy.

Remove the skin and mash them well until smooth with a masher. There should be no lumps.

Add garlic, herbs, coriander leaves, salt (very little), chili flakes, pepper and bread crumbs.

Mix them well and form a ball. The mixture must bind together and should not be sticky or too dry. Taste test and add more spice or salt as you prefer.

Divide the mixture to 8 to 10 equal sized balls. Cover and keep aside.

Cut the cheese to 10 portions about ½ to ¾ inch cubes. Mix together herbs, chili flakes, pepper and spice powder. Toss the cheese in this mix. Set aside.
How to Make Cheese Balls
Take a potato ball and spread it evenly to a small patty in your palm. Place a cheese cube in the center. (Check step-by-step pictures)

Gently bring the edges together to make a ball. Ensure the ball is sealed well without any cracks.

Add 2 tbsps corn flour to another wide plate. Spread it.

Roll the finished ball in corn flour. The same way make all the cheese balls.

If you do not prefer to coat them in bread crumbs, you can pan fry these straight away.

Transfer ½ cup bread crumbs to a separate plate. Set this aside.

Make slurry: Add 2 tbsps corn flour to another bowl and mix with 3 to 4 tbsps water. Make a thin mixture. Alternately you can also use a beaten egg. If you are baking use egg.

Gently drop each ball in the corn flour mixture or egg and make it moist.

Immediately roll it in bread crumbs. Set this aside in a plate. Finish making all the balls.

Double bread the cheese balls – Repeat the same steps of dipping in flour mixture and then coating the bread crumbs again.

Set aside in a plate. Rest them for 10 mins.
Fry Cheese Balls
To a wide deep pan pour oil just enough to half immerse the cheese balls. Heat the oil on a medium flame.

Drop a small piece of the potato mixture to check if the oil is hot enough. It has to come up immediately without browning. This is the right temperature.

Regulate the flame to medium. Gently slide the balls one by one & do not disturb them for 1 to 2 mins.

Gently stir them and fry until golden and crisp.

Serve potato cheese balls hot with any dip or sauce.
Bake in oven or pan fry
Add bread crumbs to a pan and toast them stirring often until light golden on a medium to low heat. Cool them and keep aside.

To bake – Preheat the oven at 200 C ( or 390 F). Grease a wired rack and place it on a tray.

Place the cheese balls over the rack and bake them for 15 mins. Adjust the timings as needed. or You can pan fry them in 2 batches using 2 to 3 tbsps oil per batch.

Some amount of bread crumbs will come off the balls and it is just okay. They will still be good.
Notes
Please do not alter the quantities of potato to cheese. Using less potato to make the cheese balls will mess up while baking or frying. The cheese may come out.
To avoid breakage of the balls spread the potato patty evenly and roll it gently. An evenly spreaded patty and evenly rolled ball will not mess up the cheese while frying.
If the cheese is not covered well with the potato mixture the cheese is likely to come out while frying.
Cheese balls may break if disturbed immediately after adding to oil. If you listen to a crackling noise while frying, quickly remove the ball from oil and keep it separately. Fry it towards the end to prevent messing up the oil.
Alternative quantities provided in the recipe card are for 1x only, original recipe.
For best results follow my detailed step-by-step photo instructions and tips above the recipe card.
NUTRITION INFO (estimation only)
Nutrition Facts
Cheese Balls Recipe, How to Make Cheese Balls
Amount Per Serving
Calories 145
Calories from Fat 72
% Daily Value*
Fat 8g12%
Cholesterol 10mg3%
Sodium 210mg9%
Potassium 151mg4%
Carbohydrates 13g4%
Protein 4g8%
Vitamin A 180IU4%
Vitamin C 5mg6%
Calcium 105mg11%
Iron 1.6mg9%
* Percent Daily Values are based on a 2000 calorie diet.
I made 2x recipe, so the quantities in the pictures will not match as mentioned.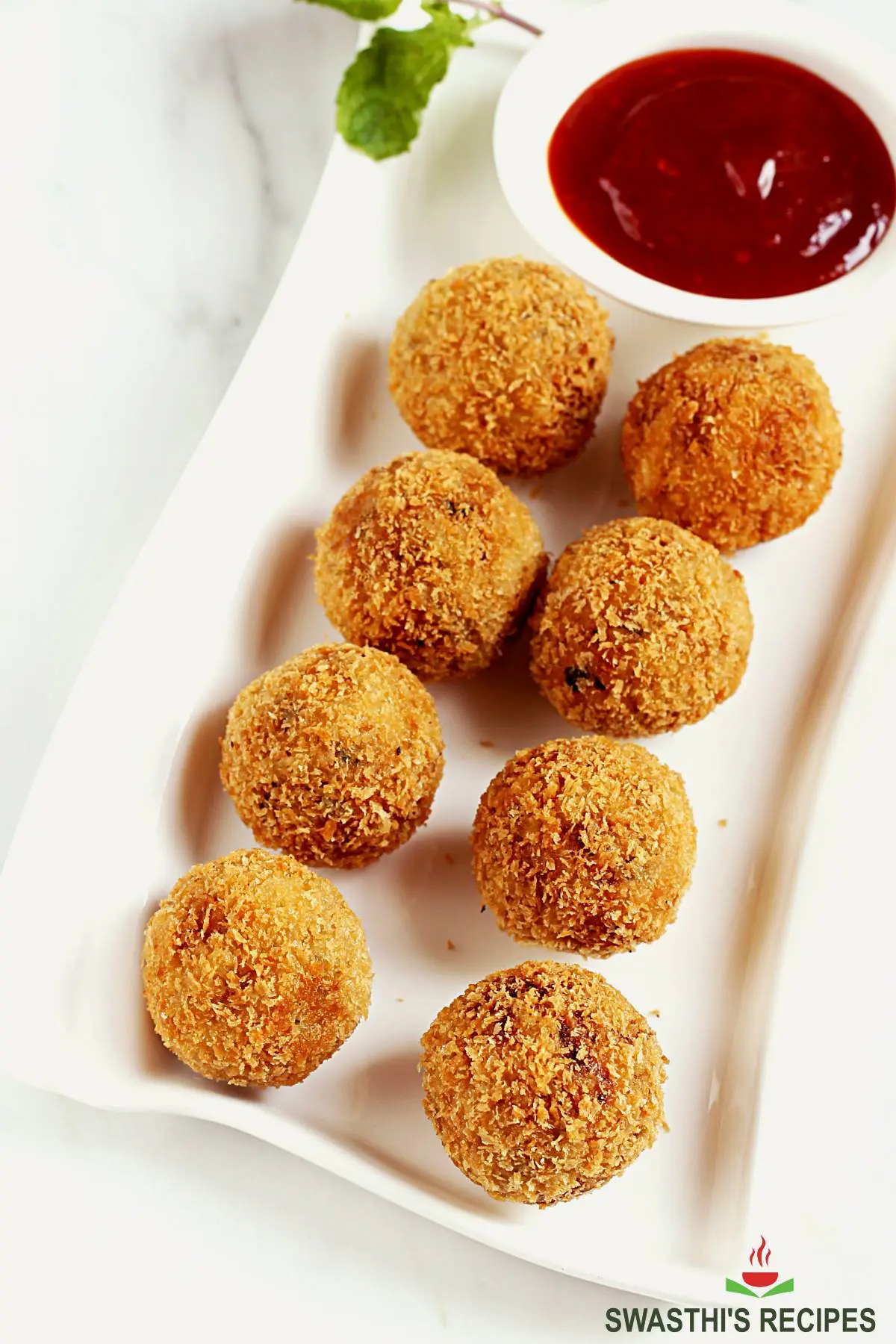 About Swasthi
I'm Swasthi Shreekanth, the recipe developer, food photographer & food writer behind Swasthi's Recipes. My aim is to help you cook great Indian food with my time-tested recipes. After 2 decades of experience in practical Indian cooking I started this blog to help people cook better & more often at home. Whether you are a novice or an experienced cook I am sure Swasthi's Recipes will assist you to enhance your cooking skills. More about me
Follow Swasthi's Recipes