Vada Pav is Indian street Burger that's immensely popular across the country. This vegetarian fast food consists of a deep fried potato fritter (Vada) that is sandwiched in between soft and fluffy Indian bread known as Pav. Mumbai street style Vada pav is dressed with a flavorsome Coriander Chutney, sweet & tangy Tamarind Chutney (optional) and sprinkled with a hot and spicy dry garlic chutney. In this post I share how to make delicious Mumbai Street style Vada Pav at home.
---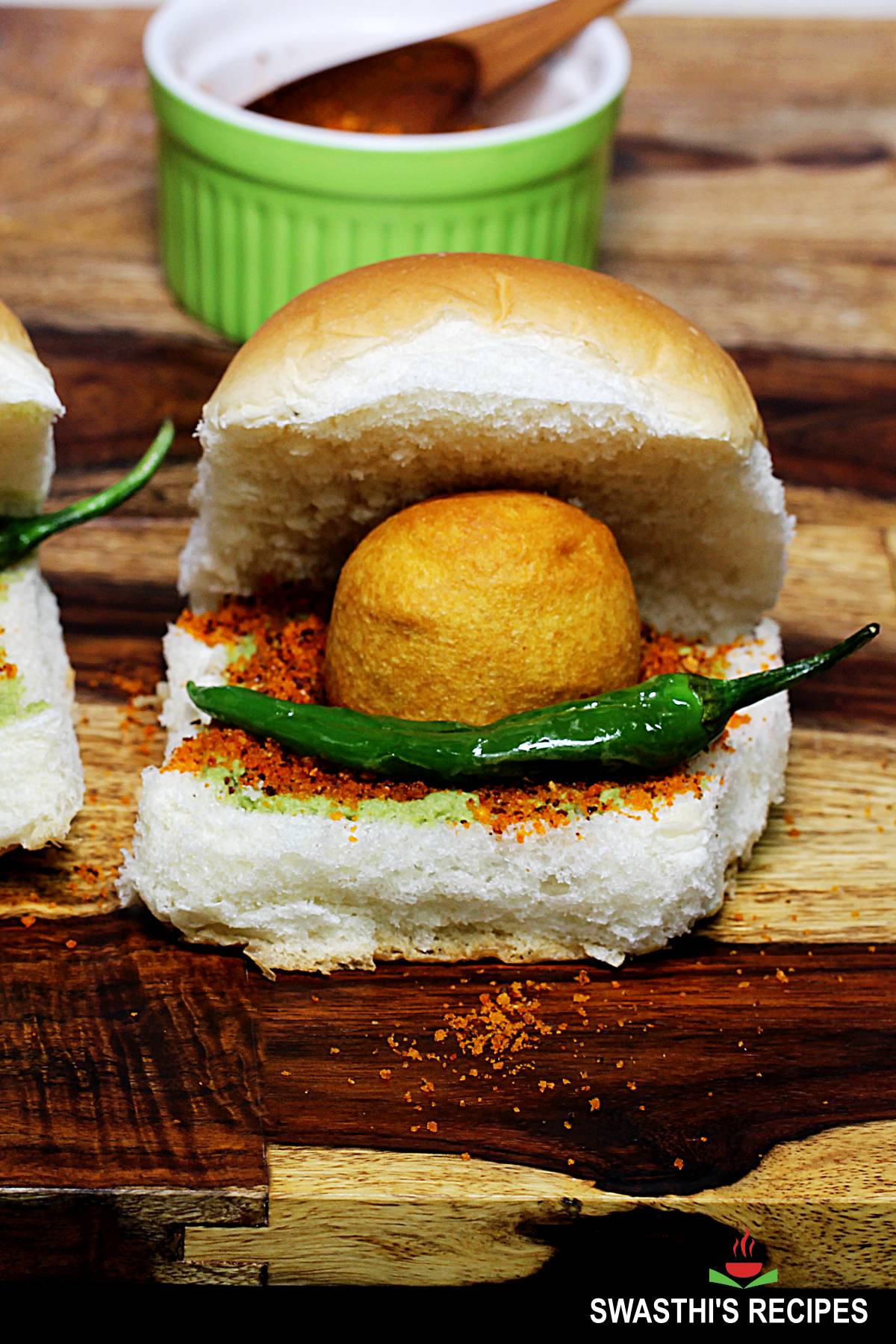 I also show how to make the fried green chilies, coriander chutney and dry garlic chutney required to make the vada pav.
About Vada Pav
Vada Pav is a popular street food originated in Mumbai, India. It is a quick, grab & go meal that's cheap, filling, delicious and a fun-food loved by everyone.
For the uninitiated, Mumbai vada pav is simply Indian style veggie burger that's vegan too. The filling has a flattened Batata Vada, which is a spiced potato patty that's batter fried.
Pav, the Indian eggless bun is slit and smeared with flavorsome coriander chutney and then a generous amount of dry garlic chutney is sprinkled, into this goes the batata vada.
All this preparation and cooking happens right in front of you, on the streets of Mumbai. You will see vendors preparing these tirelessly the whole day while the street food lovers queuing up for these.
The prepared Vada pav is served in numerous ways depending on the vendor. But most commonly these are served with fried green chilies, dry garlic chutney and sometimes even with sweet tamarind chutney.
In some places you will also find them with chopped onions and a dash of lemon juice.
Making vada pav may look lengthy but it's easy if you make the chutneys and the dry garlic chutney ahead. You can make them 2 to 3 days ahead and store in the refrigerator. The day you want to serve the vada pav, you will just make the batata vada and assemble the vada pav.
When I made vada pav this time I just made the green chutney and garlic chutney. I did not prepare the sweet tamarind chutney. It tastes good even without the sweet chutney. Alternately you may also use the store bought tamarind chutney.
For more Chaats & street foods, you can check
Pav bhaji
Misal pav
Masala puri
Dahi vada
Masala pav
Paapdi chaat
Sev puri chaat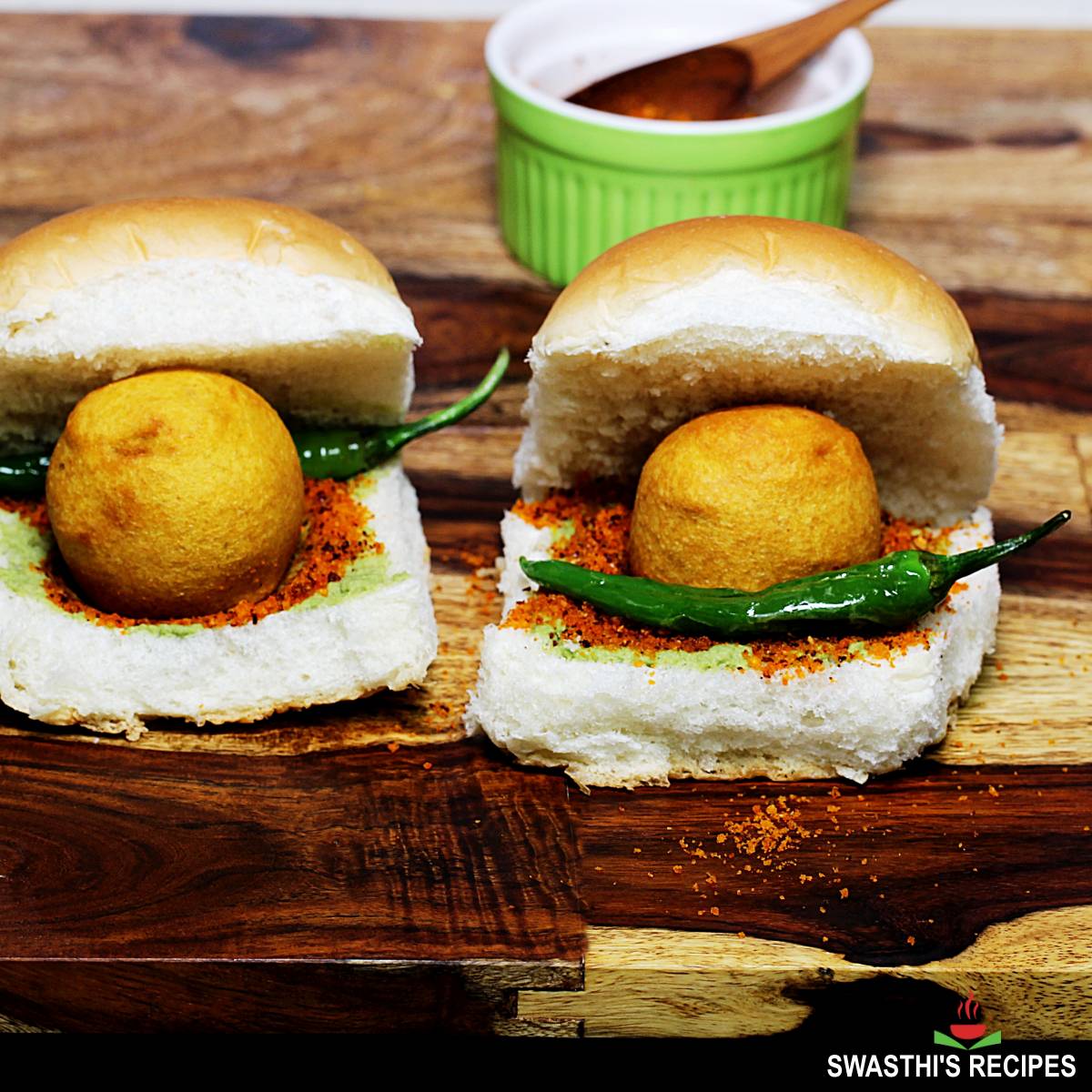 Preparation for Vada Pav (Stepwise Photos)
To make vada pav we will need green chutney, dry garlic chutney and optionally sweet tamarind chutney. You may also use all these ready-made from the Indian stores.
Make Dry Garlic Chutney
1. First begin by making the dry garlic chutney. Dry roast 6 to 8 peeled garlic cloves for 2 to 3 mins. Add 6 to 10 dried red chilies and roast until crisp. Set these aside to cool. In the same pan, roast ½ to 1 cup dried coconut just until hot. Do not over roast or brown it.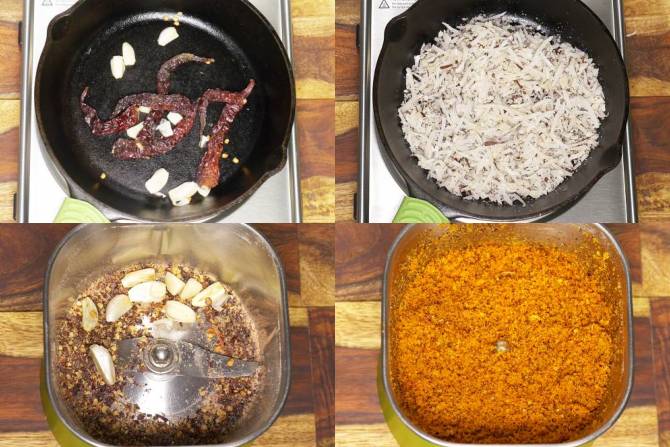 If you like to use peanuts, roast 1 tablespoon peanuts on a medium heat until golden & aromatic. Cool them all. Powder red chilies first with salt, then blend garlic for a minute. Add coconut and peanuts.
Blend all together to a coarse powder. You can also add little red chili powder while blending for little color. This is optional. Taste test and adjust the salt and chili.
Make Green Chutney (Coriander Chutney)
2. To a chutney grinder, add
1 to 1½ cups coriander leaves,
½ teaspoon roasted cumin powder,
1 to 2 hot green chilies,
2 small garlic cloves,
1 to 2 teaspoons lemon juice,
1 to 2 tablespoons water,
¼ teaspoon Salt
1 tablespoon roasted peanuts or roasted chana dal or a slice of white bread (browns removed) (optional).
Blend all the ingredients to make a smooth chutney.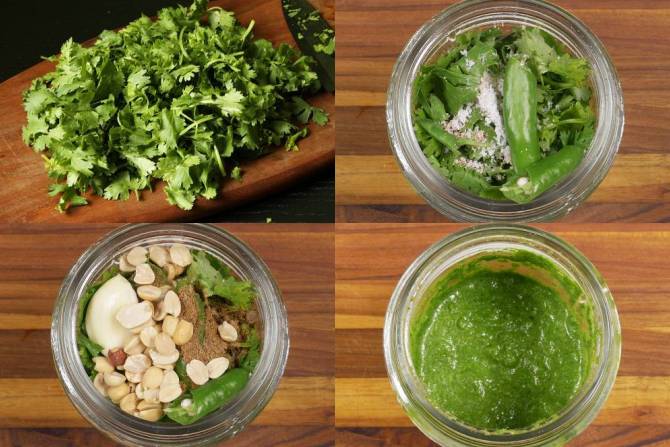 Make Vada
Prepare the Stuffing
3. Boil or steam peeled 3 medium potatoes just until fork tender. Make sure they are not mushy or water logged. I cooked in a pressure cooker for 2 whistles with little water. Cool them and crumble. Set aside. Make a paste of ¾ inch ginger, 2 to 3 garlic cloves and 2 green chilli. Chop 3 tablespoons coriander leaves and set aside.
4. Heat 1 tablespoon oil in a pan. Regulate the flame to low and add ¼ to ½ teaspoon mustard seeds. When they pop, add 1 sprig curry leaves.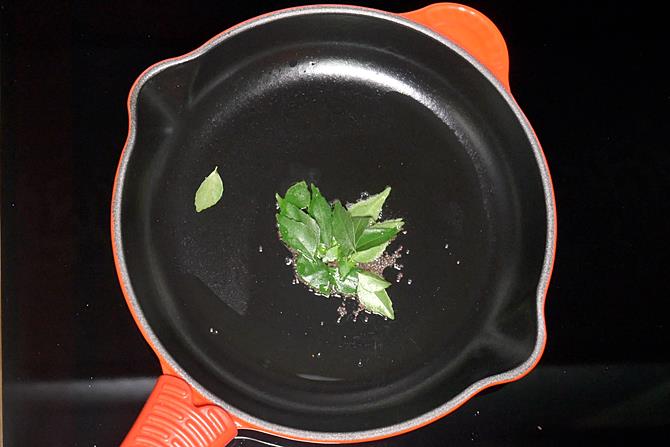 5. When the leaves turn crisp, add ginger garlic and chili paste. Saute till the raw smell goes off.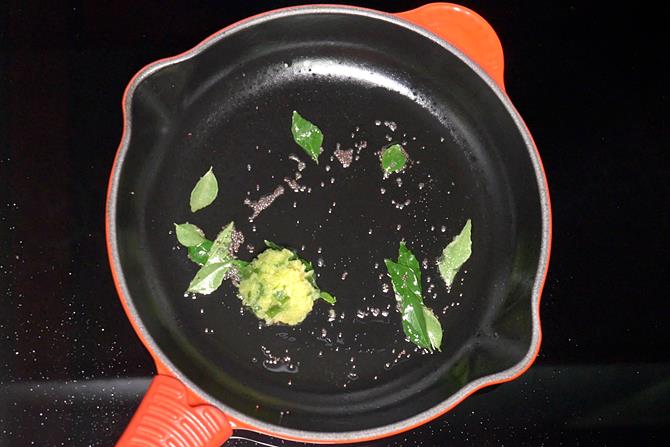 6. Add ½ teaspoon salt, ¼ teaspoon turmeric, 2 pinches hing and ⅛ teaspoon red chili powder.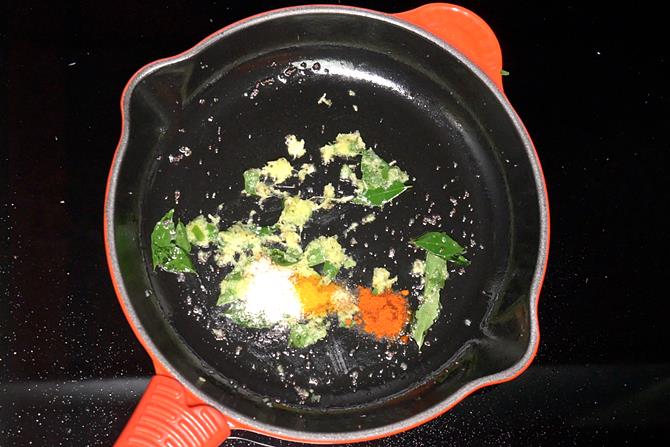 7. Mix everything well without burning. If your pan is too hot, add a splash of water to avoid burning the spices.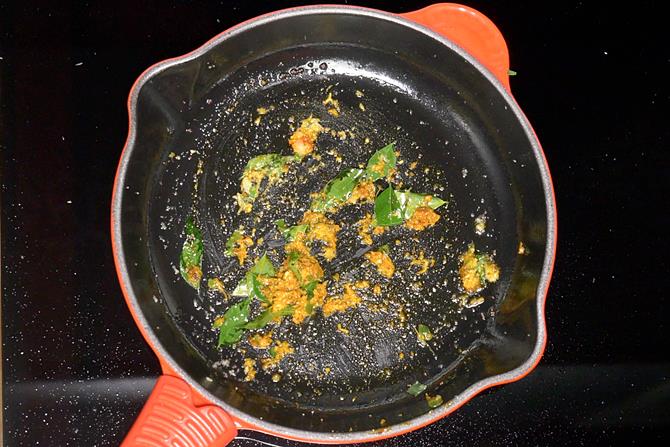 8. Add boiled and crumbled potatoes and 3 tablespoons coriander leaves.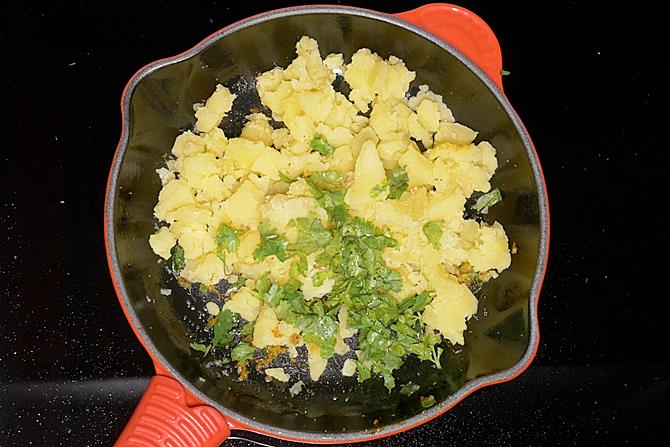 9. Turn off the heat and mix well. Taste test and adjust salt if you want.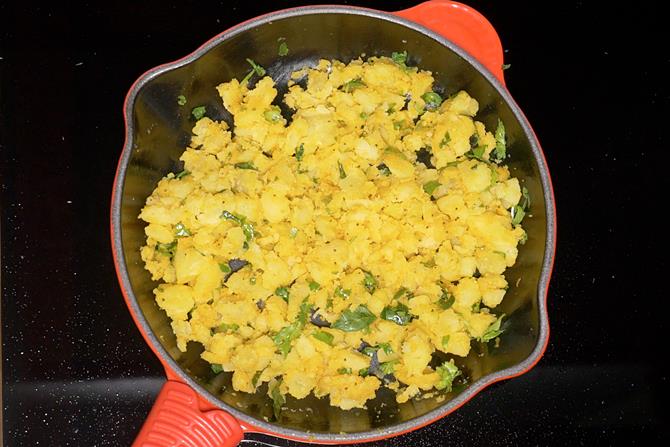 10. Cool completely and divide the potato mixture to 8 portions. Roll them to balls.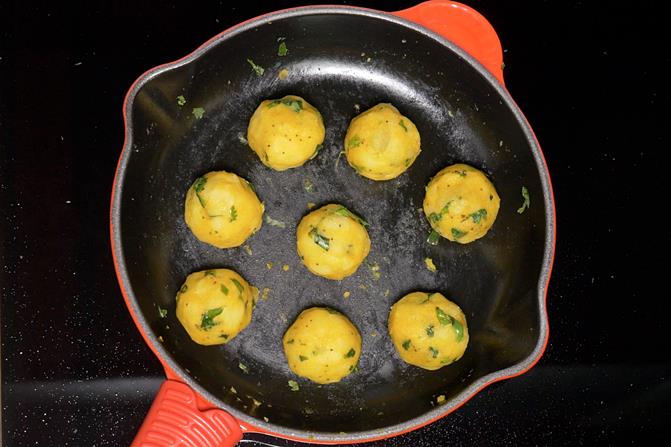 Make Batter & Fry
11. To a mixing bowl, add
¾ cup besan (gram flour),
2 to 3 tablespoons rice flour,
¼ teaspoon salt,
1 Pinch hing,
1 pinch turmeric
1 pinch red chili powder (optional)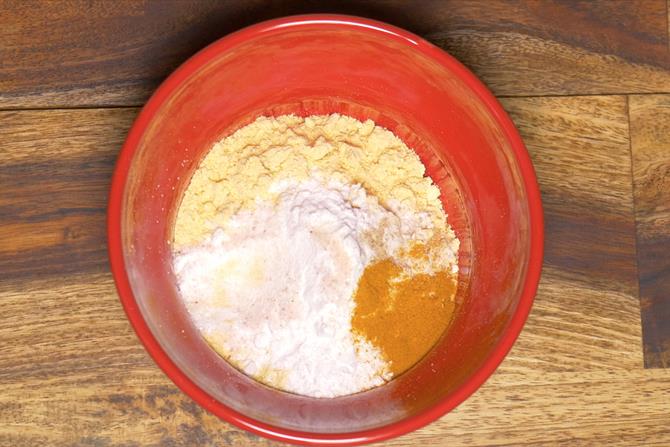 12. Mix everything well. Add 4 tablespoons water & begin to make a thick batter, adding more water only as required. Adding a lot of water at time will make your batter lumpy, so start with lesser amount of water. Keep adding to make a thick smooth lump-free batter first.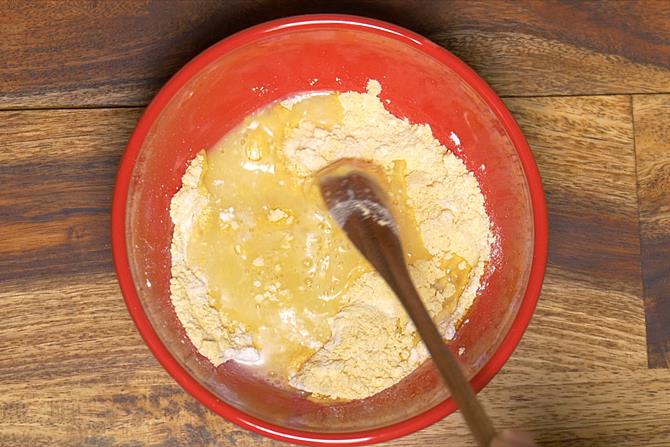 13. Later add more water to make it of a flowing, yet thick consistency as shown in the picture below. Do not make the batter runny as the covering will turn very thin. Add a pinch of soda-bi-carbonate and mix well. This is optional.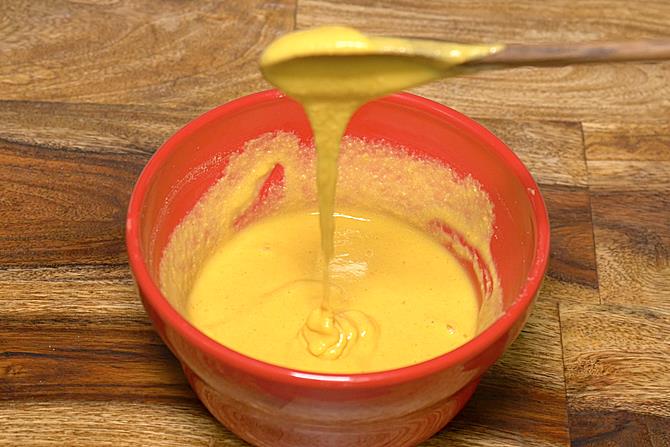 14. Heat oil in a deep pan/kadai on a medium flame. When the oil is hot enough, test by dropping a small portion of the batter to check if the oil is hot. The batter has to sizzle and rise up to the surface, this indicates the oil is hot enough. Drop a potato ball in the batter and coat it well. Check video to see how I do.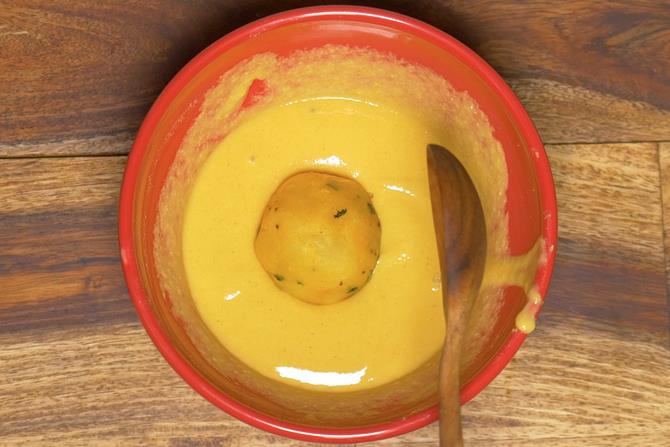 15. Gently drop the batter coated ball in oil.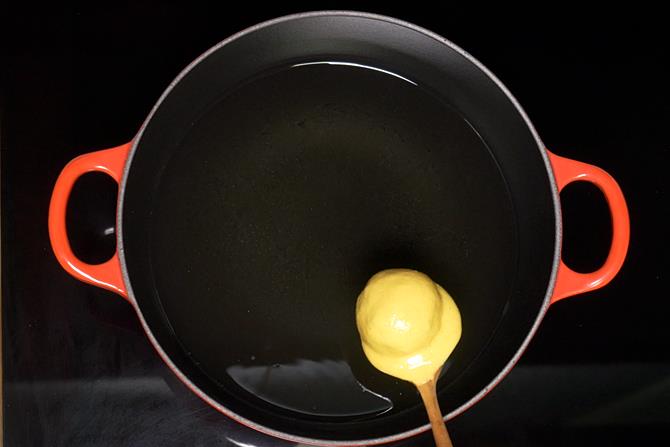 16. Do not disturb for 2 mins as the tend to break. After 2 mins keep stirring and fry on a medium heat until golden.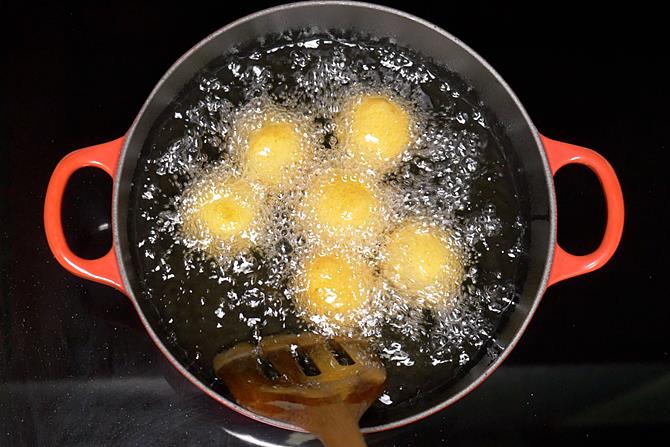 17. Remove them and set aside on a cooling rack or a colander. You can fry in batches if using a small kadai.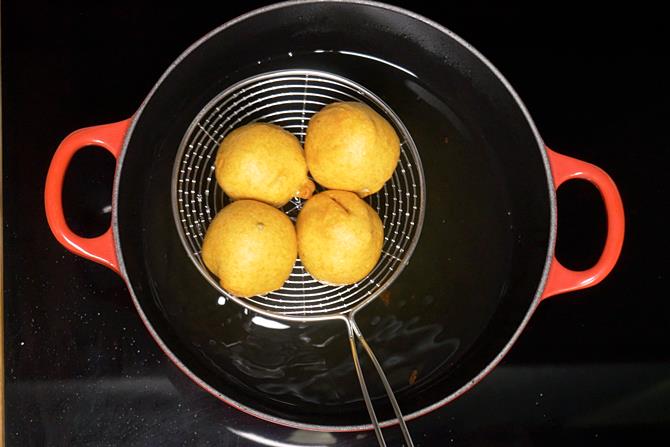 Fry Green Chilies
18. Wipe dry and deseed green chilies to prevent bursting in oil. Please wear gloves to prevent chilli burns on your hands.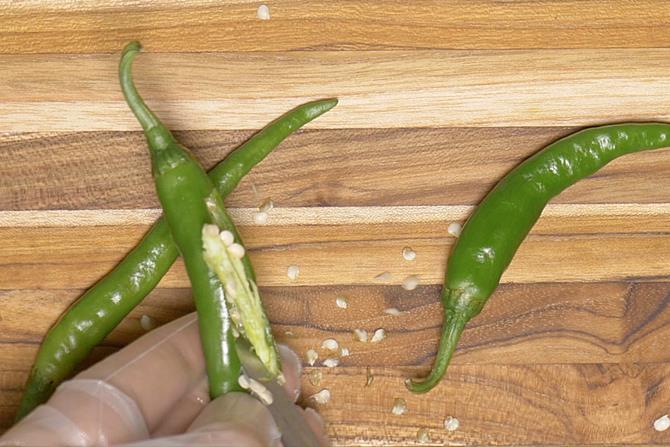 19. In the same hot oil, partially fry them for a minute. Take care if there are any seeds left they may burst. You will need to fry them lightly.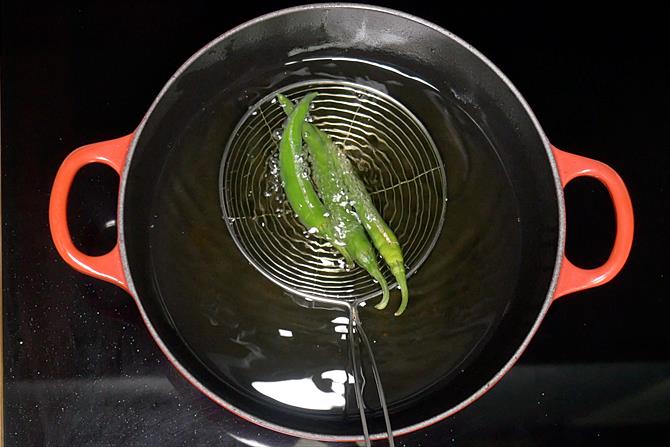 How to Make Vada Pav
20. These are the ingredients needed for assembling. I haven't made the tamarind chutney. You can use homemade from the recipe link in the recipe card or buy store bought. I Prefer to heat the pav in the oven or air fryer for a minute and that's optional.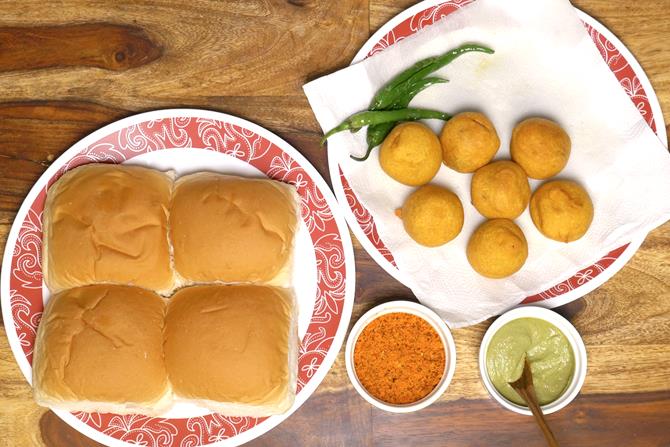 21. Slit a pav bun keeping one end intact. Apply the green chutney on both the sides and sprinkle some garlic chutney. Flatten the vada and then place it in the center. Vada can also be flattened while eating.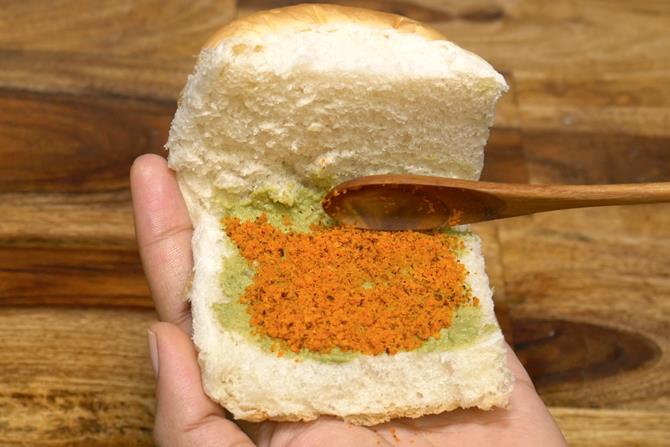 Enjoy Vada pav with fried green chilli, green chutney and Tamarind chutney. It is good to consume immediately as it turns soggy.
Recipe Card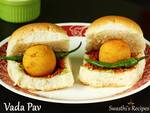 Vada Pav Recipe
Vada pav are Mumbai style Veggie Burgers with a fried potato fritter, dressed with green chutney and sprinkled with garlic chutney. It's delicious, filling and easy to make if you prepare the chutneys ahead.
Pin Recipe
Print Recipe
For best results follow the step-by-step photos above the recipe card
Ingredients (US cup = 240ml )
Green Chutney
1 to 1½

cups

coriander leaves

½

teaspoon

cumin seeds

(jeera)

2

hot green chilies

(adjust to taste)

2

small

garlic cloves

(peeled)

1 to 2

teaspoons

Lemon juice

(adjust to taste)

1 to 2

tablespoons

water

(use only as required)

¼

teaspoon

Salt

(adjust to taste)

1 to 2

tablespoons

dried coconut

or roasted peanuts or fried gram or a slice of white bread (optional)
Dry Garlic Chutney
6 to 8

garlic cloves

6 to 10

dried red chilies

(Byadgi or Kashmiri or any less spicy kind)

½ to 1

cup

dried coconut

(copra) (for more garlic flavor use ½ cup)

1

tablespoon

peanuts

(optional)

¼ to ½

teaspoon

salt

½

teaspoon

Kashmiri red chili powder

(optional, for color)
For Vada
3

medium

potatoes

(aloo – 2 ¼ cups crumbled)

2 to 3

green chilies

(adjust to taste)

¾

inch

ginger

(Peeled)

2 to 3

cloves

garlic

(Peeled)

1

tablespoon

oil

¼ to ½

teaspoon

mustard seeds

2

pinches

hing

(asafoetida)

1

sprig

curry leaves

¼

teaspoon

turmeric

⅛

teaspoon

red chilli powder

(optional)

½ to ¾

teaspoon

Salt

(adjust to taste)

3

tablespoons

coriander leaves

(fine chopped)
For Vada covering
¾

cup

gram flour

(besan)

2 to 3

tablespoons

rice flour

(or Corn Starch)

¼

teaspoon

Salt

(adjust to taste)

1

Pinch

asafoetida

(hing)

Tiny pinch

soda-bi-carbonate

(optional)

1

pinch

Turmeric

⅛

teaspoon

red chilli powder

(optional)

oil for deep frying
Instructions
Make Green Chutney for Vada Pav
Pluck coriander leaves, you can keep the tender stalks. Rinse them well in lot of water a few times. Drain them well in a colander.

Add all the ingredients to a blender jar. Make a thick paste by adding 1 tbsp water at one time and blending until smooth.

Adjust salt, lemon juice and green chili to suit your taste. The chutney must not be very runny otherwise it makes the pav very soggy quickly.

Store this in a clean dry airtight glass jar. Refrigerate until used.
Make Dry Garlic Chutney
Skin the garlic and dry roast them for 2 to 3 mins.

Add red chilies and roast until crisp. Transfer them to a plate and cool.

To the same pan add coconut and just allow it to turn hot. Transfer this to a plate and cool.

If using peanuts you can dry roast them on a medium heat until golden & aromatic.

First powder red chilies with red chili powder and salt. Then add garlic and blend once. Then add coconut and peanuts. Powder them little coarsely. Set this aside.
Make Stuffing
Boil potatoes until just done. They must be firm, fork tender and not mushy. You can boil them either in a pressure cooker, steamer or in a pot. Cool and crumble them lightly.

Make a coarse paste on green chilli, garlic and ginger.

Heat 1 tbsp oil in a pan on a low heat. Add mustard, when they begin to crackle. Next add curry leaves and fry until crisp.

Add ginger garlic and green chili paste. Fry on a low heat until it turns fragrant.

Next put in hing, salt, turmeric and red chili powder. Mix well and add potatoes and coriander leaves. Turn off the stove and mix everything well.

Cool this mixture. Divide to 7 to 8 portions and shape to balls.
Make Vada
Heat oil for deep frying in a kadai.

Add besan and rice flour or corn flour to a mixing bowl. Next add salt, hing, turmeric and red chilli powder (optional). Mix everything well.

Pour 4 tablespoons water and begin to mix to make a thick lump-free batter, adding more water as required. Add more water as needed and make neither too thick nor too thin batter. Adjust salt and spice.

When the oil is hot enough, add a tiny pinch of soda to the batter. Mix well. This is optional.

Check if the oil is hot enough by dropping a small amount of batter in oil. The batter should sizzle and rise to the surface, without turning brown.

Regulate the flame to medium.

Dip each ball in the batter, coat the potato balls with batter and drop in oil. You can use your fingers or a tbsp to do this. You can drop 3 to 5 balls in each batch depending on the size of your kadai. (Check video to see how I do)

Do not disturb them for 2 minutes, until they firm up. Later gently stir and fry until golden. Remove them to a cooling rack or a colander.

Wipe dry & Deseed green chilies to prevent them from bursting. Place the green chilies in a mess strainer or colander. In the same hot oil, fry the deseeded green chilies lightly. Do not over fry them.
Assembling Vada Pav
Slit each pav bun to sandwich it. Make sure one side is intact.

Smear green chutney on both the inner sides of the pav. Sprinkle garlic chutney. If you want smear tamarind chutney of the other side of the pav.

Place a batata vada. You can also flatten the vada first and then place it.

Serve vada pav with fried chilies, tamarind and green chutney on the side.
Notes
The process seems to be lengthy as there are many components in this dish. To ease up prepare the chutneys the previous day and refrigerate. The day you want to serve the vada pav, simply make the vada and assemble the vada pav.
To make the recipe fast, simply opt to use the store bought chutneys. They are easily available in Indian stores.
Alternative quantities provided in the recipe card are for 1x only, original recipe.
For best results follow my detailed step-by-step photo instructions and tips above the recipe card.
NUTRITION INFO (estimation only)
Nutrition Facts
Vada Pav Recipe
Amount Per Serving
Calories 306
Calories from Fat 153
% Daily Value*
Fat 17g26%
Sodium 261mg11%
Potassium 1786mg51%
Carbohydrates 32g11%
Protein 12g24%
Vitamin A 2440IU49%
Vitamin C 253.5mg307%
Calcium 440mg44%
Iron 15.8mg88%
* Percent Daily Values are based on a 2000 calorie diet.
Vada Pav Recipe First Published in October 2017. Updated & republished in October 2022.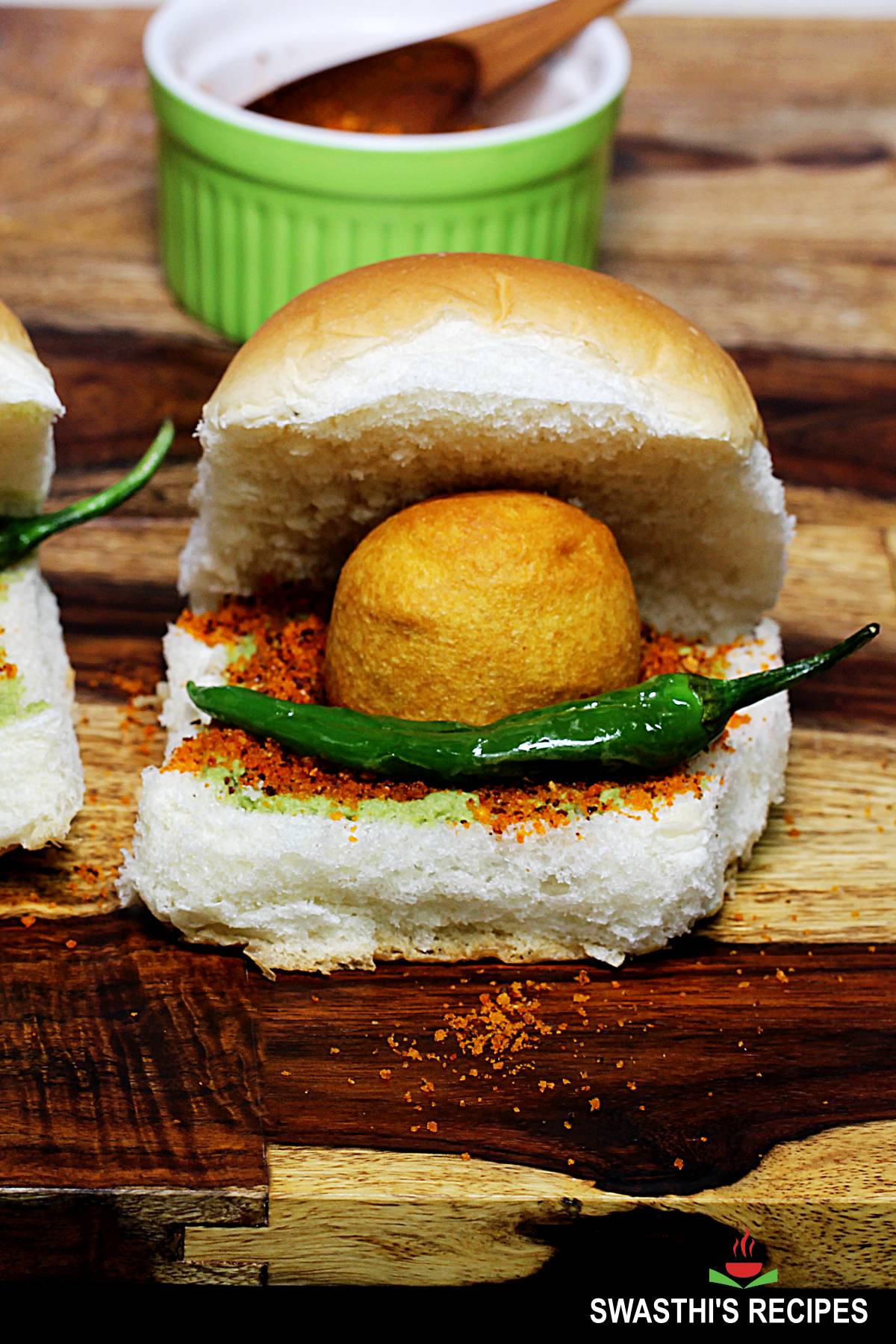 About Swasthi
I'm Swasthi Shreekanth, the recipe developer, food photographer & food writer behind Swasthi's Recipes. My aim is to help you cook great Indian food with my time-tested recipes. After 2 decades of experience in practical Indian cooking I started this blog to help people cook better & more often at home. Whether you are a novice or an experienced cook I am sure Swasthi's Recipes will assist you to enhance your cooking skills.
Follow Swasthi's Recipes