Aloo tikki is a popular Indian street food snack made with boiled potatoes, aromatic spices and herbs. Aloo is the Hindi name for potatoes and tikki is a patty. So aloo tikki literally translates to potato patties. These Indian style potato patties are delicious, crisp and flavorful as a good amount of spices and herbs are used. They are eaten as a snack.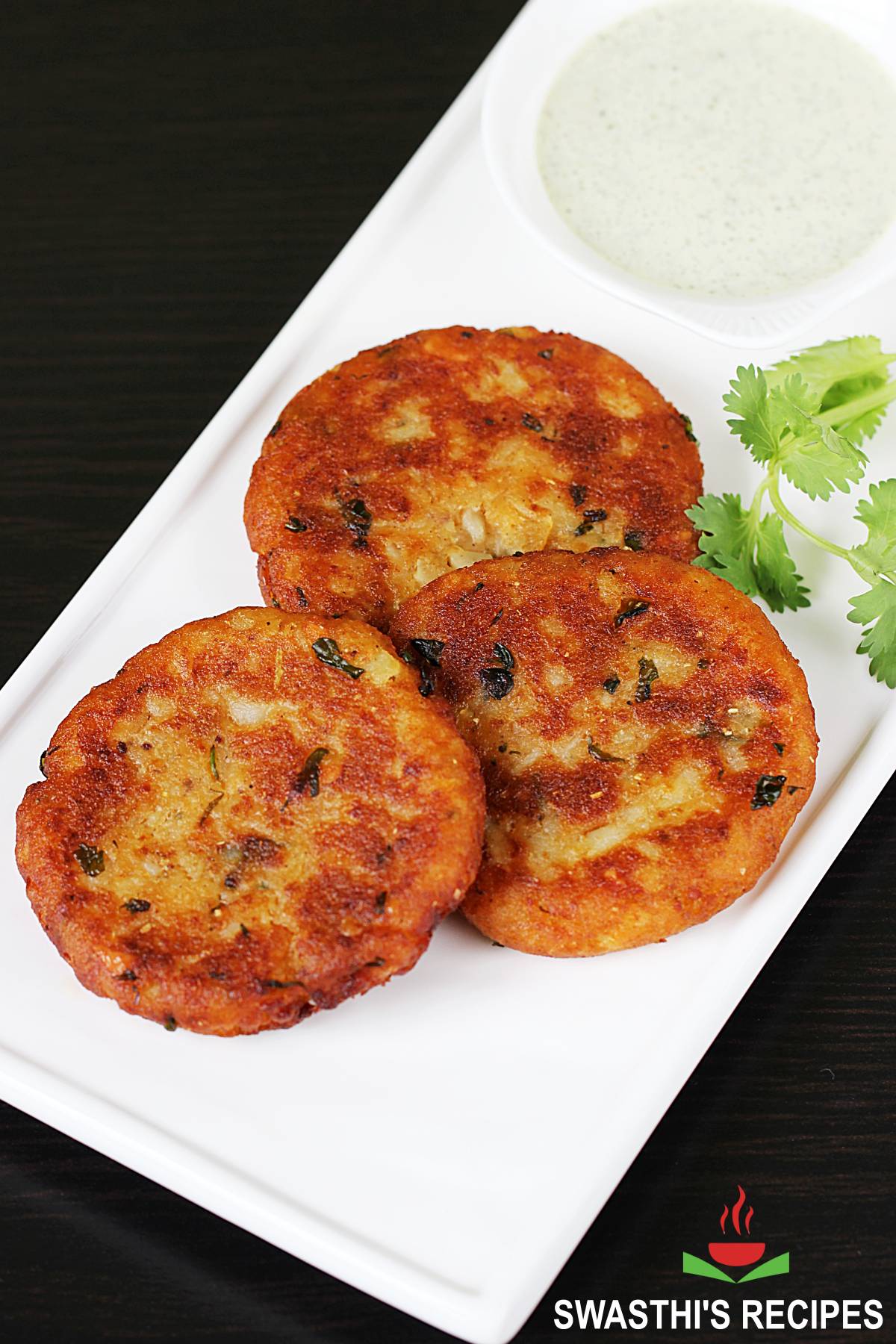 ---
There are 2 ways aloo tikki is made. One is with the stuffing and the other without the stuffing. The stuffed aloo tikkis are much popular in North India. The most common stuffing is made with boiled chana dal, chaat masala, herbs and spice powders.
But in many other states, aloo tikki is made without stuffing. In restaurants we get to see different kinds of stuffed tikkis on their menu, made with paneer or even with keema.
In this post I am sharing a real simple and easy recipe to make crisp and perfect aloo tikkis. These are great to serve with mint chutney or to make an aloo tikki chaat. You can also place them inside a burger bun and make an aloo tikki burger.
My kids love chaats & most often I make them at home for health reasons. So in this post I have also shared tips to make aloo tikki chaat and aloo tikki burger as well towards the end of this post.
For more Potato recipes
Hara bhara kabab
Veg cutlet recipe
Samosa
Aloo bonda
Chilli potato
Aloo pakora/bajji
How to make aloo tikki (stepwise photos)
Preparation
1. Rinse and peel 4 to 5 medium potatoes (about 450 to 500 grams). Boil them just until cooked. I cooked them by placing in a bowl and the bowl inside the cooker. Depending on the potatoes and the brand of cooker, you may need anywhere from 3 to 5 whistles to cook them on a medium heat. Cool them.
If using your instant pot, Place them on a trivet and pressure cook for 7 to 8 mins. Let the pressure release naturally. Then peel them.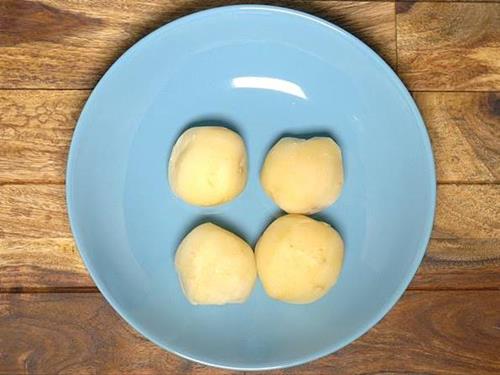 2. Grate or mash them with a masher.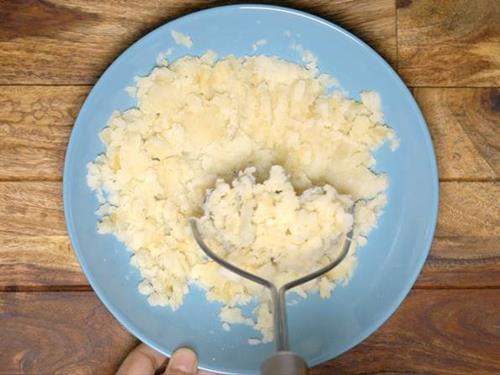 3. Ensure potatoes are completely cooled before adding the other ingredients otherwise the flour and bread crumbs will turn sticky.
4. Next add the following:
2 tablespoons chopped coriander leaves
½ teaspoon ginger (grated or paste)
1 chopped green chili
¾ teaspoon garam masala
½ teaspoon chaat masala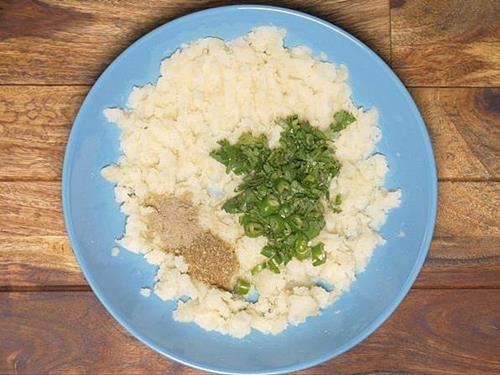 5. Add ¾ teaspoon salt and ½ to ¾ teaspoon red chili powder. Optional – Heat 1 tablespoon ghee until very hot, add that to the red chilli powder. This removes the raw smell of the red chilli powder.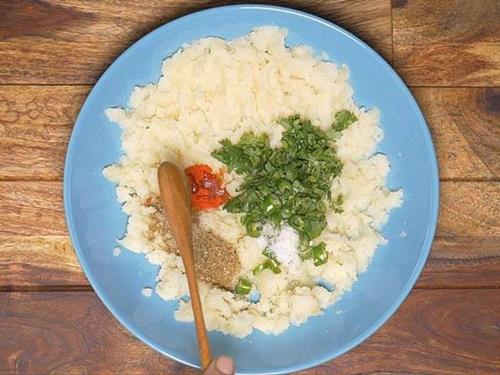 6. Optional – Then add 2 tablespoons chopped cashews (about 6 to 8).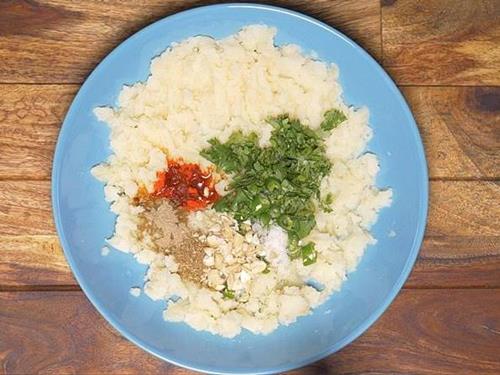 7. Add 2 tablespoons rice flour or cornstarch (corn flour) and 4 tablespoons bread crumbs. You can substitute bread crumbs with powdered poha. To make that, add some poha to a small grinder and powder it.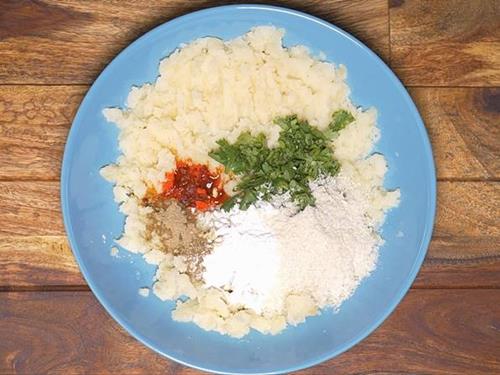 8. Bind the mixture together to make a ball. Add more bread crumbs if the mixture turns sticky. Ensure the mixture is non-sticky. Sticky or soggy mixture will make soft aloo tikkis. Taste this and add more salt or spice if needed.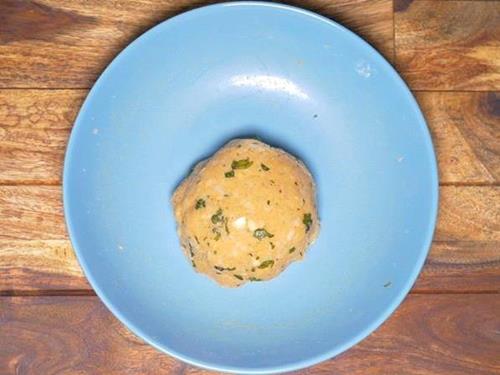 Shape aloo tikki
9. Divide the mixture to equal sized balls. You can make big ones to make large tikkis. But thin tikkis turn out crispy and tasty. If you are making it for burger, then divide only to 4 portions.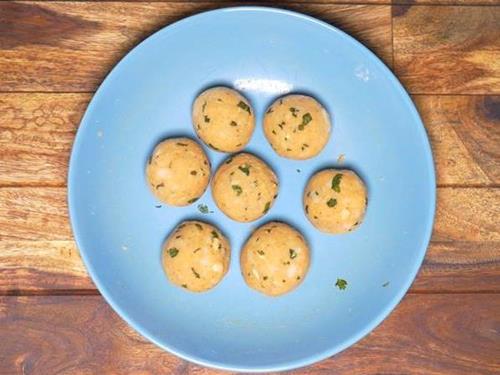 10. Flatten them and stick up the cracked edges.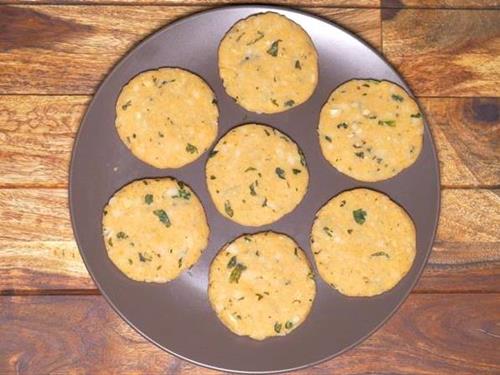 11. Heat oil in a cast iron or non-stick pan. You can pan fry them or shallow fry them. I did the shallow frying here to make the aloo tikkis extra crisp. Do the heat test by dropping a small piece of the mixture to the hot oil. If the oil is hot enough the mixture will rise up without browning a lot.
12.Then gently slide them one after the other. Fry on a medium heat in hot oil. Do not disturb them until the base turns firm and golden. Flip them and fry on both the sides until golden and crisp. Remove them to a kitchen tissue.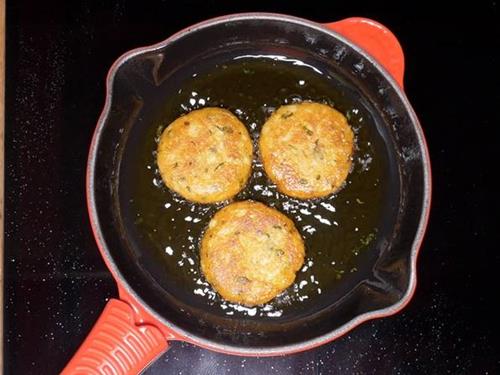 Serve aloo tikki hot with mint chutney or serve as a patty in a burger. I have also shared below how to make aloo tikki chaat and aloo tikki burger below.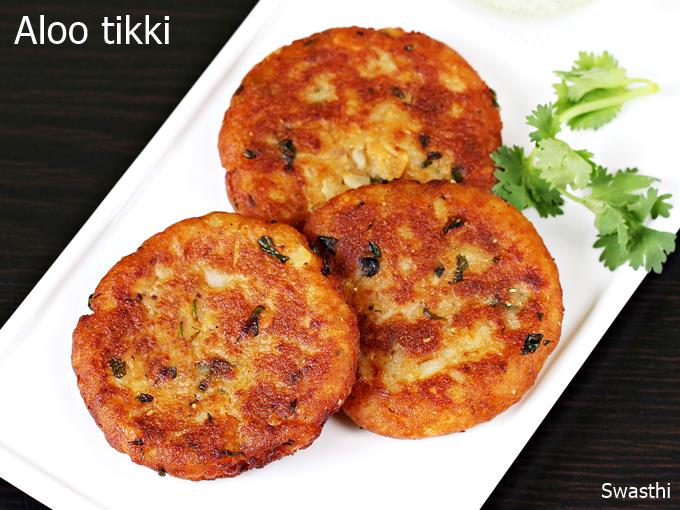 Here are some tips that will help you make the best Indian style potato patties.
Pro Tips
Tips for Boiling potatoes
Boiling potatoes correctly is the crucial step to make crisp and firm potato patties. Boil them just until fork tender. Avoid overcooking them. Overcooked potatoes often turn mushy and become paste like due to the excess moisture.
Mushy potatoes will need a lot of flour or bread crumbs to reduce the moisture.
How to boil them perfectly?
One way is to boil the whole potatoes in a pot without peeling the skin. Cooking them in a pot will help you keep an eye on them so they are not overcooked. You can also cook them in a pressure cooker.
The other way is to cube them and steam over a steamer or a pot. A perfectly boiled potato should be fork tender but not mushy.
Preparing the mixture: Cool the potatoes completely then mash them well with a masher. Alternately you can also grate them using a grater.
Avoid mashing them while still hot. Avoid adding the bread crumbs or flour to the potatoes when they are still hot. Both these will make the potatoes pasty and sticky.
The prepared mixture should be dry and non-sticky. Sticky mixture will make soft and mushy aloo tikkis. They may break while frying. If the mixture turns even slightly sticky use more bread crumbs or flour to absorb the excess moisture.
Tips to fry perfectly
Aloo tikkis are mostly shallow fried. However they can also be pan fried, air fried or grilled in an oven. If shallow frying, Oil in the pan should come to at least half the height of the aloo tikki. Use a cast iron or a non-stick pan otherwise the base of the tikkis may get stuck to the pan.
Ensure the oil is hot enough, otherwise the aloo tikkis will stick to the pan and mess up. To check if the oil is hot enough, drop a small piece of prepared mixture to the hot oil. It should come up steadily without browning a lot. This is the right temperature.
After sliding the aloo tikki to hot oil, do not disturb them until the base turns firm and golden. Allow the base to firm up first, then flip them. Otherwise they will break and mess up.
Troubleshooting
If the aloo tikki soaks up lot of oil, it means either the mixture has too much moisture in it or the oil is not hot enough. To fix, add more bread crumbs to the mixture. Ensure the oil is hot enough by doing the heat test.
Substitutes
Bread crumbs are always the best to absorb excess moisture in potatoes. However if you do not have them then toast a few slices of bread on a griddle until slightly crisp, tear them and pulse them in a dry grinder to make crumbs. Use these as a substitute to bread crumbs.
Alternately, you can also use corn starch, rice flour, poha powder or roasted gram flour (besan). To make your own poha powder, make a fine powder of flattened rice and use.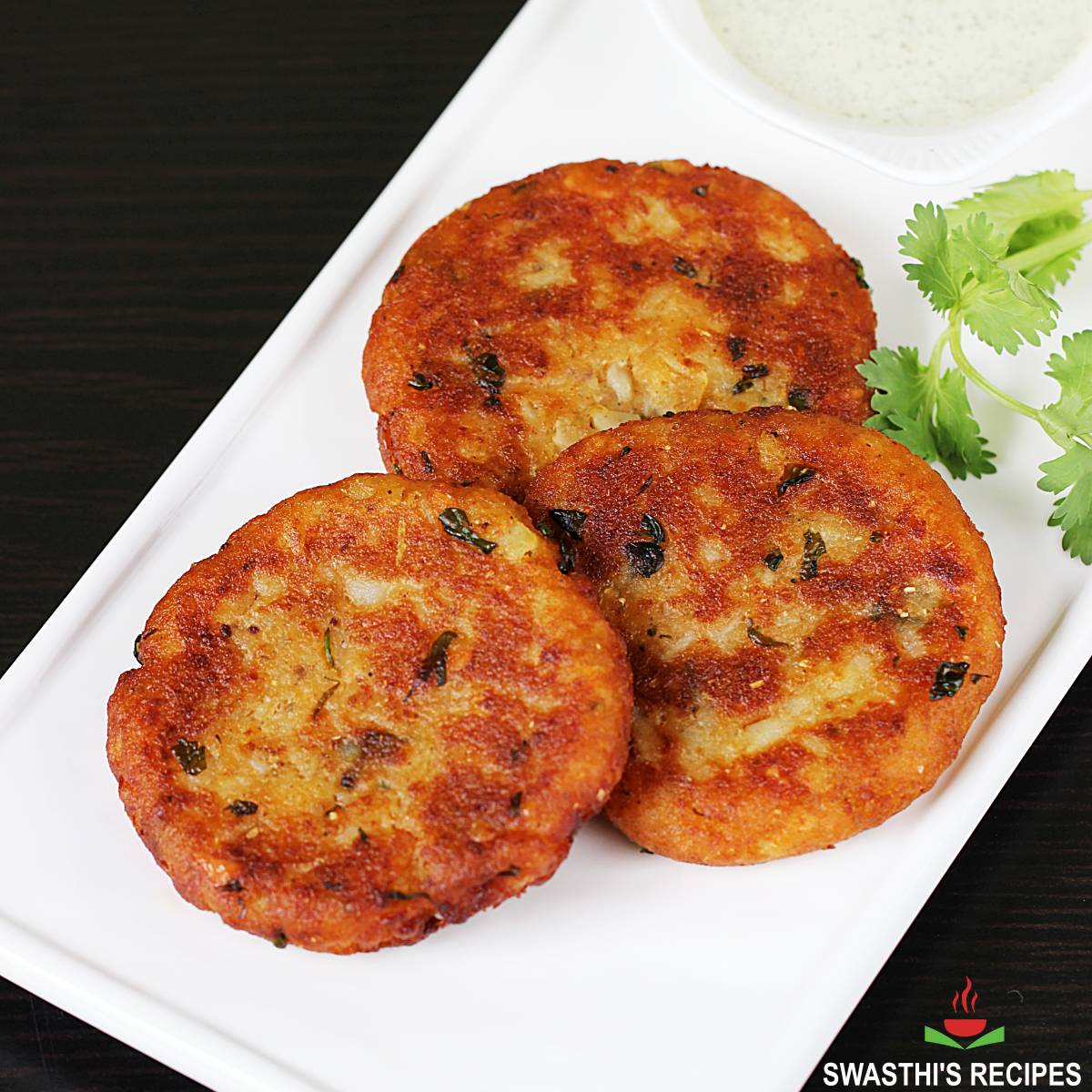 Faqs
How to make aloo tikki burger?
My way of making aloo tikki burger is super simple. I toast the sliced buns with little butter.
Then spread this mint yogurt chutney, then place a lettuce, and then the aloo tikki over that. Followed by some sliced onions, tomatoes, sliced cucumbers and then smear some chutney again on the other sliced bun. Cover and enjoy.
Mint yogurt chutney goes very well in a aloo tikki burger. Alternately you can also use this green chutney or mayonnaise mixed with some tomato sauce.
How to make aloo tikki chaat?
Follow this tamarind chutney recipe and green chutney recipe to make both the chutneys. Both the chutneys must be of thick pouring consistency. If needed bring them to consistency by adding some water. Keep this aside.
Whisk half cup thick yogurt with 1 tsp of sugar and salt until the sugar dissolves completely. It must be of a pouring consistency.
Place the crisp fried aloo tikkis in a serving bowl. Pour 2 to 3 tbsps of yogurt. Followed by the tamarind chutney and green chutney. Add the chopped onions, tomatoes & coriander leaves. Then sprinkle a handful of nylon sev over it. Serve it immediately.
Can I freeze the tikkis?
Yes you can. Place them on a tray and keep in the freezer until firm. Remove them and store in a freezer safe container or a zip lock bag.
When you want to use them, thaw them first and roll them in a bit of corn starch. Dust off the excess flour and fry them.
Can I crumb coat aloo tikki?
Tikkis are never crumb coated. But if you prefer to use them in a aloo tiki burger, then you may. Mix half cup gram flour with little water in a bowl to make a thick flowing batter. It should not be too runny or too thick.
Then dip the aloo tikki in the batter and coat it well with the prepared batter. Immediately place the aloo tikki in bread crumbs and coat it well. Press down gently so the bread crumbs stick to the tikki.
Repeat these steps and crumb coat all of the aloo tikkis. Set aside for 10 mins and fry them as mentioned below. Typically oil in your pan should be atleast to half the height of aloo tikki. This way they turn extra crisp. You can check my veg burger recipe for the same step by step pictures.
Related Recipes
Recipe card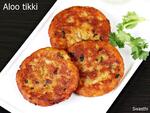 Aloo tikki
Aloo tikki are Indian style potato patties that are served as a snack or eaten as a patty in a burger. These aloo tikki are best served with mint chutney or dahi chutney. You can also make aloo tikki chaat with these.
Pin Recipe
Print Recipe
For best results follow the step-by-step photos above the recipe card
Ingredients (US cup = 240ml )
4

medium

potatoes

(450 to 500 grams)

1

teaspoon

ginger paste

or ¼ tsp ginger powder

¾

teaspoon

garam masala

or any spice powder

½

teaspoon

chaat masala

½ to ¾

teaspoon

red chili powder

1

tablespoon

ghee

or oil (very hot) optional

2

tablespoon

coriander leaves

(finely chopped)

1

green chili

chopped

2

tablespoon

corn flour

(cornstarch) or rice flour or poha powder (2 tbsps more if needed)

4

tablespoon

bread crumbs

or poha powder ( more if needed)

¾

teaspoon

Salt

(adjust to taste)

2

tablespoon

cashews

(chopped, optional)

4 to 6

tablespoon

Oil

or as needed
Instructions
Preparation
Boil potatoes just until cooked. Do not overcook them. They should be firm and not mushy or soggy. (check the tips above in intro for details).

Cooker: Add them to a cooker and pour water to partially cover them. Cook for 3 to 5 whistles depending on the size of your cooker. Instant pot: Pressure cook them for 7 to 8 minutes and let the pressure release naturally.

Cool them completely and remove the skin. Grate or mash them in a mixing bowl. Make sure there are no chunks of potatoes.

Add coriander leaves and green chilies.

Add ginger paste, garam masala, chaat masala, salt and red chili powder.

Heat 1 tbsp ghee till very hot in a kadai. Pour that over the red chili powder to remove the raw flavor.

Ensure the potatoes are cooled first then only add flour and bread crumbs. Begin to mix and make a firm and non sticky ball. If needed you can add more bread crumbs or flour to absorb moisture.

The mixture must be firm and non-sticky. If it is sticky, it means it is too moist. So add more bread crumbs or flour.
How to make aloo tikki
Divide the mixture to 6 to 8 equal parts and make balls. If you prefer large tikkis, you can make fewer large balls. But thin tikkis cook well and get crispy when fried. If making for burger, then you can make them as wide as the size of a burger.

Flatten them and make the aloo tikki. Place them in a tray and set aside.

Heat 4 to 6 tbsps oil in a medium sized non-stick or cast iron pan.

Check if the oil is hot by gently sliding a small portion of the mixture to the hot oil. It has to rise without browning a lot. This is the right temperature. If it sinks it means the oil is not hot yet.

Wait until it becomes hot, then gently transfer one after the other to the oil. Do not disturb them until the base of the tikki firms up.

When you see the base of the aloo tikki has turned firm, then flip them. Fry until golden & crisp on both the sides.

Remove them to a absorbent kitchen paper or a colander. For extra crisp tikkis, you can refry them in the oil again.

OR for grilling in oven Alternately brush the patties with oil & place on a greased wire rack over a tray. Grill in a preheated oven for 18 to 20 mins at 390 F (200 C) or until crisp. Flip them to the other side after 10 to 12 mins. Adjust the timing based on your oven.

For Air frying: Brush the tikkis & place them in the air fryer wired rack. Air fry at 360 F (180 C) for 8 to 10 mins on each side. Keep check and adjust the timing as needed. If your air fryer needs preheating, preheat it first before air frying.

Serve aloo tikki hot with mint chutney or serve them inside your burger. (to make check the tips in intro)
Notes
Adjust the amount of spices to suit your taste.
Do not overcook the potatoes as they become mushy. Mushy potatoes are no good to make aloo tikki.
If the tikkis soak up lot of oil, it means the oil is not hot enough or the mixture has a lot of moisture. Adding some flour or bread crumbs to the mixture will fix the problem.
Adjust the grilling time as it depends on the size of the tikkis and the oven.
Alternative quantities provided in the recipe card are for 1x only, original recipe.
For best results follow my detailed step-by-step photo instructions and tips above the recipe card.
NUTRITION INFO (estimation only)
Nutrition Facts
Aloo tikki
Amount Per Serving
Calories 166
Calories from Fat 72
% Daily Value*
Fat 8g12%
Cholesterol 4mg1%
Sodium 212mg9%
Potassium 466mg13%
Carbohydrates 19g6%
Protein 3g6%
Vitamin C 12.8mg16%
Calcium 41mg4%
Iron 3.9mg22%
* Percent Daily Values are based on a 2000 calorie diet.