Medu Vada Recipe (Garelu)
Medu Vada are crisp, fluffy & delicious donut shaped lentil fritters from South Indian Cuisine. Vada with Coconut Chutney or Tiffin Sambar is a popular Breakfast relished in a lot of South Indian homes & restaurants. Make delicious, crisp yet soft and fluffy vada at home with my time-tested traditional recipe. I also have a lot of troubleshooting tips and tricks to make the best medu vada at home. Once you learn to make these, I am sure you will ditch your favorite restaurant & make these often at home.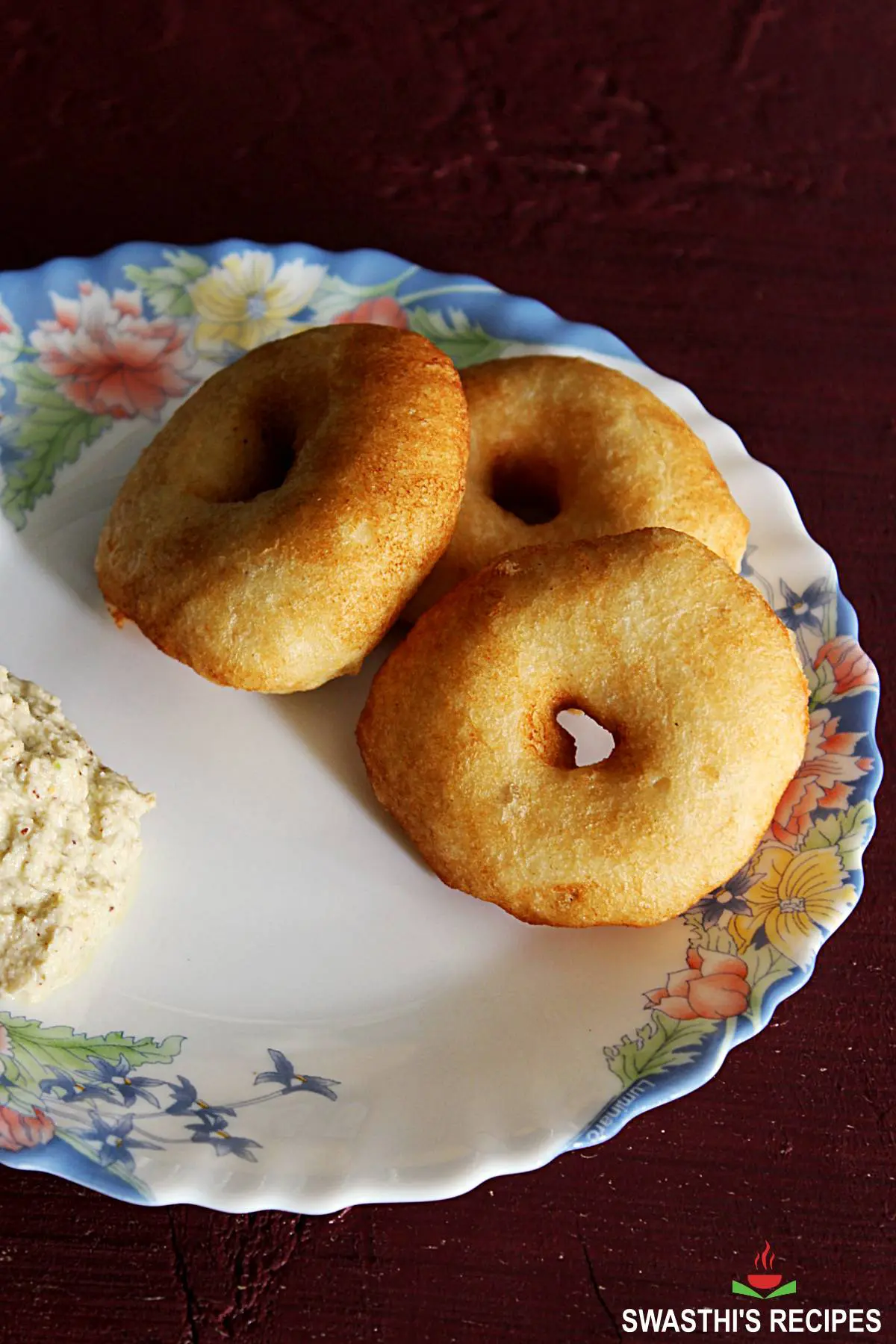 What is Vada?
Vada are a kind of deep fried savory snacks mostly made with lentils, spices and herbs. The Word "Vada" may have been derived from the Sanskrit Term "vataka". According to the popular Indian Food Historian, KT Achaya, vada dates back to ancient India, as far as 500 BC with mentions of the food as soaked and ground pulses, fried in ghee.
Till day, traditionally made vada are offered to Deities/ Gods in Temples and Hindu homes during puja.
Indian cuisine is a melange of different regional cuisines so you will find many kinds of vada across India. Vada is basically a kind of fried snack known by different names such as bada, wada or bora, with recipes varying by region, community and home. They can be made with lentils, vegetables, grains and even with tapioca pearls.
Masala vada, medu vada, Maddur vada, batata vada, Dahi vada are some of the popularly known in Indian Cuisine.
About Medu Vada
Medu vada are traditional South Indian fritters made with urad dal (black lentils), spices and curry leaves. "Medu" is a Kannada word meaning "Soft" and "Vada" are "crispy Indian fritters". So medu vada, also sometimes simply mentioned as "VADA" are essentially soft from inside yet crisp on the outside.
Known by different names such as Garelu in Telugu, uddina vade, medu vade in Kannada, ulundhu vadai in Tamil and uzhunnu vada in Malayalam, they are made and relished across the South Indian states.
Growing up, medu vada aka Garelu was a staple in our home as my mom would offer these to Goddess Lakshmi and Durga during Friday Pooja. We Telugu speaking people also make them for an offering during Varalakshmi vratam, Gouri puja, Diwali and Durga Navratri.
In fact our festivals are incomplete without making vada since we also serve them as a part of the festive meal. Depending on the region and family traditions various spices and herbs are added to the batter.
South Indian foods like masala dosa, idli, rava dosa, medu vada served with coconut chutney and sambar are hugely popular even in the restaurants across the world.
My Recipe
My traditional recipe to make these medu vada comes from my Mom and I have also shared all her tips and tricks to make them perfectly crispy, fluffy and delicious every time. Making perfectly crisp and fluffy vadas at home is easy if you follow the recipe without missing out the minute details I have mentioned in this post.
The recipe involves only three steps – soaking lentils, grinding them to make fluffy batter and lastly shaping small portions of the batter & frying. Traditionally medu vada batter is ground in a manual stone grinder but a lot of us also grind it in an electric mixer grinder/ blender or a wet grinder.
Making fluffy batter is the key to crisp and fluffy vadas. So you need a good strong and powerful blender that can grind your lentils really well to a fluffy texture. If you use a regular low watt grinder you may end up with hard and dense vadas and even more your blender may break down.
The basic medu vada is made with just urad dal, water and salt. To flavor them ingredients like crushed black pepper, green chilies, ginger, cumin seeds, curry leaves and onions are used. At home we do not add any other ingredients if making for Naivedyam. This is a tradition we have followed.
Other times my mom would add all those aromatic ingredients and sometimes onions were replaced with fresh shredded cabbage which really goes well in these fritters.
To make perfectly crisp and fluffy vadas do check out my faqs, pro tips and notes which I shared below.
More Vada recipes
Batata vada
Masala vada (chana dal vada)
Mixed dal vada
Sabudana vada
Alasanda vada
How To Make Medu Vada (Stepwise Photos)
Preparation
1. Add 1 cup urad dal to a large bowl and wash it well rubbing with your hand. Rinse it well at least 3 to 4 times & drain the water. This removes the white powdery substance on the urad dal.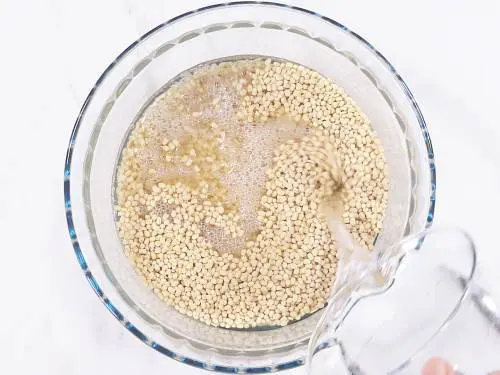 2. Add fresh water and soak it for at least 4 to 5 hrs. Soaking them for at least 5 hours makes the batter fluffy and increases in volume. But if you do not have so much time, you can soak for 3 hours but the texture is not the same. If using organic dal you can soak for 8 hours with good results. While the dal soaks, keep about 1 cup of water in the refrigerator to chill.
Make batter
3. Later discard the water completely from the dal & give a good rinse. Drain the water completely.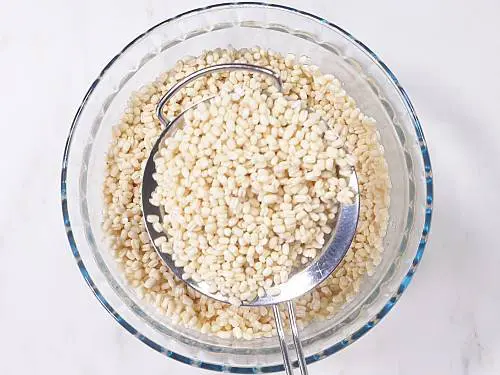 4. Add the dal to a grinder or blender jar along with 1/3 teaspoon salt.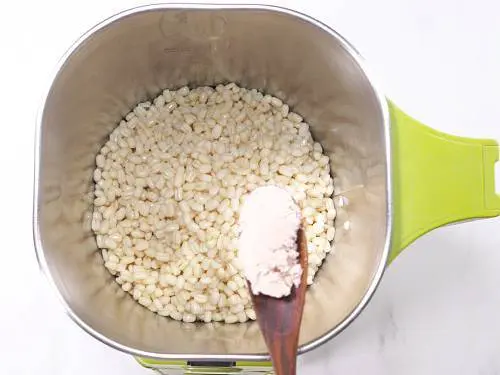 5. Sprinkle 3 tablespoons ice cold water to start off. Blend for a short time about 25 to 30 seconds.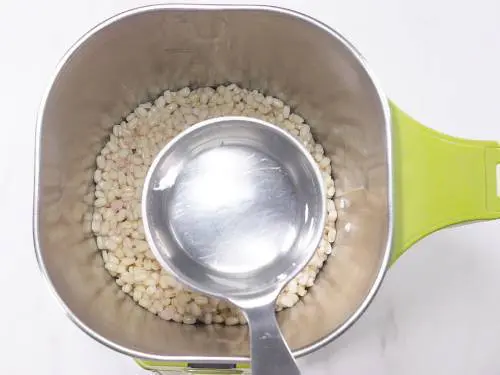 6. Next scrape the sides and the bottom to release the dal that's stuck.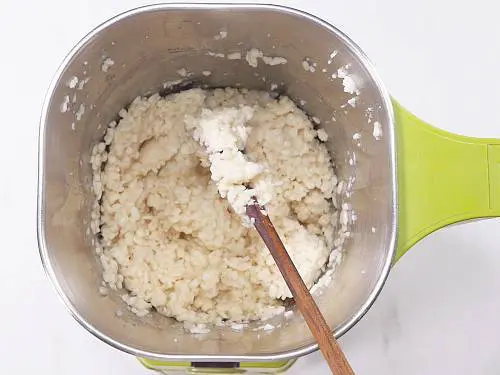 7. As and when needed sprinkle evenly about only 1 ½ teaspoon water each time. Whether you make in the wet grinder or blender, the process is same. Scrape off the sides and grind again. The batter will be coarse but must be thick. Sprinkle water as needed again.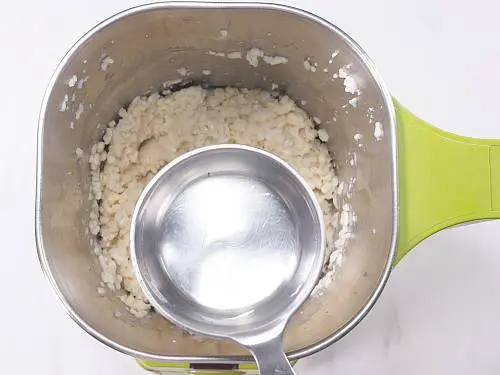 8. Grind till the batter looks fluffy, thick, lightly aerated and white in color. (like you see in the picture). Ensure your blender does not become warm or hot while you grind as this will give a bitter taste.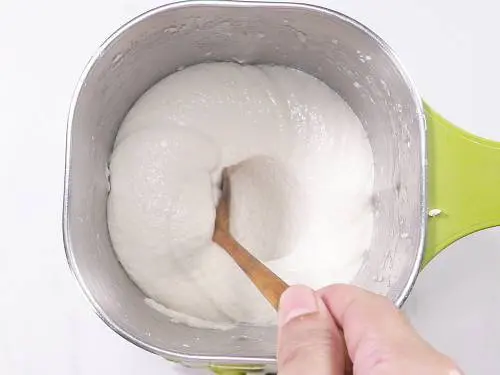 Consistency of Batter
9. Check if the batter is done correctly. Take a small bowl filled with water. Take little batter and form a ball, drop it in the water. If the consistency & texture of the batter is light, the batter floats well.
The batter will not float if the consistency is very thin. Read the notes below what to do if the batter becomes runny/thin.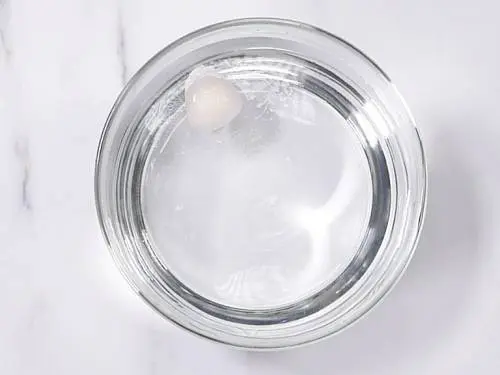 10. Transfer the batter to a bowl, beat the batter with your hand in clock wise direction for 30 to 40 seconds. This makes the batter more fluffy and aerated. This is very important. You can skip this step if making the batter in wet grinder.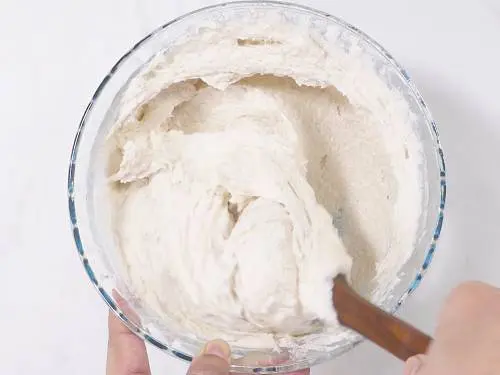 11. To make the hotel style medu vada, you can add a tiny pinch of baking soda, half teaspoon crushed pepper, 1 to 2 chopped green chilies, 1 tablespoon fine chopped ginger, 1 sprig curry leaves and 2 to 3 tbsps chopped onion or fresh coconut. Since I made these for the puja, I did not add any to half of the batter. To the other half I added everything else but not soda. Mix the batter well.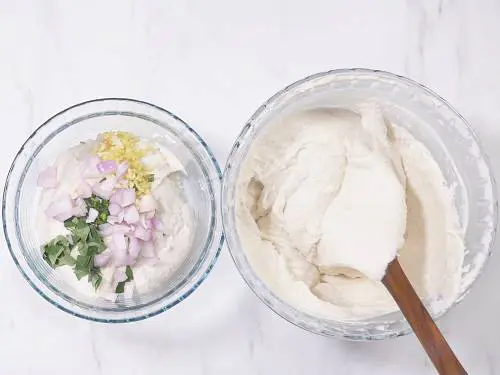 How To Shape Medu Vada
12. On a medium flame, heat oil in a deep pan. Ensure there is enough oil in the kadai so your medu vada floats and fries well.
13. Method 1: Dip your fingers in water (water should not be dripping from your fingers).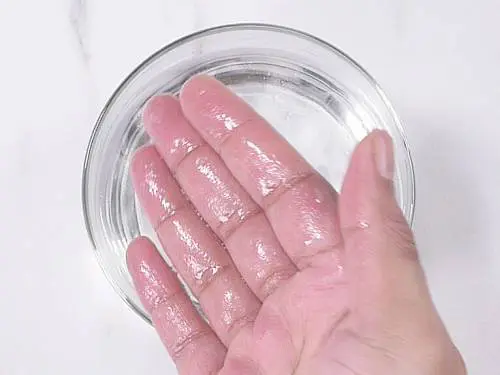 14. Take small portions of this batter to your fingers. Make a ball.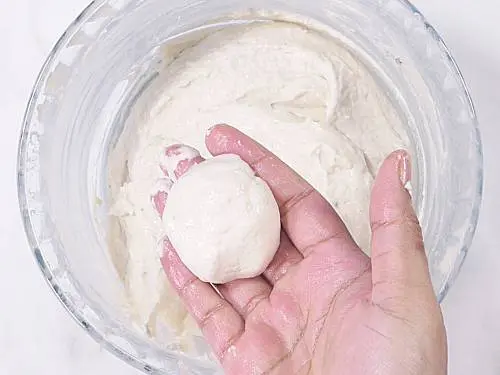 15. Slightly flatten the ball with your thumb. Next make a hole in the center. If the batter sticks, dip your thumb in water. If you are new to making medu vada, follow the second method below or practice this a few times before frying. I always make these following the second method.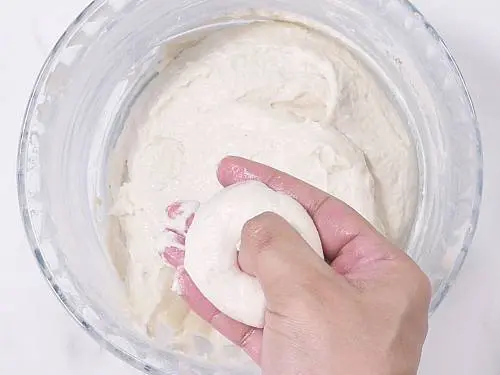 16. Before sliding the medu vada to the oil, ensure it is hot enough. To check, drop a small portion of batter to it. The batter must rise without browning a lot. This is the right temperature.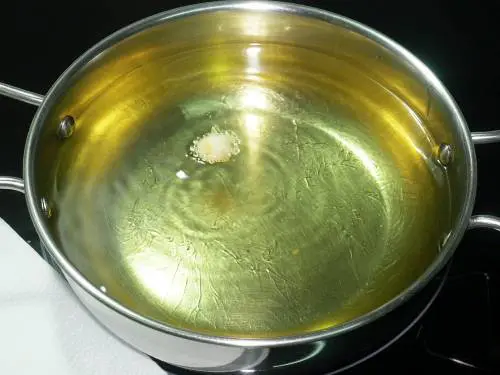 17. Method 2: Place the ball on a greased sheet or greased parchment paper. Flatten it slightly and make a hole in the center.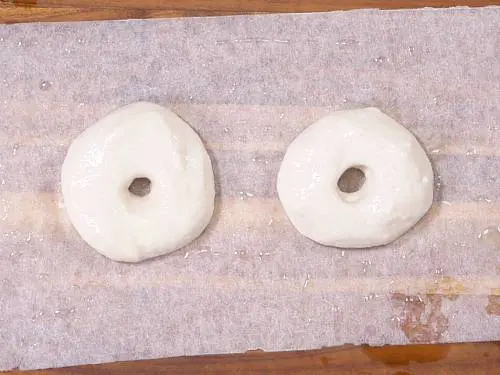 18. Once the oil is hot enough, ensure the flame is to medium. Dip your fingers in water. Please ensure there is no excess water dripping from your hand. Lift the side or corner part of the sheet with your left hand and transfer the medu vada on to your fingers (right hand).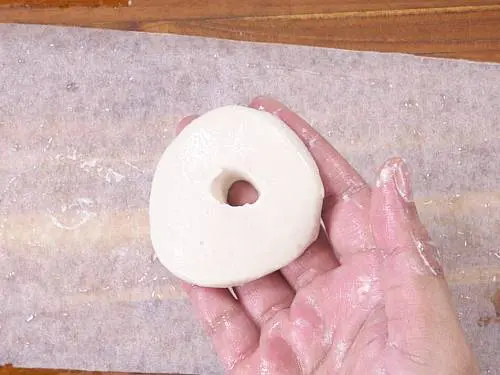 19. Face your palm towards the oil, drop in the hot oil by shaking your fingers gently. Take care. Drop these just by shaking your fingers. Gently slide a few.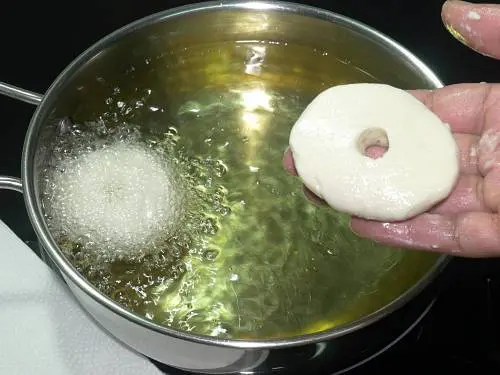 20. Fry medu vada on a medium flame till they turn golden & crisp. Towards the end if you like them deep golden, fry them on a slightly higher flame for 2 mins.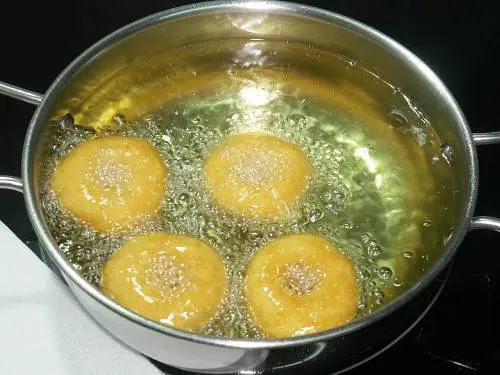 21. When done, remove them to a colander. Shape and fry medu vadas in batches till all the batter is used up.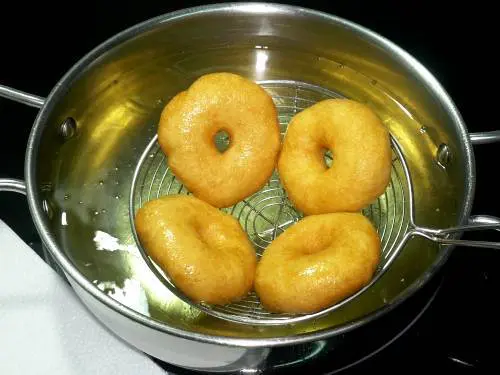 We offer garelu to the Goddess first. Serve medu vada with coconut chutney & tiffin sambar. Here I have the picture of both – plain & with spices & onions.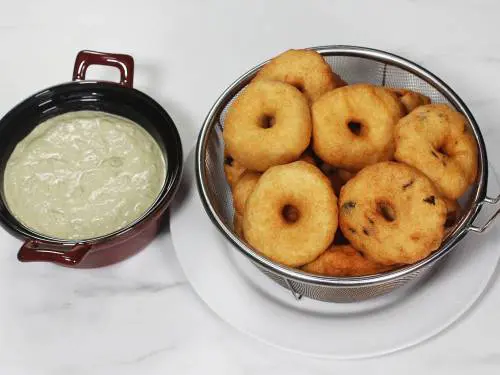 We offer only the plain ones during pooja.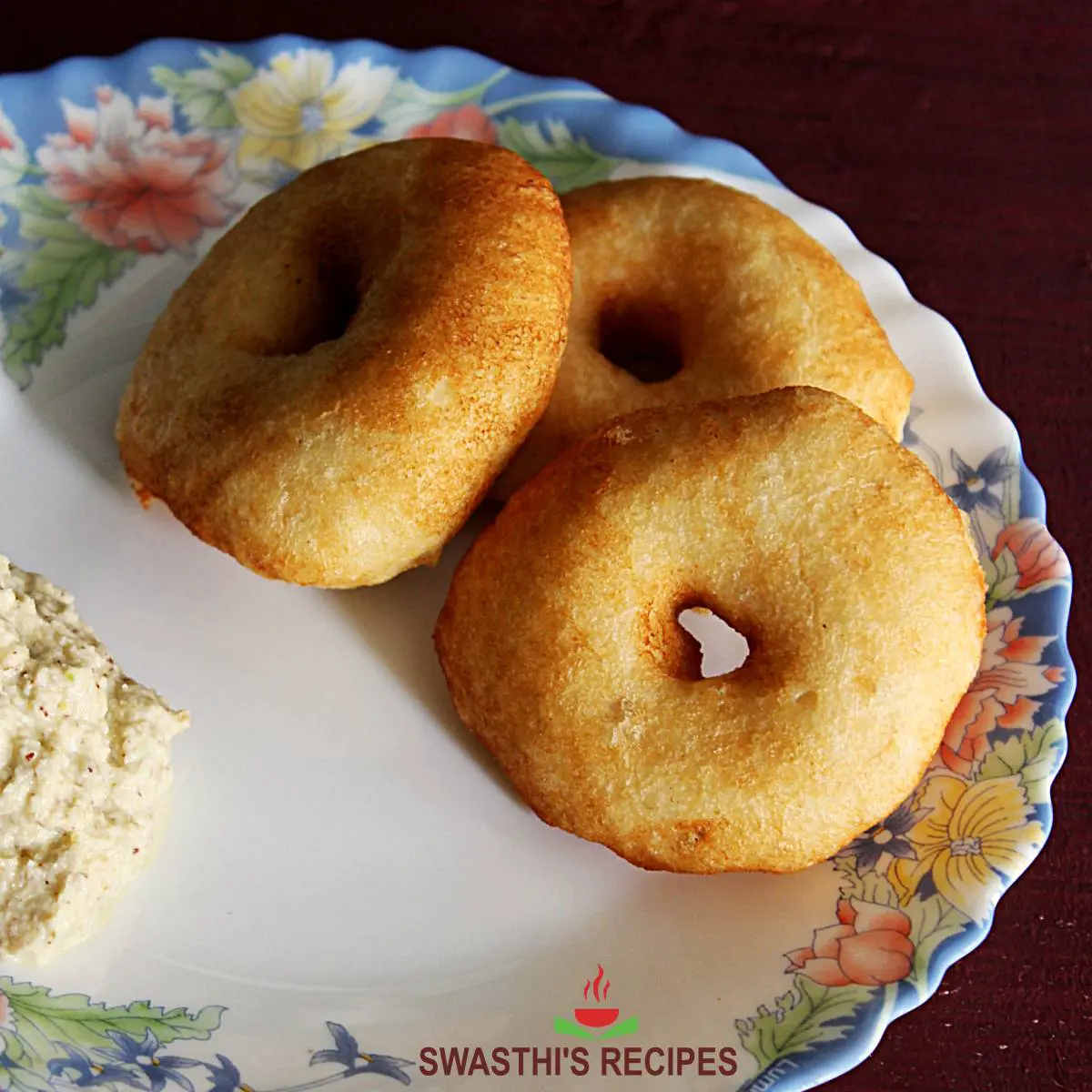 Faqs
How do I keep vada crisp for long time?
Like any other deep fried foods, vada becomes soft and lose their crispness as they cool down. To keep them crisp for longer, place a cooling rack over a baking tray and pop them in the oven. Preheat your oven with keep warm settings (80 C to 100 C or 175 F to 200 F) for at least 15 mins, then place the hot fried vadas over the cooling rack. Continue to move them to the oven as you fry.
How to crisp or reheat vada?
You can simply refry them in hot oil Or reheat to crisp them in an preheated oven at 180 C or 360 C for 3 to 4 minutes or until crisp.
Why did my medu vada absorb lot of oil?
If the oil is not hot enough or if the urad dal is over soaked, vada can absorb lot of oil. Also if the lentils are ground too long in a wet grinder, the batter can become feather light and vadas can soak up a lot of oil. So ensure you don't oversoak the lentils, grind them just until light and fry the vada in hot oil.
Why is my vada hard?
Soaking the lentils well for at least 4 hours is very important. Under soaked lentils won't yield a fluffy batter and the vadas turn out dense and hard. Not using enough water while grinding and not aerating the batter enough can also make hard vada. Lastly aged lentils that have been in the shelf for a long time do not make fluffy batter so use lentils that are fresh. Avoid using lentils that have picked up an yellow shade.
Why is my vada uncooked?
Frying vadas in extremely hot oil will brown the vadas from outside but won't cook them inside. So always ensure the oil is hot enough but not smoking hot. Also fry them on a medium flame until crisp, golden and cooked through.
Can I make vada batter without wet grinder?
In hotels & restaurants, medu vada batter is made in wet grinder. This gives the best fluffy texture from inside and crispy texture outside. Most traditional South Indian households too use a wet grinder to make the batter.
But every time I make garelu I use my mixer grinder. I have a very large wet grinder so I rarely use that for grinding. We can make fluffy medu vada even without a wet grinder.
Pro Tips & Notes
Firstly do not let the mixer-grinder or the batter heat up while grinding. Warm or hot batter makes hard medu vada. Sometimes they may even taste bitter. So always use ice cold water to grind the lentils.
If the batter becomes slightly runny, you can mix 1 to 2 tbsps rice flour (at room temperature).Then beat it well to aerate. If the batter turns to be runny still, I suggest you to make punugulu or urad dal bonda.
Other alternates are to use fine powdered poha (attukulu). Poha works great to soak up excess moisture in the runny batter.
If you are a beginner make the medu vada on a damp cloth, plastic sheet or cling flim and then transfer to the hot oil. Do not make it in your hand or fingers.
Lastly adding salt later to the batter can thin it down, so make sure you add while grinding.
Use only very little ice cold water to grind the batter. Using not more than 1 1/2 tsp. at one time, which literally means you have to sprinkle the water.
If using organic urad dal, you can soak it for 8 hours.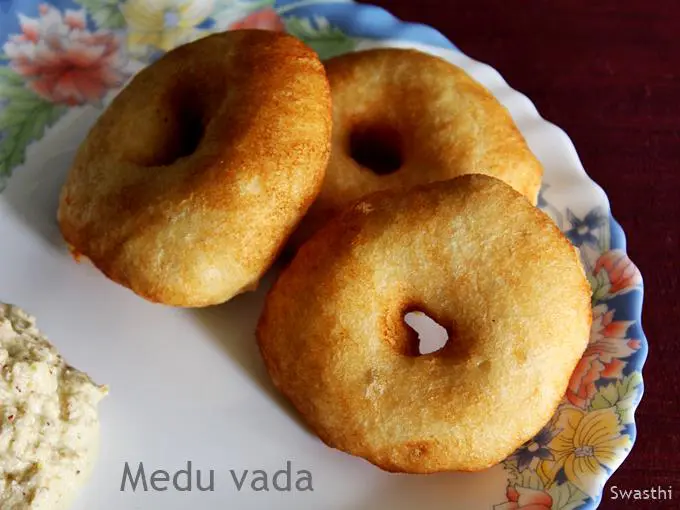 Related Recipes
Recipe Card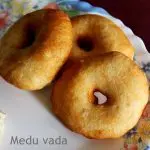 Medu Vada Recipe (Garelu)
Medu vada is a popular south Indian breakfast also known as garelu or vadai. The are doughnut shaped fried dumplings made with lentils. This post shares tips & tricks to make the best crispy yet fluffy vada at home using a mixer grinder (blender).
Print Recipe
Pin Recipe
Jump to Comments
For best results follow the step-by-step photos above the recipe card
Ingredients (US cup = 240ml )
1

cup

urad dal

(or skinned black gram)

⅓

teaspoon

salt

(adjust to taste)

Ice cold water

Oil

for deep frying
Optional (skip if making for Naivedyam)
¼ to ½

teaspoon

pepper corn

(crushed coarsely)

2 to 3

green chilies

(chopped)

4

tablespoon

onions

(chopped) (1 small)

1

sprig

curry leaves

(chopped)

½

teaspoon

cumin seeds

(jeera)

1

teaspoon

ginger

fine grated
Instructions
Preparation
Wash dal several times and soak in lot of water for at least 4 to 5 hrs.

Drain the water completely and transfer the dal to a mixer grinder jar. If you have a wet grinder, you can use it.

Sprinkle 3 tablespoons water. Next add salt and start grinding.

Next scrape off the sides and then grind again. Whenever needed sprinkle only as much as 1 ½ tsps. Ice cold water evenly.

Again continue to grind to a coarse thick batter. Ensure your grinder does not become hot.

Sprinkle water. Grind again till the batter looks fluffy and white.

Transfer this to a bowl. Aerate the batter by beating it with your hand in a clockwise direction for 30 to 60 seconds.

Test the batter if it is aerated well. Drop a small batter ball in bowl full of water. The ball has to float meaning it is light. This is needed to get fluffy medu vada.

If the batter doesn't float well, means either the batter is runny or is not aerated well. Read the notes below to know what to do with runny batter.

If the batter is in right consistency still it is not floating well. Then beat the batter once more.

Add crushed pepper, cumin, ginger,scurry leaves, green chilies and onions. Mix everything well.
How To Make Medu Vada
Heat oil in a deep heavy bottom kadai or pan on a medium heat till hot enough.

Drop a small amount of batter to check if the oil is hot. The batter raises if the oil is hot enough.

Dip your fingers in water or oil to moisten your fingers. Water should not be dripping.

Take small portions of batter. Shape to a ball, slightly flatten with thumb.

Dip the thumb in water, again no dripping water. Make a hole in the center.

Gently slide the vada in the hot oil by gently shaking off the fingers.

Or place the ball on a greased sheet. Flatten it slightly and make a hole in the centre.

If the oil becomes too hot, regulate the flame to medium.

Moisten your fingers again. Lift the corner part of the sheet and transfer the vada on to your fingers. Then drop it just by shaking your fingers.

Fry medu vada till they turn golden on both sides.

Make them and fry them in batches till you use up all the batter. In between every batch, wait till the oil heats up, if not hot.
Notes
Vada recipe is not for beginners. To try this recipe you must know atleast the basics of deep frying – how to manage deep frying.
Take care not to use too much water to moisten your fingers. Any water droplets in the oil can cause hot splashes of oil.
You can also use oil instead of water to grease your fingers before you shape the vadas.
Sliding vada to oil that is not hot enough can cause splatters.
The amount of water to use for batter changes with the soaking time and the kind of dal. 6 to 7 tbps water is what I use for organic dal that's soaked for 5 hours.
Alternative quantities provided in the recipe card are for 1x only, original recipe.
For best results follow my detailed step-by-step photo instructions and tips above the recipe card.
NUTRITION INFO (estimation only)
Nutrition Facts
Medu Vada Recipe (Garelu)
Amount Per Serving
Calories 108
Calories from Fat 63
% Daily Value*
Fat 7g11%
Potassium 5mg0%
Carbohydrates 7g2%
Protein 3g6%
Vitamin C 0.8mg1%
Calcium 9mg1%
Iron 1mg6%
* Percent Daily Values are based on a 2000 calorie diet.
Medu Vada Recipe was first published in July 2014. Updated and republished in June 2022.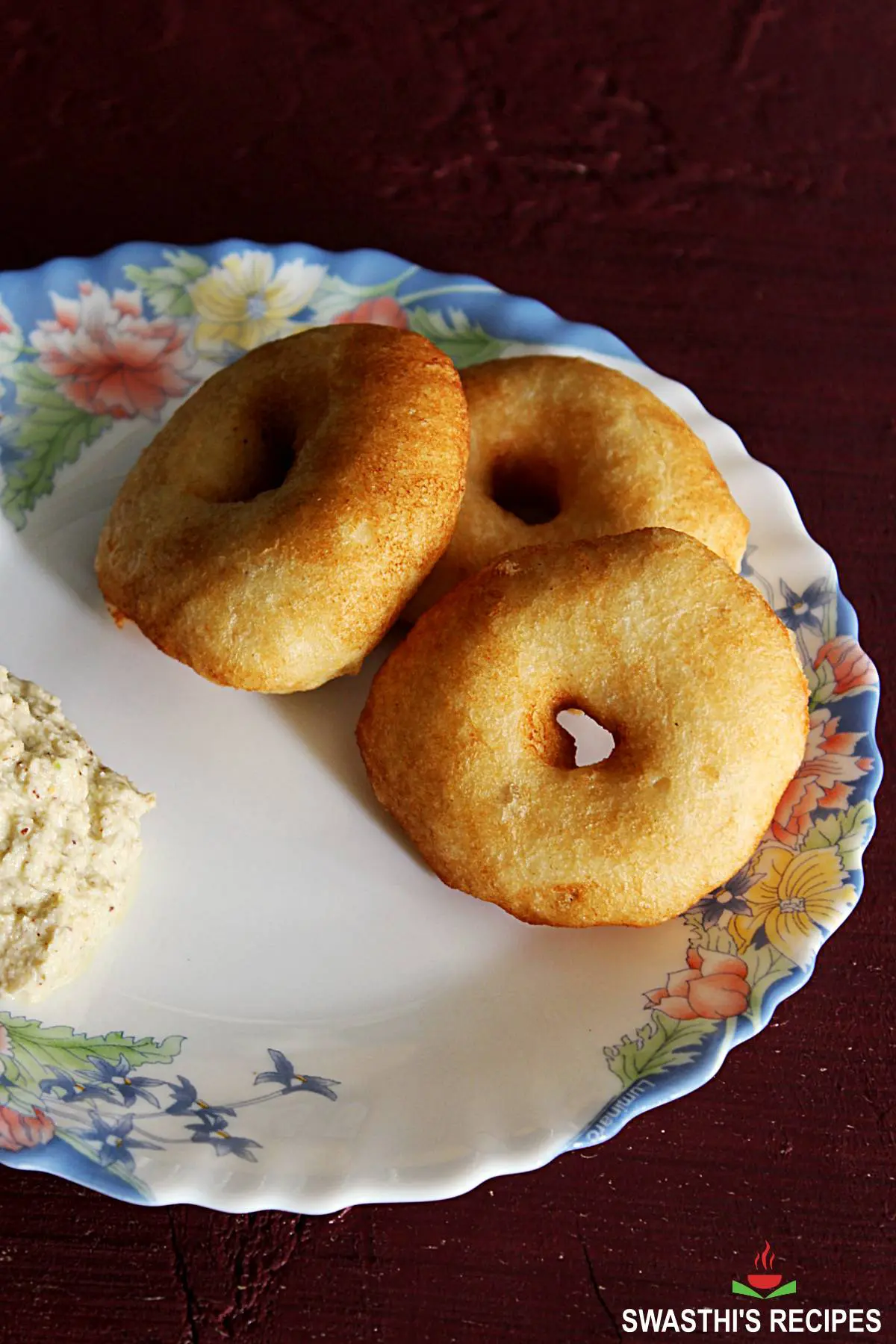 About Swasthi
I'm Swasthi Shreekanth, the recipe developer, food photographer & food writer behind Swasthi's Recipes. My aim is to help you cook great Indian food with my time-tested recipes. After 2 decades of experience in practical Indian cooking I started this blog to help people cook better & more often at home. Whether you are a novice or an experienced cook I am sure Swasthi's Recipes will assist you to enhance your cooking skills. More about me
Follow Swasthi's Recipes