Make puffed Bhatura at home with my easy-peasy recipe. Chole Bhature is a popular street food from North India, where bhatura, a fried bread is served with a spicy tangy chickpea curry known as Chole. This stretchy and chewy Indian fried bread is a specialty of Punjab & Uttar Pradesh but became much popular later on the streets of Delhi, as a street food. In this post I share 2 easy ways to make bhatura – with baking powder & baking soda & the instant way with Eno. I also share the differences between the two so you know which one to choose.
---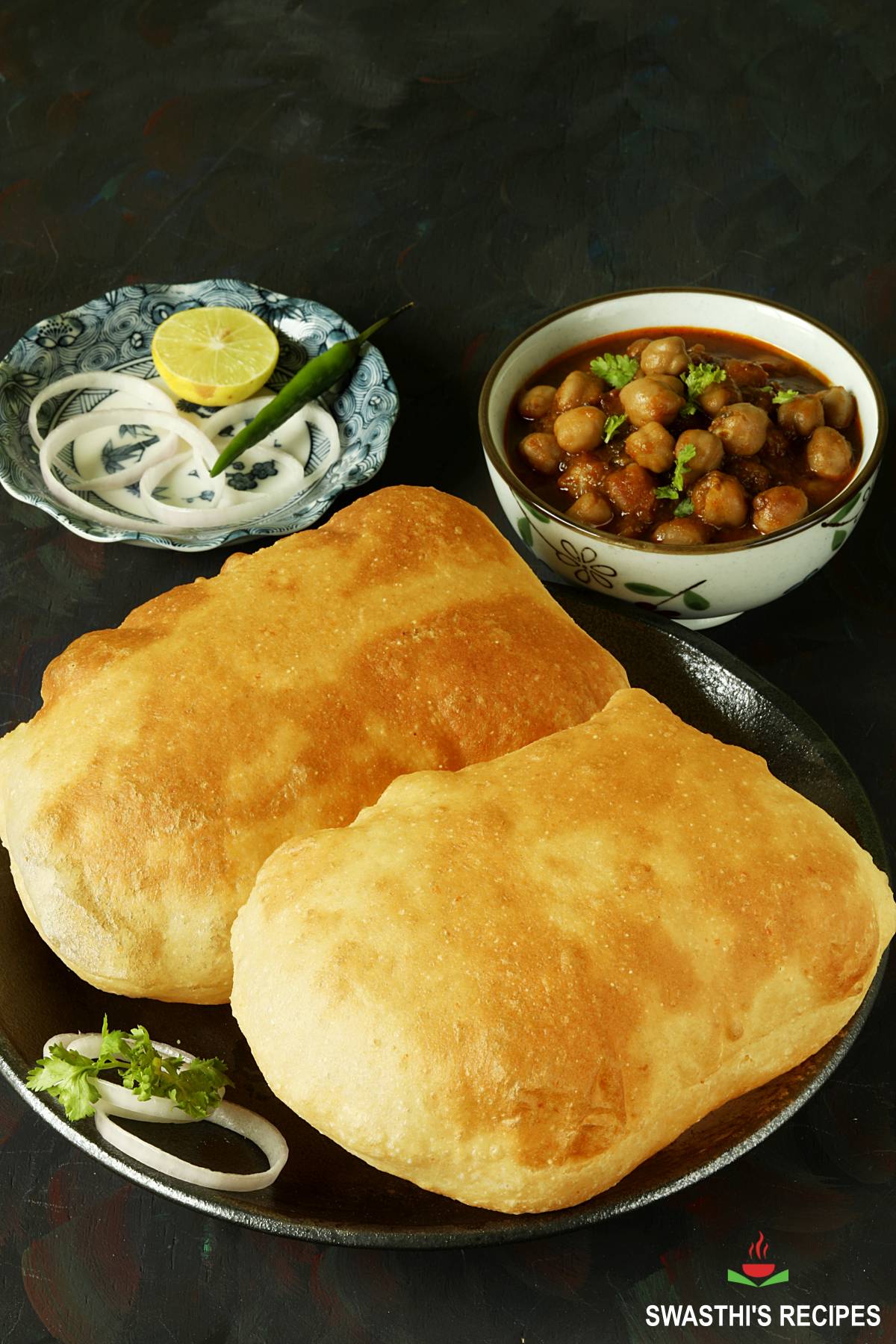 Know more
About Bhatura
Bhatura is a North Indian deep fried bread made with a leavened dough of all-purpose flour, yogurt, salt and a leavening agent. Portions of the leavened dough is rolled to flat oval or round shaped discs and deep fried to perfection. The rolled portion of dough puffs up beautifully as soon as it hits the hot oil and turns crispy.
This process creates an air pocket filled with hot steam in between the layers of a perfectly made bhatura, keeping them soft from inside.
While the leavening agent works in achieving the crisp and puffy structure, yogurt helps in creating a magical flavor similar to that of the fermented dough. These bhature are served hot with Punjabi Chole, sliced onions and achar (pickle).
Ask any North Indian foodie, what is their favorite food? You are most likely to hear "Chole Bhature", such is the popularity of this dish. You will find this being served everywhere in India, in restaurants, Punjabi Dhabas, chaat places and even on the streets. It is said that the best chole bhature is found on the streets of Delhi.
There are numerous ways to make bhatura. Some recipes use yeast while some use the other techniques like overnight fermentation of the dough or simply use baking soda and baking powder or even Eno (fruit salt).
While the traditional method uses the overnight fermentation technique, the modern methods use leavening agents like baking soda, baking powder or eno to quicken the process.
But Why Homemade?
Making bhatura at home is easy with the modern methods shown in this post and you don't need to plan it ahead of time. I can easily say this is as simple as making Poori but with a little resting time which lets the dough develop some flavors.
I know Chole Bhature is served everywhere not only in India, but pretty much across the globe in Indian restaurants & eateries. But 2 things always bother me – the quality of ingredients used and the usage of oil. In restaurants, dhabas or anywhere, often the oil is reused or at least heated for long hours. Moreover the restaurant bhaturas are too oily.
With homemade foods we have full control over the quality of ingredients, i.e we have an option to use organic stuff. Fry them in fresh oil and can also tweak the recipe to our choice.
My Bhatura Recipe
My Recipe will help you make bhature that is not oily, have a perfect crisp texture outside, soft inside and will surely puff!
First method shared here is to ferment the dough and the other one is an instant method where the dough is made, rolled and fried immediately. I make bhature following the fermented method often. The bhature made with fermented dough have a subtle & unique flavor.
The first method needs prior planning as the dough needs some time to rise and ferment. The second method is to make them instantly. If you prefer not to rest the dough then use eno. However if you think you have enough time to rest the dough for 2 to 4 hours then simply use baking powder and baking soda.
The first picture you see in the post is made with baking powder and baking soda. These were made by fermenting the dough for 4 hours. The second picture is of the bhatura made with Eno .
The main difference between the two is the bhatura with baking powder and baking soda has a similar texture like the conventional ones. Those made with eno have a different texture inside and have no fermented flavor.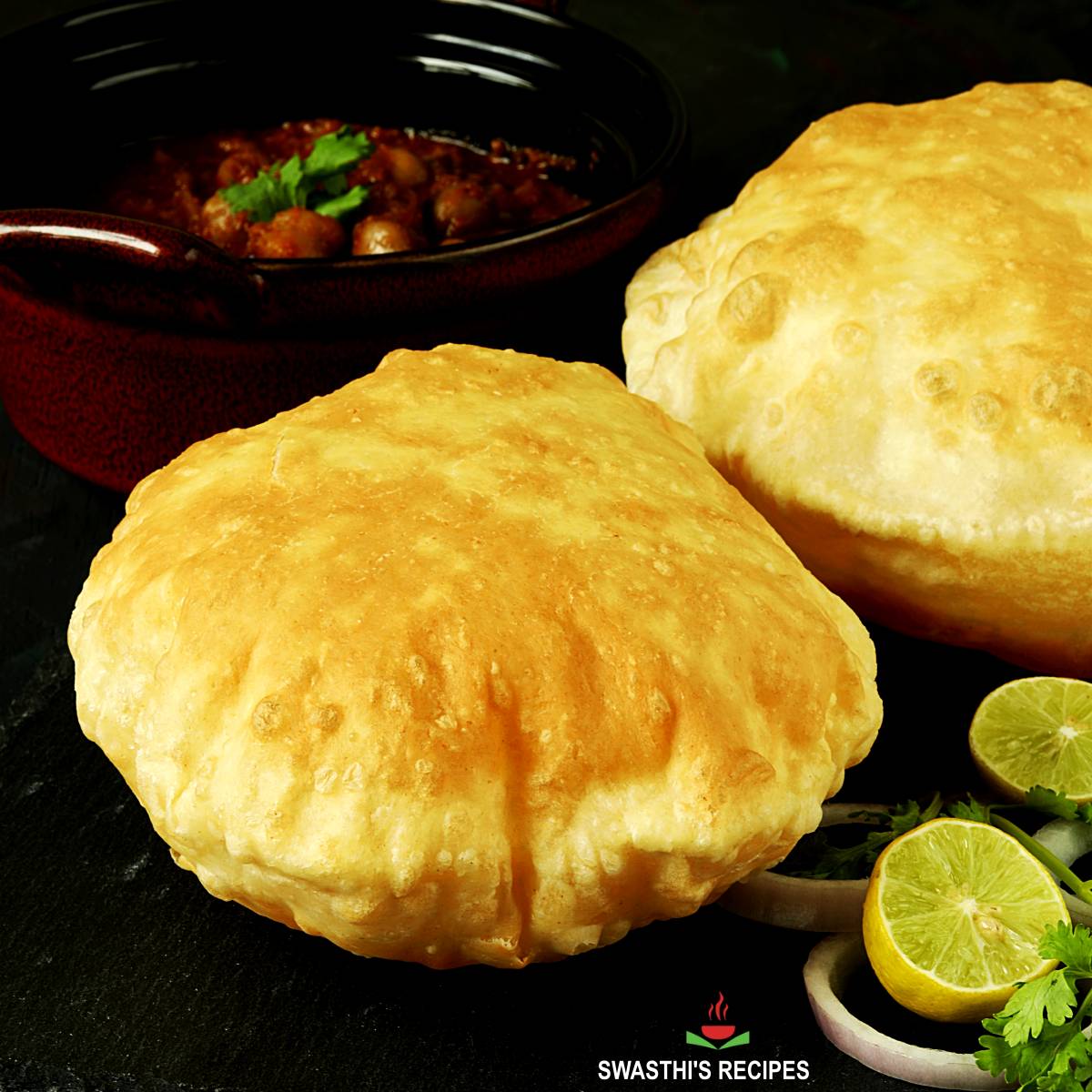 More recipes on the blog,
Chole
Poori
Naan
Paratha
Matar paneer
How to Make Bhatura (Stepwise photos)
Make dough
1. To a large mixing bowl, add 2 cups all-purpose flour, 2 tablespoons semolina & ¼ teaspoon salt. Mix all of them well and then add 4 tablespoons curd and 1 tablespoon oil or ghee.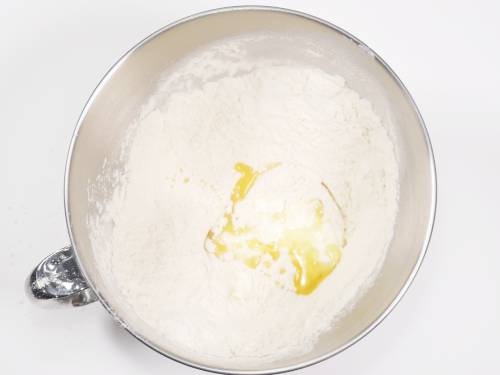 2. Use your fingers and mix together all of the ingredients to incorporate the oil and curd well into the flour to make crumbs. Then sprinkle 1 teaspoon Eno (or ½ teaspoon baking powder and and 1/8 teaspoon baking salt). Mix well again.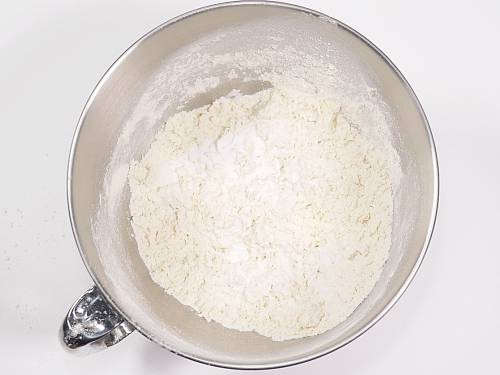 3. Then pour half cup warm water little by little and make a dough. Add more water as required while you knead. Do not add lot of water at one time.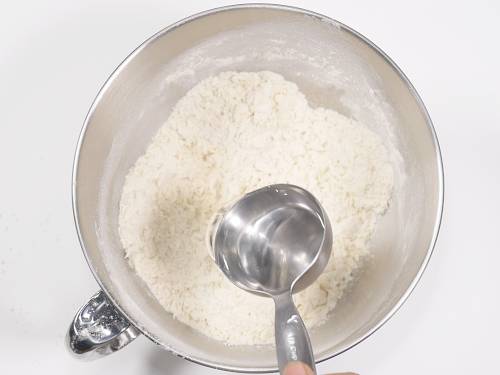 4. The dough should not be dry & not crumbly.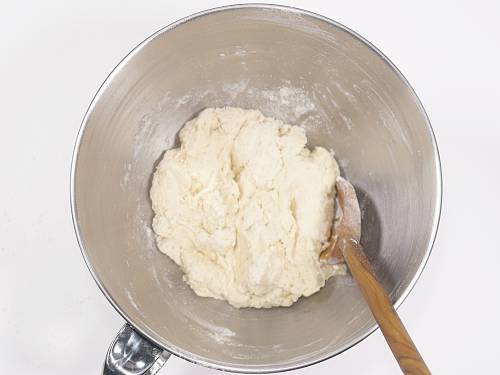 5. Knead the dough very well until it becomes soft and pliable. When you press down with your fingers, it should dent easily. If you pull the dough, it should be elastic and stretchy. This is what gives the bhatura it's chewy texture. If the dough hasn't reached this texture, knead it a little longer. Grease the ball.
How long to knead the bhatura dough depends on your arm work. I go the easy way and knead it in the kitchenaid for about 5 mins on a medium speed. You can also use a food processor. If kneading by hand, it is a bit of arm work.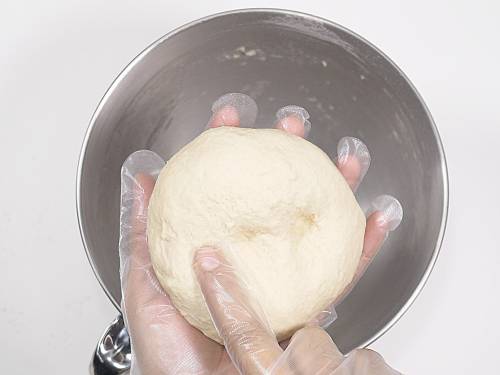 6. If you have used eno, the dough does not need any resting and has to go for rolling immediately. If you used baking powder and baking soda, then cover and set aside for 2 to 4 hours in a warm place. This helps in mild fermentation and brings a flavor.
7.Divide the dough to 5 or 8 portions depending on the size of bhatura you want. Decide on the size of the bhatura depending on the size of kadai you have. I usually make 5 large bhaturas as we are 5 at home. This time I went ahead making 8 as I was running out of oil. If you plan on making larger bhaturas, you will need a larger kadai and more oil.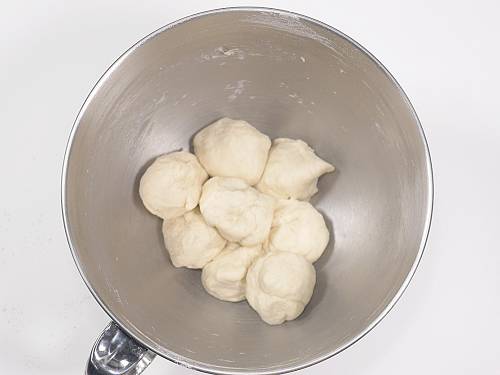 8. Roll each portion to smooth balls that are crack free. If you get cracks over the dough then your bhaturas will have cracks or may even not puff well. Keep them covered until you use up.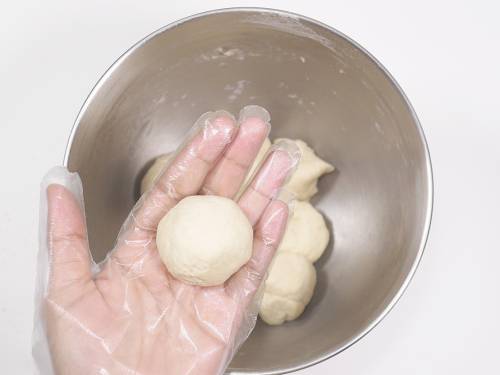 Roll the Dough
9. Do not rest the dough. Roll them immediately. Before you begin to roll them, begin to heat oil in a kadai. I used about 1.5 cups oil. You can use more than this but lesser may be too little for the bhaturas to puff up well.
10. Grease your rolling board and flatten a dough ball over it. Smear few drops of oil.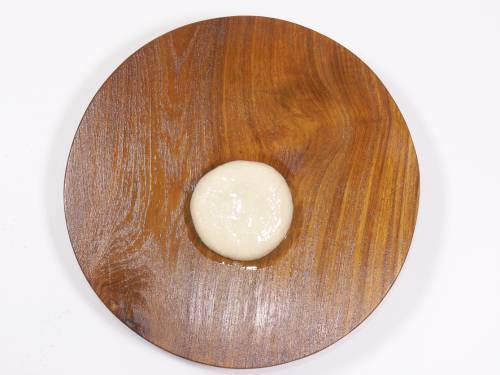 11. Begin to roll it evenly to a round or oval shaped bhatura. Do not remove the bhatura from the board, instead move your board around and keep rolling. Refer the video for details.
Since dough made with all-purpose flour is very stretchy, if you lift them after every roll they will go out of shape. So I lift it only after I finish rolling it fully.
If you are making 8 bhaturas, then you can roll each one to 6 to 7 inches. Note that they will shrink back a bit. So roll them slightly bigger. If you are making 5 then roll each one to 8 to 9 inches.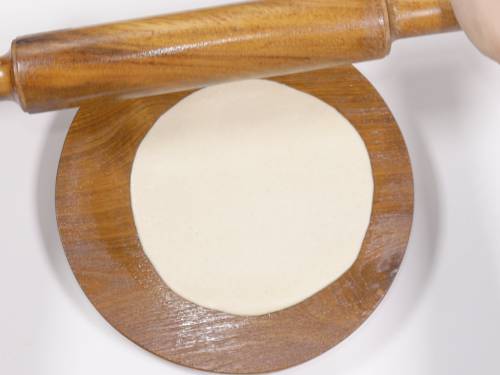 12. This is a oval shaped bhatura. You can roll about 5 bhaturas by the time the oil becomes hot.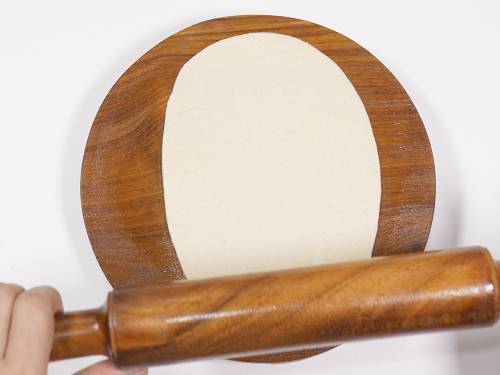 Fry Bhatura
13. Check if the oil is hot by dropping a small portion of the dough. The dough has to rise without browning. But ensure the oil is hot enough otherwise bhaturas will turn very oily, may not puff well and may collapse after frying.
14. Gently remove the bhatura and slide it to the hot oil from the sides and not in the center.When the bhatura comes half way to the surface, gently press down with the spatula. This will puff the bhatura well.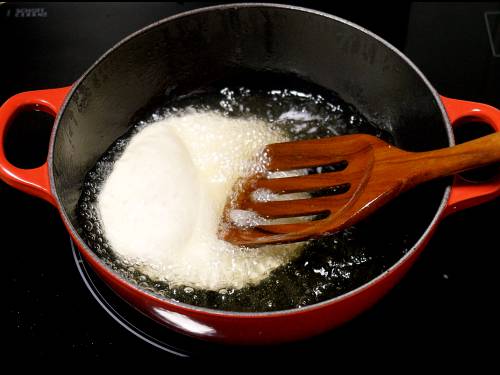 15. When the bottom is lightly golden and crisp, then flip it and fry until golden & crisp on the other side as well. If your bhatura doesn't turn crisp or collapses after a while then it means the flame is not high enough. So adjust the flame.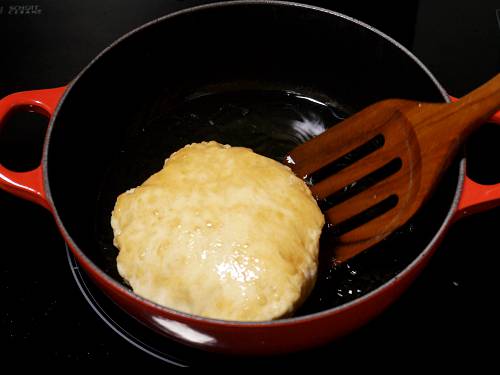 16. Bhaturas made following these steps as is will not turn greasy as you can see in the pictures. Remove to a plate.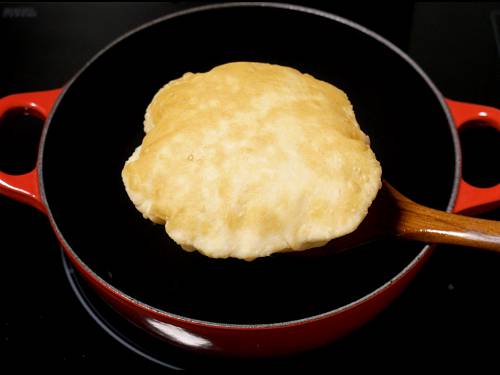 Serve bhatura immediately with chole, lemon wedges and sliced onions.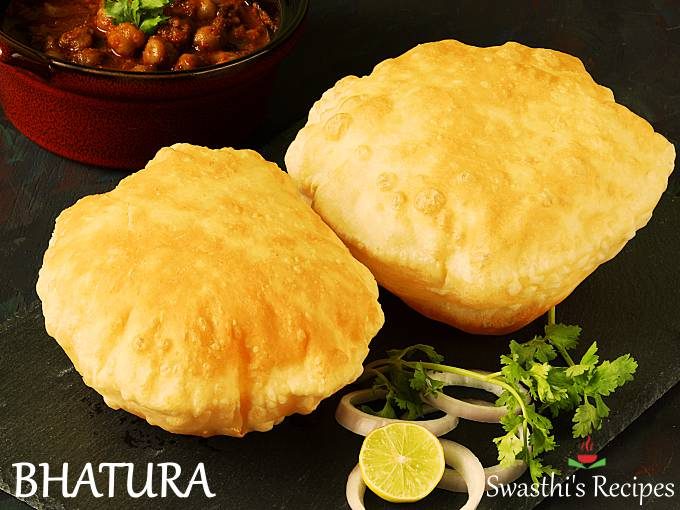 Substitutes
Flour: It is the all-purpose flour or maida which gives bhatura the soft and chewy texture. If you do not eat refined flour then you can also make them with whole wheat flour or whole wheat pastry flour. But the taste and flavor will be different.
On occasions I have made bhatura with whole wheat flour. I have also tried wheat flour and all-purpose flour in equal quantities. With both of these, I have felt the texture and flavor is no where near to the actual bhaturas.
Leavening agent: Baking powder, baking soda and eno are the leavening agents that are most commonly used. You can use either Eno or baking powder and baking soda.
There are no substitutes to semolina and yogurt in the recipe.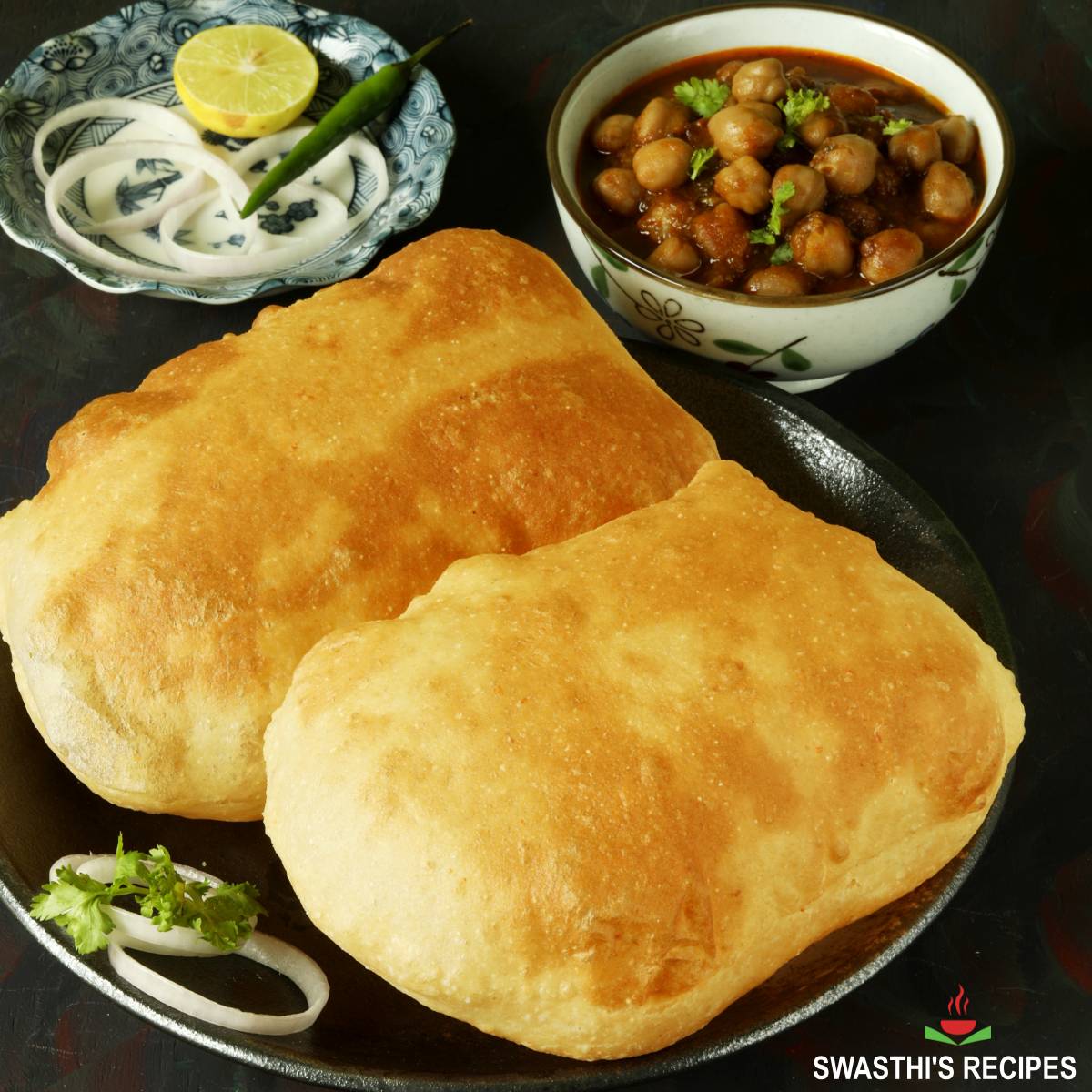 Related Recipes
Recipe Card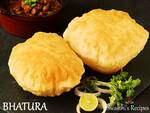 Bhatura Recipe, How to Make Bhature
Bhatura is a Indian deep fried leavened bread made with flour, yogurt and a leavening agent. This recipe gives you perfectly delicious and puffed bhatura which can be eaten with chole or chickpea curry.
Pin Recipe
Print Recipe
For best results follow the step-by-step photos above the recipe card
Ingredients (US cup = 240ml )
2

cups

all-purpose flour

(maida) (for wheat flour refer notes)

¼

teaspoon

salt

(adjust to taste)

1½ to 2

tablespoons

fine semolina

(fine suji, rava)

1

tablespoon

oil

or melted ghee

4

tablespoons

curd

(plain yogurt)

1

teaspoon

Eno

(fruit salt) (or ½ tsp baking powder & ⅛ tsp baking soda)

½

cup

warm water

(more will be needed)
for frying
1½

cups

oil

(more or less as needed)
Instructions
Make dough
In a large mixing bowl, mix together all-purpose flour, semolina and salt.

Mix all of these until the oil and yogurt incorporates well into the flour.

Then sprinkle eno (or baking powder & baking soda) and give a good stir again.

Pour ¼ cup warm water and begin to mix to form a dough.

Add more warm water as needed and make a soft dough.

Knead the dough very well until soft. If using a stand mixer, then knead it on a medium speed for 5 minutes.

When you press down the dough, it should dent meaning it is soft. If you pull the dough, it should be elastic and stretchy. This is what gives the bhatura it's chewy texture. If the dough hasn't got this texture, knead it a little longer.

Smear few drops of oil. If you have used eno then do not rest the dough. You have to make the bhaturas immediately. If you have used baking soda and baking powder, you can cover and rest the dough for 2 to 4 hours in a warm place.
How to Make Bhatura
Divide the dough to 8 parts to make medium sized or 5 parts to make large bhaturas,

Smoothen the balls to make them crack free. If you find cracks just join them and smoothen the dough balls.

Smear oil over the balls and keep them covered.

Grease your rolling surface well and place a dough ball.

Pour few drops of oil and flatten it slightly.

Begin to roll the bhatura to a oval or round shape as you desire.

Do not remove the bhatura from the rolling surface. Instead turn your rolling board and roll the bhaturas. (check the video)

You will see the bhatura keeps bouncing back. So you need to keep rolling them slightly bigger.

Roll them big or small depending on the size of your kadai.

You can roll about 5 large bhaturas before you proceed to the next step.
How to fry Bhature
Heat oil in a deep and wide kadai that suits the size of your bhatura.

When the oil is hot enough, drop a small piece of the dough in the oil.

The dough has to rise well. This is the right temperature for frying.

Gently slide in the bhatura from the sides of the kadai.

When it comes half way to the surface, press down gently with a spatula to help it puff up completely.

Then check if the bottom part is cooked, crisp and golden then flip it.

Flip it again and fry until crisp and golden.

Remove the bhatura to a plate and then immediately serve with chole, sliced onions & lemon.

Continue to fry the rest while you make the rest of the bhaturas.

Do note that the oil has to be hot enough for the subsequent bhaturas as well.
Notes
Tips to make the best bhaturas with this recipe
Kneading the dough well is very important for that chewy and puffy texture.
But do not make the dough sticky. Sticky dough will make the bhaturas very greasy.
For best results – If using eno, knead the dough then immediately roll the bhaturas and fry them without leaving for too long. If using baking powder & baking soda then you can rest the dough for 2 t0 4 hours in a warm place.
Resting the rolled bhaturas for long time will make lot of small bubbles over the fried bhaturas. So I keep the oil for heating and then begin to roll the bhaturas.
Alternative quantities provided in the recipe card are for 1x only, original recipe.
For best results follow my detailed step-by-step photo instructions and tips above the recipe card.
NUTRITION INFO (estimation only)
Nutrition Facts
Bhatura Recipe, How to Make Bhature
Amount Per Serving
Calories 181
Calories from Fat 54
% Daily Value*
Fat 6g9%
Cholesterol 1mg0%
Sodium 76mg3%
Potassium 49mg1%
Carbohydrates 26g9%
Protein 4g8%
Vitamin A 7IU0%
Vitamin C 1mg1%
Calcium 13mg1%
Iron 2mg11%
* Percent Daily Values are based on a 2000 calorie diet.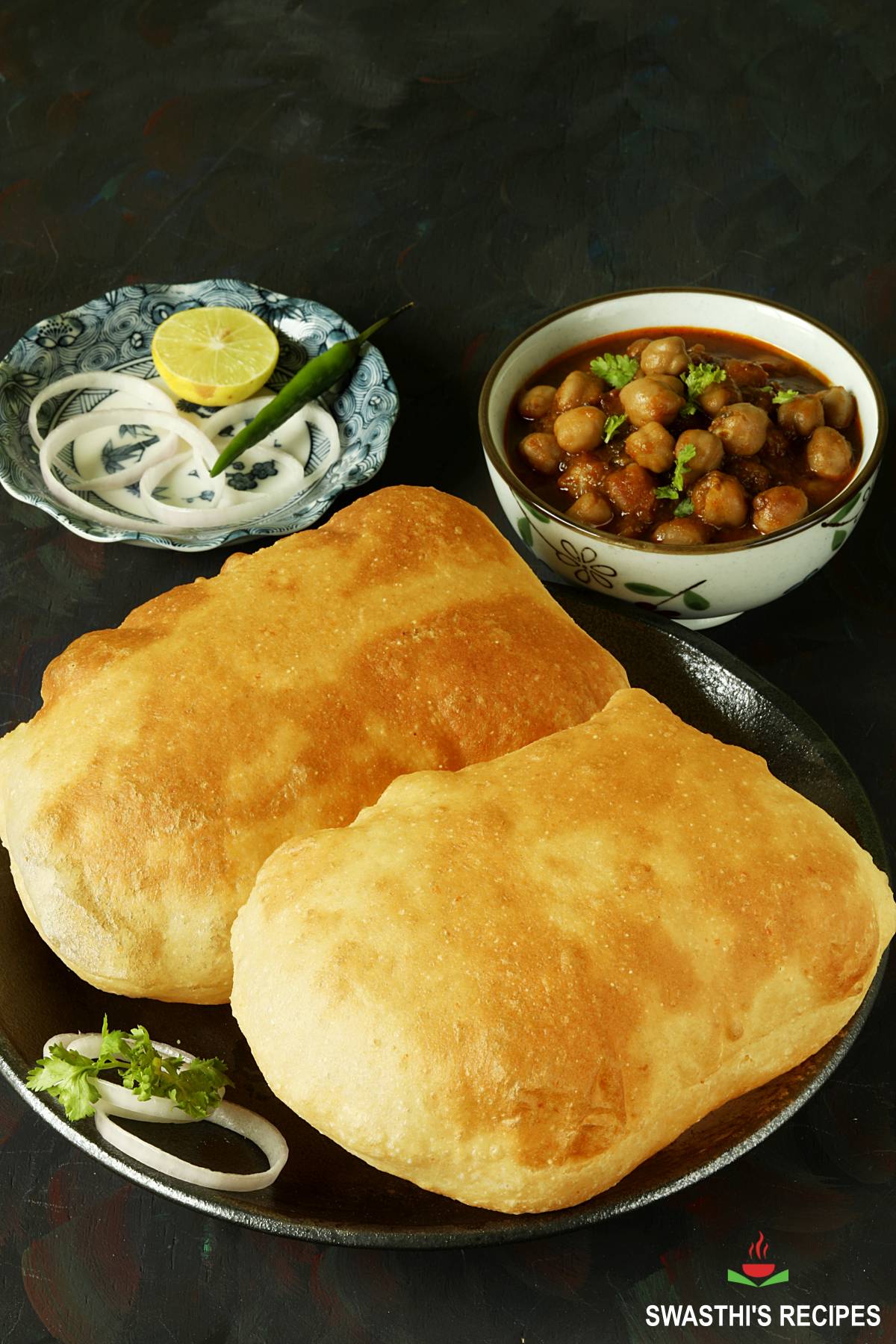 About Swasthi
I'm Swasthi Shreekanth, the recipe developer, food photographer & food writer behind Swasthi's Recipes. My aim is to help you cook great Indian food with my time-tested recipes. After 2 decades of experience in practical Indian cooking I started this blog to help people cook better & more often at home. Whether you are a novice or an experienced cook I am sure Swasthi's Recipes will assist you to enhance your cooking skills.
Follow Swasthi's Recipes