Chicken shawarma recipe – Shawarma or shawurma is a popular Arab dish that is prepared by grilling meat on a spit. It is prepared by stacking strips of marinated meat and fats alternately on a vertical spit, resulting in a large block of meat & fats. The block of meat is grilled slowly while the spit rotates. Grilled meat is shredded off from the spit when needed and served as an appetizer or used to make shawarma wraps or rolls.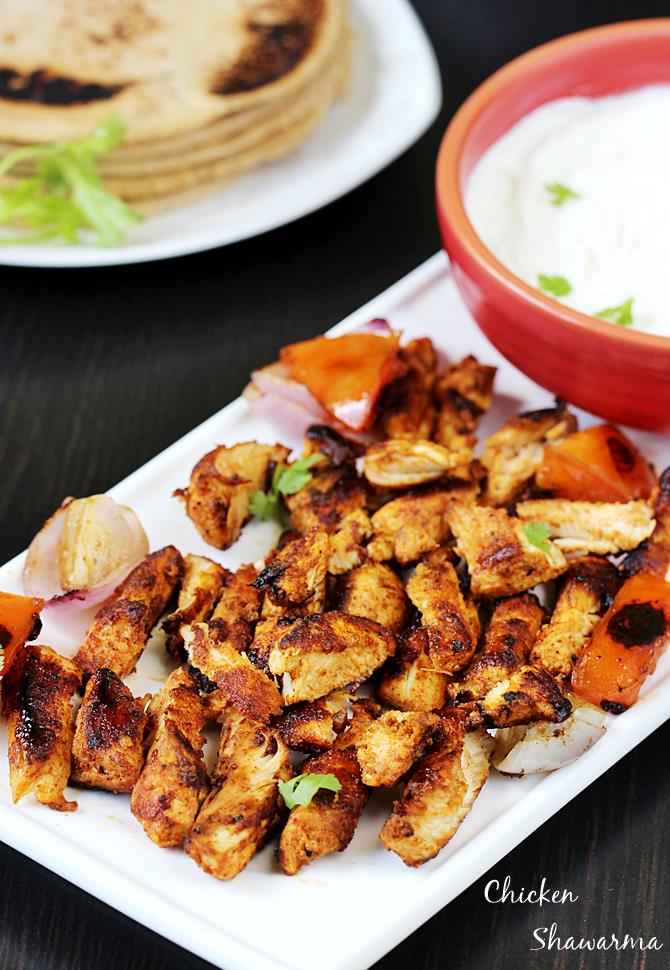 I have come across few places serving these shawarma in Bangalore and in Singapore. I thought making these at home was just impossible since it needs a spit. When i was looking for alternate ways to make at home, i found this recipe on new york times and loved it for its simplicity.
I also felt this is much healthier than the shawarma made on spits as they are grilled for long hours (as long as for a day) and the usage of heavy fats.
Chicken shawarma done on the spits taste very delicious due to the slow grilling on low heat which actually keeps it tender & juicy.
To make the meat tender and keep it juicy i had to use yogurt in this chicken shawarma recipe. I have also grilled this in an oven but the moisture from chicken oozes out. The perfect taste comes from pan roasting it. I made it a few times before and altered the recipe slightly to make this the best flavorful chicken shawarma.
You may also like these 70 chicken recipes.
Related recipes:
Falafel
Popcorn chicken
Chicken kabab
Zinger burger
Chicken cutlet
Easy chicken shawarma recipe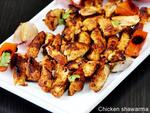 Chicken Shawarma Recipe | How to make Shawarma at home
Chicken shawarma recipe – Make shawarma at home with this simple recipe and serve as appetizer or in wraps.
Ingredients (1 cup = 240ml )
Ingredients for chicken shawarma
250

grams

chicken

breast or thigh (choose tender boneless meat)

1 ½

garlic clove

minced – about 1 large

1 ½

tbsp

extra virgin olive oil

½

tsp

cumin

or jeera

½

tsp

chilli powder

or paprika

¼

tsp

all spice

1

pinch

turmeric

2

pinches

cinnamon powder

Salt

as needed

1/8

tsp

pepper

2

tbsp

greek yogurt

or hung curd (not sour, fresh)
optional
1

onion

quartered layers separated

1

tomato

quartered deseeded
How to make the recipe
Preparatiion for chicken shawarma recipe
Cut chicken to small bite size pieces. Keep it aside.

Mix all the ingredients for marinade. Add lemon juice only if needed. Taste the marinade and add more salt if needed.

Marinate chicken with the mix. Cover and refrigerate for at least 12 to 24 hours.
making chicken shawarma
Heat a pan with half tbsp olive oil on a high heat. When the pan is hot. Place the chicken and flip to cook on all the sides evenly.

When the chicken is tender cooked, shred it on the pan with a wooden spoon. Cook further for 1 to 2 mins. Set this aside and use the same pan to grill quartered layered onions and deseeded tomatoes.

Serve chicken shawarma as a appetizer with yogurt garlic sauce (recipe in step by step pics section).
making shawarma wrap/ roll
Spread sauce on the pita bread, place lettuce and then chicken, grilled onions, tomatoes and roll it up.
NUTRITION
Calories:
287
kcal
|
Carbohydrates:
10
g
|
Protein:
29
g
|
Fat:
14
g
|
Saturated Fat:
2
g
|
Cholesterol:
80
mg
|
Sodium:
459
mg
|
Potassium:
709
mg
|
Fiber:
2
g
|
Sugar:
4
g
|
Vitamin A:
15
%
|
Vitamin C:
17.8
%
|
Calcium:
5.2
%
|
Iron:
6.6
%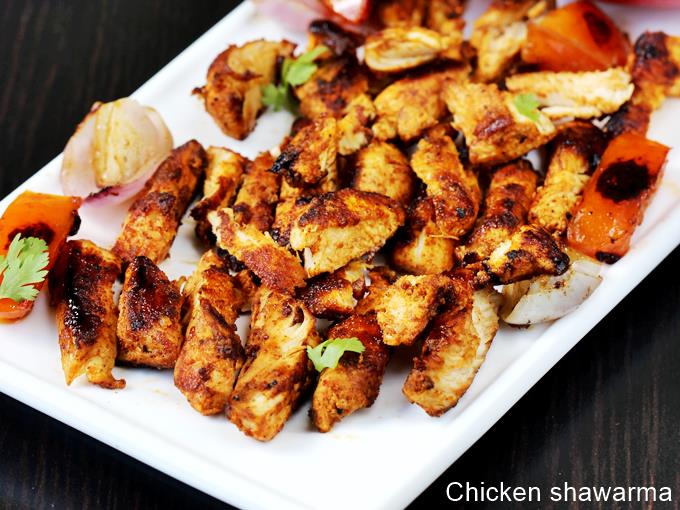 How to make shawarma at home
1. Cut chicken breasts and thigh to small pieces. Set this aside
2. Preparing the marinade: Add the following ingredients to a mixing bowl.
1 ½ garlic clove minced about 1 large
1 ½ tbsp extra virgin olive oil
½ tsp cumin / jeera
¼ tsp all spice
½ tsp chilli powder / paprika
Generous pinch of turmeric
2 pinches of cinnamon powder
Salt as needed
1/8 tsp pepper
2 tbsp greek yogurt / hung curd (fresh, not sour)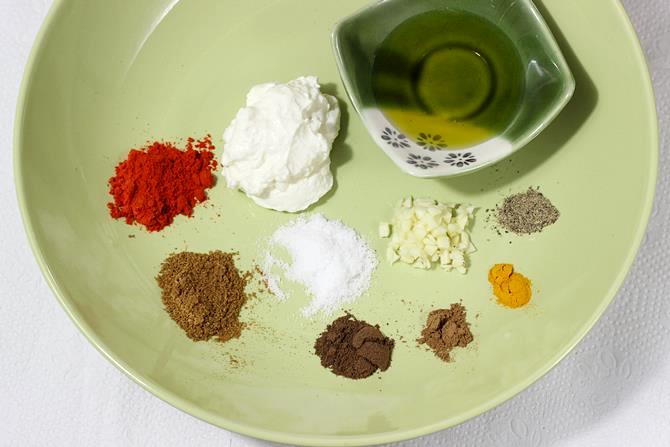 3. Mix all the ingredients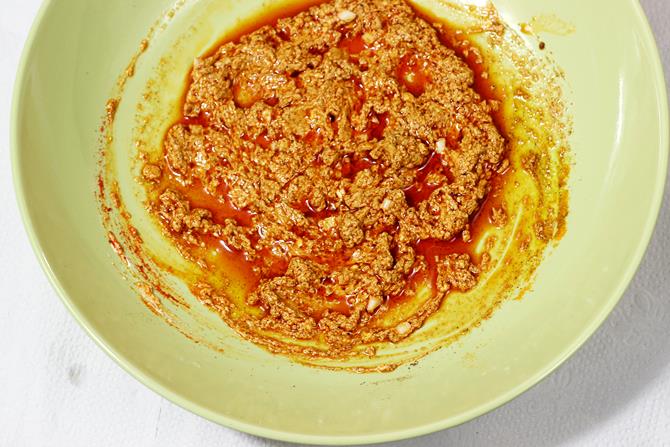 4. Add lemon juice only if needed to give a slight tang. I use about 1.5 tsps. Mix everything well and check the salt.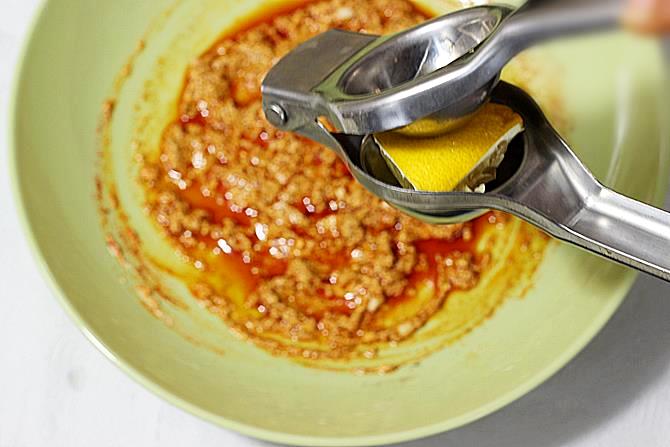 5. Marinate chicken well. The marinade must be thick and not runny.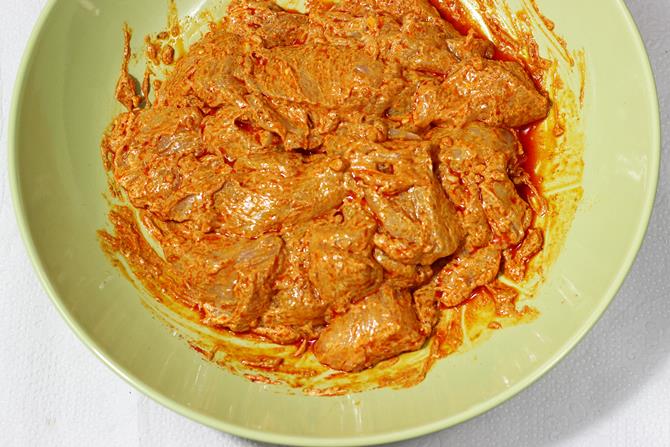 6. Cover and refrigerate for at least 12 hours. I prefer 24 hours. The longer we rest, it turns more tender and flavorful.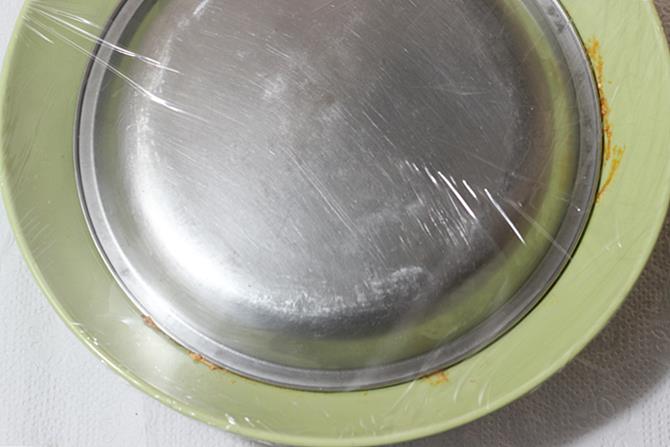 Grilling chicken shawarma
7. As i mentioned earlier, my experience with grilling this in a oven did not yield me very good results. So i do it in a pan. If you have a grill pan, go ahead and use it.
8. Turn on the flame to the highest. Heat a non stick pan with half tbsp oil. When the pan turns really hot, place the chicken pieces separately with out crowding. Flip them to all the sides for even cooking. Note that I grilled the 300 grams chicken in 2 batches. Do not crowd the pan, chicken begins to release moisture if crowded.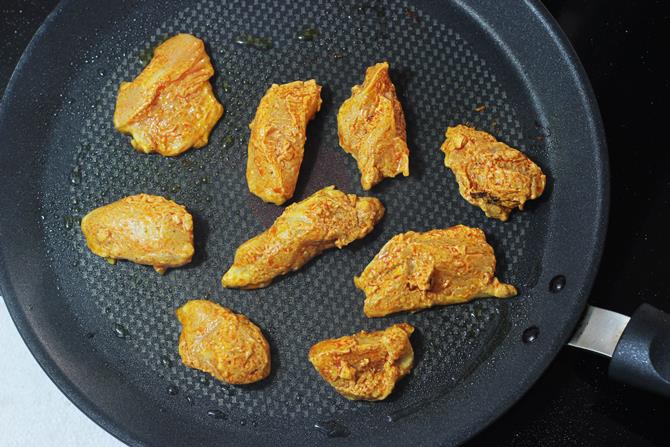 9. When the marinade almost begins to caramelize then put the flame to medium high . Continue to cook until the marinade completely dries up and the chicken is completely cooked. Since the chicken is marinated well in yogurt, it cooks fast.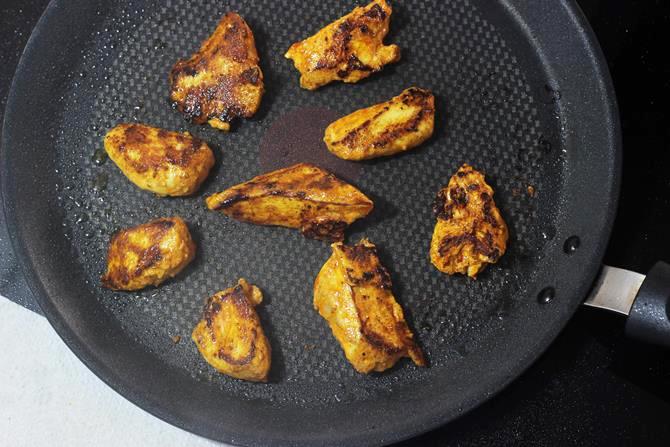 10. You will have to control the flame else it might char the meat and turn it hard. So i switch off the stove for a while. Quickly with a wooden spoon cut the chicken further. I cook further for one to 2 mins to make sure chicken is cooked well. Set the chicken aside. Add quartered layers separated onions and quartered deseeded tomatoes to the pan and toss for few mins on a high flame.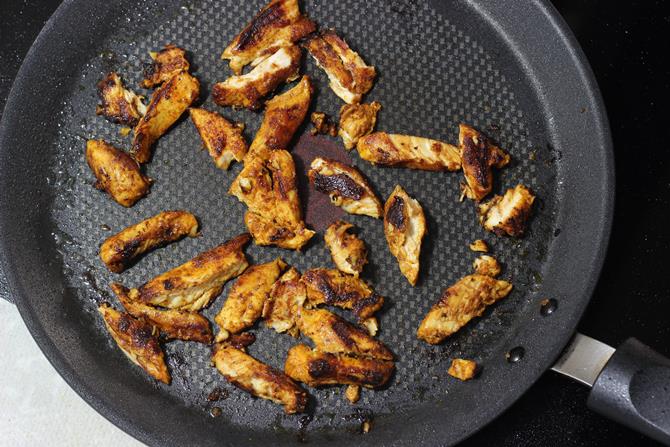 Serving Chicken shawarma
Serve it as a appetizer or make a wrap. It can be served with a variety of sauces like Toum, Yogurt garlic sauce or Tahini sauce. I have shared the recipes of Yogurt garlic sauce & Tahini sauce below.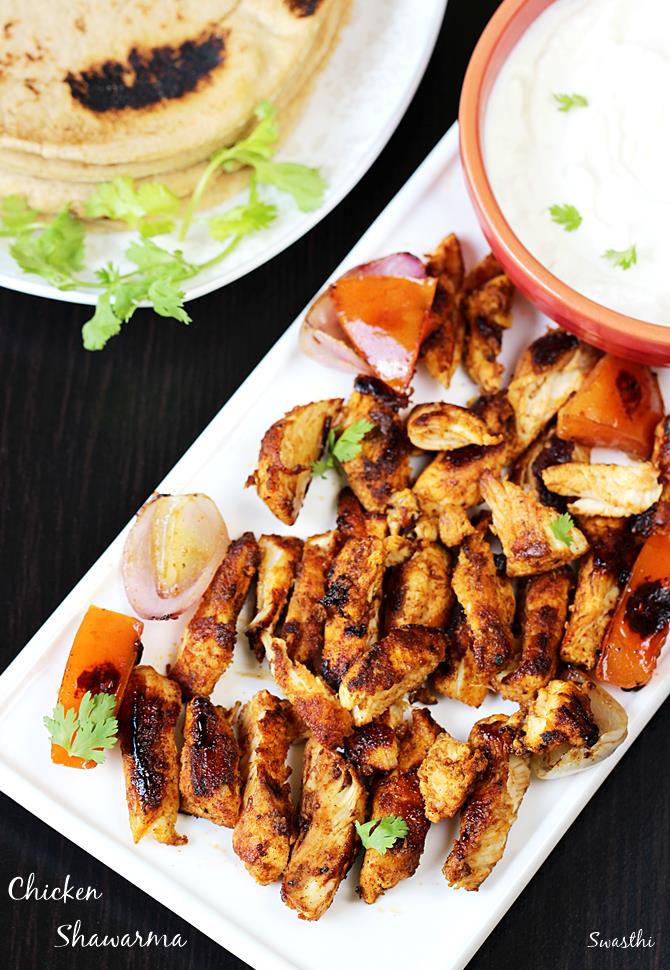 Making the garlic yogurt sauce. (Roughly adapted from food). This can be used as a dip or to spread on the wrap.
Add ¼ cup greek yogurt / hung curd, 1 tbsp minced garlic,salt, 1 to 2 tbsp olive oil and lemon juice (optional). Skip lemon if using sour yogurt. Mix everything well.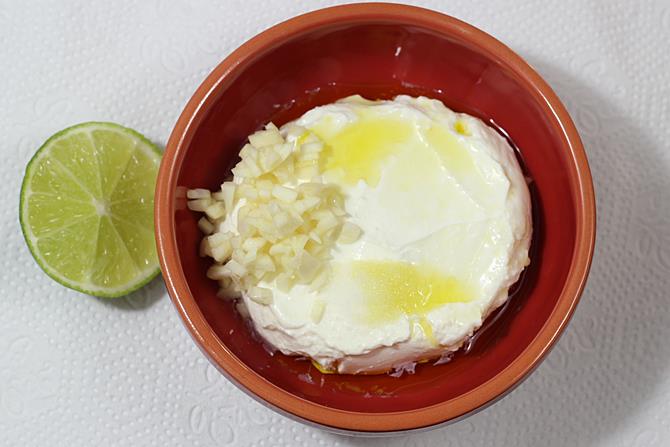 Making Tahini sauce for chicken shawarma
You will have to make tahini from here or use store bought. If buying from store, prefer the one that is packed in glass jars and is made from organic sesame.
Add ¾ cup tahini, 1/4 to 1/2 cup luke warm water, 2 large garlic cloves minced, 2 tbsp. lemon juice, salt only if needed to a processor and process until it turns light and creamy. Next add 2 tsp finely chopped fresh parsley to it. Tahini sauce is ready to use.
Spread the sauce generously on a pita bread. Will share the recipe of pita bread soon.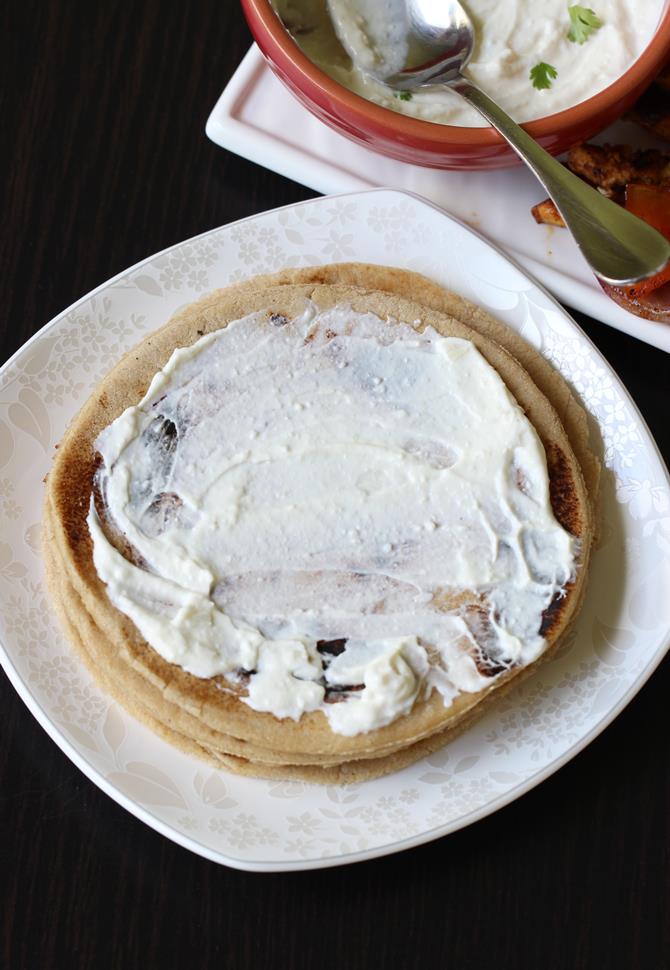 Then place lettuce, chicken shawarma, then grilled onions and tomatoes. You can also use any of your hot sauces.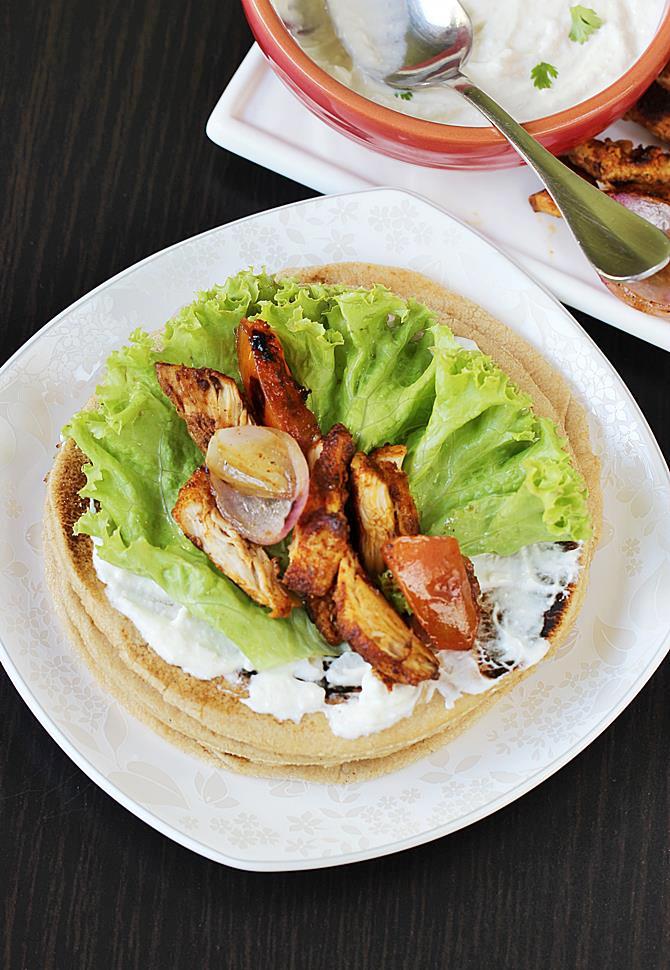 Wrap and enjoy.