Bread Pakora Recipe (Bread Pakoda)
Bread pakora also known as bread pakoda, are a popular North Indian breakfast & tea-time snack made with bread slices, potatoes, spices, gram flour and herbs. Bread pakora is not a common thing in Indian homes but are quite popular on the streets of India, mainly in Mumbai. These are also served in cafes, eateries, tiffin centers & restaurants across India. There is also a South Indian version known as bread bajji made much similar way but without potato stuffing.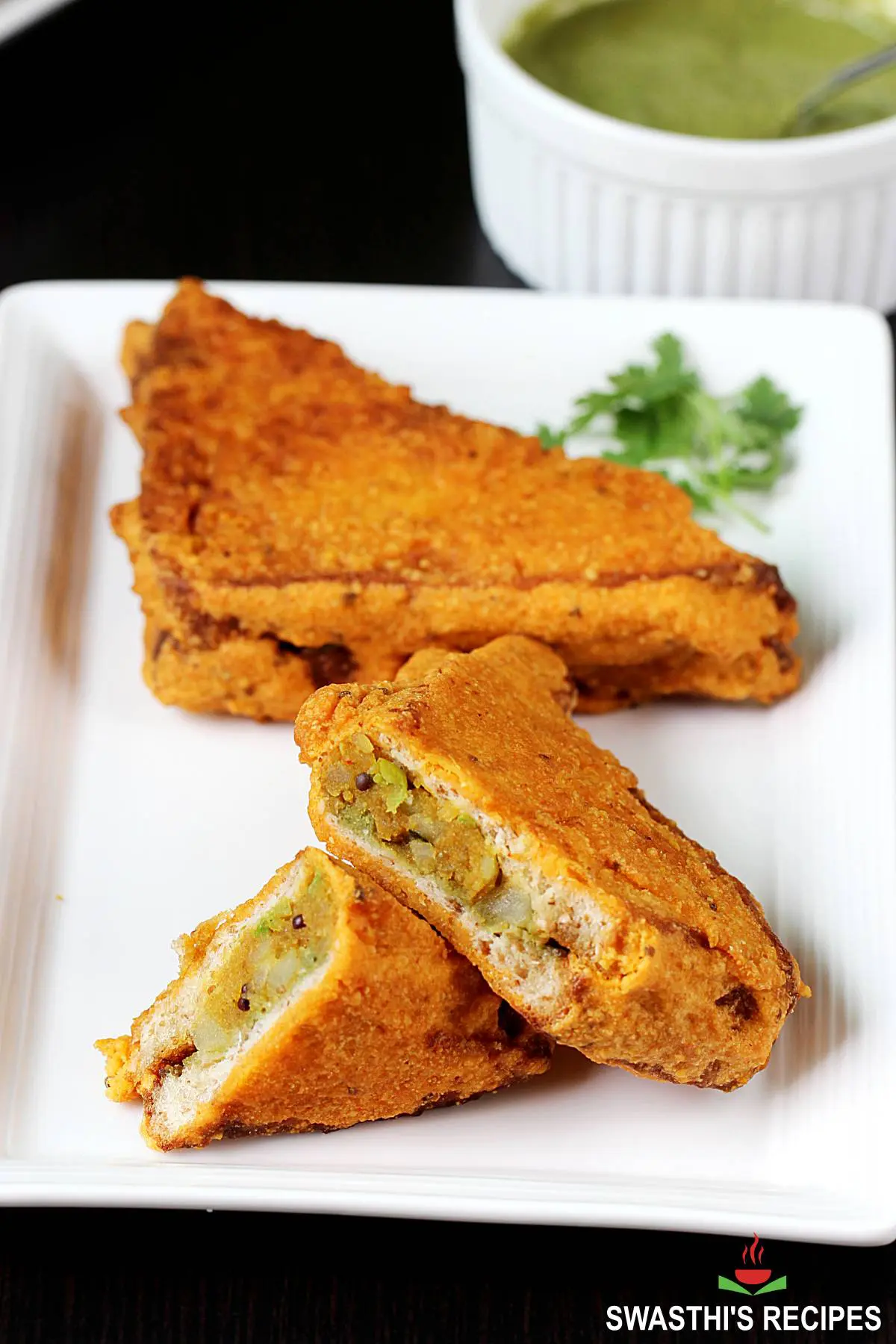 About Bread Pakora
Bread Pakora are simply bread slices dipped in spiced gram flour batter & fried. These are popular as a North Indian street food and also eaten for breakfast. Bread pakora are made in 2 ways. The most popular version has a spiced potato stuffing in between 2 slices of bread, make similar to a sandwich. It is later dipped in a gram flour batter and deep fried until crisp. So these are basically fried sandwiches with a spicy & tangy potato filling.
The other way of making bread pakora is to simply dip a day old bread triangles in batter and deep fry. These are called as bread bajji in South India.
About the Recipe
My super simple recipe will help you make street style crisp bread pakoras at home. Though the street version has these deep fried, you can also shallow fry, bake or even air fry these.
In the step-by-step photos, I have shown how to make the potato filling, stuffing and frying them. Apart from that I have also updated the instructions to shallow fry these on a tawa, bake and air fry for an healthier option.
Deep frying these bread pakoras is faster than the other methods as they do take time. So deep fry them if you are making a lot, say for a large family or party.
You can easily adapt this recipe to make the plain bread pakoras too. Skip making the filling. Just quarter or halve the bread slices diagonally and dip them in the pakora batter. Then deep fry them as mentioned in the recipe.
The stuffed bread pakodas are made similar to the bread rolls & bread bonda but they are not the same. These crisp fried delicious bread pakora are heavy and go great as a weekend or party snack. Serve them with coriander chutney, Green Chutney, Mint Chutney or with Red Garlic Chutney.
You may like these Bread snacks recipes and crunchy Pakora recipes.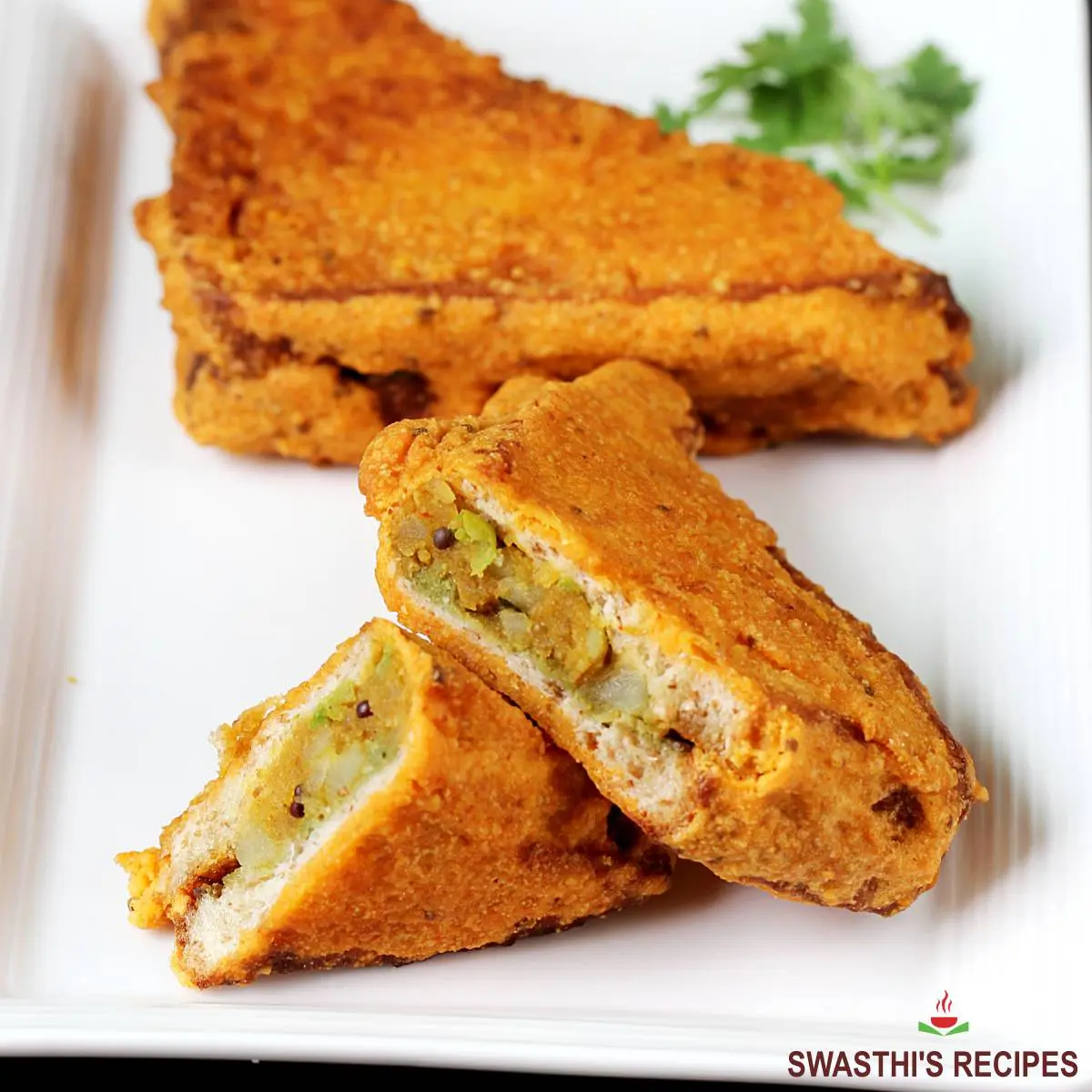 How to Make Bread Pakora (Stepwise photos)
Prepare Potato Stuffing
1. Steam or boil 3 medium sized potatoes until just cooked. Do not over cook as they turn soggy. I steam them in a pressure cooker. You can also use a steamer or just boil in the pan with little water.
You can also pressure cook the whole potatoes in cooker for 2 to 3 whistles. When the pressure releases, remove and check. They have to be fork tender. To boil them in instant pot, place the whole potatoes on a trivet and pressure cook them for 5 to 7 mins depending on the size.
Once the potatoes cool down a bit, peel the skin. I have used very few green peas which I steamed along with the potatoes. You can skip if you do not like them. Set these aside to cool. Mash them up well with a masher.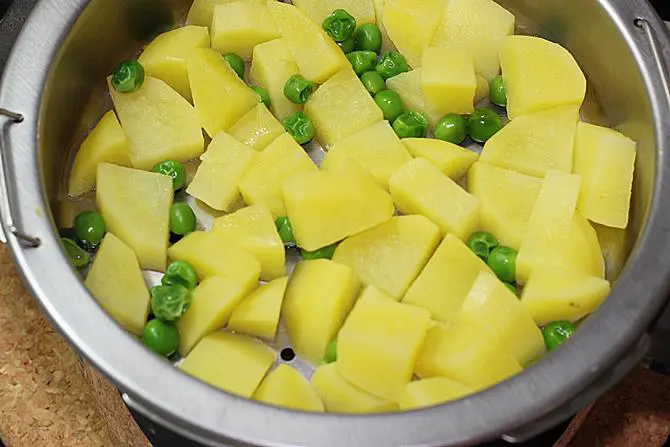 2. Heat 1 teaspoon oil in a pan. Add 1 teaspoon ginger paste, 1 to 2 chopped green chilies and 1 sprig curry leaves. North Indian bread pakora is made without mustard but you do find them in other regions. If you like you may add ¼ teaspoon mustard seeds here.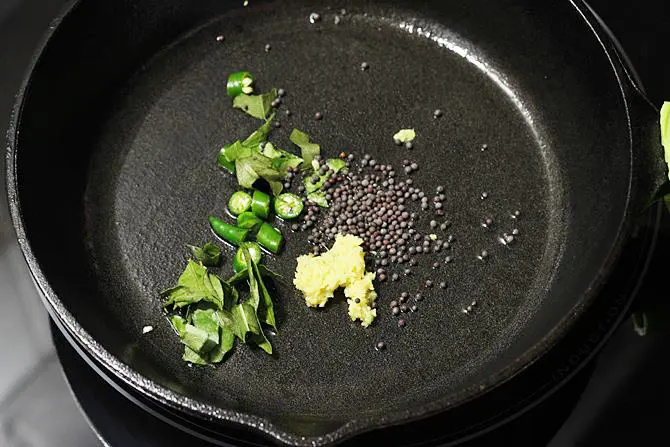 3. Saute them all until aromatic. Turn off the stove.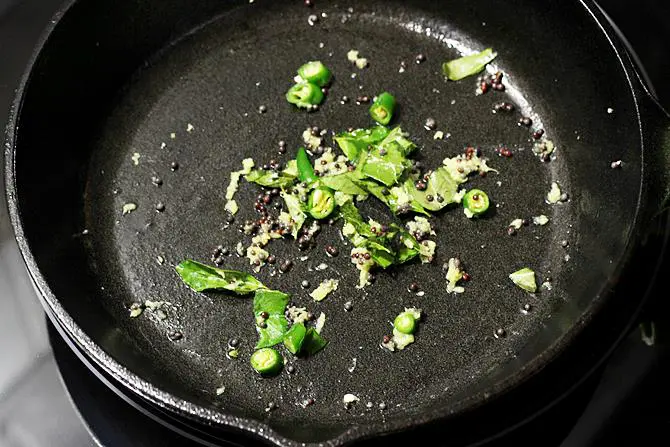 4. Add 1/8 teaspoon hing, ½ teaspoon red chili powder, ¼ teaspoon turmeric and ½ teaspoon garam masala. Mix well.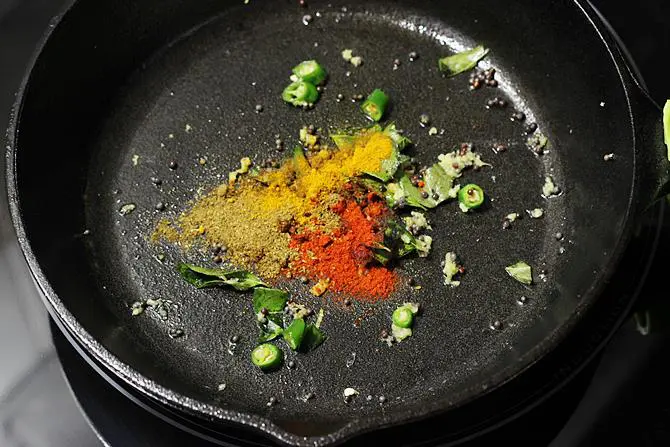 5. Add the mashed potatoes, sprinkle half teaspoon salt and mix well. You can also add coriander leaves & squeeze in some lemon juice. Taste test and add more salt if needed.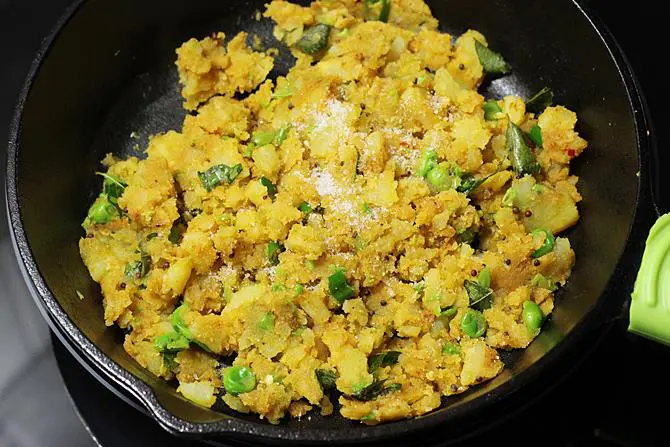 Make Bread Pakora
6. Place the bread slices on a board and then spread the potato masala. You can also spread this green chutney first and then spread the spiced potatoes.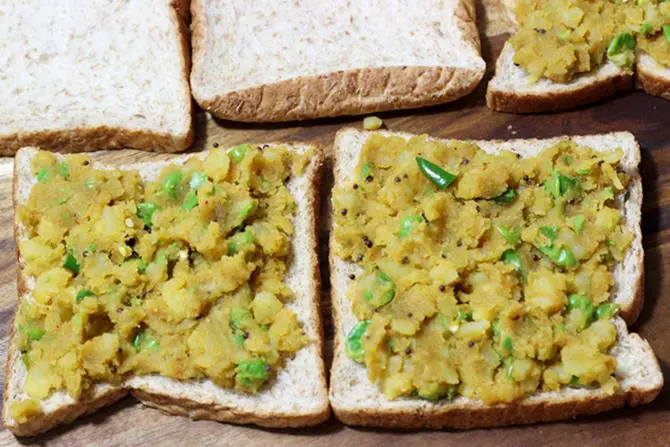 7. Cover with another slice of bread. You can also spread green chutney on the both the slices.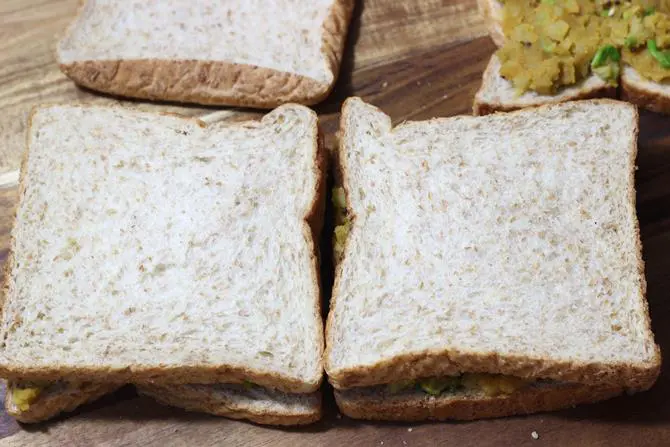 8. Press the bread slices well to hold the stuffing properly. Cut them diagonally.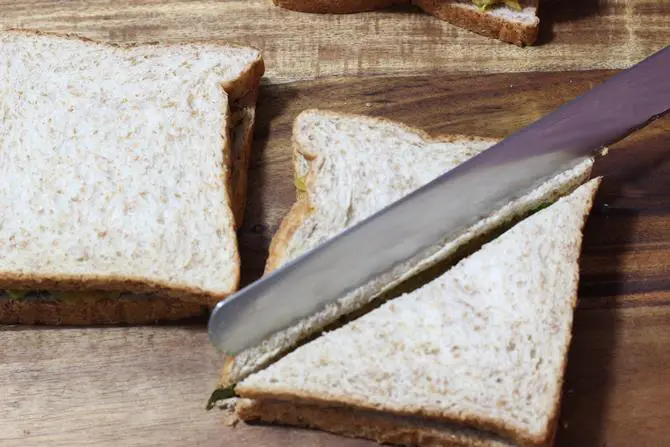 9. Similarly prepare all the stuffed bread. Set these aside.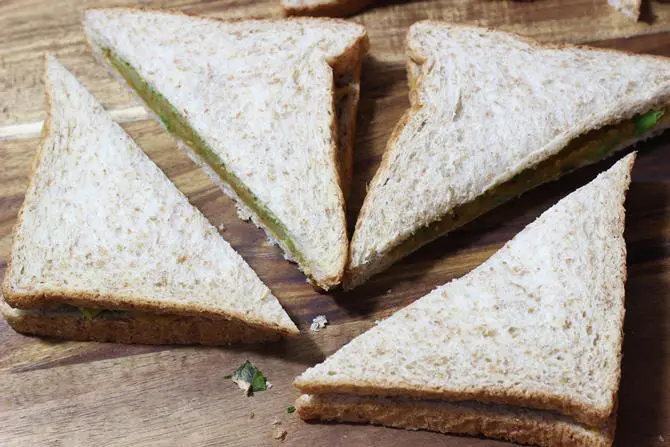 Fry Bread Pakora
10. Begin to heat the oil in a deep pan. I used about a cup of oil for frying. You can shallow fry or deep fry. To a mixing bowl, add the below ingredients:
¾ cup besan
½ teaspoon red chili powder
¾ to ½ teaspoon ajwain ( carom seeds)
½ teaspoon salt
2 to 3 tablespoons rice flour or cornstarch
¼ teaspoon turmeric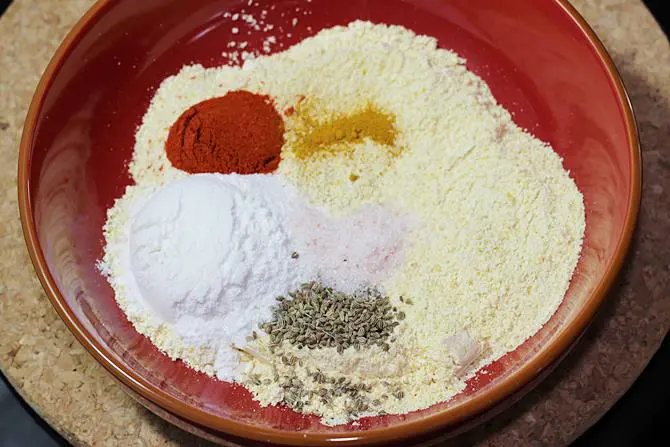 11. Mix all the ingredients well. Then pour water just as needed to make a thick batter.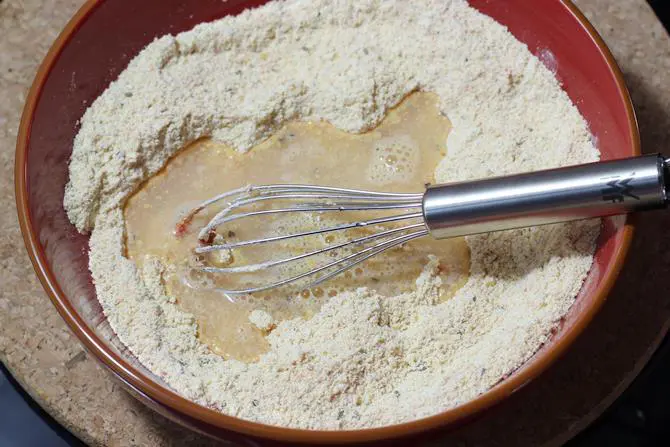 12. The consistency must be similar to the chilli bajji batter.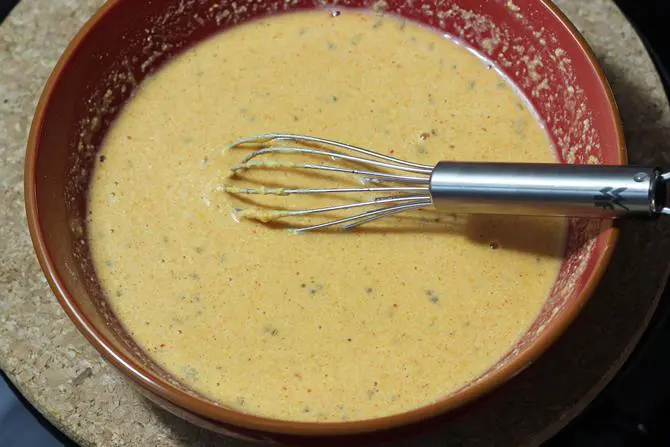 Frying
13. Check if the oil is hot first. To check drop a small portion of the batter in the oil. It has to rise slowing without browning a lot. This is the right temperature. When the oil is almost ready, keep it to medium flame and proceed further.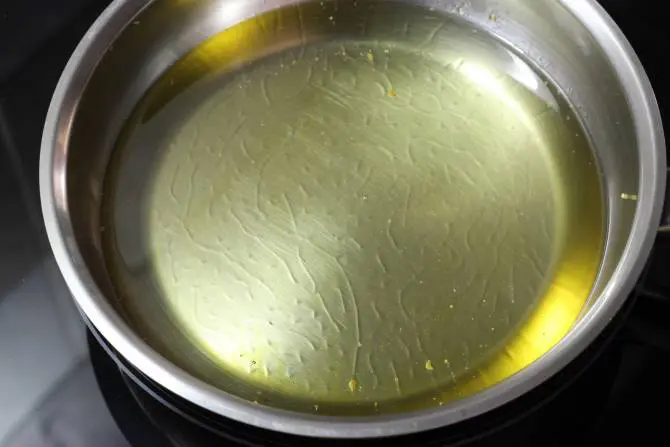 14. You will have to gently lift the stuffed bread and dip in batter. Make sure it is coated on the sides as well. Hold towards the 2 edges and lift them from the batter. Gently swipe the excess batter.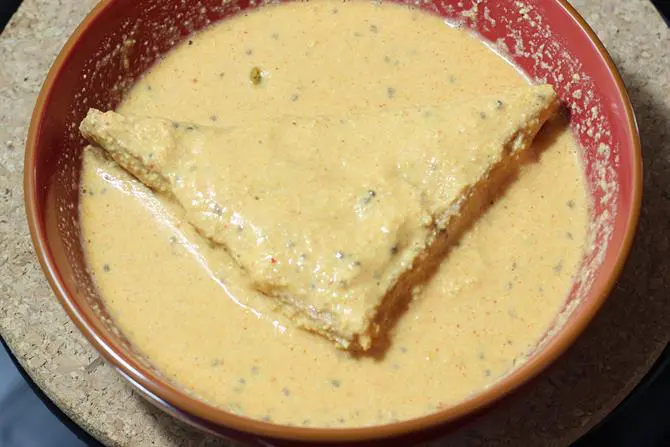 15. Drop in the hot oil. Do not disturb for few minutes. If you use a large pan then you can fry 2 to 3 in one batch.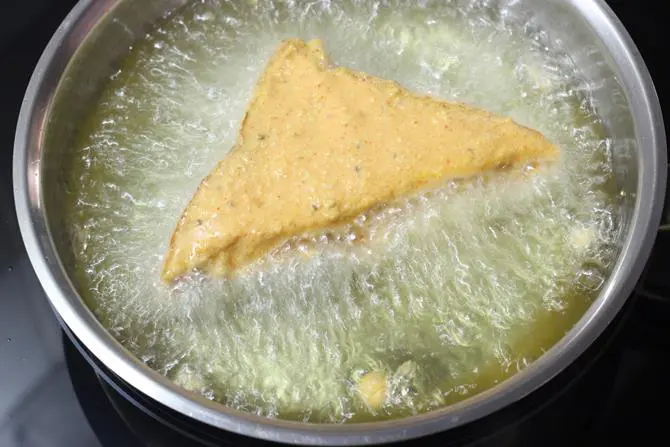 16. On a medium high flame, fry until one side turns golden. Then turn it to the other side and fry until both the sides turn crisp and golden. Remove them to a colander.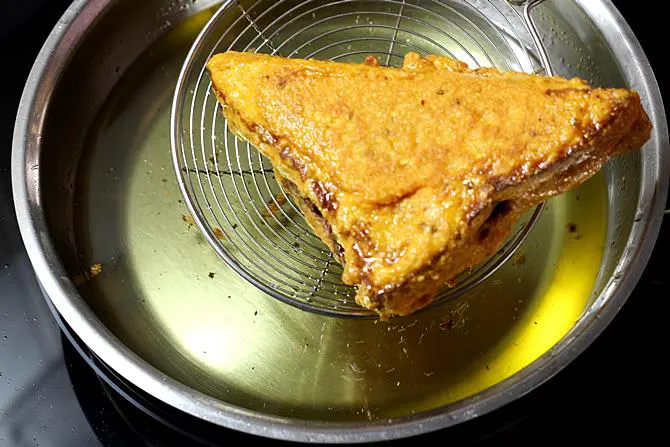 17. To fry the next batch of bread pakoras, ensure the oil is hot but not extremely hot. We want the oil to be moderate hot. Serve bread pakora hot with Green chutney or sauce.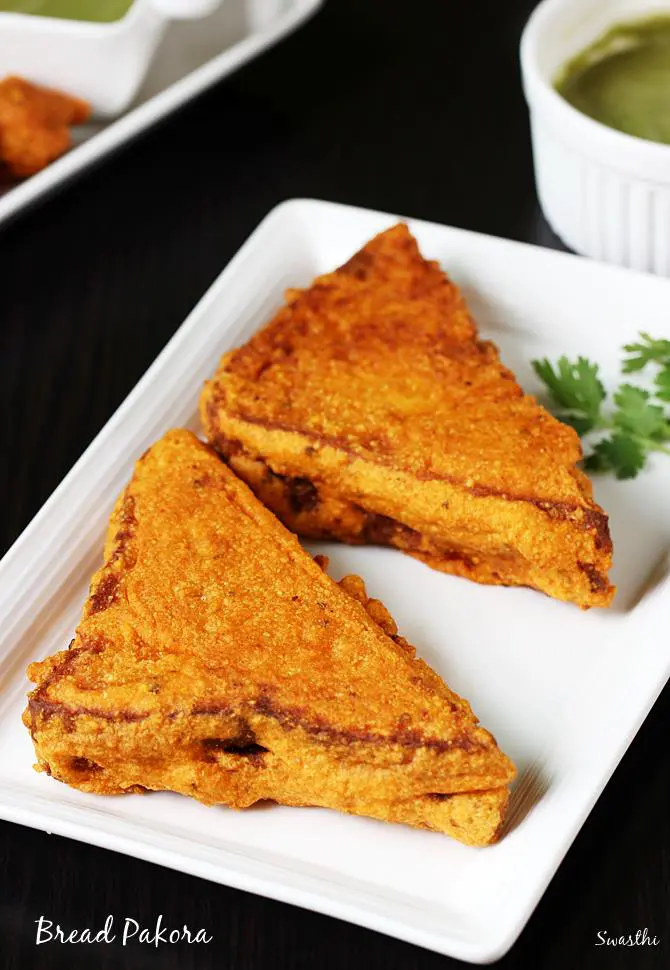 Chutney for bread pakora
1 cup coriander leaves
½ cup pudina / mint leaves
1 tbsp fried or roasted gram / dalia
½ tsp jeera/ cumin
Salt as needed
2 to 3 hot green chilies
few drops of lemon juice
¼ inch ginger
1 to 2 small to medium garlic cloves
Lemon juice as needed
How to make
1. Blend all the ingredients together with 2 tbsps water. Add lemon juice and mix. Ready to serve.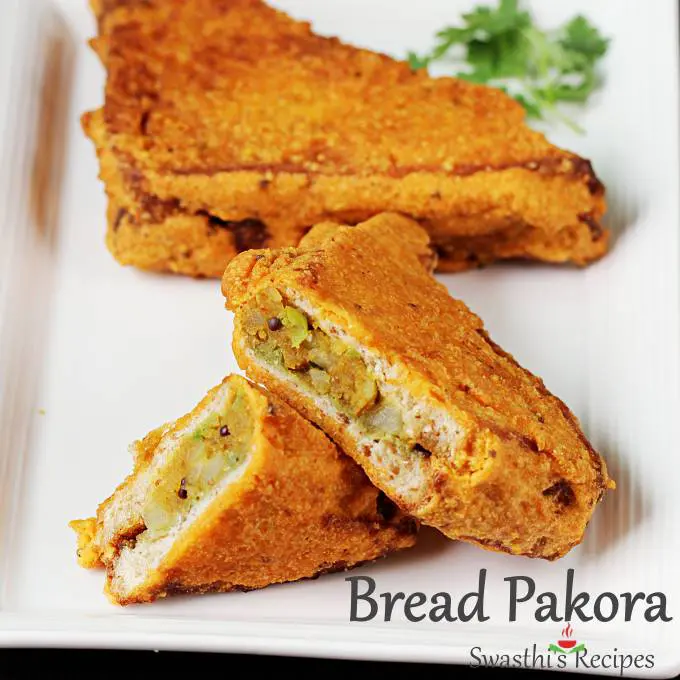 Ingredients & substitutes
Bread: You can use any bread of your choice except for soft milk bread. Since the bread is coated with batter and fried the bread pakoras will not absorb oil even with fresh bread.
If you want to fry these on a griddle or bake then use dense slices of bread that do not have large pores. Bread with larger pores will soak up the batter and won't cook well with these methods.
Potatoes: The street style bread pakoras have a filling made with boiled potatoes. On occasions I also add some mixed veggies like peas, carrots and even some paneer.
Cheese: My kids love some mozzarella cheese in the filling. You can add tiny cubes of the cheese. Ensure you use them at room temperature so they melt when the pakoras are fried.
Spices: Garam masala, turmeric and red chilli powder are the spices used for the potato filling. For the batter, carom seeds (ajwain) are used similar to the other pakora recipes. You can adjust all of these spices to suit your taste.
Gram flour is the key ingredient used to make any pakoras. Choose good quality fine or coarse besan. Using coarse besan gives an extra crunch to the deep fried bread pakoras.
Cornstarch or rice flour is used to give a crisp texture to your bread fritters. If you do not have both then you may simply skip it.
Amchur or lemon juice: The street style bread pakoras have amchur (dried mango powder) added to the filling. If you do not have it you can squeeze some lemon juice or simply skip them.
Pro Tips
Filling: There are 2 ways one can make the filling. The easiest way is to go simple without the tempering like I made for this bread rolls. The second method is the way I have shown in the step by step pictures.
Both ways they taste good, but the method I showed is more flavorful. Recipe method is roughly adapted from Chef Tarladalal's site.
Potatoes: Boil the potatoes just until cooked and not soggy mushy. Over cooking them will make them soggy which doesn't go well for the stuffing. So it is good to steam them in a steamer, cooker or instant pot.
Batter consistency : The consistency of the batter is very important. It has to be neither too thick nor runny. With runny batter, bread pakoras will absorb lot of oil. The batter consistency has to be in between too thick and too thin.
Frying: You need to be gentle while dipping the sandwiches in batter and even while sliding them to the oil. Bread pakoras have to fried on a medium heat until crisp and golden.
Frying them on a high flame will brown them quickly from outside without cooking the batter well. So the flame has to be medium. If you fry them on a low heat, they will soak up excess oil.
Pan Frying
If you want to pan fry the bread pakora, make the batter to a thick spreading consistency and not of pouring consistency. I have shown the consistency in this besan bread toast post. You will do it the same way.
Heat a non-stick or well seasoned pan with 1 tablespoon oil and spread it all over. Ensure the pan is hot enough otherwise the batter will get stuck to it.
Hold the bread sandwich and place it in the prepared batter. Coat it only on one side. Place the batter side down on the hot pan. Let the bread pakora cook until crisp and golden.
Then turn down the flame to the lowest and spoon the prepared batter to the other side. Spread it all over and carefully turn it to the other side with the help of 2 spatulas.
I usually add another tablespoon oil to fry them on the other side. At one time I fry 2 bread pakoras on my cast iron griddle.
Press down the bread to the pan gently so any uncooked batter inside the pores gets cooked well. Fry them on both the sides until crisp.
To Bake & Air fry
Prepare the batter the same way I mentioned for tawa frying. There are 2 ways you can bake or air fry the bread pakora. I am sharing here one and the other in the Recipe card below. I have tested both the ways and both yield different results.
Dip the bread slices in the batter on both the sides and immediately place them over the bread crumbs. The moisture in the batter will soak up the bread crumbs. Prepare all of the bread pakoras this way.
Be gentle with these as the batter and the bread crumbs are more likely to fall off if you don't handle them well.
Place them on a wired rack in a 180 C preheated oven or air fryer. Bake or air fry them for 8 mins and then recheck. I usually bake them for 10 to 12 mins in oven and 8 mins in air fryer. But it also depends on the consistency of your batter.
More Bread snacks
Bread Pizza
Bread upma
Stuffed bread rolls
Egg bread toast
Related Recipes
Recipe Card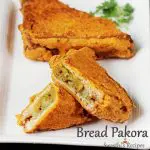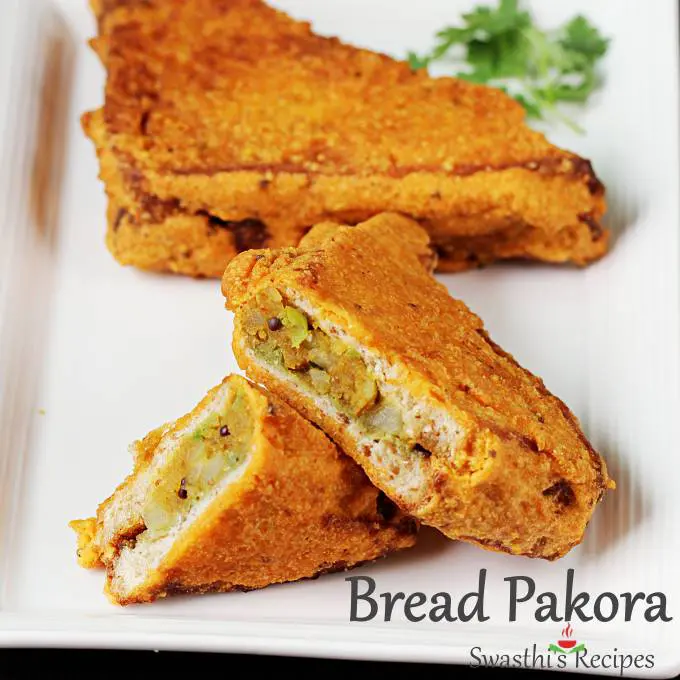 Bread Pakora Recipe (Bread Pakoda)
These crisp fried potato stuffed bread pakoras are a popular breakfast snack from North India. These are super delicious and makes for a great party snack. Enjoy them with green chutney or ketchup.
Print Recipe
Pin Recipe
Jump to Comments
For best results follow the step-by-step photos above the recipe card
Ingredients (US cup = 240ml )
6

slices

bread

oil

as needed for shallow or deep frying
For the Stuffing
1 ½

cups

potatoes

cubed (3 medium)

¼

cup

green peas

(optional)

1

tablespoon

oil

1

sprig

curry leaves

(optional)

1

pinch

asafoetida

(hing)

2

green chilies

chopped

1

teaspoon

ginger paste

3

tablespoon

coriander leaves

finely chopped

½

teaspoon

red chili powder

½

teaspoon

garam masala

⅛

teaspoon

turmeric

½

teaspoon

salt

(adjust to taste)

1

tablespoon

lemon juice

or as needed
For the Batter
¾

cup

gram flour

(besan) (can use coarse besan for crunch)

2 to 3

tablespoons

rice flour

(or cornstarch)

½

teaspoon

red chili powder

⅛

teaspoon

turmeric

½

teaspoon

salt

(adjust to taste)

½ to ¾

teaspoon

carom seeds

or ajwain or vaamu

Water as needed
Instructions
Make Stuffing
Steam or boil potatoes just until done without making them mushy.

You can also boil the potatoes in a cooker for 2 whistles. I prefer to steam them as it is easy to keep an eye.

You can skip green peas. If using then steam the green peas too along with the potatoes.

When they are done, peel and mash them well and set aside.

Heat 1 teaspoon oil in a pan

Then saute ginger, green chilies and curry leaves (optional) until it begins to smell good. Turn off the stove.

Add red chili powder, garam masala and turmeric. Mix well.

Transfer mashed potatoes, peas, half teaspoon salt and coriander leaves. Squeeze some lemon juice if you like. Mix everything well. Taste test and add more salt if needed.
How to Make Bread Pakora
Arrange 3 bread slices on a chopping board or plate.

Optional – If you have green chutney or sauce, you can also smear that to one or both the slices.

Place the potato masala over 3 bread slices. Cover each slice with another one.

Press gently and cut each sandwich to 2 triangles. Set these aside.

Heat oil in a pan for shallow or deep frying. You can use as less as possible if using a nonstick pan.

While the oil heats prepare the batter. In another bowl, mix together besan, ajwain, red chili powder, salt, rice flour and turmeric.

Pour water just enough to make the batter that is neither too thick nor too thin. It must be similar to the mirchi bajji batter.

Check if the oil is hot by dropping a little amount of batter in the oil. The batter has to rise without browning. This is the right temperature.

Do this only when the oil is ready to fry. Place each sandwiched bread in the batter and gently coat it with the batter on both the sides. You may need to use both your hands.

Swipe off the excess batter and Gently slide this to the hot oil and do not disturb it for a minute.

You can add 2 or more pakoras in one batch depending on the size of your pan.

Fry bread pakora on a medium heat until golden on one side. Then turn them to the other side and fry till both the sides turn crisp and golden. Remove to a colander or kitchen tissue.

Ensure the oil is moderately hot and not extremely hot before you fry the next batch of bread pakora. If needed reduce the heat/flame before adding the next one.

Serve bread pakora hot or warm with green chutney or sauce.
Bread Pakora in Air Fryer
For the air fryer method make the batter slightly thick and dip your potato filled sandwiches in the batter. Coat them with the batter on both the sides. Gently shake and place on the parchment paper.

Air fry at 200 C or 400 F for 8 mins. Gently loosen and remove with a wooden spatula and turn it to the other side. Air fry for another 6 to 7 mins. Adjust the timings slightly. The bread pakora covering has to turn golden and crisp.
Notes
To make no fry bread pakora, check out my instructions in the post.
Alternative quantities provided in the recipe card are for 1x only, original recipe.
For best results follow my detailed step-by-step photo instructions and tips above the recipe card.
NUTRITION INFO (estimation only)
Nutrition Facts
Bread Pakora Recipe (Bread Pakoda)
Amount Per Serving
Calories 495
Calories from Fat 162
% Daily Value*
Fat 18g28%
Sodium 1030mg45%
Potassium 886mg25%
Carbohydrates 66g22%
Protein 16g32%
Vitamin A 400IU8%
Vitamin C 39.1mg47%
Calcium 145mg15%
Iron 8mg44%
* Percent Daily Values are based on a 2000 calorie diet.
This post was first published in May 2016. Updated with no fry options and republished in June 2022.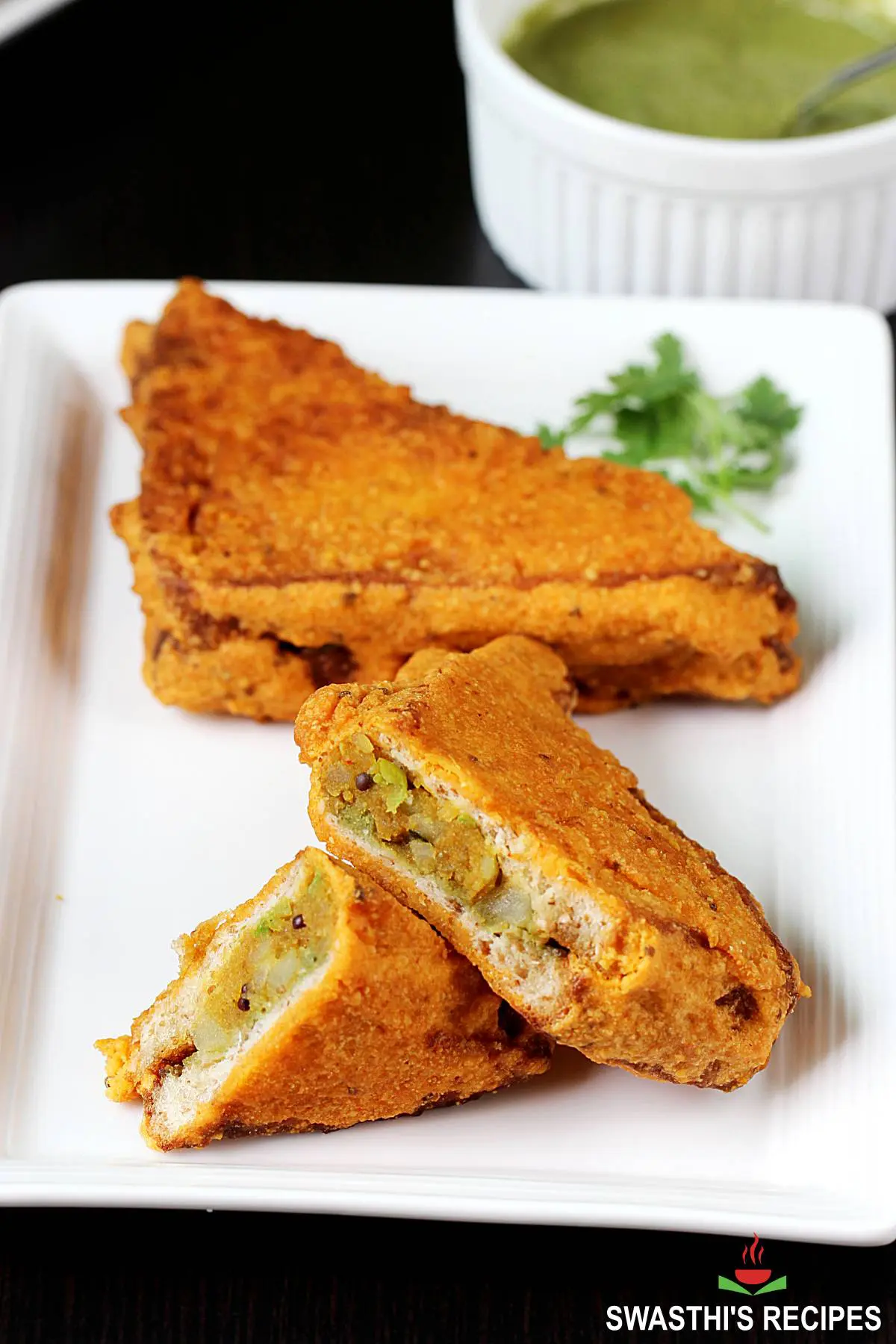 About Swasthi
I'm Swasthi Shreekanth, the recipe developer, food photographer & food writer behind Swasthi's Recipes. My aim is to help you cook great Indian food with my time-tested recipes. After 2 decades of experience in practical Indian cooking I started this blog to help people cook better & more often at home. Whether you are a novice or an experienced cook I am sure Swasthi's Recipes will assist you to enhance your cooking skills. More about me
Follow Swasthi's Recipes