Consider this an honor to all the Potato Recipes we rely on time and again. I am sure when stocking our pantries, we always stock on the long lasting staples like potatoes, also because they are a favorite root vegetable easily available all-round the year. From Savory anytime breakfasts to the heartiest of the sides like curries, biryani and snacks, these Indian potato recipes show that Potatoes deserve the spotlight on the Meal table anytime.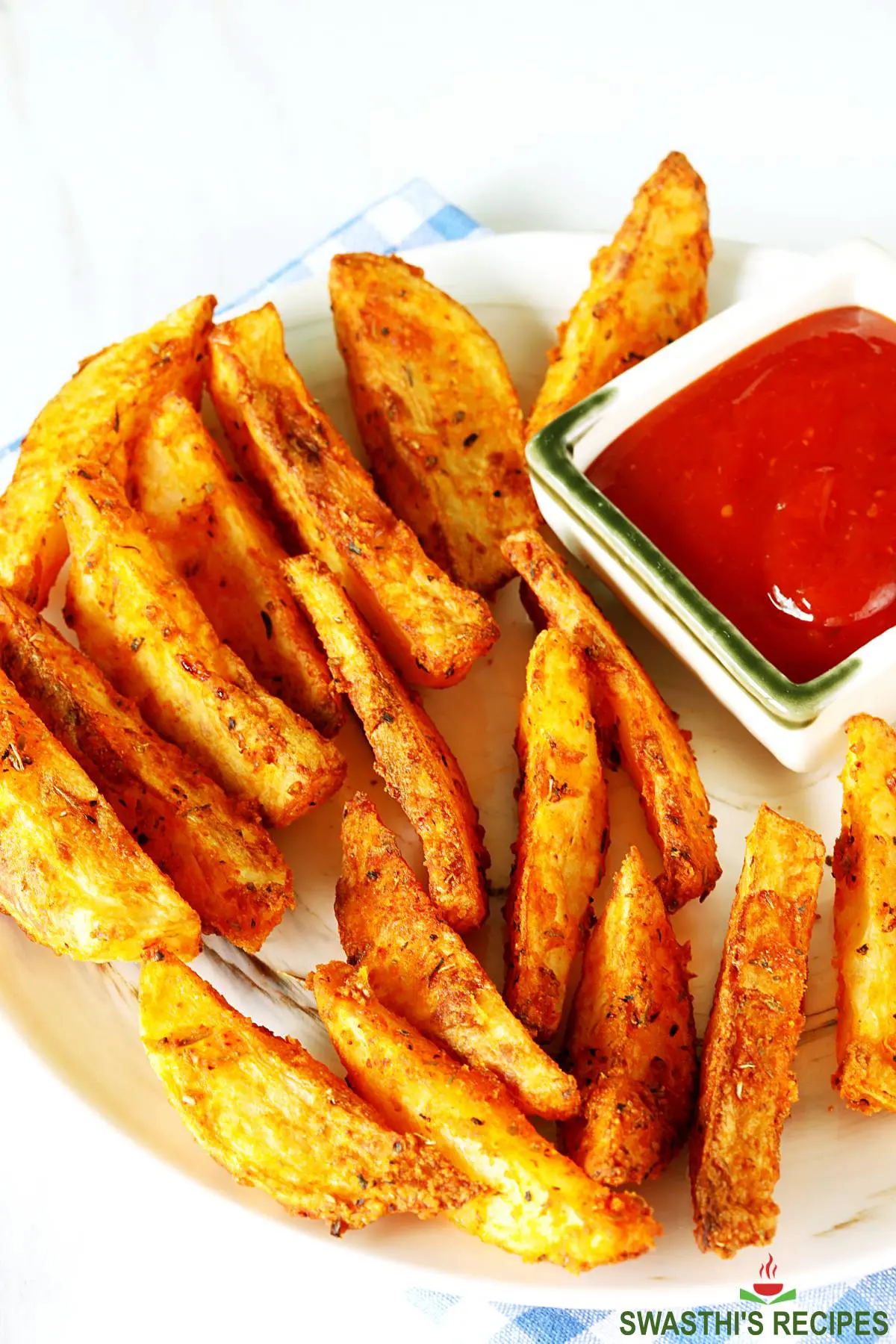 Potatoes are not only naturally gluten free but are also a rich source of carbohydrates, antioxidants and vitamin B & C. They charge you with instant energy, keeps you full for longer and more over they are delicious in any form!
They are so versatile and you can use them to whip up rice pilafs, biryanis, wedges, fries, pakoras, curries and … the list seems to be endless!
Just like in many other Cuisine around the world, Indian cuisine too has a lot of dishes made with potatoes. This root vegetable is a staple and is mostly cooked to a curry in so many regional ways. Most of the street foods are also made with potatoes.
I have included some recipes from Global cuisine such as wedges, fries and cheese balls because they are mostly spiced with Indian ground spices. For ease of access, I have divided the list into sections.
Popular Street Foods with Potatoes
Samosa – Samosa is one of the most popular Indian street foods that is loved by all. Spiced potato mixture is stuffed in wheat flour dics and deep fried. You can change the stuffing and also make with egg, chicken or keema.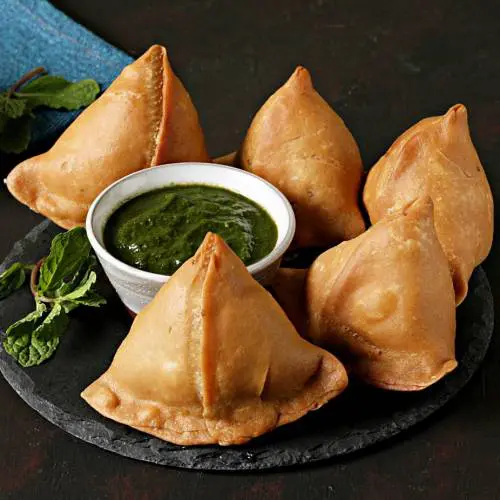 Aloo Chaat – Spicy, tangy and crunchy chaat snack made healthy at home. This is a quick dish that can be made for parties or as a evening snack.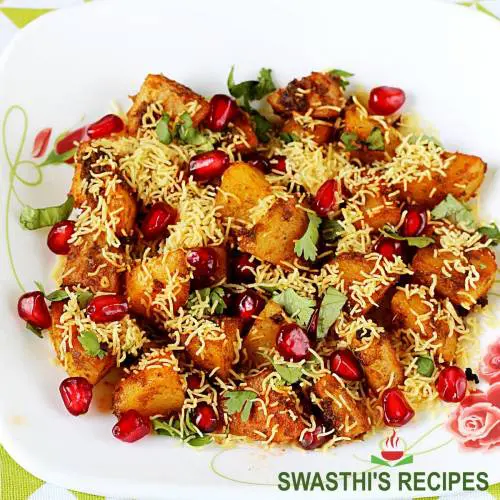 Aloo Tikki – Indian style mashed potato patties made with spice powders, coriander leaves, green chilies. These can be deep fried or shallow fried and can be eaten as a snack or as a patty in a burger.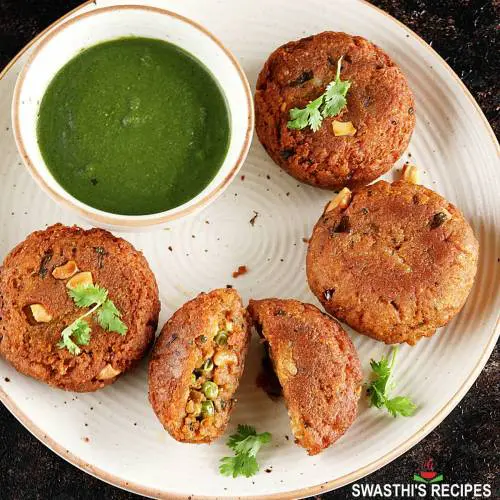 Batata Vada: are a popular street snack from the Maharashtrian cuisine. To make these, boiled potatoes are mashed and spiced. Then rolled to balls. Next they are dipped in gram flour batter and deep fried. Batata vada are usually served with chutney or sandwiched in chutney smeared pav.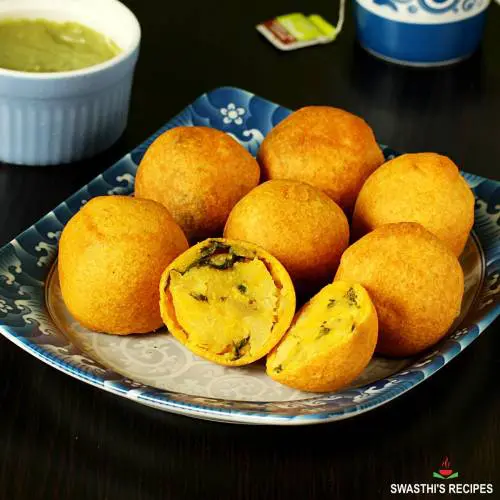 Bread Aloo Pakora – Another street snack made by sandwiching spiced potatoes in plain bread and deep frying. These are good to make when you have some left over bread.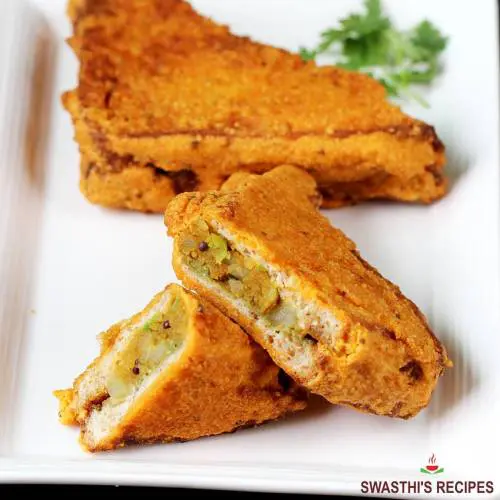 Vada Pav – Popular mumbai street food vada pav. Spiced potatoes mixture is rolled into balls and dipped into besan batter and fried. These vadas are stuffed in pav that's smeared with green chutney. Then garlic chutney is sprinkled.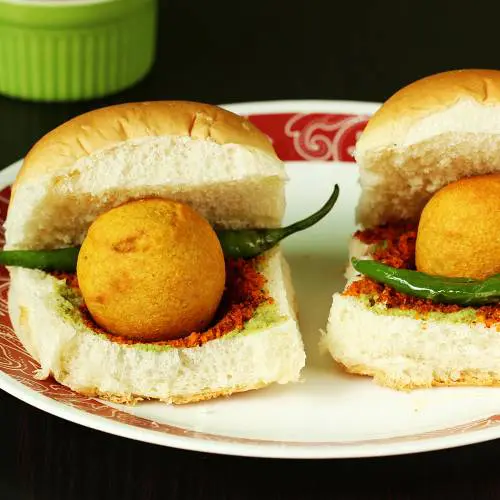 Jhal Muri is another popular street food eaten as a snack. It is made of puffed rice and many basic ingredients used in Indian foods. Potatoes are also used here.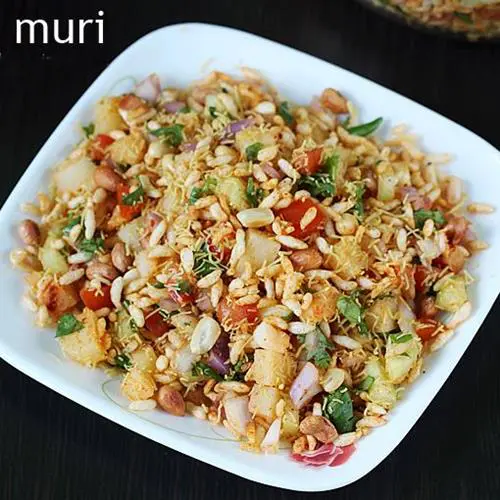 Aloo Bonda – is one of the most popular south Indian snack made with spiced potatoes. This is similar to batata vada but a south Indian version. Aloo bonda are mostly served in Tiffin centers for a evening snack. They are eaten with coconut chutney.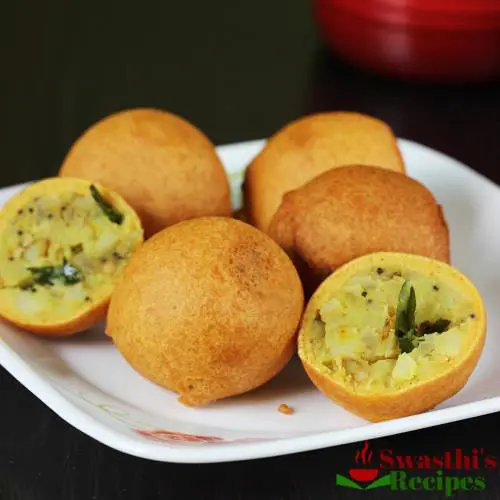 Classic Indian Potato Recipes – Snacks
Potato Wedges – Lightly flavored grilled wedges recipe. You can tweak them and make spicy or tandoori wedges by using tandoori masala.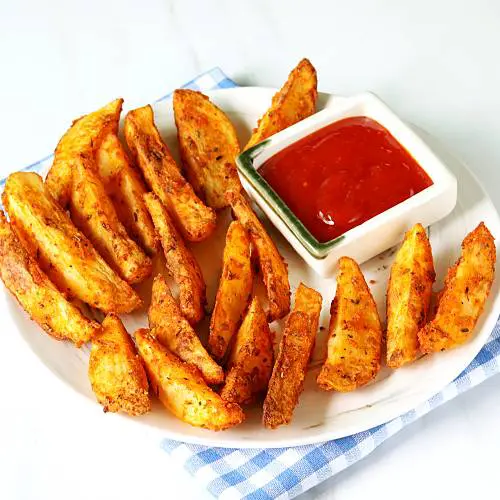 French fries, made the classic way! A step by step guide to make perfectly crisp and delicious potato fries. I also share a seasoning that you will love!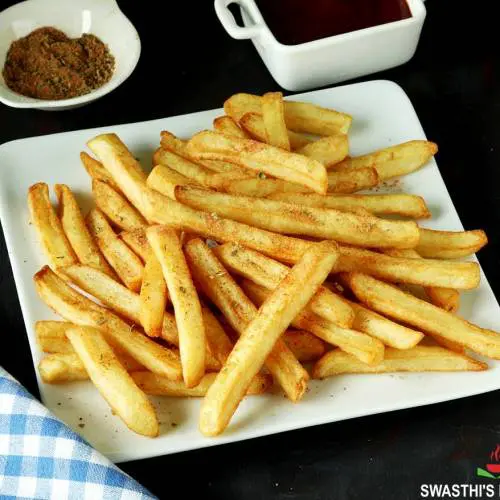 These Crispy Potato Cheese Balls are crispy and addictive with a burst of flavors. I also share the instructions to bake these in the oven instead of frying them in oil.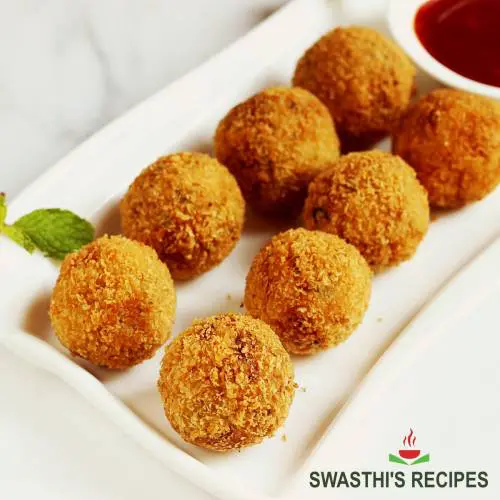 Vegetable Cutlets are breaded pan fried potato and veggie patties served with Coriander chutney or green chutney. You can also cake these or air fry for a handsfree option.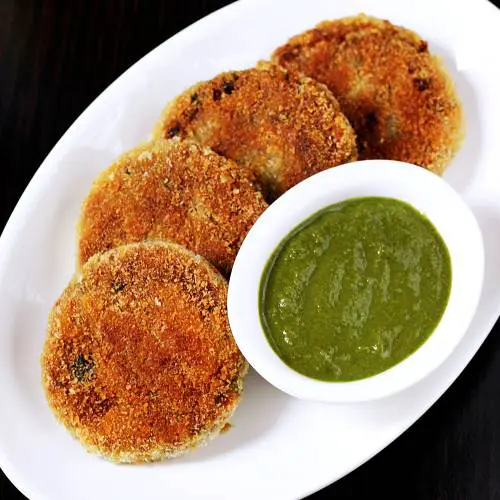 Aloo Pakora : Sliced potatoes are dipped in besan batter and then deep fried until crisp. These can be made just under 20 mins. Aloo pakora are a tea time snack in tiffin centers and street stalls.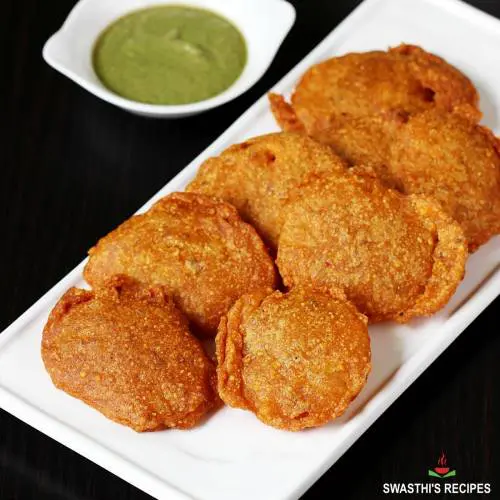 Chilli Potato – A simple Indo-Chinese starter or snack food served with hakka noodles or any soup. These can be served as a starter or appetizer in parties or as a tea time snack.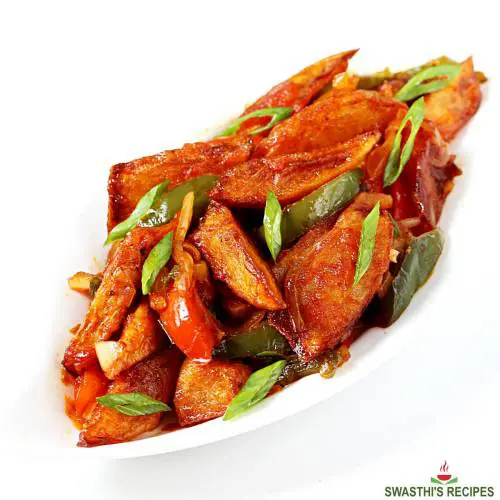 Potato Stuffed Capsicum – Healthy dish that can be served as a starter or snack. Spiced potato mixture is stuffed in capsicum and pan fried until tender. You can also stuff these with cheese, mixed veggies or meat.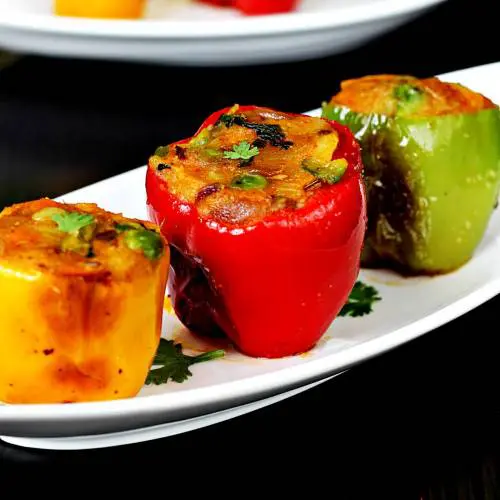 Bread Potato Rolls – A quick party snack or evening snack. These can be made by shallow frying, baking or pan frying. These can also be cut to bite sized and served as a bite sized appetizer or snack along with some tea.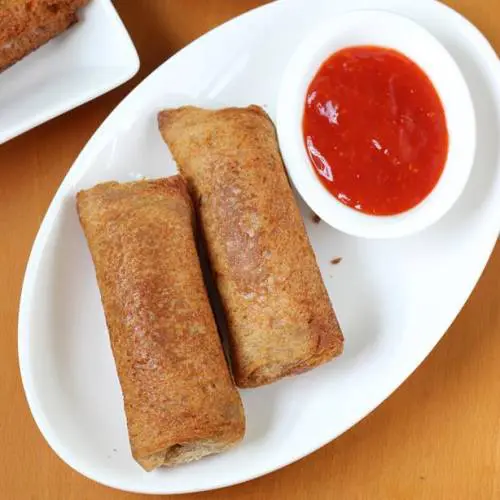 Tandoori Aloo Tikka : Baby potatoes marinated in tandoori masala and grilled. These can be made on tawa or in oven. Serve as a side in a meal or as a snack. These are best served hot.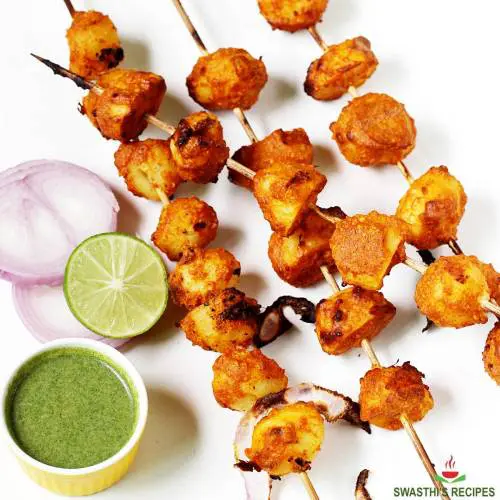 Sabudana Vada – Deep fried snack made with tapioca pearls and boiled poatatoes. These are a popular breakfast or snack served mostly during fasting days.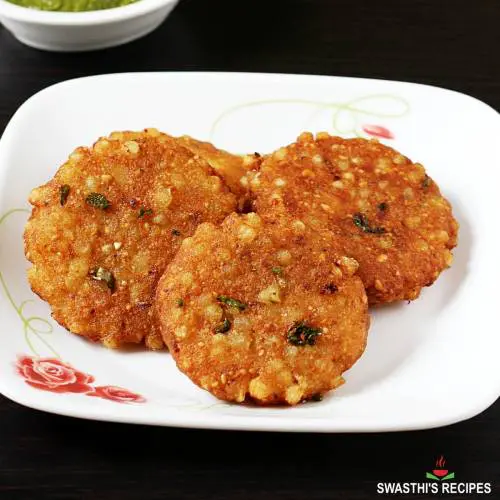 Meal Ideas with Potatoes
Aloo Paratha are stuffed Indian flatbreads made with whole wheat flour. These are made with a spiced and mashed potato stuffing. Delicious, filling and really classic!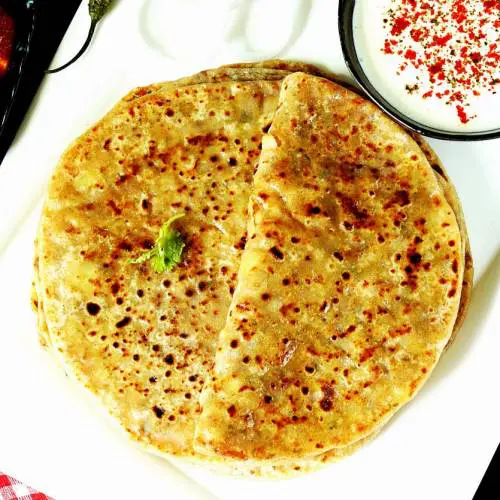 Pav Bhaji is a popular Street food meal, where mashed, spiced & curried veggies are served with butter toasted pavs. The bhaji consists a large portion of potatoes which also forms the base.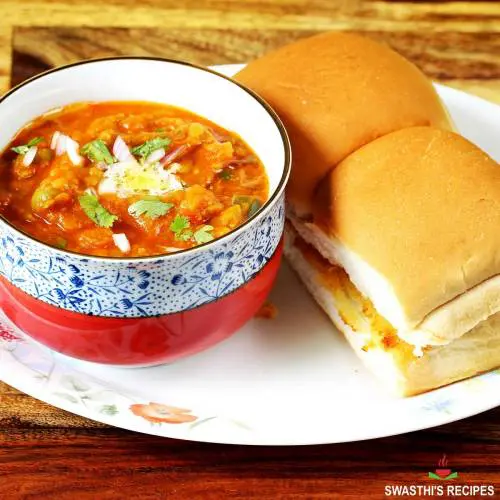 Potato Sandwich is a simple and delicious Indian street style sandwich made with boiled potatoes, spices and herbs. Serve them as a party appetizer or a tea-time snack. These also go well in the school and office boxes.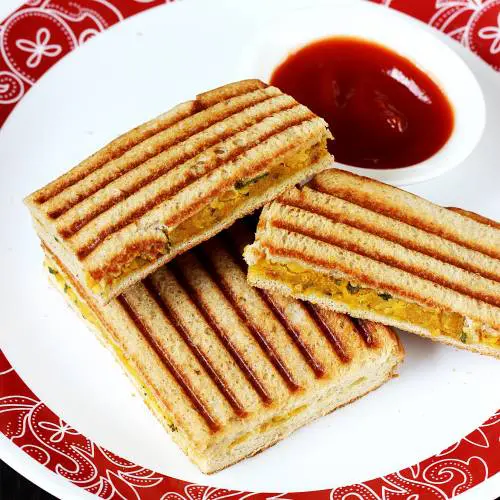 Aloo Biryani is a layered dish of spicy potato gravy and basmati rice. This dish is a great alternate to meat and tastes simply delicious. Made in the traditional dum cooked style, this dish is loaded with layers and layers of flavors.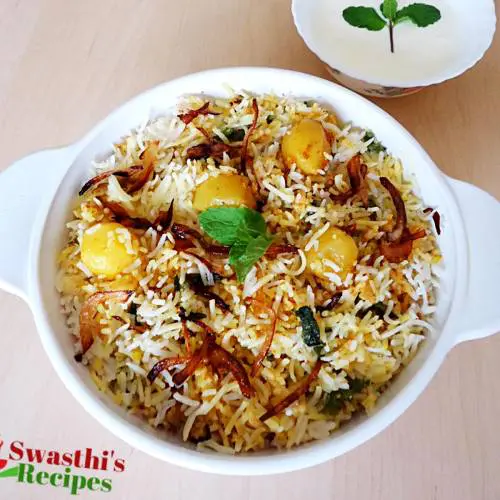 Potato Rice is a simple dish of pan fried spicy potatoes, rice and herbs. Simple and quick to make when you are pressed for time. Use the leftover or precooked rice to save time.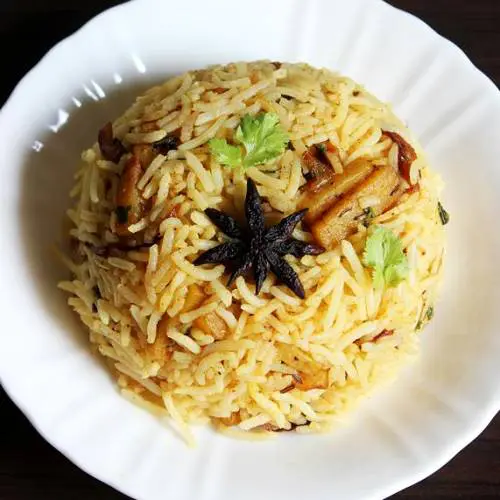 Poori Masala is a South Indian style poori bhaji or curry served with the most popular breakfast Poori. This can also be served with chapati or roti.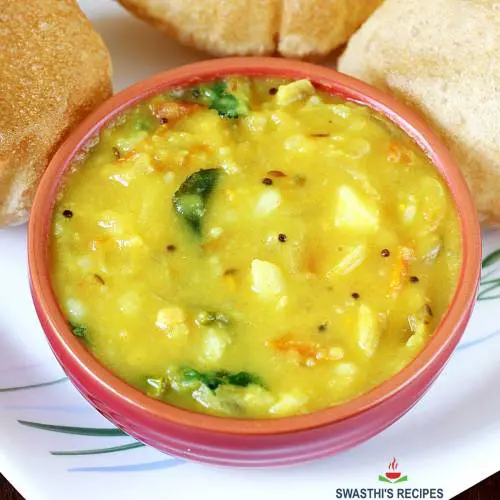 Aloo Masala for dosa – One of the best curry to serve with South Indian popular masala Dosa and even with puri. This can also be packed in the tiffin box to serve with rice, variety rice like jeera rice, ghee rice or even with bread , puri, chapati.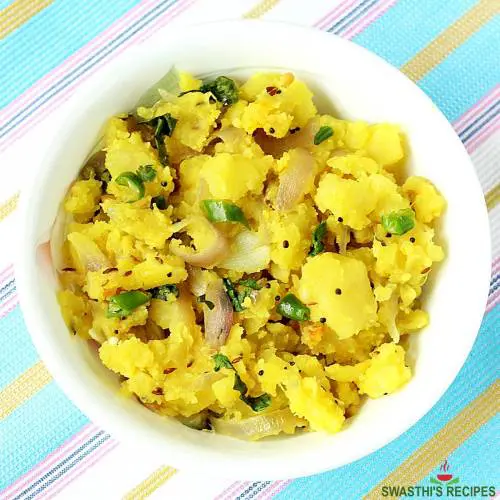 Potato Sagu : Sagu is a simple gravy served with Puri , Roti or Paratha. This is one of the Karnataka style side dishes to serve with puri. There are so many ways a sagu is made, this one uses fried gram to make a quick curry.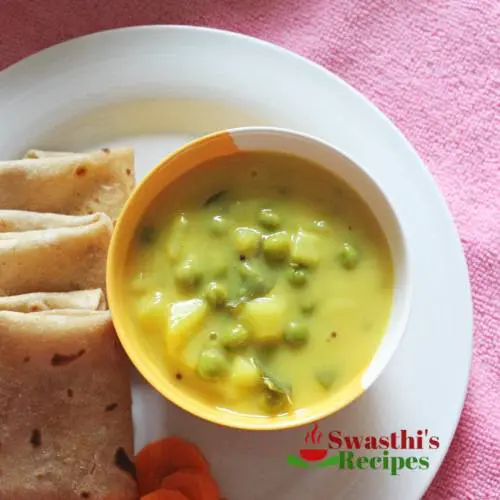 Side Dishes – Curries
Potato Curry – Simple basic home style Indian curry made with basic ingredients to go with rice, roti, bread. This is a beginners recipe and can be made tweaked easily to suit your taste.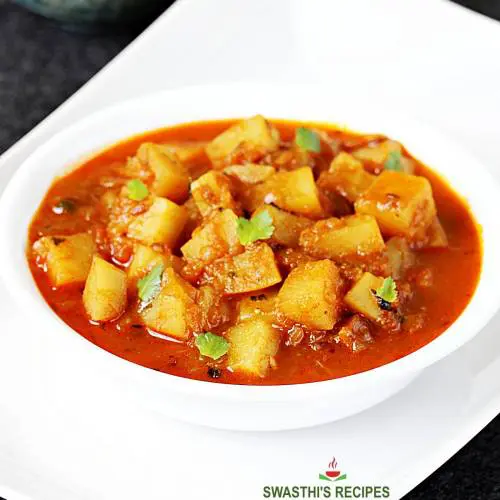 This Malai Kofta is a treat to your taste buds! Crisp yet soft koftas are served with finger licking good malai gravy. These koftas are made with mashed boiled potatoes and paneer.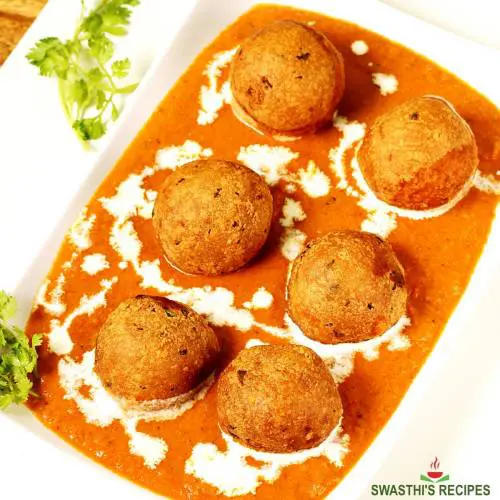 Potato Kurma – South Indian style kurma curry made freshly ground spices and basic kurma ingredients. This goes great as a side with pulav, biryani, ghee rice, jeera rice, plain white rice, roti, chapathi or even with puri.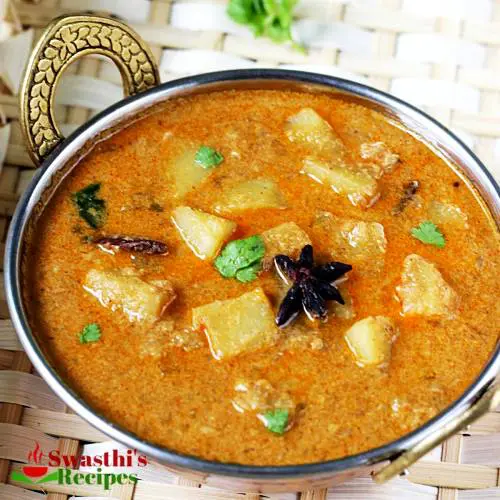 Aloo Egg Curry – Potatoes & boiled eggs go wonderfully well making this curry taste delicious. A beginners recipe, it is good to enjoy this with plain rice and ghee.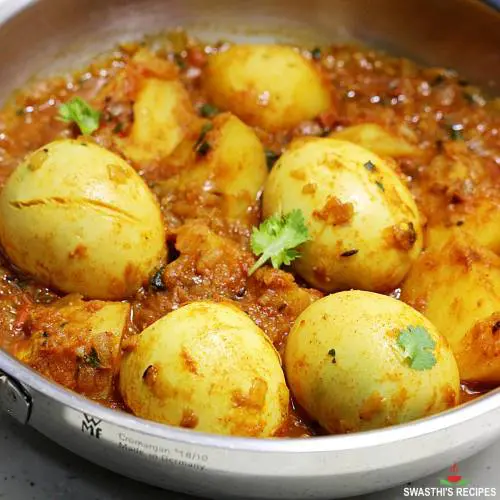 Aloo Gobi – One of the popular restaurant dish from North Indian cuisine. But the recipe shared here is in a simple home style but tastes like the one in restaurants. This can be enjoyed with naan, paratha, jeera rice, plain basmati rice or roti.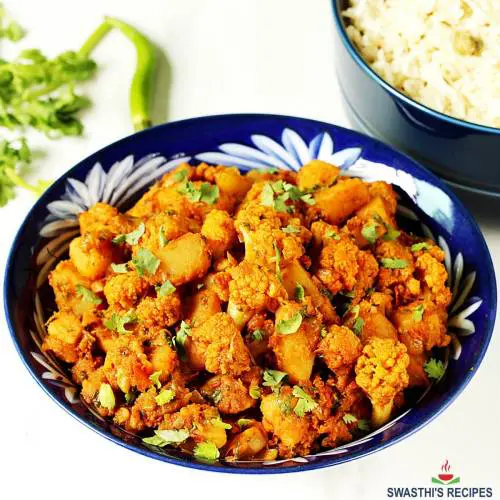 Aloo Matar recipe: Simple home style North Indian recipe of aloo with green peas. Hot, spicy and delicious curry that can be served with plain rice, roti, bread or naan.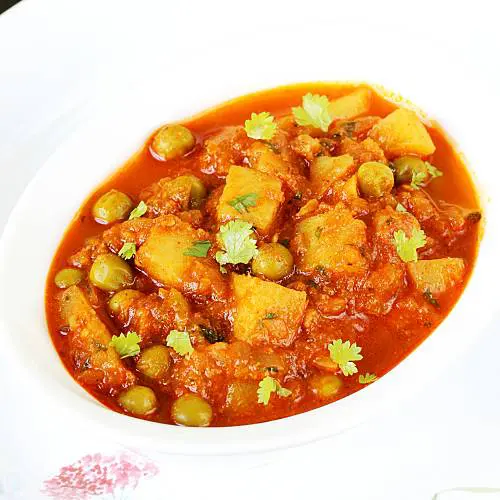 Dum Aloo Restaurant style – Punjabi dish made by slow cooking baby potatoes in a creamy and rich gravy. This is apt to make for a special meal, weekend meal or when you have guest home.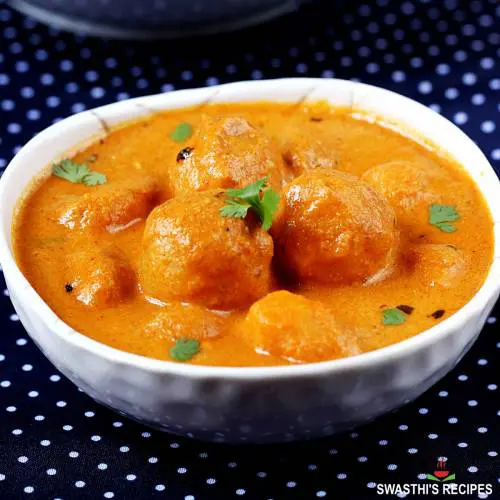 Potato Recipes – Stir fry & Sabzi
These potato recipes go well in the lunch box along with plain rice or with roti or can even be served for quick dinner. They can also be used as stuffing in wraps.
Jeera aloo – Simple dish made of potatoes and cumin as the main ingredients. This quick dish is made by sauteing boiled potatoes in mild spices and spice powders. It is best served with rice-dal, puri or roti.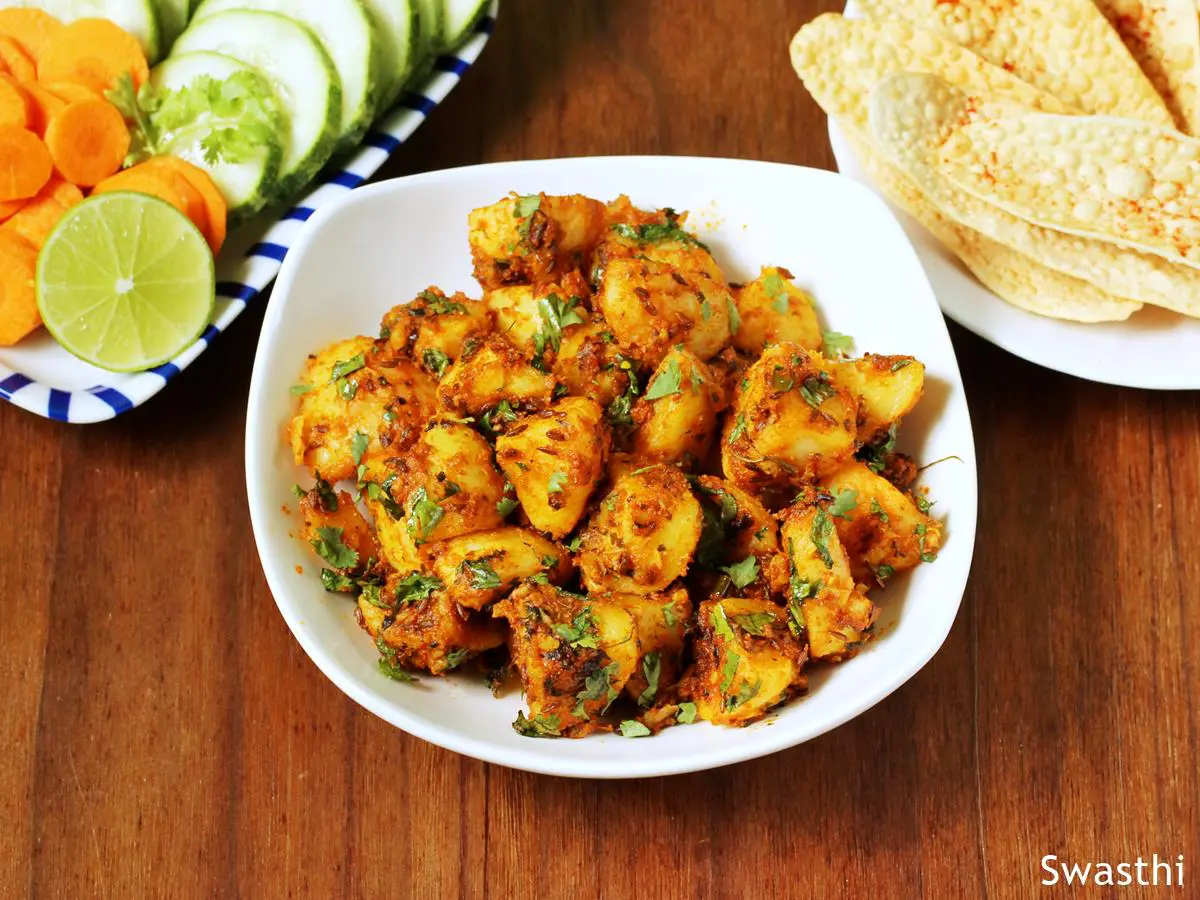 Aloo Methi – Simple stir fry made with fenugreek leaves known as methi in Indian language. This sabzi goes well with rice, rasam, sambar or even with roti.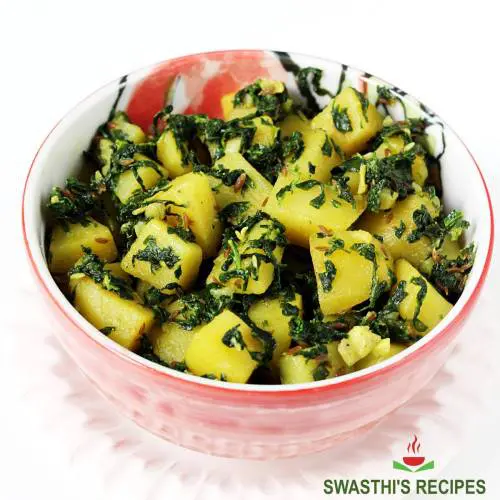 Potato Cabbage Recipe – A dry curry or sabzi that goes well with roti or rice. Healthy, home style dish can be prepared even by beginners.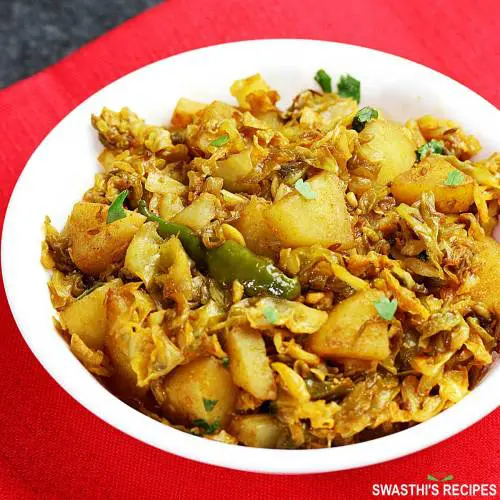 Aloo Shimla Mirch ki Sabzi is Capsicum and potato stir fry with minimal spices.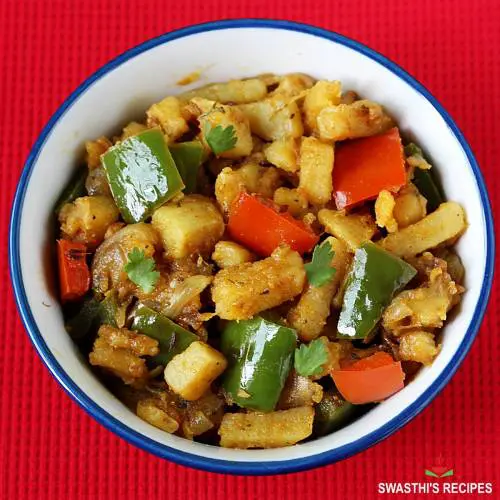 Potato Fry – South Indian style spicy potatoes stir fried in a pan. It is good to serve this with rice, sambar or rasam.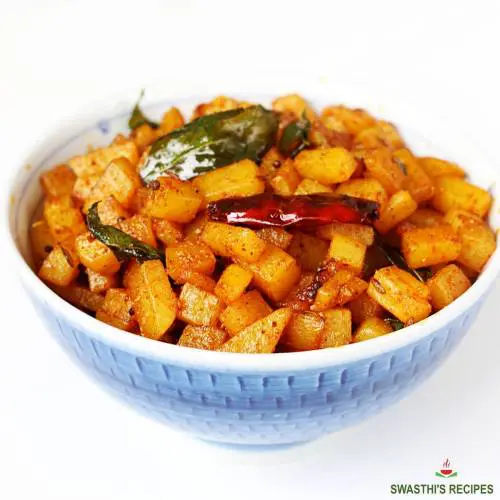 Aloo Palak is a healthy & kids' friendly dish made with Indian spinach and boiled potatoes. This goes very well in tiffin box too.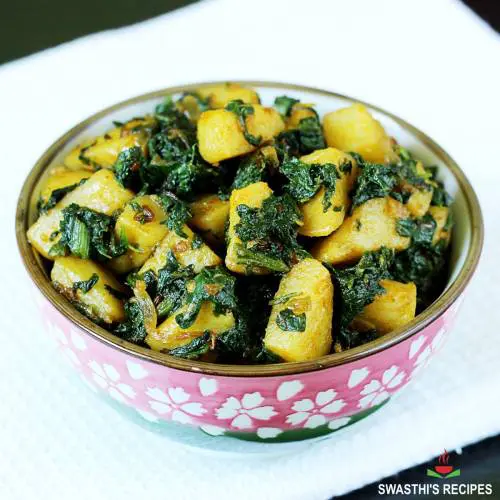 Aloo baingan : North Indian style dish made by slow cooking with basic ingredients.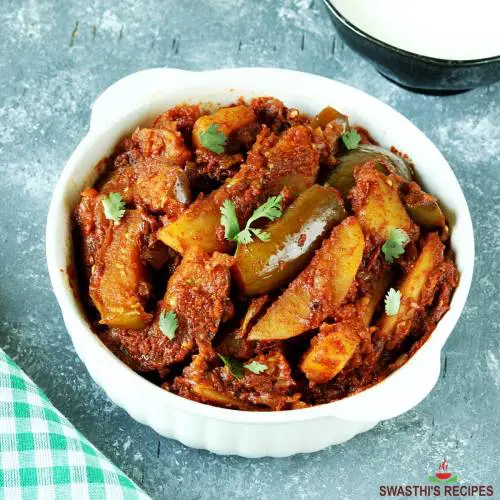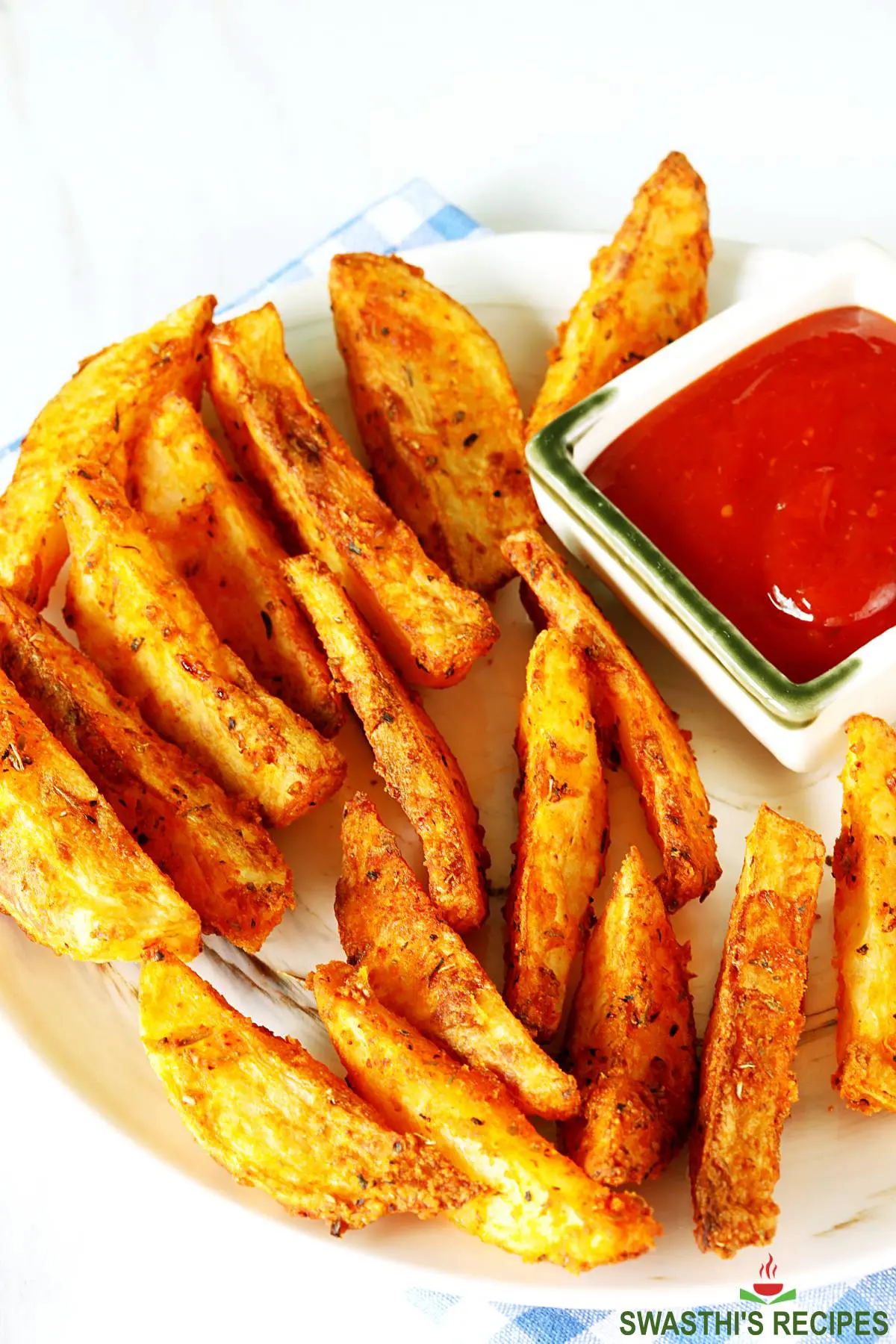 About Swasthi
I'm Swasthi Shreekanth, the recipe developer, food photographer & food writer behind Swasthi's Recipes. My aim is to help you cook great Indian food with my time-tested recipes. After 2 decades of experience in practical Indian cooking I started this blog to help people cook better & more often at home. Whether you are a novice or an experienced cook I am sure Swasthi's Recipes will assist you to enhance your cooking skills. More about me
Follow Swasthi's Recipes