Sabudana vada recipe with step by step photos. – A popular maharashtrian snack made using sago/tapioca pearls also known as sabudana, javvarisi, saggubiyyam or sabbaki in other Indian languages. Sabudana vada is also served during fastings or Upvas/ Vrat especially during Navratri. Sabudana khichdi and sabudana kheer are other foods made during fasting. These sabudana vada turn out delicious, crunchy on the outer side and are soft inside.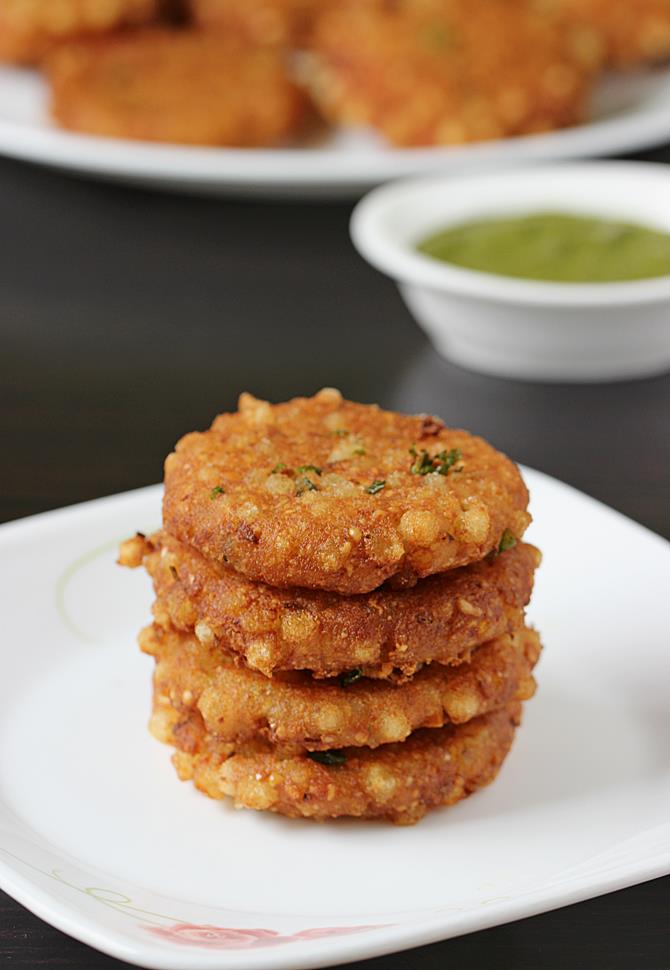 To make good sabudana vada, always soak the sabudana well until they turn soft. You can roast the peanuts ahead, crush them and store in a jar. This saves some time on the day you prepare these vadas. Make sure your boiled potatoes are just cooked and not mushy otherwise sabudana vada will soak up lot of oil.
These are best served hot with chatni or some hot tea.
Tips for sabudana vada
1.Soaking sabudana : There are different kinds of sabudana available in the market, some soak up well in just 2 hours while some need 5 to 8 hours soaking time. Adjust the soaking time as needed until the sabudana turns soft, without any hardness inside.
2.Checking sabudana: After the soaking time, press few sabudana pearls in between your thumb and forefinger. They must get mashed easily. Sabudana if not soaked well can burst in oil. So make sure they are soaked well and not hard from inside.
3.Potatoes : Boiled potatoes help in binding the mixture. So boil them with care without making mushy or soggy. Soggy potatoes often break up the sabudana vada while frying due to excess moisture.
4. Peanuts : Crushed peanuts help in absorbing the excess moisture if any. So I prefer to powder it. However you can just crush them coarsely in a mortar pestle if you prefer crunchy peanuts in the sabudana vada.
How to prevent them from breaking
1. Mashing & kneading : I usually mash & knead the mixture well for a minute which also prevents the sabudana vadas from breaking. The starch in the sabudana binds the mixture well.
2. Using flour : I never use flour to make my sabudana vada. However if your vadas break then you can add 1 to 2 tbsps of flour to absorb excess moisture. If making the vadas on fasting days, then you can add some sabudana flour or kuttu ka atta or rajgira flour. To make sabudana flour, just blend some sadudana in a powerful blender.
3.Temperature of oil : Sabudana vada can break while frying if the oil is not hot enough. Always check if the oil is moderately hot enough to fry. Also fry on a medium high flame. Frying them on a very high flame will brown them too quickly. Frying on a low flame will make them oily.
You can check these 10 Best Vada Recipes.
Medu vada
Batata vada
Vada pav
Dahi vada
Sabudana vada recipe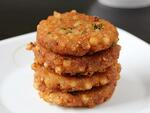 Sabudana vada
Sabudana vada are a deep fried snack made with tapioca pearls, peanuts and potatoes. These are usually made during religious Hindu fastings. Sabudana vada can also be had for a evening snack with green chutney.
Ingredients (1 cup = 240ml )
½

cup

sabudana

(tapioca pearls or sagu)

1

cup

potatoes

(heaped cup) cubed or 2 medium sized

¼

cup

peanuts

1

tbsp

coriander leaves

chopped

½

tsp

cumin

or jeera

1 to 2

green chilies

chopped

rock salt

powdered as needed

1½

tsps

lemon juice

1½

tbsp

flour

(optional) – sabudana flour or rajgira or kuttu ka atta if fasting
How to make the recipe
Preparation
Add sabudana to a bowl & rinse them well. Then pour 1 cup water and soak sabudana for 2 to 5 hours depending on the kind. Some need only 2 hours of soaking while some need at least 5 hours.

Drain them completely. Take few sabudana pearls in between your thumb and forefinger. Press down to check if they have softened. The pearls must get mashed well.

Make sure they are soaked well otherwise sabudana may burst in oil. You can also bite and check. It should not be hard from inside. If you feel they are hard, soak them for a little longer.

Meanwhile roast peanuts until golden and aromatic. Powder them coarsely.

Wash and peel potatoes. Boil them just until done and not too mushy or soggy. Mash them. If the potatoes are mushy then the vadas may break. So cook them just al dente.

Mix together sabudana, mashed potato, peanuts, green chili, salt, cumin and coriander leaves. Add lemon juice and mix well.

Knead very well for 1 min. If sticky, then just grease your finger lightly. Kneading helps in binding the dough well and prevents the sabudana vada from breaking while frying.
How to make sabudana vada
Make 10 to 12 balls and then slightly flatten to make the patties or vada. Do not make them too thin as they may break.

Heat oil in a kadai until hot enough. Drop a small portion of the mixture to check if the oil is hot enough. The dough has to rise without browning quickly.

Next take 1 tsp of the mixture in your hand and roll it to a small vada. Slide it in the hot oil to check if it doesn't disintegrate. If the ball breaks, then add the flour to the mixture and mix it well.

Then shape them to vadas.

Slide the sabudana vada in hot oil one after the other. On a medium high flame deep fry until golden flipping to and fro as needed. The vadas will puff well and turn crisp on the outside.

Drain them to a kitchen tissue. Serve sabudana vada with chutney.
NUTRITION
Calories:
40
kcal
|
Carbohydrates:
6
g
|
Fat:
1
g
|
Sodium:
1
mg
|
Potassium:
29
mg
|
Vitamin A:
1.7
%
|
Vitamin C:
0.7
%
|
Calcium:
0.4
%
|
Iron:
1.6
%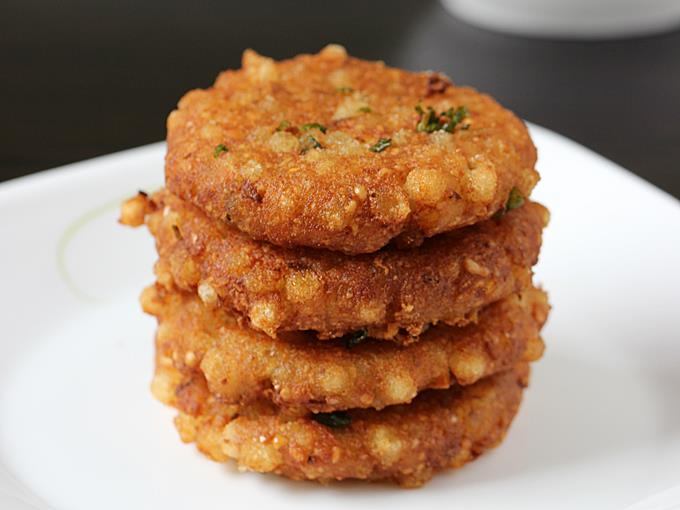 Preparation for sabudana vada recipe
1. Wash and soak half cup sabudana in water for about 2 to 4 hours.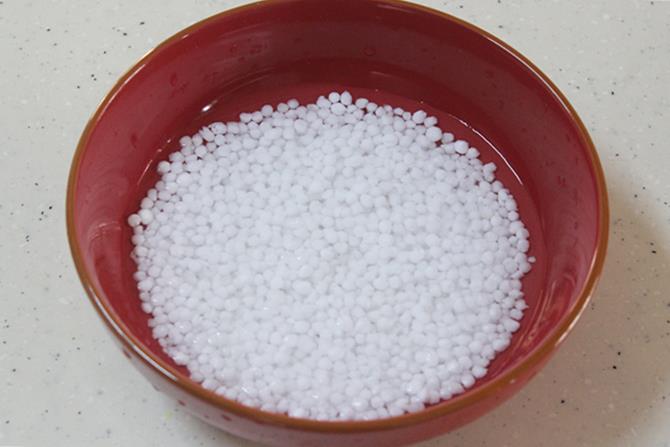 2. Drain up the water completely. They double in size after soaking. Make sure they are soaked well and turned soft else sabudana may burst in oil while frying the vadas.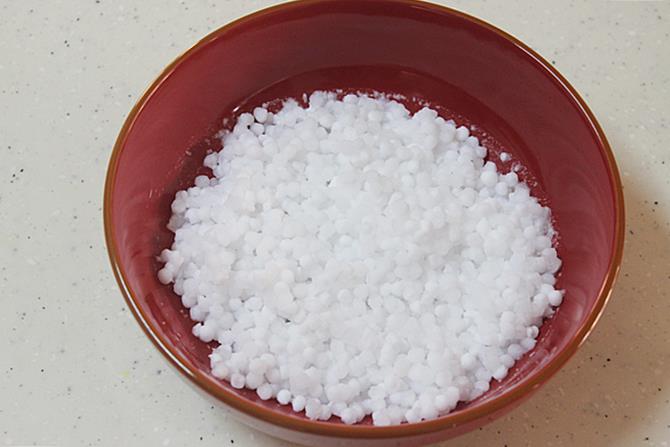 3. Dry roast 1/4 cup peanuts until golden.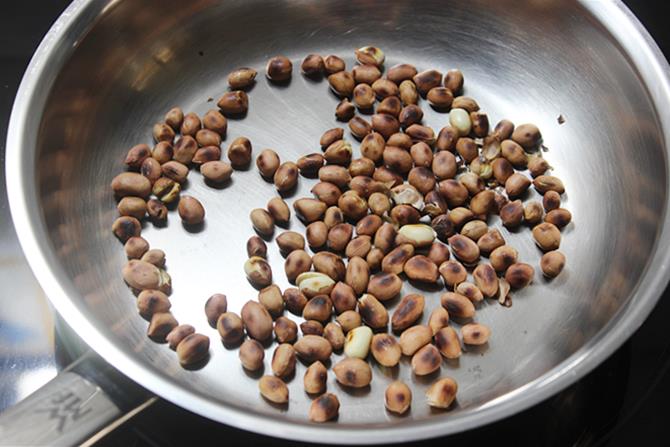 4. Cool them completely and make a coarse powder. I removed the skin partially.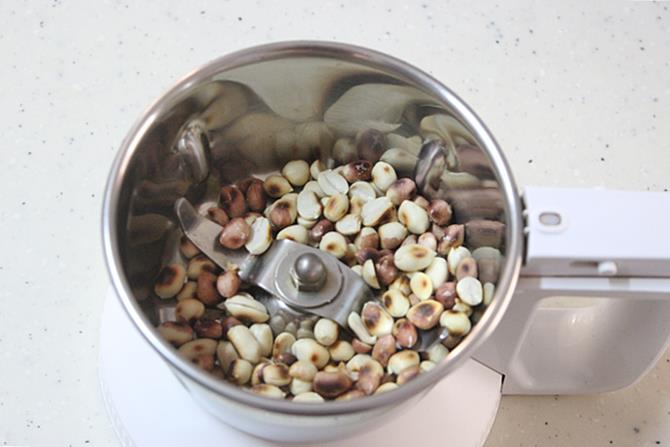 5. Peel the skin and cube 2 medium sized potatoes. They must come up to at least 1 heaped cup. Boil them. Do not make them mushy. Drain any excess water or evaporate.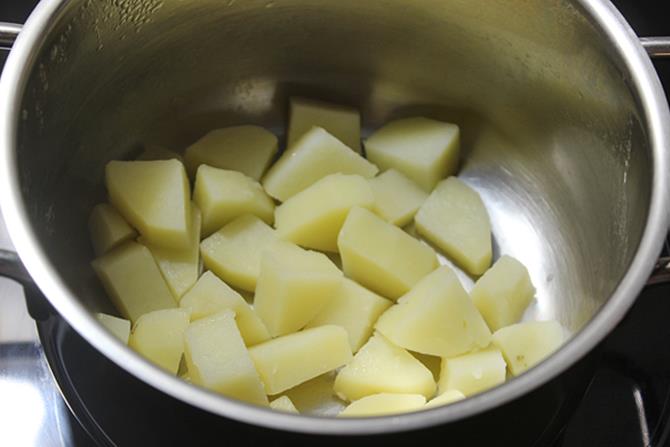 6. Mash them.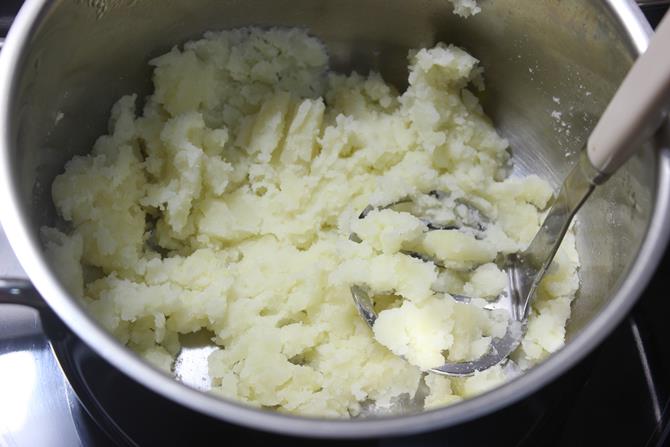 7. To the bowl of sabudana, add ground peanuts, mashed potato, jeera, chopped green chilies, chopped coriander leaves, lemon juice and powdered rock salt.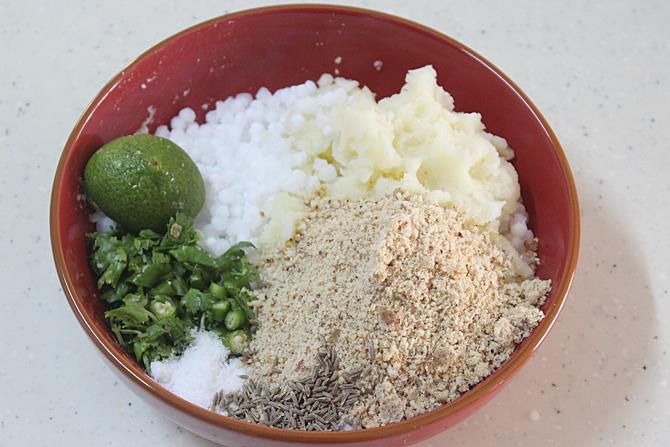 8. Mix everything well. Knead very well for 1 min. If sticky, then just grease your finger lightly. Kneading helps in binding the dough well and prevents the sabudana vada from breaking while frying.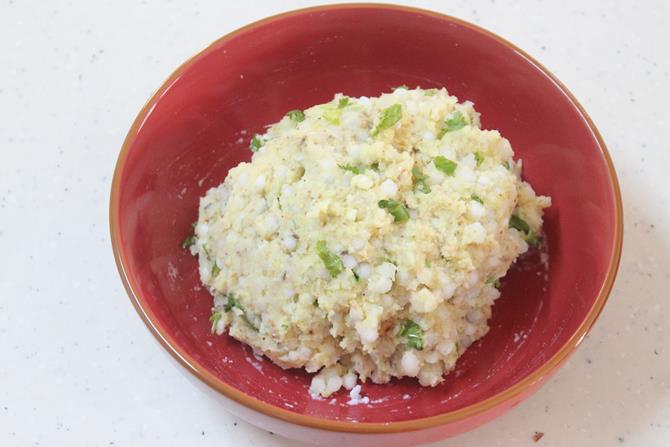 How to make sabudana vada recipe
9. Make 10 to 12 equal sized balls from the dough.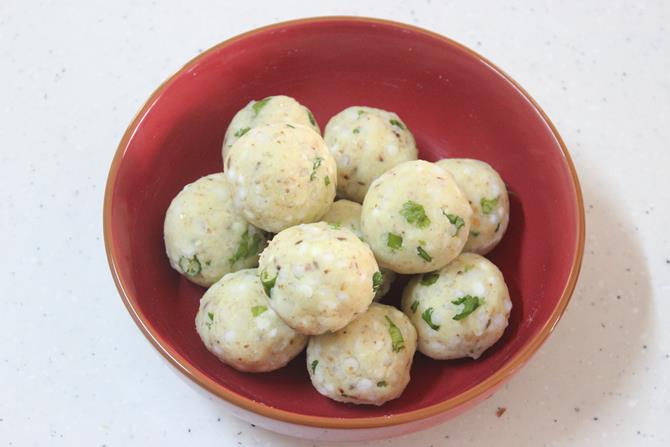 10. Grease your palm and flatten the balls gently to give the shape of a vada. If they break towards the edges, you can just stick them back. Place them in a plate or foil.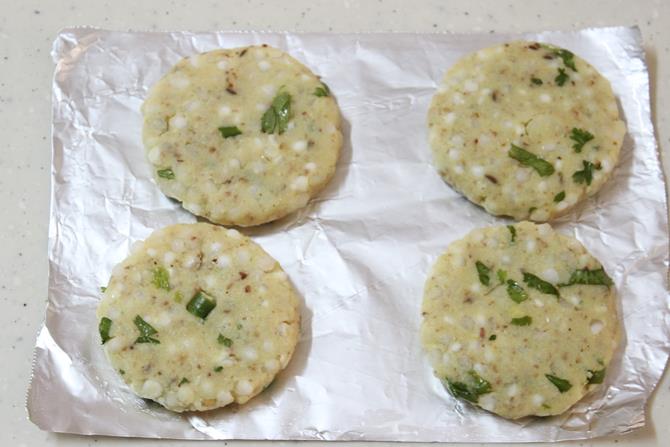 11. Heat oil in a pan until oil turns hot enough. Check by dropping a small portion of the dough to the hot oil. The dough must rise and not sink. This is the right temperature.
Next, take 1 tsp of the dough and shape to a small vada or ball and drop in the hot oil. If the vada doesn't break then you can go ahead and fry all the vadas.
If the ball disintegrates in the oil, then add the flour to the mixture and mix well. shape to vadas. This step is optional only to ensure the vadas don't get disintegrated in oil.
Deep fry them on a medium heat.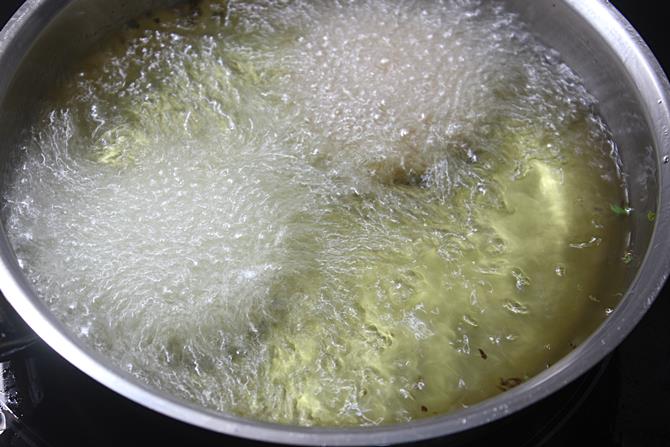 12. Fry until golden on both the sides.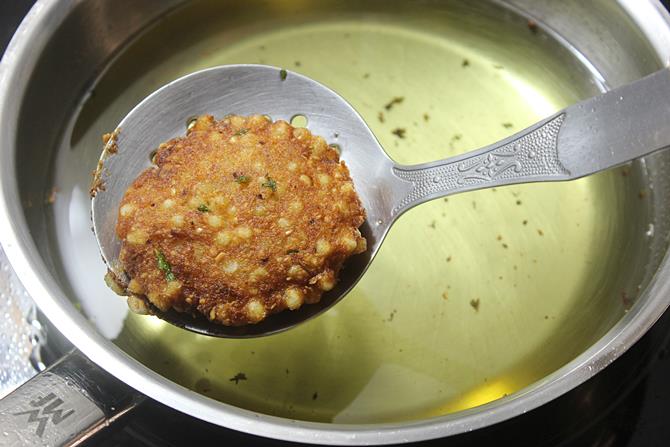 Serve sabudana vada with green chutney or farali chutney.