Masala dosa recipe – One of the most popular south Indian breakfast served in tiffin centers and restaurants. Dosa is a thin crispy crepe made using fermented rice and lentil batter. Masala dosa is one that has potato masala or spiced and seasoned potatoes stuffed in it. These crispy crepes are quite addictive and delicious. Masala dosas are served with Sambar and Coconut chutney.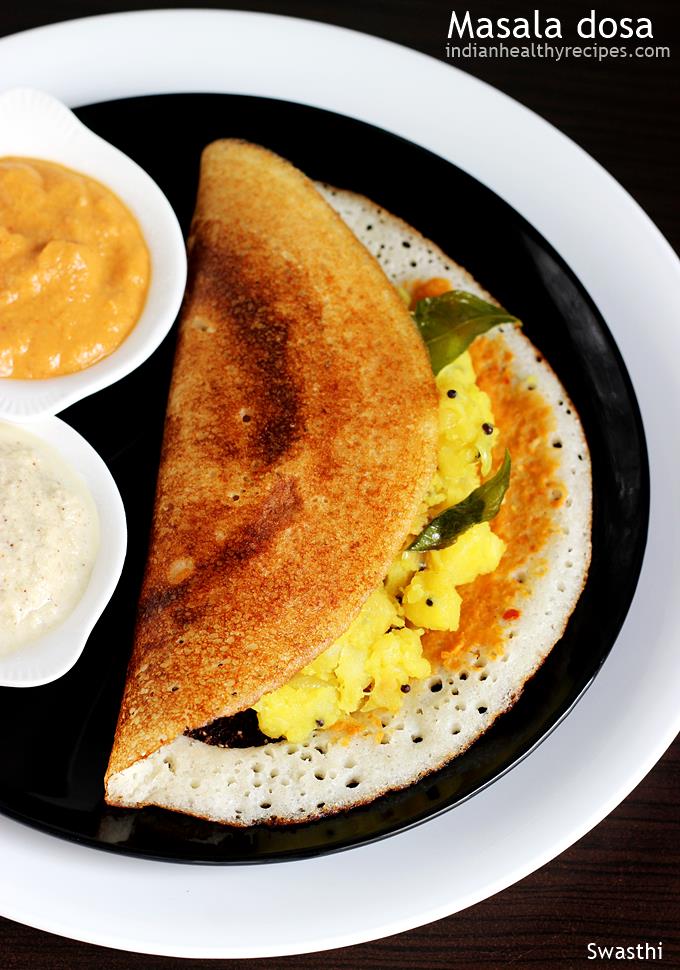 There are many kinds of masala dosas like mysore masala dosa, schezwan masala dosa, mumbai masala dosa, chettinad chicken masala thosai etc. These are not a regular food in most homes since it takes a considerable amount of time to prepare.
I have already shared 2 masala dosa batter recipes earlier. Today I am sharing 1 more batter recipe here.
To make a good masala dosa, different restaurants follow different proportions of rice, lentils and other ingredients.
These are 2 such recipes which we have been making at home for years now. This batter can also be used to make paniyaram and onion uttapam.
With the help of this post you will be able to make masala dosa that is stuffed with potato masala and also mysore masala dosas.
I have also shared the recipe of the red chutney masala used to smear over the mysore masala dosa that's how it is different from the normal masala dosa.
For more Breakfast recipes, you can check
Rava idli
Poori recipe
Idli recipe
Pesarattu
Crispy masala dosa recipe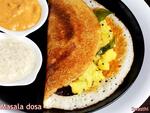 Masala dosa recipe | How to make masala dosa
Masala dosa are rice and lentil crepes stuffed with potato masala. Crispy masala dosa is one of the popular breakfasts from south Indian cuisine. Masala dosa can be served with coconut chutney.
Pin Recipe
Ingredients (1 cup = 240ml )
For masala dosa batter
½

cup

urad dal

or skinned black gram

1

tablespoon

chana dal

or bengal gram (optional, refer notes)

1½

cup

raw rice

or regular rice

½

cup

parboiled rice

or idli dosa rice ( or substitute with raw rice)

4

tablespoon

poha

or beaten rice (or ½ tsp fenugreek seeds or methi)

Non iodized salt

as needed
For potato masala or curry
2

cups

potatoes

or aloo or 2 large or 3 medium

1

tablespoon

oil

¼ to ½

teaspoon

mustard

seeds

½

teaspoon

cumin

or jeera

1

teaspoon

chana dal

or bengal gram

1

teaspoon

urad dal

or skinned black gram

1

Pinch

asafoetida

or hing

¾

teaspoon

ginger

– grated or paste

¾ to 1

cup

onions

thinly sliced

1

sprig

curry leaves

2

green chilies

chopped or sliced

1/8

teaspoon

turmeric

or haldi

Salt as needed

2

tablespoon

coriander leaves

finely chopped
To make dosas
Butter as needed

(prefer unsalted else reduce salt in batter)
How to make the recipe
Making masala dosa batter in mixer or wet grinder
Wash rice, urad dal and chana dal separately in 2 bowls until the water runs clear. If using methi seeds add to the urad dal.

Soak them separately for at least 4 hours in ample amount of water.

Rinse poha and soak 30 mins before grinding the batter.

Add urad dal to a blender jar along with salt and poha. If you live in a hot weather then skip salt now and add after fermentation.

Pour water just enough to make a frothy batter.

The batter must be blended to thick, smooth & frothy consistency. Transfer the batter to a large container.

Drain the water from rice and add it along with little water to the blender jar.

Blend slightly coarse or smooth batter to suit your liking.

Mix with the dal batter well.

Allow to ferment in a warm place for about 6 to 16 hours depending on your weather.

The batter has to rise and turn slightly fluffy. Do not over ferment the batter.
Making Potato curry
Boil or steam potatoes until just done. Do not cook them until mushy.

Heat a pan with oil. Then saute cumin, mustard, chana dal and urad dal until the dal turns golden.

Add hing and ginger. Fry until the aroma of ginger comes out.

Then add onions, curry leaves and chilies.

Fry until the onions turn lightly golden.

Crumble the potatoes and add them to the pan. Add turmeric and salt along with 2 tbsps of water. Skip if your potatoes are too moist or lightly mushy.

Saute for 2 to 3 mins. Add coriander leaves. Set this aside.
How to make masala dosa
Drizzle few drops of oil and grease your tawa. If using cast iron griddle, season it the previous night.

Bring the batter to consistency by adding little water. It must be of thick pouring and spreading consistency. If you are unable to spread the batter, it means the batter is too thick.

Heat the tawa or griddle on a high flame. Pour a laddle full of batter on the hot tawa and spread it to a even round dosa. You can make it thick or thin to suit your taste.

Spread 1/4 tsp soft butter around the edges.

Within few minutes, you can see the edges leave the pan. Flip and cook just for 2 minutes.

Flip it back and cook until the base turns golden. If making mysore masala dosa, smear the red chutney as desired. Place the curry in one half of the dosa. Fold it or roll it.

To make the next dosa, repeat the process. Make sure the tawa is hot enough and not over hot otherwise it will burn the dosa. Do not cook the dosa on low heat as it makes the dosa hard.

Serve crispy masala dosa hot.
Making red chutney for mysore masala dosa – optional
Roast 2 tbsps chana dal until golden along with 2 to 3 red chilies. Chillies have to turn crisp.

Saute 1 large onions lightly in 1 tsp oil until the raw smell goes off. Add 2 pinches of cumin.

Cool everything. Powder the dal and chilies first.

Add half tsp tamarind, 2 garlic and salt. Blend till smooth. You will have a thick chutney. If the chutney turns very thick, add 1 to 2 tbsps of water and blend.
NUTRITION (estimation only)
Calories:
289
kcal
|
Carbohydrates:
53
g
|
Protein:
8
g
|
Fat:
4
g
|
Saturated Fat:
1
g
|
Cholesterol:
6
mg
|
Sodium:
178
mg
|
Potassium:
334
mg
|
Fiber:
6
g
|
Sugar:
2
g
|
Vitamin A:
120
IU
|
Vitamin C:
19.2
mg
|
Calcium:
39
mg
|
Iron:
3.5
mg
Notes
If the above recipe does not yield the results you expected, then it may be because of the change in the quality or type of dal & rice. I could also be due to the weather conditions or blender used. Try to tweak those and try.
Update: Here is another variation you may try
2.5 tbsps chana dal
1/2 cup urad dal
2 cups rice
2 cups rice flour
1/2 cup poha
1/2 tsp methi seeds
1/2 cup maida (all-purpose flour)
1/4 cup semolina
Follow the same method mentioned in the recipe card. Ferment and then mix together semolina and maida.
If you are a beginner or new to Indian cooking, I highly suggest you to check the supporting step by step photos for best results. Step by step photos with description available below after the recipe card.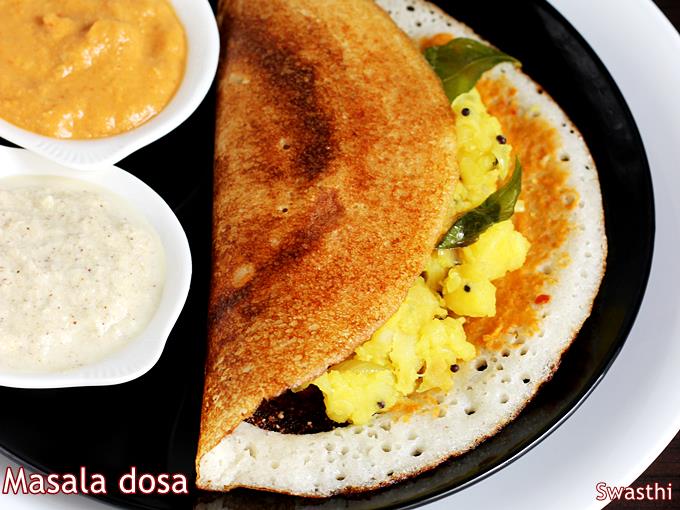 Make batter
1. Add urad dal and chana dal to a large pot or bowl. Also measure the poha and set aside. Wash and soak it just 30 mins before blending the batter.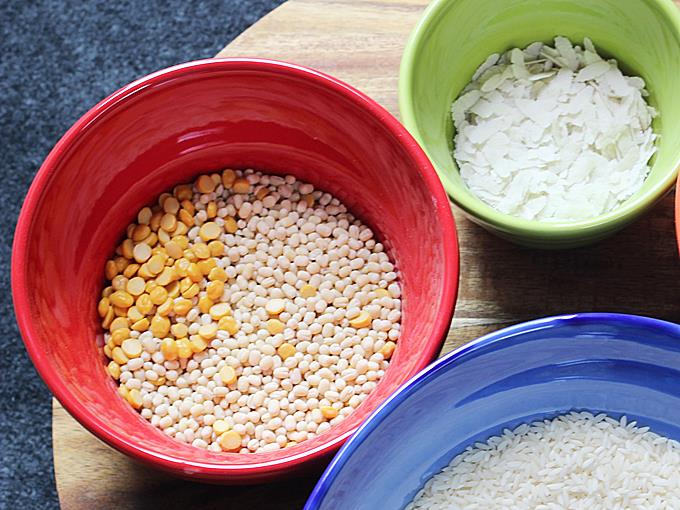 2. Also measure rice to another large bowl.
3. Wash and soak them separately for 4 to 5 hours.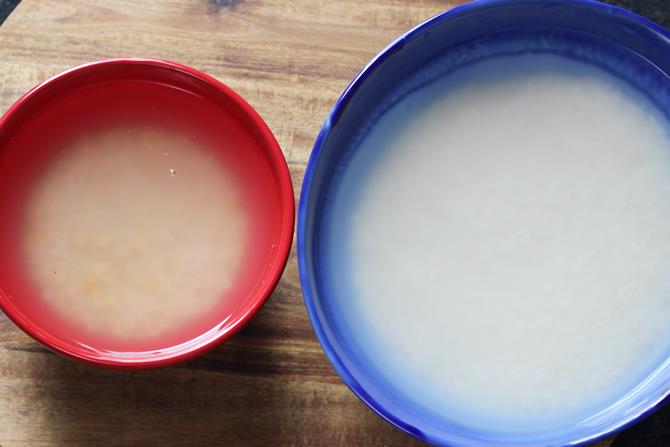 4. Drain water from dal and poha. Add them to a blender jar with enough water and salt as needed. You can skip salt if you live in a hot place. Without adding salt, my batter doesn't ferment. So I use while blending.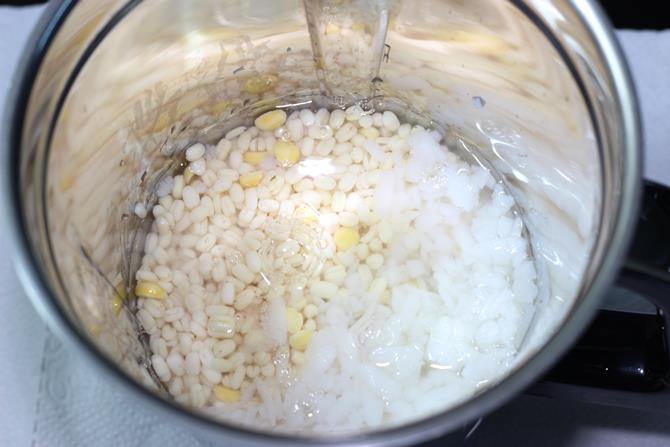 5. Blend them to a batter that is frothy and bubbly. The batter must not be very thick or very runny at this stage.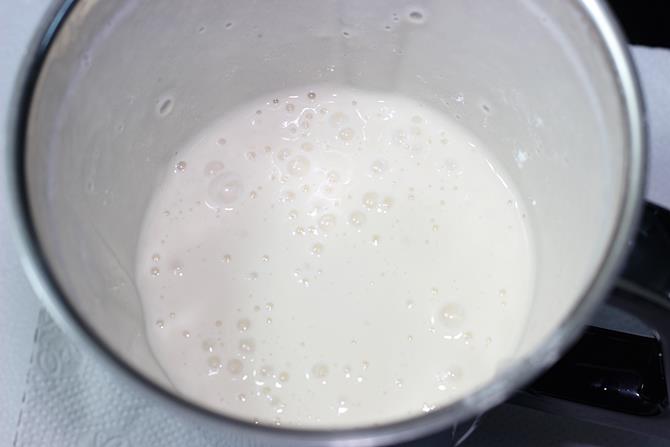 6. Transfer that to a bowl. Use ceramic bowls if you live in a hot place. This prevents the batter from turning sour.
7. Blend rice in 2 batches to a smooth batter with little water.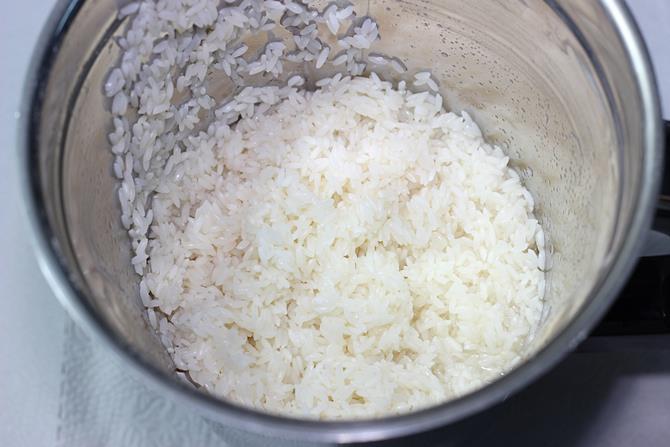 8. If using semolina, you will be adding it here and mixing.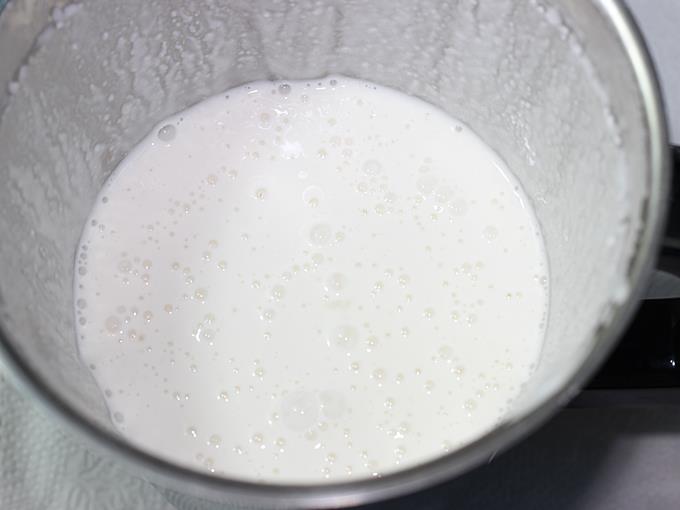 9. Pour that as well to the bowl with dal batter.
10. Mix everything well.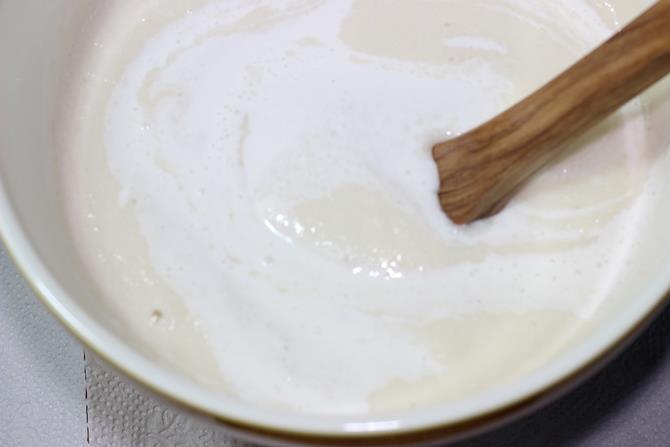 11. Allow to ferment in a warm place for 6 to 16 hours depending on your climate or temperature.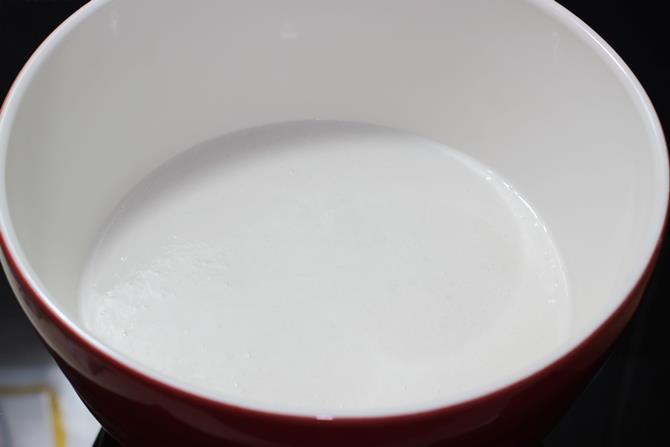 12. I left it to ferment for 12 hours at 24 C. Do not over ferment otherwise it may turn sour.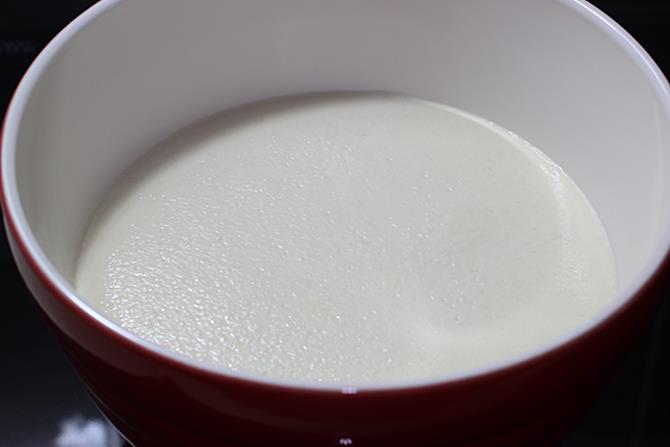 Making potato masala for dosa
13. The next morning, Steam or boil potatoes without making them mushy. I steam my potatoes over a pressure cooker.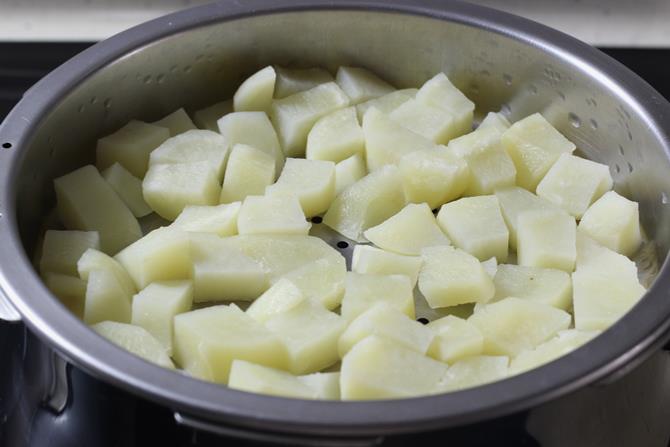 14. Heat a pan with 1 tbsp oil. Saute ½ tsp cumin, ¾ tsp mustard seeds, 1 tsp chana dal and ¾ tsp urad dal. I used yellow mustard since i was running out of stock. When the dals turn golden, add hing.
15. Add grated ginger and saute until the aroma comes out.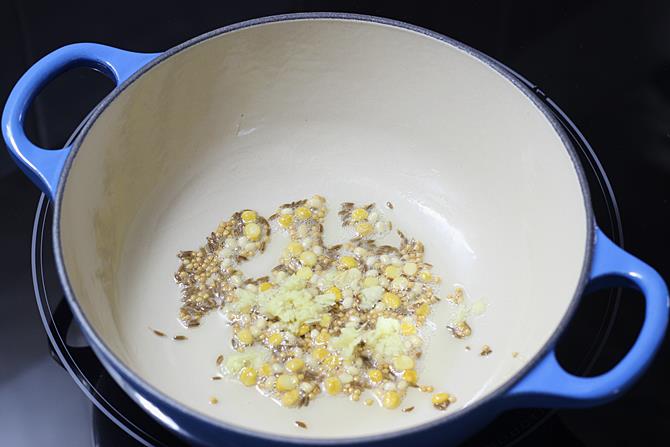 16. Add sliced onions, slit or chopped green chilies and curry leaves.
17. Saute until the onions turn lightly golden.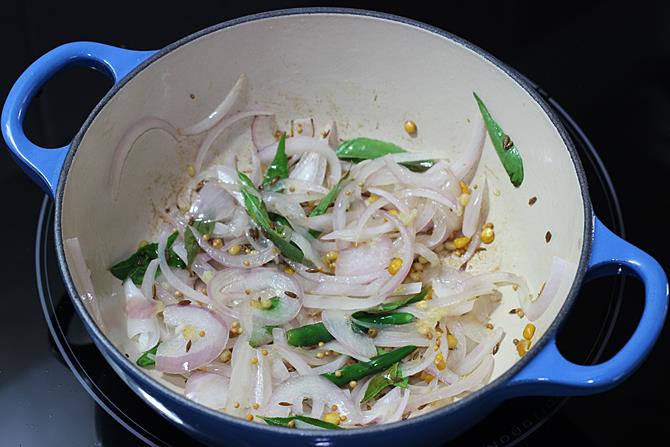 18. Crumble the potatoes and add them along with turmeric and salt.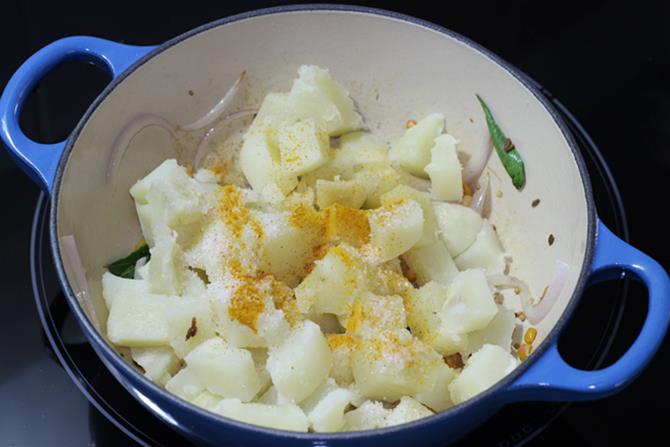 19. Add 1 to 2 tbsps of potato steamed water or fresh water. If your potatoes have turned mushy, just skip the water here.
20. Saute very well for 2 mins and add chopped coriander leaves. Set this aside. If you prefer to have a chutney as well, you can try one from this coconut chutney post. You may also like this tiffin sambar recipe.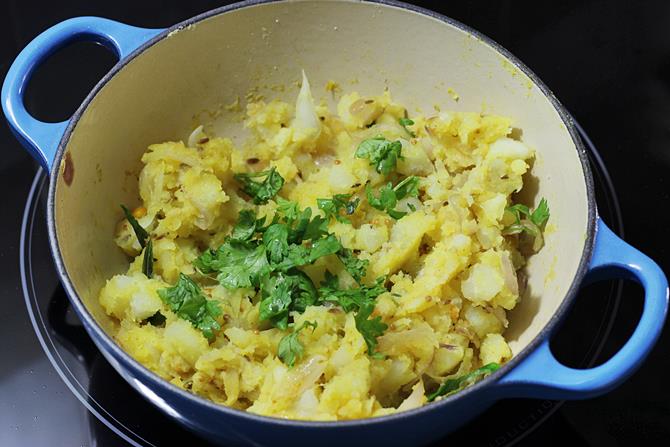 How to make masala dosa
21. Grease your tawa with few drops of oil. If using cast iron tawa, it is good to season it the previous night. I usually make the tadka for my chutney on my dosa tawa and prepare it to make dosa.
22. If needed add water to the batter to bring it to the consistency. To get brown dosas you can also try adding one tsp of powdered sugar. This doesn't work for me. Batter must be of a thick pouring consistency as you see in the picture. Heat the pan very well. Pour a ladle full of batter.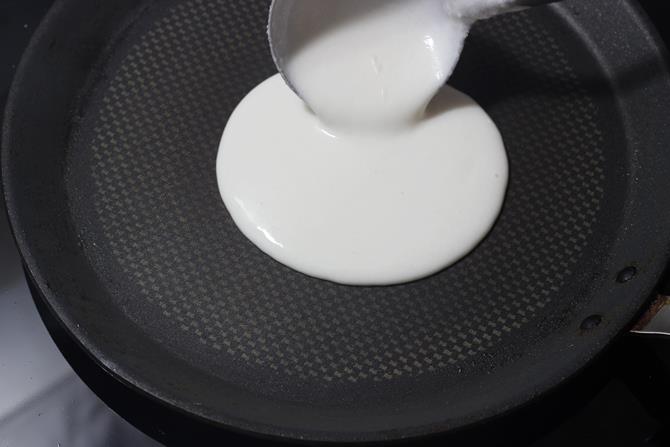 23. Immediately spread the batter. You can even make very thin dosa with this batter. Ferment it lesser and thin down the batter a bit. Add 1/4 to 1/2 tsp butter around the edges.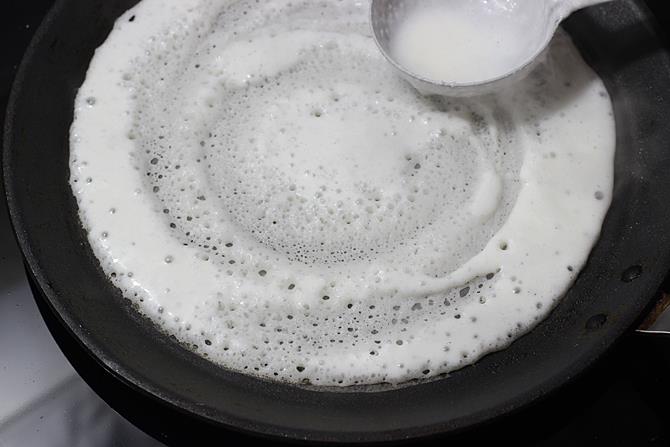 24. When it turns slightly brown and well cooked. Flip it and cook on the other side. Flip it back and cook it until the masala dosa turns light brown. You can even get dark brown dosas with this batter. Just put the flame high when it is half cooked. Place the potato masala on one half of the dosa.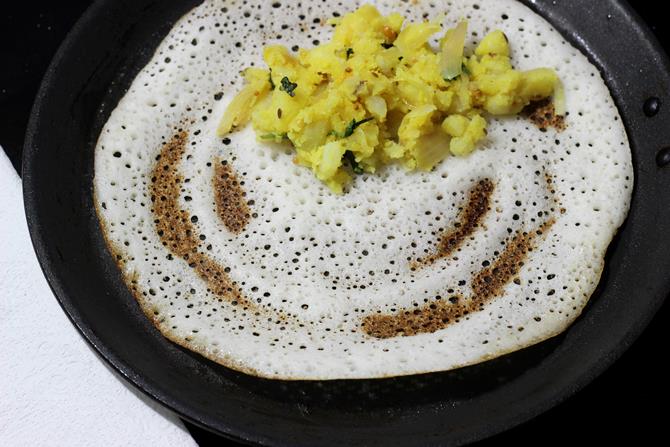 25. If making mysore masala dosa, please follow the recipe card above to make red chutney. Smear the chutney as desired and then place the potato curry. Either roll it or just fold it.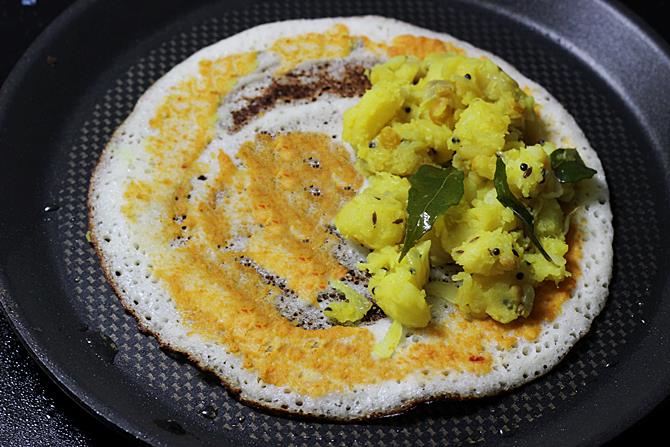 Serve masala dosa hot with chutney or sambar.