Rava dosa recipe – Learn to make perfectly crisp and thin Instant rava dosas each time. Rava dosa is a South Indian breakfast made with semolina, cumin, ginger, coriander leaves and green chilies. These aromatic crisp toasted thin crepes are immensely popular in the South Indian Tiffin centers. Rava dosa is usually served with coconut chutney, kara chutney, sagu or vegetable kurma.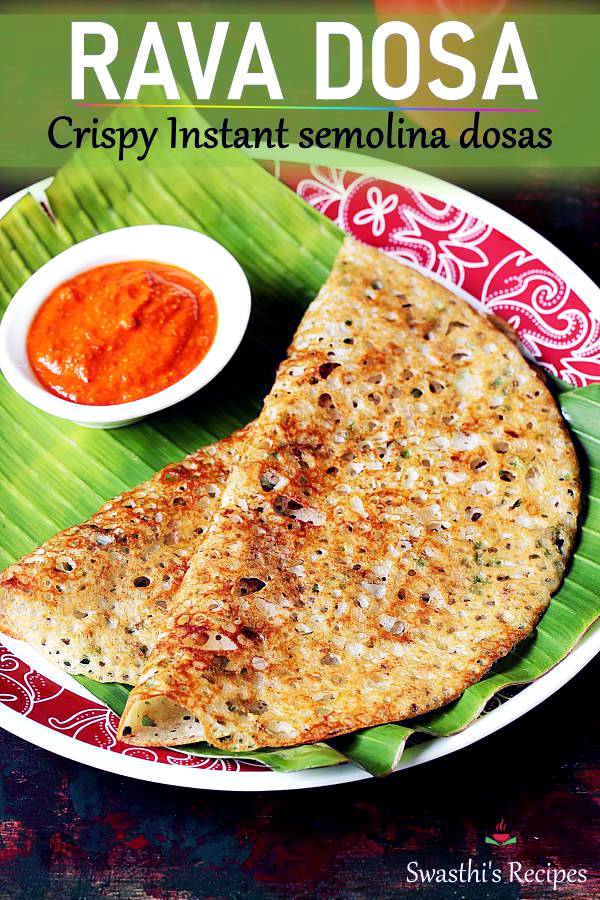 Traditionally dosas are made by soaking & blending rice and lentils to a batter. This is then fermented overnight & used. Making traditional dosas need a bit of planning, soaking and fermenting.
These instant rava dosas are a great replacement to the traditional version since these can be made instantly without having to soak, blend & ferment the batter.
In Karnataka Tiffin centers, different kinds of rava dosas are made. Plain, rava masala, onion rava masala, dry fruits rava dosa are some of those. Rava masala dosa is one of the most popular and is made by stuffing potato masala similar to the masala dosa.
A well-made rava dosa will have a crisp, thin and porous texture. Here are some tips that may be helpful.
Tips to make the best
1.Use fine rava: Make sure you use only fine semolina also known as Bombay rava. Do not try this with other kinds of rava like whole wheat rava or bansi rava. The larger grains & bran in these kinds will prevent the dosas from roasting well and may break them.
2.Consistency of batter has to be thin and of pourable. The consistency of the batter determines the texture of the rava dosa. Runny batter creates a porous texture here. You can make them anywhere from paper thin to moderately thin by adjusting the consistency of batter.
3.Using the right kind of pan is crucial here. I make these dosas on a non-stick as well on a cast iron pan. If using a cast iron or an iron pan then it has to well-seasoned with oil. You can also use sliced onion to rub the pan before making every dosa. Do not try making these on a griddle that you use for toasting roti or naan.
4.Flame & temperature: The pan has to be hot enough while you pour the batter. But it has to be cooked on a low heat to get them crisp. Do not toast them on a high heat. The dosa will brown without turning crisp.
5.Roasting : Remove the rava dosa when the edges begin to leave the pan. Do not forcibly pull it out from the pan. A well-cooked rava dosa leaves the edges from the pan on its own which is an indication that it is done.
6.Pour the batter & not spread: To make traditional dosas, the batter is spread on the tawa. But here it has to be poured over the hot pan. Pour it all over the pan instead of spreading.
Serving suggestions
Here are some sides you may want to try
Coconut chutney
Veg kurma
Tomato chutney
Potato masala
Tiffin sambar
Tricks
If you have a large family then these points may be helpful.
Making a lot of these dosas isn't easy as they take double the amount of time to cook than a regular dosa. So it is good to make them on 2 different pans (on 2 burners) at one time.
Rava dosas are very light and are not filling if you eat them with a chutney. So it is good to pair them with a simple potato masala.
If you make them very very thin or paper thin, then you may need to make a lot of them as they are not filling at all. So I make them moderately thin and not paper thin. Plan accordingly when you make the batter.
Troubleshooting
Dosa sticks to the pan: Grease the pan well. If needed rub it with a slice of onion before you pour the batter to make the dosa. Repeat this for every dosa.
Rava dosa is thick: If the batter is not thin enough then you will get thicker and dense dosas. Add more water if it is thick.
Dosa breaks if the batter is excessively runny. Add a few tsps of flour and rava proportionately.
More Breakfast Recipes
Bhatura recipe
upma recipe
Sabudana khichdi
poha recipe
Rava dosa recipe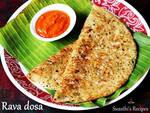 Rava dosa
Crisp & tasty Instant dosas from South Indian cuisine. These are eaten with a chutney or veg kurma.
Pin Recipe
Ingredients (1 cup = 240ml )
½

cup

rava

(fine semolina or suji)

½

cup

rice flour

¼

cup

all-purpose flour

(maida or ½ cup oats flour or whole wheat pastry flour) (refer notes)

2 to 3

tablespoons

onion

very fine chopped (optional)

1

green chilli

chopped finely

1

teaspoon

grated ginger

½

teaspoon

cumin

(jeera)

¼ to ½

teaspoon

crushed black pepper

¾

teaspoon

salt

(adjust to taste)

6

curry leaves

chopped very finely

2

tablespoons

coriander leaves

chopped very finely

2 to 2½

cups

water

(you may need more)

1

tablespoon

curd

(plain yogurt) (optional)

2 to 3

tablespoons

oil

or ghee
How to make the recipe
Preparation
Add rava, rice flour, all-purpose flour, salt, ginger, green chilies, coriander leaves, curry leaves to a bowl.

Next add cumin, crushed pepper, onions and yogurt.

Pour 2 cups water and begin to make the batter. Add more water and bring it to a runny consistency.

Taste the batter and add more salt if needed. Rest the batter for 20 mins.

If using a cast iron pan, grease it well and wipe off any excess oil.
How to make rava dosa
Heat the pan on a medium high heat. Stir the batter well.

Ensure it is very runny and is pourable. At this stage you can add more water if needed to bring to the desired consistency.

When it is hot enough, stir the batter very well and begin to pour it from the sides across the pan in a circular motion.

Then fill up the gaps if any by pouring more batter.

Reduce the flame to low. Pour 1 tsp oil across the edges and a little over the rava dosa.

When it is done cooking, it will begin to peel off the edges on its own.

If you make very very thin (paper thin dosas) then you don't need to cook on the other side.

When the rava dosa base becomes crisp & golden, remove it to a serving plate.

Optionally you can also flip and toast the dosa on the other side. And back again.
To make next rava dosa
Ensure the pan is hot again.

Stir the batter well before pouring the batter every time. If needed add more water to bring it to consistency.

It is best served hot as it turns soft when it cools down. Serve with any chutney.
NUTRITION (estimation only)
Calories:
125
kcal
|
Carbohydrates:
20
g
|
Protein:
3
g
|
Fat:
4
g
|
Saturated Fat:
1
g
|
Cholesterol:
1
mg
|
Sodium:
243
mg
|
Potassium:
49
mg
|
Fiber:
1
g
|
Sugar:
1
g
|
Vitamin A:
58
IU
|
Vitamin C:
19
mg
|
Calcium:
16
mg
|
Iron:
1
mg
Notes
I have tried this recipe with maida, oats flour & whole wheat pastry flour. To make oat flour add oats to a blender and make a slightly coarse powder and use it. I have also made this a few times with whole wheat pastry flour used in baking.
Yogurt (curd) helps the suji dosas to get a golden color and also enhance the aroma. Adding more may make them soft.
Ensure onions and chilies are very fine chopped otherwise they don't cook well.
After resting the batter, rava will absorb some amount of water. So you may need to adjust the consistency by adding more water.
If you are a beginner, you need to practice a bit to make them perfect.
If you are a beginner or new to Indian cooking, I highly suggest you to check the supporting step by step photos for best results. Step by step photos with description available below after the recipe card.
Preparation for rava dosa
1.Add semolina to a large mixing bowl. I have used non roasted rava.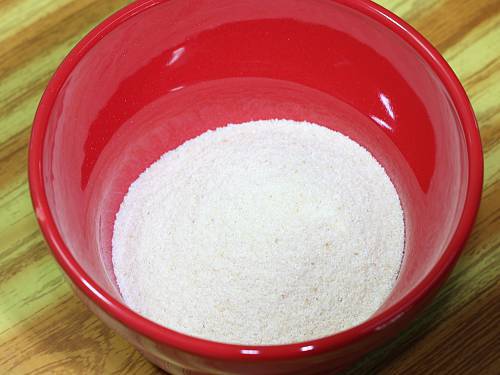 2.Add rice flour, maida, salt, cumin & crushed pepper.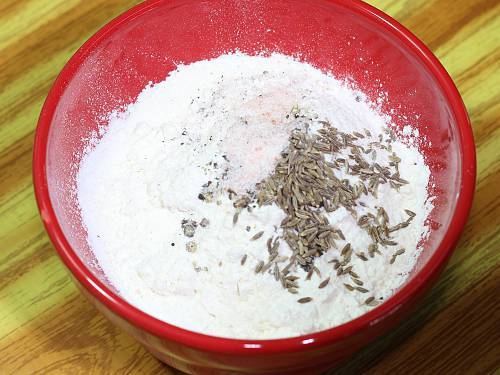 3.Add very finely chopped onions, green chilies, coriander leaves and grated ginger.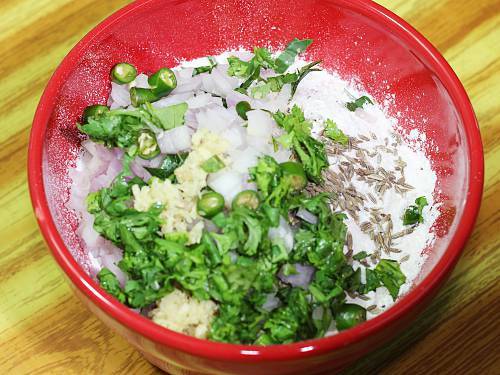 4. Add 1 tbsp curd(optional). Pour water enough to make a runny batter.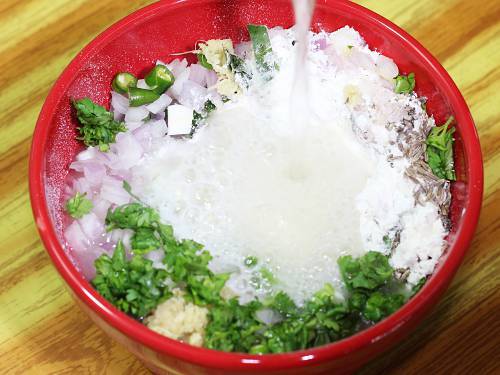 5. The batter has to be very runny and watery. Taste it and add more salt if needed. Cover and rest this for 20 mins.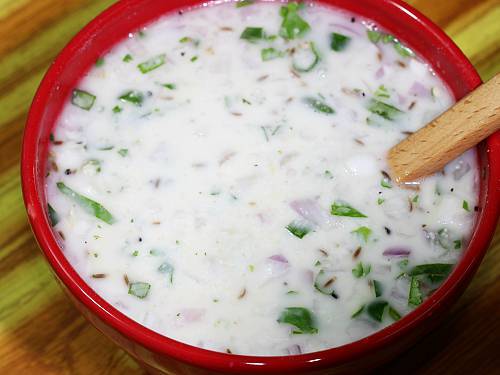 How to make rava dosa
6. Heat a non-stick pan on a medium high heat. You can also use a cast iron pan. Grease it well and heat it. At this stage recheck the consistency of the batter by stirring it. If needed add more water and mix.
7.Stir the batter very well every time before you pour it to make a rava dosa. Pour the batter beginning from one side across the pan. Next fill up the gaps in between. If your batter is very very thin you will get paper thin dosas with large holes.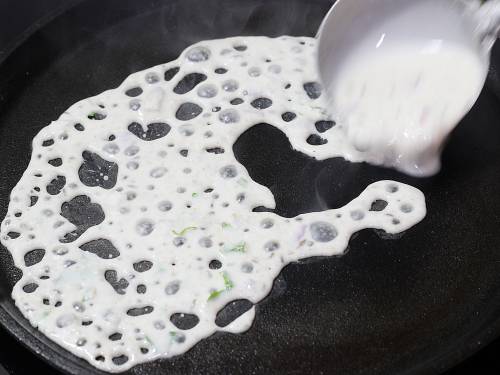 8.This was another time I made moderately thin rava dosas and not very very thin. This is how I make most of the times. Turn down the flame to low. Pour 1 tsp ghee or oil around the edges & on top.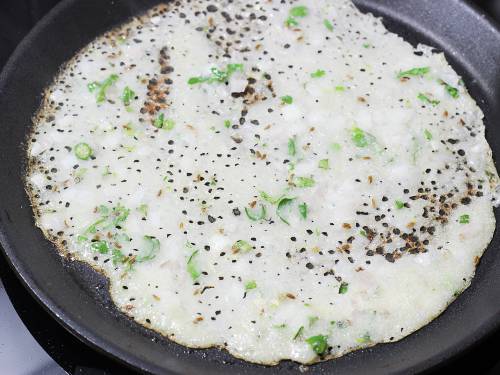 9.Let the rava dosa toast well until it begins to leave the pan. The batter will cook through well and shrink a bit. Then flip it and cook for 30 to 60 seconds.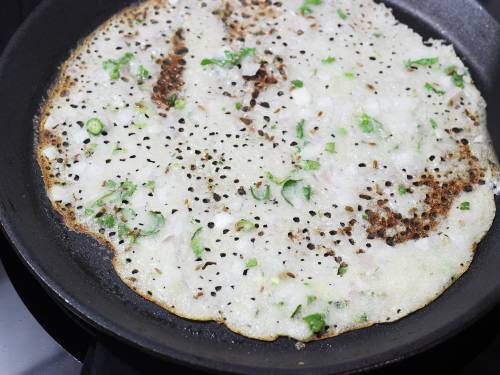 10. Lastly flip it back and toast until crisp. Fold and remove the rava dosa to a serving plate.
Before you make the next rava dosa, ensure the pan is hot enough. Then stir it well and then pour. The batter may thicken after a while. Just add more water and stir it.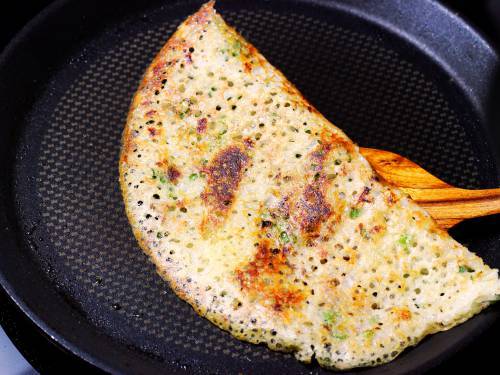 Rava dosa is best served hot with a chutney. Serve them directly from the pan. They tend to turn softer when they cool down.