Growing up in an Indian family, you're just one halwa away when it comes to festivals and celebrations. You'll find a halwa dish for every occasion. Have you wondered why? Probably because they are decadent and satisfy the sweet cravings of even the pickiest eater. Moreover, they need minimal, everyday ingredients like my ragi halwa, and are easily customized to serve a large crowd, adding to their popularity.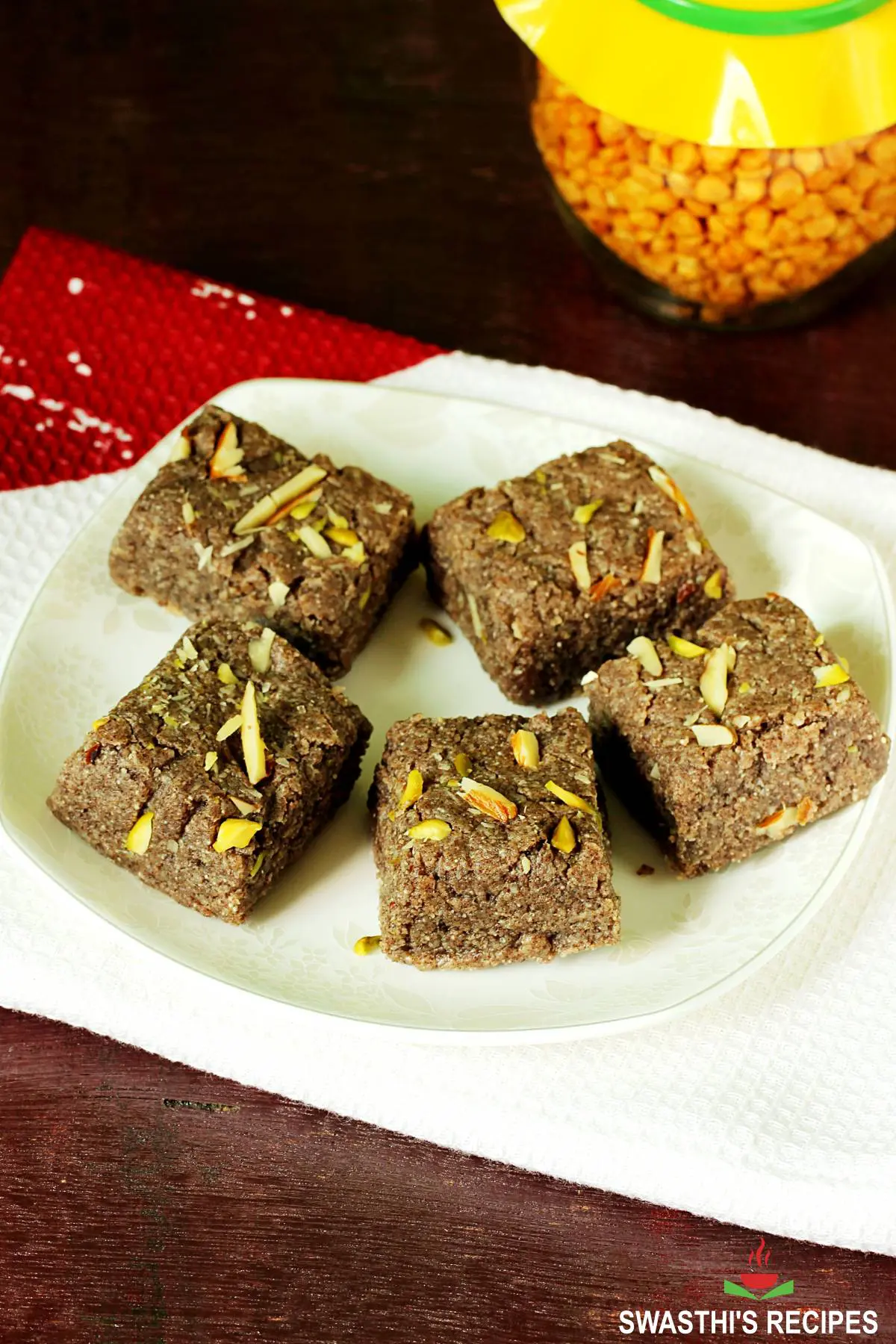 In fact, you don't need really need a holiday excuse to make and gobble up some halwa. This is a great dish to serve hungry kids as an anytime snack. You can whip up a ragi halwa when unexpected guests stop by. Barfi-style halwas sit pretty on the buffet table at get-togethers and intimate parties. Don't be surprised if people mistake it for fudgy or vegan brownies (given the color and texture)!
Want to impress friends and colleagues with your culinary skills and create a healthier dessert while at it? My ragi halwa, made with nutritious and healthy millets, is sure to become one of your favorite, bookmarked recipes.
Halwa is a dessert popular in India, middle east and many other Asian countries. Food historians believe halva originated in Persia and come to India by way of traders and travelers.
But that's where the similarities end. The West Asian halva is more like a candy or laddu thanks to the use of tahini (sesame paste), oil and sugar syrup.
What is Ragi Halwa?
Flour, semolina, sugar or jaggery, ghee and nuts blend in to create a mesmerizing halwa dish that takes you to food heaven.
There are numerous variations of halwa developed and perfected over the years by enterprising cooks. You'll find fruits, vegetables, and even lentils in these modern makeovers of the timeless dessert.
In this recipe, ragi or finger millet (red millet) form the base flour. This is a commonly used ancient grain in the southern states of India, Maharashtra and other states. This protein-rich whole grain has a good amount of essential mineral and vitamins and serves as a healthier alternate to refined flours.
About this recipe
Some of the halwa recipes that I've shared are simple enough to be attempted by newbie cooks. My ragi halwa recipe is one such unique take on halwa.
Is it different from the ones traditionally made in Karnataka and Andhra Pradesh?
Yes! There are numerous ways it is made.
Ragi flour, desiccated coconut and chiroti rawa are lightly roasted in aromatic ghee, and slow cooked with sugar and milk. To add flavor and provide a luxurious touch, you lace it with cardamom powder and garnish with finest nuts chopped or slivered.
For someone raised on a steady diet of refined flours, the nutty taste of whole grains like millet takes some getting used to. Give this sweet dish a try and you'll wish you had made it sooner.
You need
It requires some standard ingredients and comes together rather quickly.
Ragi Flour: Ragi is our main ingredient and gives this dish its flavor and identity. You can use regular ragi flour or sprouted flour. Sprouted grains contains more nutrients, but millet is healthy and wholesome by itself. Use organic flour whenever possible.
Coconut: use freshly grated or frozen desiccated coconut to add a crunchy texture, nutty flavor and sweet note to your halwa. Avoid using copra as its dry and more suited to chutneys.
Milk: Milk acts as a binder and offers moisture and fat to the halwa. It provides the smooth texture while enhancing the flavor of the dish. Use Full fat milk provides that extra creaminess and sweetness.
Ghee: Most desserts need some fat, whether you bake them or cook them on the stove top. Fats add moisture, richness and flavor to our dish.
Sugar: Sugar is another key ingredient. In addition to texture, it keeps the dessert moist and tender. Sugar also acts as a preservative and makes your sweet foods last longer. Here, I am using organic white sugar as we want to avoid pesticides in food as much as possible.
Fine Semolina/Chiroti Rawa: This adds texture and consistency to the recipe. If you have coarse or Bombay rava, grind it to a fine powder.
Sweet Spices: I am using freshly ground powder from green cardamon pods. They enrich the dish with their distinct sweet taste.
Toppings: Chopped or slivered nuts like almonds, cashews and pistachios, even hazelnuts and pecans are good options. Ghee roasted nuts add another layer of richness.
For more halwa recipes, you can check
Carrot halwa
Suji halwa
Moong dal halwa
Banana sheera
How to make ragi halwa (stepwise photos)
Keep the ingredients ready as you'll need to focus on the halwa to avoid it from burning.
1. Add ¼ cup of ghee to a pan on high heat. Reduce the heat to low and let it melt.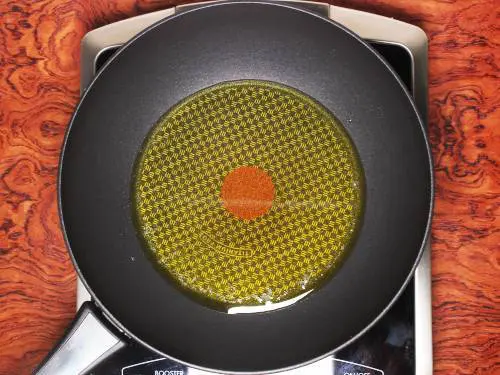 2. Add one cup of ragi flour to ghee and stir well to combine. Then add 1 to 2 tablespoon of fine semolina and ⅓ cup of freshly grated or desiccated coconut.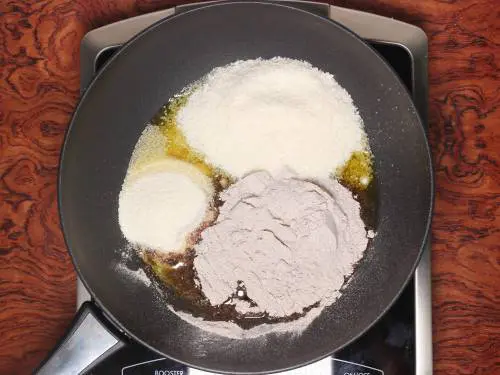 3. Mix well with a spatula to combine and prevent any lumps from forming. Roast on a medium heat until ragi flour smells aromatic. Keep stirring constantly to avoid burning.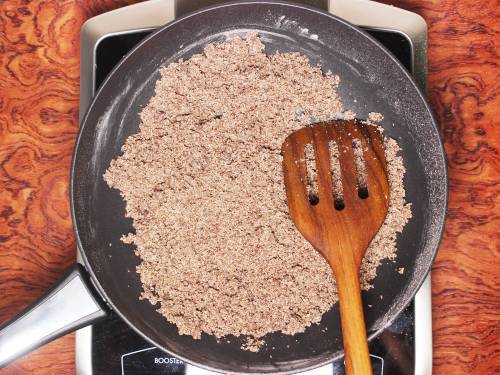 4. When the flour is well roasted, add ½ cup of organic sugar. Mix well and slowly pour 2 cups of warm or slightly hot milk to the pan.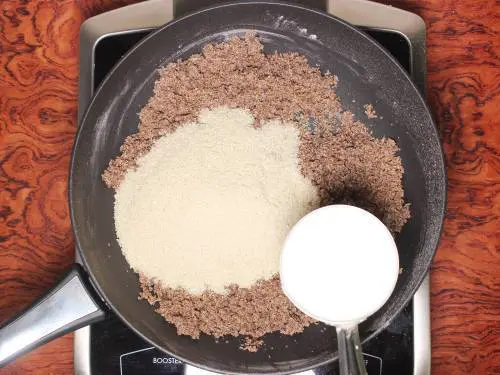 5. You can switch off the stove at this stage and keep stirring to ensure your halwa has no lumps in it and get a smooth texture. Turn on the stove at low flame and continue cooking the halwa. This is where you keep stirring for a while until the halwa gets together.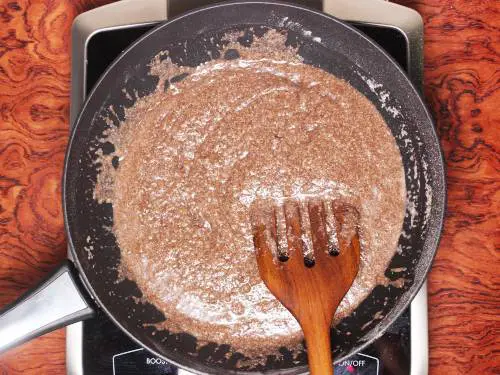 6. Add ⅓ teaspoon of cardamom powder and mix well to combine.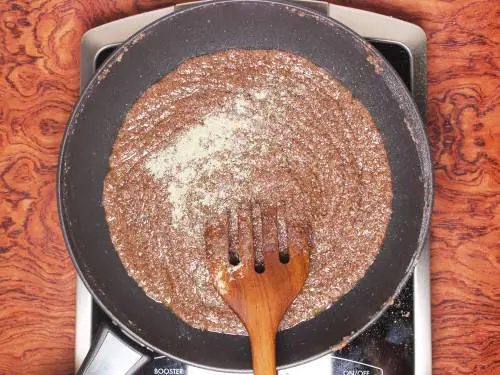 7. Keep stirring and cooking on low heat until the halwa comes together and the ghee leaves the sides of the pan. At this stage, the hawla will stop sticking to the pan and form into a mass.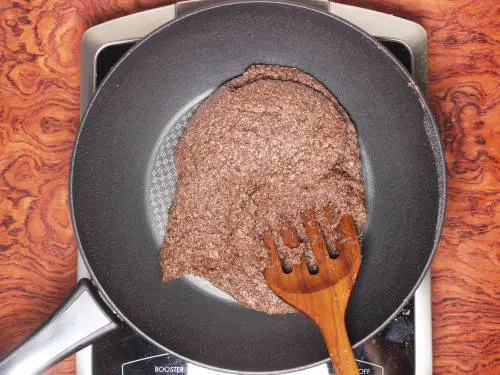 8. If the halwa looks dry, add 1-2 tablespoons of ghee and 1-2 tablespoons of sugar to provide more moisture.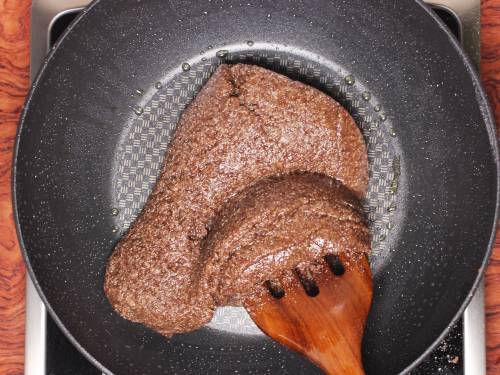 Add toppings to ragi halwa
9. Remove from flame and let it cool a bit. Serve warm for best taste. I transferred to a tray to serve it as a soft set halwa/burfi.
10. Chop 2 tablespoons of almonds, cashews, pistachios or assorted nuts. Use store-bought or oven roasted nuts for a crunchier topping. If you want to add ghee roasted nuts as topping, melt 2 tablespoons of ghee in a small frying pan. Fry the nuts for a couple of minutes until they turn golden brown. Remove and use as required.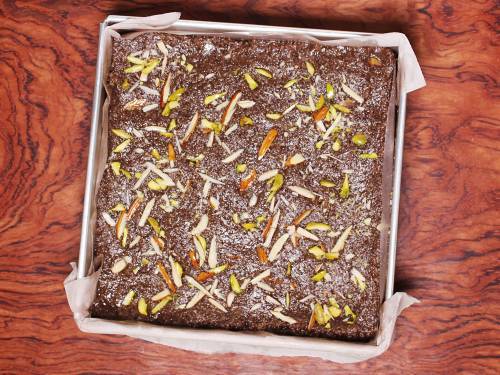 How to serve ragi halwa?
You can serve this in 2 ways. Serve it as a thick pudding or chill it in the fridge for a soft-serve burfi version. Garnish with chopped nuts. Slice the soft set burfi into square pieces before serving as an evening snack or post meal dessert.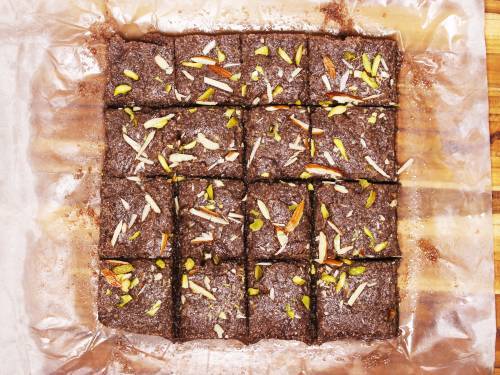 This is Ragi halwa and not burfi so it won't set completely. The pieces will be soft and moist inside.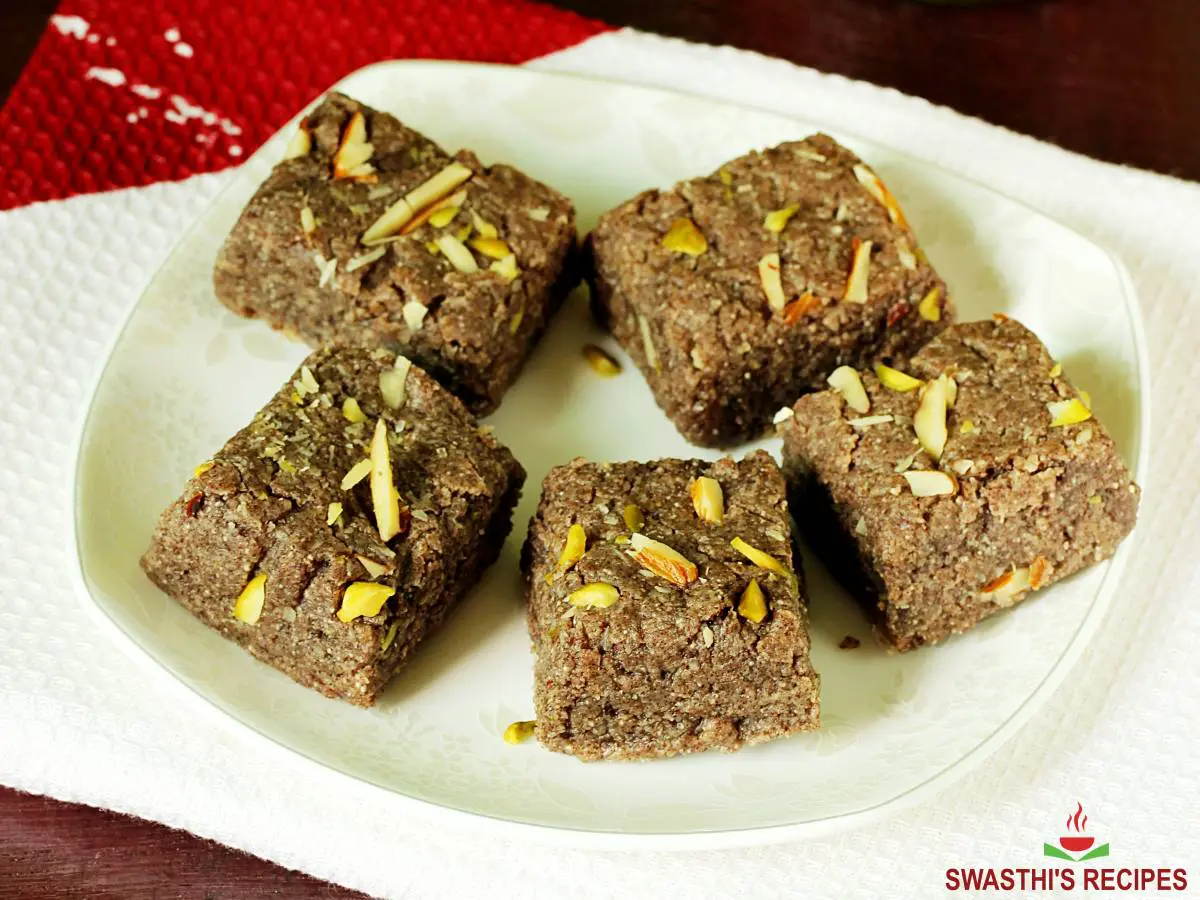 How long can I keep ragi halwa?
The halva (soft barfi) stays fresh at room temperature for 1-2 days in cool weather. Store in the fridge for up to a week, especially in summer.
Pro tips
Don't skimp on ghee as the halwa will dry out and also stick to the bottom of the pan. Don't add too much ghee either. The halwa will get moist and greasy and you may end up overcooking it.
Make sure you use fine rawa and finely ground ragi flour.
Don't reduce the amount of sugar or milk as they provide moisture and flavour to the dish.
Always cook on low flame to ensure your halwa doesn't get burnt.
Variations
You can make this dessert with brown sugar or coconut sugar. Don't add the extra milk if you're using brown sugar as it retains moisture.
For a diabetic-friendly halwa, use powdered stevia or sugar-free alternatives. Remember the texture and flavor will change with the use of alternate sugars.
Want to use condensed milk for a richer ragi halwa? Reduce the amount of sugar and milk in the recipe by half.
For a vegan ragi halwa, use oil and plant milk. Use vegan ghee if you can find it. I cannot guarantee how the modified recipe will turn out, but feel free to experiment.
Related Recipes
Recipe card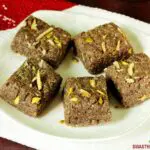 Ragi halwa
Ragi halwa is a delicious wholesome and nutritious dessert made with finger millet flour, sugar, milk and ghee.
Pin Recipe
Print Recipe
For best results follow the step-by-step photos above the recipe card
Ingredients (US cup = 240ml )
1

cup

ragi flour

/ nachni

1 to 2

tablespoons

fine semolina

(or chiroti rava)

⅓

cup

coconut

(fresh or desiccated coconut)

¼

cup

ghee

2

cups

milk

& water (any ratio or only water or thin coconut milk)

½

cup

organic sugar

(or regular sugar)

⅓

teaspoon

green cardamom powder

2

tablespoons

nuts

fine chopped
Instructions
Dry roast nuts until crunchy and set aside to cool. Later fine chop them. Heat milk until slightly hot. Keep this aside.

To a heavy bottom large pan, add ghee and heat it on a medium flame.

Add ragi flour, coconut and semolina. Mix to combine and roast on a low flame until aromatic. Keep stirring constantly to avoid burning.

You may taste test to ensure the flour doesn't taste raw any more.

Turn off the heat and add sugar and pour milk. Mix well to make sure there are no lumps.

Turn on the heat and begin to cook on a low heat until the halwa thickens.

As it cooks all of the moisture will be absorbed and the ragi halwa begins to leave the sides of the pan.

Add cardamom powder and continue to cook until the halwa comes together to a mass.

At this stage you should see some ghee releasing from the halwa. Turn off the heat.

You may serve ragi halwa warm with some fine chopped nuts. Alternately transfer to a tray lined with parchment paper. Transfer the halwa to the tray and sprinkle nuts. Press down and set it in the fridge overnight. Later remove and cut to pieces . You will get a soft set halwa and not dry burfi.

Store ragi halwa in a air tight jar and refrigerate for a week. You may reheat it in the microwave.
Alternative quantities provided in the recipe card are for 1x only, original recipe.
For best results follow my detailed step-by-step photo instructions and tips above the recipe card.
NUTRITION INFO (estimation only)
Nutrition Facts
Ragi halwa
Amount Per Serving
Calories 422
Calories from Fat 189
% Daily Value*
Fat 21g32%
Cholesterol 49mg16%
Sodium 51mg2%
Potassium 330mg9%
Carbohydrates 52g17%
Protein 7g14%
Vitamin A 167IU3%
Vitamin C 1mg1%
Calcium 263mg26%
Iron 2mg11%
* Percent Daily Values are based on a 2000 calorie diet.
Ragi halwa recipe is from the archives. First published in August 2016. Updated and republished in June 2021.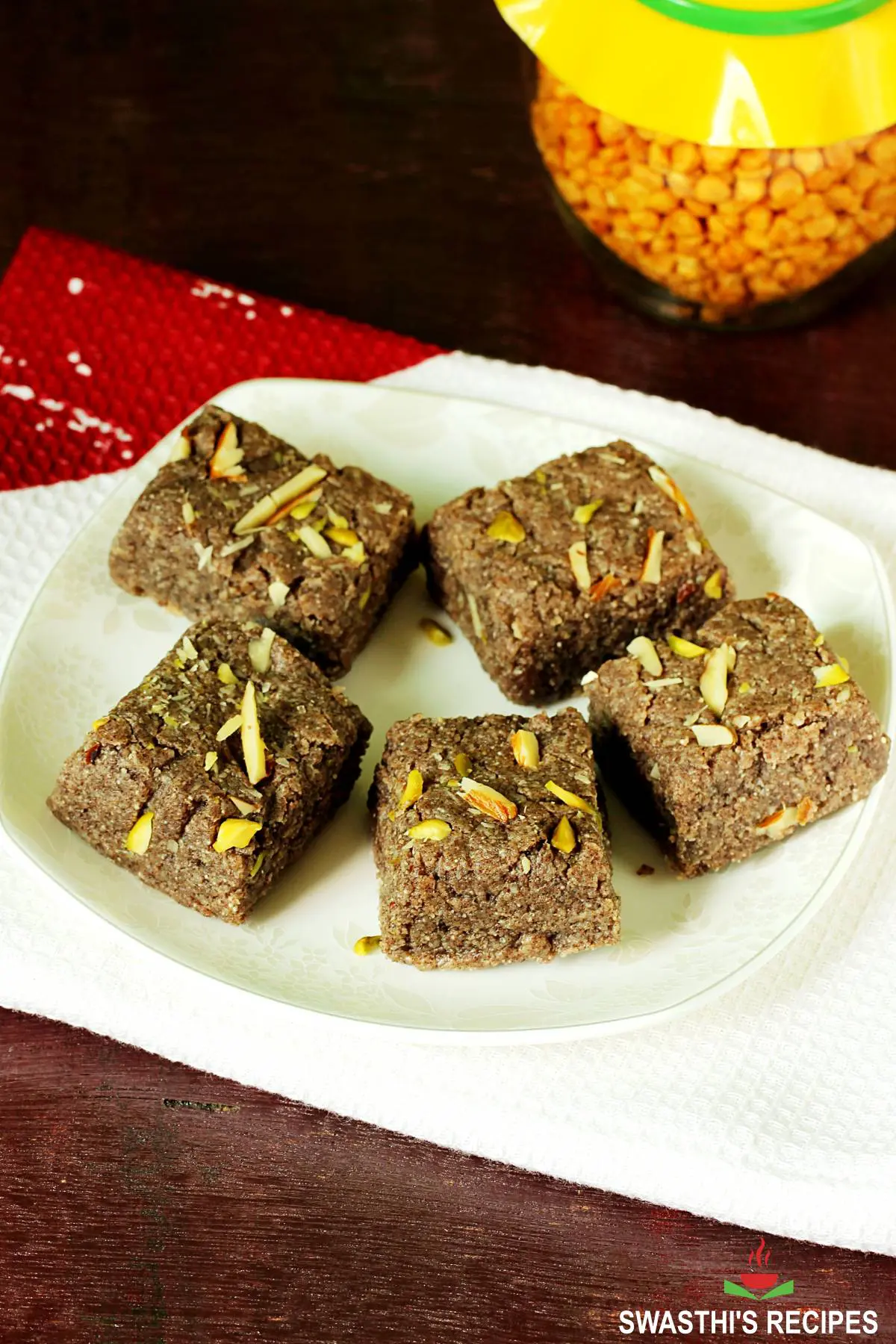 About Swasthi
I'm Swasthi Shreekanth, the recipe developer, food photographer & food writer behind Swasthi's Recipes. My aim is to help you cook great Indian food with my time-tested recipes. After 2 decades of experience in practical Indian cooking I started this blog to help people cook better & more often at home. Whether you are a novice or an experienced cook I am sure Swasthi's Recipes will assist you to enhance your cooking skills.
Follow Swasthi's Recipes