Sabudana kheer – Creamy, delicious & thick pudding made with tapioca pearls, milk, sweetener & cardamoms. Sabudana is the hindi name for tapioca pearls & kheer refers to an Indian pudding. Sabudana is often used in Indian cooking to make various dishes like porridge, kheer, khichdi & vada.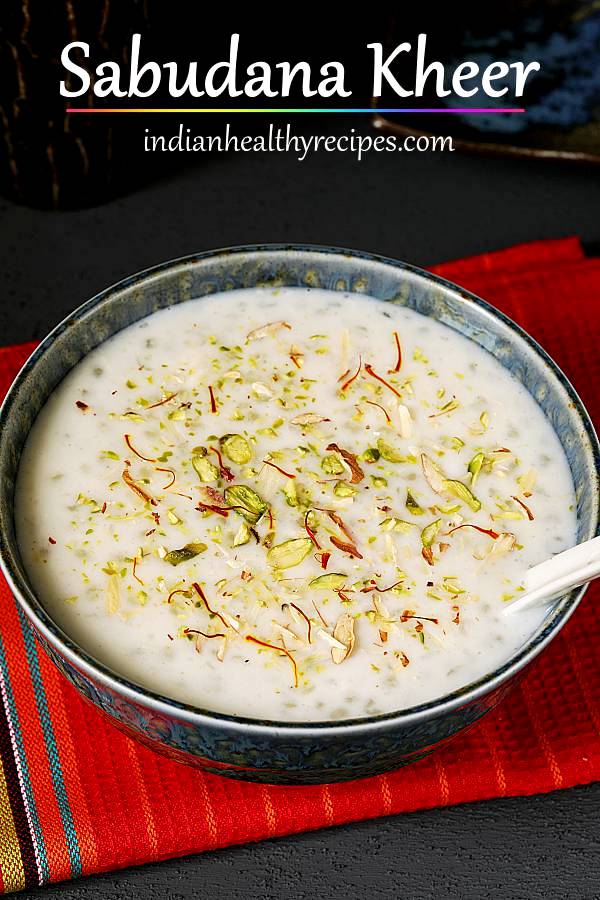 ---
Tapioca pearls or sabudana is made from tapioca root also known as cassava. These pearls are much known as sago in many languages.
In Tamil they are called as Javvarisi, in Telugu sagubiyyam, in Kannada sabakki and in Hindi, Gujarati and Marathi it is known as sabudana.
Sabudana is a processed food and is a pure starch. It has no other nutrients in it except high carbohydrates and very low protein, vitamins & minerals. Hence they are combined with nutritious ingredients and cooked.
In India sabudana is widely used as a fasting food as it gives instant energy boost. This sabudana kheer is one such dish mostly made during religious fastings.
Sabudana kheer is a great summer food. It is considered to reduce the body heat and balance the body temperature. It is also given to babies and toddlers to boost energy.
If you are looking for ideas to feed sabudana to your baby then you can check here how to feed sabudana to your baby.
This kheer can be served chilled or warm as a dessert or as a breakfast.
More Indian sweets
Carrot halwa
Lauki halwa
Moong dal halwa
How to make it
To make sabudana kheer, tapioca pearls are first rinsed well and then cooked in water until they turn transparent. Then milk is added to it. It is further simmered until the entire kheer turns thick & creamy.
Lastly it is sweetened with either sugar or jaggery. Sabudana kheer is flavored with cardamom powder & garnished with various nuts.
I use regular whole milk to cook it. However almond milk or coconut milk can also be used.
To make sabudana kheer you can use any healthy sweetener like jaggery, palm jaggery or stevia etc. If using jaggery then make sure you turn off the stove before adding it.
How to make sabudana kheer
1. Rinse sabudana very well at least twice. Then pour water and begin to cook stirring often to prevent burning. You can also soak the sabudana first in hot water for 30 mins to reduce the cook time.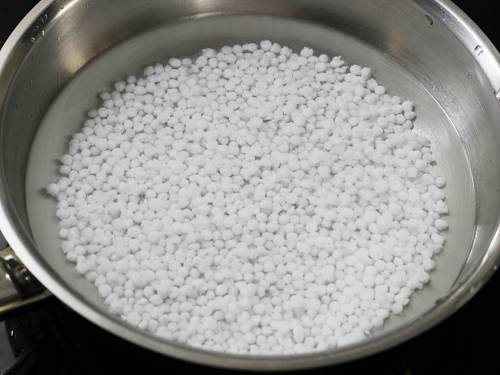 2. When the sabudana turns transparent check if they are cooked through. You can bite a few and check. They should not be hard or chewy. Pour milk and mix.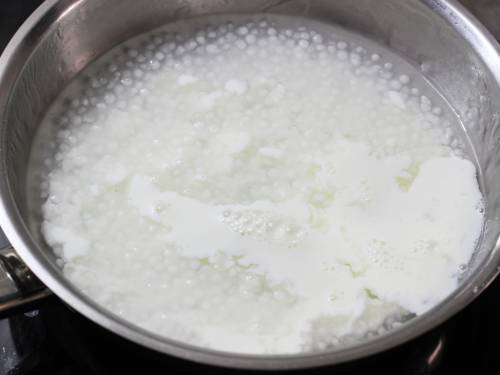 3. Continue to cook until they turn soft and light. Then add cardamom powder.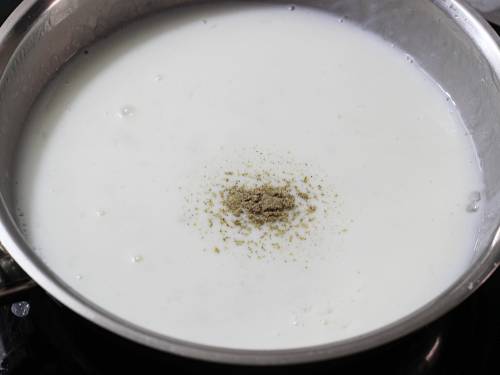 4. Add sugar. I used brown sugar. You can also add jaggery. If you add jaggery to the boiling kheer it will curdle.
So to use jaggery turn off the stove & add the jaggery. Or make a jaggery syrup following the recipe notes and cool it completely. Then add it here.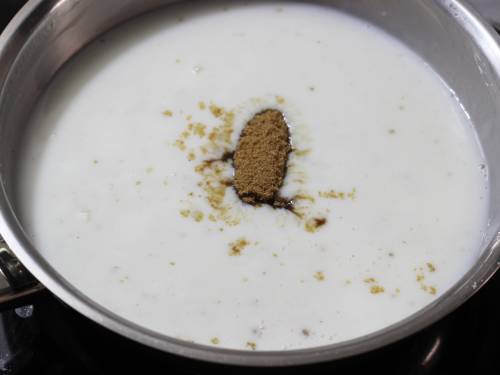 5. Boil until the kheer turns thick. It will thicken further upon cooling so turn off when it is of pouring yet thick consistency.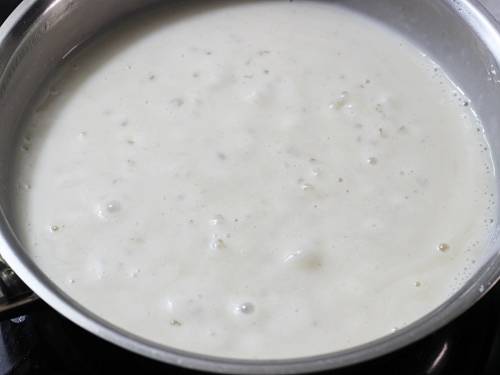 Serve sabudana kheer chilled or warm. Garnish with chopped nuts and saffron if you desire.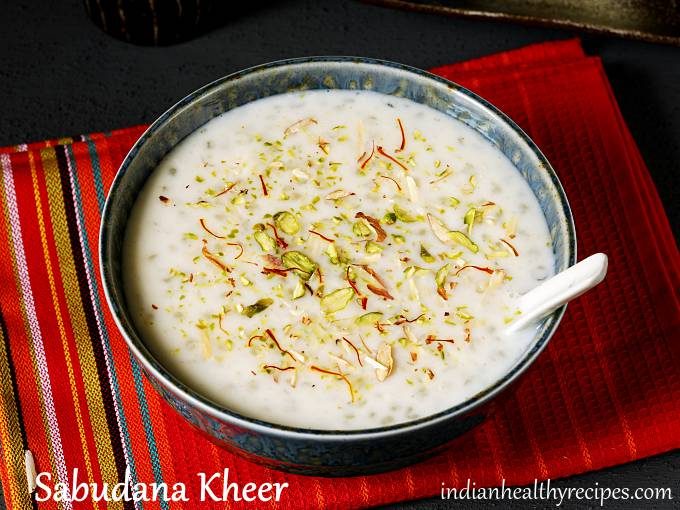 Tips to make sabudana kheer
Soaking sabudana for 30 mins in hot water will cut down the cook time.
Sabudana gets cooked faster in water than in milk so I cook them first in water until transparent then add milk.
To make this kheer more richer and delicious, blend 10 to 12 blanched almonds, 1 pinch of saffron with half cup milk until smooth. Then pour it to the kheer towards the end. Simmer just for a few minutes.
You can skip sugar completely and just add finely chopped dates to sweeten the dish. Do not cook once the dates are added as the flavor of the kheer changes.
More sabudana recipes
Sabudana khichdi
Sabudana vada
Sabudana kheer recipe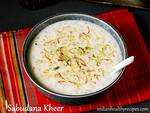 Sabudana kheer recipe | How to make sabudana kheer
Sabudana kheer is a simple, quick & cooling dessert made with tapioca pearls (sago), sugar, milk & cardamom powder. Serve it chilled or warm.
Pin Recipe
Print Recipe
For best results follow the step-by-step photos above the recipe card
Ingredients (US cup = 240ml )
Ingredients for sabudana kheer
¼

cup

sabudana

tapioca pearls (sago)

3 to 4

tablespoons

sugar

or chopped dates or jaggery (refer notes)

1

cup

water

1

cup

milk

(use more if needed)

1/8

teaspoon

cardamom powder

elaichi powder

1

tablespoon

nuts

chopped – almonds, pistas & cashews
Instructions
How to make sabudana kheer
Add sabudana to a heavy bottom pot and rinse it very well.

Pour 1 cup water and cook them until transparent stirring often.

You can also soak them for few hours to reduce the cook time.

Check the doneness by biting a few pearls. They should not be hard or chewy.

Pour milk and stir. Cook until they turn soft and light.

Add cardamom powder and sugar.

Stir and cook until the sabudana kheer turns thick to your liking.

If needed add more milk & simmer. It usually thickens upon cooling.

Serve sabudana kheer warm or chilled. Garnish with chopped nuts.

You can also fry the nuts and raisins in ghee and pour it over the kheer.
Notes
If using dates, just add them towards the end. Cooking the dates will alter the taste of the sabudana kheer. I use medjool dates as they are softer.
You can replace sugar in the recipe with jaggery following this step:
Add jaggery and little water to a small pot. Heat it till it melts and filter to remove impurities. Cook till the syrup thickens. Cool this completely. Turn off the stove when the sabudana is cooked. Then add the jaggery to the kheer otherwise the sabudana kheer will curdle.
Alternative quantities provided in the recipe card are for 1x only, original recipe.
For best results follow my detailed step-by-step photo instructions and tips above the recipe card.
NUTRITION INFO (estimation only)
Nutrition Facts
Sabudana kheer recipe | How to make sabudana kheer
Amount Per Serving
Calories 242
Calories from Fat 54
% Daily Value*
Fat 6g9%
Cholesterol 12mg4%
Sodium 59mg3%
Potassium 190mg5%
Carbohydrates 42g14%
Protein 4g8%
Vitamin A 200IU4%
Calcium 138mg14%
Iron 0.5mg3%
* Percent Daily Values are based on a 2000 calorie diet.
Sabudana kheer recipe was originally published in April 2012. Updated May 2019 with new images.
Sabudana kheer for babies
Sabudana is cooling to the body so it is ideal to feed your baby during summers. We usually feed sabudana when the baby has a tummy upset or during teething.
Avoid it if your baby is suffering from constipation. Also avoid sugar and salt until your baby is one year old.
You can also add a piece of carrot to the sabudana kheer. Just blend the carrot with water or milk until smooth. When the sabudana is cooked pour the carrot puree and cook until you get the smell of cooked carrots.
Here are the 3 different ways I have followed to make sabudana kheer for my babies. As the baby grows move to the next method.
1. Sabudana powder (for 8+ months)
Rinse sadubana well in water. Drain in a colander. Dry on a clean white cloth until completely dry.
Then dry roast it well on a low flame. Cool and make a fine powder & dry again.
Sieve if needed and store it in an air tight jar in the fridge.
Use a teaspoon of this for every ¾ cup water. Cook until it turns slightly thick. Cool and feed. You can also add milk.
2. Sabudana kheer puree (for 8+ months)
The second method is to cook the sabudana kheer following the above method and then puree it in a blender.
3. Almond milk sabudana kheer (above 1 year)
1.5 tbsp. small sago (sabudana/ saggubiyyam)
4 to 6 Soaked Almonds (optional)
45 ml Milk (optional, can use water instead)
1 pinch Cardamom powder
1 tbsp. organic Jaggery or sugar
130 ml Water
To make sabudana kheer for babies, wash sago and cook in water till they turn transparent.
Grind the almonds with milk and cardamom.
Pour the almond mixture in the cooked sago and cook it further till soft.
Add jaggery and mix well. Switch off the flame. Do not cook after adding jaggery. Serve warm. If your baby cannot eat soft sago, then blend it to a puree in a blender when it cools down.