Rogan Josh Recipe (Lamb Rogan Josh)
Rogan Josh, a classic comfort food from the Kashmiri Cuisine is a slow cooked dish made with lamb, spices, herbs and yogurt. You will seriously be hooked to this beautiful Kashmiri Rogan Josh and will turn back to time & again for a spectacular feast. Serve it with plain steamed rice, Chapati, roti, Butter naan, Sheermal, plain basmati rice or Turmeric rice. This recipe will give you soft, tender and juicy lamb with fall-off-the-bone tender meat in an extremely delicious sauce.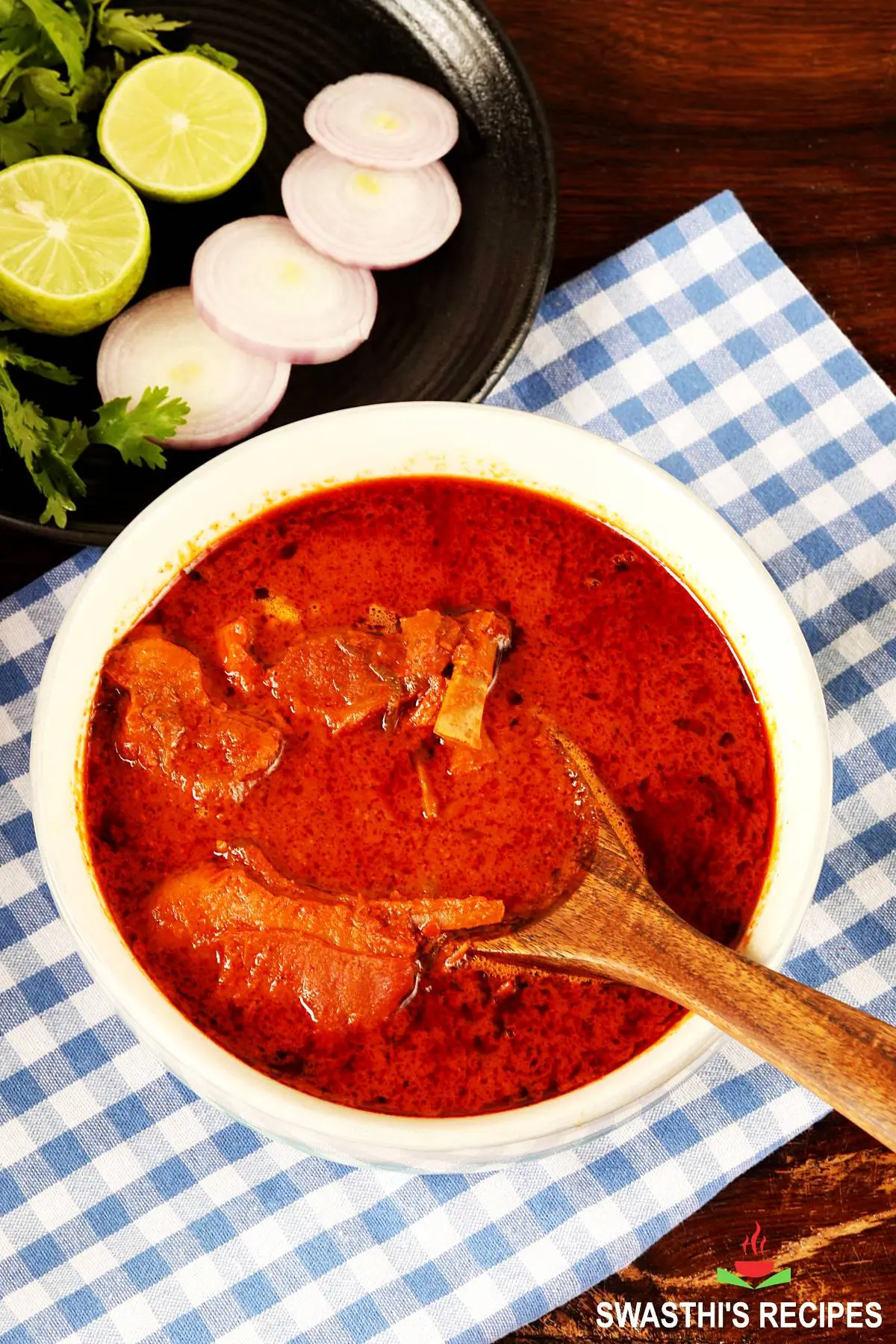 About Rogan Josh
Absolutely phenomenal in taste and texture, Rogan josh, the deep red spicy meat curry, is the signature dish of Kashmir and is an integral part of the lavish Kashmiri food spread, Wazwaan. In fact, this multi-course meal is one which you should be tasting at least once in your life since the dishes are so lip-smacking and delicious.
There are various interpretations of the name which I learnt. Rogan, pronounced as "roughan" means "oil or ghee" in Persian, while in Urdu, it may mean "brown or red". On the other hand, "Josh" (jus) refers "to braise" or "stew". Other meaning may be the intense heat. So Rogan josh may mean one that is "stewed or braised in ghee".
Traditionally, Rogan josh was prepared by slow-cooking meat over a low heat for several hours. In the recent times, a pressure cooker is used for cooking the meat quickly.
But nothing can beat the slow cooked rogan josh. When the meat is simmered, it lends the dish a deep and substantial flavor that is also unique. Slow cooking seeps the marrow from the bones into the gravy making it thicker and delicious.
The thickness you taste and see in an authentic rogan josh comes from the bone marror, red chili paste, fennel powder, ginger powder and yogurt but not from onions, garlic and tomatoes. Some recipes do not even use yogurt and instead use pran (wild shallot paste).
More Similar Recipes
Lamb Curry
Lamb Vindaloo
Lamb Korma
Mutton Curry
Mutton Biryani
Traditional Vs Modernized version
Rogan josh gets its characteristic red color from the Kashmiri Red chilies and again not from tomatoes. Also the usage of ratan jot, an herb from the borage family enhances the deep color. Alternately a lot of people also use Cockscomb flower known as maval locally, for the the red color.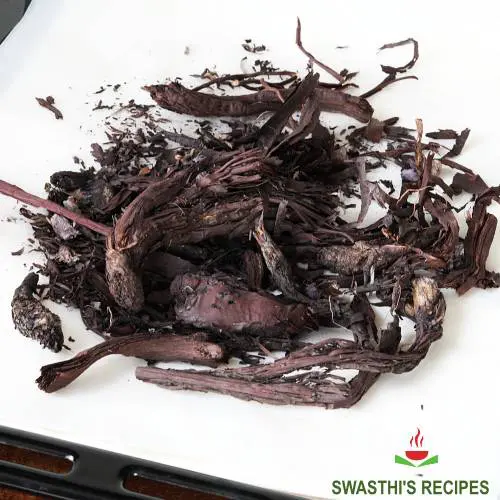 You will also find many households and restaurants making this without both ratan jot or cockscomb flower since both these do not make much difference to the flavor of rogan josh. A lot of restaurants use food color but I suggest simply to leave out these ingredients if they are not available.
There are numerous versions of this popular dish on the internet. Some use tomatoes for more volume, but this alters the original authentic taste considerably. Similarly, fresh ginger and garlic are not used in the original one. Instead, asafetida is added to get the flavor base of onion and garlic.
The usage of onions, tomatoes, ginger and garlic makes it a regular Mutton curry and not ROGAN JOSH.
Two methods
Rogan josh is prepared in 2 methods – Hindu Pandit method and the Kashmiri Muslim method. As such a lot of Kashmiri recipes vary depending on the community and region.
In the Hindu Pandit method, yogurt is used and involves searing and braising the meat, which isn't included in the other method. Onion, fresh ginger, and garlic are avoided. Likewise, Ghee is used in this method.
In the Muslim version, a unique flavor enhancer known as pran or praan is used. It is made by deep frying wild onion or shallots until golden. These are later ground in a mortar pestle along with the oil in which they are fried. The resulting paste is a light and super flavorful ingredient that takes the dish to a new level.
Apart from these 2, a lot of households and chefs have their own recipes to make the dish. Some people use mustard oil instead of ghee and some use garlic.
My Rogan Josh Recipe
My Recipe is super simple and uses pantry staples. You will be surprised at how delicious this turns out with minimal ingredients. Though easy to make, it is not a fast recipe and as you know slow cooking mutton is what makes this dish so good.
Whether you are making a weeknight family dinner or in need of something amazing that will satisfy a crowd, this is an excellent aromatic dish that tastes close to the authentic version. This incredibly delicious fare packs a serious flavor punch from the ground spices like ginger, fennel and red chili.
This dish is made with mutton – goat or lamb. You may use your favorite meat including chicken but you won't require so much liquid and red chilli powder.
Traditionally this dish is made with Kashmiri chili paste which adds volume and red color to the dish without making it too hot and pungent. For convenience I have used Kashmiri red chili powder. All the ingredients used in this recipe will be available easily in an Indian grocery stores.
Since we do not eat very spicy and hot foods I have used only 1 tablespoon red chilli powder. I have used ratan jot as it is easily available. Feel free to skip it. Here is how to use it.
How to use Ratan Jot
Ratan Jot or Alkanet root – The root of this plant was extensively used in traditional Indian cooking for its color. What's more, it even imparts a mild flavor. This ingredient is optional and you may skip it. It is available online easily and here is how to use it if you are able to source it.
Heat two tablespoons of ghee or oil in a saucepan along with a few pieces of the ratan jot. Keep stirring for 1 to 2 mins until ratan jot is soaked up in ghee. I had to add more ghee and more herb.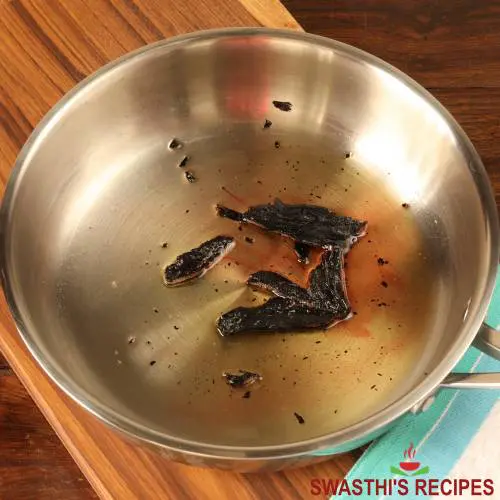 Once the ghee becomes red, reduce the heat and let it simmer for 2 to 3 mins. Turn off the heat and allow the herb to steep until you need. Keep the pan in a slightly hot place so the ghee does not solidify. Follow the recipe to incorporate it in the recipe.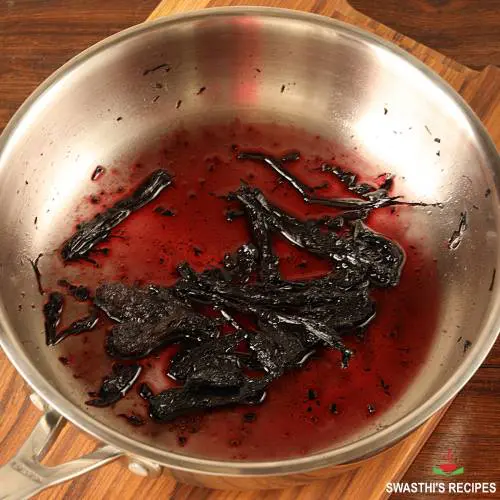 Dried Cockscomb Flower – Instead of Ratan Jot, you can use dried cockscomb flower also. Soak them in warm water for 20 minutes. Strain and use it. It gives the dish a distinctive taste (very mild) and color to the dish.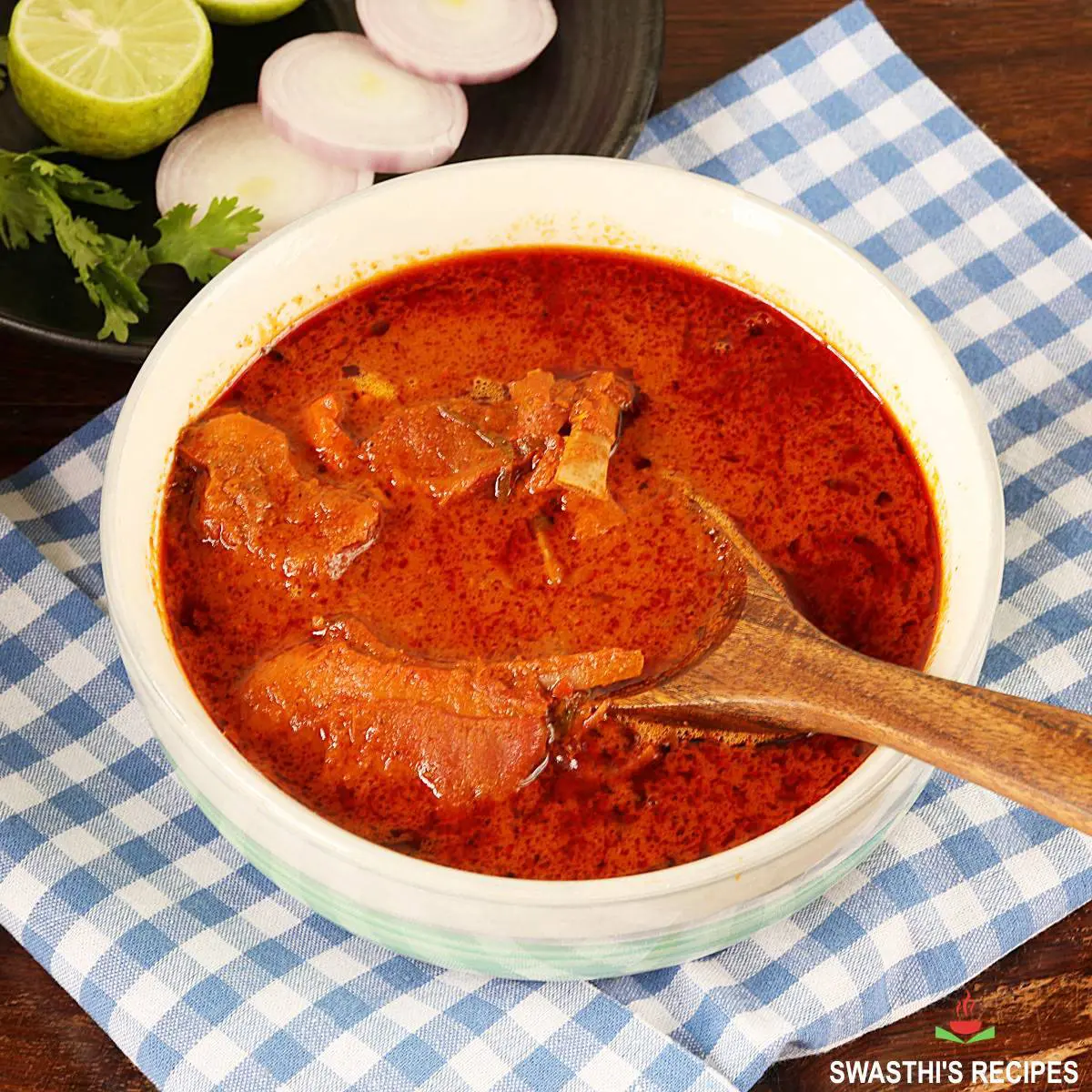 Related Recipes
Recipe Card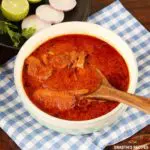 Rogan Josh Recipe (Lamb Rogan Josh)
This Kashmiri Rogan josh gets as authentic as it can and tastes super delicious with succulent pieces of lamb in a super flavorsome gravy.
Print Recipe
Pin Recipe
Jump to Comments
For best results follow the step-by-step photos above the recipe card
Ingredients (US cup = 240ml )
1.1 lbs. (500 grams)

bone-in mutton

(tender lamb)

2 to 3

tablespoons

ghee

or mustard oil (refer notes)

¼

teaspoon

asafoetida

(hing, skip if you don't have)

½

cup

curd

(yogurt at room temperature, preferably fresh and not sour)

¾

teaspoon

salt

(adjust to taste)

1 to 1½

tablespoon

Kashmiri red chili powder

(or 2 tbsps. Kashmiri red chili paste)

1

cup

hot water

(or mutton stock)
Spices (refer notes)
1

bay leaf

(skip if you don't have)

3 to 4

cloves

(or ¼ teaspoon ground cloves)

1

inch

cinnamon

(or ¼ teaspoon ground cinnamon)

3

green cardamoms

(or ⅓ teaspoon ground cardamoms)

1

black cardamom

(skip if you don't have)

1½

teaspoon

fennel seeds powder

¾

teaspoon

dried ginger powder

(or substitute 1 teaspoon ginger paste)
Instructions
How to Make Rogan Josh
Heat oil or ghee in a heavy bottom pot and add bay leaf, green cardamoms, cinnamon, cloves and black cardamoms. (If you opt for the ground spices, add them later.)

When the spices begin to sizzle in oil, add mutton and sear it for 1 to 2 minute on a high heat.

Reduce the heat to medium and fry for another 4 to 5 minutes until the meat is slightly brown.

While you fry the meat, add yogurt to a mixing bowl. Also add ground spices – red chilli powder, fennel powder, dried ginger powder and salt.

Whisk all of them well. If your yogurt is too thick (like Greek yogurt), add 3 to 4 tablespoons of water or stock and whisk it well until smooth.

Once the meat is light brown in color, add hing to the oil. Take the pot off the stove and slowly stir in the spice and yogurt mixture.

Mix well and place the pot back on the stove. Cook covered for 3 to 4 minutes on a medium heat.

Pour 1 cup hot water or stock. Cook covered on a low heat until tender, adding more hot water if required.

Stir rogan josh every 7 to 8 minutes. When it is done, the mutton pieces should be soft, tender and fall off the bone.

The cook time depends on the kind of pot, source of heat and the intensity of heat. Do not forget to add more hot water (if required) as you cook.

The gravy in Rogan josh is neither runny nor too thick but is slightly thick as the some of the bone marrow seeps into the liquids. This results can be achieved only by slow cooking the dish.

Taste test and add more salt if required. Turn off the heat and rest for few hours before serving. This helps to develop the flavors.

Serve rogan josh with Butter Naan, Basmati Rice, Paratha or Roti. It is best served with plain rice.
Notes
If using mustard oil, first heat it until smoking hot. Reduce the heat and then begin to cook.
My spice combination makes this recipe the best. However if you do not have whole spices, then use garam masala plus fennel powder and fresh ginger paste.
If using fresh ginger paste, add it when the mutton is light brown. Slide the mutton to a side and add the ginger paste to ghee/oil. Fry quickly until aromatic without burning.
To use pran, skip using yogurt and use 4 to 5 tbsps of pran paste along with the ground spices. After searing the mutton, pour hot water or stock and cook until 50% done (half cooked). Then add all the ground spices and the pran paste.
If using store bought bottled pran, make sure it is fresh and does not smell rancid. Pran stored in glass containers and made with ghee keeps good for longer.
Alternative quantities provided in the recipe card are for 1x only, original recipe.
For best results follow my detailed step-by-step photo instructions and tips above the recipe card.
NUTRITION INFO (estimation only)
Nutrition Facts
Rogan Josh Recipe (Lamb Rogan Josh)
Amount Per Serving
Calories 604
Calories from Fat 450
% Daily Value*
Fat 50g77%
Cholesterol 149mg50%
Sodium 773mg34%
Potassium 551mg16%
Carbohydrates 6g2%
Protein 32g64%
Vitamin A 1206IU24%
Vitamin C 1mg1%
Calcium 102mg10%
Iron 4mg22%
* Percent Daily Values are based on a 2000 calorie diet.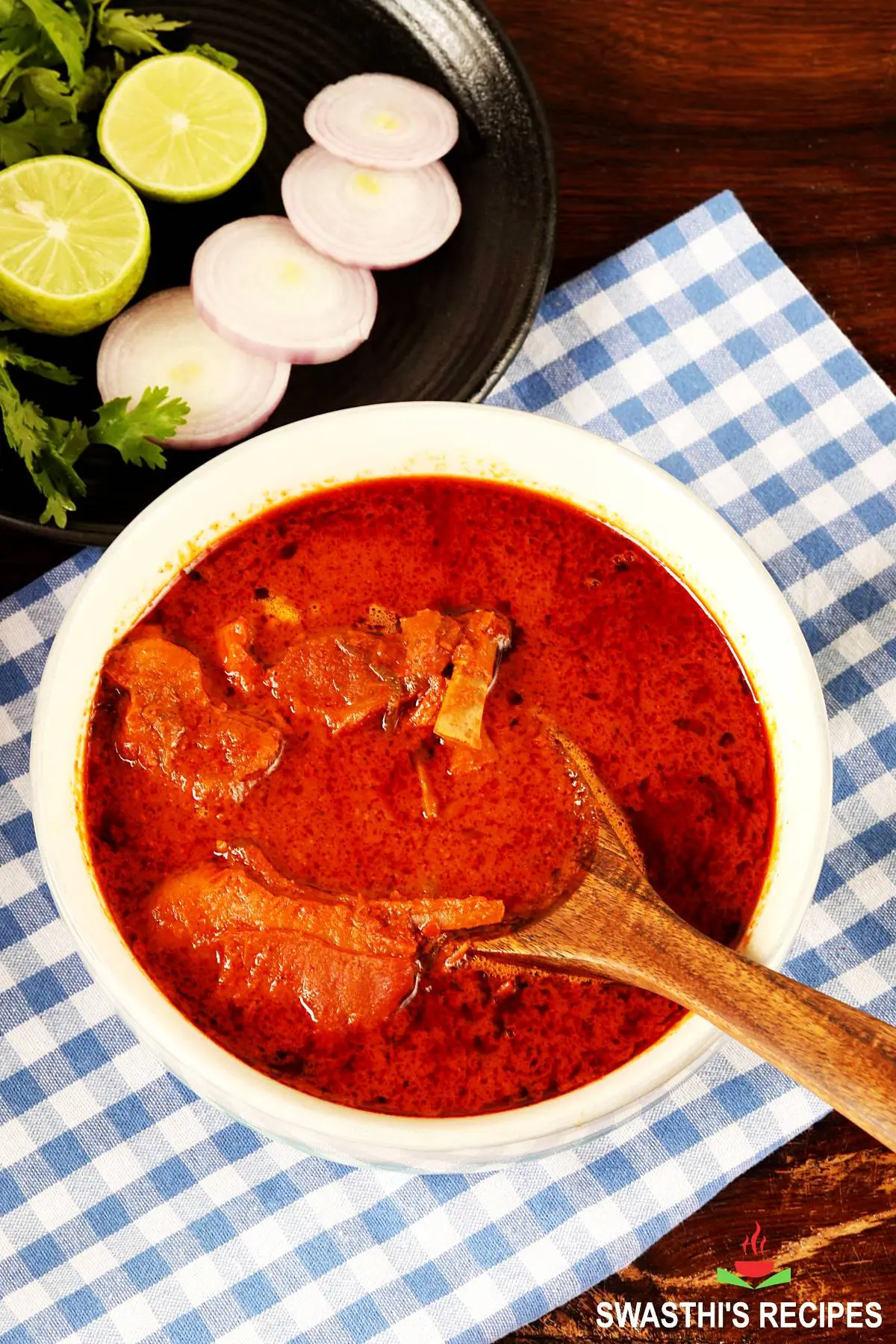 About Swasthi
I'm Swasthi Shreekanth, the recipe developer, food photographer & food writer behind Swasthi's Recipes. My aim is to help you cook great Indian food with my time-tested recipes. After 2 decades of experience in practical Indian cooking I started this blog to help people cook better & more often at home. Whether you are a novice or an experienced cook I am sure Swasthi's Recipes will assist you to enhance your cooking skills. More about me
Follow Swasthi's Recipes