Vada recipes – Vada is a crispy deep fried Snack from Indian cuisine usually made of lentils, whole grains, millets or flour. Vadai, vade, wada, vadalu are some of the other regional names to this traditional snack. These are made either round and flat or round ball shaped. Additional flavoring ingredients like spices are added to the batter. Most of these are made for breakfast or snack and served with Chutney.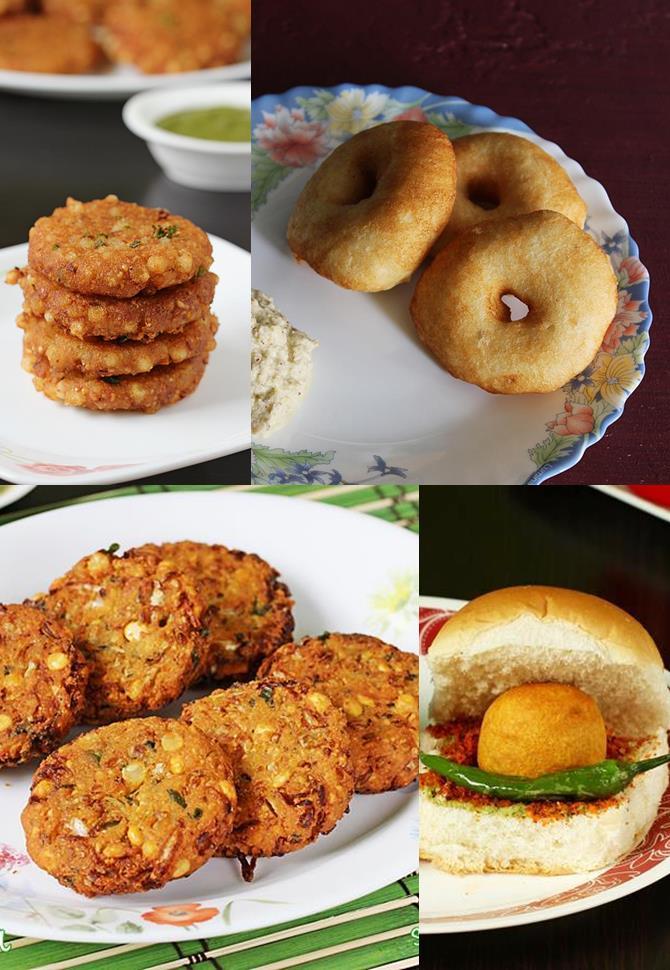 In this post I have compiled the 10 best vada recipes from this blog. These can be made easily for festivals or weekends. In many South Indian homes, these are made to offer to the Hindu Gods during festivals.
Similar recipe collections you may like
20 Dosa recipes
17 Pakora recipes
32 Ladoo recipes
60 Diwali snacks recipes
Vada recipes
Medu vada is one of the popular breakfast from South India. These crisp fried vadai are made with soaked black gram known as urad dal. Traditionally soaked dal was ground in a large mortar stone pestle which makes the batter fluffy and light. However in the modern days the lentils are ground using a wet grinder or a mixer grinder. These are also offered to Goddess Lakshmi and Durga as an offering during festivals and puja. One can find these on the menus of South Indian Tiffin centers and restaurants. These are served with tiffin Sambar and chutney.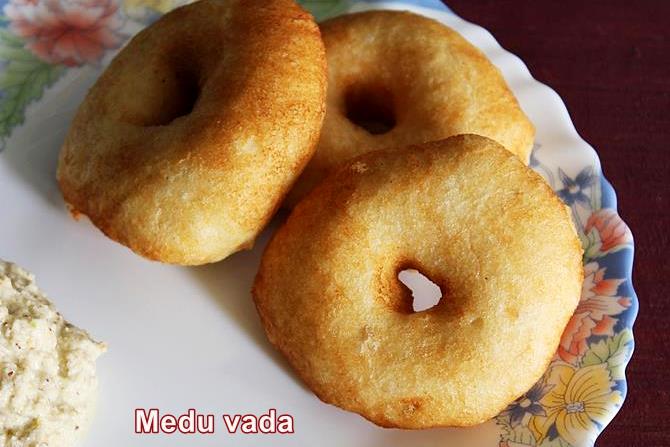 Dahi vada are from North Indian cuisine and is a popular street food across India. These vada are round ball shaped and made with urad dal. These are fried dumplings soaked in thick whisked yogurt and topped with a generous amount of sweet chutney and green chutney. Sweet chutney is made with tamarind and jaggery. The green chutney is made with coriander and mint leaves.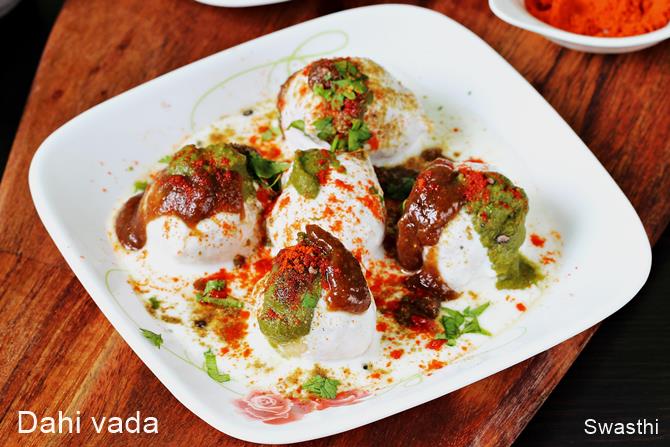 Sabudana vada are another popular fried food made with tapioca pearls. Though these can be made without potato, the most common version eaten during the religious fasting has potato and peanuts to balance the nutrition. Like any other snacks these have a crisp exterior with a soft texture in the center.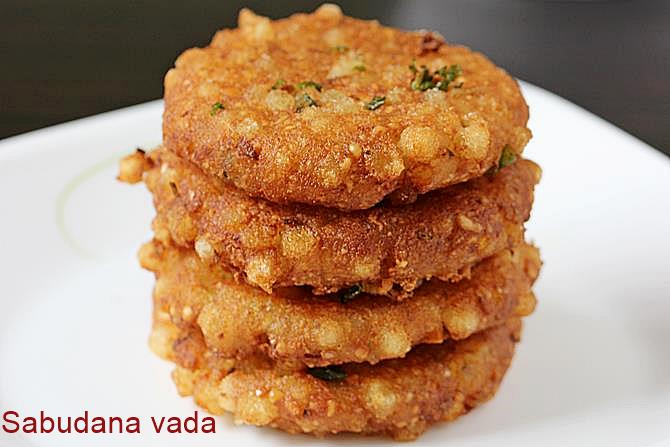 Batata vada are spiced potato balls dunked in chickpea flour batter and deep fried. These are similar to Aloo bonda and are a popular snack and street food. These are either enjoyed with a chutney or sandwiched in a pav with some green and sweet chutney smeared.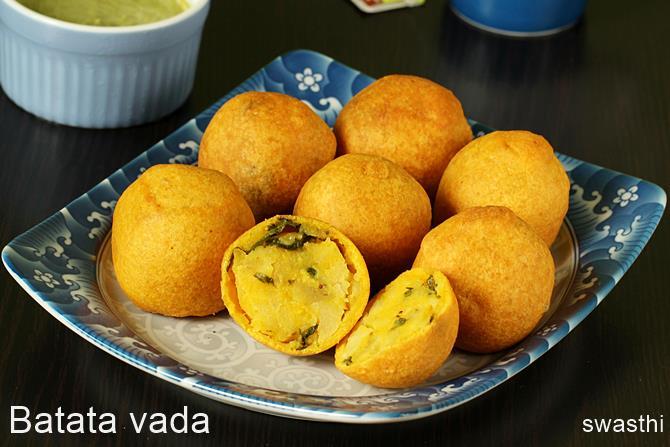 Masala vada is from South Indian cuisine and has quite few different versions based on the region. These are popular in almost all South Indian states & are sold as a street snack along with pakoda. These are made with bengal gram / chana dal, few dry spices / masala and ginger garlic paste. Hence the name masala vadai.
Mixed dal vada is a home style snack made with mixed lentils. A family recipe which we make when we have guests home or during weekends or festivals. These are made using moong dal, urad dal and chana dal.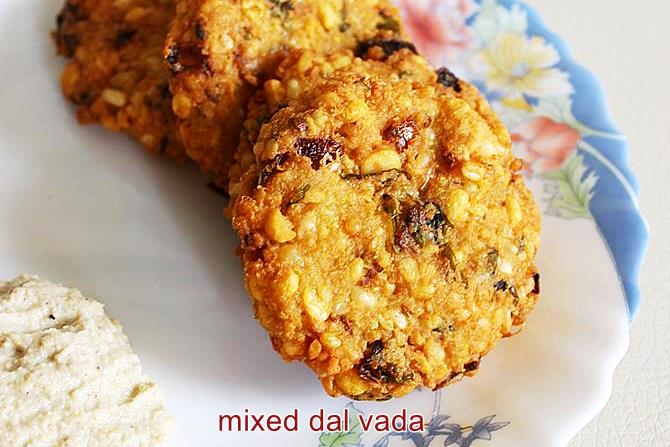 Cabbage vada made using fresh cabbage and soaked lentils. These crisp fried snacks turn out very aromatic due to the addition of cabbage and spice powders. These can be had with a cup of tea and needs no chutney.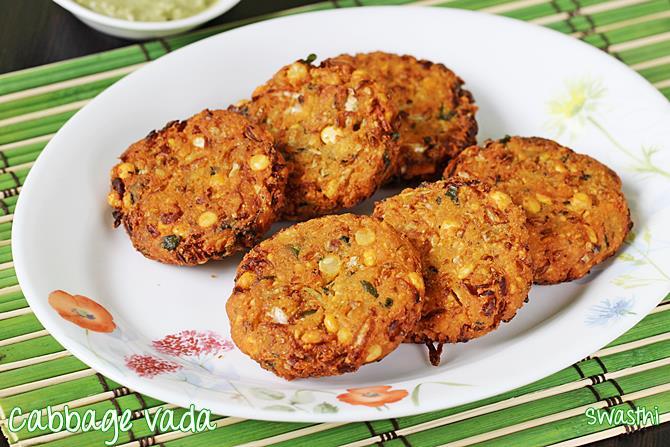 Bread vada can be made when you have some left over bread and wish to make some hot snack. These are made without lentils, just using some veggies and bread slices. These are good to serve as a tea time snack with some chutney or tea.
Tirupati vada are offered as prasadam in Shri Balaji temple, Tirupati. These are made with black gram and are very unique in taste and flavor. This is a traditional recipe and was made for people recovering from sickness as a high protein food. These are fried in ghee but alternately can be fried in oil as well. These can be made as offering to deities during festivals or religious ceremonies.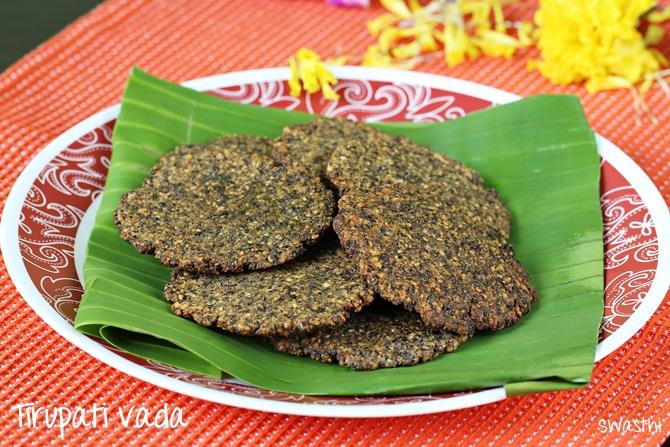 Vada pav is another popular street food from Mumbai. This post shares how to make vada pav along with Batata vada, dry garlic chutney powder and green chutney. These are great to make for a evening snack or for kids' parties. If making for parties, for convenience all the chutney preparations can be done the previous day and refrigerated.