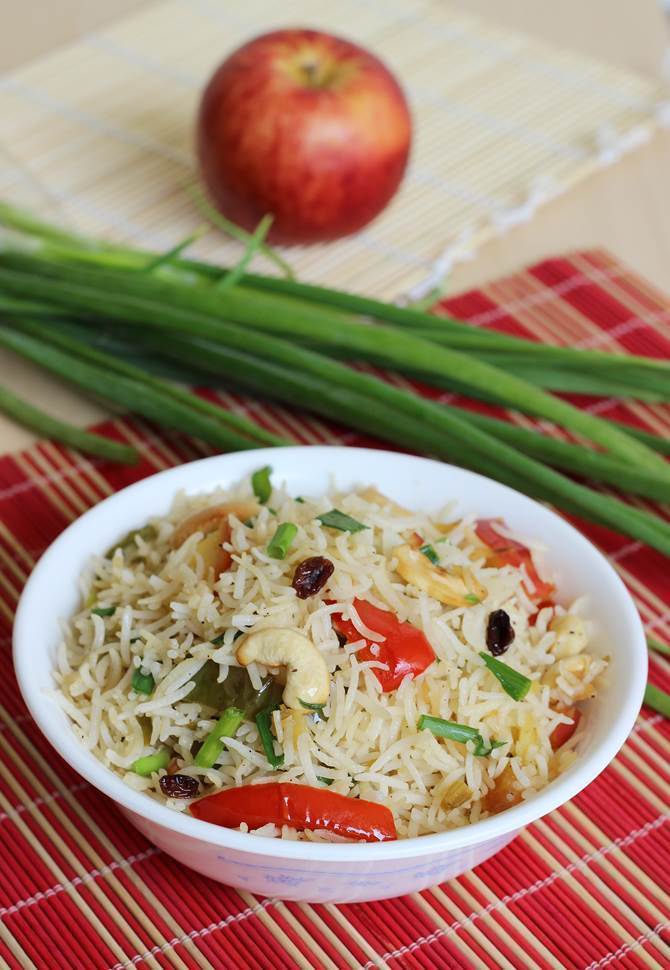 While some kids are easily adaptable to any foods while some are too picky. Packing my elder son's lunch box is an everyday struggle for me as he doesn't like repetitions and is very fussy at most foods. So I am on a constant hunt for new lunch box recipes.

Among all the fried rice recipes, Apple Fried Rice is the most liked by my kids. I love it too since it is easy and doesn't take long to prepare and is best for lunch box. It has a mild sweet flavor like the Kashmiri pulao with an added aroma of ginger and coconut.

Unlike other fried rice recipes, no olive oil or sesame oil is used, but coconut oil is used to enhance the flavor. Even if you are new to using coconut oil in your cooking, do try it, you will like it. If you or your family has a special liking towards fruit flavored rice dishes like Kashmiri pulao, iam sure they will like this one too.

apple fried rice can be served as it is without any side dish. The best side dish to go with this can be something like chili mushroom or a gravy like baby corn masala or Restaurant style capsicum masala gravy.

Note: The aroma and taste of this rice depends on the variety of apple you use. Choose a fresh and delicious tasting apple

For more veg fried rice recipes, check
Chilli garlic fried rice
Veg fried rice
Soya chunks fried rice

Ingredients to make apple fried rice
Serves 1 adult and a toddler or 2 kids

½ cup of long grain rice (use basmati or any fragrant rice)
½ to ¾ apple (use as much as you want, but 1 apple for 1 cup rice yields a good aroma to the rice)
2 to 3 sprigs of spring onions (greens and whites separated)
¼ cup of Bell peppers cut length wise (green, red or yellow any)
Green chili if desired (I do not use)
1 inch piece of ginger thinly sliced or shredded
Pepper powder as desired (few pinches, coarsely ground tastes best)
1 ½ tbsps. Coconut oil (unrefined tastes best)
¾ to 1 tbsp. Light Soya sauce (can reduce if you are using dark sauce)
¼ to ½ tsp. Vinegar (optional, do not use if your apple is sour tasting)
Few cashews and raisins as desired
Salt to taste

how to make apple fried rice (To be cooked on high flame)
1.   Soak rice for 30 mins and cook in whatever way you like. I like to cook rice in excess water with salt and I drain it off once it is almost cooked but not mushy. For ½ cup rice, I use 2 cups of water. If you wish you can add few drops of oil but if you are using aged and quality rice, you need no oil to cook. you can spread the rice on a plate and set aside
2.   Heat a wide skillet with oil, fry the nuts and raisins till golden and set these aside
3.   Add ginger and sauté till you get a nice aroma
4.   Add white part of the spring onions and fry for a min or 2
5.   Add bell peppers and sprinkle salt. Toss and fry on a high flame till the peppers are half cooked. Remember not to turn them mushy and soggy. Crunchy ones taste good.
6.   Add apple & sprinkle a bit of salt. Pour in the soya sauce and vinegar. Wait till the sauce begins to bubble up. By then even the apples will turn partially soft and begin to release a nice aroma. This will not take more than a min or 2. Do not over fry apples
7.   Add the rice, spring onions, cashews, raisins and pepper powder. Mix well and fry the rice for 2 to 3 mins. If you feel the rice is dry, add a spoon of oil.