Fluffy and aromatic egg fried rice is a crowd pleaser. A hearty meal on the go and a satisfying dinner after a hard day at work. When you make this dish at home, it brings back memories of those wonderful days when you gorged on Chinese delicacies with family and caught up with friends over dim sums, herbal teas and fried rice. Profess your undying love for this egg-based dish and you'll have some folks wondering what the fuss is all about.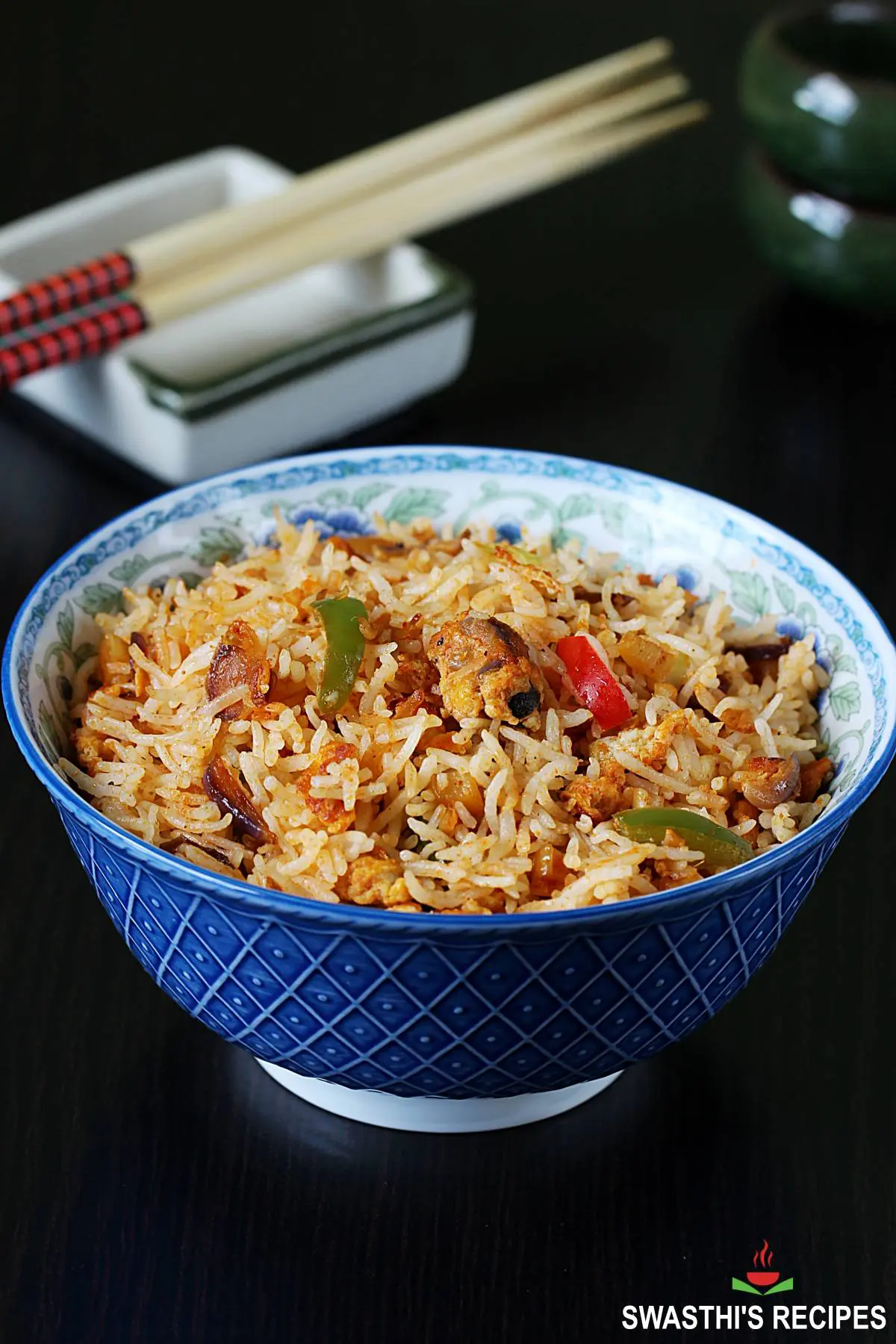 After all, you've countless rice dishes in Asian cuisine with personal favorites as well. You have rice and lentils. There is always curry and rice for curry fans. You'll also find umpteen recipes with your humble egg as the hero ingredient. But fried rice with egg is a usual recipe in Asian cooking & you will find numerous versions of it.
This unique combo and the resulting explosion of flavors as you eat the first spoonful explains the popularity of Chinese egg fried rice. For, you'll be hard pressed to find an Asian who loves Chinese food but hasn't tried this specialty dish.
What makes restaurant or street style Chinese egg fried rice so special?
With Indo Chinese being an inspired take on traditional Chinese recipes, the popularity of this delectable food shouldn't come as a surprise. The smoky flavor of the fried rice, umami flavors of soy sauce and the richness of scrambled eggs and oil combine to create a dish that appeals to everyone from adults to kids.
Want to know why this dish is a hit with takeout menus and home cooks? Before I tell you why my restaurant-style recipe will be a knockout dish with family and friends, let's find out
About egg fried rice
This unpretentious dish, which some Asians consider soul food, features prominently in many East Asian cuisines. Egg fried rice is the simplest of fried rice variations that you'll find. The basic version is nothing but cooked rice, beaten eggs, spring onions or scallions, oil and soy sauce cooked on high heat in a wok.
You'll find many versions of this egg and rice recipe. Some make a quick and plain dish with no other additions other than soy sauce and scallions. You'll find versions that use Chinese seasoning or specific spices and aromatics like garlic, celery, star anise, mace, five spice or even schezwan sauce (first picture).
Others like to add leftover chicken, tofu or other animal proteins to make a more nourishing meal. Foodies who prefer spicy foods will deepen the flavors with pepper and green chili or hot sauces. Some home cooks give it a Japanese and Korean twist with specific sauces like teriyaki or gochujang sauce.
When cooking for my kids, I like to add vegetables as this makes the egg fried rice healthier. When you add in stir fried vegetables like carrots and bell peppers, you elevate the everyday ingredients into something comforting and delicious.
Do you want a recipe that captures the essence and flavor of egg fried rice served in restaurants?
To make a copycat style of the recipe that street vendors and eateries excel at, you need to pay attention to a few elements. Next time you order this dish at a restaurant, notice how the cooked rice grains don't clump together and the eggs are fragrant and fluffy.
Dig into the meal and you realize the rice is a perfect mix of tender and chewy. The smokiness of this dish that you've come to love is from adding the exact amount of soy sauce to a hot wok.
This delicious dish looks complex but is deceptively easy to put together. Even if you're a newbie cook or you don't cook often, this is one Chinese recipe you can quickly master.
This recipe
My recipe is easy to prepare and offers the authentic taste of egg fried rice. Cook a couple of eggs. Stir-fry some vegetables. Mix in cooled rice, eggs and Chinese flavorings, and you have a satisfying meal ready in less than 15 minutes.
Light, fragrant and pillowy is how I'd describe this egg fried rice recipe. Your dish shouldn't be dripping with soy sauce or oil. You keep it light by adding cooked eggs and going easy on the sauces.
The best thing about this recipe is that you can enjoy a wholesome meal in under 30 minutes, even if you're cooking from scratch. If you have leftover or cooled rice ready, the dish is ready to be served in 15 minutes or less.
I've stir-fried some vegetables in this recipe. You can skip veggies if you're really rushed for time and make the dish with eggs and onions.
Related recipes,
Veg fried rice
Chicken fried rice
Singapore fried rice
How to make egg fried rice (stepwise pics)
Preparation
Rice: While the Chinese use leftover or previously cooked rice, you can cook the rice on the same day. Ensure the rice has cooled down well and isn't mushy or wet. I usually wash and soak rice for 20 minutes. Cook it al dente in a large pot of water. When the rice is cooked al dente, drain it to a colander. Cool it completely. We will need 3 cups cooked rice or 1 cup uncooked.
Veggies: Prep vegetables of choice as you would for any fried rice meal. Here I am using carrots, bell peppers and cabbage. Use other vegetables including lotus root, peas, corn or French beans as per your preference. We will need half cup each of carrots, bell peppers and cabbage or peas. Also chop 3 to 4 scallions and separate the greens and whites.
Eggs: Make this dish in 2 ways by either cooking the eggs with rice and vegetables or cooking the eggs separately. In this recipe, I've opted to cook the eggs and vegetables in the same pan before combining them into one dish. We will need 2 to 3 eggs as per your choice.
Make Chinese egg fried rice
1. Heat 1 ½ tablespoons oil in a wok or pan on the highest flame. Add 1 tablespoon chopped garlic (2 cloves). Fry for about 30 to 40 seconds.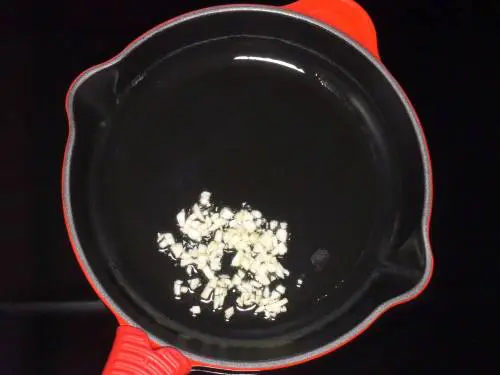 2. Add 3 to 4 tablespoons spring onion whites & fry for a minute.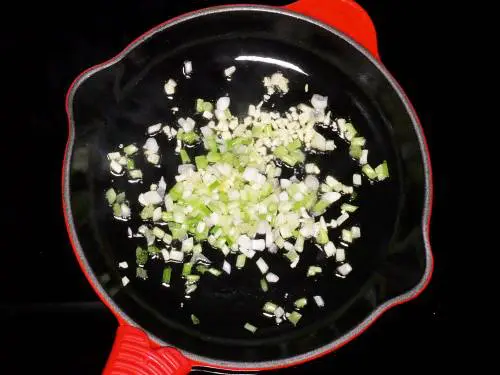 3. Optional – Throw in half cup each of carrots, capsicums and shredded cabbage. Stir fry on the highest heat for 2 minutes. We don't want the veggies to become mushy they must be crunchy so don't over cook.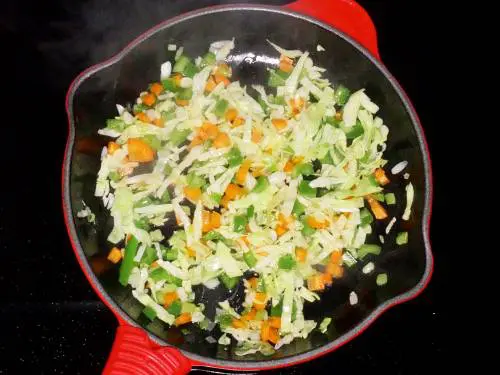 4. Meanwhile beat 2 eggs in a bowl until frothy. Slide the veggies to a side in the pan.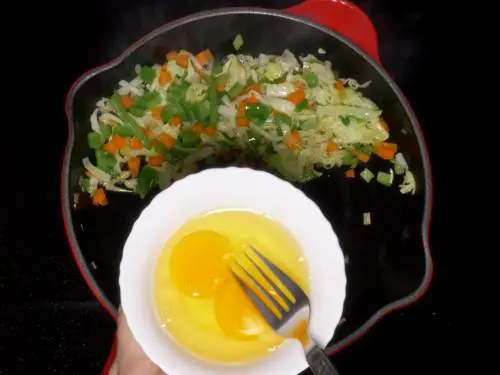 5. Lower the heat and pour the eggs. Scramble and cook on a medium heat. If your pan is too dry you may add more oil.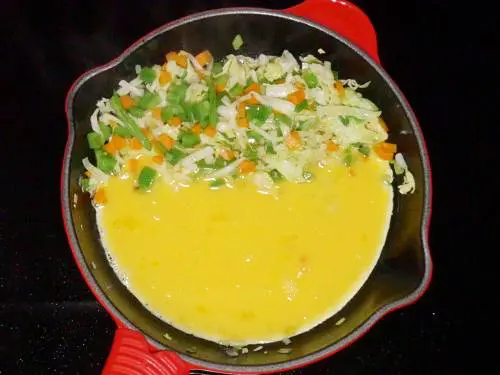 6. When the eggs are just cooked (soft set), sprinkle 2 to 3 pinches of salt. Do not use lots at this stage as the sauce is salted.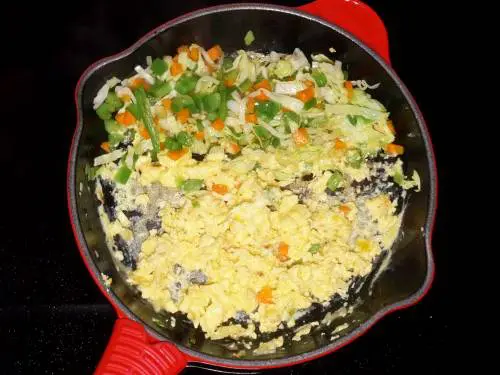 7. Increase the heat and pour 1 to 1½ tablespoon soya sauce or tamari to the hot pan. You may also add any other hot sauce if you prefer. When the sauce hits the hot pan it sizzles and imparts a great aroma. I also add a tsp of rice vinegar. You may also add 1 to 2 tbsp of schezwan sauce. The egg fried rice in the first picture in this post was made using schezwan sauce.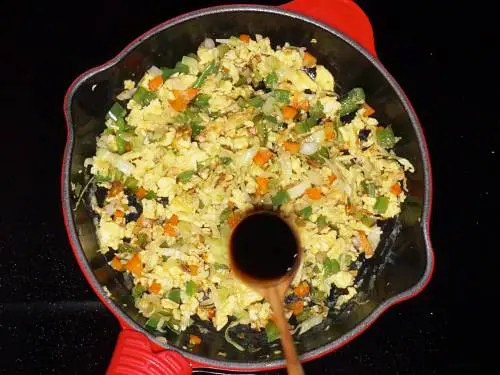 8. Add cooked and cooled rice, half teaspoon ground pepper, a bit more of salt, 3 to 3 to 4 tbsps spring onion greens and 1 tablespoon toasted sesame oil if required.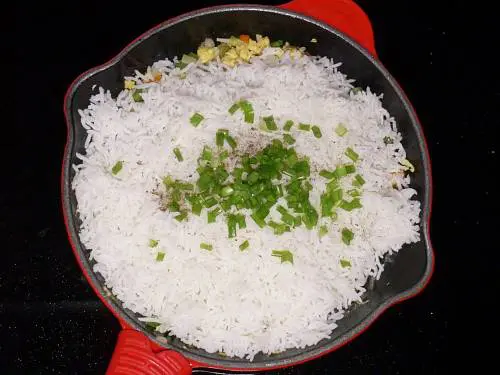 9. Increase the flame to highest and stir fry for about 2 to 3 minutes. You may add more salt, sauce and black pepper to your taste.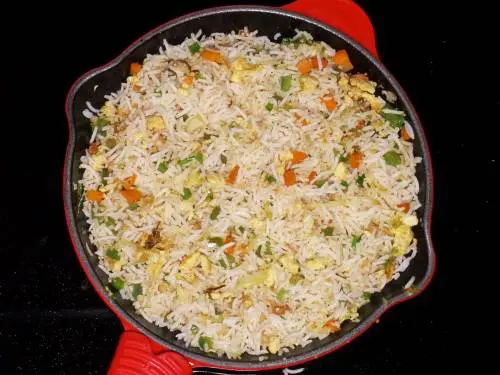 Serve egg fried rice hot.
What do you eat with egg fried rice?
This dish is a complete meal, but you can have Indo Chinese sides
Garlic mushrooms
Chilli potato
Chilli mushroom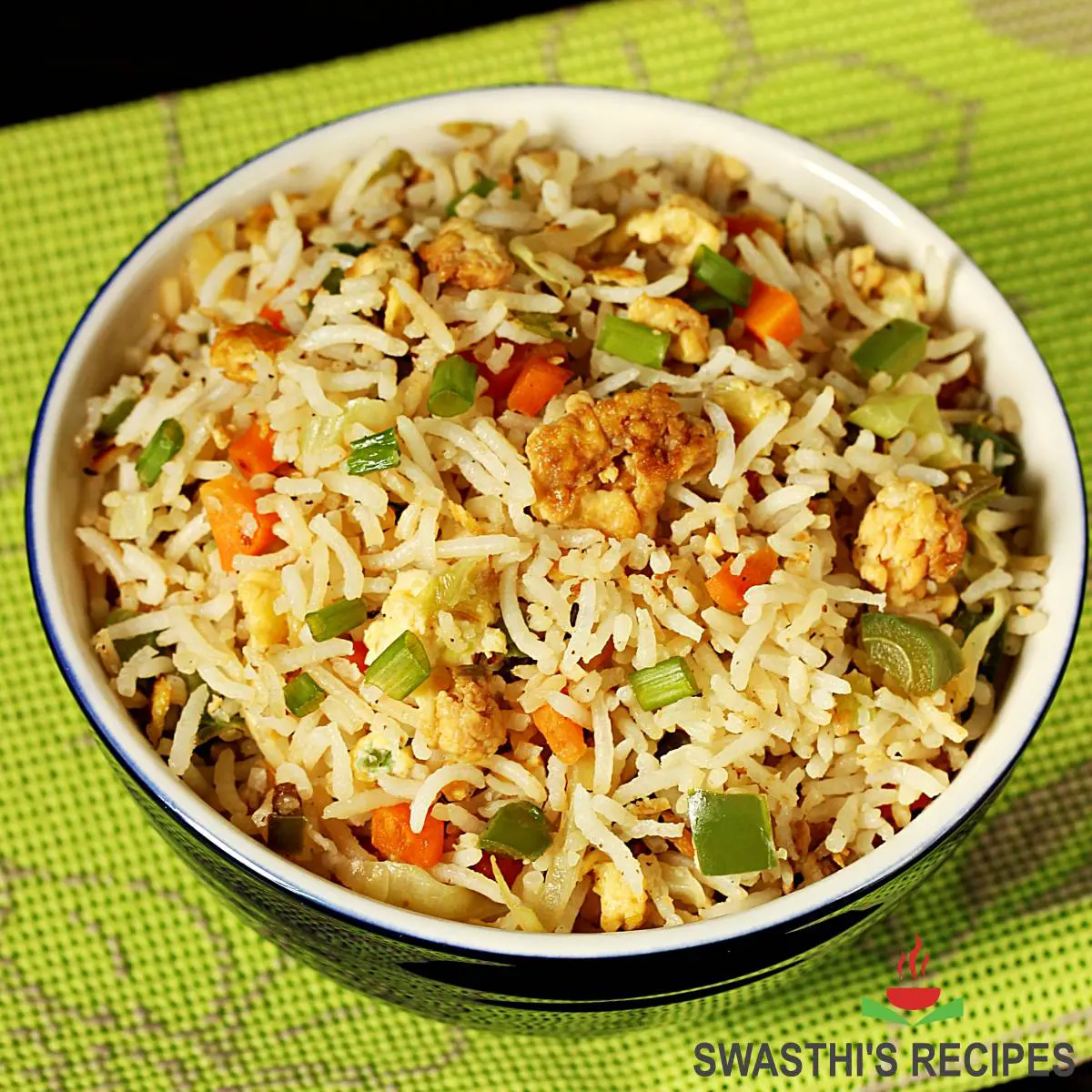 Pro tips
Use cold or well cooled rice to make this dish. Freshly cooked rice will be moist and steamy, and in turn make your fried rice mushy. Cook the rice ahead of time and let it cool for 1-2 hours before you add to the wok.
Use day-old cooked rice for best results. Use a fork to fluff up the rice and remove any clumps before adding to the wok. Avoid using sushi or glutinous rice as they will clump up and ruin your dish.
Cook rice with lesser amount of water than you'd normally use to avoid getting it mushy or clumpy. Think pulav/pilaf ! You cook basmati with less water as you want those long, individual grains of rice to stand out. The same concept applies to fried rice.
Vegetables are pan-fried in minimal oil and scramble the beaten eggs in a wok at high heat until just set but still soft.
I'd add some rice vinegar to hide the eggy taste, especially when cooking for kids who aren't fans of eggs. Seasoning and sauce go in last to ensure the fried rice doesn't get a soggy or wet texture
Related Recipes
Recipe card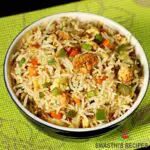 Light, fragrant and pillowy Chinese egg fried rice made with veggies, eggs, rice and pantry staples.
Print Recipe
Pin Recipe
Jump to Comments
For best results follow the step-by-step photos above the recipe card
Ingredients (US cup = 240ml )
3

cups

cooked rice

(or 1 cup uncooked rice)

1 to 1½

tablespoon

organic soya sauce

(adjust to taste) (or tamari)

1½

teaspoon

rice vinegar

(optional, adjust to taste)

1

tablespoon

chopped garlic

(2 cloves)

1

green chili

(slit, for heat, optional)

¼

teaspoon

crushed black pepper

¼

teaspoon

salt

(Or as required)

2

tablespoons

oil

(Peanut or any other)

3 to 4

stalks

spring onions

chopped, (green and whites separated)

3

eggs

or 2 large

1 to 1½

tablespoons

schezwan sauce

or 1 teaspoon any hot sauce (optional)
Optional vegetables
½

cup

carrot

(chopped, 1 small carrot)

½

cup

bell peppers

(julienned or diced)

½

cup

cabbage

shredded (or peas or sweet corn)
Instructions
Preparation
Wash rice and soak for 30 mins. Meanwhile bring 5 to 6 cups water to a rolling boil in a large pot. Drain the water from the soaked rice and add it to the boiling water. If you want you can add half teaspoon salt and cook.

When the rice is cooked al dente (meaning the rice has a bite to it and not fully cooked), drain it to a colander. Do not over cook the rice. Cool completely.

Chop the veggies and garlic. Break the eggs to a bowl and beat until fluffy.
Making egg fried rice
To be cooked on high flame. Heat a pan with oil, add chopped garlic & green chili. Fry for 30 seconds. Add spring onion whites and fry for a minute.

Add chopped veggies and fry for about 2 minutes. Do not make them mushy, they should be crunchy and half cooked. Slide the veggies to one side of the pan.

Reduce the flame to medium. Pour eggs and scramble them. Cook till they are soft, fluffy almost cooked but not overcooked. Sprinkle little salt.

Increase the heat and pour the soya sauce, vinegar and any hot sauce if you prefer. The soya hits the hot pan and emits some steam. This imparts a nice Chinese flavor.

Add cooled rice, ground black pepper and spring onion greens. If you want you may add some toasted sesame oil and it's optional.

Fry on the highest flame for about 2 minutes. Adjust salt and spice as needed.

Garnish egg fried rice with some spring onions and serve.
Alternative quantities provided in the recipe card are for 1x only, original recipe.
For best results follow my detailed step-by-step photo instructions and tips above the recipe card.
NUTRITION INFO (estimation only)
Nutrition Facts
Egg Fried Rice Recipe
Amount Per Serving
Calories 594
Calories from Fat 189
% Daily Value*
Fat 21g32%
Cholesterol 246mg82%
Sodium 1204mg52%
Potassium 558mg16%
Carbohydrates 81g27%
Protein 18g36%
Vitamin A 13184IU264%
Vitamin C 64mg78%
Calcium 110mg11%
Iron 3mg17%
* Percent Daily Values are based on a 2000 calorie diet.
Egg fried rice recipe first published in October 2014. Updated and republished in July 2021.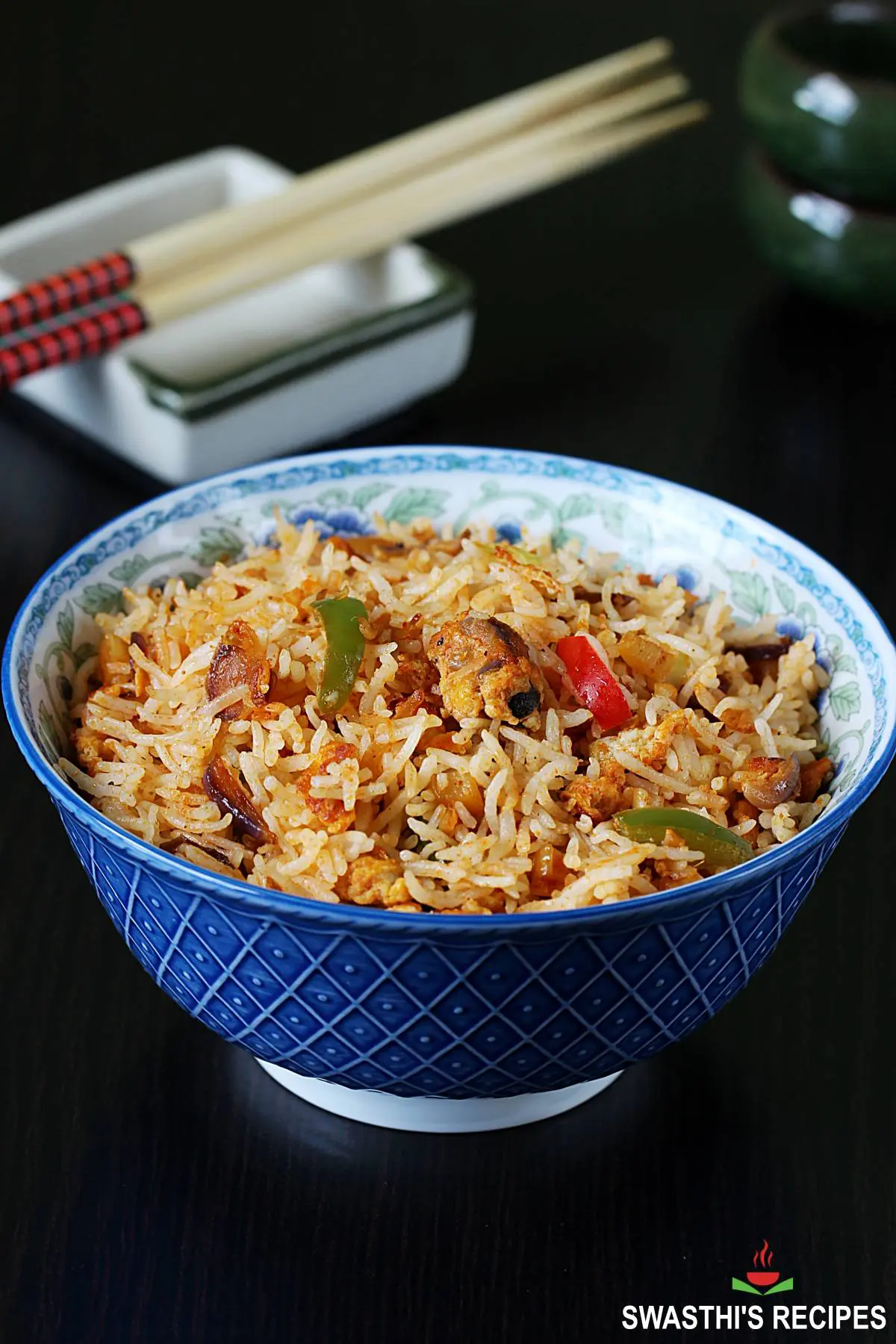 About Swasthi
I'm Swasthi Shreekanth, the recipe developer, food photographer & food writer behind Swasthi's Recipes. My aim is to help you cook great Indian food with my time-tested recipes. After 2 decades of experience in practical Indian cooking I started this blog to help people cook better & more often at home. Whether you are a novice or an experienced cook I am sure Swasthi's Recipes will assist you to enhance your cooking skills. More about me
Follow Swasthi's Recipes