Make the best Eggless Vanilla Cake at home with this super easy recipe. A buttery, flavorful, moist and delicious vanilla cake that will soon be your favorite! Tastes the same as you get in a bakery! With its excellent vanilla flavor, this egg-free cake has a soft and moist crumb with a fluffy texture. Whether you run out of eggs or have someone home with an egg allergy, this is a great recipe for you to try!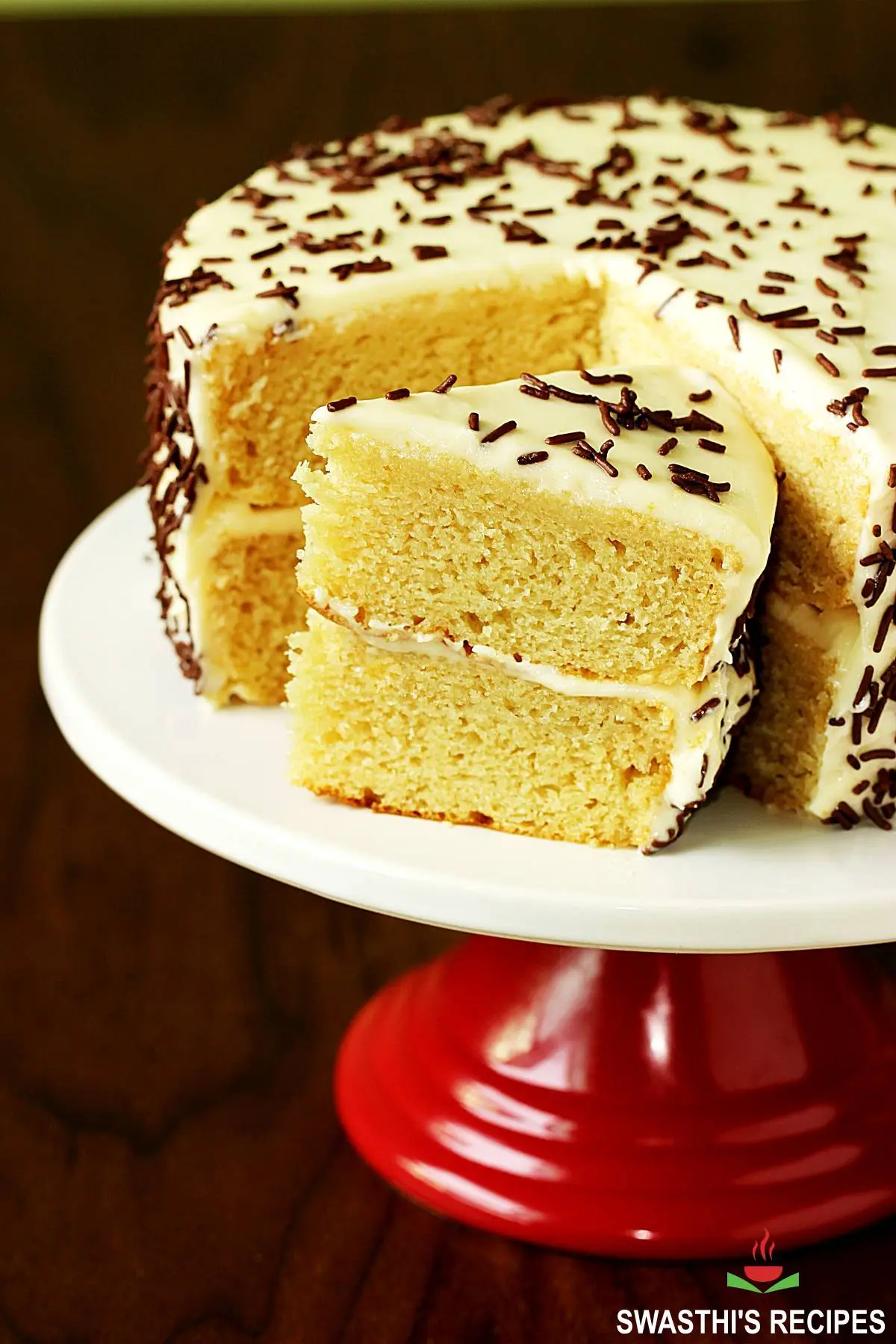 Earlier I had shared an Eggless Sponge Cake here. A sponge has that extremely fully, airy and light structure which really can't hold the decorations well. So the recipe shared in this post is my go to, for an Eggless vanilla cake that works well for decorations. It is neither too airy nor too dense but makes a fantastic base cake for all your decorations, especially for layered & tiered cakes.
Eggless Vanilla Cake
There are numerous recipes to make a vanilla cake. While some recipes use the whole eggs, some use a mix of whole and additional egg whites. But a basic vanilla cake always uses eggs which play an important role that determine the texture and color of the cake. An eggless vanilla cake needs an egg substitute.
There are various ingredients like egg replacer, yogurt, flaxmeal and buttermilk which work very well as egg substitutes. However this eggless vanilla cake recipe uses condensed milk and an acidic ingredient (vinegar or lemon juice) as an egg substitute.
Condensed milk is the star ingredient of this recipe & it does a magic by imparting a lovely bakery flavor and texture to the cake. We all know how amazing sweetened condensed milk smells!
Vinegar, condensed milk and the leavening ingredients together work like a charm in aerating the batter which bakes up to a lovely eggless vanilla cake.
My Recipe
This cake can be baked with either all-purpose flour or cake flour. While all-purpose flour works well too, cake flour makes the cake lighter. I have used cake flour here. If you do not have it you may want to make your own following my instructions in the step by step photo guide.
This recipe makes a 7 or 8 inch eggless vanilla cake. I made 2 cakes and frosted with a simple vanilla buttercream frosting. To make 2 layered cake, double the recipe and bake them in 2 pans at one time.
I had baked this a few times earlier and made a whipped cream frosting which turned out delicious too. If you do not prefer to frost the cake, do add 3 to 4 tbsps. powdered sugar as mentioned in the recipe.
If you do not have an oven you can check this no bake chocolate Biscuit cake. However if you want to bake this cake in a pressure cooker, you may read this post on Cooker cake recipe. Follow the same instructions to bake this cake.
If you are a beginner do read my tips and faqs section below.
For more Cake Recipes, you can check
Eggless Black forest cake
Fruit cake without egg
Eggless chocolate cake
Banana chocolate cake without egg
Eggless carrot cake
Eggless banana bread
Butter cake
Banana cake
How To Make Eggless Vanilla Cake (Stepwise Photos)
Preparation
1. Make sure all the ingredients are at room temperature. Grease a 7 or 8 inch pan. Line it with parchment paper.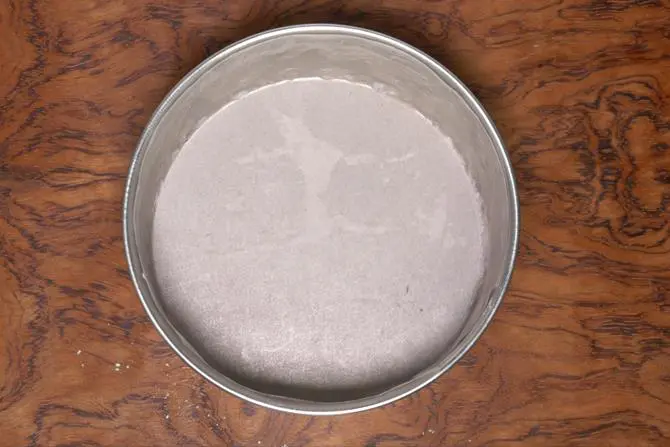 2. Preheat the oven to 170 C for at least 15 mins. If using a pressure cooker, add 1 heaped cup salt to a cooker. Spread it evenly and place a plate. Place a trivet or ring. Remove the gasket and whistle. Cover it. Heat on a medium high flame for 10 to 12 mins.
3. This cake works well with all-purpose flour but cake flour makes it lighter. Skip this step if you want to use all-purpose flour.
Fluff up the all purpose flour in the jar with the help of a fork. Using a spoon fill 1 and a ¼ cup of all purpose flour to measuring cups. Level them with a straight edged knife or spoon.
Remove 2 tbsp flour from 1 cup and ½ tbsp flour from ¼ cup. Add the removed flour back to the jar. Next fluff up the corn flour in the jar and measure 2 & ½ tbsp corn flour and add it to the cups. Sieve them together at least 3 to 4 times this helps the cake to turn light. Your cake flour is ready.
Make Cake Batter
4. Place a sieve over a large mixing bowl. Add 1 ¼ all-purpose flour or cake flour to a sieve.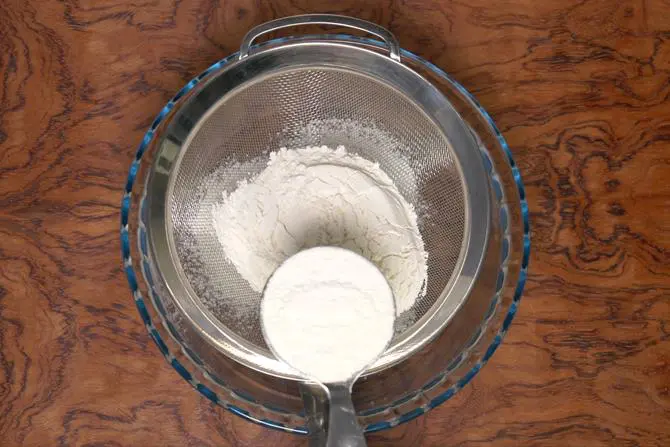 5. Next add 1 tsp baking powder.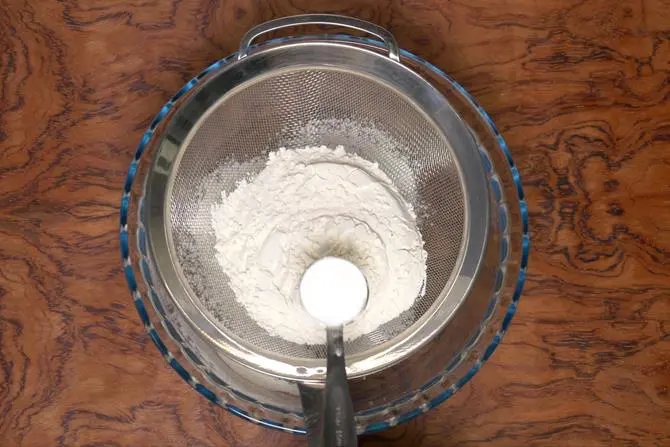 6. Add ½ tsp baking soda.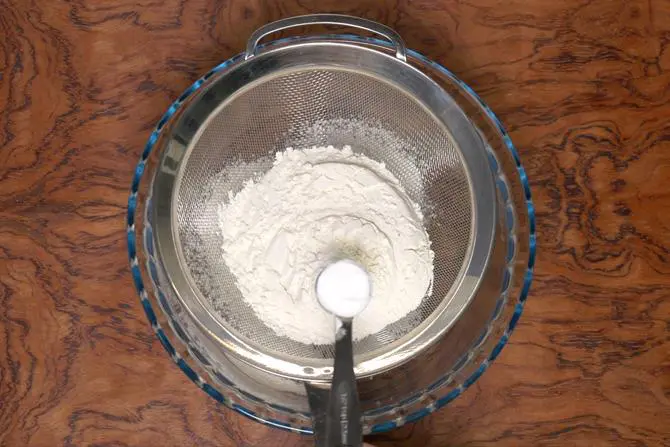 7. Then add 1/8 tsp salt.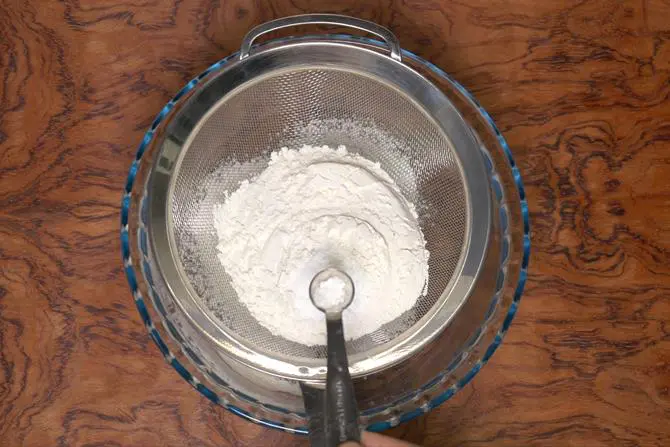 8. Sieve them and repeat it thrice. If you do not plan to frost the cake, then you may need another 3 to 4 tbsps powdered sugar. Mix well.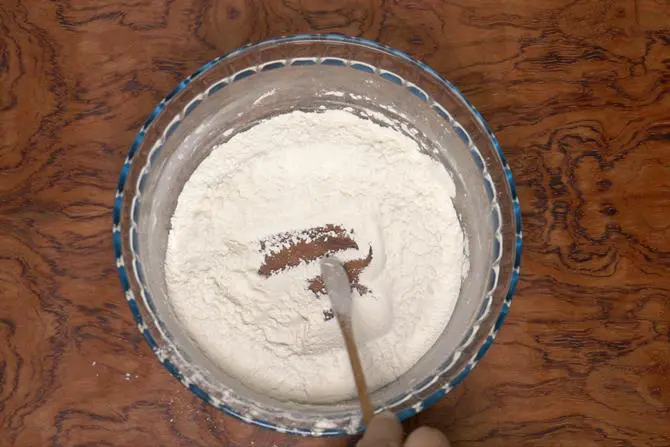 9. Pour condensed milk. I use about 200 ml. i.e. approximately ½ of a 400 ml can.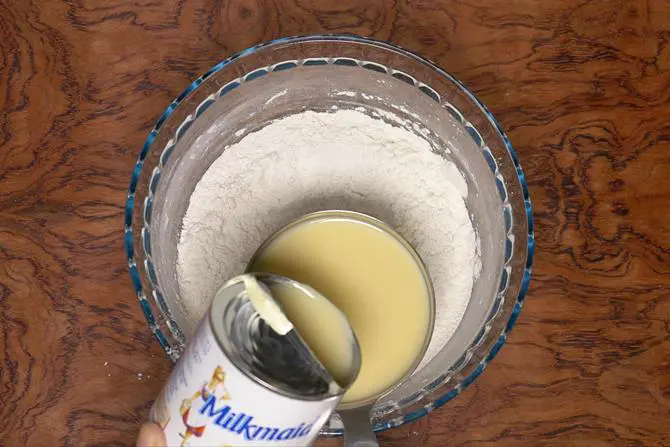 10. Next pour 1/2 cup water.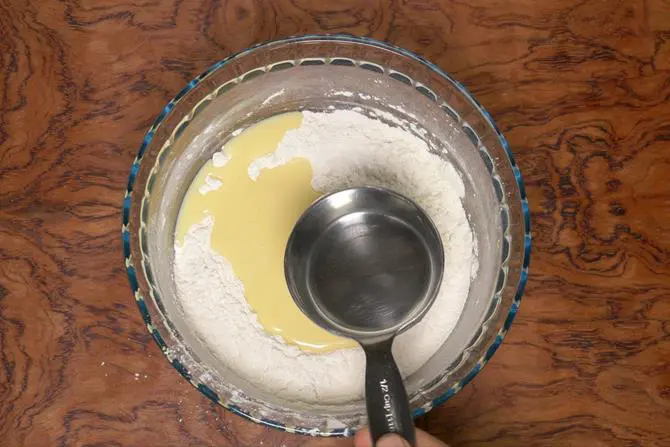 11. Pour ¼ cup melted unsalted butter. I melted it in a small pan. You can also do it in a microwave.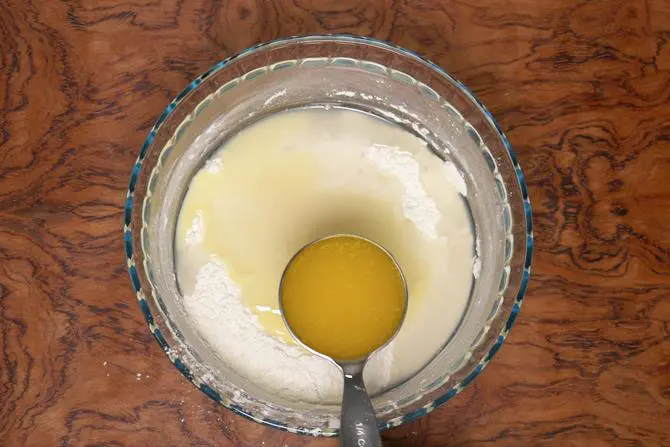 12. Add in vanilla extract.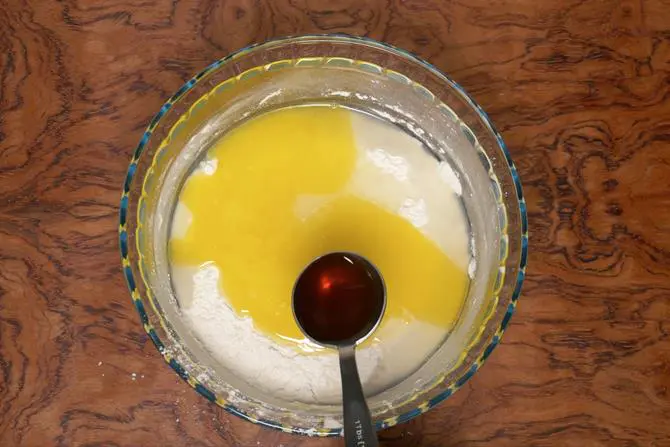 13. Pour vinegar. I used organic apple cider vinegar.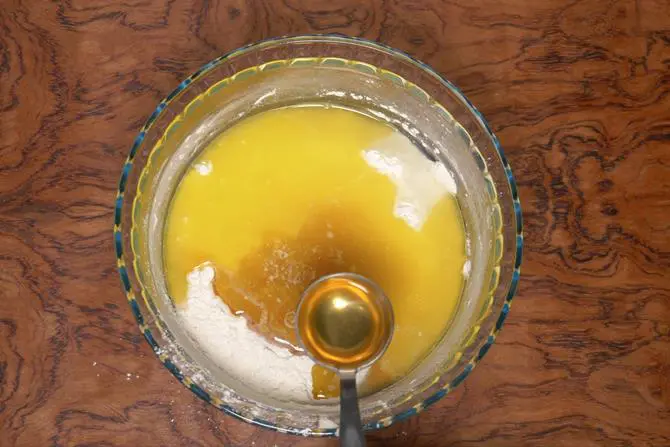 14. Mix well until just combined.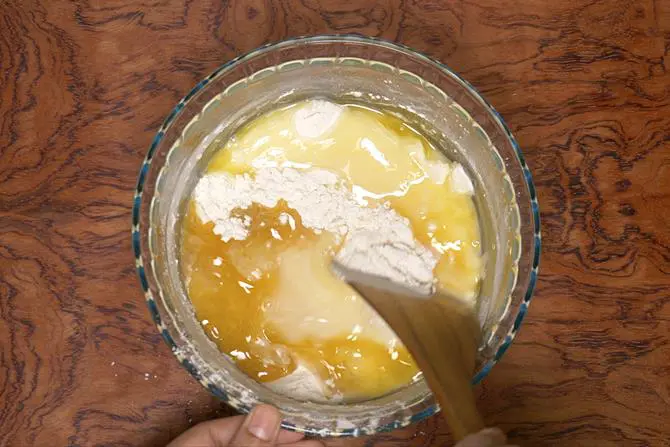 15. Make sure there are no lumps. The mixture will begin to react immediately due to vinegar and you will see bubbles. Avoid over mixing it at this stage.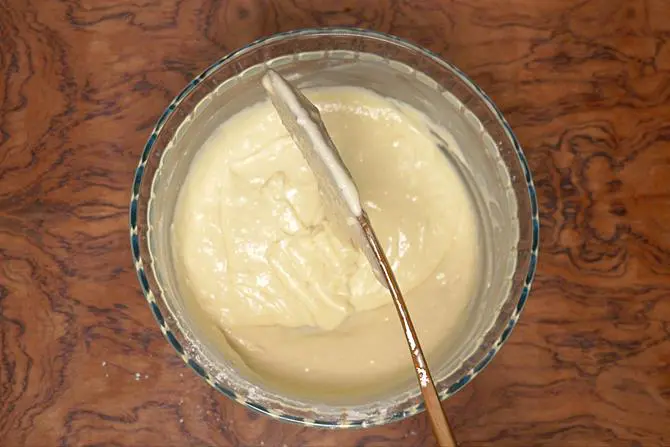 16. Transfer the batter to the cake pan. Knock it gently to the counter a few times.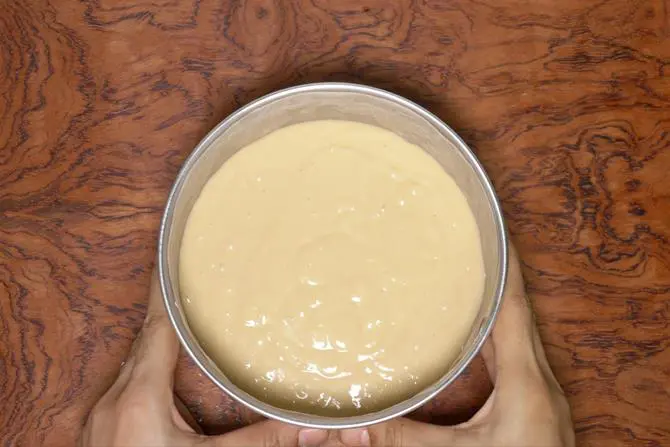 Baking Eggless Vanilla Cake
17. Place it in the center rack in your oven. Bake it for 23 to 25 mins until a skewer inserted in the center comes out clean. Mine was done at 25 mins. Do check at 23 mins as the timings slightly differ from oven to oven. If baking in cooker, place the cake tray on the trivet or ring. Cover and bake for 45 to 55 mins on a low flame.
18. When the cake is done, a skewer inserted comes out clean.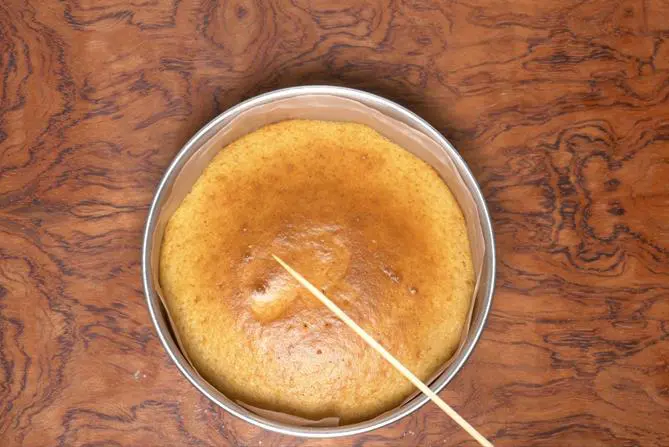 19. Transfer the cake pan to a cooling rack and let cool for 15 mins. Later invert it on a wire rack.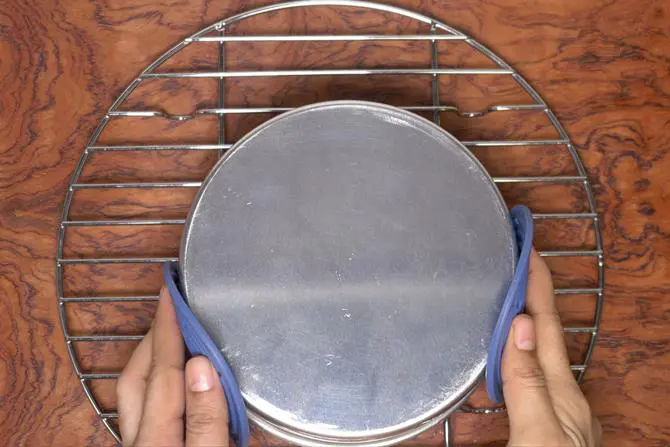 20. Remove the parchment paper and allow to cool completely.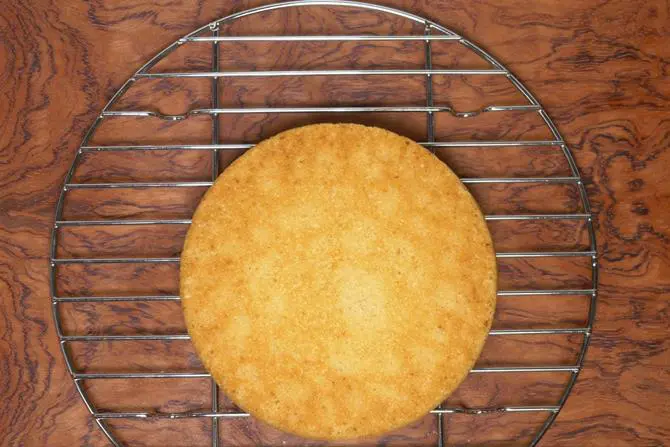 21. I made a simple and quick buttercream frosting. I haven't shared the pics of the same as the post is already lengthy and may intimidate many. If you are interested please follow the instructions in the recipe card.
I have not included the time taken to make the frosting in the recipe card. You can make a rough estimation of 2 hours for the frosting if you are a beginner.
Soft, moist and delicious eggless vanilla cake is ready.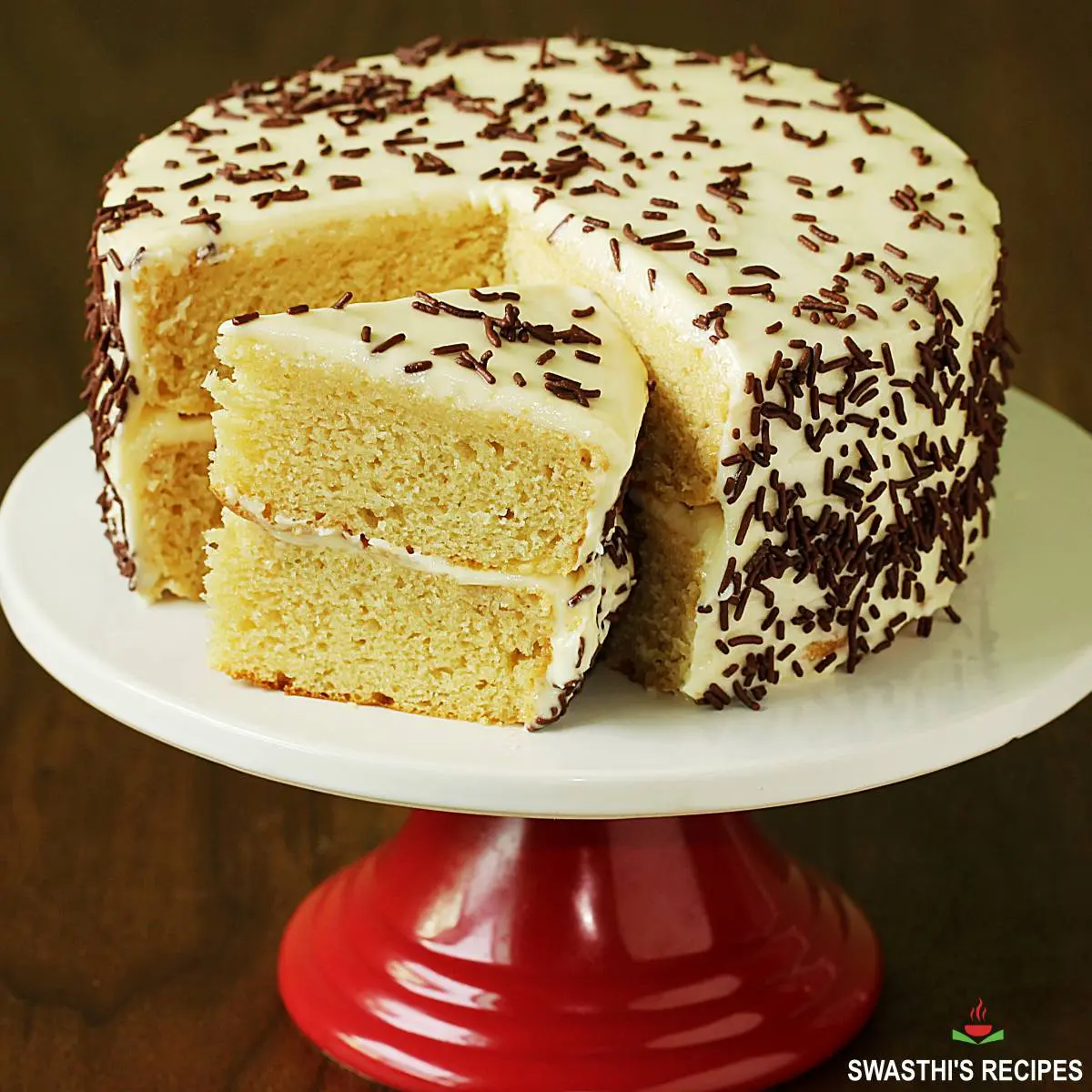 Pro Tips
Measure the Flour correctly: A lot of readers have made this cake successfully but some could not get the right results. A dry or dense cake is a problem with too much flour or with not enough liquid. Please weight the flour if possible or fluff up the flour and spoon to the measuring cups. This step makes a huge difference.
Butter: You may use oil in the recipe. This results in a more moist cake. But butter improves the flavor and you may smell the oil in your cake if you don't use the right kind. I have tried it only with virgin coconut oil.
Condensed milk: There is no substitute to sweetened condensed milk.
Baking powder & Baking soda: Please test your baking powder and soda before using to ensure they are still within the shelf period. These 2 ingredients cannot be substituted and cannot be replaced for one another.
Trouble shooting
Cake recipes are sensitive to weather conditions and temperatures. Even the best recipes may require troubleshooting at times. These are tried and tested troubleshooting tips that may help. But it is important to measure the ingredients correctly and make sure they are at room temperature before making the batter.
Dry cake: Increase 1 to 1.5 tablespoons butter in the recipe.
Dense cake: Add 2 tablespoons more milk.
For a moist cake: Make a simple sugar syrup and drizzle it over the cooled cakes. For details you may check my Black forest cake recipe.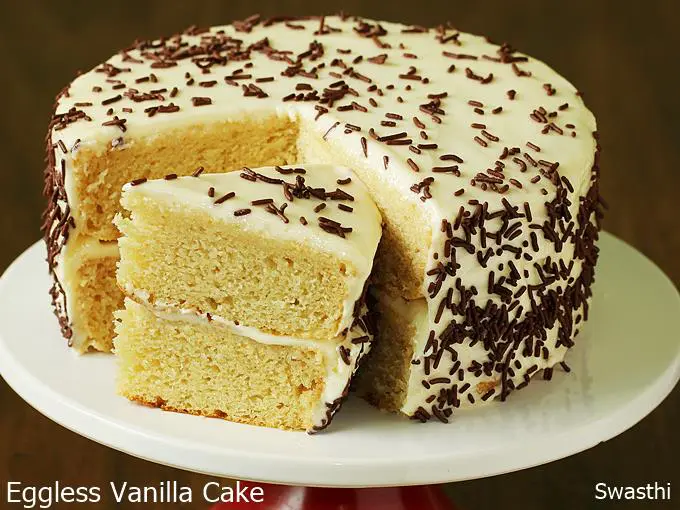 Faqs
What makes eggless cakes fluffy?
An egg substitute like buttermilk, condensed milk, flax meal or yogurt make eggless cakes fluffy. However each recipe is different and needs some experimentation.
How do you keep eggless cake moist?
If you are trying to troubleshoot a dry eggless cake, add a few tbsps of yogurt, milk, buttermilk or butter while making the batter. These ingredients will incorporate some amount of fats and liquid into the batter and help the eggless cake to remain moist.
Why is my cake sticky?
Overmixing the cake batter can make your cake sticky. So mix the dry and wet ingredients just until combined.
Why is my cake dry?
Too much flour in the batter or too little liquid can be one of the reasons for a dry cake. Always weigh or measure the ingredients precisely.
Related Recipes
Recipe Card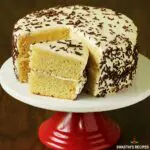 Eggless Vanilla Cake, How to make Vanilla Cake without Eggs
Moist eggless vanilla cake that is simple to bake and delicious to taste. This bakery style cake can also be baked in a pressure cooker. This recipe uses condensed milk as a substitute to eggs. It also enhances the flavor of the cake by keeping it moist and delicious. I have shared 2 frostings in this recipe card.
Pin Recipe
Print Recipe
For best results follow the step-by-step photos above the recipe card
Ingredients (US cup = 240ml )
1¼

cup

all-purpose flour

or cake flour (150 grams)

200

ml

sweetened condensed milk

1

teaspoon

baking powder

½

teaspoon

baking soda

⅛

teaspoon

salt

3 to 4

tablespoon

powdered sugar

(skip, for less sweeter cake)

½

cup

water

(or orange juice for orange flavor)

¼

cup

melted unsalted butter

(60 ml)

1

tablespoon

vanilla extract

(or 1 tbsp orange zest)

1

tablespoon

vinegar

(i use apple cider vinegar)
For white chocolate frosting (Frosting 1 – method 1)
100

grams

white chocolate

(or any chocolate)
For the buttercream frosting (Frosting 2 – method2)
½

cup

unsalted butter

(soft but cold)

1¾ to 2

cups

powdered sugar

sifted or icing sugar

1 to 2

teaspoons

milk

(use only as needed)

1

tablespoon

vanilla extract
Instructions
Preparation
Ensure all your ingredients are at room temperature. Grease and line a 7 or 8 inch cake pan. Line a parchment paper. Set aside.

Preheat the oven to 170 C for at least 15 mins. If using a pressure cooker to bake, please check the notes.

Place a sieve over a large mixing bowl. Fluff up the flour in the jar and spoon it to the measuring cups and level with a straight edged knife.

Add flour, baking powder, baking soda and salt to the sieve.

Mix them all with a spoon and sieve the ingredients to the bowl. Repeat the sieve twice more.

Add sugar to the bowl and mix it well. Make a well (space) in the center of the bowl. (check step by step pictures)

Pour the condensed milk, water, melted butter, vanilla extract and vinegar.

Mix them gently just until well combined. The cake batter has to be smooth and lump free. Do not over mix.

Transfer the batter to the greased cake pan. Gently knock it against the kitchen counter a few times to release any air bubbles.
How to Bake Eggless Vanilla Cake
Place the cake tray in the center rack inside the oven. Bake for 23 to 25 mins or until a tester inserted comes out clean. Mine was done at 25 mins. But the timing may vary slightly depending on your oven.

When the cake is done, a skewer or a tester inserted comes out clean. If you find the cake still moist bake for a little longer.

If baking in a cooker, open the lid of the hot cooker. Place the cake tray with the help of a Indian tong or pakkad. The cooker must be hot at this time. Cover the lid. Regulate the flame to low heat. Bake for 45 to 55 mins.

Transfer the cake pan to a cooling rack and let cool for 15 mins. This is important else your cake will sweat.

Invert the cake pan over the wired rack. Cool this completely before frosting or slicing.
Make Chocolate Frosting – Method 1 (optional)
Chop the chocolate and add it to a bowl.

Melt this in a microwave stirring at 30 mins interval until it melts. Or You can also melt it in a double boiler method by placing it in a bowl of hot water.

Keep stirring until it melts & turns smooth.

Pour this over the cooled eggless vanilla cake and spread with a spatula.
Making Buttercream Frosting – Method 2 (optional)
Beat soft butter until smooth for about 3 minutes on a medium speed, using a hand mixer or a stand mixer.

Sieve the powdered sugar. Add half a cup at one time.

Continue to mix it on a low speed. Then on a medium speed until well incorporated.

Then continue to add in more sugar and then mix on low to medium speed.

Add in vanilla and milk as needed. Mix until it turns smooth & fluffy.

If the frosting is too thick to spread just add in a tsp of milk and mix on a low speed.

If frosting is a bit runny, you can try refrigerating it for 1 hour. You can also add in more powdered sugar.

Add a couple of tbsps of frosting to the center of the cake. Spread it well with a spatula. If making a layer cake, then place another cake over it.

Add half of the frosting and begin to spread it from the center and then cover the sides. Refrigerate this for about 45 mins.

Add the left over frosting retaining about half cup in the bowl. Spread this to finish off. Use the left over frosting as needed to smoothen.

Refrigerate this further for about 20 to 30 mins. Smoothen the frosting with a dough cutter or scraper. Use sprinklers as desired.

Slice the eggless vanilla cake and serve.
Notes
To bake in pressure cooker, add 1 cup salt to the bottom of a cooker. Spread it well. Place a plate and hot pot stand. Then remove the gasket and weight. Cover and heat the cooker for 10 to 12 mins on a medium high heat.
You can also make a quick frosting by melting half cup choco chips in microwave with 2 tbsp of cream. Whisk until smooth then spread it.
Alternative quantities provided in the recipe card are for 1x only, original recipe.
For best results follow my detailed step-by-step photo instructions and tips above the recipe card.
NUTRITION INFO (estimation only)
Nutrition Facts
Eggless Vanilla Cake, How to make Vanilla Cake without Eggs
Amount Per Serving
Calories 583
Calories from Fat 261
% Daily Value*
Fat 29g45%
Cholesterol 79mg26%
Sodium 231mg10%
Potassium 207mg6%
Carbohydrates 76g25%
Protein 4g8%
Vitamin A 885IU18%
Vitamin C 0.7mg1%
Calcium 123mg12%
Iron 1.2mg7%
* Percent Daily Values are based on a 2000 calorie diet.
Recipe source: Madhu. This recipe was first published in November 2017. Updated and republished in January 2022.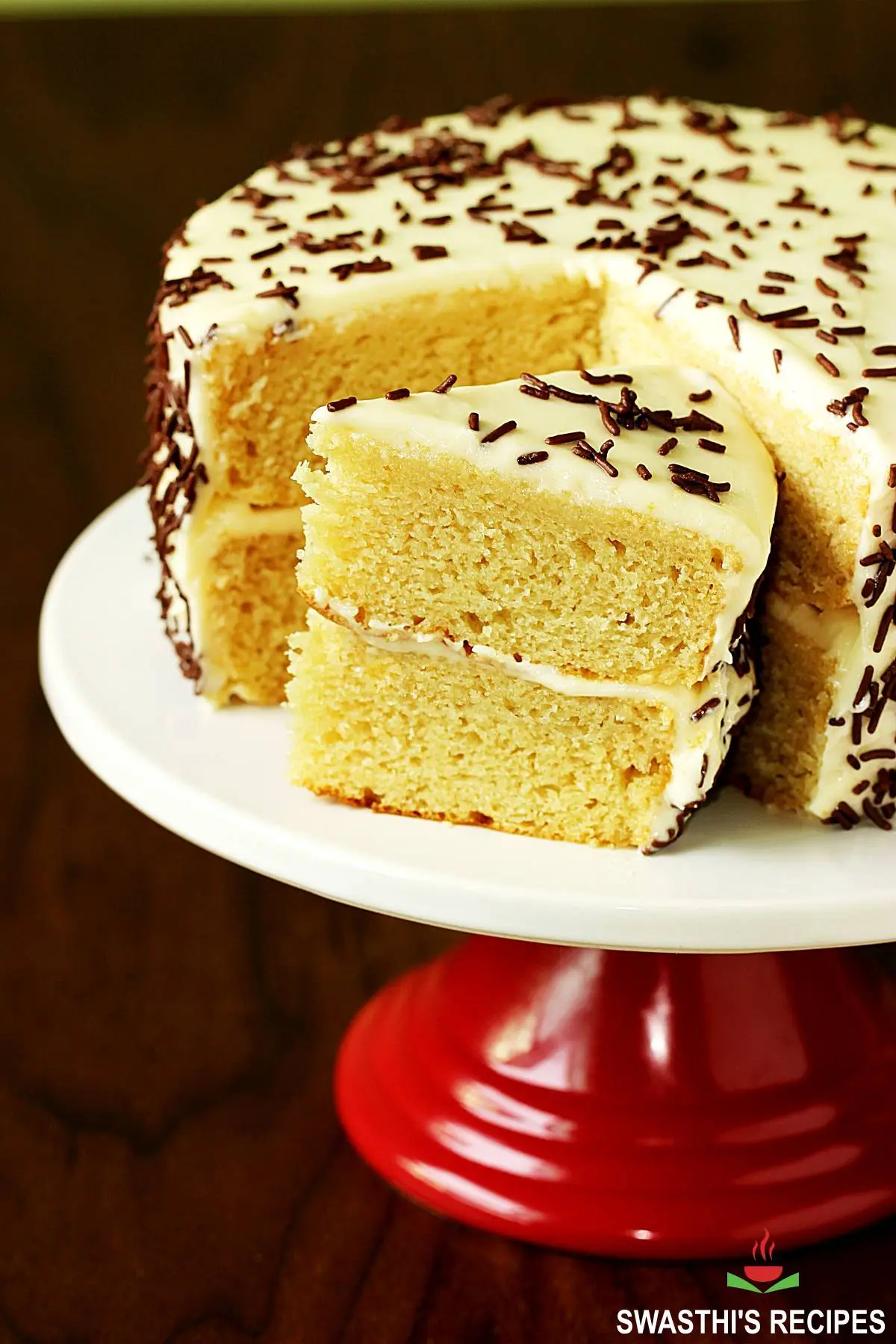 About Swasthi
I'm Swasthi Shreekanth, the recipe developer, food photographer & food writer behind Swasthi's Recipes. My aim is to help you cook great Indian food with my time-tested recipes. After 2 decades of experience in practical Indian cooking I started this blog to help people cook better & more often at home. Whether you are a novice or an experienced cook I am sure Swasthi's Recipes will assist you to enhance your cooking skills.
Follow Swasthi's Recipes