Methi leaves chutney – Menthi kura pachadi is a Andhra style chutney made with methi leaves aka fenugreek leaves, red chilies, tamarind, jaggery & spices. Methi leaves chutney is one of my mom's signature recipes that not only tastes delicious, spicy and very flavorful.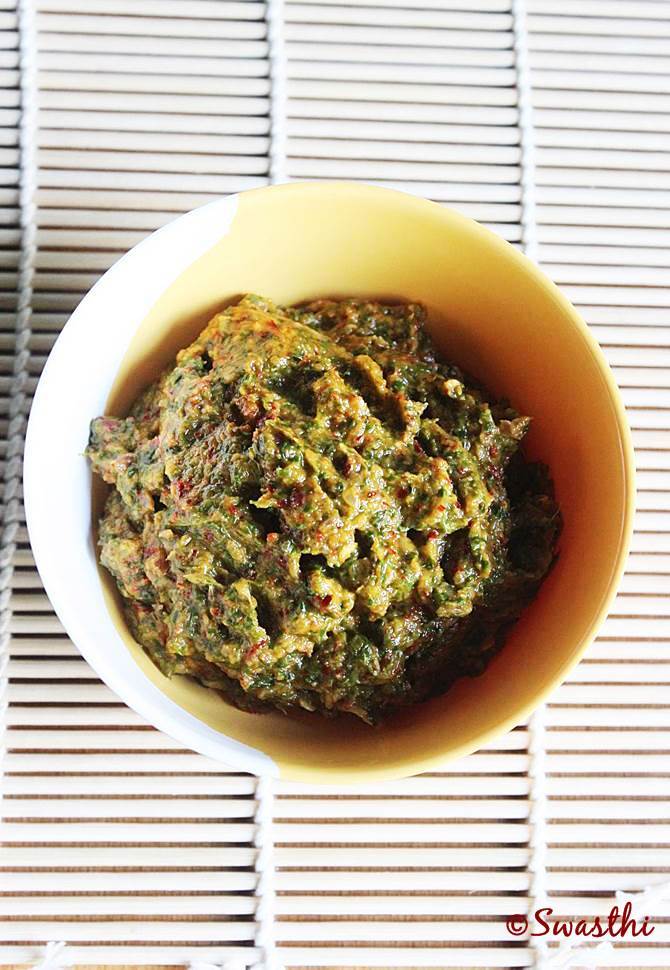 Fenugreek leaves are known as methi in Indian language and are widely used to make a variety of dishes like methi paratha, methi pulao & methi dal.
If you have never tried to make methi leaves chutney it is a must try. Don't fret it doesn't taste bitter at all. The bitterness in the leaves is balanced with the sweet, sour & hot ingredients. So the resulting chutney will be amazing with a balance of all the tastes.
We consider this to be a healthy chutney and try to make it as often as possible. I also make use of fenugreek leaves to make methi rice, methi dal, methi paratha, aloo methi and most times add a handful in vegetable stir fry recipes.
This menthi kura pachadi or chutney is best served with hot rice and ghee. It also goes well with paratha, roti or dosa.
How is methi leaves chutney made?
Firstly methi leaves are sautéed well in little oil until they wilt off completely. There should not be any moisture left in them. This frying of methi leaves is what makes the chutney so very flavorful.
Next red chilies are also fried until crisp. Then the methi leaves are cooled and blended coarsely with tamarind, salt, cumin, jaggery, garlic and red chilies.
Addition of jaggery, tamarind & red chilies will balance the bitter taste of the methi leaves.
Methi chutney does not need any tempering. It can be stored for about a week in the refrigerator and used.
I also make another version of this by using onion & reducing the jaggery. A small onion adds a different kind of flavour to the chutney.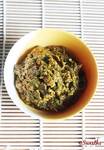 methi leaves chutney
methi leaves chutney or menthi kura pachadi is a sweet, sour & spicy tasting chutney made with fenugreek leaves.
Ingredients (1 cup = 240ml )
How to make the recipe
Pluck and wash methi leaves in lot of water a few times. Transfer them to a colander for the water to drain off completely.

Heat a pan with oil. Add red chilies and fry on a low flame till crisp. Add cumin & just saute for 30 seconds. Transfer this to a plate.

Optional – Add onion and fry till lightly golden for about 2 to 3 mins. Set this aside.

Add the leaves to the pan and fry them till they wilt off completely. The leaves should almost not have any moisture. Cool all the ingredients.

Blend red chilies first to a fine powder, then add rest of the ingredients: lemon juice or tamarind, salt, jaggery,onions & methi leaves.

Blend everything well till smooth. You don't need to add water. The moisture from the onions will be enough to make the chutney moist.

This chutney does not need any tempering. Serve methi leaves chutney with idli, dosa, pesarattu.
NUTRITION
Calories:
827
kcal
|
Carbohydrates:
152
g
|
Protein:
56
g
|
Fat:
15
g
|
Saturated Fat:
3
g
|
Sodium:
169
mg
|
Potassium:
2191
mg
|
Fiber:
60
g
|
Sugar:
7
g
|
Vitamin A:
20
%
|
Vitamin C:
171.4
%
|
Calcium:
44.7
%
|
Iron:
447.4
%