Peanut chutney or groundnut chutney made in andhra style to accompany idli, dosa & uttapam. Groundnut is just another term for peanut. This protein rich peanut chutney is made regularly at home for breakfast just like in most Telugu speaking homes. It is made without coconut and is thick, creamy and tastes delicious.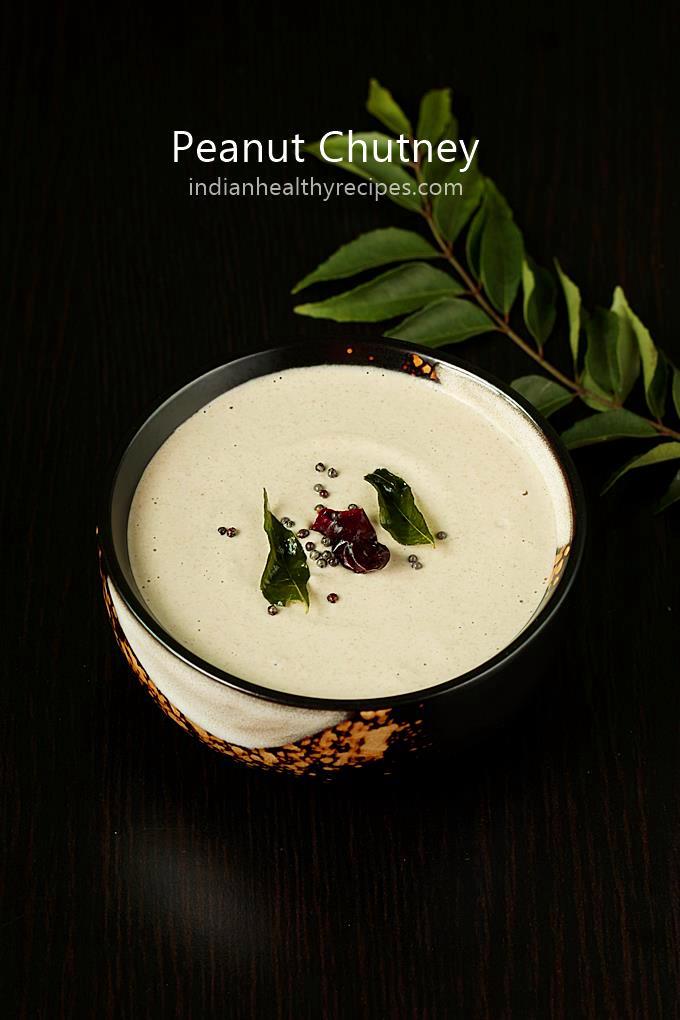 There are so many ways a peanut chutney is made, sharing the one which I make at home. Some folks prefer to deskin the peanuts before grinding. But i do not.
The color of the pachadi can vary based on the ingredients like tamarind, red chili and roasting the peanuts as well.
The chutney you see in the pictures is made without tamarind and red chili, hence the light color. If you like to use tamarind, add it to little warm water and extract the tamarind water. Filter and use it for blending.
To make this palli chutney, peanuts and other ingredients can be roasted in the night and kept ready for the next morning. But once made it is best to consume within 2 hours.The taste diminishes after 2 hours.
Tips to make peanut chutney
Always choose good quality peanuts and avoid rancid ones. Do check the peanuts before roasting them.
Traditionally green chilies are used but you can also use red chillies.
Ingredients like garlic, curry leaves and urad dal are used to enhance the flavor of peanut chutney. However you can skip curry leaves and urad dal.
Peanut chutney stays good for 2 to 3 hours after that the taste begins to diminish. So to keep it good for long hours, use filtered water or boiled and cooled water.
Traditional andhra peanut chutney is a bit elaborate to make and is time consuming. The peanuts would be roasted first, cooled and then the skin removed completely. Many people say the skin of the peanuts really affect the taste of the peanut chutney.
However it is a personal choice. The chutney made with such peanuts taste much nutty & has a intense flavor.
Variations
I sometimes add a handful of mint or pudina leaves to this chutney & it totally elevates the flavor & taste. Mint or pudina aids digestion so it is great to add a handful of these leaves. If using mint, then also use a piece of ginger and little lemon juice.
You can also use some onions to lend a sweet taste to the chutney. Just roast the onions well in oil first and then set aside. Then roast the peanuts.
You can also add onion and tomatoes both to make a tangy, spicy & delicious chutney. I have shared a similar one here on my tomato chutney recipe
Here are more Chutney recipes you may like to check Coconut chutney, Spicy Tomato chutney, Mint or Pudina chutney.
Andhra style peanut chutney recipe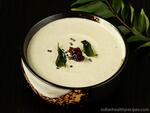 Peanut chutney | Groundnut chutney
Peanut chutney recipe – Flavorful, delicious & spicy peanut chutney or palli chutney to serve with breakfasts or snacks.
Ingredients (1 cup = 240ml )
½

cup

peanuts

or groundnuts (or roasted skinned peanuts)

1 ½

teaspoon

oil

1

small

garlic clove

1 to 2

green chilies

or red chilis (adjust as needed)

¼

teaspoon

salt

as needed

½

teaspoon

cumin

or jeera
optional ingredients for peanut chutney
1½

tablespoons

urad dal

(optional) (skinned black lentils)

½

teaspoon

tamarind

or paste as desired (optional)

1 to 2

sprigs

curry leaves

(optional)
tempering (optional)
1

teaspoon

oil

¼

teaspoon

mustard

1

red chili

broken

1

pinch

hing

or asafoetida

1

small

garlic

crushed

1

sprig

curry leaves
How to make the recipe
How to make peanut chutney
Heat 1 tsp oil in a pan. Fry green chilies, urad dal & garlic until the dal turns golden.

Remove and set aside. You can also add garlic directly to the chutney jar without frying.

If using roasted peanuts you can skip this section. Add peanuts & fry on a medium flame until golden and aromatic.

Not only the skin of the peanuts, but also the nut has to turn slightly golden to bring out the aroma.

Add cumin to the hot peanuts. You can also do dry roasting of peanuts without oil. Keep aside to cool.

Transfer all these to a blender jar along with garlic, salt and little water.

If using tamarind, soak it in some water and filter the tamarind soaked water to the jar.

Blend to smooth peanut chutney. I do not use tamarind for peanut chutney.

Taste it and add more salt and chili if needed.
Optional – Talimpu or tempering peanut chutney
Add 1 teaspoon oil to the hot pan.

Next add mustard, red chili, garlic and curry leaves. Fry till the leaves turn crisp.

Lastly add hing. Turn off the heat and pour this over the groundnut chutney.

Serve peanut chutney with idli or dosa.
NUTRITION
Calories:
273
kcal
|
Carbohydrates:
12
g
|
Protein:
11
g
|
Fat:
21
g
|
Saturated Fat:
3
g
|
Sodium:
114
mg
|
Potassium:
271
mg
|
Fiber:
5
g
|
Sugar:
1
g
|
Vitamin C:
4.2
mg
|
Calcium:
42
mg
|
Iron:
1.9
mg
Notes
Most telugu speaking homes dry roast the peanuts first and remove the skin. Then use for making peanut chutney. The taste of that is much richer. 
If you prefer to use tamarind for the chutney then soak it in little water before you begin to fry the peanuts. Then it turns soft, squeeze it and use. You can also skip soaking tamarind and add it directly to the jar if it is clean.
Preparation
1. Pour 1 tsp oil to a pan or kadai and heat it. Add green chilies, garlic and urad dal. To make andhra style peanut chutney, garlic is not fried but added directly to the chutney jar later.
Urad dal lends a nutty aroma to the chutney. However you can skip it.
2. Begin to fry them until the dal turns golden.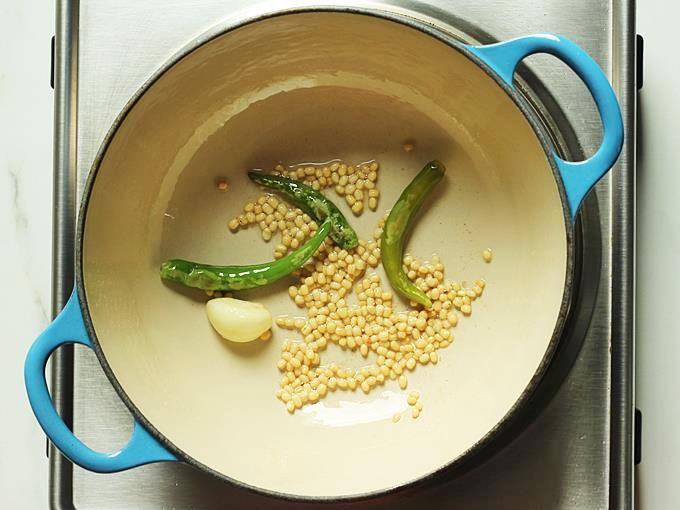 3. Remove the fried ingredients to a plate.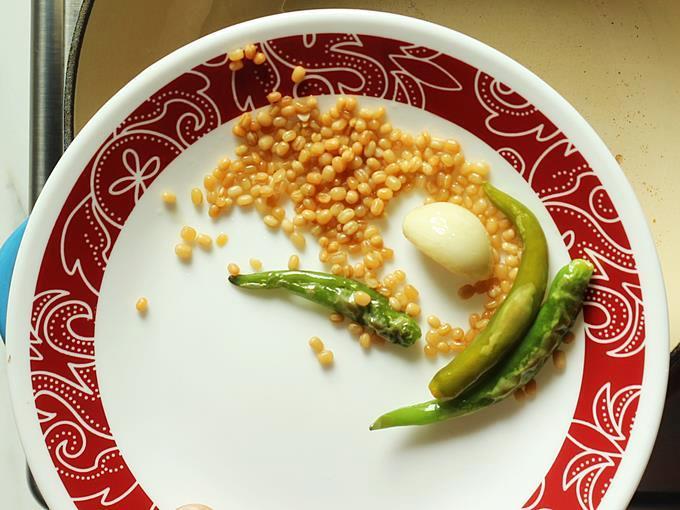 Roasting peanuts
4. To the same pan, add peanuts.
5. Begin to roast on a medium flame stirring constantly.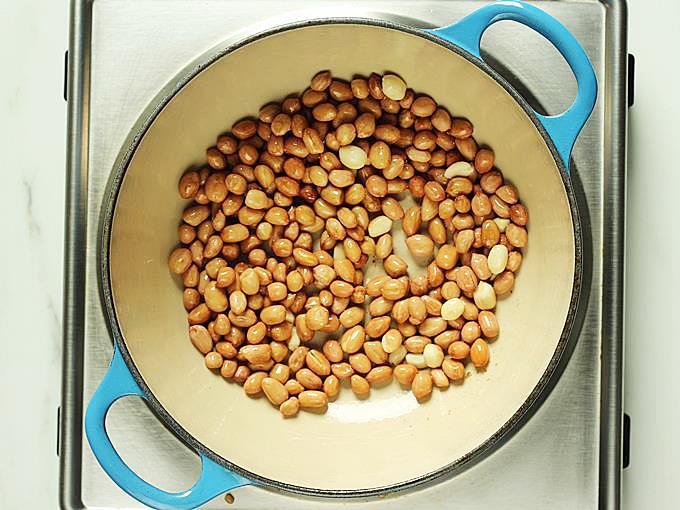 6. When they are half done, I add curry leaves. You can also skip them. Curry leaves are good for the body and also makes the chutney more aromatic.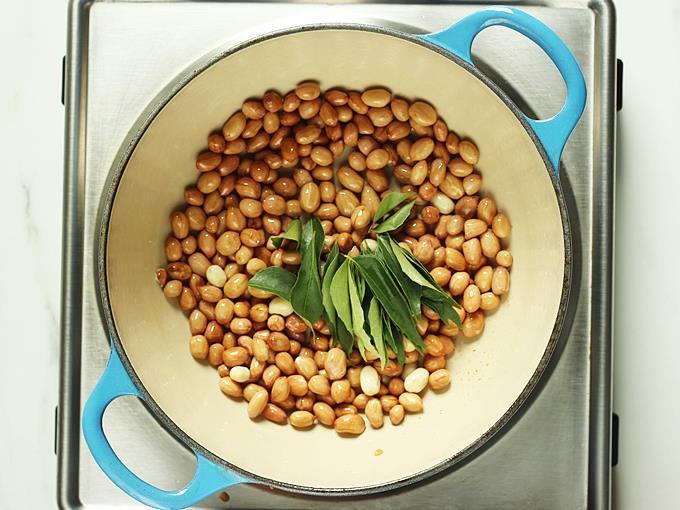 7. Continue to fry until they are well roasted. They begin to make spluttering noise. This step is the key to bring out the aroma of peanuts. When they are done, add cumin and turn off. Curry leaves should be crisp to get a nice aroma.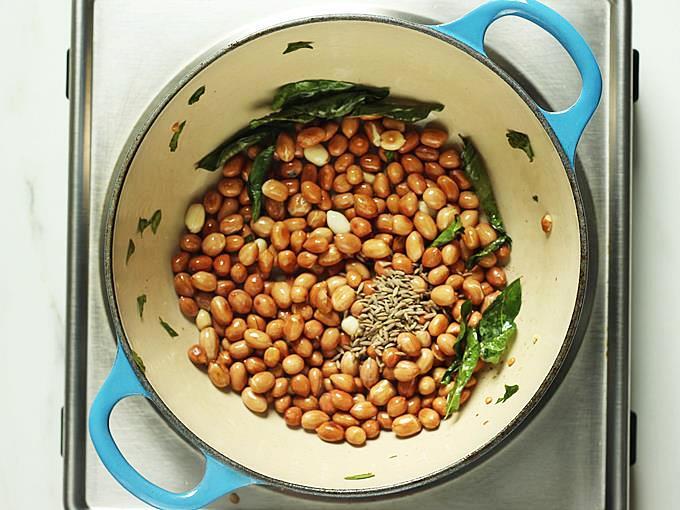 How to make peanut chutney
8. Remove to a plate and cool all the ingredients.
9. Add them to a blender jar along with salt. Pour water just enough to cover them. You can also add raw garlic at this stage.
If you have kids at home. First blend the chutney without chilies. Set their portion aside and then add the chilies and blend again.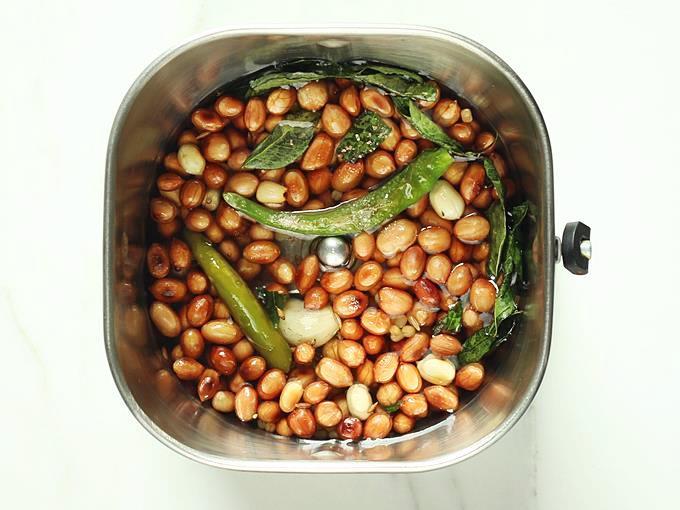 10. Pour more water as needed and bring to a consistency you desire. Usually peanut chutney is made thick. Check salt and spice. Add more if needed.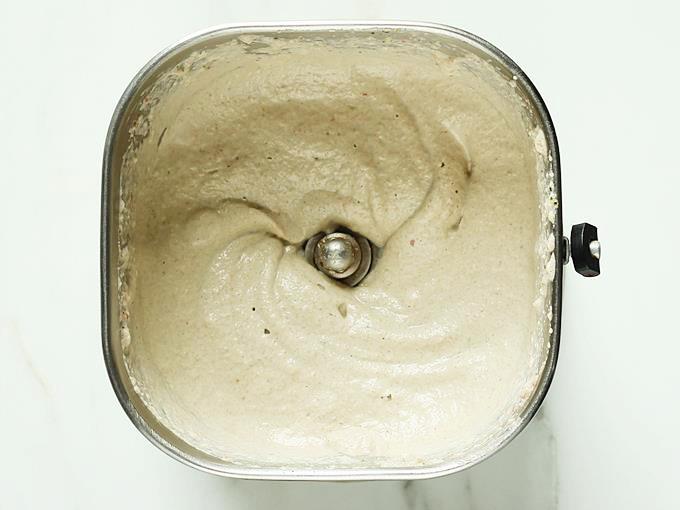 11. Most people do not temper peanut chutney. If you desire, just heat 1 tsp oil. Add mustard, red chilies, curry leaves and crushed garlic.
When the leaves turn crisp and garlic begins to smell good, turn off the stove and pour the tempering over the peanut chutney.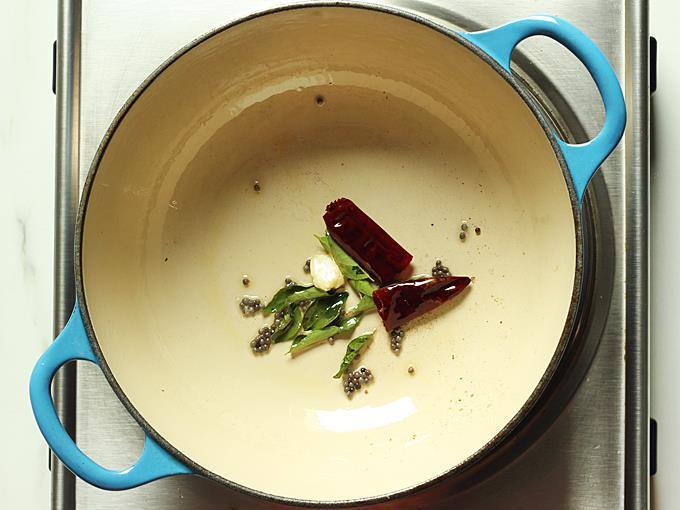 Serve peanut chutney with idli or dosa.