Pineapple juice recipe – Make refreshing, delicious and healthy pineapple juice at home in minutes. Apart from being low in calories, Pineapples are also low in sodium and high in vitamins and manganese. A combination of enzymes known as bromelain are found in pineapples which help to break down the proteins and assist us in better digestion of foods. Most of the bromelain in a pineapple lies in the core and the skin.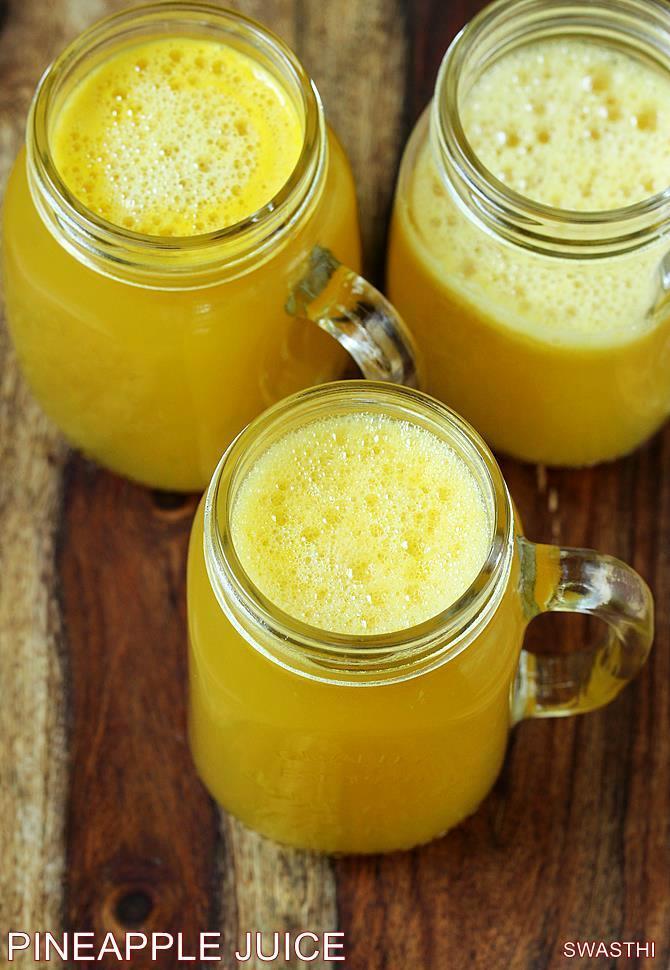 Pineapple is one of those fruits which we often end up juicing or using in smoothies rather than enjoying the whole fruit as it is. Pineapple juice can be made in a blender or any kind of juicer. I have made it in a slow juicer so have not added any kind of liquid to this. But if making in a blender, you may use young/tender coconut water or just plain water.
To make this pineapple juice, ingredients like ginger, pepper, pink salt and holy basil can be used. These are helpful to prevent the throat irritation after consuming pineapples. Always use ripe pineapples as the unripe ones are said to cause stomach problems.
If making in a slow juicer, 2 medium sized pineapples will yield about 1.5 lts of pure pineapple juice. If making in a blender 2 cups of pineapple chunks blended with 1 cup of water will yield about 2 cups of juice.
For the best taste and nutrition, consume immediately before the pineapple juice begins to oxidize.
You may like these Fruit juice recipes, some of them are
Orange juice
Pomegranate juice
Grape juice
Wheatgrass juice
Pineapple juice recipe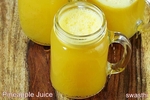 Pineapple juice recipe | How to make pineapple juice, its health benefits
Fresh pineapple juice made in slow juicer. It can also be made in a blender.
Ingredients (1 cup = 240ml )
2

pineapples

medium sized, ripe

1

lemon

(if pineapple is sweet)

1

inch

ginger

piece

1

Handful

holy basil leaves

¼

tsp

Himalayan salt

or regular salt
if making in blender
2

cups

pineapple

cubes

1

cup

water

salt

little

pepper

little

1/2

inch

ginger

piece
How to make the recipe
Cut off both the ends of the pineapple.

Begin to cut down the skin of pineapple with a sharp knife from top to bottom. (Refer pics below)

Repeat peeling off the skin all around. Keep the core intact. If juicing in a blender, cut them to cubes. If making in a juicer, then cut to the size that fits in your juicer chute.

Add them to a blender jar or juicer chute along with all the other ingredients desired except lemon juice.

Blend until smooth.

Strain it with a sieve and add lemon juice if desired.

Serve pineapple juice fresh.
NUTRITION
Serving:
240
ml
|
Calories:
795
kcal
|
Carbohydrates:
193
g
|
Protein:
5
g
|
Fat:
1
g
|
Sodium:
42
mg
|
Potassium:
1950
mg
|
Fiber:
3
g
|
Sugar:
149
g
|
Vitamin A:
75
IU
|
Vitamin C:
150
mg
|
Calcium:
195
mg
|
Iron:
4.6
mg
How to make pineapple juice at home
1. Always choose fresh rip pineapples. Unripe pineapples upset the tummy.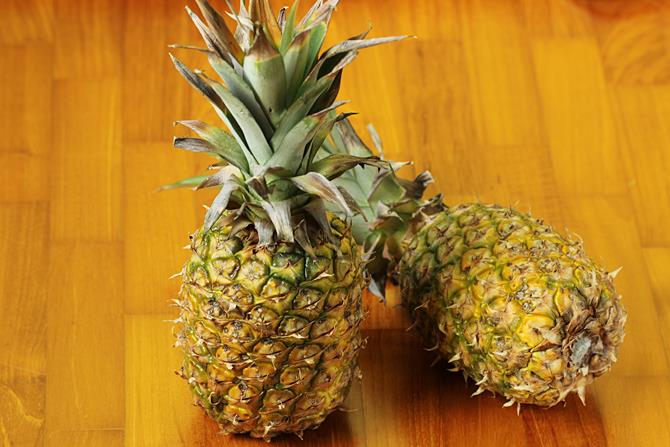 2. Remove the skin slightly deep inside. Chop them to the size that fits your blender. Add them to the blender or juicer along with the optional ingredients mentioned in the recipe card.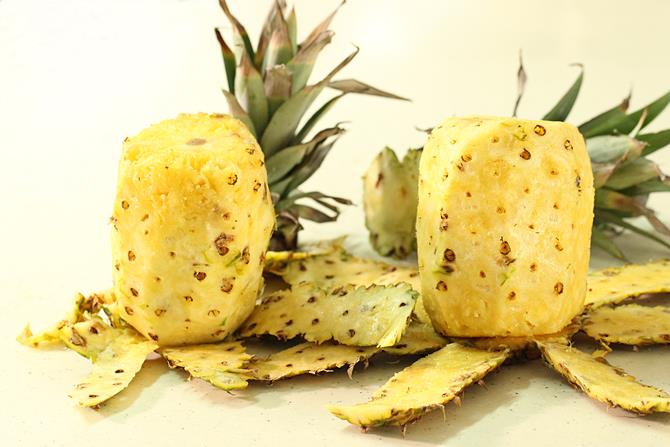 Serve pineapple juice immediately.