Oats Dosa is a crisp & thin Indian Breakfast crepe made with ground rolled oats (or instant oats), spices and herbs. These are healthy, nutritious and also taste delicious. While traditionally Dosas are made with ground & fermented lentil rice batter, these oats dosas are made without that time consuming process. In this post I share 2 ways to make them – instant oats dosa and oats dosa with premade dosa batter.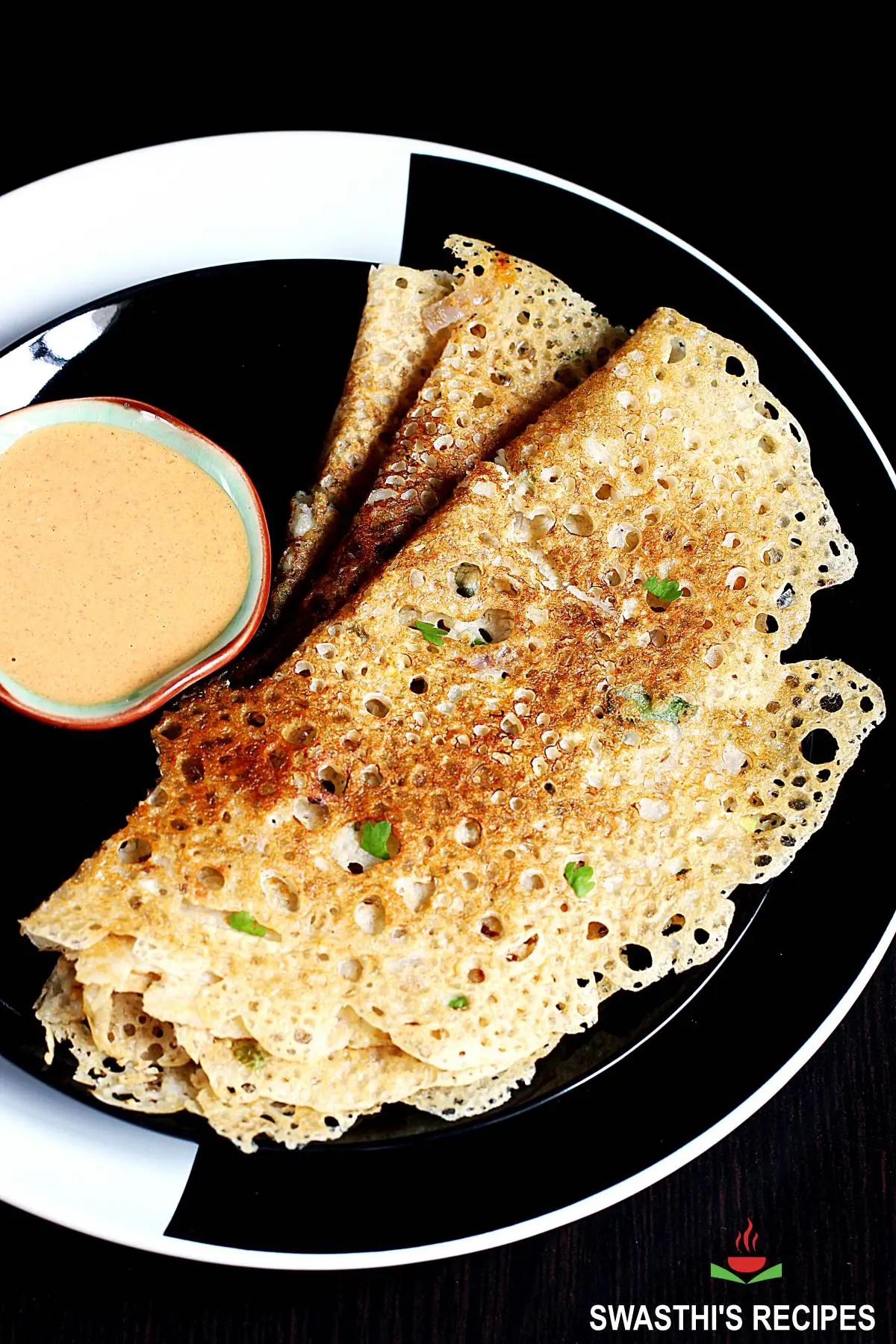 If you are confused between the 2 choices, you may simply choose one based on the availability of ingredients. No matter which method you follow, these oats dosas make for a great breakfast or light dinner. In the end you will be satisfied for eating a wholesome healthy meal.
Serve them with a good Chutney, Tiffin Sambar or Potato Masala.
About Oats Dosa
Instant Oats Dosa is simply made by mixing together ground rolled oats, rice flour, semolina, spices and herbs with water to make a runny batter. This batter is just poured on a hot griddle which cooks up to a lacy, thin & crisp crepe. These instant oats dosas are made much the same way as the Rava dosa, Neer dosa and Wheat dosa.
The other way is to just mix some ground oats with premade fermented dosa batter. For this having a ready to use traditional dosa batter is required. There are no shortcuts to this other than you go for the store bought dosa batter.
While the instant oats dosas are additive and are a fun to eat, they are slightly time consuming too cook. Since the batter is runny of almost water like consistency they take a lot of time to cook, about 4 minutes per dosa. Making these for smaller families makes sense.
The second method is a great way if you are trying to eat healthy and want to include oats in your daily diet. You can make these dosas daily, as cooking each dosa takes about 2 minutes only. These can be made easily even for a larger family.
So based on this we make instant oats dosas only when we crave for something similar to those restaurant style crisp rava dosas. All the other times I prefer adding some ground oats to our regular dosa batter.
You may also like these 30 Oats Recipes
Oats cheela
Oats upma
Oatmeal uttapam
Oats Idli
Oats egg omelette
How to Make Instant Oats Dosa (stepwise photos)
1. Add half cup oats to a blender jar.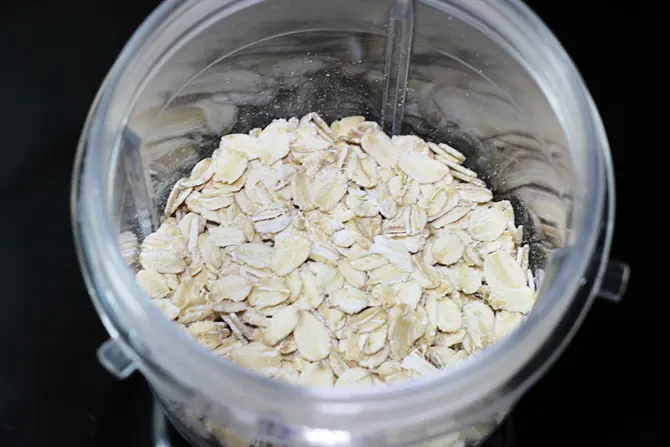 2. Make a fine powder.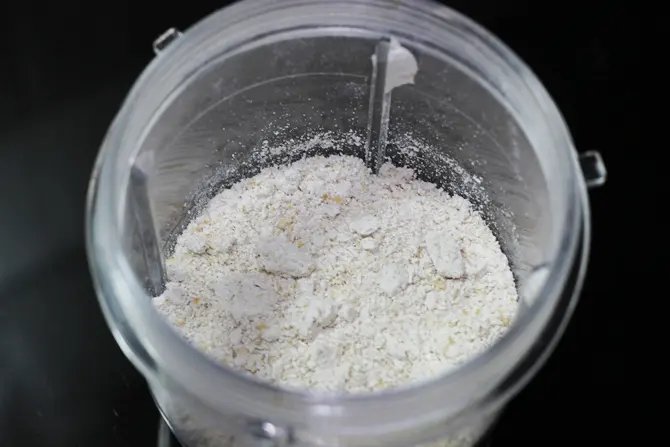 3. Transfer to a mixing bowl.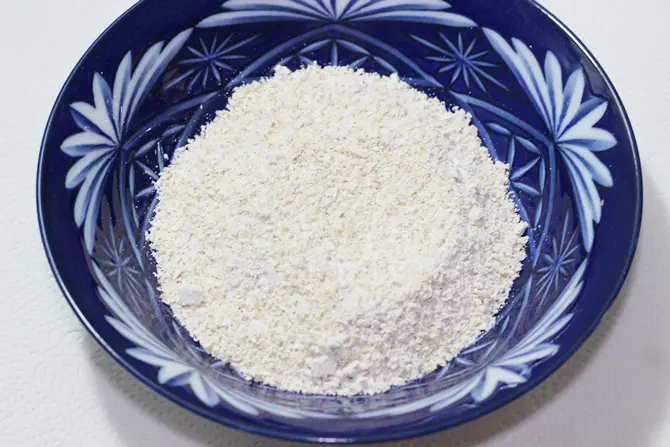 4. Add
½ teaspoon salt
½ teaspoon cumin seeds
¼ cup rice flour
¼ cup fine semolina (fine rava).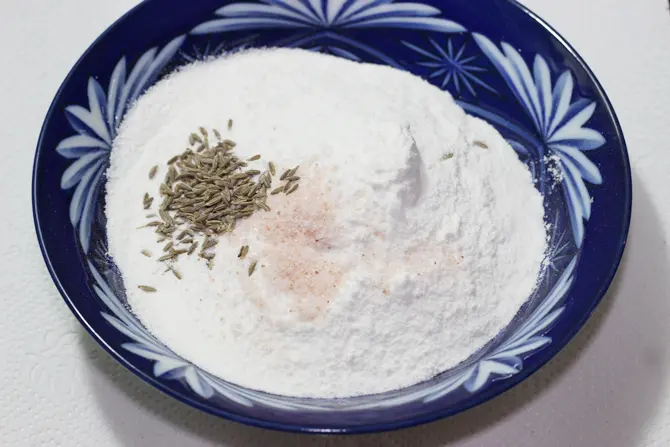 5. Add
2 tablespoon very fine chopped onions
1 sprig fine chopped curry leaves
1 tablespoon coriander leaves (optional)
½ teaspoon grated or minced ginger
1 very fine chopped green chilli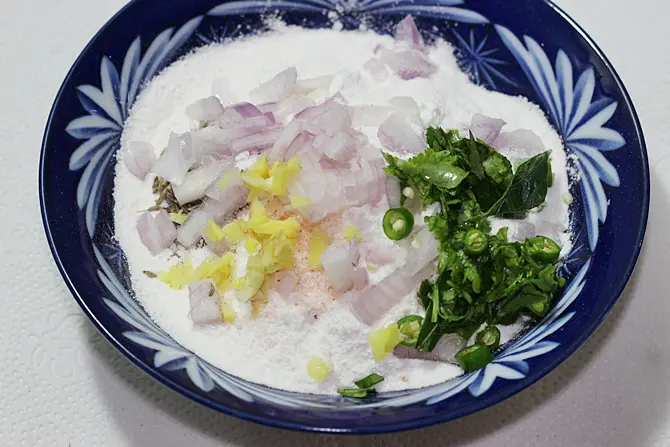 6. Add ¼ cup yogurt and 1 ¼ to 1½ cups water.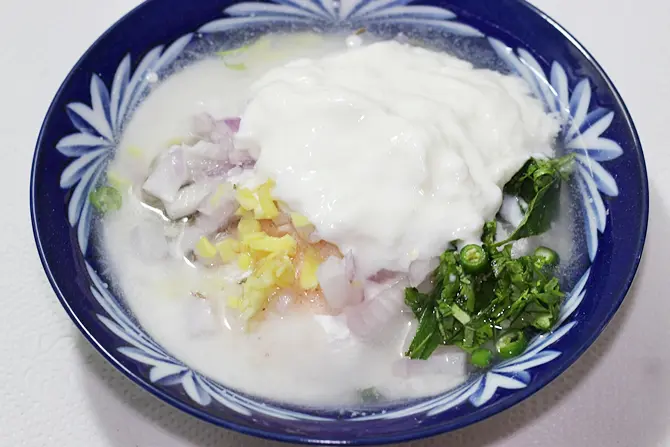 7. Mix the ingredients to a free flowing batter like we make for rava dosa. You can add more or less water to adjust the consistency. It must be runny and thin. Rest this for 10 to 15 minutes.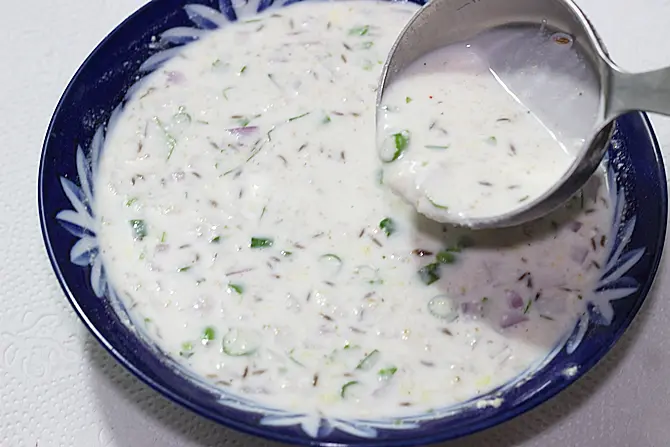 Seasoning pan
8. If using a non-stick pan, you can straight away make the dosas by heating it. But if you are using a cast iron pan, then heat it first. When it is hot enough add a few drops of oil to the hot pan. Smear the oil all over the hot pan with a kitchen tissue or a cut onion. Rub the oil all over and heat it until smoky hot. Turn off the stove. This process creates a non-stick patina on your pan. Carefully wipe off the excess oil with a kitchen tissue or a cloth. You can also do this the previous night.
Pouring batter
9. Turn on the stove again and heat the pan well. Check if it is hot enough by sprinkling some water. It has to sizzle immediately, meaning it is hot enough. Don't try this water test on your non-stick pan as it will warp your pan & spoil it. Stir the batter well every time before you use, as the solids settle at the bottom. Begin to pour the batter slowly all around the pan, starting from the sides of the pan. If you are new to this oats dosa, you may check my video on neer dosa post where I show the same method.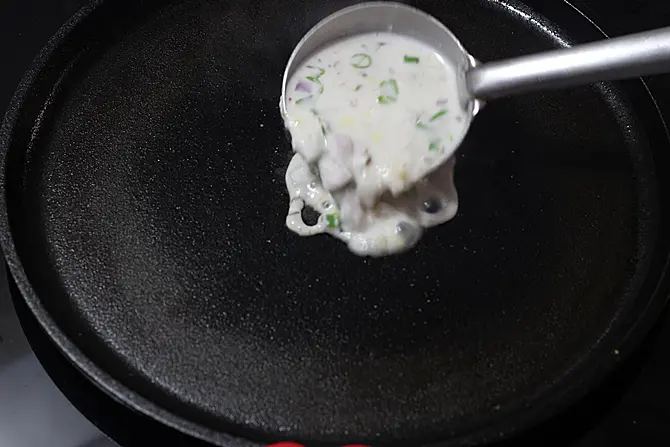 10. Pour the batter making a roundel. Do not spread the batter just pour it. Fill up the gaps if any.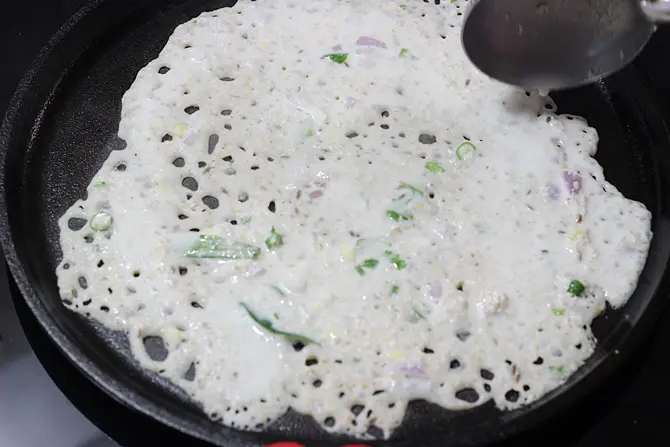 11. Pour 1 teaspoon oil around the edges and cook on a medium heat.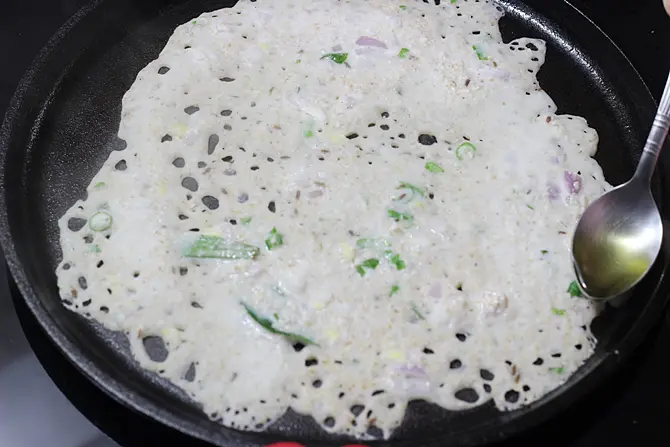 12. After few minutes, you can see the edges become loose from the pan and the dosa begins to turn golden on the base, lift it gently with a wooden spatula.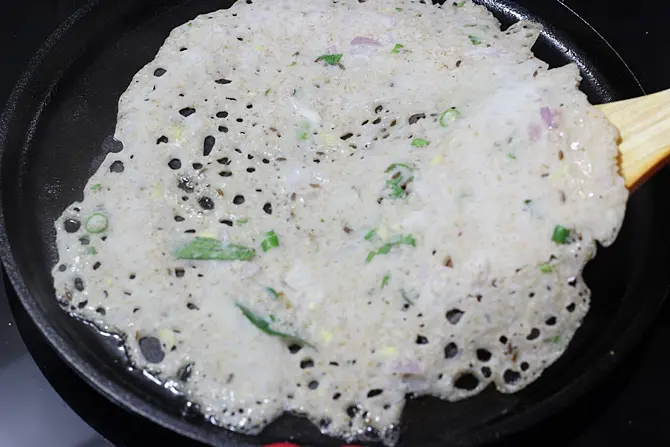 13. Flip it and cook until done. Flip it back and cook again until the oats dosa turns crisp. Remove to a serving plate. To make the next oats dosa, ensure your pan is hot enough and also stir the batter well before pouring it every time. If the pan is too hot, cool down the pan a bit. If it is not hot enough, heat it well before making the next dosa.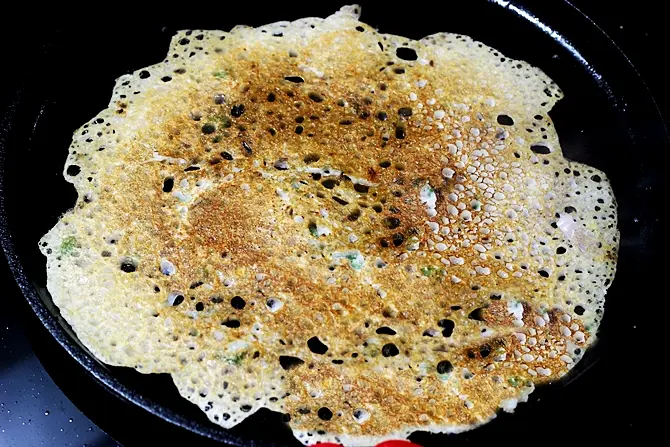 These crisp oats dosas are best served hot with chutney or potato masala. They tend to turn softer upon cooling. You may want to try this tomato chutney, peanut chutney or coconut chutney.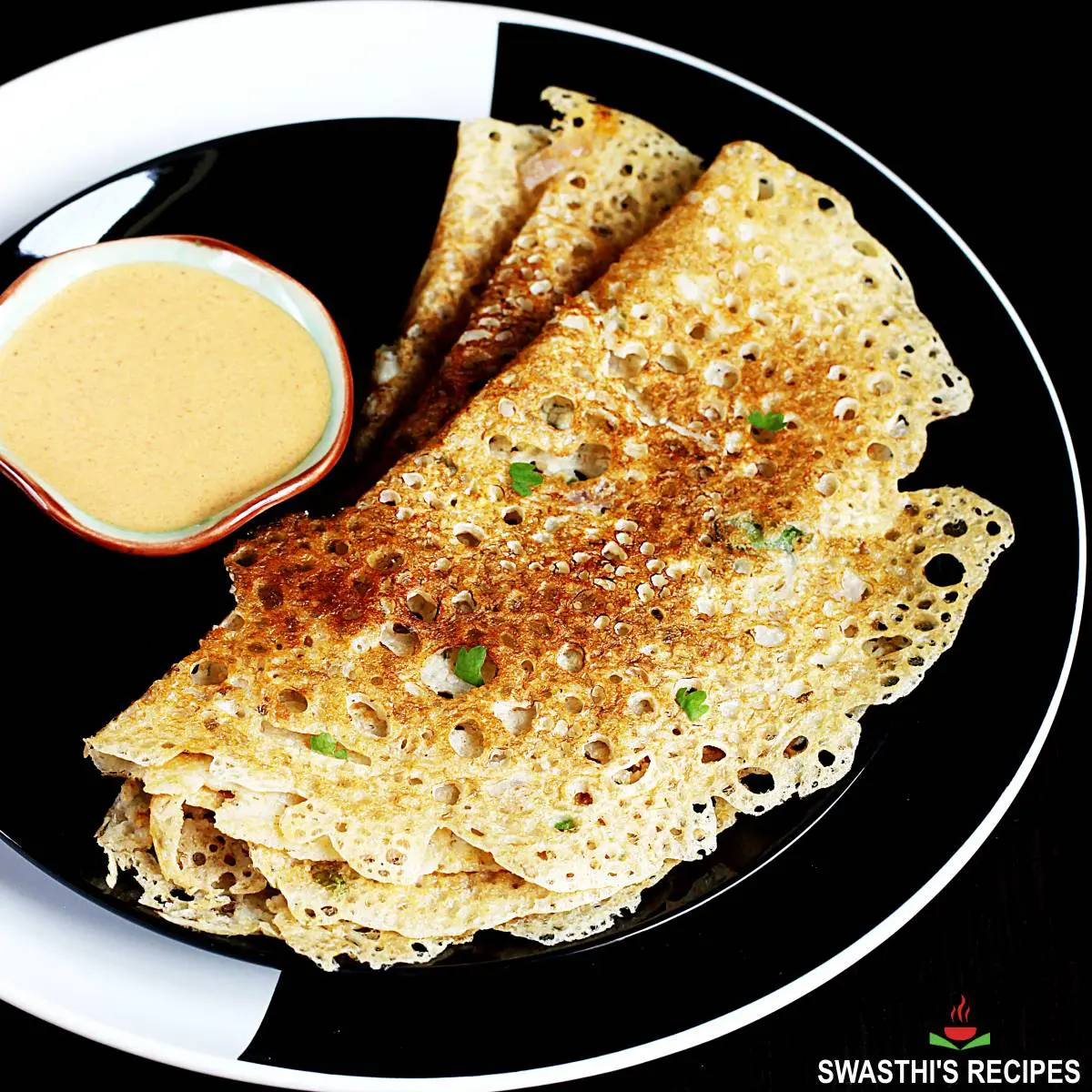 Pro Tips
Seasoning tawa /griddle:
If you make oats dosa on a non-stick pan, then you don't need to grease it. But if you are using a cast iron pan then it is essential to grease it and season it well. This prevents the oats dosas from sticking to the griddle.
Here is the right way is to season – Heat the cast iron pan first until it becomes quite hot. While you continue to heat, add a few drops of oil and spread it well, rubbing with a kitchen tissue or a cut onion. Once it begins to smoke, turn off. This way the fats in the oil burns off creating a layer of coating/ patina over your griddle. Then wipe off the excess oil with a kitchen tissue. Your griddle is ready to use.
Consistency:
Consistency of batter has to be thin and free flowing similar to the rava dosa batter. Very runny batter may break the dosas or make them paper thin like papad or even limpy. Too thick batter will make the oats dosas soft, dense and thick.
Fixing the batter:
Once the batter is ready, test it by making 1 oats dosa first. If it comes out limpy, thin or even papad like, it means the batter is too runny. To fix it just add 1 to 2 tbsps of rice flour.
If the batter is too thick, oats dosas will come out dense, soft and thick. In this case pour 1 to 2 tbsps of water.
This way correct the consistency a little until you get perfect oats dosas.
Veggies:
Make sure the onions are very fine chopped otherwise they don't get cooked well & you will taste the raw batter coated to the onions. You can also add 2 tbsps grated carrots or coconut to enhance the nutrition.
Temperature:
Ensure the griddle is moderately hot enough before pouring the batter. Very hot griddle will brown the oats dosas instantly due to the addition of curd. If the pan is not hot enough, then the batter will stick to the pan.
So it has to be hot enough, yet not smoking hot that it instantly discolors the dosa without cooking the batter well. Also it has to be hot enough that it sizzles the moment the batter hits the griddle. So it is the right temperature together with a runny batter that gives a lacy texture to the oats dosas.
Stirring batter before pouring to the pan every time is very important as the solids settle down at the bottom, so all the water comes on top. Ensure you stir the batter everytime before you pour to the griddle, this will bring the batter to consistency.
Pouring the batter
Instant oats dosa batter is poured to the hot pan and not spread like the TRADITIONAL DOSA. You will have to just pour the batter evenly all over the pan starting across the sides to the center and then fill the gaps if any.
Do not try to pull the dosa out of the pan while it is still under cooked. When it is cooked you can see the edges leave the pan. This is the time to flip it.
Faqs
Why does my oats dosa break?
Oats dosa can break if you try to flip it before it is done cooking. Let it cook until the edges begin to loosen from the pan on its own. The other reason is incorrect consistency of the batter. Very runny batter or too thick batter, both can cause your oats dosas to break easily.
How to troubleshoot the oats dosa batter?
Incorrect consistency can of the batter can easily make your oats dosas turn out limpy, soft or too dense and broken. If they are limpy and look lifeless, mostly the batter is runny. To fix add few tbsps of rice flour. If the oats dosas are too dense, add a splash of water and thin down the batter.
Can I make the batter ahead?
You will get the best oats dosas when you make the batter instantly and not rest it too long. But you can refrigerate any leftover batter. Let it come down to room temperature before using it. Also it is important to adjust the consistency of batter again.
How to make oats dosa with dosa batter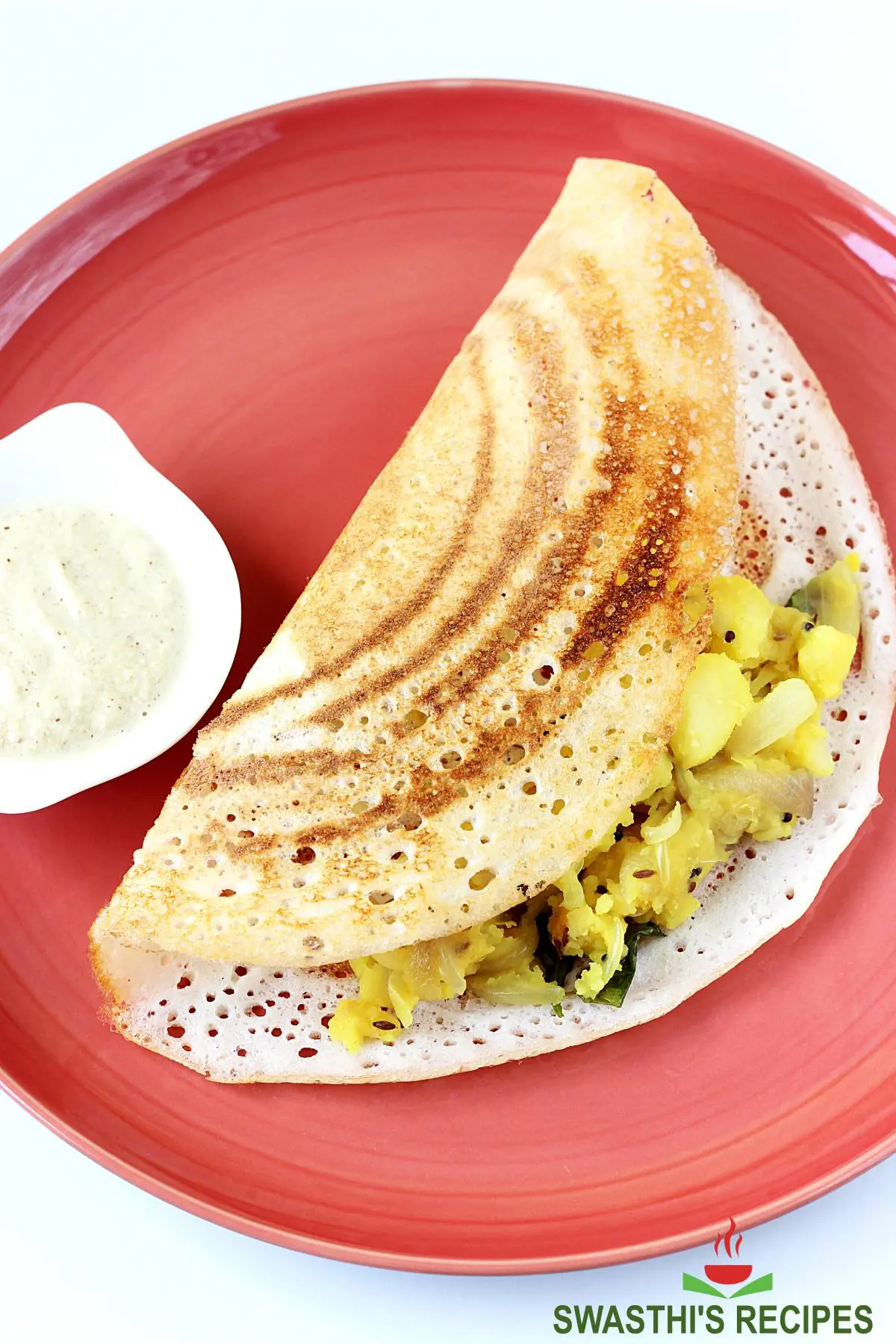 Ingredients
1 cup thick fermented urad dal dosa batter
2 to 3 tbsps. Semolina/ upma rava (optional)
¼ cup of powdered oats
Water as needed
Salt to taste
Method
Mix all the 3 ingredients with little water and salt and bring it to a dosa batter consistency, do not make the batter runny.
Set aside for 10 mins, if the batter becomes too thick, add some more water and bring it to the right consistency.
Heat a dosa griddle until hot enough. Then pour the batter with a laddle in the center of the pan. Spread it to a thin round layer with the base of the ladle. You can use even a stainless steel cup instead of a ladle.
Drizzle little oil around the edges of dosa and allow it to fry on a medium flame. After a while you will see the edges begin to leave the pan, then gently lift it and cook.
Flip the dosa to the other side and toast for a min, this step is optional.
Serve hot with any chutney of your choice.
Related Recipes
Recipe Card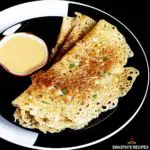 Oats Dosa Recipe
Crispy oats dosa made with oats, rice flour, spices & herbs. This recipe will give you super healthy, delicious & crisp oats dosas.
Print Recipe
Pin Recipe
Jump to Comments
For best results follow the step-by-step photos above the recipe card
Ingredients (US cup = 240ml )
½

cup

oats

(rolled or instant)

¼

cup

rice flour

¼

cup

semolina or rava

½

teaspoon

Salt

(adjust as needed)

2

green chili

chopped

½

teaspoon

cumin seeds

(jeera)

2

tablespoon

onions

minced or very fine chopped (optional)

1

sprig

curry leaves

chopped

½

teaspoon

ginger

crushed or minced

¼

cup

curd

(yogurt, optional, refer notes)

1 ¼ to 1½

cups

water

2

tablespoon

Oil or ghee

or as needed
Instructions
Preparation
Add half cup oats to a grinder jar and make a fine powder.

Transfer it to a mixing bowl along with salt, rice flour, semolina, cumin, curry leaves, ginger, green chilies, chopped onions and coriander leaves.

Add curd (optional) and pour 1¼ cup water. Mix all of them together to get a free flowing runny batter.

The consistency must be similar to that of the rava dosa batter.

If required add more water to get the required consistency. Keep this aside for 10 to 15 mins.

If using a non stick pan you can straight away use it. If using a cast iron pan, heat it first until hot enough. Drizzle a few drops of oil and spread it with a kitchen tissue or a cut onion. Heat this well until smoky hot. When you see the smoke turn off. This step creates a non-stick effect on your cast iron pan. Wipe off the excess oil with kitchen tissues or a cloth.
How to Make Oats Dosa
Just before you begin to make the dosas, check and adjust the consistency if needed by pouring little more water.

Heat the griddle until moderately hot enough. To check you can drizzle a teaspoon of batter on the pan, it should sizzle immediately. This means the pan is hot enough.

Stir the batter with a deep ladle as the solids settle at the bottom. Regulate the flame to medium, take a ladle full of batter and begin to pour from the sides /edges across the pan and then in the center.

Do not spread the batter. Just pour it and fill up the gaps.

Drizzle 1 teaspoon ghee or oil all over including the edges.

Cook the oats dosa on a medium heat until it turns golden on the base.

When it is cooked well, the edges will begin to leave the pan. Flip it to the other side and cook for 1 minute. If you have a trouble making these, then refer my pro tips mentioned in the post.

Again flip it back and cook until crisp and golden. Remove oats dosa to a plate and serve with chutney.

To make the next dosa, the pan has to be hot enough. if needed you can add few drops of oil and rub with a cut onion. Then make the next oats dosa.

Also stir the batter well before you pour it to the pan, as the solids settle at the bottom.
Method 2 – Oats dosa
If you have some left over plain dosa batter, then powder some oats. For 1 cup dosa batter add ¼ cup powdered rolled or quick cook oats.

Stir the powder in a small bowl along with little water. Mix to make a lump free batter.

Mix the oats batter with dosa batter.

Bring it to thick dosa batter consistency by pouring more water if needed.

Heat a greased tawa and pour the batter spreading it well to make a thin and crisp dosas like we spread the traditional dosa.

Pour 1 teaspoon oil around the edges. Flip it and fry the oats dosa on the other side as well.
Notes
Curd imparts a unique aroma and deep golden color to the dosa. You can also skip it.
If you get thick or soft dosas that means the batter is thick. Pour some water to bring to thin down the consistency.
If the batter is too runny then the dosas may break. In this cake add 1 to 2 tablespoons of rice flour. So it has to be moderately runny.
The pan has to be hot enough at the time of pouring the batter otherwise you wont get lacy oats dosas.
More pro tips in the recipe post.
Alternative quantities provided in the recipe card are for 1x only, original recipe.
For best results follow my detailed step-by-step photo instructions and tips above the recipe card.
NUTRITION INFO (estimation only)
Nutrition Facts
Oats Dosa Recipe
Amount Per Serving (2 g)
Calories 134
Calories from Fat 9
% Daily Value*
Fat 1g2%
Sodium 80mg3%
Potassium 51mg1%
Carbohydrates 25g8%
Protein 4g8%
Vitamin A 20IU0%
Vitamin C 13mg16%
Calcium 25mg3%
Iron 0.8mg4%
* Percent Daily Values are based on a 2000 calorie diet.
Oats Dosa Recipe First published in October 2012. Updated and republished in July 2022.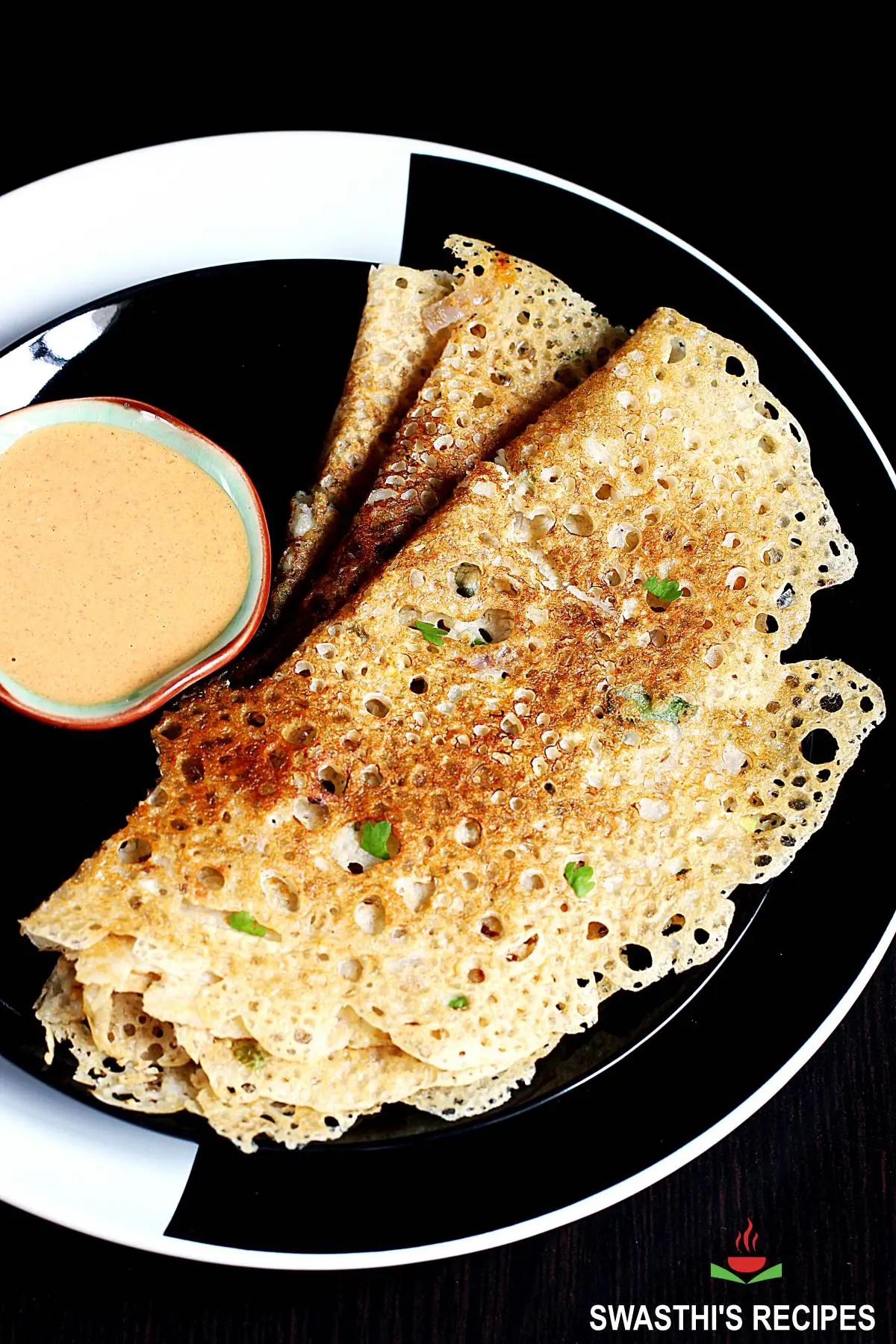 About Swasthi
I'm Swasthi Shreekanth, the recipe developer, food photographer & food writer behind Swasthi's Recipes. My aim is to help you cook great Indian food with my time-tested recipes. After 2 decades of experience in practical Indian cooking I started this blog to help people cook better & more often at home. Whether you are a novice or an experienced cook I am sure Swasthi's Recipes will assist you to enhance your cooking skills. More about me
Follow Swasthi's Recipes