Neer dosa recipe from Mangalorean cuisine with video and step by step photos. Dosa is one of the popular Breakfast from South India. Neer means water in tulu & dosa refers to a traditional Indian crepe. Neer dosa refers to a dosa that is made with batter of neer consistency i.e water consistency. Unlike the other versions of South Indian dosa, this dosa is made without any lentils and needs no fermentation. It is made with just 3 ingredients – rice, salt and water.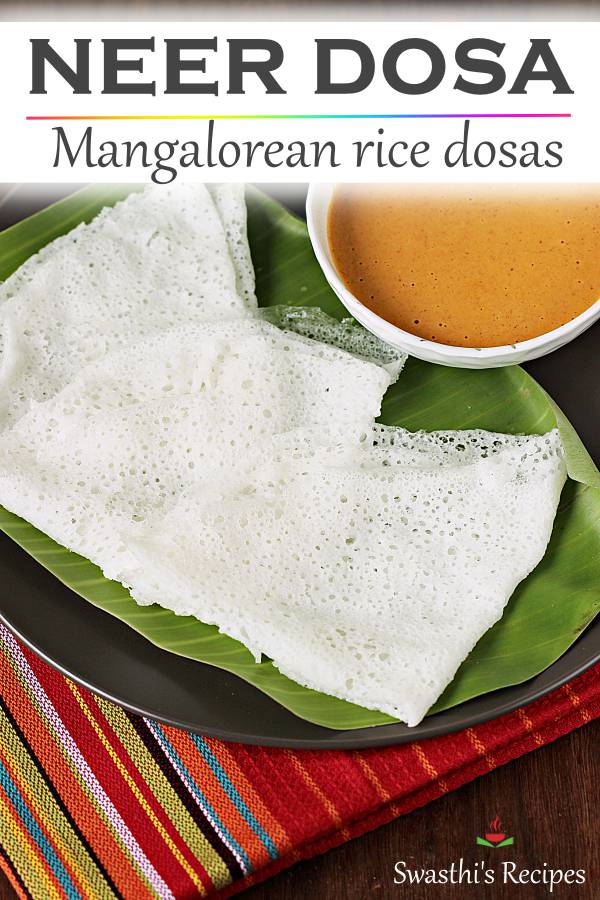 Neer dosa is eaten for breakfast, lunch or anytime with a chutney or curries including the non-vegetarian dishes like fish, egg or Chicken curry. Neer dosa is very light and is best served with a curry if eating for a meal.
Traditionally neer dosa is made on cast iron tawa, but I have made it on a non stick pan. Grease the tawa well every time before pouring the batter. Since these dosas are not cooked with oil the tawa turns dry.
You may like to check these Dosa Recipes and Chutney Recipes.
You may like to check these
Poori recipe
Mysore bonda
Medu vada
Neer dosa recipe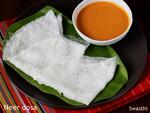 Neer dosa recipe | How to make neer dosa | Neer dose recipe
Mangalorean neer dosa are crepes that are served as a breakfast with some chutney, sagu or curry. Neer dosa is made with soaked rice batter and needs no fermentation.
Pin Recipe
Print Recipe
Ingredients (1 cup = 240ml )
Ingredients for neer dosa
1

cup

rice (any aged rice)

salt as needed

1 ½ to 1¾

cups

water (use more if needed)

Oil for greasing
How to make the recipe
Preparation for Neer dosa
Wash rice a few times until the water runs clear.

Soak it in water for at least 4 hours to overnight.

Drain the water and rinse well if soaked for over night.

Add the rice to a blender jar and pour 1 cup water.

Blend until smooth. Transfer to a batter bowl.

Add salt and another 1/2 cup water.

Mix well and check the consistency. It has to be like thin or watery. Add more water if needed.
How to make Neer dosa
Heat a pan and drizzle few drops of oil. Using a kitchen tissue or a piece of onion smear the oil all over the pan. Wipe off excess oil with a kitchen tissue.

When the pan is hot enough, stir the batter well from the bottom.

Take a ladle full of batter and pour it over the tawa in a circle. Tilt the pan to spread the excess batter all over. Do not spread the batter like regular dosa batter.

Fill any gaps in the dosa to make it even.

Cover it with a lid and cook for 2 to 3 mins until the top part turns non sticky meaning it is cooked.

Continue to cook until you see the sides come off easily from the pan.

Take the dosa to a plate and allow to cool for 30 secs to a min and then fold it to halve and then to triangle.

Serve neer dosa with chutney or curry.

To make next dosa, repeat greasing the pan with oil and then wipe off the excess.

Stir the batter every time you make a fresh neer dosa as the botton part of the batter will be thick.
Video
Video of Neer dosa recipe
NUTRITION (estimation only)
Calories:
53
kcal
|
Carbohydrates:
9
g
|
Fat:
1
g
|
Potassium:
14
mg
|
Calcium:
3
mg
|
Iron:
0.1
mg
Notes
If you are making neer dosa for the first time, you need to experiment a bit with the consistency of batter. Trying out a few dosas will help you to get them right.
If the batter is too thin, the batter gets stuck to the pan, get cracks and will not come out.
Do not make the batter thick, If it is thick and not thin enough then the dosa will come out too thick and will not turn out good. You may also find cracks when the batter is too thick.
You can add more water than mentioned in the recipe card as it depends on the kind of rice used.
I use short grain rice – parboiled ponni or sona masuri. Any kind of aged rice just works fine for the recipe.
To make it nutritious and flavorful, you can also add 1/4 cup fresh grated coconut or 1 cup coconut milk to blend.
If you are new to cooking, follow my detailed step by step photo instructions for best results.
Preparation for making neer dosa
1. Wash rice thrice in a large pot. Soak it for 4 hours to overnight.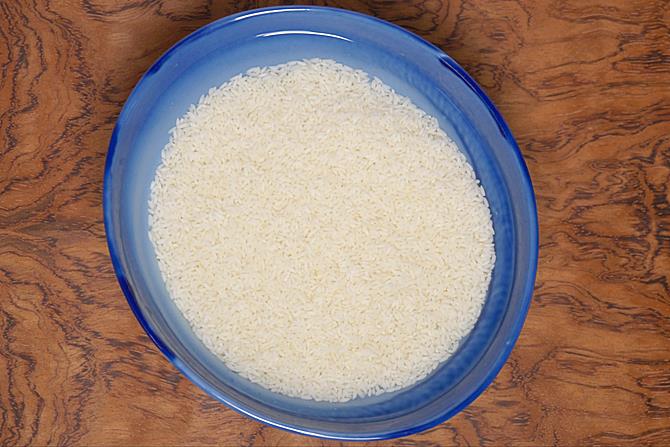 2. Drain the water and add rice to a blender jar. If you have soaked it overnight, give a good rinse first. Drain the water and add it to the blender jar. Pour about 3/4 cup fresh water.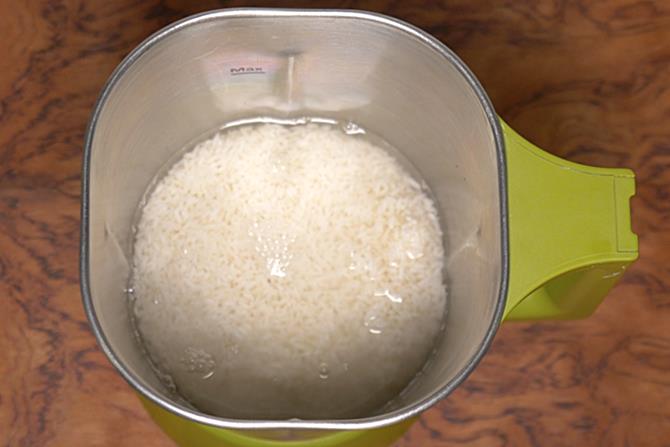 3. Blend it to a smooth batter.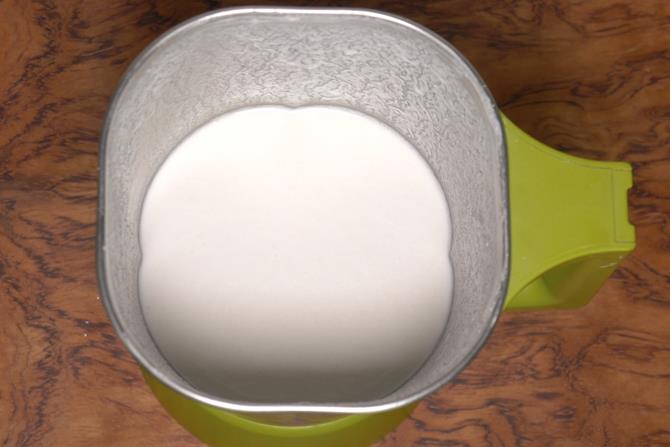 4. Transfer to a bowl and add salt.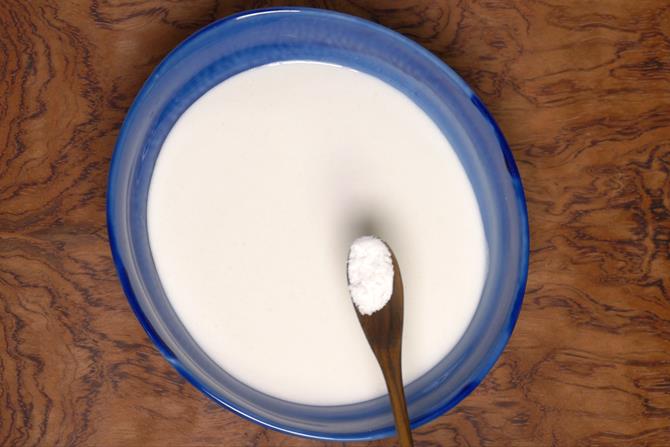 5. Add more water to bring it to a thin consistency.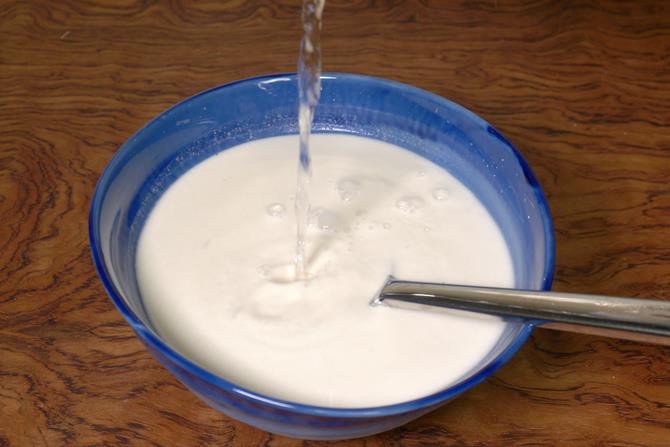 6. The batter must be similar to thin buttermilk. Add more water as needed to bring it to the consistency. I used about 1 & 1/2 to 1 & 3/4 cups water for blending and to bring it to consistency. Set this aside.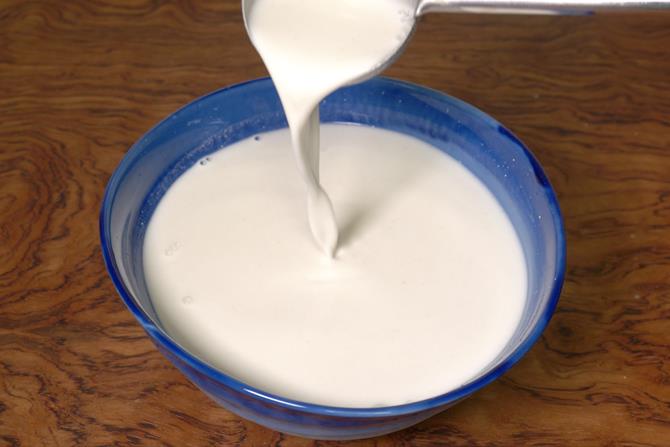 How to make neer dosa
7. Heat a pan and drizzle few drops of oil. Using a slice of onions, spread the oil to the pan. Wipe off the excess. You can also skip rubbing with onion and just spread the oil with tissue. You will need to repeat this process before making each dosa.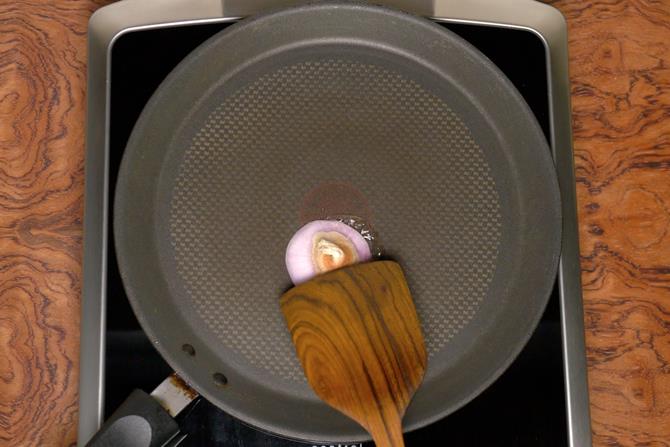 8. Make sure the pan is hot. We are not going to spread the batter but just pour it like the rava dosa batter. Stir the batter well. Take a ladle full of batter and begin to pour on the tawa all over starting from the edge of the pan.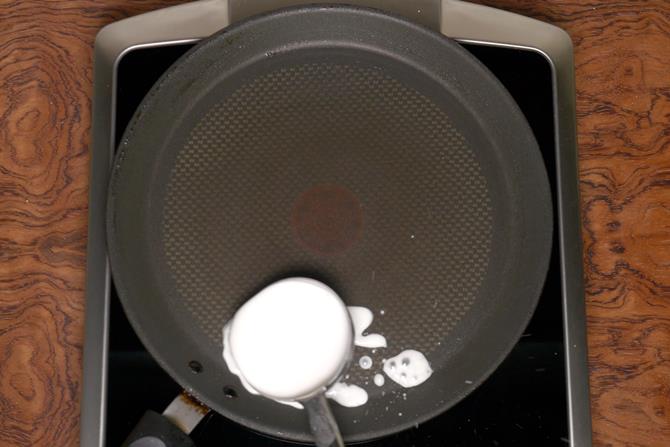 9. Do not bother much about the shape.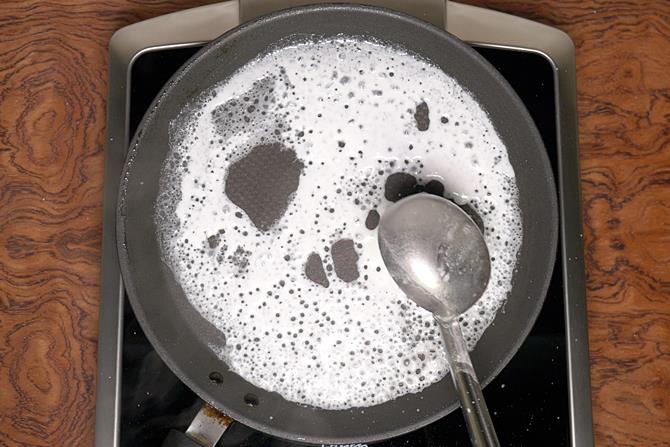 10. Quickly tilt the pan to a side to spread the excess batter.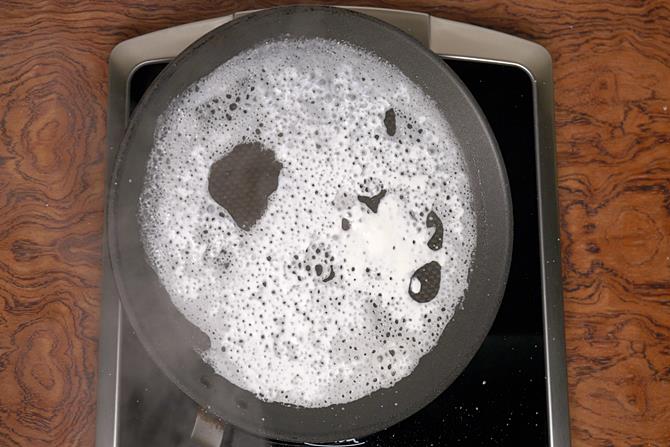 11. Take some more batter and fill in the gaps.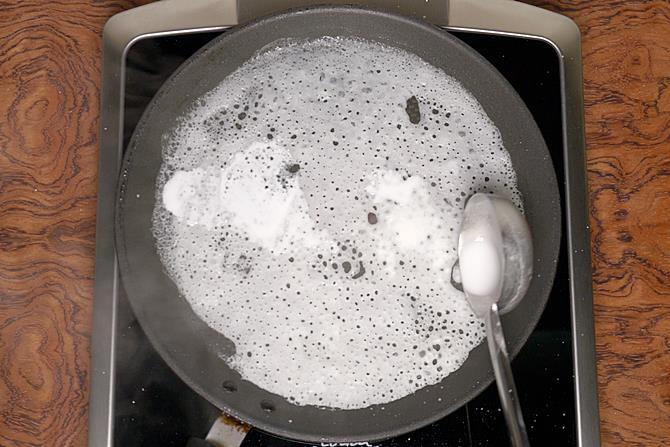 12. Cover the pan and cook for 2 mins on a medium to high heat.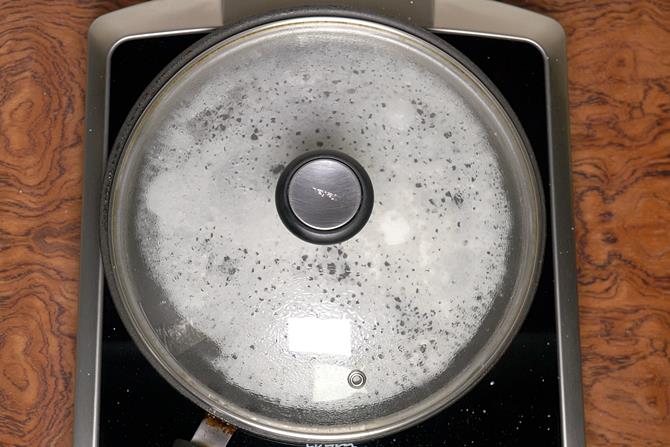 13. When the dosa is done, you will see the edges slightly leave the pan. Neer dosa is not flipped and cooked to keep it soft.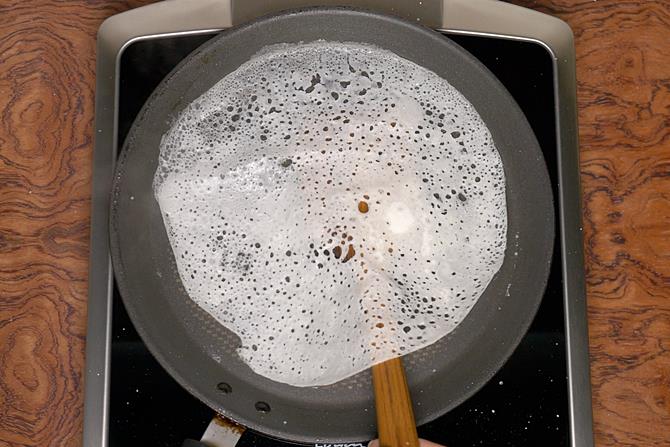 14. Transfer it to a serving plate. Allow it to cool down for 30 seconds before folding otherwise both the sides will stick up together.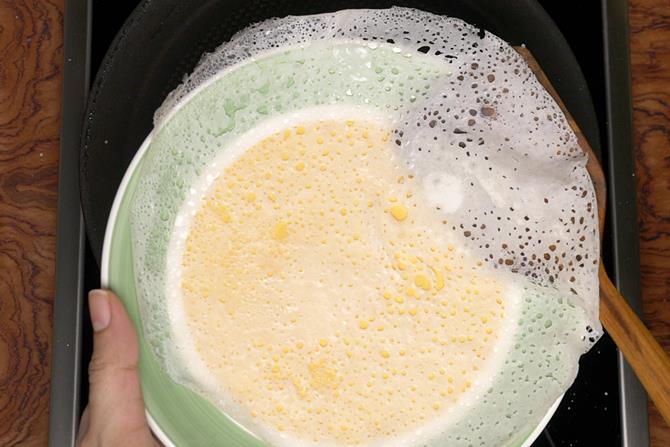 15. Fold it to half.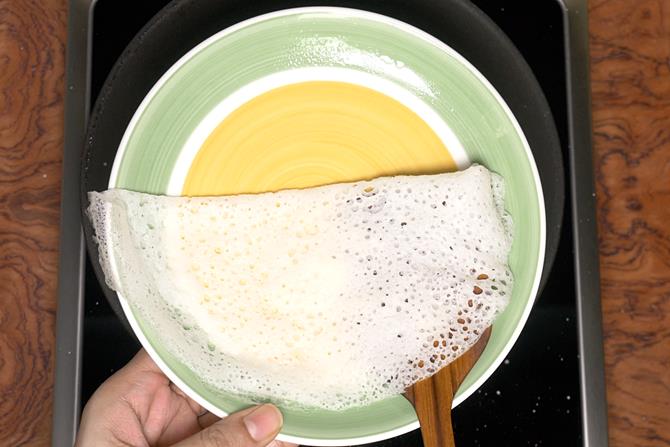 16. Then to triangle.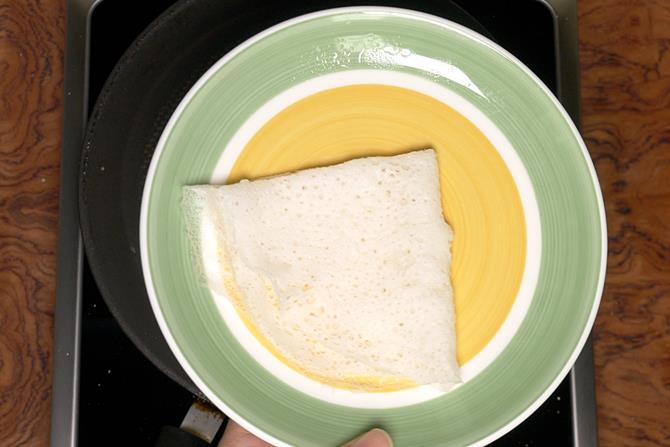 To repeat making dosa, grease the pan, stir the batter well before pouring. If needed you can add more water.
Serve neer dosa with chutney or any gravy.