Carrot juice recipe for kids & toddlers – Carrot juice can be made in a mixer, blender or juicer very easily at home. Carrot is one of the most versatile root vegetables which is used in so many ways in our day to day diet. No doubt juicing carrots is the best way to provide vital nutrients to our body. Consuming carrot juice or eating raw carrots regularly or often helps in improving the health of the eyes, reduces stress and builds immunity.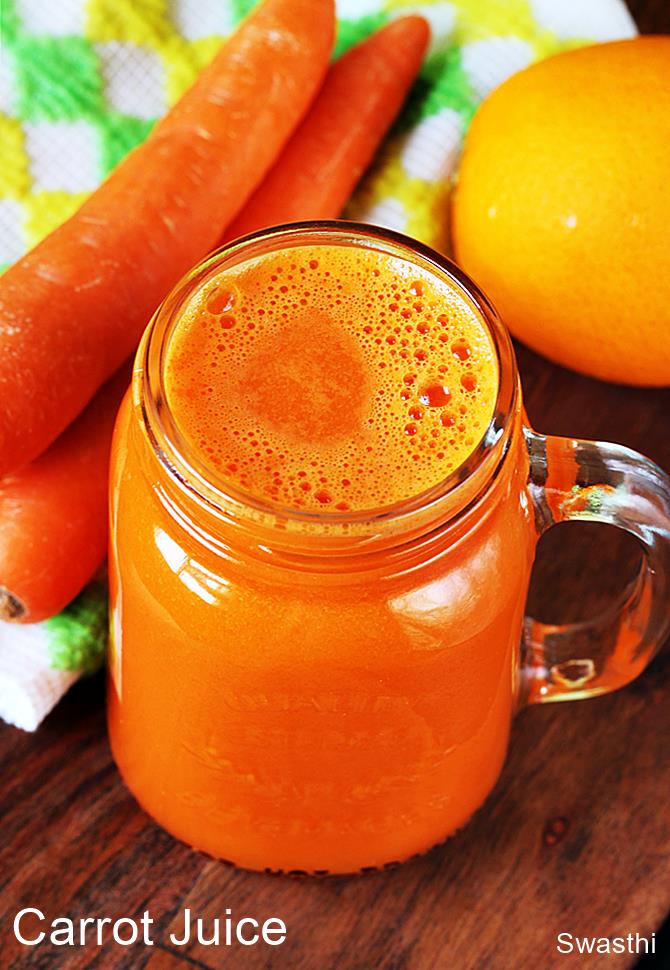 We make carrot juice sometimes when the kids ask for it or when I end up having too many carrots in the fridge. The taste of the carrot juice depends on the variety & age of carrots used. Young and tender carrots are best for juicing since the aroma is mild and taste delicious.
Fresh carrot juice is alkaline and can help folks with digestive or acidity problems. Carrots can be juiced alone or with some citrus fruit like orange, grapefruit, tangerines or lemons. Not all fruits go well with carrot, so we mostly make them with sweet oranges, pears or lemon.
For more Fruit juice recipes, you may like to check
Apple juice
Orange juice
Pomegranate juice
Apple pomegranate juice
Grape juice
Watermelon juice
Carrot juice recipe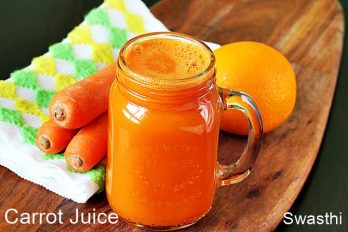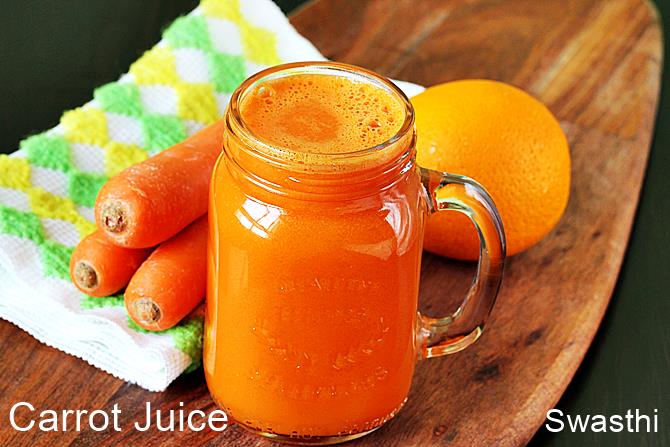 Carrot juice recipe | How to make carrot juice in mixer & juicer
Fresh carrot juice is healthy, delicious and is great to have with breakfast.
Ingredients (240 ml cup used)
500

grams

carrots

fresh & tender

1

inch

ginger

fresh (reduce to 1/2 for kids)

lemon juice

as needed (or 2 to 3 oranges, pears or 5 to 6 tangerines)

1

cup

water

if making in blender
How to make the recipe
Preparation for carrot juice
Wash carrots under running water. Use a vegetable scrub or brush to clean them. Rinse well.

Soak them in a large pot filled with clean water for 30 mins.

If desired peel off the skin.

Wash and peel oranges. halve them

If making in mixer or blender, cube them to 1 inch pieces. Add them to blender jar along with other ingredients.

If making in juicer, then cut to desired sizes to suit your juicer chute.
Making carrot juice
Run the machine.

If making in mixer or blender, then pass through a strainer/ filter and collect the juice at the bottom.

Serve carrot orange juice fresh and immediately.
Recipe Notes
To enjoy chilled juice, freeze the veggies & fruits for an hour and then juice them.
Nutrition Facts
Carrot juice recipe | How to make carrot juice in mixer & juicer
Amount Per Serving
Calories 106
% Daily Value*
Sodium 172mg 7%
Potassium 800mg 23%
Total Carbohydrates 25g 8%
Protein 2g 4%
* Percent Daily Values are based on a 2000 calorie diet.